Here at Wasserstrom, we are big fans of creative, commercial dinnerware concepts, such as those inspired by natural elements. We've spotted several restaurants that take this design style to the next level by building inside or around natural elements. Whether harnessing a volcanic heat source or setting up shop inside a cave, here are four restaurants that make use of nature in awe-inspiring ways.
El Diablo
Looking for a sustainable heating solution? This restaurant has it all figured out.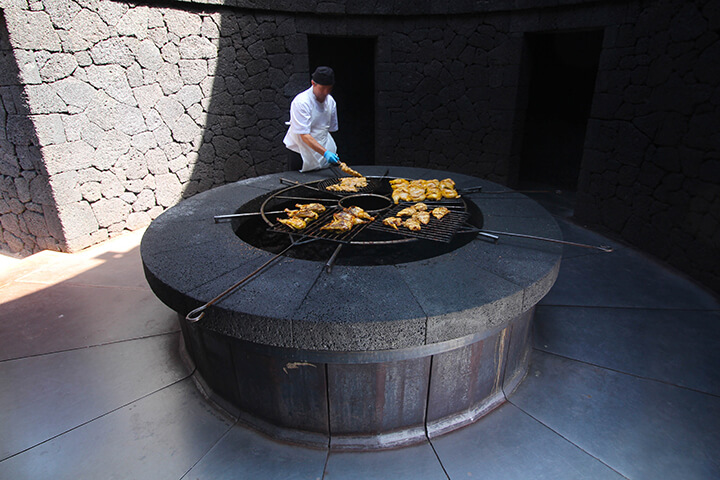 Lanzarote is located on the Canary Islands off the coast of Africa. This island is home to nearly 100 volcanoes on a Mars-like, dark landscape. Since 1970, the restaurant El Diablo has served local fare by way of an unusual cooking method. The food is grilled at 752°F/400°C on a circular rack, 6' above bubbling magma.
El Diablo was designed by late Spanish artist and architect César Manrique, along with Jesus Soto and Eduardo Caceres. A native of the Canary Islands, Manrique's respect for Lanzarote and its inhabitants catalyzed this triumph of sustainable heat and out-of-the-box architecture. For instance, because a foundation couldn't be built close to volcanic heat, the restaurant is supported by nine layers of basalt rock.
El Diablo is a feat of imagination, built out of love and respect for the unique beauty of Lanzarote. If you're concerned about safety, we want to point out that the volcano hasn't erupted since the 1800s. A little risk can be fun, and they don't call it "El Diablo" for nothing.
Under
Under is located in an all-natural environment half sunk beneath an icy sea. Here, guests can gaze upon the bustling ecosystem their food was sourced from, while enjoying fine dining with an emphasis on sustainable wildlife capture.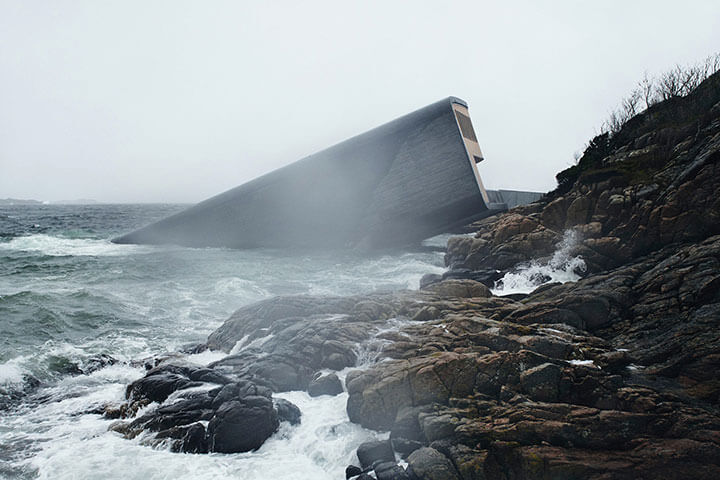 Located on Norway's stormy coastline, Under is a collaboration between Michelin-starred Danish chef, Nicolai Ellitsgaard, and integrated design practitioners, Snøhetta. Architecturally, Under looks like a concrete structure that has fallen into the sea. Guests note that they feel safe, and the atmosphere is warm and inviting, albeit a bit mysterious. Patrons dine at 16 feet / 5 meters underwater, experiencing a world-class meal with a panoramic view of marine life. And for those who appreciate a green-minded restaurant operation, Under has one more surprising feature.
Aside from food and architecture, Under focuses on marine research. The goal of this project is to create technology. Specifically, they aim to create tech that can monitor the population of marine life to improve sustainable resource management. Under has measurement tools and cameras installed to capture data. Documenting the diversity of species in the rough waters of Norway's coastline is challenging and rewarding work. With this in mind, Under invites teams of marine biologists to participate in the project.
Restaurant owners are long known to be experts at multitasking. With an entertaining design, outstanding food, and a passion for marine research, Under has the art perfected.
Hueso
This Guadalajara-based restaurant has no sign. Just a bone strung up, foreshadowing the 10,000 other bones adorning the walls inside.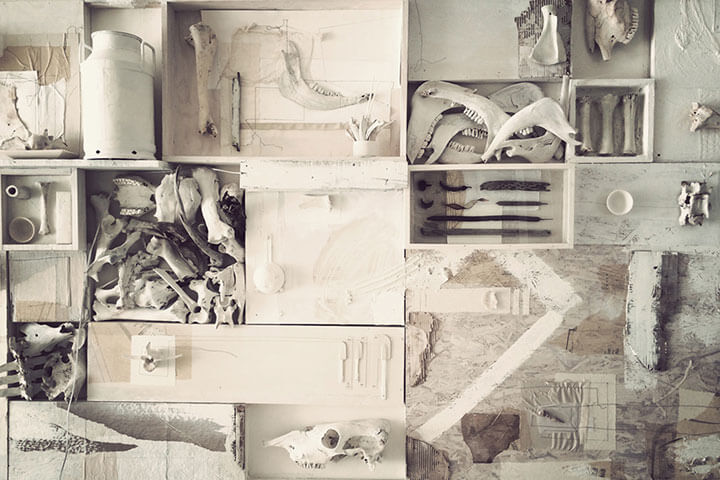 Hueso, which means "bone" in Spanish, features an organically textured interior composed of bones. The off-white bones — including those of turtles, bears, tigers, and whales — are mounted on wood upon white washed walls, as a display of natural elements with some cooking utensils added to the mix. Hueso opened in 2014 and is the result of daring creatives, Chef Alfonso Cadena and architect Ignacio Cadena of the Cadena + Asociados Design Studio. This "Darwinian" interior pays homage to bones, which for a chef, represents flavorful food.
Naturally, many dishes that incorporate bone-based food items are included on the menu such as bone marrow and bone broth. As both Cadenas approach their work intuitively, Chef Cadena's menu changes depending on his mood. Additionally, he only cooks with fresh, local ingredients.
Despite the Cadenas have achieved restauranteur celebrity status, they chose a humble seating area for their guests. Placed in the middle of the restaurant is a table that seats 54. This large wooden seating area sits in front of the open kitchen, asserting that all their customers are equals while encouraging social engagement with other diners.
Ristorante Grotta Palazzese
Last but not least, we have enchanted cave dining with a spectacular view of the Adriatic Sea.
Puglia, Italy is known for its rustic charm, warm climate, and the nutrient-rich soil that supports olive tree farms. Nestled on the rocky coastline in the town of Polignano a Mare, you'll find Grotta Palazzese. This location is ideal for people who love to discover unique experiences and have an appreciation for fine dining.
Since the 1700s, this beach has been used for celebrations and events. For instance, in 1783 by artist Jean Louis Desprez created a watercolor painting reflecting its ambiance and beauty. Grotta Palazzese uses two connected caves for their restaurant, with one overlooking the costal landscape.
Their use of the natural topography paired with fine dining is a real treat for the senses and an extravagant example for restaurant owners looking for the highest level of elegant inspiration.
A Hunger for Nature
Using nature in restaurant design brings patrons closer to their food. These restaurants were not only inspired by nature; they integrated it into the very structure of their building and ambiance. Leaning into a natural design allows guests to gain a better understanding of where their meal comes from. Likewise, it can communicate respect for the natural landscape and its inhabitants while providing a unique experience for visitors.
---