Bring the outdoors inside with 12 collections that exemplify an organic-inspired approach to dinnerware. These collections thrive in creating harmony between manufactured and natural elements, in a warm and inviting way.
2in1 Dinnerware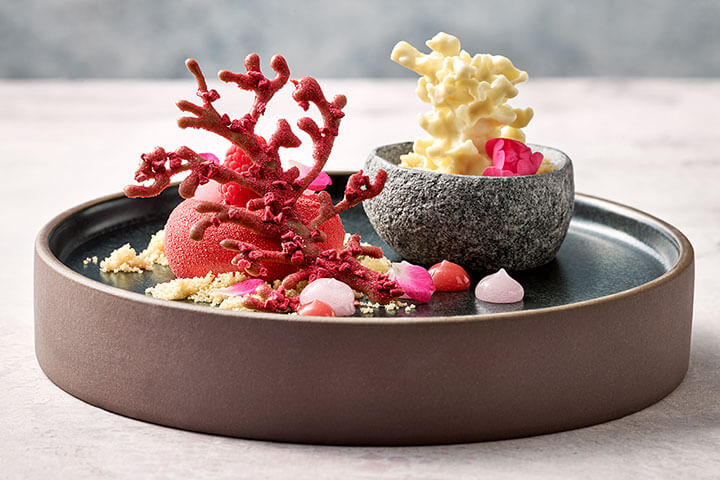 As its name suggests, the 2in1 collection offers a little something extra: two pieces in one. 2in1's stoneware pieces resemble handmade pottery and are glazed on both the top and bottom for versatility.
The dual-function nature of 2in1 allows chefs to have more plating choices and encourages creativity. For example, a plate can serve as either a flat surface or deep well, depending on its position. Another prime example is the bowl that, flipped upside down, transforms into a plateau that quite literally elevates presentation.
2in1 comes in three color combinations that build subtle depth and contrast: beige/gray, brown/black, and gray/white. For additional time-saving versatility, each piece is oven, microwave, and dishwasher safe.
Terracotta Dinnerware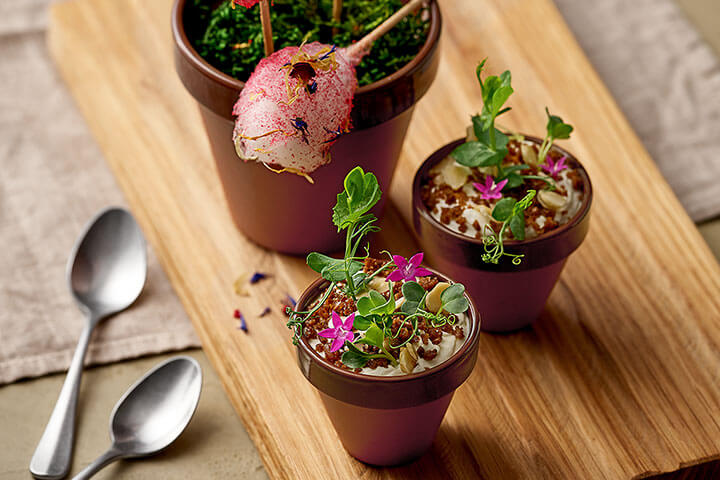 For dinnerware with the power to invoke your inner child, we present Terracotta. Playground has taken a very familiar object to all the garden lovers out there — a classic Terracotta flower pot — and transformed it into a charming dish for your tabletop.
Dining out of a flower pot vessel is a surprising way to invoke your patrons imagination while they enjoy your menus popular offerings. Likewise, the traditional material creates a warm and cozy feeling with charming Mediterranean flair. It is safe to say that the Terracotta pattern successfully brings farm-to-table aesthetics to a whole new level.
Elements Dinnerware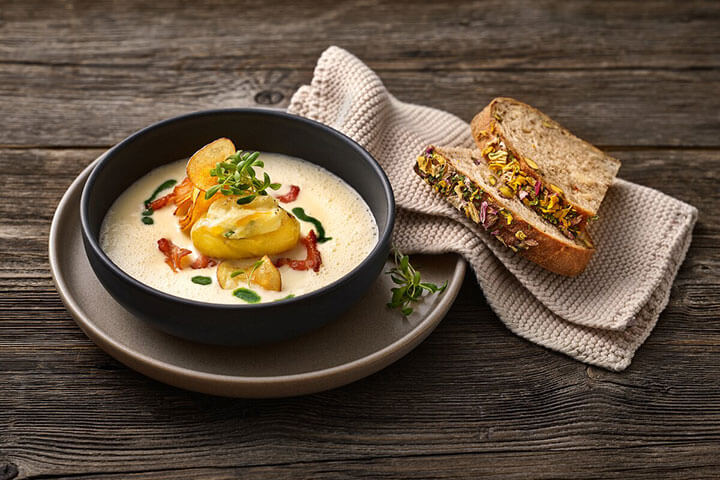 Our next stoneware pattern is the delectable Elements — a comprehensive collection of plates, bowls, cups, and saucers that create a sense of balance on your tabletop. The Elements pattern has soft shapes and edges that draw guests in with its clear design point of view.
The soft-edged, organic silhouettes are approachable and modern, while neutral black and sand tones look beautiful mixed and matched or used on their own. Even the humblest of dishes can be enjoyed in a new, elevated way on an Element dish; each piece serves as a gorgeous backdrop for all your culinary creations.
ReNew Dinnerware
For a sustainable tabletop, look no further than the ReNew collection. Renew is an eco-conscious pattern made from 90% recycled clay material, in line with the mindfulness your patrons crave. Using ReNew in your establishment communicates that your values resonate with those of your guests', encouraging trust and brand loyalty.
ReNew isn't just idealistic, however. It is also practical. The handcrafted look of ReNew reveals a soft matte exterior and glazed interior for a hygienic surface. Additionally, the glaze prevents discoloration, adding to the lifespan of your dishware. White and taupe shades are easily integrated into most design schemes with little effort and the shades of ReNew are no exception.
Marl Dinnerware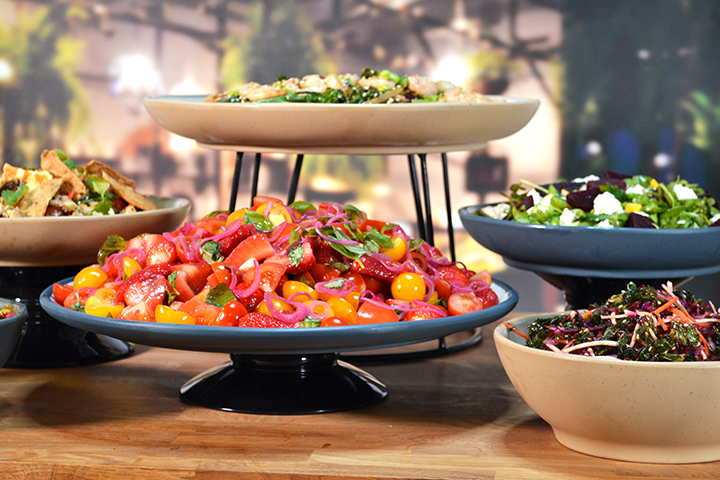 For the look of beautiful, handmade ceramics without the exorbitant price of custom pieces, we have the Marl collection. The convincing artisan look and feel of Marl makes rustic styling a simple task. Available in three earthy colors, this collection is available to mix and match, or feature separately.
The Marl collection has a hidden super power. Although its organically shaped rim and contrasting, glossy look makes it appear to be ceramic, it is manufactured using melamine that is dishwasher safe, stain resistant, and virtually unbreakable. This lightweight collection is both easy on your servers' arms and on your budget as its durability protects against replacement costs.
Ranch Pots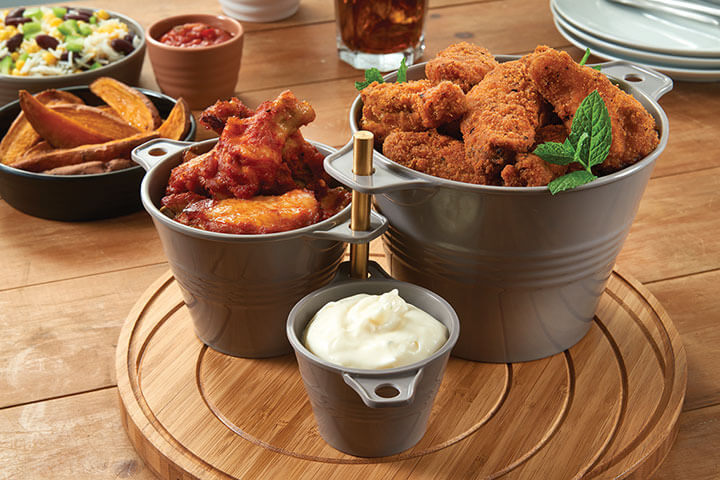 Any fast-past establishment looking for an easy way to up their rustic design game could benefit from Ranch Pots. Available in terracotta, black, and grey, these melamine pots offer a uniquely designed vessel that is both easy to plate and easy to clean.
Ranch pots are sleek with ribbed detailing and a silky-smooth finish. As with most high-quality melamine pieces, this collection was manufactured with the commercial foodservice industry in mind: the pots are durable, dish-washer safe, lightweight, and virtually indestructible.
Ripple Pots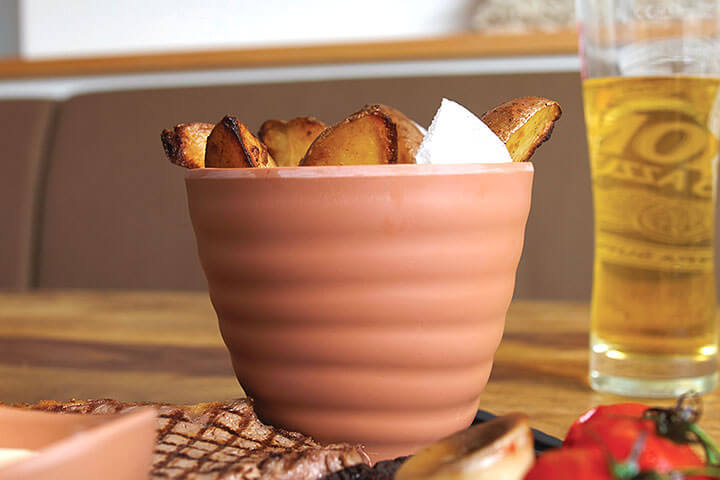 When traditional clay stoneware becomes too heavy to handle and depreciates in value due to its breakable nature, it's time to try the Ripple collection. Perfect for both casual and classic presentation, the Ripple collection offers the look and feel of traditional clay stoneware, but with the benefits of melamine.
With its matte finish, glossy interiors, and rippled texture, the Ripple collection allows both your food and table to shine with subtle elegance. Available in black, white, stone, terracotta, or green, this collection presents a multitude of design options to match your establishment.
Rustic Wood Dinnerware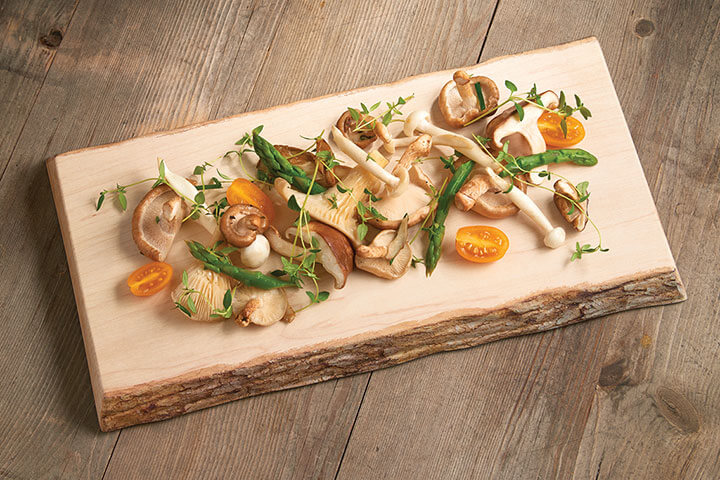 Customers are keen to catch a quirky detail, so draw their eyes in with the Rustic Wood collection. This oak-inspired melamine design is a cost-effective alternative for real wood, made specifically for restaurants.
The fun, natural look of Rustic Wood is paired with anti-slip feet that prevents spills and makes it easier to eat in potentially shaky environments such as a cruise ship. In the event a spill occurs, or the platter is dropped, no problem. Unlike real wood, melamine is easy to clean and durable, providing a long-lasting solution for achieving a food-safe, natural dinnerware look.
Concrete Dinnerware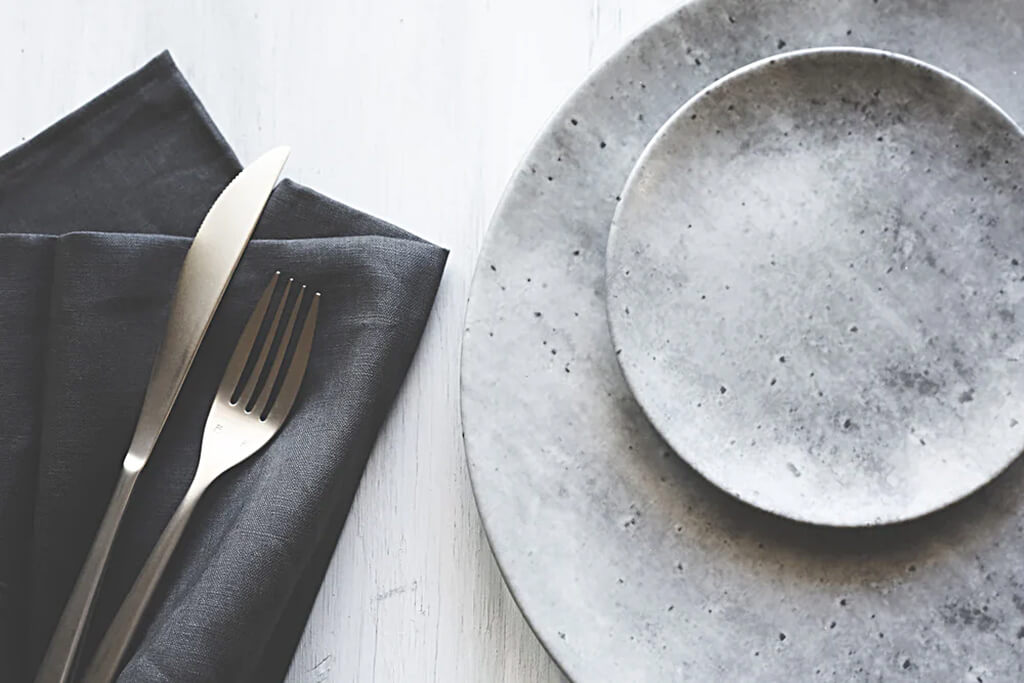 Restaurants who bring the outdoors inside often add concreate elements to their establishment's design in the form of tabletops, bars, or floors. Now, you can achieve that look with Bauscher's Concrete collection made from high-quality porcelain.
The gritty appeal of concrete combined with a matte-textured surface results in a polished backdrop to showcase any meal. And unlike real concrete, this collection is easy to clean and maintain being oven, dishwasher, and microwave safe. Enjoy this versatile collection in combination with earthy greens, rustic dishes, or casual fare.
Slate Dinnerware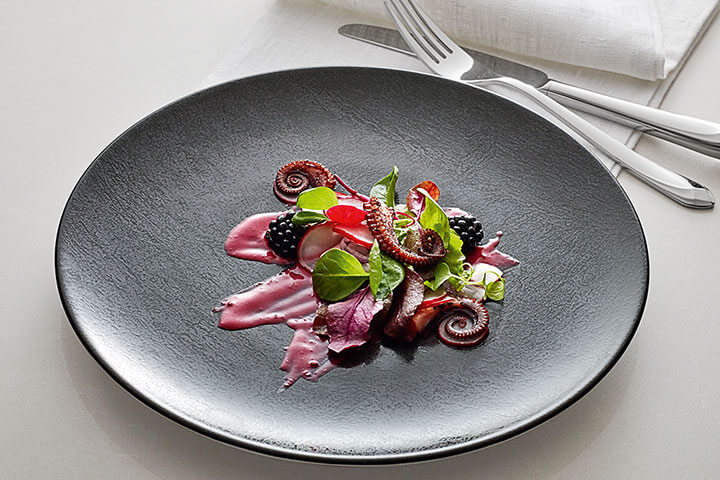 One modern trend destined to remain a foodservice favorite is the addition of slate to our tabletops. However, a better solution to achieve this look that is more cost effective and sanitary than a surface made from rock is the Slate collection by Bauscher. This collection provides a real look and feel of slate but made in restaurant-friendly porcelain.
Bauscher porcelain is extremely resistant to metal markings and shock. This allows the Slate collection to retain its luster while protecting against washings, wear and tear, and accidents that accompany restaurant life.
Wood Grain Dinnerware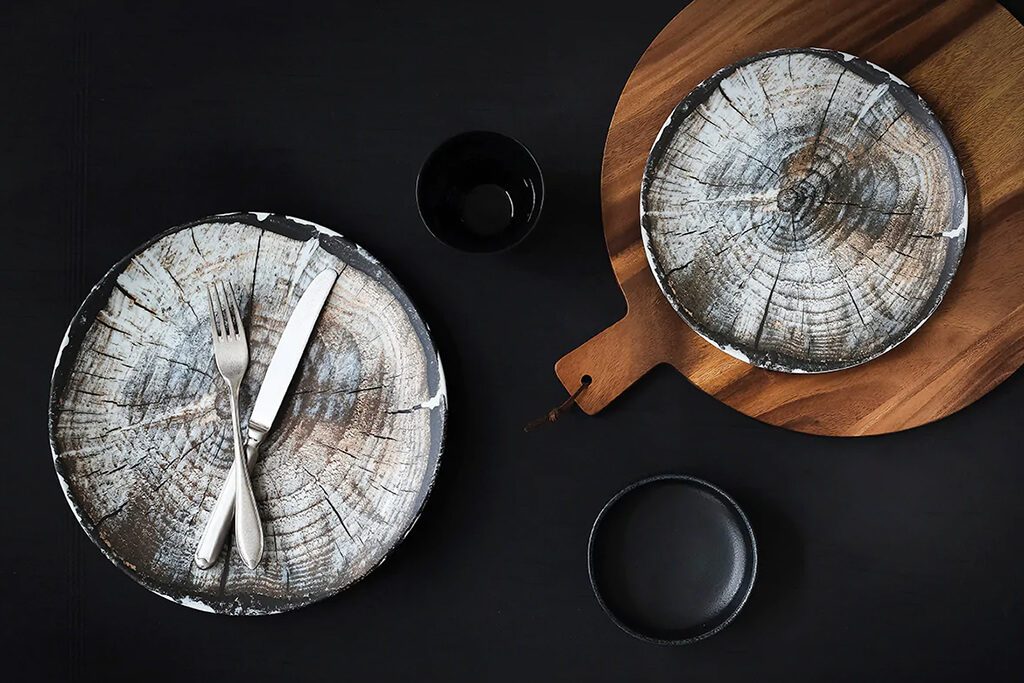 Organic dinnerware trends like farm-to-table loves the use of nature wherever it's found. For the Wood Grain collection, that nature is found in recreating the dazzling intricacies of a tree trunk out of porcelain.
The Wood Grain collection naturally lends itself to rustic presentations, whether that's a complete look or incorporating notes of nature into a more classic table setting. Despite this collection being made from porcelain, the photo realism encapsulated on each plate offers a sense of authenticity that guests will appreciate.
Sandstone Dinnerware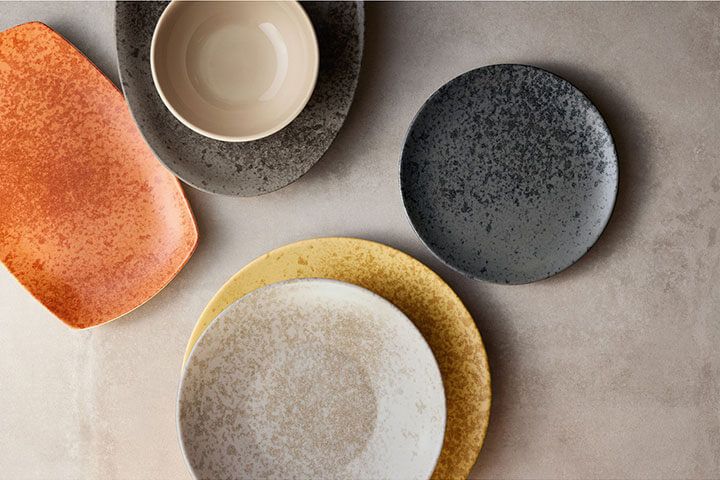 Last but not least, the Sandstone collection focuses on organic elements by showcasing the contrasting surfaces and shimmering effects of the rocks as they are found in nature. This is achieved through shiny silica blended with a course, matte finish, creating a deceptively realistic surface out of porcelain.
The Sandstone collection is available in a variety of earthy colors that work beautifully on their own, or together to create a tone-on-tone effect. As a collection, Sandstone also thrives either in combination with other harmonious organic serving pieces or independently as a nod to nature on the tabletop. Whether it is used alone or alongside other dinnerware styles, Sandstone will please your guests with its thoughtful design.
Invite Nature to Your Table Setting
Restaurants are clearing the table to make room for organic, rustic elements that play on natural themes. The charm of a terracotta flower pot, soft silhouette, or farmhouse-inspired vessel are fantastic conversation starters that never fail to pique guests' interests and imaginations.

About BauscherHepp
BauscherHepp distributes a comprehensive offering of commercial tabletop and buffet products. Our brands have a long history in the global market, making them an ideal match based on their expertise and European roots. BauscherHepp specializes in offering the highest-quality products and providing excellent service.
More importantly, we bring people together. Whether it's for a meal, a celebration, or a corporate event; we give our clients the tools that help them provide exceptional experiences for their customers. Our attention to detail, dedication to quality, and commitment to a culture of excellence are all a part of our story.