Industrial-minimalist table settings draw upon objects and structures found in warehouses, steel mills, and factories. To showcase this evolving dinnerware aesthetic, we've rounded up seven component collections for the perfect industrial-minimalist tablescape.
Each line functions beautifully for both their intended purpose and to compliment the raw, unfinished look of this design style. Starting with plate and platter ideas, we will then move onto architecturally impressive glassware and illuminating flatware.
Urban Dinnerware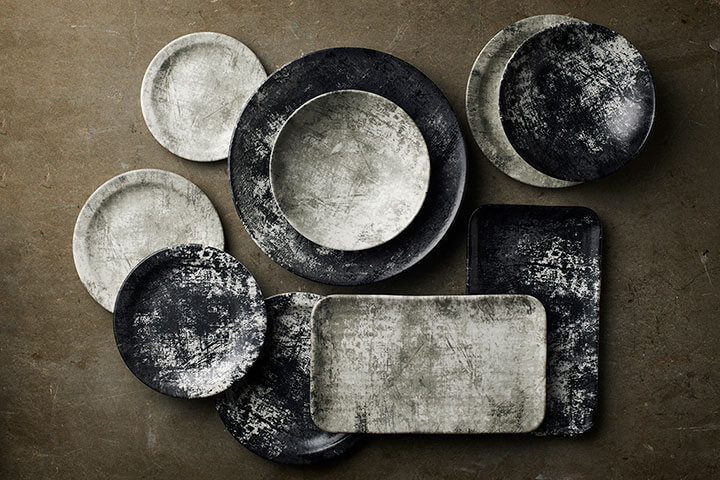 Creating an industrial minimalist presentation starts at the table's focal point — plates and platters. Made in England, Urban takes inspiration from worn landscapes that served as the birthplace of the industrial revolution. Its texture presents a burnished effect, mimicking the tough materials found in a factory. To increase durability, each piece was hand-dipped in a semi-matte glaze to achieve the strength required by professional kitchens.
Urban's vitrified ceramic pieces use a dramatic two-tone color palette featuring Steel Gray and Lamp Black to emphasize the drama and raw luxury of this elegant line.
Organic White Dinnerware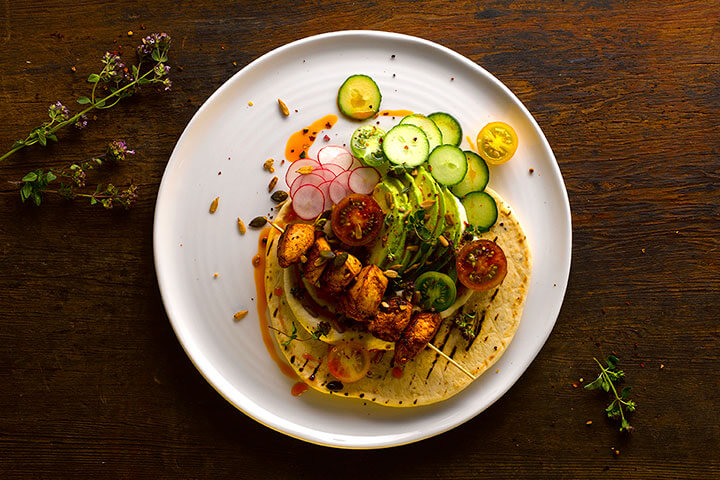 Compliment the cool grays and blacks of Urban with the simple embossed lines of the Organic White collection. Made in England, the subtle irregular shapes of the Organic White collection plays as a nod to Dudson's heritage as expert craft potters. Clean white organic shapes and a lustrous finish makes this collection appear fragile. However, Organic White is made from vitrified ceramics with the industrial toughness a restaurant requires.
Reveal'Up Glassware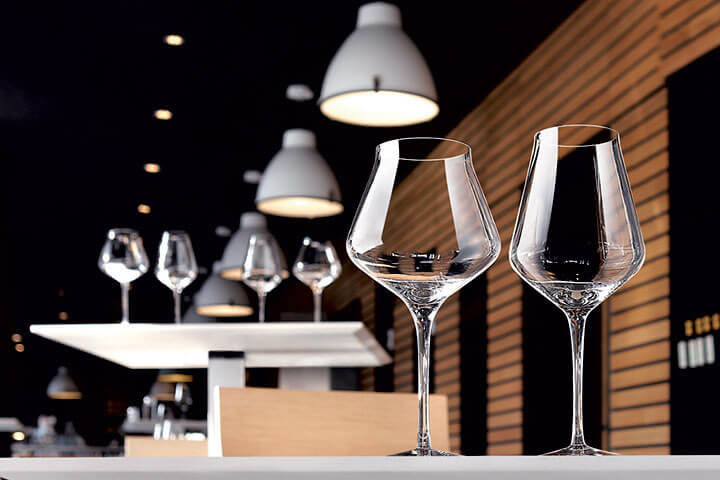 Reveal'Up is one collection of two modern shapes that will enhance your wine service. This innovative collection's two goblet silhouettes — Intense and Soft — were chosen because they provide the best balance between appearance, smooth solid-stemmed construction, and practicality. Adding to their durability, this collection is made from Krysta crystal glass, which provides superior strength at the rim, long lasting brilliance, complete transparency, and perfect acoustics.
The Intense glasses are suited for red wines because of its extra-large oxygenation surface. The Soft glasses are lovely with delicate reds or white wines. Its oxygenation surface and bowl opening are smaller to bring about the most subtle of notes. Reveal'Up's Intense and Soft glasses were made in France and designed for intensive, commercial use.
Aska Glassware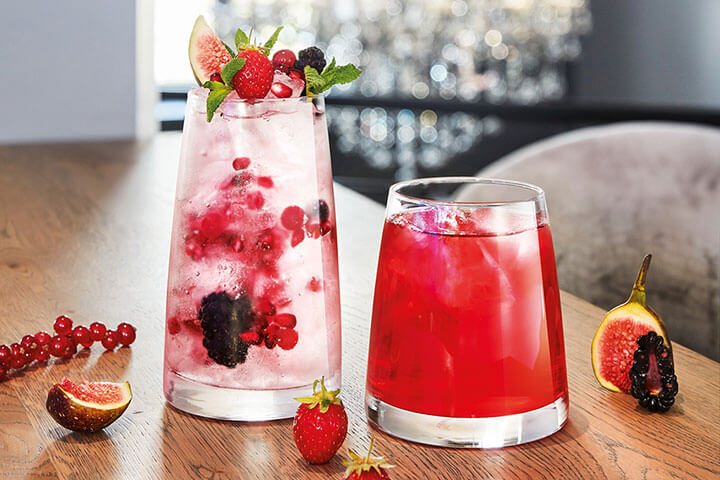 Let yourself be inspired by the architecturally minded Aska collection of fine crystal glassware. The angular lines that make Aska a star of industrial minimalism are reminiscent of architectural details such as metal beams and steel fixtures. Mixologists love the heavy base, thin rim, and unusually tapered shape area as they help to dramatize cocktail presentations.
Despite its sophisticated, high-end vibes, the Aska collection has the high-quality construction and durability restaurants and bars demand. Aska is also recommended for high-volume establishments as this glassware can withstand 2000 commercial dishwasher passages without any alteration to its brilliant appearance.
Kya Black Flatware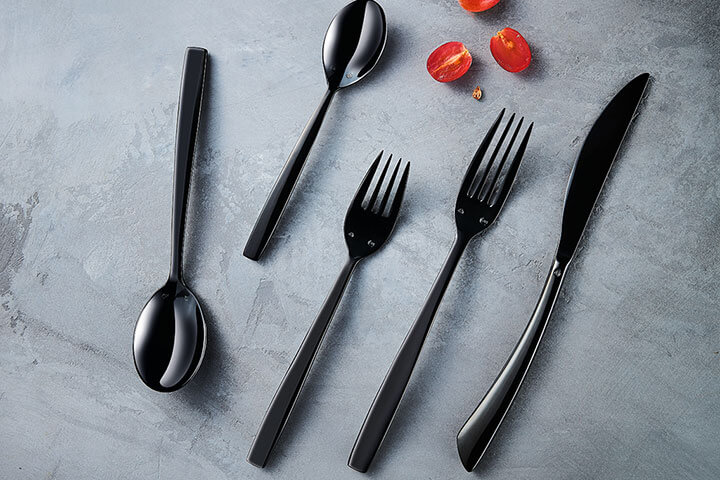 For a standout industrial-minimalist look, Kya Black is our pick for the flatware that most perfectly mimics shiny black metal one might find in a stripped-down industrial environment. The black PVD mirror finish is scratch resistant and made from 18/10 high-quality stainless steel, creating a perfectly understated sleek look. Kya Black lends to an elegant approach to industrial décor because this flatware line doesn't need to be loud or showy to captivate an audience.
Miracle Flatware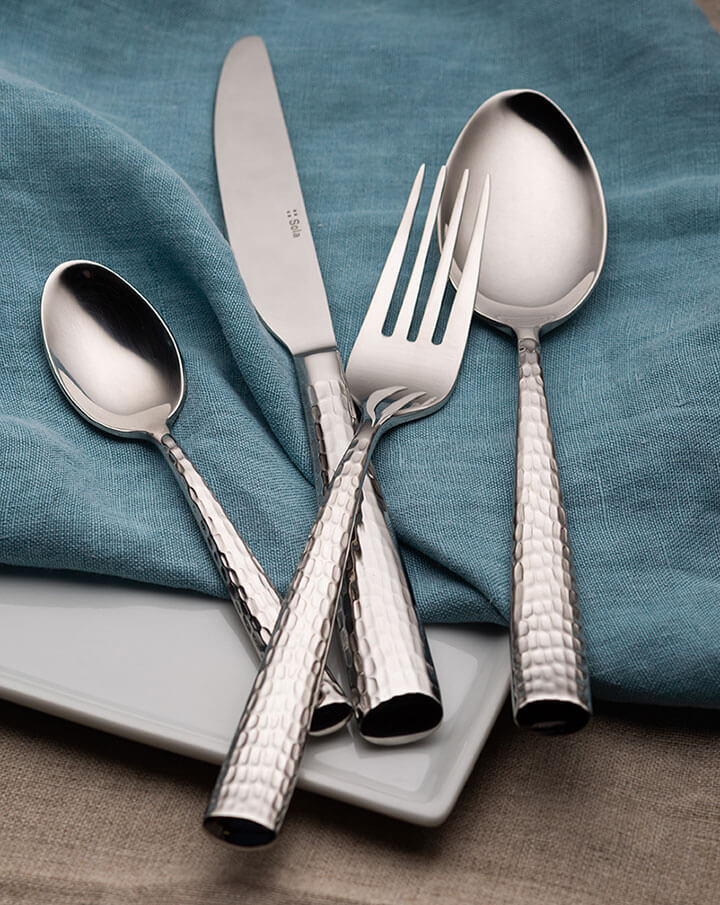 For a bit of sparkle in your fine-dining establishment or corner café, we present the Miracle flatware collection. The Miracle line is made from 18/10 stainless steel with a distinctive honeycomb design that hides all the little imperfections that may occur in a restaurant setting. The hammered surface is reminiscent of the hand-forged work traditional silversmiths produce, allowing this line to seamlessly integrate into an industrial minimalist table setting.
Chelsea Steak Knife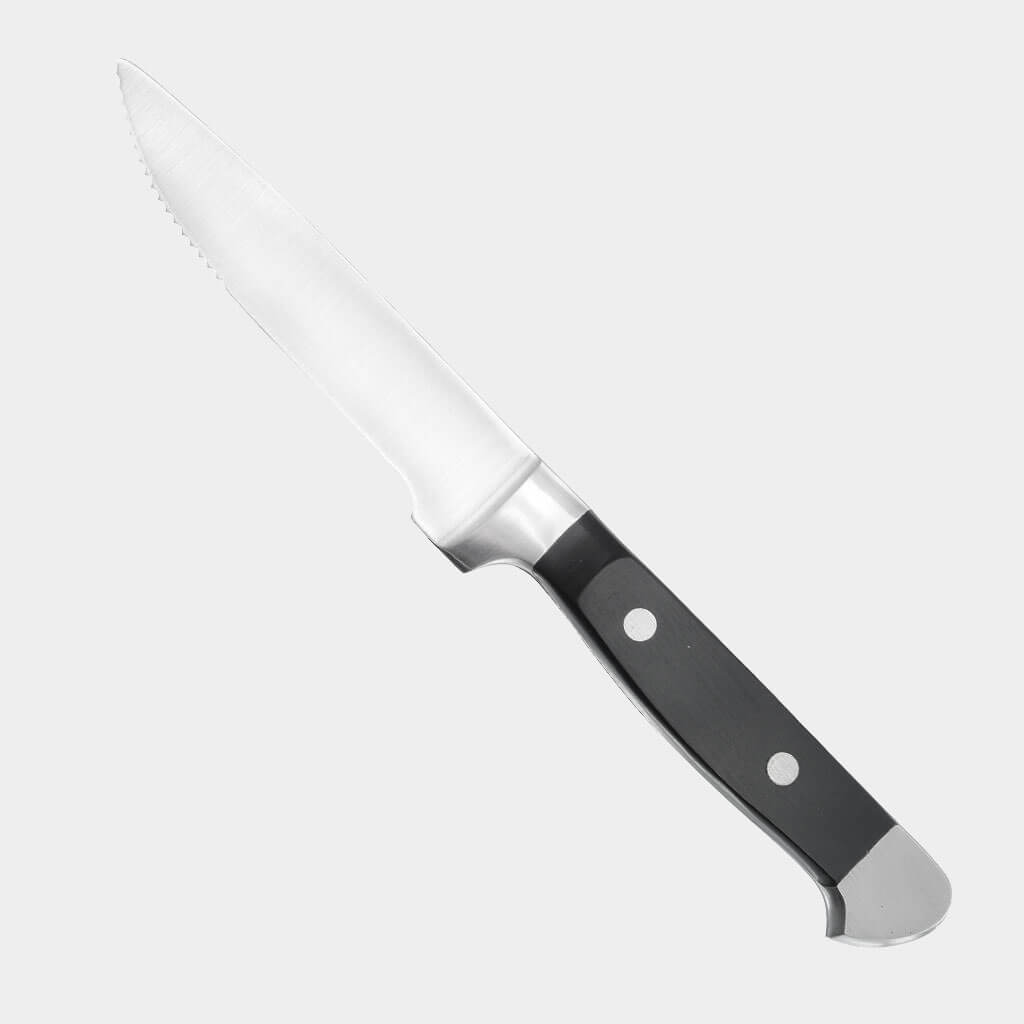 Tie the entire look together while offering your guests the best cut with the Chelsea Steak Knife. This knife is extra-heavy weight for safety and precision matched with a balance that elevates the average knife wielder into a carving master. The classic, no-nonsense look of the Chelsea Steak Knife adds to the mood of industrial minimalism with its quiet strength: it's a high-quality tool designed and built to allow a chef to work their trade without the frustrations a dull knife solicits.
Distressed and Exposed Elements of Style
Industrial minimalism thrives without frills. Instead of the ornate, it seeks to find the beauty of metal beams or steel fixtures to create a playful air of rugged innovation and sleek grit. Our chosen collections reflect these values: use them on their own or to compliment an entire industrially designed establishment.
About Arc Cardinal
Arc Cardinal proudly offers tableware, smallwares, and buffet solutions. We are continuously being inspired by our partners and customers as they transform their establishments. We know not every concept has the same budget, customers or operational demands. We set out to provide flexible solutions for a remarkable experience.