Culinary artists respect their ingredients, including preparing and filleting fish with care. Fish is a delicate protein to handle and therefore proper preparation is key. This not only ensures that we are able to enjoy the fish safely and without risk of illness, but also helps to maintain their quality and freshness.
One of the most important aspects of preparing world-class seafood is making sure you are using the best tool for the job. Fillet knives need to be reliable, high-performance tools that can stand up to the rigors of regular commercial use. With this in mind, we'll introduce you to a simple tool both freshwater and saltwater anglers swear by: the Dextreme series of outdoor fillet knives.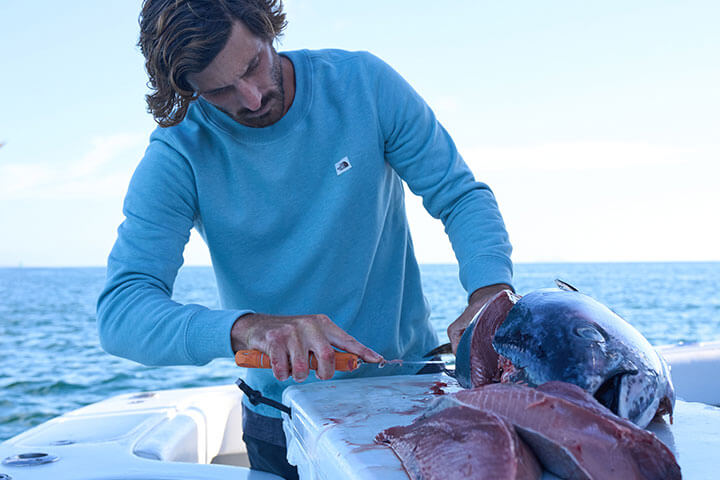 Leveraging the Multi-Purpose Functionality of Fillet Knives
Fillet knives are a crucial tool for cleaning and preparing fish. Here are some of the capabilities a high-quality fillet knife brings to the table.
The primary use of a fillet knife is to produce a clean, boneless piece of meat. High-quality fillet knives make precise cuts along the spine, ribs, and skin of the fish.
Scaling involves scraping off fish scales, which can be done with the back edge of a fillet knife.
A fillet knife is handy for gently trimming any remaining bones or skin.
Fillet knives are also used to make a cut along the belly of the fish to remove the internal organs.
Once the fish is filleted, anglers may use their sharpest fillet knife to slice the fish into smaller pieces or to cut the fish into steaks.
Next, we'll explain why the best commercial fillet knives are durable, flexible, and ergonomic. We'll also talk about why Dexter Russell's Dextreme fillet knives are an excellent choice for both freshwater and saltwater fishing enthusiasts.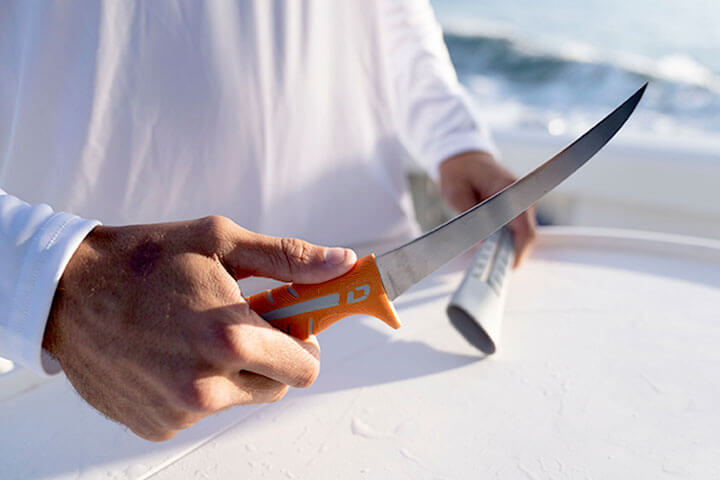 Hooked on Perfection: The Art & Science of Commercial Fillet Knives
For those unfamiliar, the Dextreme series offers Dual Edge Flexible Fillet Knives with sizes ranging from six to eight inches. They additionally offer a Dual Edge Stiff Fillet Knives that ranges from eight to ten inches.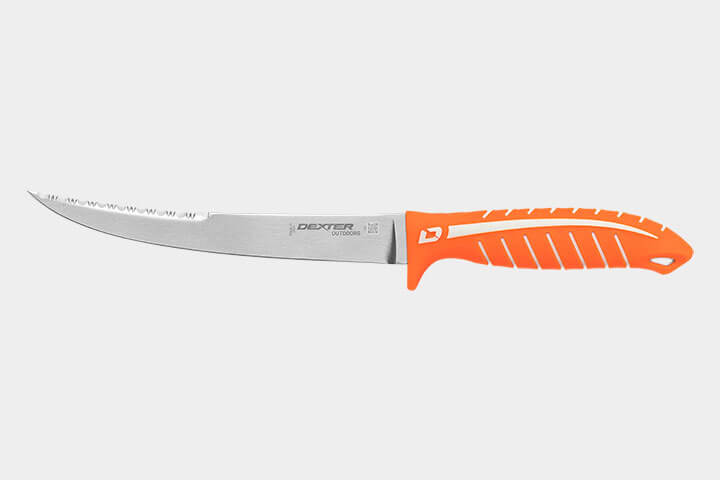 These fillet knives are problem solvers because they are dual-action tools, thereby lessening the number of knives to manage out on a boat or in the back of house. Their scalloped edge penetrates scales and tough surfaces without dulling the blade. Inversely, the lower edge is ideal for precision work and trimming. Both the flexible and stiff version comes with a sheath and are made in the USA.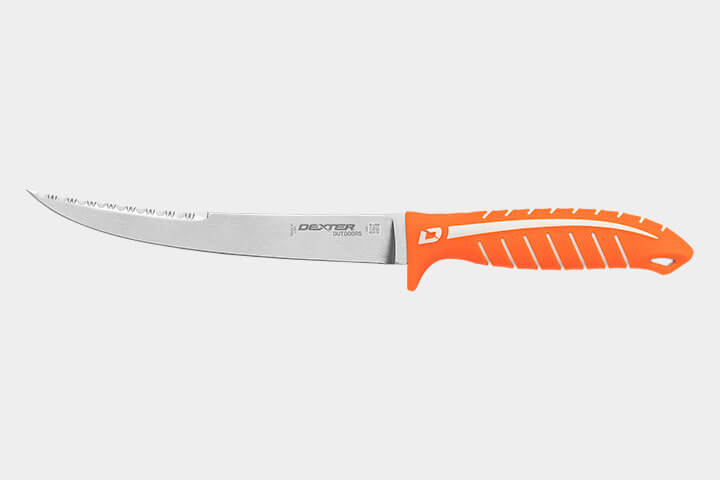 Durability Is an Essential Quality for Fillet Knives
To emphasize, saltwater fish preparation requires knives that are durable and able to withstand the wear and tear of daily use. Professional knives must be able to hold up to repeated use without becoming damaged or losing their edge.
Dextreme knives are made from Dex Steel, a proprietary high-carbon, high-alloy American stainless steel that ensures a sharp, long-lasting edge even when used in saltwater environments. This means that these fillet knives will last longer, will require less sharpening, and can resist corrosion, a trait not common in competitive alternatives.
Flexibility in Fillet Knives
Chefs need knives specifically designed processing fish. Prepping fish generally involves a variety of tasks, including filleting, skinning, and trimming. If on a boat, or dock, having a singular knife that does it all is much preferred to carrying their entire collection.
In addition to making short work of a variety of tasks, Dextreme knives are designed with a flexible blade that makes it easy to fillet a variety of fish, from delicate trout to larger saltwater species like tuna and marlin. Incorporating the right amount of flexibility in a fillet knife ensures that the blade glides over bones and enables easy separation while removing the skin.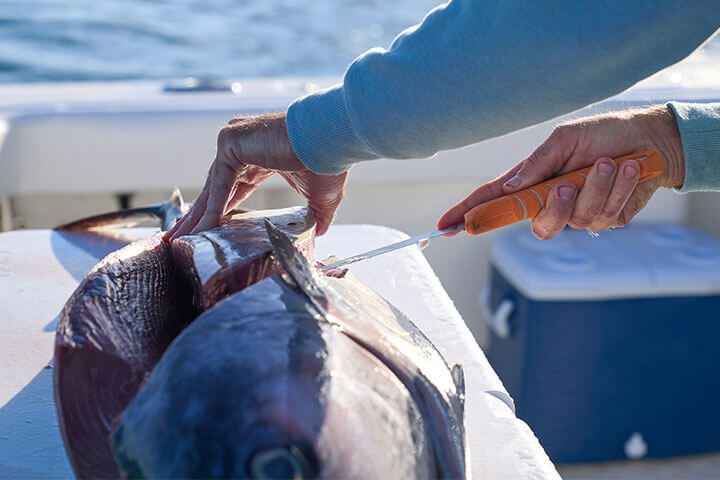 Ergonomics for Fillet Knives
Lastly, commercial fishermen need knives that are comfortable and safe to use for extended periods of time. Fish processing is a physically demanding job, and people need knives that provide a secure and comfortable grip, even when working with water. Knives that are poorly designed or uncomfortable to use can lead to accidents and injuries, which can be costly and dangerous in a commercial environment.
Dextreme fillet knives have ergonomic handles that provide a secure and comfortable grip, even when the knife is wet or slippery. Their soft, non-slip handles accommodate any hand and finger position for greater control.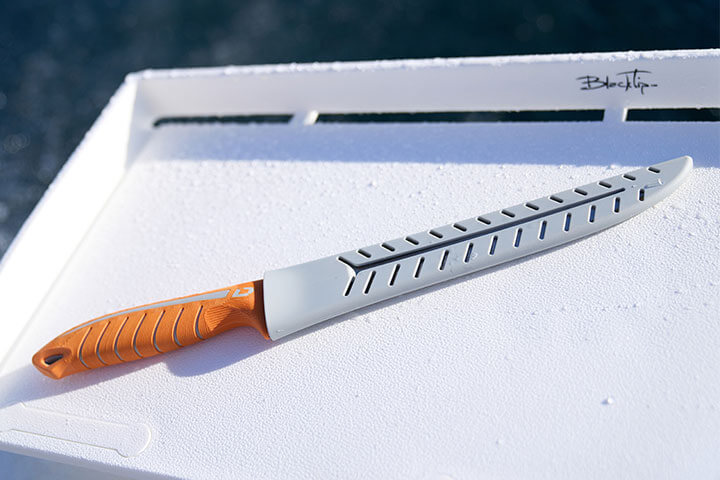 All the Knife You Need
If you are a seafood enthusiast looking for a reliable, high-performance knife that will stand up to the rigors of regular commercial use, Dextreme fillet knifes are an excellent choice. With their superior corrosion resistance, excellent performance, ergonomic handling, and trusted reputation, using a Dextreme fillet knife is a great way to respect the catch.
Partnered with
American-made since 1818, Dexter knives have a reputation for reliability and performance. Dexter is driven by the understanding that its customers rely on Dexter knives, all day, every day. Dexter Outdoors honors that commitment.