Thomas Edison was ahead of his time in many ways, one of them being commercial panini grills. According to the National Parks Service, in the 1920s, Edicraft began production on numerous "electric servants", among them the sandwich grill. However, after the Great Depression seized the US economy, Edicraft ceased production of their sandwich grills in 1934.
The United States would have to wait decades for its second coming of the panini, which arrived in the late 1990s. For that, we must show our gratitude to the Paninaro and Paninare of Italy.
"Andiamo Alla Paninoteca!"
"Let's go to the sandwich shop!" Italy's revered slow food heritage hit a speed bump in the early 1980's when a subculture of rebellious youth deemed American-style fast food as the next big thing. The most similar fare Italy had to fast food at the time were grilled sandwiches.
Cafê Paninaro in Milan served as a meeting place, and eventually, this group of pop culture rebels were known as the Paninari. A panini sandwich, or the proper term in Italy, panino which translates to "little breads", gained traction in the bars and cafés of Milan.
Soon this popularity spread across countries and it is easy to understand why: grilling a sandwich captures an amazing flavor. Traditional grilled panini recipes varied across the regions of Italy, however most followed this basic formula:
High quality bread such as ciabatta, rosetta, or focaccia + classic Italian meats and cheeses + fresh vegetables + fresh herbs + a touch of olive oil.
Why Restaurants Are Investing in Panini Grills
The endless variety of ingredients one can play with when creating paninis and other pressed sandwiches makes the commercial panini grill a perfect addition to virtually every commercial kitchen. Restaurants, hotels, entertainment venues, pubs and taverns, caterers, food trucks, concession stands and more all benefit from a panini grill.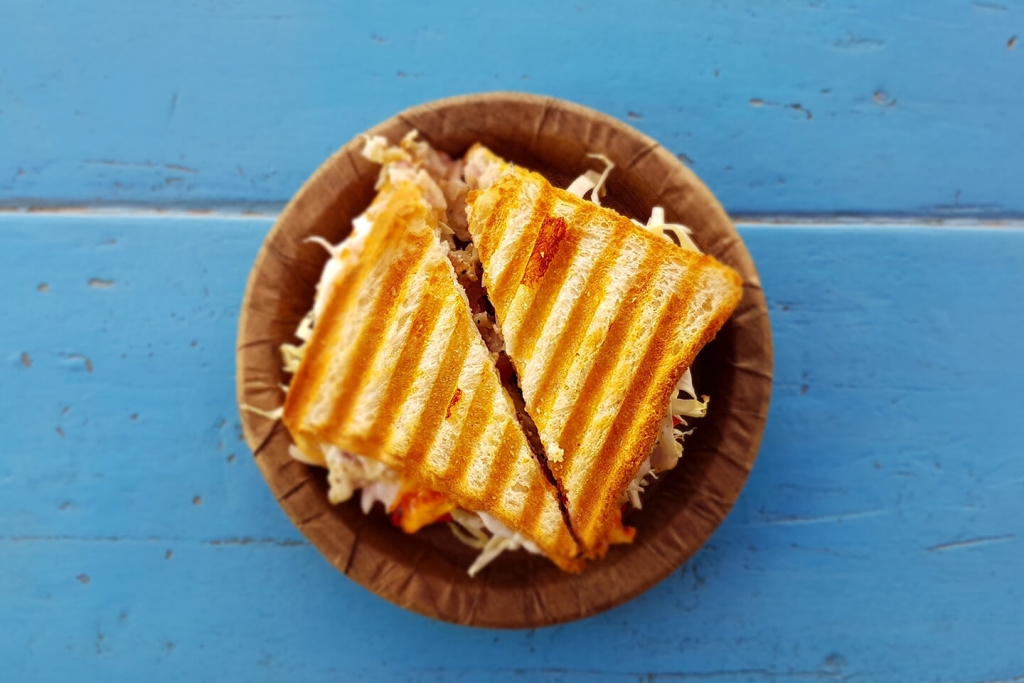 For example, wine bars, brewery kitchens, and cocktail lounges could create an array of savory grilled sandwiches using ingredients that perfectly compliment their popular drinks. Adding a "sandwich flight" appetizer to accompany a beer flight is a fun and inventive way to introduce customers to more menu items. Moreover, promoting food/beverage pairings results in higher profits when, for instance, customers stopping by for just a beer decide to order food as well, or vice versa.
When it comes to wine bars, Eric Asimov of the New York Times points out, "Bread and wine are a foundation of civilization. A sandwich simply adds other flavors to the equation, and very few foods won't be improved by wine."
However, panini grills found in today's commercial kitchens prepare more than just sandwiches. Depending on plate formation, they act either as a grill or a griddle. For instance, griddles have smooth, flat plates while grills have grooved, ribbed plates that create a charred pattern we all love.
Panini grills as an investment also offer a fantastic return. For instance, take an ordinary ham and cheese sandwich: Once pressed and grilled, restaurants and cafes can charge double of what the cold version would bring in.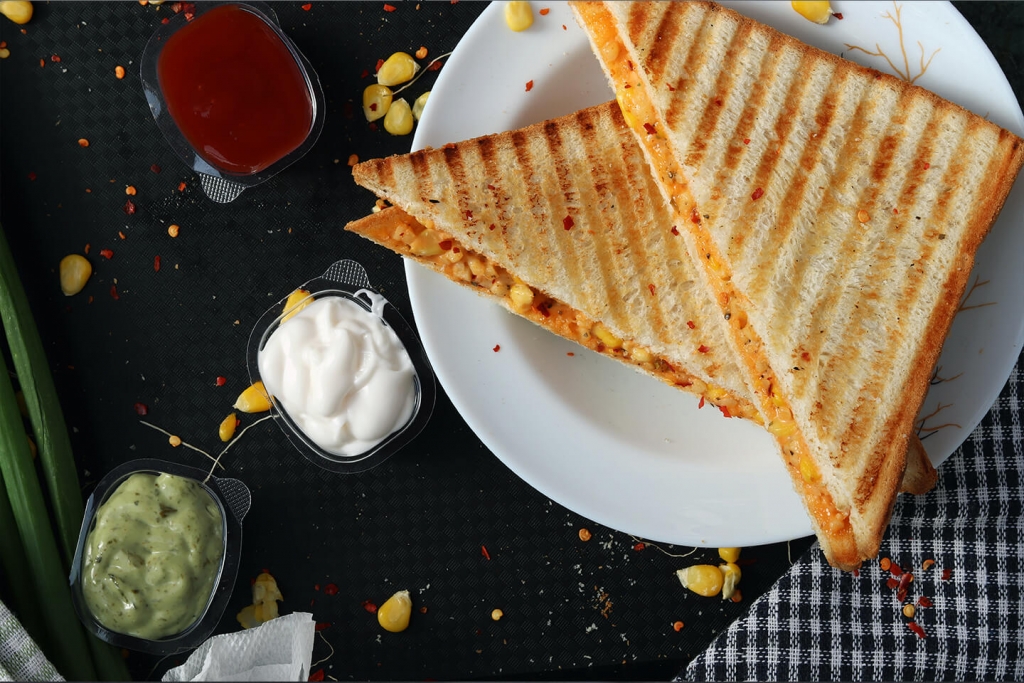 Anatomy of a Commercial Panini Grill
Plates
Commercial panini grill plates are most often constructed from cast iron, which is the ideal choice because it is durable and distributes heat evenly.
Plates vary in their style:
Grooved on top and smooth on the bottom
Grooved on the top and bottom
Entirely smooth.
Grooved plates, like a traditional grill, are excellent for sandwiches, pizza, and anything else you would like to see grill marks on. Flat plates are best for eggs, pancakes, tortillas, and French toast. Many different kinds of food, like vegetables, work perfectly on grilled or smooth plates, so in many cases it is simply at matter of preference.
Controls
Commercial panini grill controls are simple to operate: They have an on/off button and an adjustable thermostat for choosing cooking temperatures. Some models offer electronic countdown timers that alert with a beep when grilling has completed, so that food is never over or under cooked. Timers are also handy in a fast-paced environment so chefs can walk away from the machine to assist customers or prep the next meal.
Lid
The lid is the top part of the machine that holds the upper plate. Oftentimes handles are thermo-insulated which means they are cool to the touch and do not require additional accessories like oven mitts. Some have adjustable hinges which are also called adjustable floating lids. These allow the chef to adjust the lid based on a sandwich's thickness.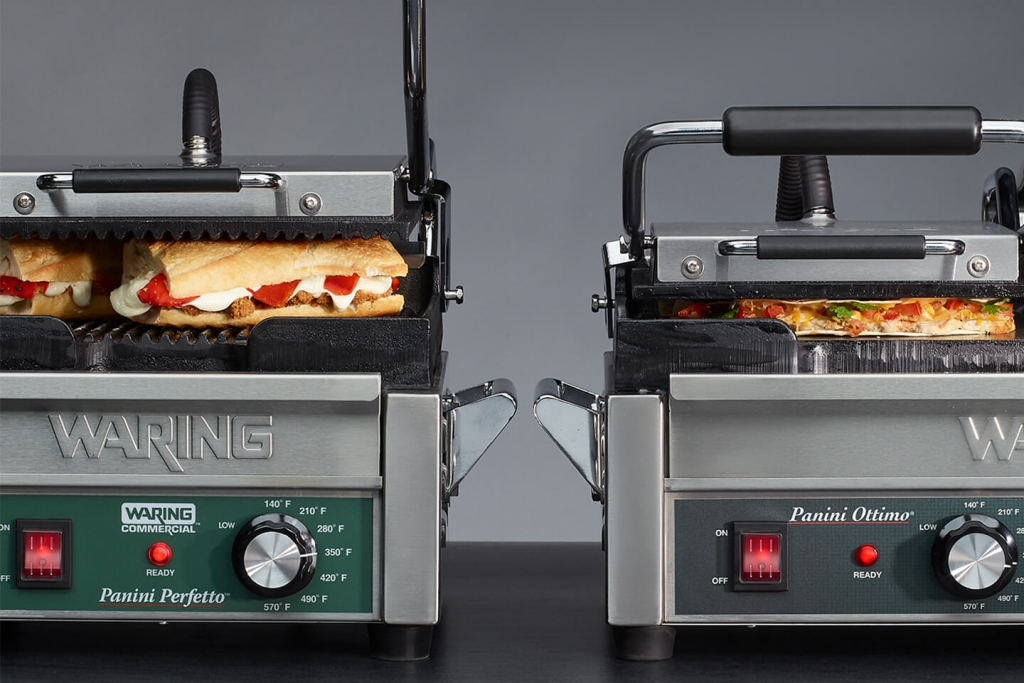 Vents and Thermal Protective Switches
Both vents and thermal protective switches work to protect the machine from overheating. A thermal protective switch acts as a secondary overheating caution if the vents are clogged. If the machine overheats, a thermal protective switch will automatically shut down the grill. It takes about 10 minutes for the machine to be up and running again.
Drip Tray
Drip trays catch crumbs, cheese, oil, and ingredient spillover. They are most often constructed with stainless steel and are removeable for easy cleanup.
Accessories
For utensils that touch the cast iron plates, opt for silicon or other non-scratch materials. Metal utensils will scratch cast iron and are therefore not recommended.
To clean cheese, meat, and oil easily use a non-scratch grill brush and warm, soapy cloth. Buildup of food and oil affect the performance of a panini grill and is the root cause of most performance issues.
For even easier cleaning, line grill plates with high-heat PTFE non-stick sheets. These handy sheets can be clipped to grill plates and easily cleaned after use. It is much faster to clean gooey cheese and scorched grease off of a non-stick PTFE sheet than it is a cast iron grill plate.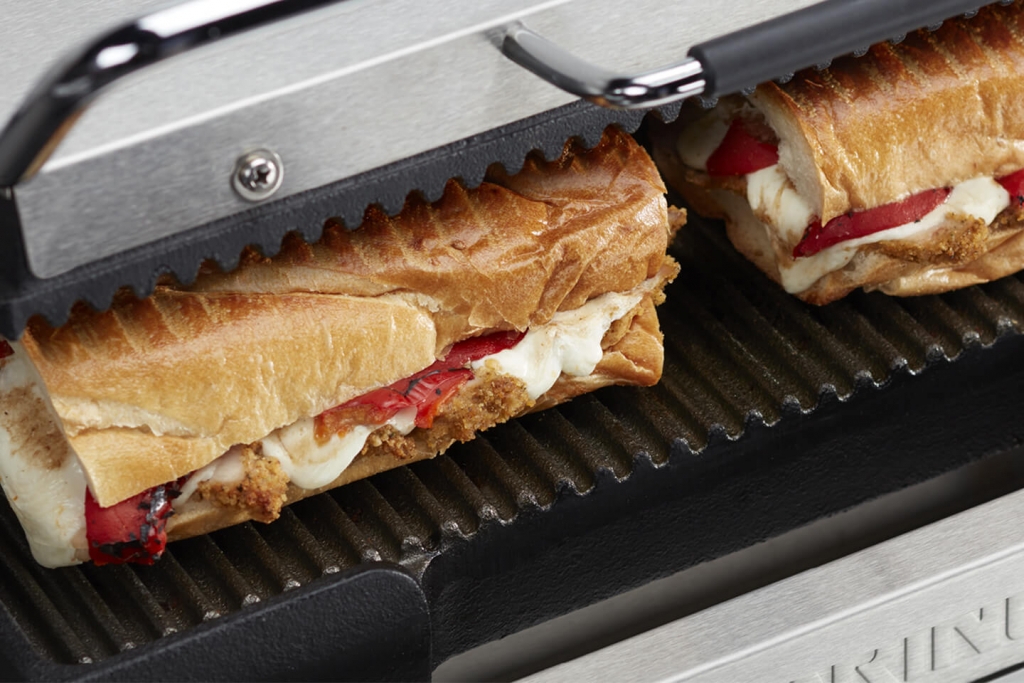 Featured Waring Commercial Panini Grills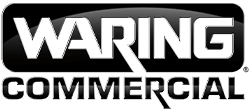 All of the Waring Commercial Panini Grills in our review feature:
Hinged, autobalancing top plate performs best with foods up to 3" thick.
Adjustable thermostat up to 570F/299C.
Power and Ready indicator lights
Cast iron plates
Brushed stainless-steel body
Removable drip trays
Thermo-insulated, heat-resistant handles
Rubber feet
A preheat time of only 10 minutes
A warranty that exceeds industry standards.
Panini Supremo – Large Italian-Style Panini Grill, WPG250
The WPG250 is everybody's best friend in a commercial kitchen and one of Waring's top sellers for its excellent price point, cleanability, and relatively small footprint.
While all of the Waring panini grills we reviewed have many features in common, the WPG250 varies in its:
14.5" x 11" cooking surface
Grooved top and bottom plates
Adjustable back feet for efficient grease drainage
Cooking surface that accommodates Waring's PTFE sheets for easy cleanup
This large, Italian-style panini grill cooks pressed sandwiches to perfection as well as anything found sizzling on a traditional grill such as burgers, vegetables, and chicken. Customers love to see grill lines on their food as they are synonymous with thoughtful preparation and excellent flavor.
Tostato Supremo – Full Size 14" x 14" Flat Toasting Grill, WFG275
Aside from a perfect pressed sandwich, the smooth plates of the WFG275 acts as a griddle which opens doors to food such as tortillas, quesadillas, eggs, pancakes, seared tofu, and any food that requires an extra crisp finish.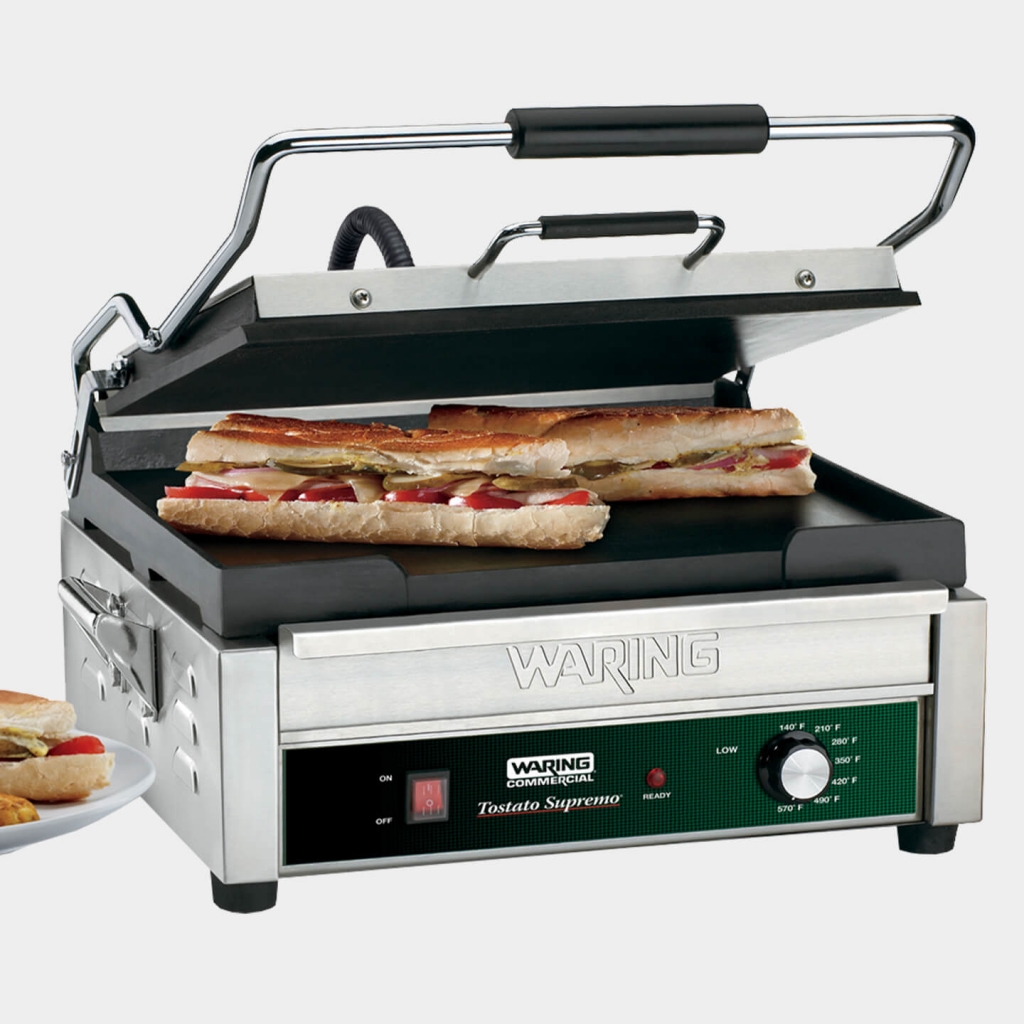 The Full Size Flat Toasting Grill distinguishes itself with:
14" x 14" cooking surface
Flat top and flat bottom plates
Tostato Supremo With Timer – Full Size 14" x 14" Flat Toasting Grill, WFG275T
If you're struggling to keep up with your lunch or dinner rush, look no further. The WFG275T is ideal for a fast-paced, multitasking kitchen.
It employs a programmable countdown timer to ensure consistency preparation and food that is never overcooked or undercooked. Users are able to multitask with the WFG275T because the timer emits an audible alert when cooking has completed.
This panini grill also features:
14" x 14" cooking surface
Flat top and flat bottom plates
Like the WFG275, the smooth plate surface allows chefs to prepare items such as tortillas, quesadillas, and seared tofu.
Panini Ottimo – Double Italian-Style Panini/Flat Grill, WDG300    
The WDG300 offers the best of both grooved and smooth worlds.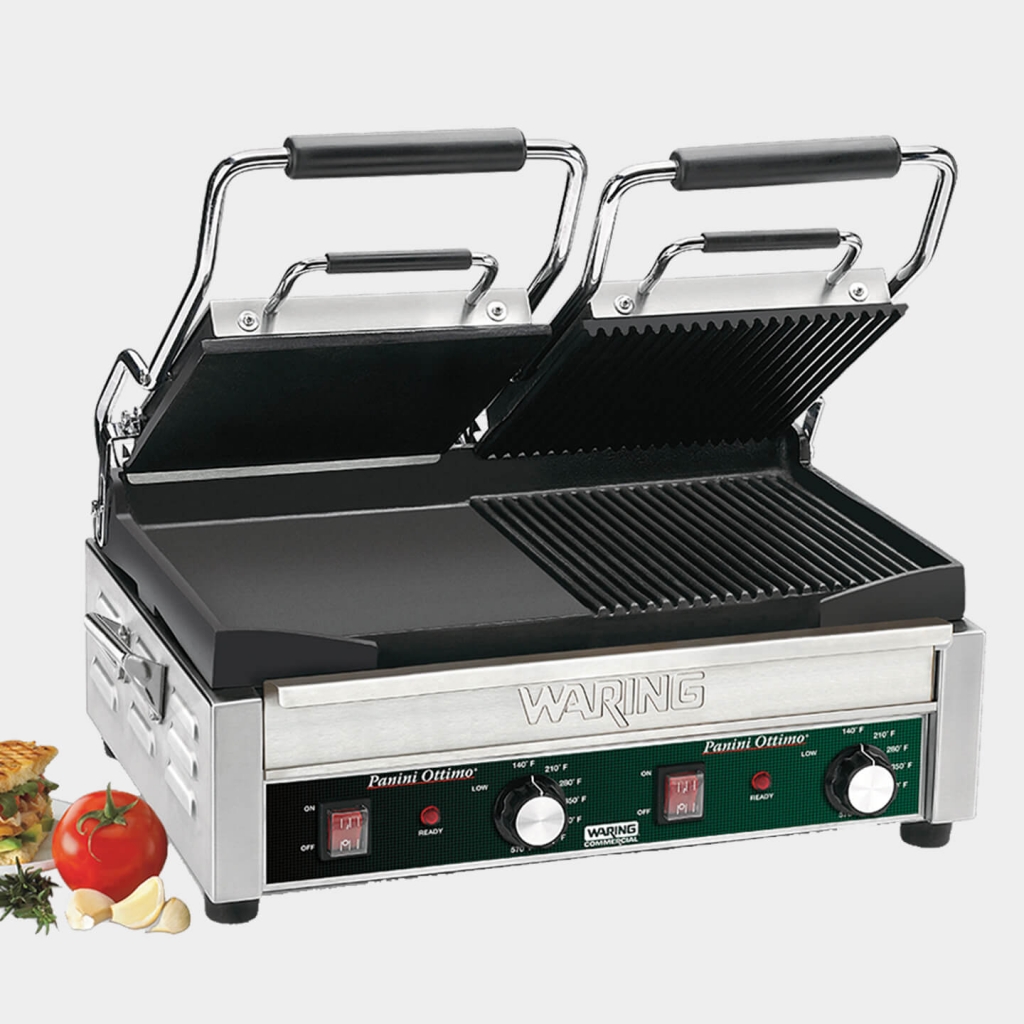 This two-in-one commercial panini grill is able to satisfy all savory food cravings and features:
17" x 9.25" cooking surface
Flat on one side, Ribbed on the other
Adjustable back feet for efficient grease drainage.
With its ability to flat press, griddle, and grill, your culinary choices are endless.