Creating the perfect cocktail, blending smoothies, and mixing soups and sauces takes more than the right ingredients. A chef also needs the best piece of equipment for the job. Our comprehensive buying guide will help you select the perfect bar, high-performance, or culinary blender for your commercial kitchen.
Do You Need a Blender or a Food Processor?
Before we jump into the different types, let's demystify the difference between a commercial blender and a food processor. The hard and fast rule on whether to use a commercial blender versus a food processor is blenders always require liquid to do their job.
Commercial Blender Strengths
Blenders, depending on their type and function, excel at:
Puréeing
Crushing ice
Making smoothies and milkshakes
Mixing cocktails
Creating soups, sauces, and dressings
Working with frozen ingredients
Types of Commercial Blenders
There are four categories that all commercial blenders fall into: bar, high-performance beverage, culinary, and specialty. Each blender type brings an array of advantages to the commercial bar or kitchen.
Commercial Bar Blenders
As the name states, the market for bar blenders are taverns, pubs, and establishments that blend the occasional drink. Bar blenders come equipped with several basic features such as a timer, high/low speeds and a pulse function.
Bars can rely on bar blenders (under 2 horsepower or HP) to make 10 to 25 drinks per day and avoid paying for unnecessary features. If blending more than 25 drinks per day, bars should consider stepping up to a high-performance beverage blender.
High-Performance Beverage Blenders
High-performance beverage blenders have considerably more power than a bar blender. Beverage blenders with 2 HP or more are high-performance.
Establishments blending back-to-back drinks — more than 25 drinks a day — such as smoothie shops, coffee shops, juice bars, and frozen drink specialty bars, require high-performance blenders to keep up with the crowd.
High-performance beverage blenders have durable motors designed for high-volume drink production.
High-Performance Programmability
Another useful feature that contributes to a blender's versatility and productivity are preset drink cycles. This is particularly helpful for establishments with menu items. Preset programs offer push-of-a-button consistency and speed.
Additionally, some blenders come with the option of creating your own customizable programs and offer languages other than English.
Commercial Culinary Blenders
Culinary blenders mirror high-performance beverage blenders in their construction. The difference between the two is food blending relies on variable speed functionality which offers the chef control over their ingredients and recipes.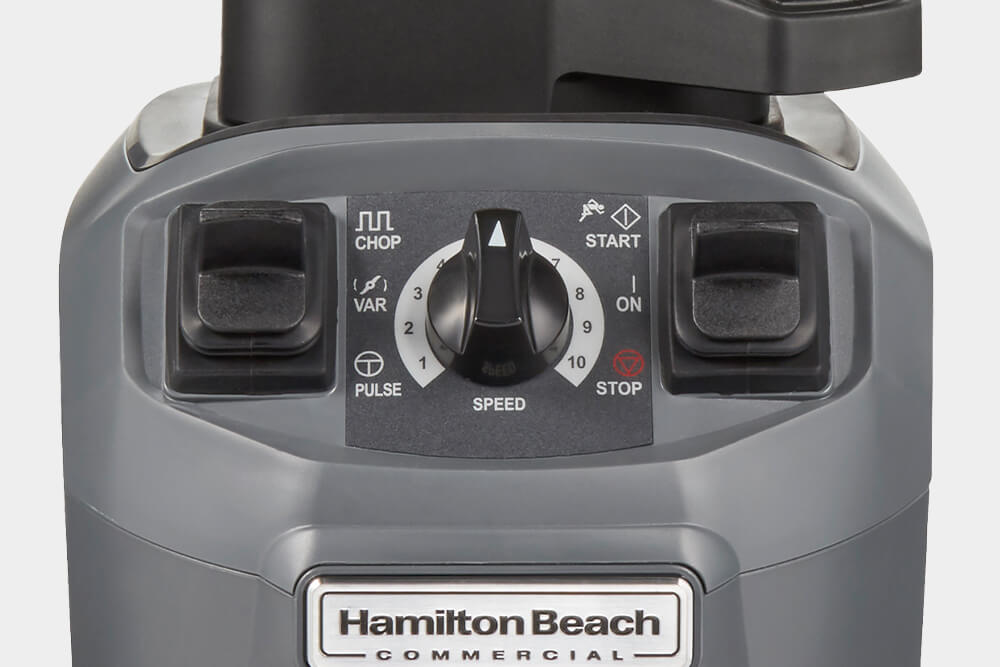 Variable speed functionality makes it possible to prepare foods like salad dressing and soup. Properly blending salad dressing requires prep cooks to start slow, increasing the blend speed as the ingredients mix. This helps preserve the flavors of ingredients such as olive oil, that begins to degrade at high speeds.
When preparing soup, variable speed functionality prevents a full-blown explosion. When hot ingredients are poured and blended all at once, a kitchen catastrophe occurs. Hot ingredients need to be poured in batches and at a slow speed. Fail to do so and you'll blow the blender's lid off. No one wants to clean soup off a kitchen ceiling.
Culinary blenders offer more functionality because of their powerful high-horsepower motors. For example, extra horsepower is necessary when mashing chickpeas into hummus.
Culinary blenders can handle tough ingredients without becoming overworked. The motor will not overheat and can withstand the daily grind of a commercial kitchen.
Specialty Blenders
The specialty blender category is home to a wide range of innovative tools:
Heated blenders are capable of blending and cooking.
Immersion blenders are handheld appliances and require less cleanup because you can blend food directly in a cooking vessel.
Personal blenders, although rarely used in a commercial environment, are often used on the go with the blender jar doubling as a travel cup.
Basic Commercial Blender Features
Commercial Blending Containers
Please note that in the blender lexicon, the terms "container" and "jar" are used interchangeably.
Stainless-Steel Blending Jars
Containers made from stainless steel are the most durable option for commercial blenders. We recommended stainless-steel jars for food preparation. Stainless steel holds up very well over time. Additionally, stainless-steel jars perform beautifully with hot and cold ingredients. Unlike plastic jars, stainless-steel doesn't hold food odors.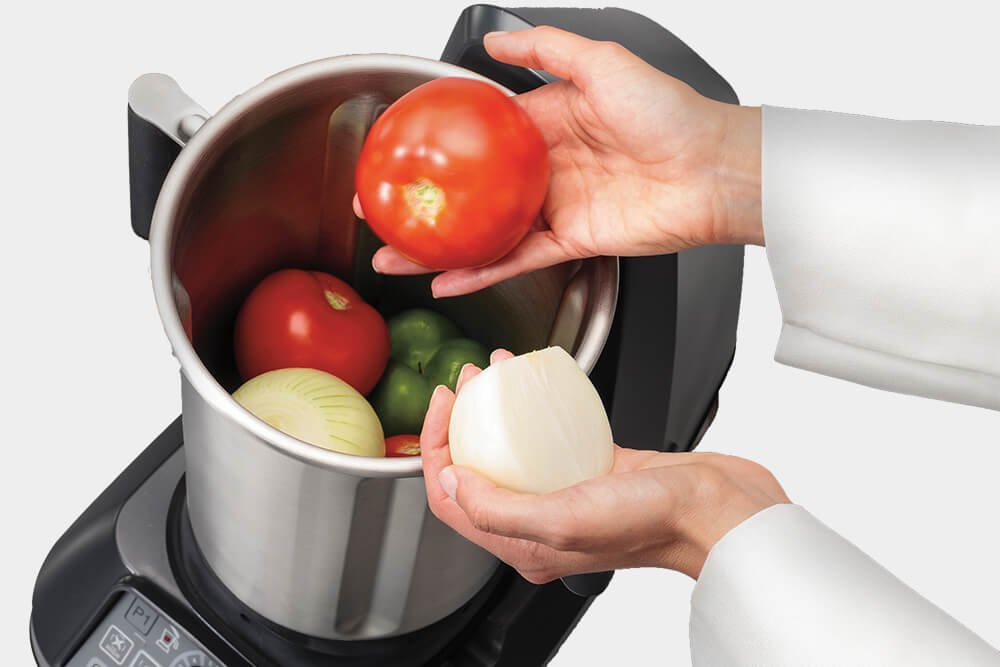 A potential downside is that stainless steel is opaque, so the chef won't have a play-by-play view of what is going on inside the container. The good news is some stainless-steel jars bypass this challenge by adding a see-through lid.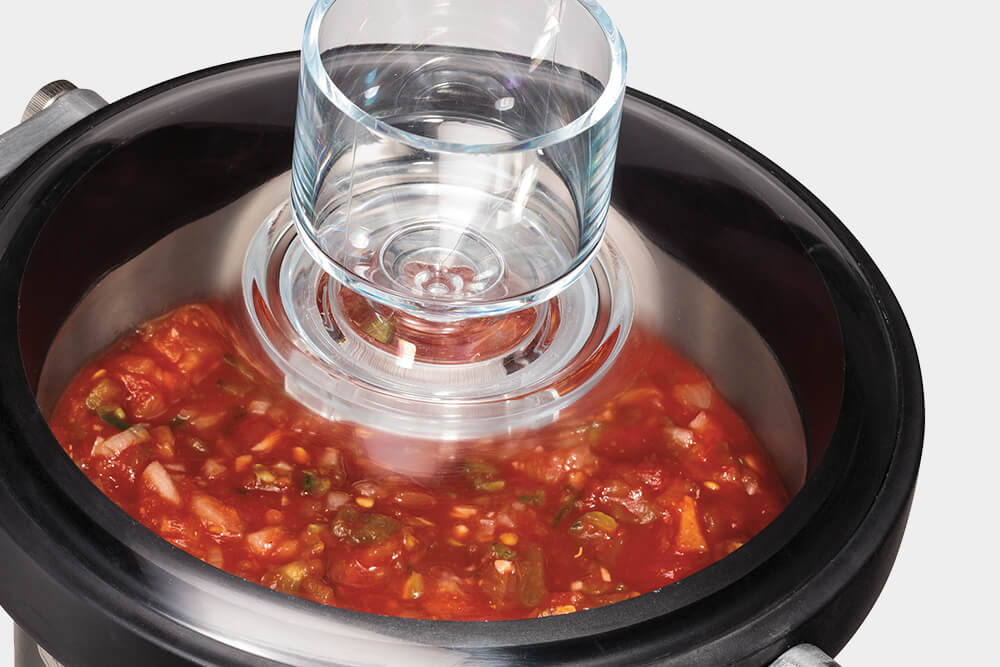 Plastic Blending Jars
While there are other types of plastic jars, we are going to focus on reliable, BPA-free materials. Commonly seen names of high-quality polycarbonate blending containers include:
Copolyester, which is naturally BPA-free and;
Tritan, a brand name that is also BPA-free.
Chefs love clear containers because they are lightweight and transparent. Unlike opaque stainless steel, clear plastic containers allow the user to see exactly what is happening inside the jar.
One potential downside is acids naturally occurring in food will etch polycarbonate containers over time, which ultimately creates a worn appearance. This will not affect the jar's performance. It is strictly an aesthetic issue.
Another potential downside is the scientific community has not come to a census on whether BPA-free products contain other chemicals that may be hazardous to our health.
Jar Design
Jar design is an important consideration for both blend time and consistency.  Most blenders create a horizontal circular motion, which means stubborn pieces of ice or food may rest at the top and never make it back down into the blades. However, some blenders have a unique jar shape that creates Wave~Action which ensures all ingredients are blended equally. Many companies now offer stackable containers to save room in the kitchen.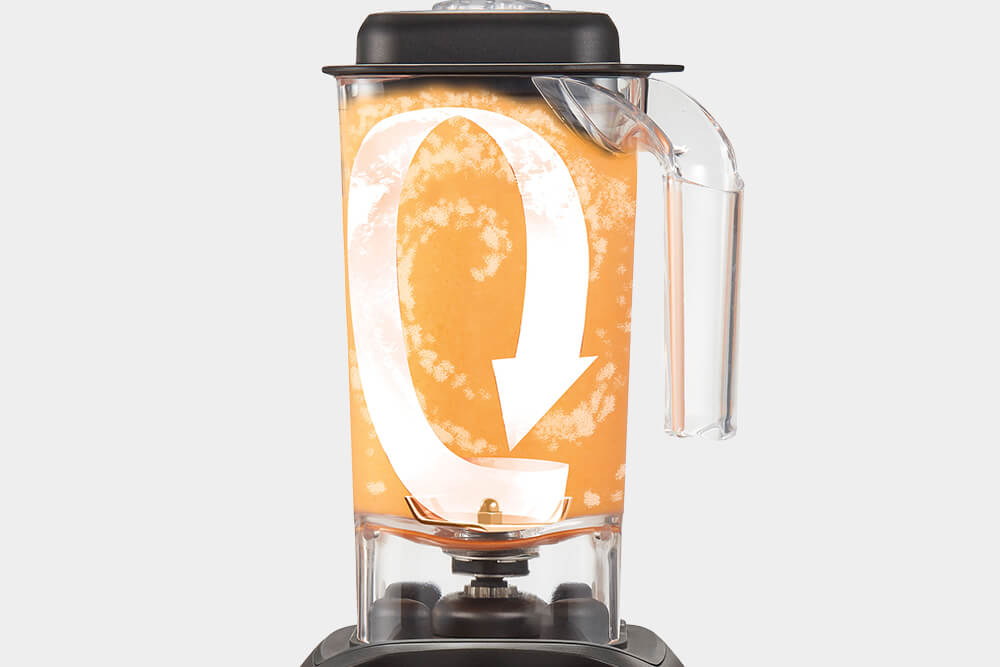 Commercial Blender Control Types
There are two basic types of controls: toggle/paddle and electronic.
Toggle controls are a huge benefit to bartenders in fast-paced settings. Oftentimes, blenders are stored in a dark, low area of the bar. With toggle controls, bartenders can get into a rhythm and flip the toggle switch without looking.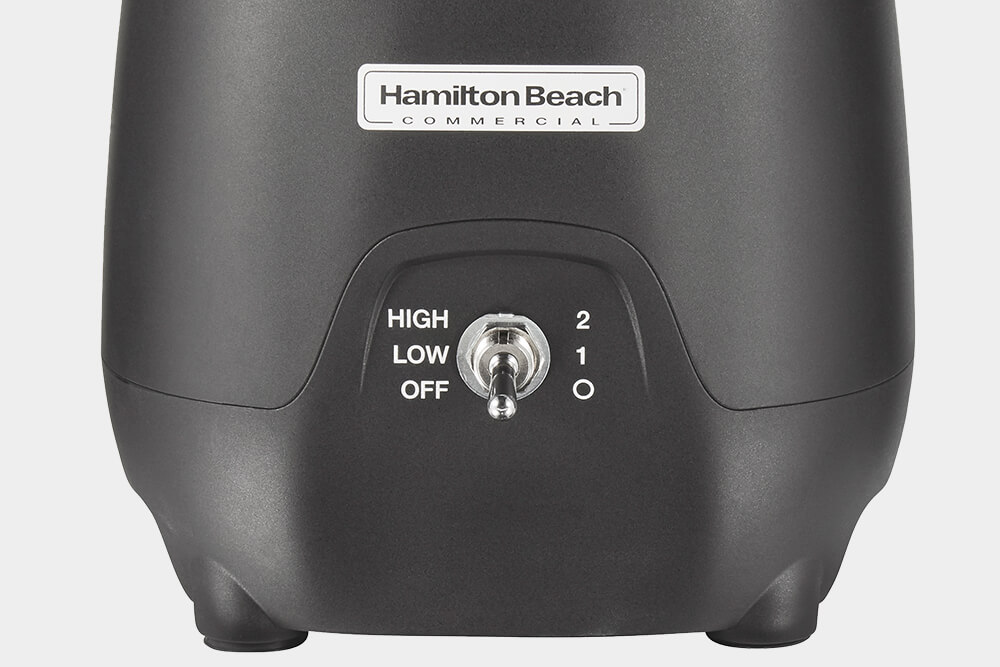 This is an especially convenient feature when visibility is limited, and crowds of people are waiting for their drinks. Sometimes the simplest controls are also the most efficient.
Electronic controls are more common in high performance beverage blenders where preset programming at the push of a button is the key feature.
Culinary blenders often use both toggle switches and variable speed dials.
Blades
A blender's blades are typically constructed from durable stainless steel. Keep an eye out for high-quality blades that come with a lifetime warrantee.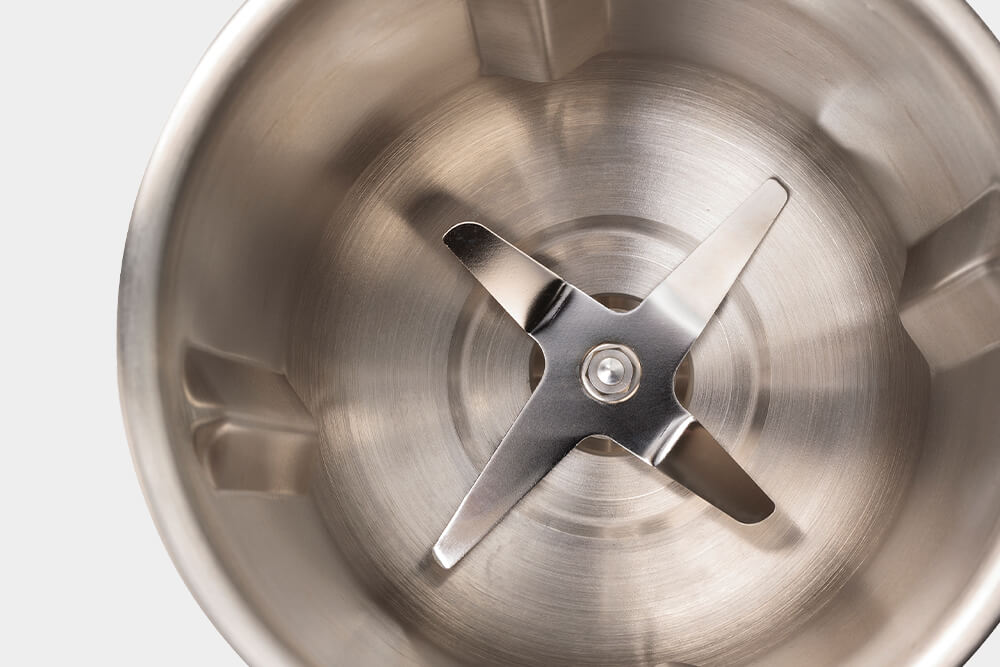 Commercial Blender Motors
The motor's horsepower will determine what a commercial blender can and cannot accomplish.
For example, chickpeas and ground spices for hummus require 3 HP or more. On the other hand, a 1 HP motor suits a bar blender very well when making frozen daiquiris.
Commercial Blender Timers
Blender timers work especially well for multitaskers in fast past establishments. Timers with automatic shutoff allow the operator to leave the machine and tend to customers or prepare ingredients without over blending.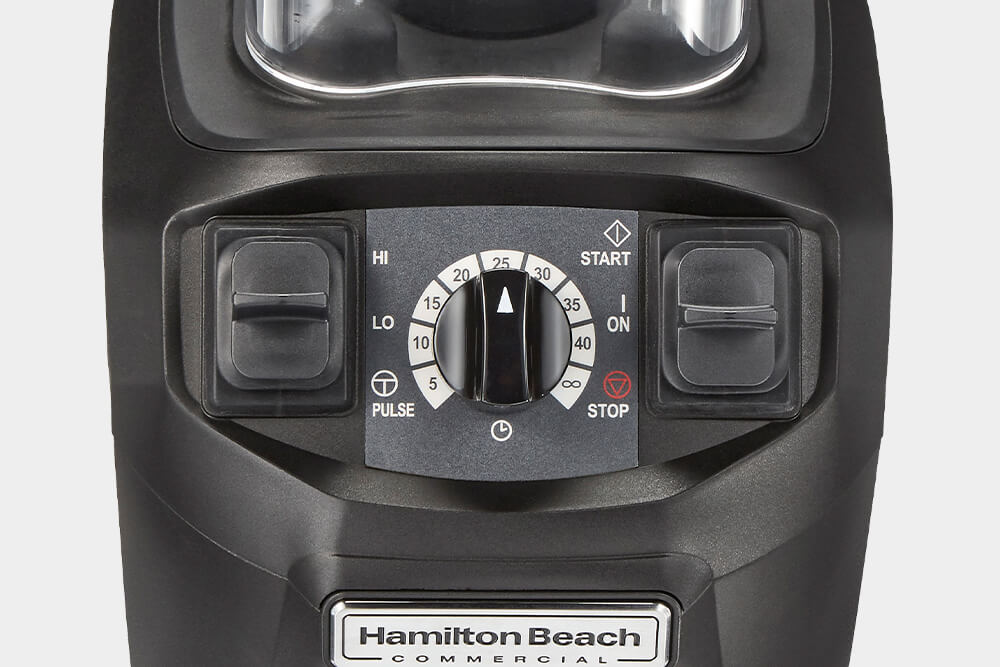 Speed Settings
The speed setting on a blender directly relates to its function, whether it is a bar, high-performance, or culinary machine. Simple high/low speed settings are most often found on bar blenders, while high-performance beverage blenders often employ control pad programming. Culinary blenders rely on variable speed functionality. Depending on the machine, you will find simple high/medium/low options or a larger range of speeds. Pulse controls are found on all three types of machines, while chop functions are generally found on culinary blenders.
Non-Skid Feet
Commercial kitchens need problem-solving features that keep their fresh ingredients off ceilings and floors. Non-skid feet solve part of this equation.
An essential safety feature for heavy-duty machines, non-skid feet keep the blender from migrating across and off the counter.
Commercial Blender Couplers
The coupler connects the motor to the blades. It controls the movement and speed of a blender by transferring mechanical energy from the motor to the blades.
As an integral piece of the machine, some manufacturers offer generous warrantees for the coupler alone , which in many cases is a wear part and will eventually need to be replaced.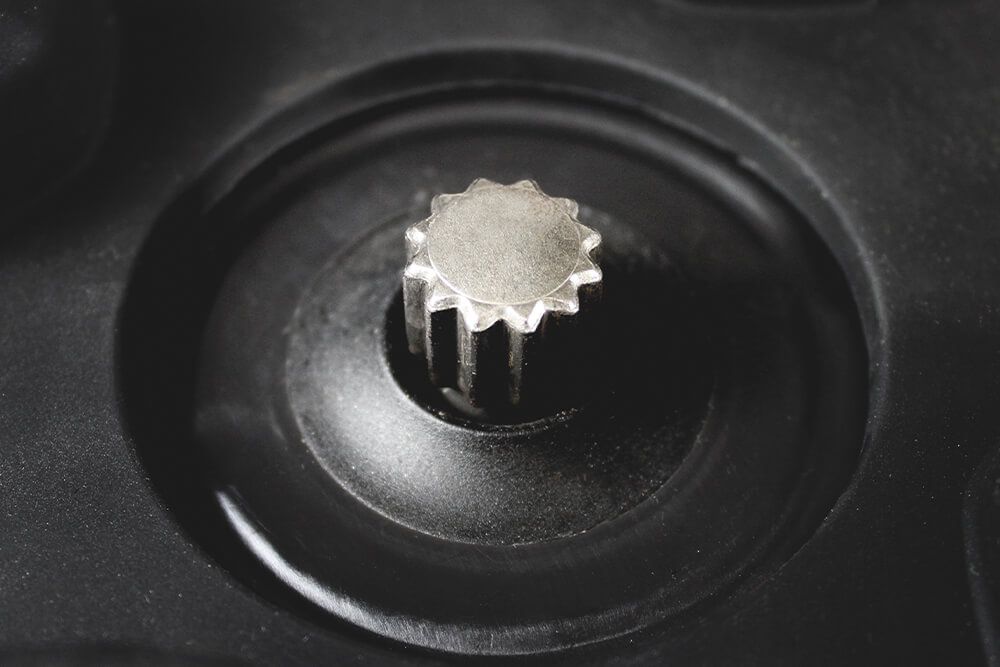 Advanced Commercial Blender Features
Program Cycles
Mainly found in high-performance beverage blenders, programs are preset and already loaded onto the blender. Some blenders offer complete customization of programs to optimize an establishment's routine. Preset programs ensure consistency from serving to serving and make training new employees a breeze.
Large restaurant and entertainment chains love the option of customized programming for their specialty drinks, one reason being it ensures customers are receiving the same consistently made, branded beverages at all of their locations.
Commercial Blender Noise Enclosures
Blenders like to make their presence known through their motor's mighty roar. Noise enclosures work to dramatically dampen that roar by surrounding the container with a material that absorbs and hinders sound waves. The best noise enclosures are also easy to remove and clean.
Keep in mind that noise enclosures tend to slow down the food prep process as shields must be opened and closed when removing the jar. Additionally, blenders with noise enclosures have a larger footprint than those without, since additional room is needed when the shield is open.
Since they require extra clearance overhead, additional storage space may be needed when storing the larger profile of a blender and its noise enclosure.
Memory Card Slots
Memory cards are commonplace and very convenient. Integrating a memory card slot into high-performance blenders allow customizable programming to be easily uploaded into the machine.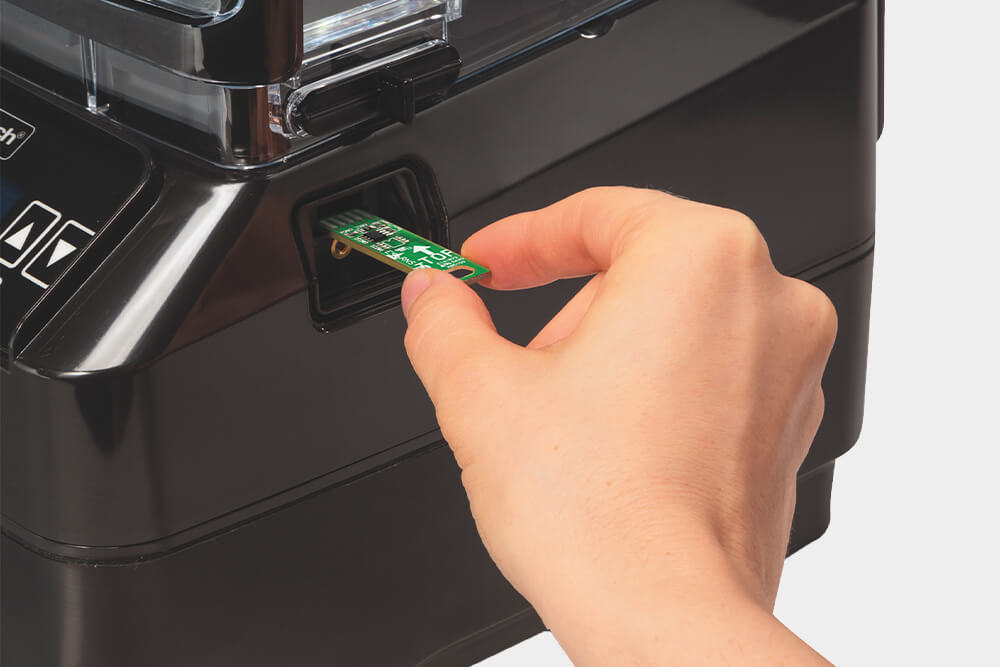 Ergonomic Design
For ease of use, to reduce muscle fatigue, and to help those with challenges such as arthritis, some blenders feature ergonomic design. This is expressed in, for example, the way the handles are made or the height of the machine.
The more ergonomic design allows employees to focus on the task at hand, rather than the discomfort felt when handling awkward container handles and blender controls. This increases productivity and general morale during a busy evening.
Featured Hamilton Beach Commercial Blenders

All our recommended Hamilton Beach blenders feature their patented Wave~Action® system. This system creates a motion that forces ingredients down towards the blade for even, smooth blending.
Additionally, all containers mentioned in this review are break resistant and stackable.
The 908R Bar Blender, Model HBB908R
The 908R is a dependable bar blender at an excellent price point. This machine is ideal for small to medium operations such as bars that mainly serve beer and cocktails or establishments that don't require back-to back all-day blending.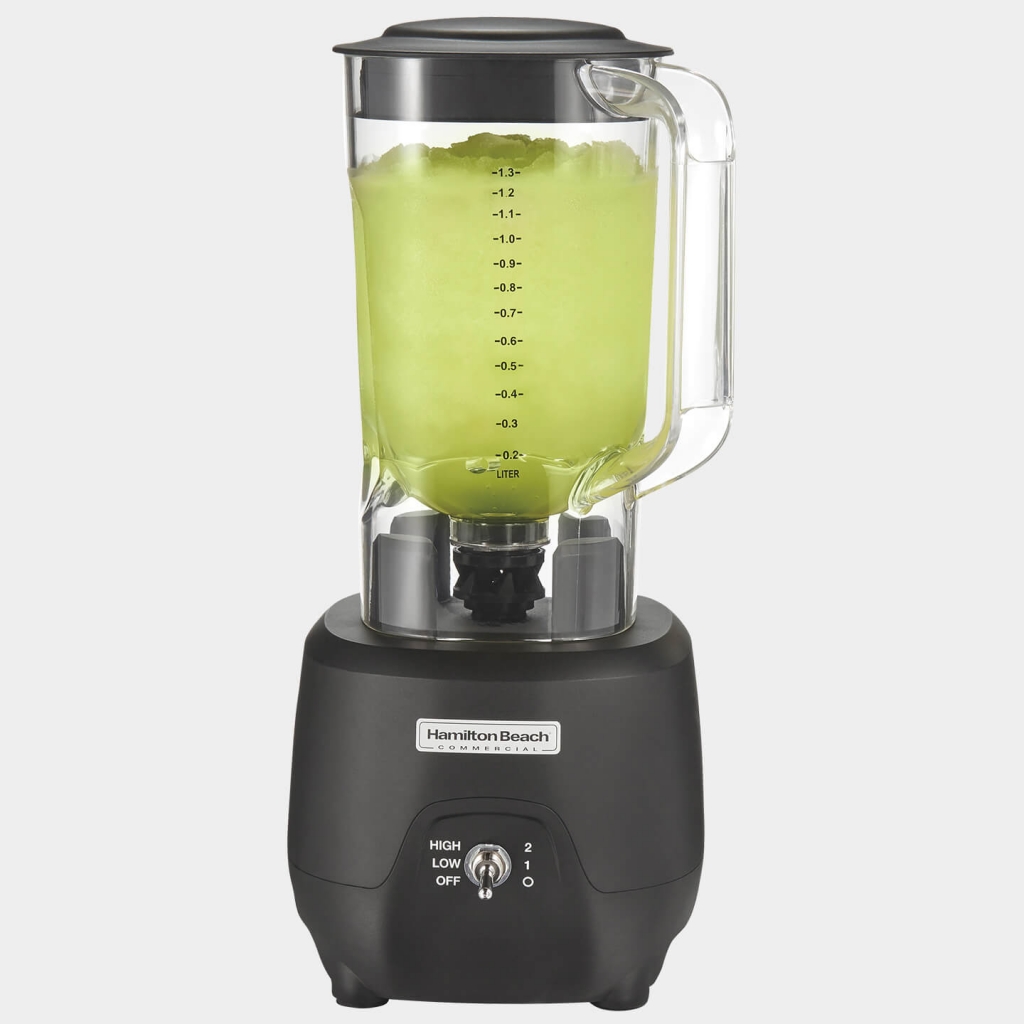 This blender, however, can hold its own in the busiest of rushes or during the holidays. Here are just a couple of situations where bartenders are very happy to have the 908R on hand:
A raucous bachelorette party busts through the door and suddenly you have an order for 10 margaritas.
Half the city experiences power outages during a summer heat wave, and your frozen drink orders skyrocket.
The 908R has all the features needed to keep bar crowds and bartenders happy including:
Stainless-steel blades and a 1 HP motor that make short work of ice.
Easy-to-use toggle controls with an intuitive high/low/off switch.
Weighing in at under 8 pounds, the 908R leaves a small footprint and is easy to move around.
The 44 oz. polycarbonate jar features easy-to-read measurement marks.
Fun Fact: This bar blender can make a 16oz. margarita in 25 seconds flat.
The Tango Blender, Model HBH455
The HBH455 Tango is a high-performance beverage blender featuring a timer with automatic shutoff for hands-free blending. This blender works beautifully in smoothie shops, coffee shops, juice bars, and bars that specialize in blended frozen drinks.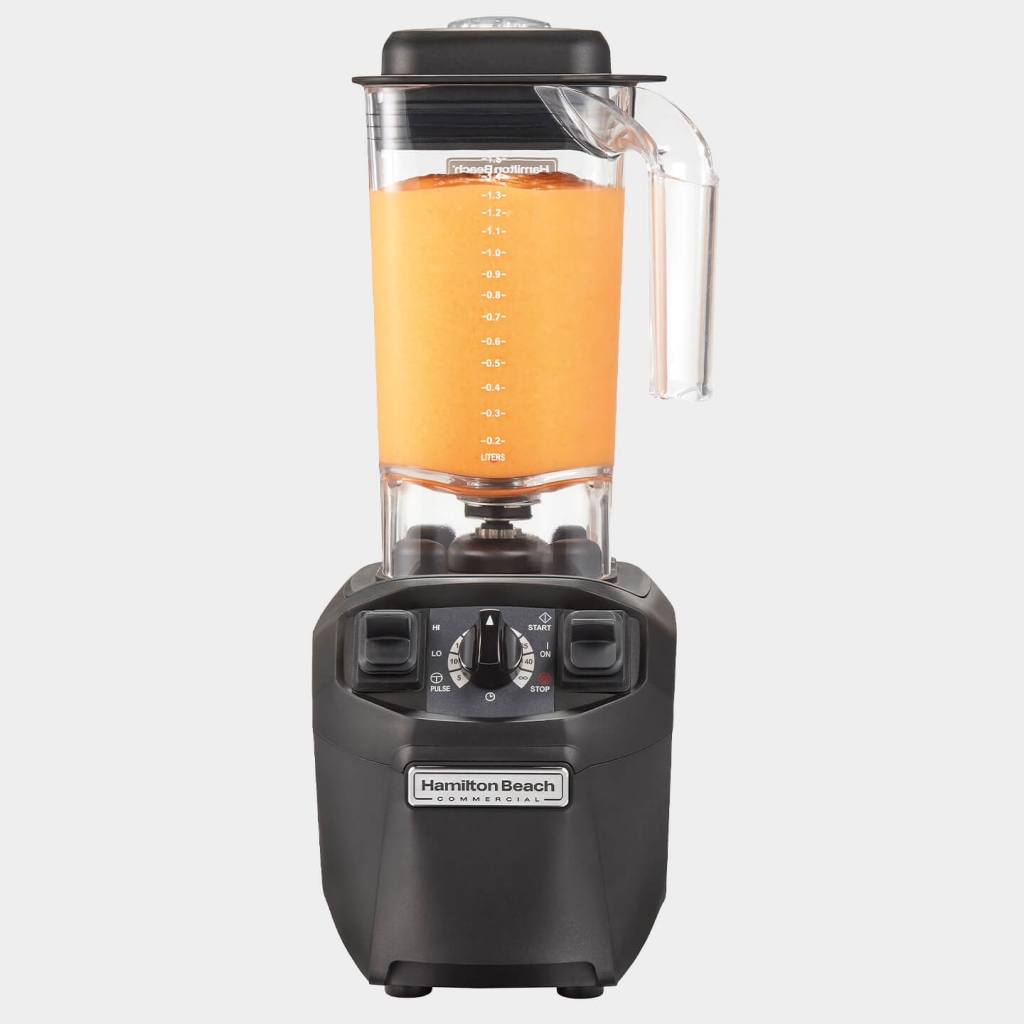 Bartenders, baristas, and smoothie chefs accomplish a lot in 40 seconds, which is the longest time allotted by Tango's adjustable timer. The auto-shutoff feature means they can walk away from the machine with confidence to checkout a customer, take a call, or wash some strawberries.
The Tango Blender has many other key features that lend themselves well to a fast-paced environment including:
High/low/pulse controls.
A speedy 2.4 HP motor, stainless-steel blades, and metal drive coupling. These three features work together for optimized performance and strength.
Sure Grip™ Feet to make sure the machine stays where it should during powerful blending sessions.
A triple-sealed, leak-resistant lid helps to keep the work area neat and tidy.
Sealed switches and a protective brow that prevent liquid from damaging the blender's controls.
A wide 48 oz. BPA-free copolyester jar. Its square shape means there is room inside for larger ingredients. The operator can simply throw ingredients into the jar, rather than cutting them up, thereby making prep time fly by.
The Eclipse Blender, Model HBH755
A quiet blender that preserves ambiance and features programmability, the Eclipse is special because it includes Hamilton Beach's Quiet Shield™. Whether the environment hosts a lively social scene or is an intimate date-night location, patrons are able to enjoy their creamy beverages while engaging in noise-free conversation..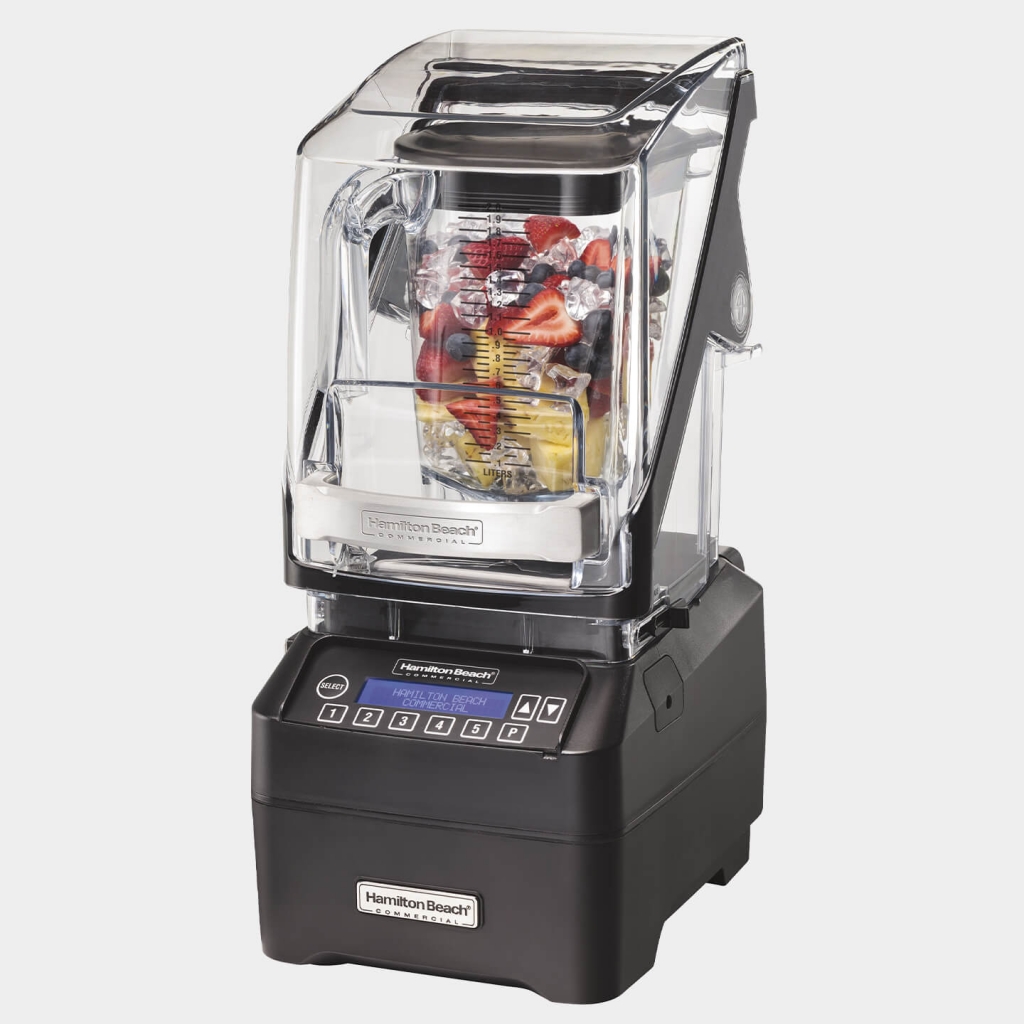 Noise reduction shields are challenging in busy areas behind the bar where space is tight and there is constant movement. Hamilton Beach, however, thought of everything when they designed the Eclipse to only require 22 inches of clearance in total.
Aside from turning a blender's roar into a feline's purr, the Eclipse is technologically advanced in many other ways, making it ideal for high-volume businesses:
The Eclipse design features touchpad controls where the operator can select over 100 pre-programmed cycles. This makes a large drink menu very easy to execute with consistency and allows the staff to multitask.
A memory card slot enables Hamilton Beach Commercial to provide you with your own custom cycles. If non-English speakers are working, or perhaps you just want to practice your French, there are a choice of downloadable languages that are easy to install via memory card.
For intimate, low-lit environments, the display is bright and easy to read.
A temperature gauge alerts the operator if the machine starts to overheat and a jar sensor pad turns off the motor if the container is not perfectly in place, preserving the life of the machine.
As an added bonus, the Eclipse's all-metal coupling and stainless-steel blades come with a lifetime warranty or guarantee.
Fun Fact: The Eclipse is one of the quietest blenders in the world.
Expeditor 510S Culinary Blender, Model HBF510S
The Expeditor 510S is a culinary blender ideal for any establishment that has a kitchen. This commercial blender offers a range of applications and versatility that any chef would enjoy.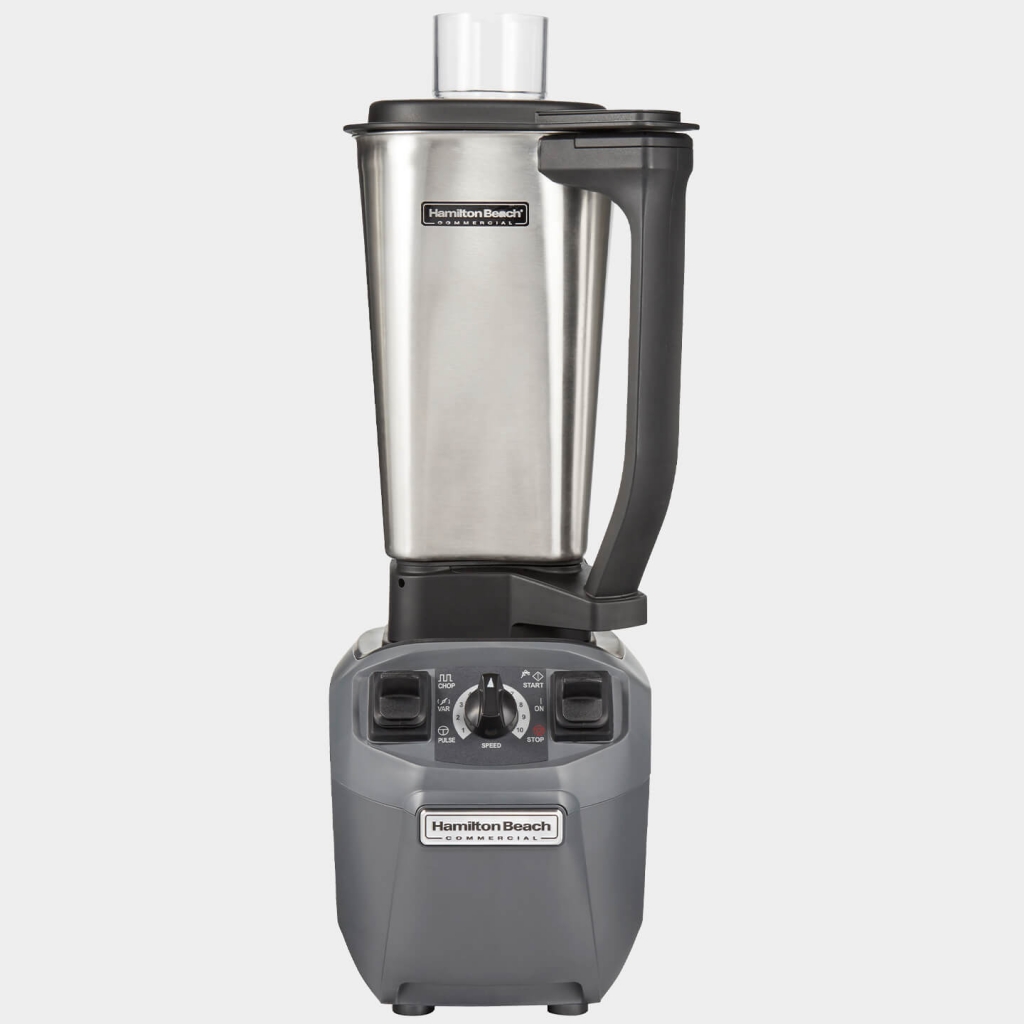 With the 510S's 2.4 HP motor, chefs can take fresh ingredients and prepare soups, sauces, dressings, salsa, smoothies, milkshakes, and more, with all-day uninterrupted use.
The 510S is a back-of-house must because it features:
A variable speed dial, which a necessity for anyone who makes soups, dressings, and sauces.
A heavy-duty, 64 oz. stainless-steel jar, ideal for both hot and cold recipes.
A 4 oz. dosing cup that allows the chef to easily prepare liquid emulsions.
A Pulse function and a highly coveted Chop function to create a variety of textures.
Convenient features such as sealed paddles switches, sure grip feet, a protective brow, and a removable jar pad for easy cleaning.
Fun Fact – The 510S makes perfect pesto thanks to its 4 oz. dosing cup. This cup allows olive oil to be added at the rate of a slow drizzle, thereby avoiding that bitter olive oil taste when prepared incorrectly in a blender.
Expeditor 900S Culinary Blender, Model HBF900S
The Expeditor 900S is a must-have culinary workhorse for the busiest commercial kitchens. The 900S culinary blender easily blends, grinds, chops, pulses, purees, and emulsifies, while the 1-gallon jar allows large batches of food to be made faster.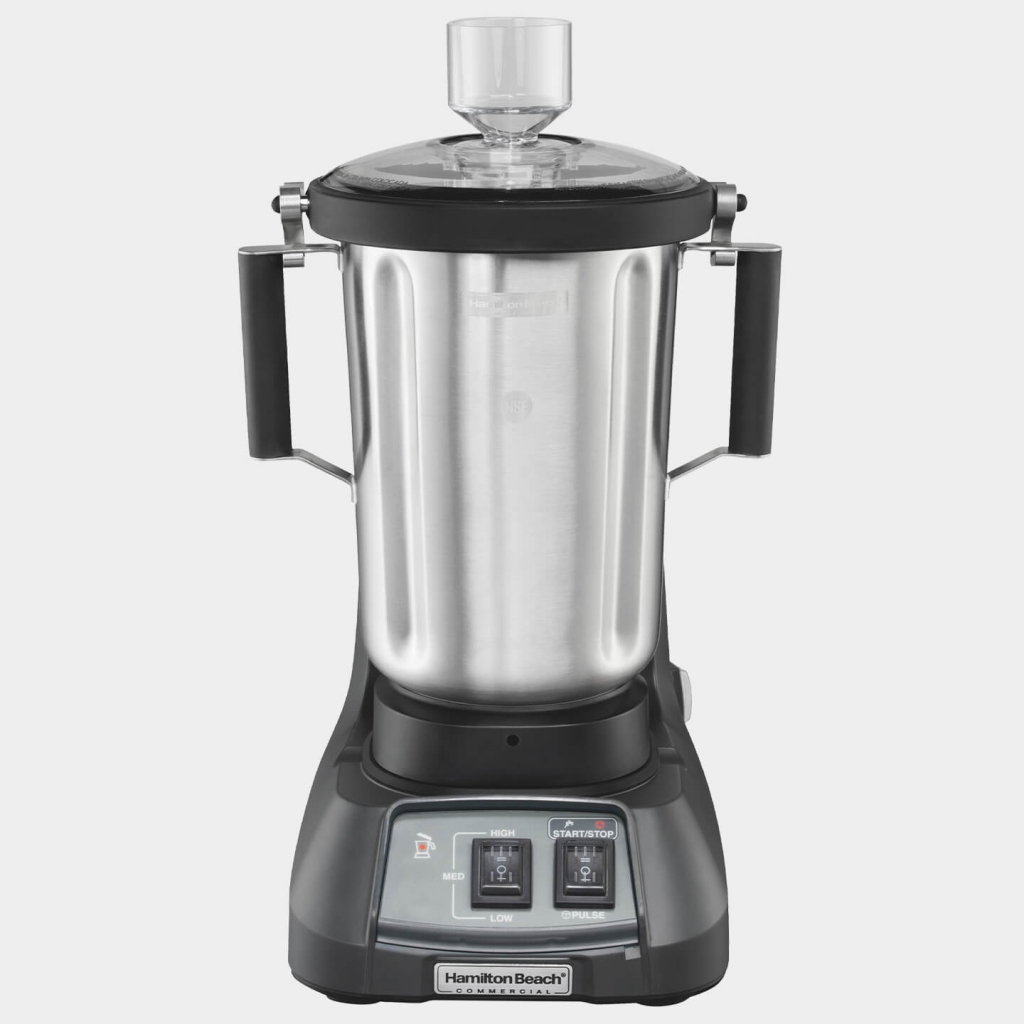 The 900S powers the busiest back-of-houses due to its impeccably thoughtful design including ergonomic and safety features including:
A low profile to reduce muscle fatigue. Its 1-gallon stainless-steel jar has built-in comfort handles that are kind to the operator's hands.
Auto shut off if the jar and lid aren't securely in place, a feature Hamilton Beach calls a lid interlock function.
Heavy-duty locks on the lid and an indicator light when locks are in place.
Non-skid feet and a weighted aluminum base for extra security.
A transparent lid that's easy to use because the motor sits behind the container, rather than underneath it, making the machine low profile.
A 4 oz. removable dosing cup which is a key element in recipes that call for emulsification.
Simple controls allow an easy start/stop. The operator can intuitively choose between three speeds and a pulse option.
Hospitals and assisted living care facilities rely on the 900S's ability to puree large amounts of fresh ingredients for patients and residents who have a hard time chewing. Additionally, patients and residents benefit from pureed fruits and vegetables because they are easier to digest in this form and provide essential nutrients.
Fun Fact – All of the Hamilton Beach blenders we reviewed are NSF and Intertek Certified.