The National Restaurant Association noted in their 2021 State of the Restaurant Industry Report that, "38% of on-premises and 33% of off-premises customers say their restaurant choices will be influenced by whether the menus include the comfort foods they crave." One comfort food that satisfies just about everyone is waffles.
Why Every Commercial Kitchen Needs a Waffle Maker
A current challenge for many restaurants is how to streamline their menus while providing the comfort food their customers crave. One easy way to incorporate a versatile and beloved comfort food into a menu is to add waffles. Excellent commercial waffle makers are available at affordable price points, moreover, they will reward with a big return on investment, making them an easy and fiscally responsible equipment add-on.
Waffles are most often found on the menu in brunch spots, hotels, niche locations, ice cream shops, street carts, waffle trucks, and of course anywhere that prepares breakfast. Part of what makes a commercial waffle maker such versatile tool is chefs and consumers alike are constantly finding new ways to use them. For instance, an innovative, satisfying take on an old favorite is crunchy mac n' cheese, a classic comfort food with a twist. A Belgian commercial waffle maker produces perfect crunchy mac n' cheese in minutes.
Waffles have existed all over the world seemingly forever. In fact, the first waffle iron was traced back to Ancient Greece. In America, we've enjoyed them since the days of the Pilgrims. Because of their long history, waffles evoke nostalgia for every generation as they are often a childhood favorite.
Waffles of the Future, Today
Despite their nostalgic elements, waffles aren't a thing of the past. Far from it. To gastronomes, waffles are the essential food to:
Dress up or down
Go sweet or savory
Serve hot or cold
Waffles make excellent canvases for chefs and all the creations they can dream up. It's easy for a cook to tinker with some ingredients, creating waffles that are suitable for all diets and food trends. It is also easy to add powders and spices to change up colors and flavors. For instance, add cocoa powder for chocolate waffles, Matcha powder for a green tea look and flavor, or adobo seasoning for some Mexican-inspired fare.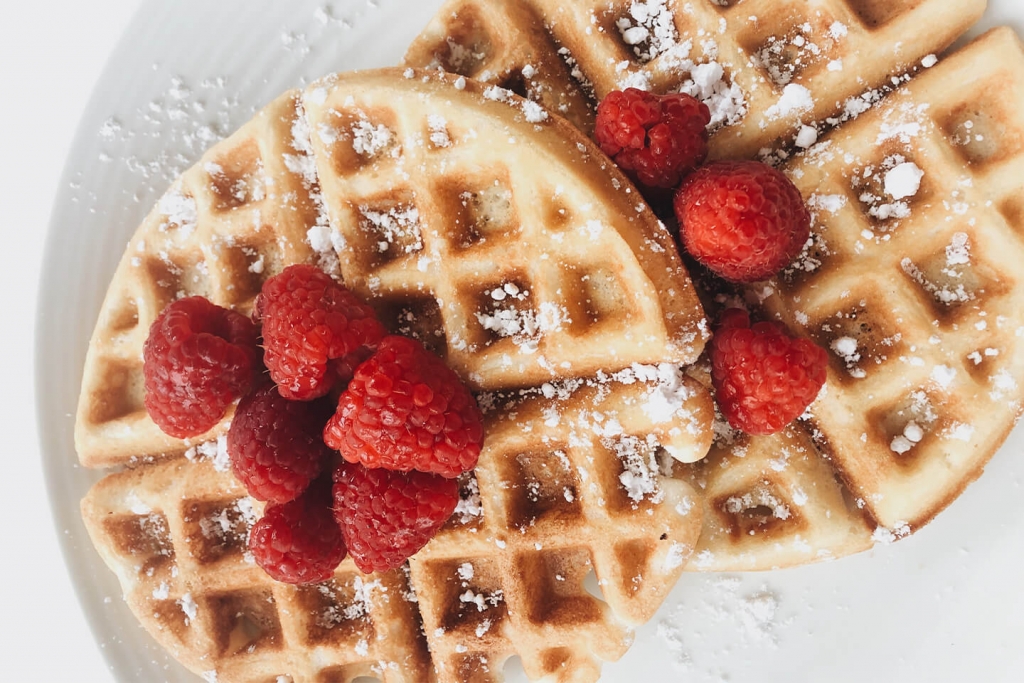 They are equally as comfortable in haute cuisine (think bacon and chive waffles made famous at Thomas Keller's Bouchon Bakery) as they are in a greasy spoon location. Waffles are one of the few comfort foods to naturally find a place on breakfast, lunch, dinner, and dessert menus at all price points, all over the world. Restaurants and diners love the increased revenue gained by offering new, high-quality, high-margin menu items.
Different Types of Commercial Waffle Makers
The commercial waffle makers we cover in this review fall into three categories: Belgian waffle makers, waffle cone makers, and bubble waffle makers. These three types have a lot in common. For instance, they have similar mechanics and features in their design. Ingredients-wise, use the same waffle batter for Belgian, cone, and bubble waffles, or mix it up.
The main difference between these machines is the size and shape of the waffles their plates/grids produce. For example, Belgian waffles are around 1" thick, waffle cones are thin, and bubble waffles forgo deep pockets and opt for puffs instead.
Belgian Waffles
Belgium is home to an array of bon vivant cuisine and waffles top that list in popularity. These fluffy, deep-grooved delights date back to the Middle Ages, and we can't imagine they'll go out of style any time soon as they are now world famous. Americans have had the privilege of enjoying Belgian-style waffles since the early 1960s, where they debuted at the Seattle World's Fair.
Waffle Cones
Waffle cones — or waffle cornucopias, as they were known in the early 20th century — when paired with ice cream on a hot summer day are a match made in heaven. They elevate ice cream with their sweet crunch and fresh taste and moreover, provide an enthralling finish to an already perfectly delectable treat.
Bubble Waffles
Brought to you by the bustling neon megapolis of Hong Kong, bubble waffles have popped up in major US cities in recent years and are set to only trend upward.
This puffy, doughy, crispy treat also goes by the name egglette, egg waffle, and in its original Cantonese, gai daan jai (雞蛋仔). The cuteness of bubble waffle creations means they're highly Instagrammable, which is an easy way for an establishment to promote itself. People will seek out a new restaurant or café based solely on their bubble waffle presence.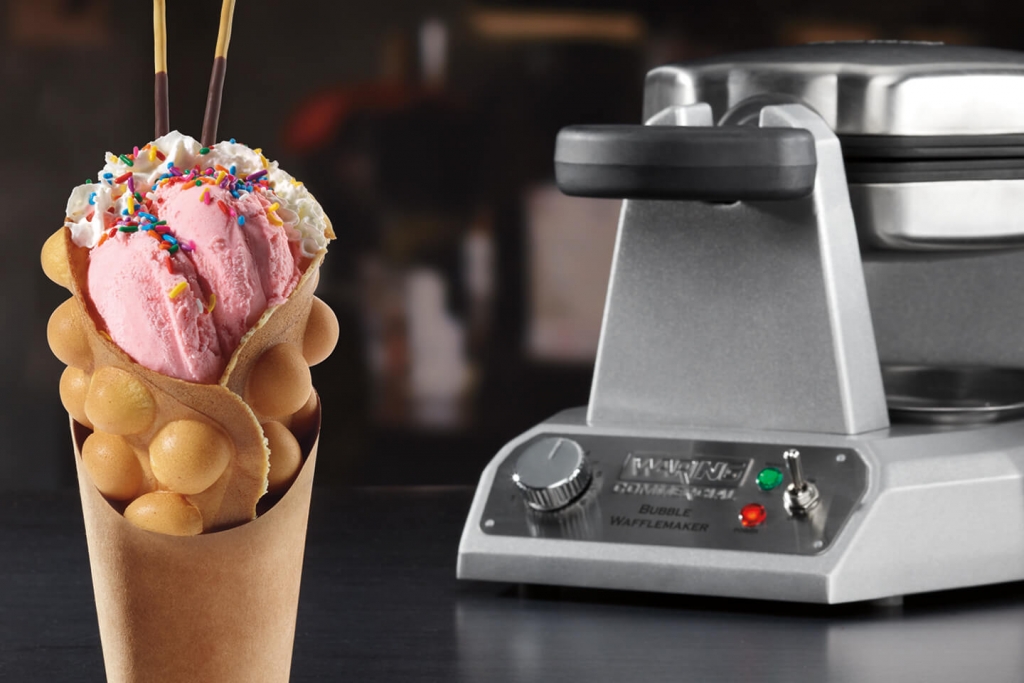 Commercial Waffle Maker Features
Waffle Plates
Waffle makers cook batter using the machine's plates, also known as "grids." These plates act as cooking elements and create the texture and patterns your customers are familiar with.
Oftentimes plates are a permanent part of the machine and can't be removed, however removable options are becoming more popular. Waffle plates sometimes feature embedded heating elements, which helps to cook all sections evenly.
Daily cleaning will help your machine stay happy and healthy, allowing them to provide years of daily use. One thing to remember – Always allow plates to cool before cleaning.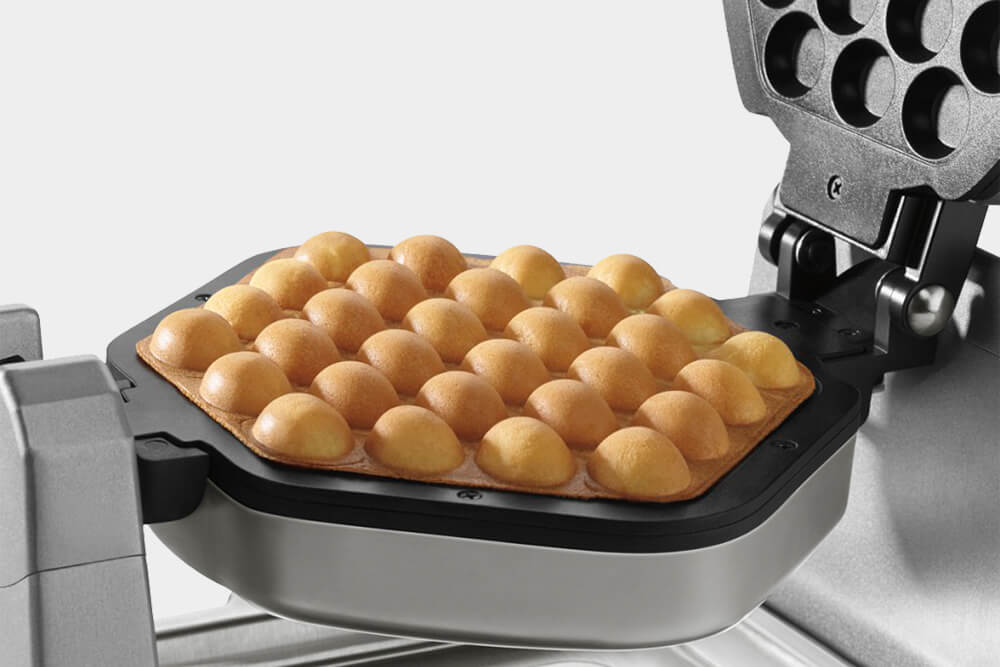 Rotary Features
A rotary design allows the user to manually flip the waffle plates upside-down after the batter is poured in and again at the end of the cooking cycle. Flipping waffles ensures that they will bake evenly and produces a beautiful browning effect.
Adjustable Browning Control
Different batters and ingredients require different cooking times. Depending on the batter's consistency, thick/medium/thin, and personal preference, an adjustable browning control allows the user to customize their cooking time. The adjustable browning control also doubles as a timer, so there is no guesswork involved.
Visual and Auditory Indicators
Beeps, lights, and chimes all contribute to creating the perfect waffles in a busy commercial kitchen. Look for machines that feature audio and visual signals for when the commercial waffle maker has reached the desired cooking temperature, when the waffles are ready to be plated, and for timers. Visual and auditory indicators on waffle makers take out the guess work and allow for consistently cooked waffles, order after order.
Drip Trays
Drips trays collect crumbs and batter runoff. They are either fixed or removable and are often made of stainless steel. Some manufacturers offer them as an optional accessory. Removable, non-stick drip trays are one of the most convenient features found in a commercial kitchen when cleaning batter and crumbs, especially when the trays are dishwasher safe.
Measuring Utensils
Accurately measuring machine-specific ingredients is the first line of defense against batter runoff. Therefore, a measuring scoop or cup with a fill line is an essential feature for any commercial waffle maker to lessen spillover, reducing waste, and keeping the workspace clean.
Cooking Accessories
Any cooking accessory that comes into direct contact with the commercial waffle maker's plates should never be metal because scrapes and other damage will occur to the nonstick coating. To avoid scratching nonstick coating, always choose accessories that are either silicon, wood, or high-heat plastic.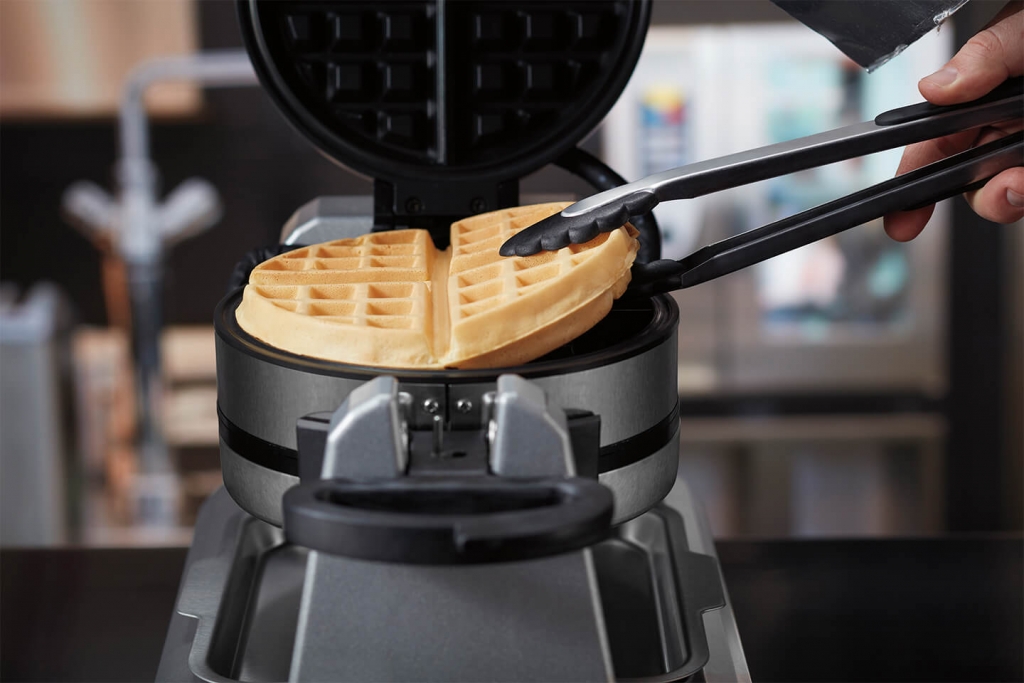 Featured Waring Commercial Waffle Makers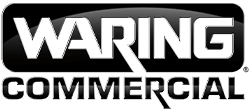 All of the Waring commercial waffle makers we've reviewed feature:
Heavy duty die-cast housing, a lighter alternative to stainless steel
Triple-coated nonstick plates (we recommend using an additional cooking spray)
Rotary features that makes flipping the waffle plates easy
LED ready-to-bake and ready-to-plate lights
Audio indicators for read-to-bake and ready-to-plate alerts
Removable, nonstick, dishwasher-safe drip trays
Browning control dials that double as timers
Single Belgian Waffle Maker, WW180X
Waring's Single Belgian Waffle Maker bakes up a perfectly golden-brown breakfast, lunch, or dinner. This popular machine produces up to 25 Belgian waffles per hour. The WW180X is a piece of equipment that effortlessly finds its place in any commercial kitchen.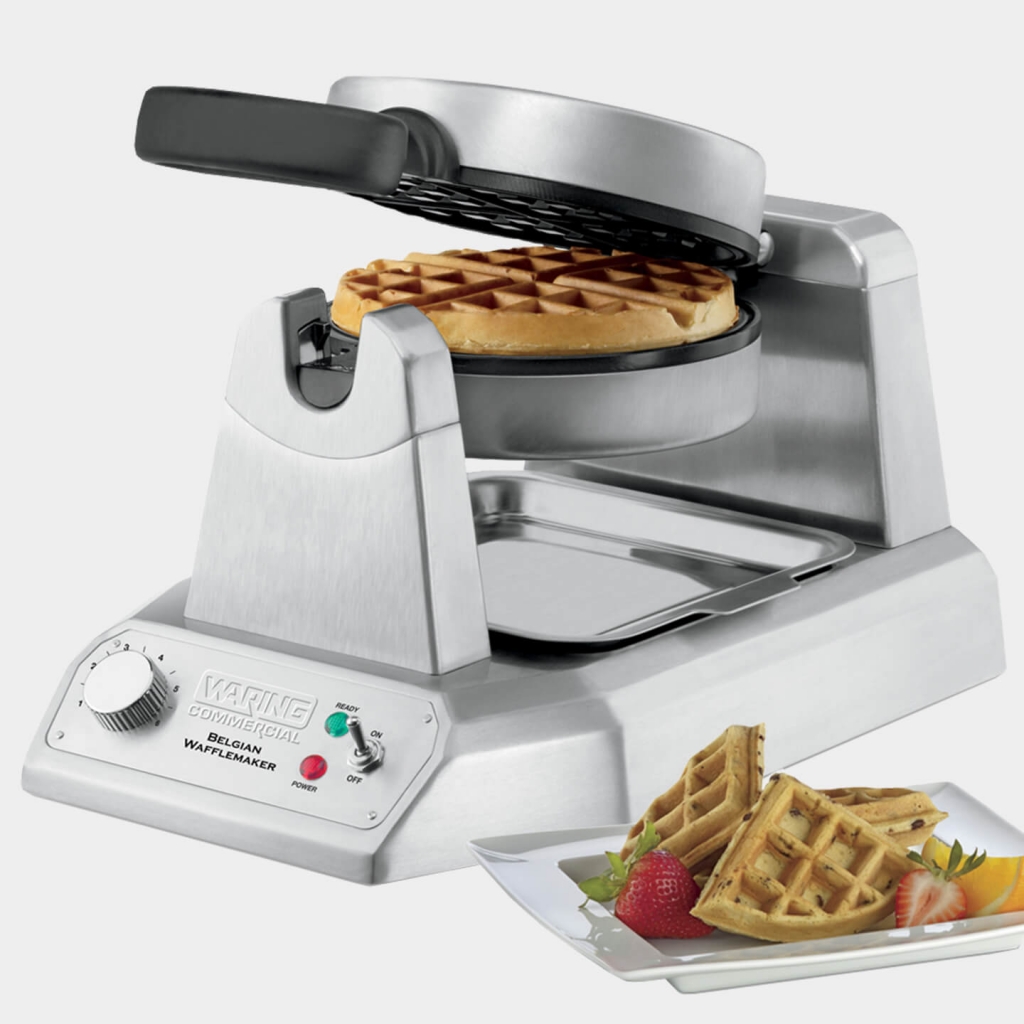 A new and notable feature of the Single Belgian Commercial Waffle Maker is if a plate is scratched or damaged, you can replace it. To avoid ever needing to replace waffle plates, always use utensils made of silicon, wood, or high-heat plastic. Scratched plates are most often a result of the kitchen staff erroneously choosing metal utensils.
Another notable feature of the WW180X and all of the other models in this review is just how easy it is to make a perfect waffle:
After the machine finishes preheating, six beeps and a green signal light indicates that it's time to cook.
On the front of the machine lies a browning dial, which allows the user to choose how long to cook their waffles. Choose any of the settings, 1-6.
After measuring the batter with the included utensil, pour it in and close the plates.
Once closed, flip the waffles over to bake using the rotary feature. This rotation ensures that the batter settles into the unit properly for an even bake and even heat distribution.
When the waffle is ready to plate, an indicator light will shine and the machine will beep three times.
Waring recommends using setting 4 to cook golden brown waffles, however the browning knob does allow the operator to get creative and adjust the cooking time when other ingredients are in play.
Double Vertical Belgian Waffle Maker, WW200
Double your fun and save on space with the Double Vertical. The WW200 literally doubles productivity while requiring no additional space in the kitchen because the plates are stacked vertically. This space-saving design cooks up to 50 thick Belgian waffles per hour.
The WW200 differs from the single waffle maker because it has fixed plates as opposed to removable. An advantage of this design is the Double Vertical has built-in heating elements imbedded in the waffle plates to ensure even heat distribution amongst the ingredients.
Each compartment has its own green indicator light and separate beeps for when preheating and cooking has completed. As a result, you can alternate between waffle compartments for simultaneous baking.
Side-by-Side Double Belgian Waffle Maker, WW300BX
The WW300BX takes the original design of the WW180X single Belgian waffle maker, and quadrupoles it. The quad design of the WW300BX can produce up to 120 waffles per hour, making it ideal for high-volume diners, the most popular brunch spots, waffle festivals, and other busy commercial kitchens.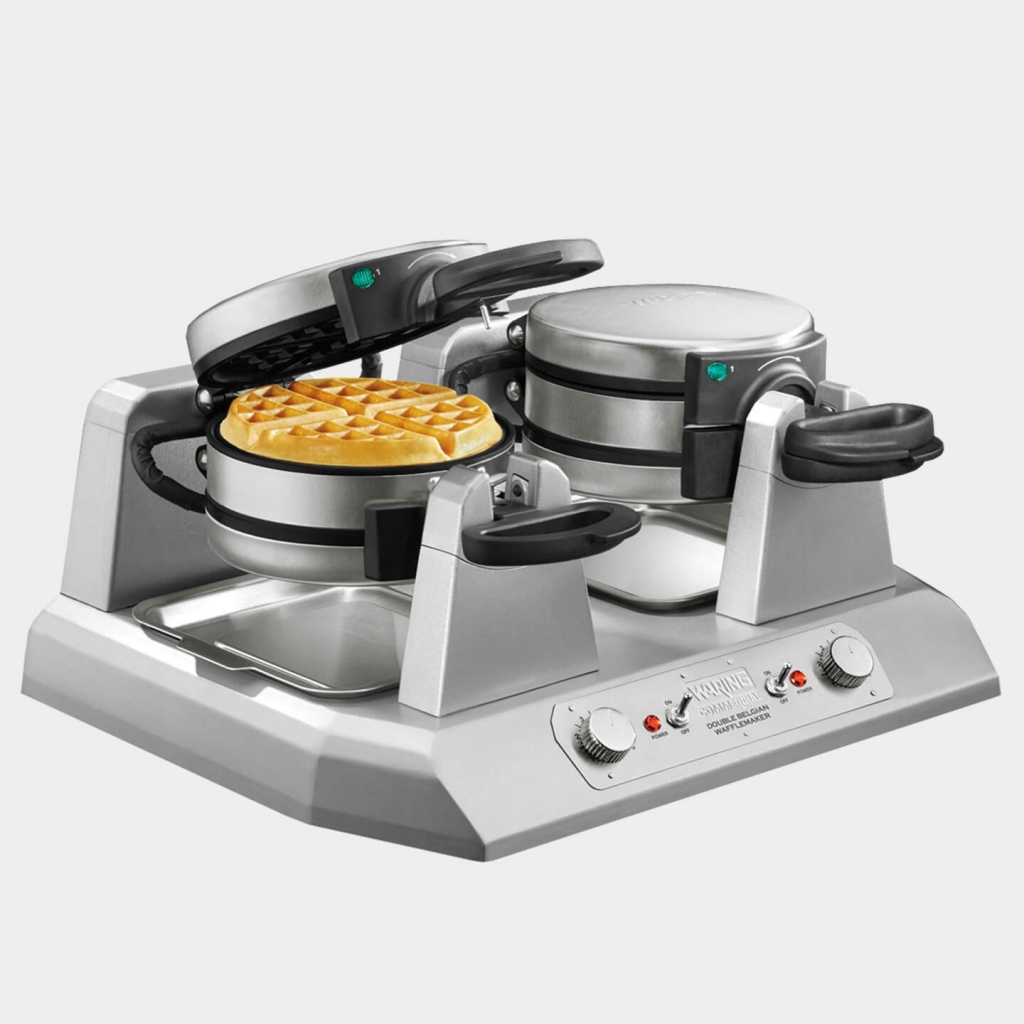 With the WW300BX, it is easy to cook different dishes at the same time. This machine has independent temperature controls for each side, along with independent audio and visual indicators for preheating and baking completion.
Mini Belgian Waffle Maker, WMB400X
Both children and adults love mini waffles. The Mini Belgian Waffle Maker keeps its characteristic deep pockets and 1" thickness, but on a waffle that is the perfect size for little hands. The WMB400X can produce up to 100 of these lil' beauties per hour.
The WMB400X features nonstick serviceable plates which are easily replaceable by the user if they are scratched.
Mini waffles also open the door for creative plating when presented as part of an amuse bouche, appetizer, or dessert. Additionally, they are the perfect sized finger food to pass around on trays for catered events.
Since they can be served savory or sweet, or both simultaneously, mini waffles are an amazing toy for the chef who thinks outside the box. For example, Thai chicken and mini waffle skewers. Or as a sweet treat, a Nutella mini waffle tower.
Single Waffle Cone Maker, WWCM180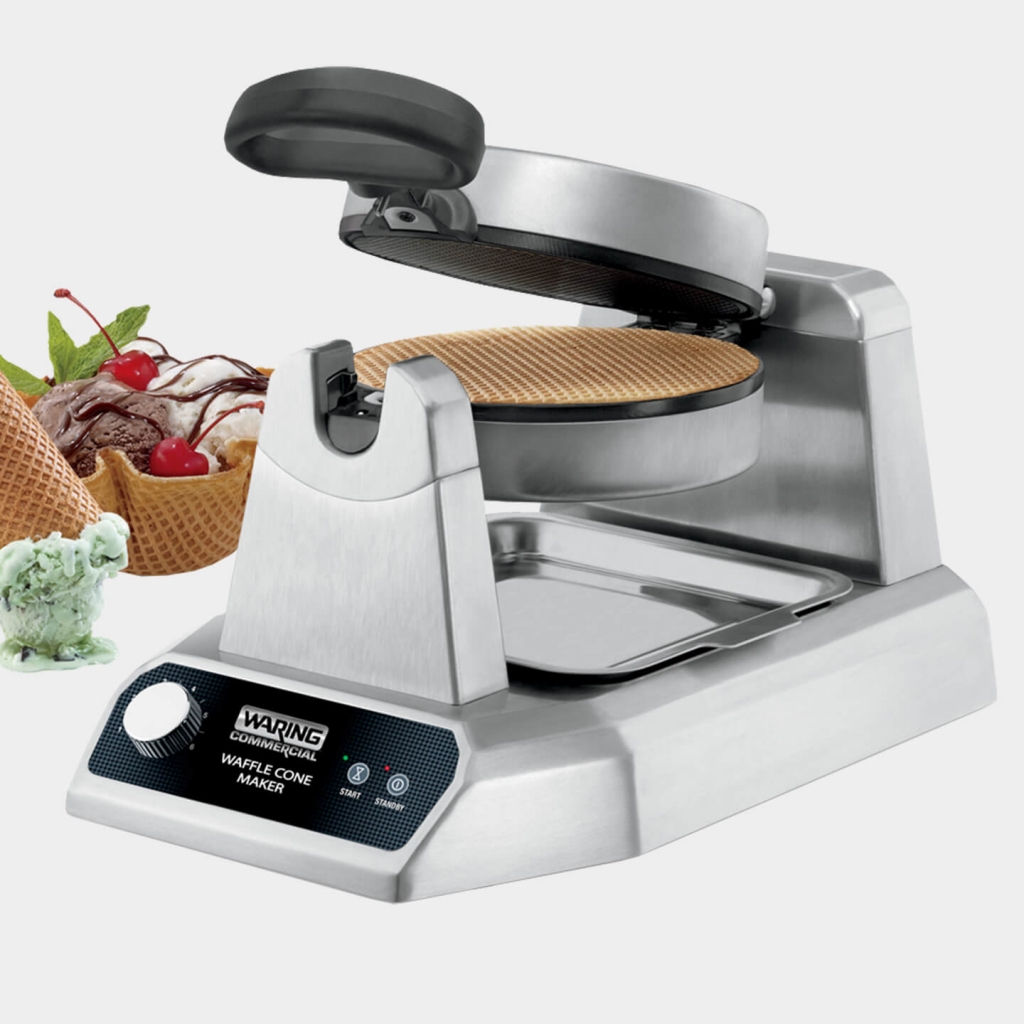 The WWCM180 bakes up to 60 waffle cones per hour and comes with its own rolling and forming tool to make traditional-sized cones. A rolling tool to form smaller waffle cones is also available.
Another must-have accessory offered by Waring is their waffle bowl kit. A waffle bowl is a fun, whimsical alternative to the traditional paper or plastic cup, since patrons get to eat the bowl, save trees, and reduce waste at the same time. Sometimes customers just prefer the stability and tidiness of a bowl versus a cone. A waffle bowl is a win-win situation for tidiness and taste.
Bubble Waffle Maker, WBW300X
The WBW300X can bake up to 25 bubble waffles per hour and leaves a small footprint in a commercial kitchen.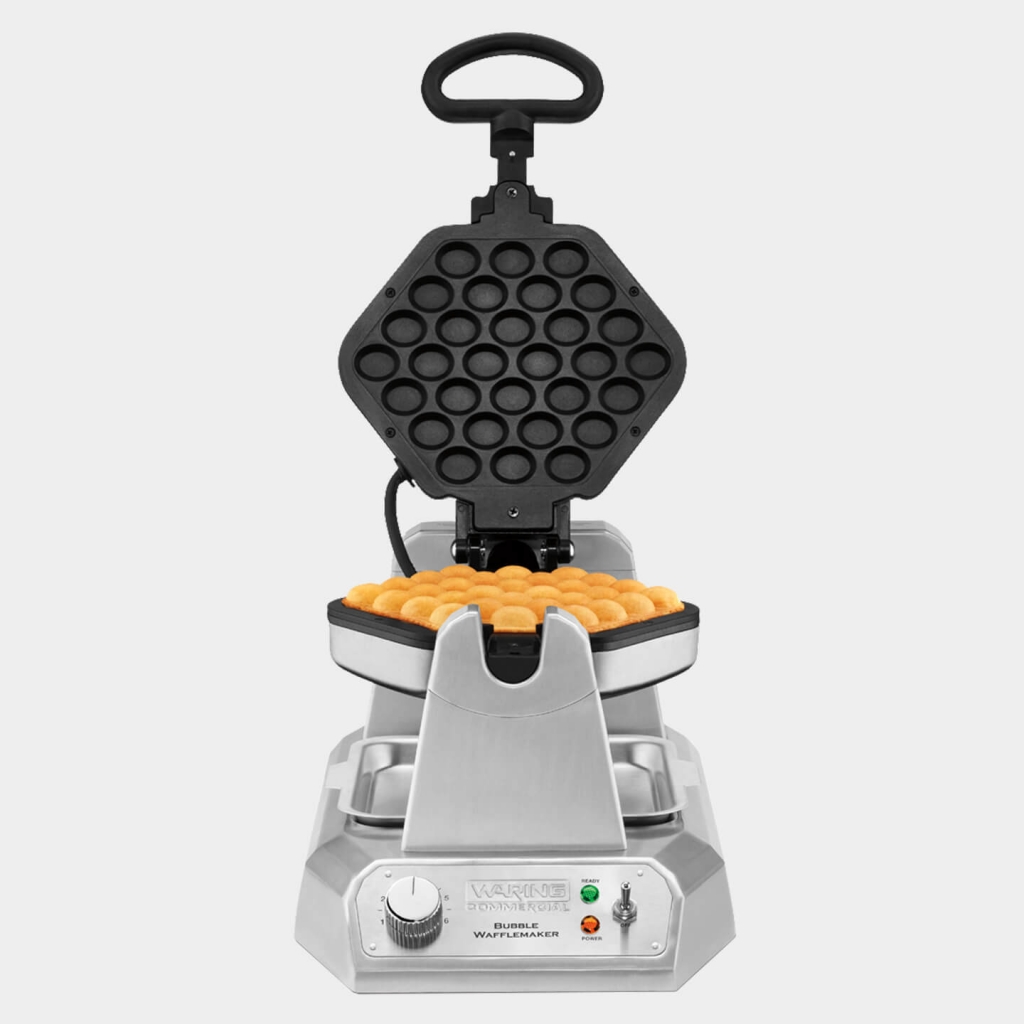 After baking, bubble waffles can be presented in numerous ways. Hand fold into a cone shape and place in a cup or sleeve, a method commonly known as 'bubble wrap'. This is a perfect alternative to a traditional ice cream cone.
Alternatively, lay out bubble waffles flat or even use them in the place of bread for grilled cheese and other sandwiches. Innovative culinary artists can separate out individual puffs for creative plating or original appetizers. Chefs are always dreaming up new, inventive ways to prepare bubble waffles.