Chefs form special relationships with their knives because they are essential to a successful career.
A high-quality knife should feel like a natural extension of the hand. Chefs set the bar high for their knives because every cut affects the quality and presentation of their food. Any chef worth their salt wouldn't dare use a dull knife or a knife with a loose handle, which is why quality manufacturing is key.
Our definitive knife guide reviews the most important features of commercial knives, from blades to bolsters. This article will also provide a better understanding of different knife styles, construction as well as how certain chemical elements improve the composition of steel for commercial kitchen purposes. So, let's get chopping.
Commercial Knife Blade Anatomy
The anatomy of a commercial knife blade is thoughtfully constructed with a chef in mind. Every line and curve are the result of purposeful engineering. To learn precisely why blades are designed with their specific shape we will use a chef's knife as an example. There are five basic parts to the anatomy of a chef's knife blade, the belly, tip, spine, heel, and surface.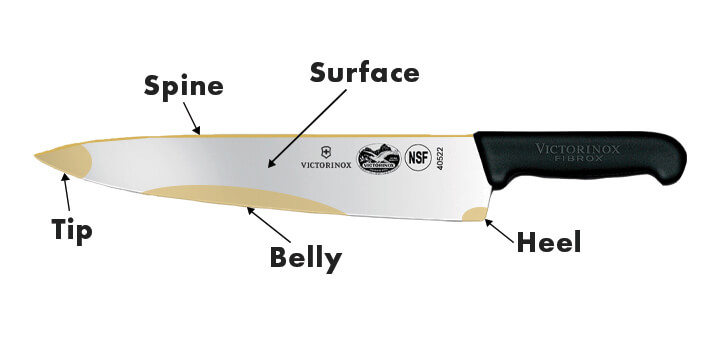 Belly – Also known as the midsection, this part of the blade works for cutting soft and firm food. For mincing, the gentle subtly curved section is the best spot for mincing.
Tip – Also known as the front of the blade, the tip is mainly used for small cutting and chopping tasks, such as mushrooms or garlic prep.
Spine – The spine can be used for tough tasks like breaking up small bones or shellfish.
Heel – This small section near the handle can chop through very firm food because of its optimal weight distribution.
Surface – the surface of a chef's knife is flat and wide. It is most useful for shaping or flattening cuts of meat, as well as lifting and transporting meat.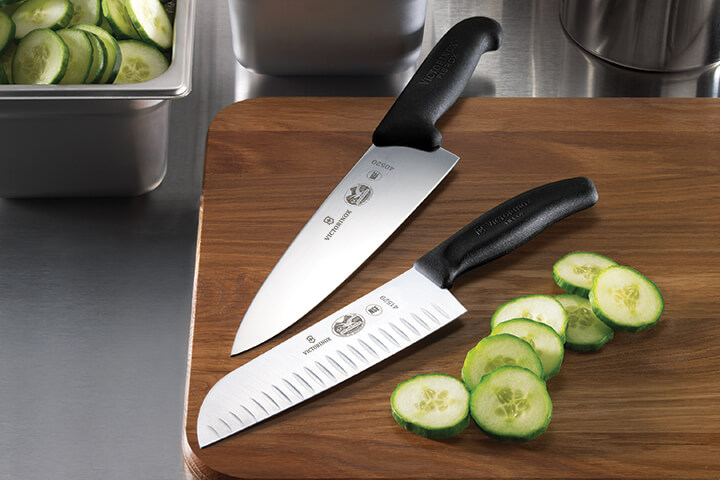 Commercial Knife Edges
Another feature that affects its functionality is the style of the knife's edge. There are straight, serrated, and fluted edges to ensure there's a blade on hand for every type of food prep. Some knives are appropriate for a wide range of tasks while others are more specialized.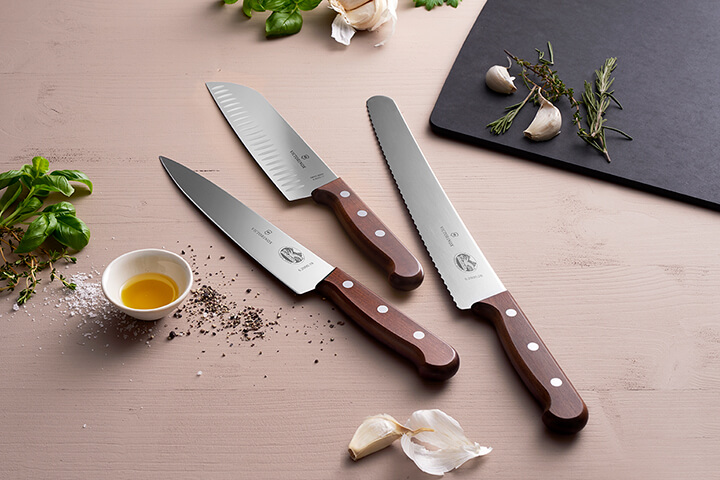 The knife a chef chooses to use at any given moment depends on the type of ingredients and style of knife work they will be employing. For instance, mincing garlic vs. chopping eggplant. Let's review the three primary types of edges:
Straight: Ideal for smooth, clean cuts of meat and both firm and soft food. Straight-edged knives do not tear or shred.
Serrated: Wavy edges work well with crispy breads and produce with skin.
Hollow: Also known as a granton or fluted edge. This blade creates pockets of air which results in less food sticking to the blade and less friction for faster, cleaner, and safer knife work.
Commercial Knife Construction
A quality knife is designed for functionality and longevity. To explain knife construction, we first have to examine the differences between stamped knives and forged knives. Neither type is better than the other; chefs choose based on their personal preferences. We'll begin with stamped-knife construction.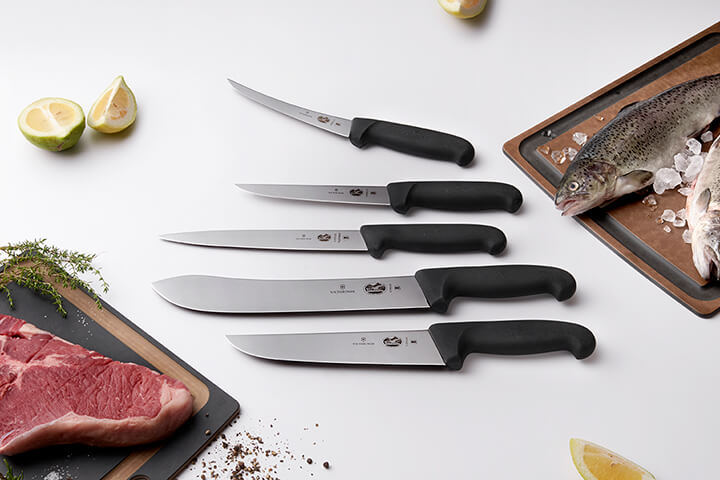 Flexibility Meets Cost Savings
Blade – Gently and evenly tapers to meet the knife's tip.
Spine – The straighter section of the blade, near the handle.
Rivets – One of the worst things for a chef is to work with an unstable blade. Shaky handles are a deal breaker. Not only are they dangerous, but they are too sloppy for commercial kitchens. To create a durably flawless piece, rivets are used to secure the handle to the knife. The rivets pass through the handle and steel to create a solid and stable tool.
Edge – Victorinox tapers their knives to achieve maximum sharpness. They knife edges are conically ground and then laser-tested to achieve their high standards. Stamped knives have a bolsterless edge.
Ergonomic Handle – Contoured, light, and durable. A half tang runs through part of the handle.
Rear Hand Protection – A safe little alcove for your hand.
This type of knife construction is "stamped" out of a roll of stainless steel. This decreases production costs resulting in more affordable blades. The chefs that prefer stamped knives favor their lightweight construction, balance, and maneuverability in the kitchen, making them an overall flexible and versatile choice.
Their lightweight construction also reduces wrist and hand injuries that typically occur after the repeated usage required of chefs. Stamped knives rarely have a bolster, making them better suited for skilled chefs.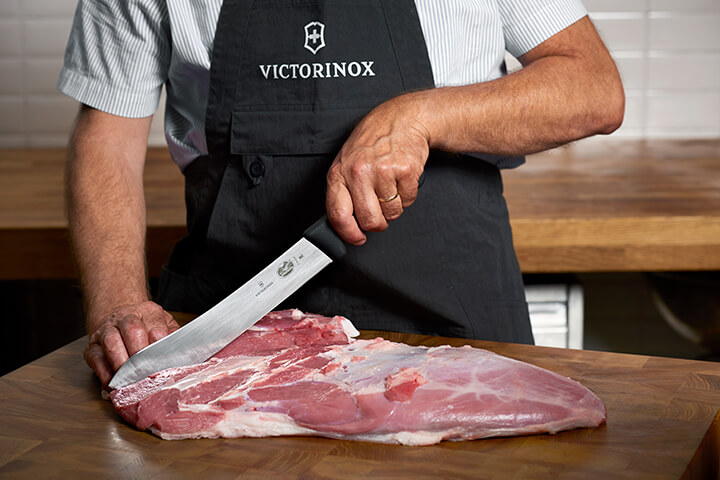 Investing in Quality and Durability
Forged knives have additional features not found in stamped knives: bolsters and full tangs.
Blade – Gently and evenly tapers to meet the knife's tip.
Spine – The straighter section of the blade, near the handle.
Full Tang – One single piece that runs from the tip into the handle. Full-tang construction creates an optimal balance that distributes weight evenly.
Rivets – rivets are used to secure the handle to the knife. The rivets pass through the handle and steel to create a solid and stable tool.
Edge – Victorinox tapers their knives to achieve maximum sharpness. They knife edges are conically ground and then laser-tested to achieve their high standards.
Bolster – The thickening between the blade and handle that gives the chef more control. This area also makes the knife safer by making it harder for a chef's hand to slip from the handle onto the razor-sharp blade.
Rear Hand Protection – A safe little alcove for your hand.
Forged knives are heavier and thicker than stamped knives because they are hot-dropped and forged by artisans. Knives forged by hand are extremely durable and balanced because of their full-tang construction.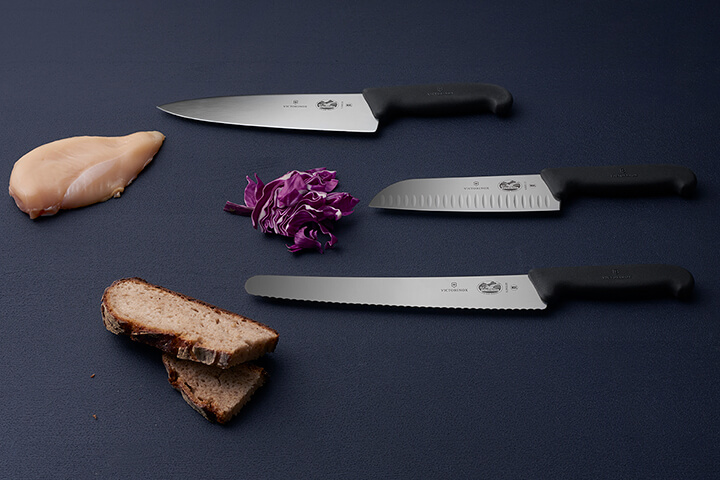 Commercial Knife Styles for Specific Jobs
Whether it is deboning, carving, or mincing, having the right knife for the right task plays an essential role in keeping ingredients moving down the prep line quickly and safely. Here is an overview of the different types of knives and the functions their blades were designed for.
| | | | | |
| --- | --- | --- | --- | --- |
| Knife Style | Main Function | Blade Appearance | Use For: | Works Best With: |
| Paring | Control, small precise cuts | Short, straight | Seeding, mincing, coring, trimming, slicing | Vegetables, fruit, and herbs |
| Utility | Random usefulness | Short, serrated | Slicing, cutting, peeling | Sandwiches, fruit, cheese |
| Boning | Separating meat from bone | Thin, flexible, "s" shaped edge | Deboning | Meat, poultry, fish |
| Santoku | The combined functions of a cleaver and chef's knife | Medium length, hollow | Chopping, scooping | Everything |
| Chefs | All-purpose | Medium length, straight | Dicing, mincing, chopping, crushing, slicing, shredding | Everything |
| Fillet | Skin and bone removal | Short, straight | Separating, deboning | Meat, poultry, fish |
| Bread | Cutting crusty loaves of bread | Long, serrated | Slicing | Bread, sandwiches, fruit and vegetables with skin that bruises easily |
| Cimeter | Butchering large pieces of meat | Long, wide, curved | Butchering, slicing | Meat |
| Butcher | Butchering meat into separate cuts | Long, thick, hollow | Butchering | Meat |
| Breaking | Breaking down large piece of meat | Long, curved | Cutting, slicing | Meat, poultry |
| Carving | Produces thin cuts of meat with precision | Long, thin | Carving, slicing | Meat, poultry |
| Slicing | Produces thin, small slices of meat | Long, narrow, straight edge | Slicing, cutting | Everything: Meat, fish, produce, cake, sandwiches, roasts |
Commercial Knife Care: Honing vs. Sharpening
Performing routine maintenance keeps our knives in optimal condition. A dull blade will massacre a tomato and waste time in the kitchen, whereas sharp knives are safe, more precise, and more efficient. Honing and sharpening are key in keeping our knives performing at their very best. These processes, however, serve different purposes.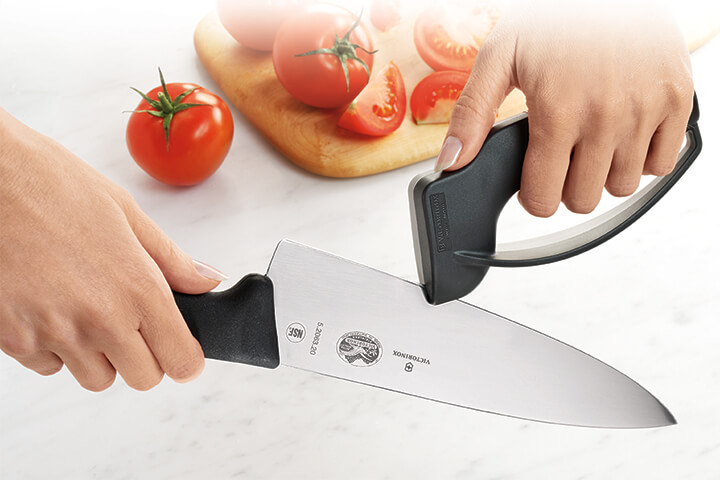 Sharpening is when small amounts of steel are removed from the edge of the knife leaving a freshly tapered, sharpened edge. Because a sharpening steel removes metal from the blade, it should not be used on a daily basis. Honing steels are less aggressive in their application. They only remove a small amount of steel from the blade and are much less abrasive.
Honing, on the other hand, means to straighten the edge of an already sharp knife. For instance, sometimes the tip of the knife will lose its shape and become rolled. When this happens, the tip of the knife no longer comes into contact with the cutting board, resulting in sloppy cuts. Honing is the process that straightens out to tip of the knife so it performs as well as it did when it was new. Many honing steels are suitable for daily use, if necessary.
How Victorinox Processes and Treats Their Knives
Victorinox processes and treats their steel using carbon (C), chromium (Cr), molybdenum (Mo) and vanadium (V). Each chemical element works together to build a better knife:
Carbon – The amount of carbon in steel determines the hardness, rigidity, and tensile strength of the metal. However, carbon also reduces corrosion resistance. Fortunately, there are ways around this.
Chromium – This component of steel raises its corrosion resistance. Because chromium is a carbide former, the level of chromium in steel effects its edge-holding ability and resistance to wear.
Molybdenum – This element helps to maintain the corrosion resistance that chromium provides. Molybdenum improves the metal's edge-holding ability and promotes the formation of fine grains.
Vanadium – Added to molybdenum in small amounts, vanadium aids in the formation of finer grains as well as the metal's edge-holding ability and overall durability.
A World of Difference
Ensuring your chefs and prep cooks are equipped with dependable, durable, and high-quality knives make all the difference in a commercial kitchen. For chefs, the commercial knives they choose are part preference and part practicality. However, one thing is certain; the profusion of detail that goes into the design and construction of a knife makes a world of difference during food preparation. And in commercial kitchens, there are no dull knives allowed.
About Victorinox
Directional, intrepid and pioneering on the global stage, the original Swiss Army Knife, created by Karl Elsener in 1897, embodies the essence of Victorinox. A rock solid heritage, exacting commitment to Swiss precision and a consistent focus on quality and innovation are the absolute cornerstones of our business. Founded on integrity and family values, today we operate in over 120 countries worldwide.
Victorinox chef's knives are incredibly sharp and excellently balanced. If you get hold of one of these masterpieces, it will almost seem as if everything cuts itself. And that is the secret of a good chef. Victorinox guarantees that its products meet the highest standards in all areas and quality is never compromised.