In the 1890s, Dutch butcher Willhelmus Adrianus van Berkel created a triumph of functional design – the flywheel slicer – a first of its kind in the area of mechanical meat slicing devices. Antique slicing machines have garnered a cult following: Gourmands today still swear by and use antique slicing machines in their restaurants. In 2017, Wright auction house in Chicago, which specializes in 20th century art and design, auctioned antique flywheel slicers for their show, Design in Motion. The most expensive sold for over $21,000 USD.
Art appreciation aside, not all modern establishments will benefit from strictly choosing a collectors' item for their slicing needs. That is why we have put together a guide to help you choose the perfect slicer(s) for your commercial kitchen.
Why Use Commercial Slicers?
Commercial kitchens including but not limited to restaurants, grocery stores, sandwich shops, hotels, and delis, all benefit from investing in a commercial slicer. Primarily used for meat, slicers are also used for cheese, fruit, and vegetables. Attachments and accessories allow users to customize their slicer for whatever purpose they choose.
Human error and inconsistent size are all too apparent when using a hand knife, which also slows down the process. A commercial slicer produces consistent results; all slices are the same size. And of course, many models can handle a tremendous amount of work, adding to the efficiency of your kitchen.
Types of Commercial Slicers
There are two basic types of commercial slicers: manual and electric. Manufacturers create a range of products within these two primary groups, which cover every slicing want you could think of including heavy, medium, and light-duty models, all varying in run time, blade size and motor power.
Manual Slicers
Love to flex your muscles? The manual machine may be for you. Many chefs prefer a manual model because there is little heat involved, which some will argue alters the taste of meat, just as different knife techniques and blade sharpness affects the texture, taste, and smell of food.
If your demand isn't too high, such as a small restaurant, a manual model will work for you. It is slower to use and requires more attention than its automatic counterparts. A manual model also requires some muscles power to ensure precise cuts while pushing the carriage back and forth.
Automatic Slicers
Motor driven and hardworking, automatic slicers are a must have for the busy kitchen. Automatic models are faster and more efficient than manual machines. They do the slicing for you and require less effort from the kitchen staff than a manual machine. Since you can walk away from the slicer, they also allow for multitasking in the kitchen.
Some slicer models are semiautomatic, which offers the ease and convenience of an automatic carriage with the option of a manual setting. A semiautomatic machine offers the best of both worlds.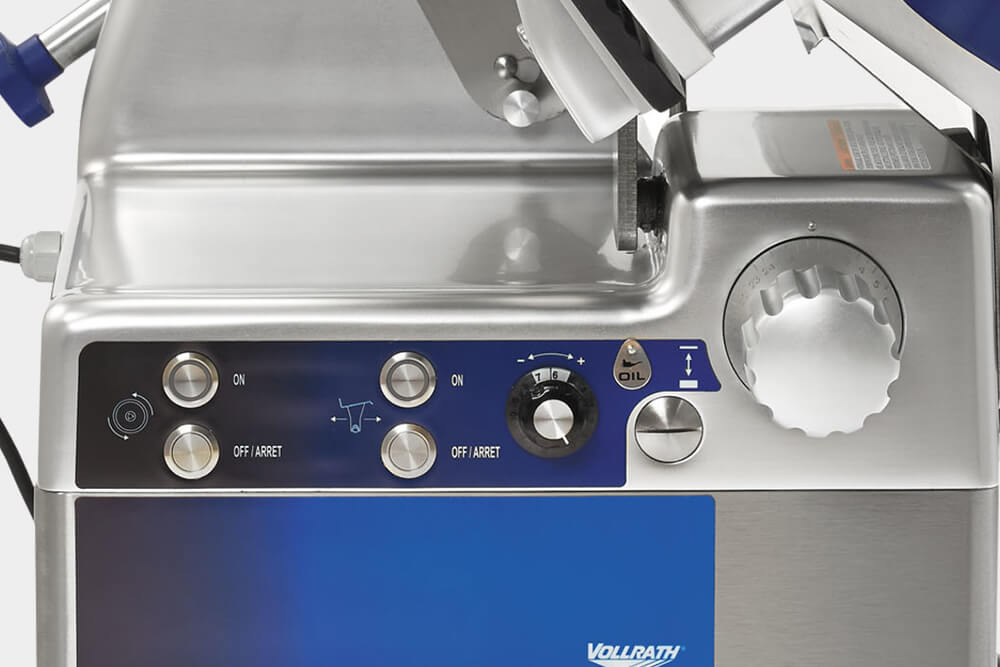 Commercial Slicer Basics
Slice Thickness
Thickness settings generally range from paper-thin (shaved) to 1-1/4th inches depending on the machine and manufacturer. The best machines can produce the right cut for both a delicate genoa salami and a hearty steak.
Slice Adjustment Knob
Exert precision control over your cuts with a slice adjustment knob that allows easy access to different thicknesses of meat and cheese.
Blade Size
The size of the blade ranges from 9" or 10" in lighter duty machines to 13" for heavy duty deli type machines. The larger the knife, the more cutting surface available.
Gravity Feeds
The incline of the blade, whether it be 25, 35, or 45 degrees, is designed to aid in the comfort of the user. Thanks to their ergonomic design, slicers with gravity feeds reduce strain on the lower back and reduce muscle fatigue which makes a marked difference on the operator's quality of life.
Slicer Motor
Motors with lower horsepower (HP) do well in machines designed to perform for 2-4 hours daily, while stronger HP peak motors can run continuously throughout the workday. Stronger motors, such as 1/2 peak HP also feature a higher torque, ideal for working with tough meat and blocks of cheese.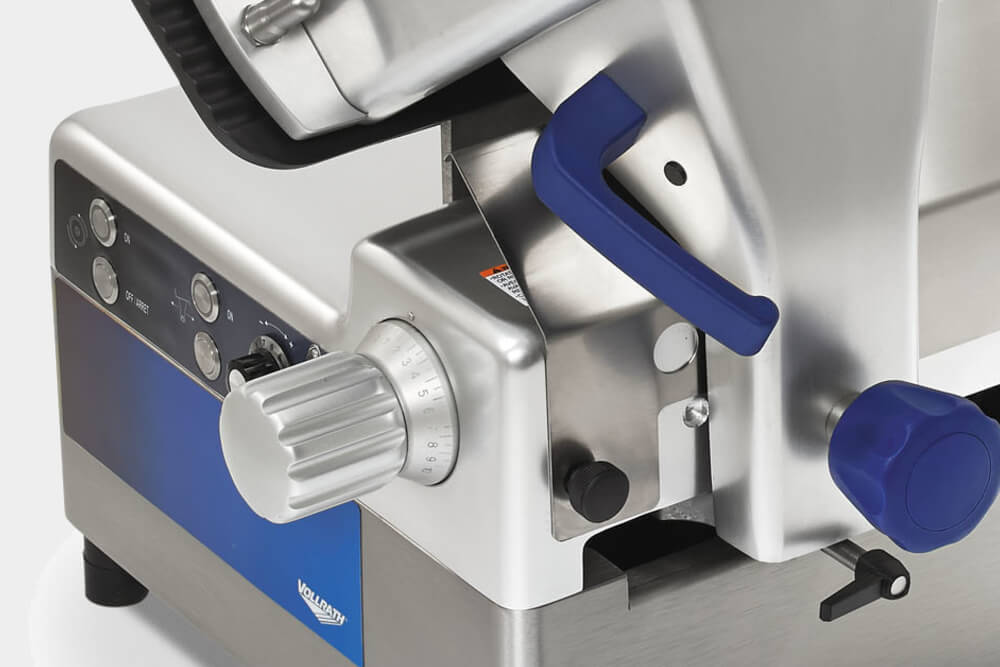 Ideal Slicer Features for a Bustling Commercial Kitchen
Built-In Sharpener
Keeping a blade razor sharp is imperative for the demanding tasks your slicer will face each day in a commercial kitchen. A built-in sharpener saves time and ensures quality cuts. Hand slicing prosciutto is considered an art, so to preserve that artistic integrity while using a machine, we need the sharpest blade possible. With a built-in sharpener there is never a dull moment.
A Nonstick Coating
Another piece of the precision puzzle, nonstick coating reduces drag on the machine. As an added bonus for the sanitary-savvy kitchen, nonstick coating makes the machines easier to clean; food slides right off. Any feature that makes cleaning faster and easier is a big plus. Non-stick coating on a slicer will never wear off or leach into the food because there isn't enough heat to cause this chemical reaction.
Receiving Tray
High volume operations should opt for a larger receiving tray to ensure workflow isn't interrupted and maintain a steady stream during the production process.
Slicer Safety Features
The last thing a commercial kitchen needs are accidents. Look for safety features that include blade rim guides, safe blade removal tools, nonskid rubber feet to keep the machine in place, and hand guards.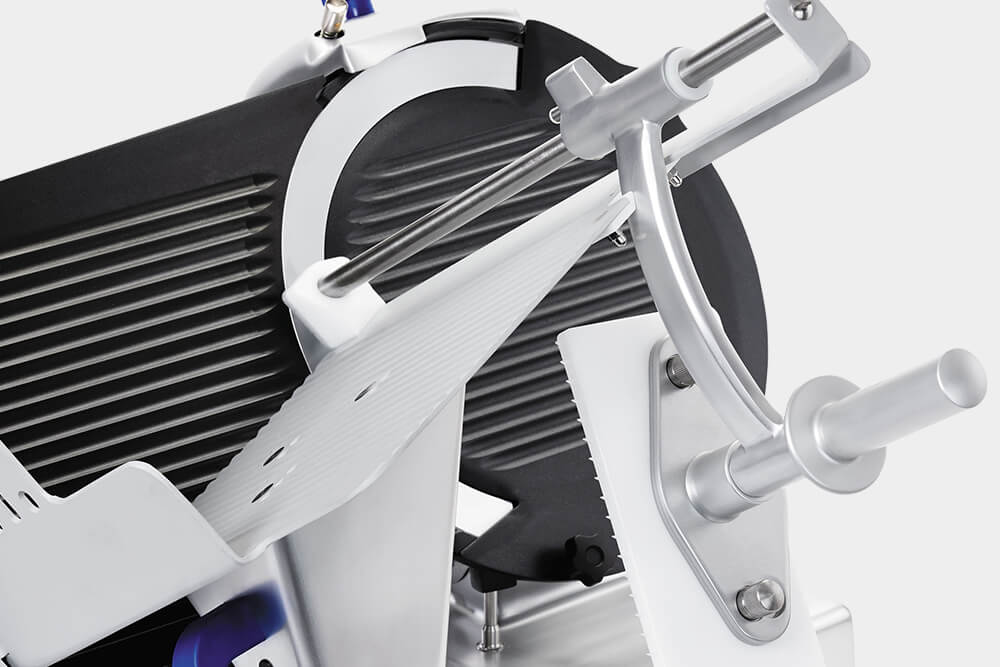 Slicer Accessories
Get more out of your machine with small additions such as serrated blades, safe blade removal tools, and vegetable chutes.
It's important to have a serrated option available for thick pieces of meat that the knife really needs to grab hold of. A serrated blade is also handy when cutting frozen meat. A vegetable shoot allows for greater versatility in what you are able to slice. A safe blade removal tool is essential for safety because it ensures the person cleaning the machine will not come into contact with the extremely sharp blade.
Avoiding Cross Contamination
For establishments conscious of special diets, such as vegan, kosher, or food allergies, we recommend purchasing separate machines for meats, cheese, and produce. For example, people with a dairy allergy must avoid consuming food cut with a meat slicer that was also used to slice cheese. Any traces of cheese left on the blade could cause a severe allergic reaction in those with a dairy allergy.
Only after thoroughly cleaning and sanitizing would that equipment be considered safe to use. This only applies to an IgE mediated response, the type of allergy that can cause anaphylaxis. People with dairy sensitivities or lactose intolerance are safe using shared equipment.
NSF/ANSI 8 Certification
Current standards focus on improved food safety and ease of cleaning, adding to a more sanitary kitchen. If a product isn't NSF/ANSI 8 certified, it will be harder to promote safety and prevent foodborne illness and bacterial growth. For example, a requirement to meet this certification is that the slicer's catch area must be angled away from controls so that the meat's liquid byproduct never comes into contact with the machine's electronics.
Featured Vollrath Slicers

Every Vollrath slicer is Italian designed and engineered and NSF/ANSI 8 certified. All slicers feature built-in sharpeners, ergonomic gravity feeds, a nonstick coating, easy-to-use slice adjustment knobs, and are constructed with QuanTanium®, a nonstick coating system reinforced with a unique blend of titanium particles that helps to create durable, trustworthy machines.
Each slicer offers special problem-solving features. Whether your establishment is a cozy bistro or a high capacity hotel/casino, we have the right machine for you.
Vollrath 10-Inch 120-Volt Medium-Duty Electric Slicer
This 10-inch medium-duty electric slicer will save you time, space, and money. As the name states, the 40950 electric slicer is ideal for low or medium volume operations such as small restaurants.
People who work in small commercial kitchens benefit from its space-saving design and easy movability when things get tight on the countertop and a quick improvisation is needed to create more space. And if a colleague accidentally crashes into you while using this machine, no problem. The handguard, safety cover, and non-skid feet ensure a safe recovery. This compact machine is also very easy to carry which also makes it an indispensable tool for caterers.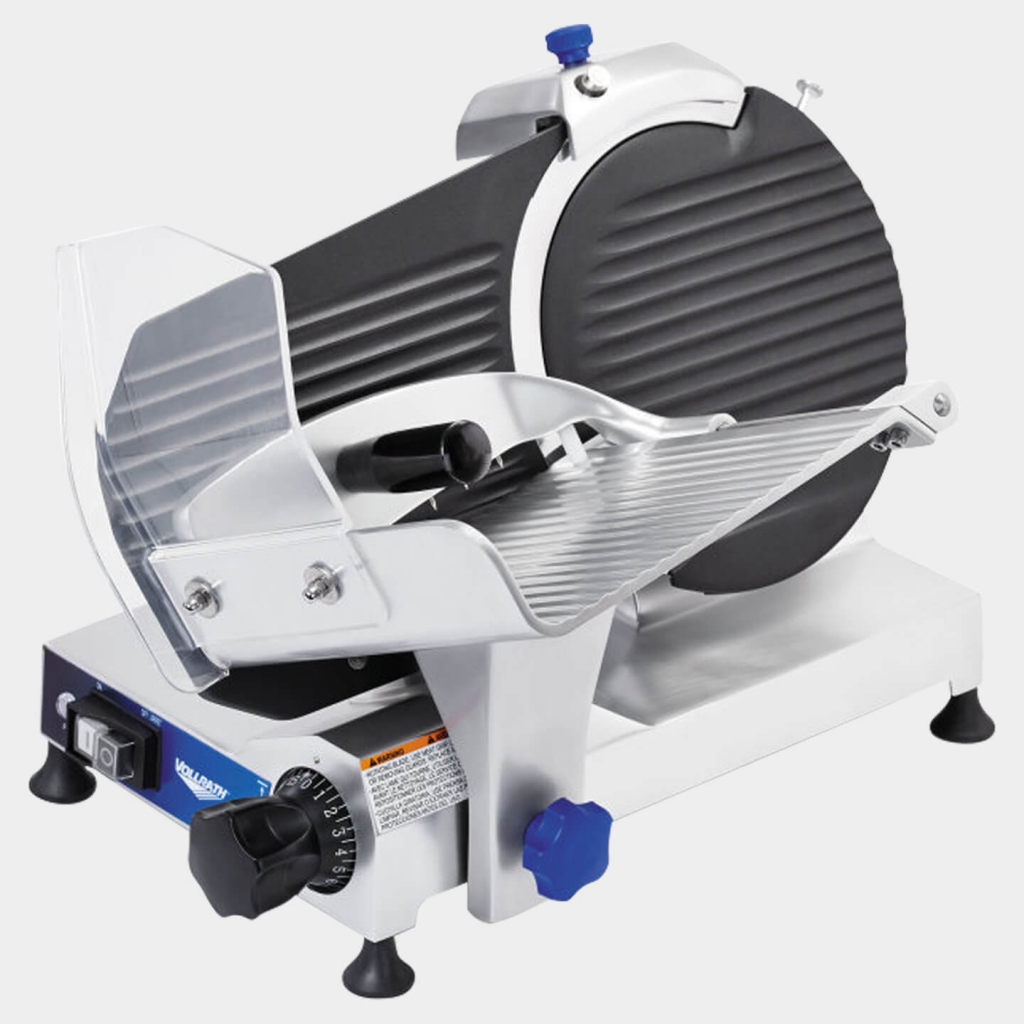 High volume establishments will benefit from the 40950 when used as a backup or as a single item dedicated machine for a food. As stated earlier, it is important for bustling commercial kitchens to have a variety of slicers on hand to meet the needs of their customers' dietary preferences and needs.
The 40950's 1/3 peak HP motor can run for up to three hours a day and features a 10" blade and thickness options up to 1/2". The 25-degree gravity feed will keep kitchen staff comfortable whilst feeding food into the machine.
Vollrath 12-Inch 120-Volt Heavy-Duty Electric Slicer
A must-have for medium and large restaurants, the 40952 heavy-duty electric slicer can run all day long, creating precise and uniform cuts. This workhorse also features:
35-degree gravity feed to reduce lower back strain and muscle fatigue
1/2 peak HP hardworking motor that never tires
Higher torque for easy cheese slicing
Large receiving tray
Removable carriage for easy cleanup
Can-do attitude at a terrific price point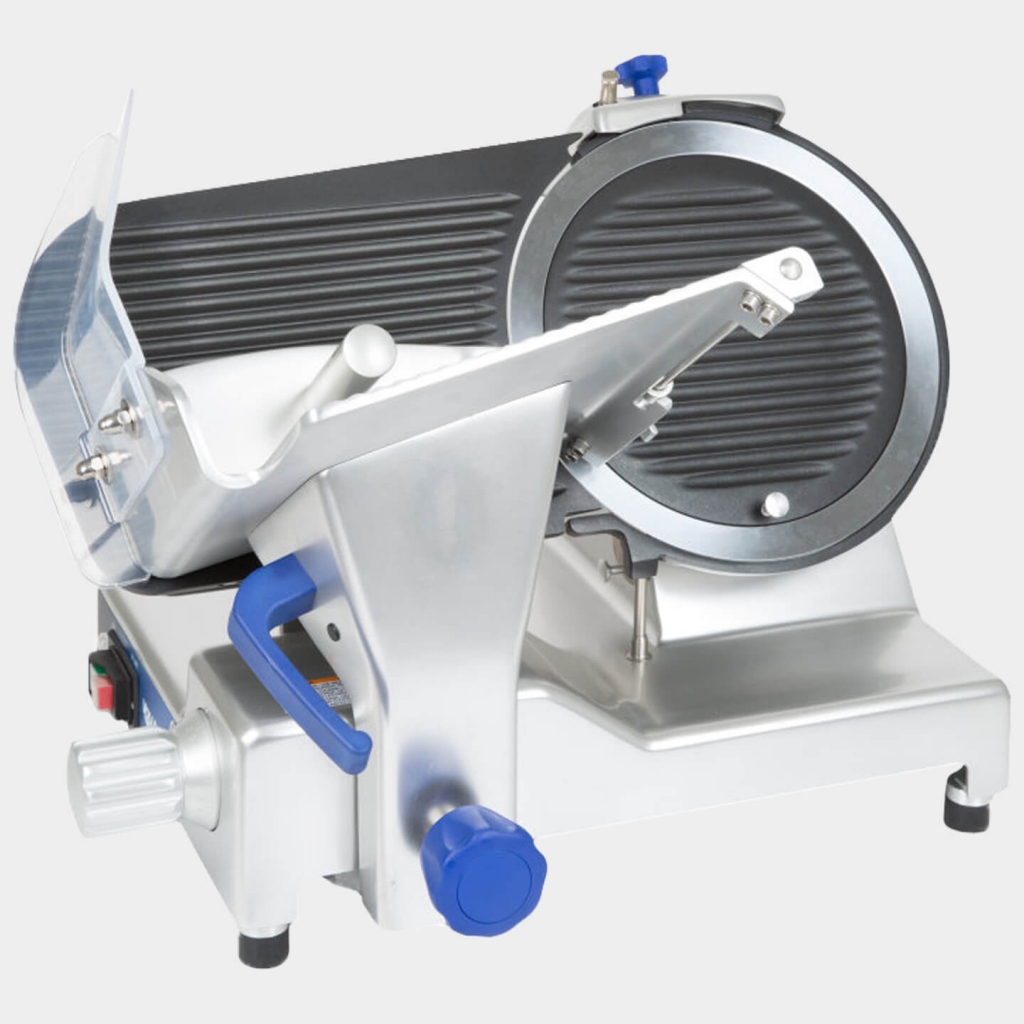 Found in the heavy-duty models, we have an additional safety feature called a safe blade removal tool, along with the standard safety cover, safe hand guard, and blade rim guard to help maintain safety in even the most active kitchens.
Vollrath 13-Inch 120-Volt Heavy-Duty Deluxe Electric Deli Slicer
High-volume operations including large restaurants and delis will rely on the 40955 heavy-duty deluxe slicer for its:
13" blade
35-degree gravity feed to reduce lower back strain and muscle fatigue
Slice thickness up to 13/16″
Large receiving tray
1/2 peak HP motor
Easy cheese slicing
If you work with large loaves of meat and cheese, this machine employs an extra-long slide rod to accommodate such items. This machine works as hard as you do.
While the 40955 does not include a removable carriage due to its larger size, a feature that makes up for it is a kickstand which allows easy access underneath the machine, and a tilting carriage with zero blade exposure for safe cleaning.
Vollrath 12-Inch 120-Volt Heavy-Duty Automatic Slicer
Finally, we have the 40954 heavy-duty automatic slicer. Large restaurants and delis love its workhorse ability at a super price point. This model also features some very attractive options for the chef who thrives on variety. Not only is this machine capable of continuous usage with a variable speed automatic carriage – which means the user can walk away and multitask – but when the culinary arts call, it also can operate manually.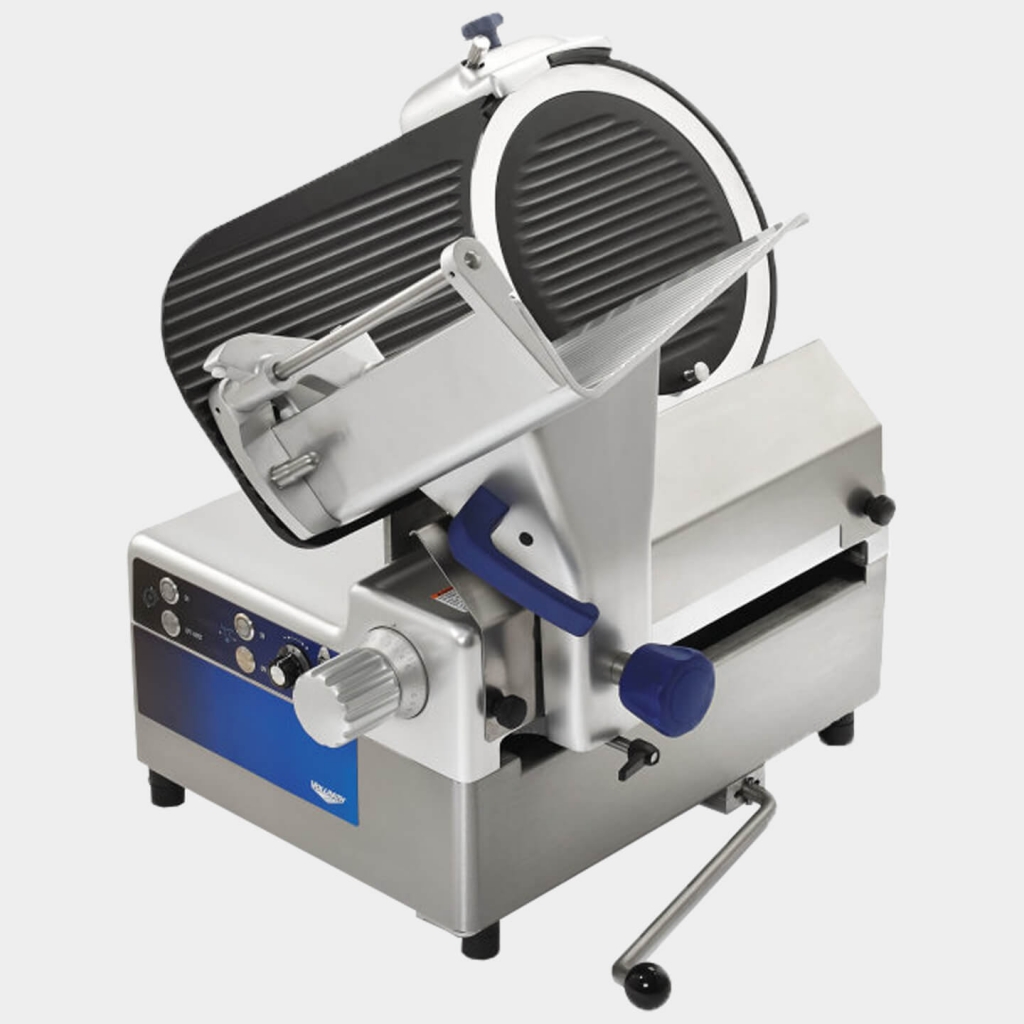 The operator can get close and personal by using the machine's manual setting. Or if things are busy, set the machine in full robot mode and have it do the work for you. A food fence is included to keep meat and cheese in place during manual operation.
Like the 40950, 40951, and 40952, this model includes a removable carriage for easy, faster cleaning. The 40954 however also employs a kickstand which allows the user to easily clean underneath the machine. Safety features include a safe blade removal tool, and a permanent blade rim guard. Its hardworking 3/4 peak HP motor, 1 1/8" x 7 5/8" cutting capacity, large receiving tray, and 35-degree gravity feed makes high volume operation a breeze.