When you need a new fry pan or stock pot, how do you know which metal to choose? Between stainless steel, aluminum, cast iron – even nonstick vs natural finish – which material is the best fit for your restaurant's commercial cookware?
Whether you are adding to your existing collection of cookware or starting your collection from scratch, our definitive guide will introduce you to the most popular materials used in professional pans, skillets, pots, and more.
Table Of Contents
---
Stainless Steel Cookware
Knowing when to use your commercial stainless steel cookware can be a game-changer for many cooks who frequently find themselves creating dishes that include acidic foods and ingredients.
Unlike aluminum, a stainless steel saucepan won't discolor delicate sauces or show signs of physically pitting. This is because stainless steel is non-porous.
When food-presentation is such an important part of courting customers back to your venue and generating repeat business, it's critical to always have stainless steel cookware as part of your kitchen's arsenal for acidic foods such as tomato sauces, vinegar-heavy marinades, and citric glazes.
✔️ Pros of Stainless Steel Cookware
Durable, non-corrosive, not reactive, long-lasting
Perfect for acidic foods and sauces
Non-reactive, maintaining flavors from one dish to the next
Very hygienic – doesn't trap foods or bacteria
Various metal coatings available to improve performance
❌ Cons of Stainless Steel Cookware
Inconsistent heat distribution
Food can stick (unless using non-stick cookware)
Longer heat-up time than aluminum and copper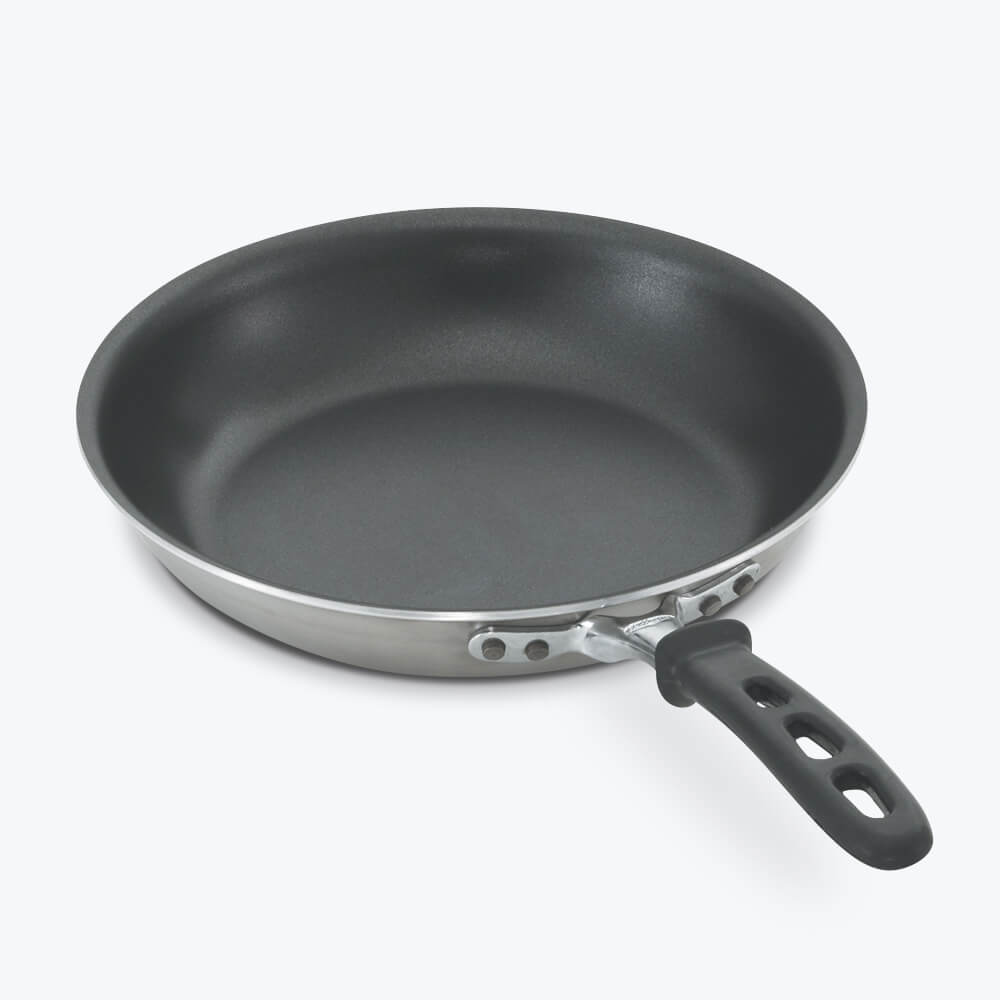 Pro-Tip: Commercial stainless steel cookware is great for searing chicken and meats when your cast iron pan is dirty or in use!
---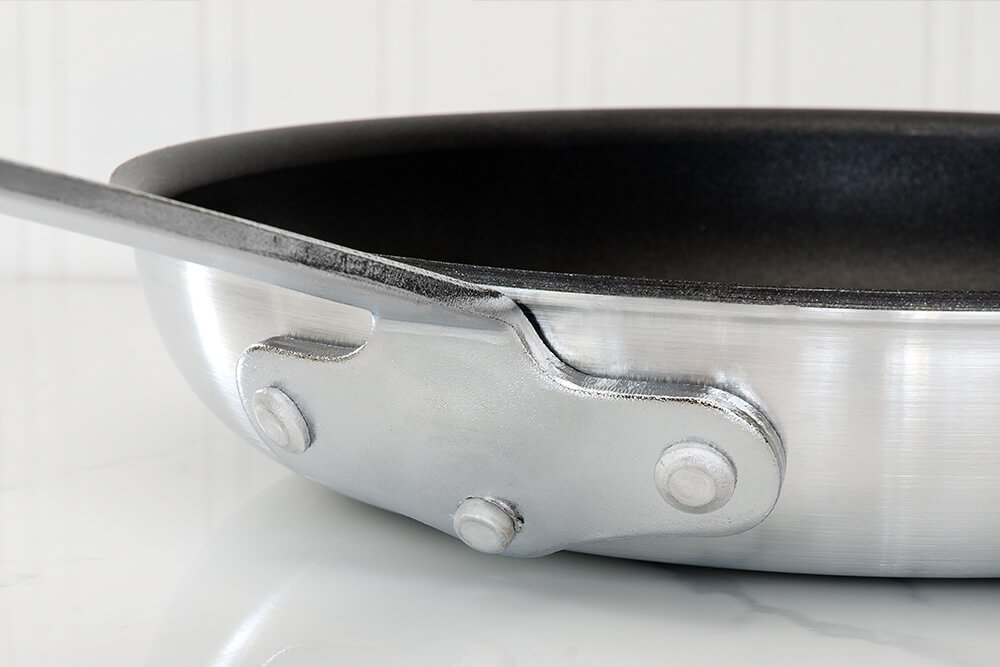 Aluminum Cookware
When you manage a fast-paced venue with throughput demands being met by a high volume kitchen, you need cookware that heats up fast, can cool down and be cleaned fast, and then be put right back to work!
Restaurant quality aluminum cookware is budget-friendly and is often enhanced with various coatings that augment properties such as non-stick and durability.
✔️ Pros of Aluminum Cookware
Light weight for easier handling
Great conductor of heat allowing cookware to heat up quickly
Is generally less expensive
Great for eggs, omelets, sauté and other low acidic foods
Heavy-duty models heat evenly and resist warping
❌ Cons of Aluminum Cookware
Can impact the taste of food
Oxidation can cause the cookware to become discolored
Acidic foods can react with the aluminum and cause damage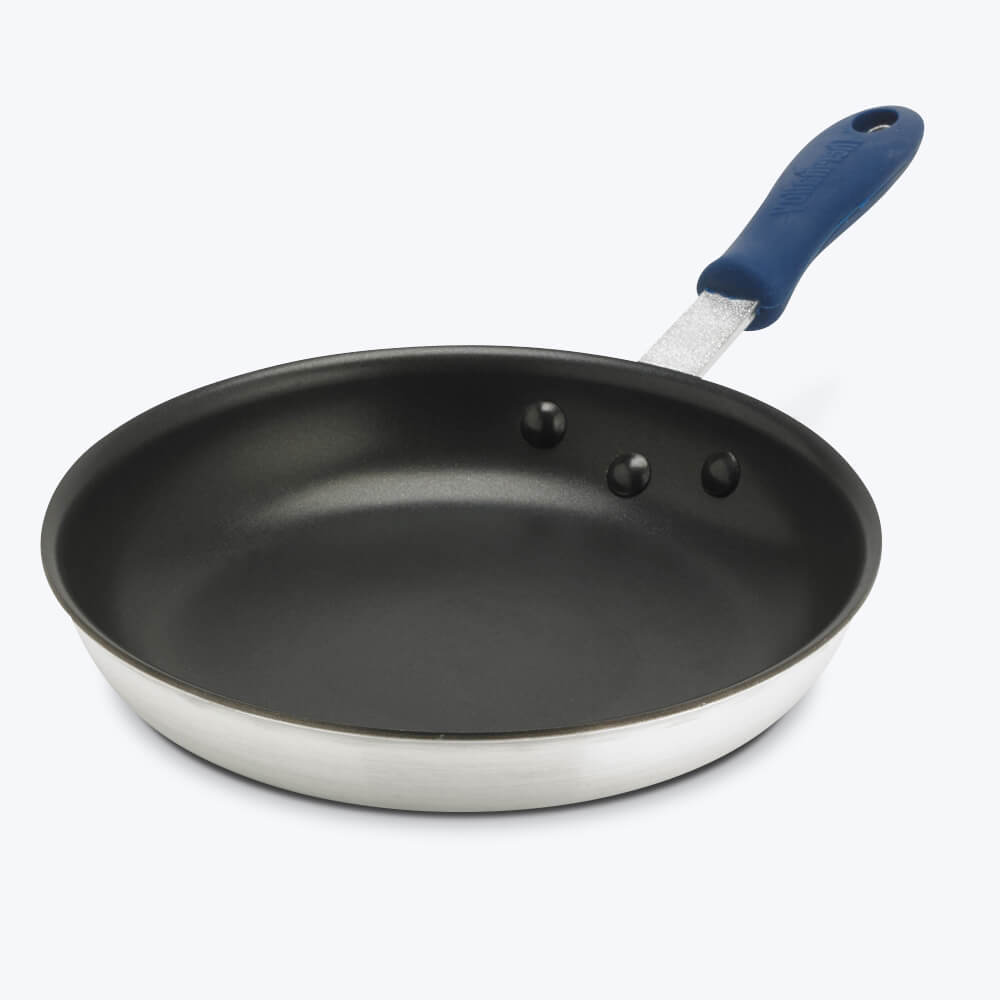 When shopping commercial cookware that is both budget-friendly and heats up quick, aluminum is a popular choice!
---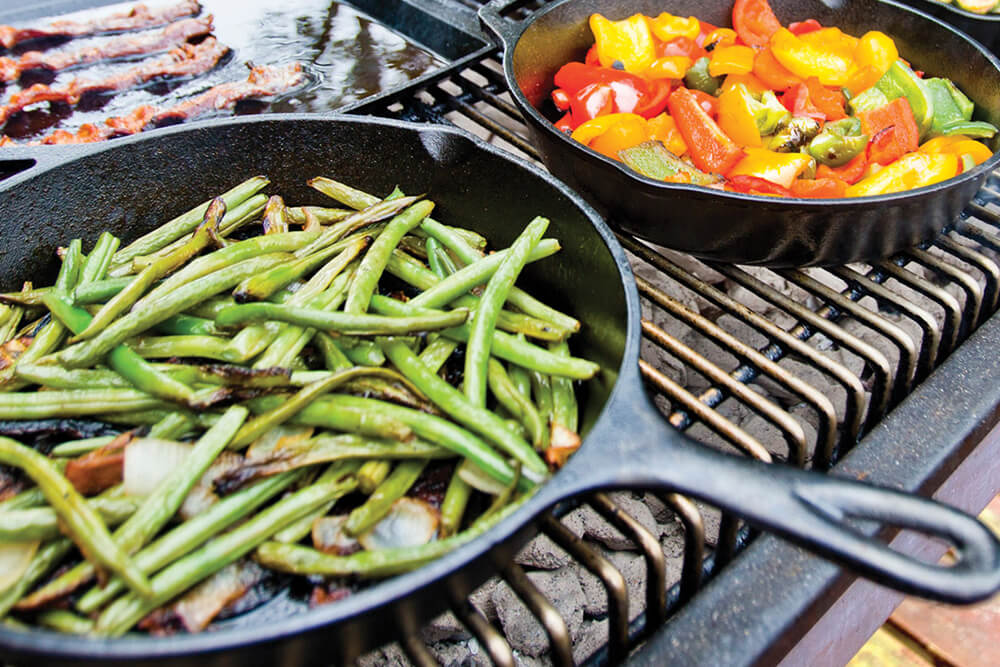 Cast Iron Cookware
Anyone who cooks consistently with commercial cast iron cookware will swear by its unparalleled ability to cook and fry a wide variety of foods while giving them a great, crisp texture.
Cast iron pans require some attention and care when you first add them to your kitchen supplies. Even if you've purchased a "pre-seasoned" cast iron platter or skillet, always take the time to properly season your cookware. The time you invest into seasoning your cast iron today will be returned to you when you're making eggs and hash for your morning patrons, grilled cheese for your lunch crowd and seared steak and onions in the evenings.
Once seasoned, a pre-heated cast iron pan or griddle should provide an even cooking surface area that doesn't cool down very much when your ingredients are added. Cooking menu items evenly yields improved taste and texture, as well as the consistency your customers have come to expect.
✔️ Pros of Cast Iron Cookware
Superior durability and longevity
Maintains heat better than all other cookware metals
Performance improves the more you use it
Naturally induction-ready
Great for cuisines that frequently cook using oil
❌ Cons of Cast Iron Cookware
Requires initial time and patience to season properly
Not recommended for delicate foods such as pancakes or tilapia
Not recommended for acidic foods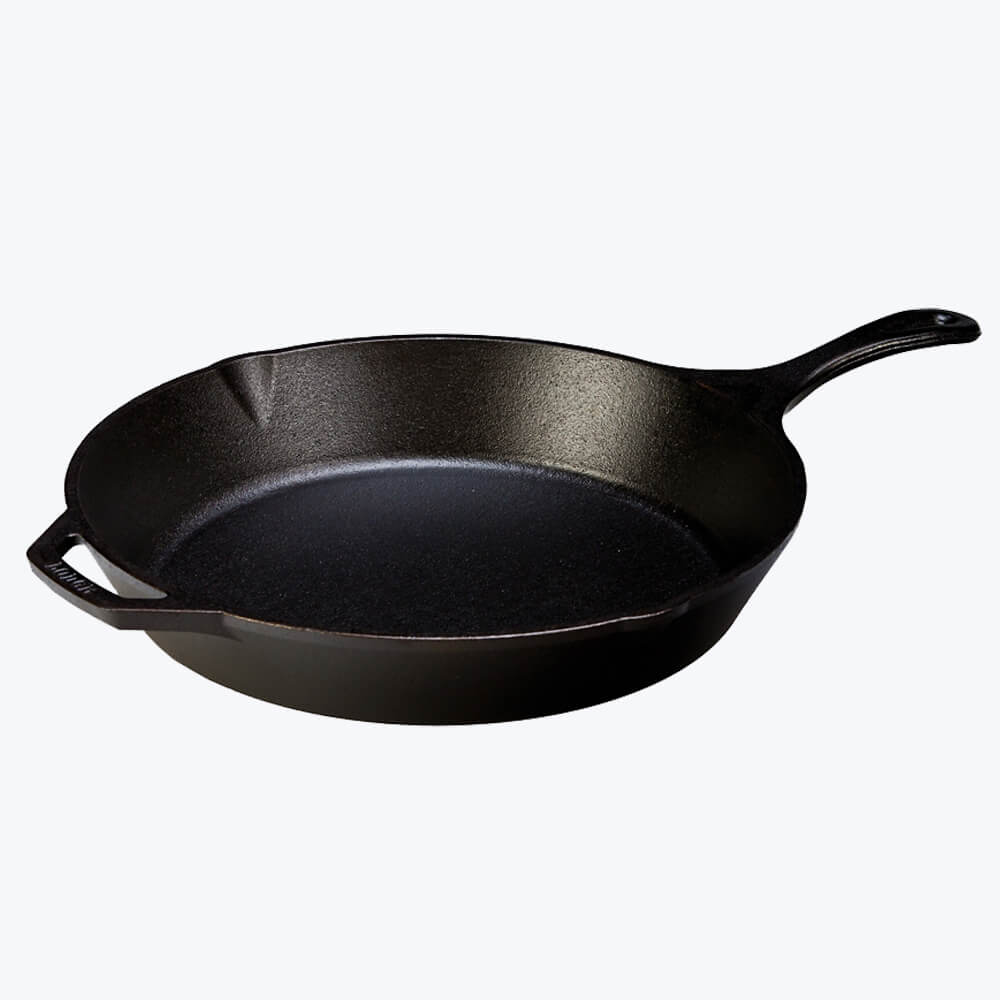 Even with the cons listed above, a well-seasoned piece of professional cast iron cookware has almost no downside.
Tossing some acidic foods or sauces into an almost-finished recipe won't react with the skillet due to the seasoned layer, delicate foods can occasionally be tossed into a well seasoned pan, and cleanup with some soap and water is a cinch unless you've removed your seasoning by using highly acidic ingredients for extended periods of time.
Always remember that if anything ever happens to your seasoned layer, simply re-season your cast iron and it'll be as good as new. Take care of your cast iron cookware, and it will take care of your kitchen staff for generations.
---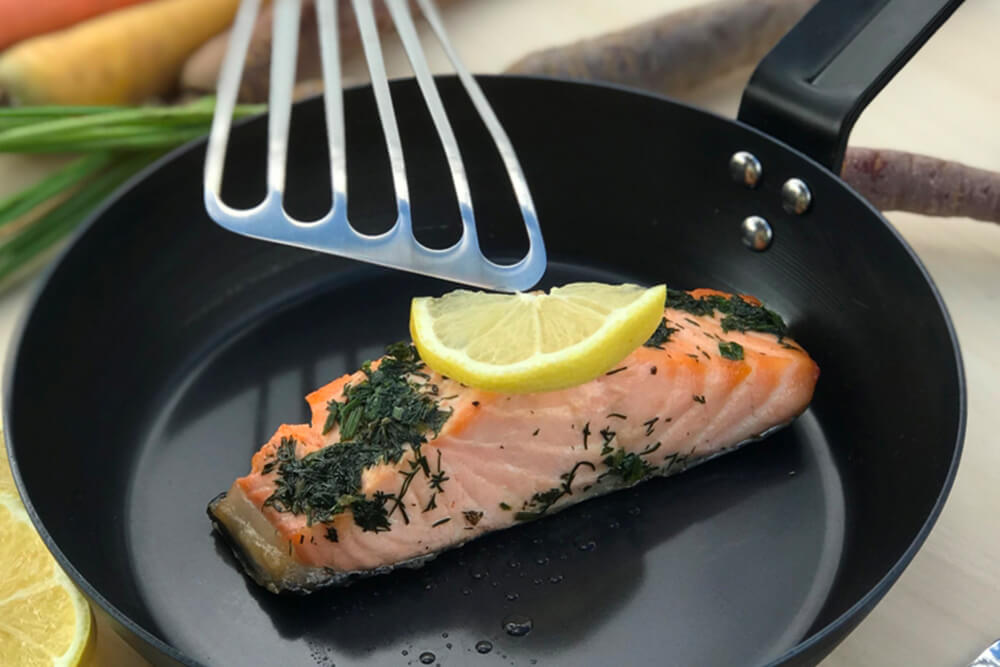 Carbon Steel Cookware
Are you looking for commercial cookware that utilizes a natural, non-stick finish, but lighter than cast-iron for your cooks to use?
Professional carbon steel cookware wields most of the benefits of cast iron at a fraction of the weight.
Commercial kitchens have been using carbon steel for years to prepare stir fry dishes. Today, more chefs and prep cooks are using carbon steel for its wider range of advantages such as searing, oven-safe convenience, and ability to heat up and cool down quickly for more delicate foods.
✔️ Pros of Carbon Steel Cookware
Great alternative to cast iron for searing and browning foods
Durable construction to prevent warping
Seasoned for natural, non-stick cooking
Seasoned carbon steel affords the benefits of non-stick without Teflon materials
Highly versatile and heats up quicker than stainless steel
❌ Cons of Carbon Steel Cookware
Higher maintenance to maintain proper seasoning
It's recommended to avoid acidic foods (like cast iron)
Does not maintain high heat like cast iron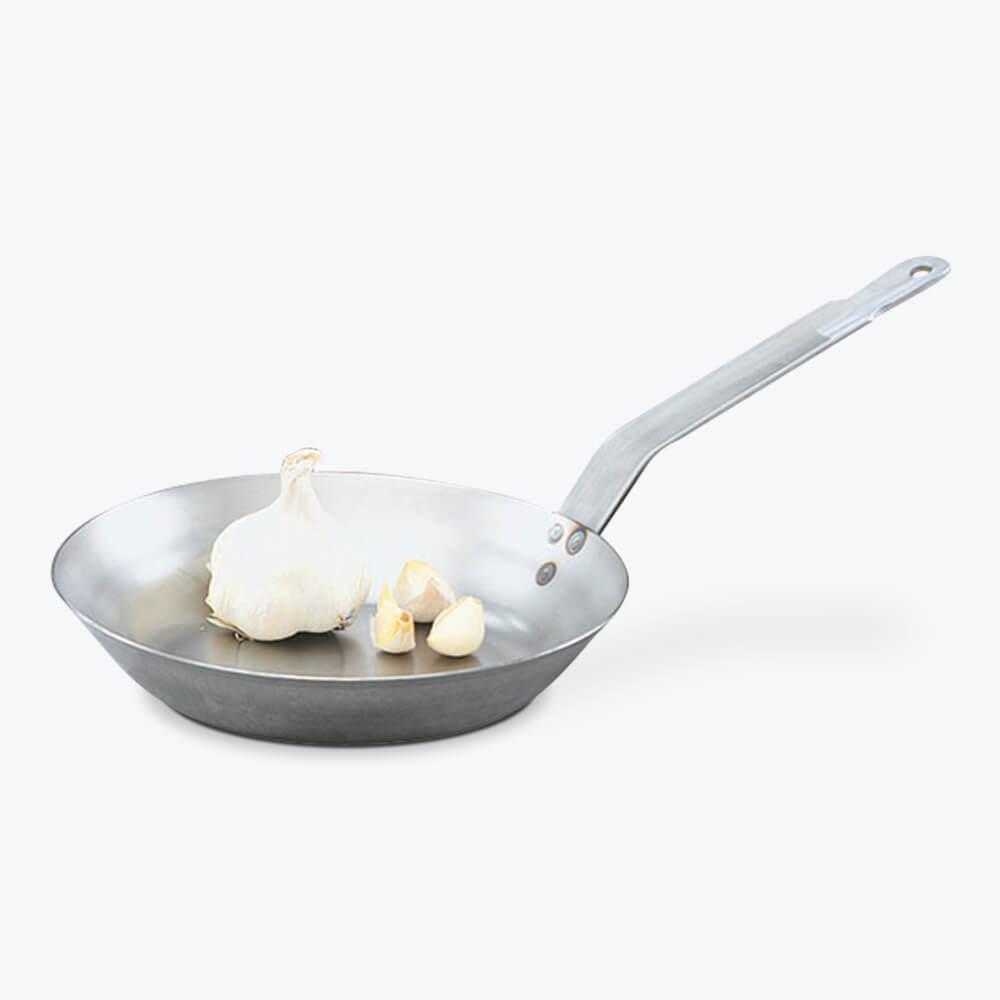 Although carbon steel may not retain heat as well as cast iron, it has its place in every commercial kitchen. Crust the skin of salmon, sear chicken, or toss and fry vegetables – a properly seasoned carbon steel pan can cook just about any entree.
Whether you are operating a single, niche restaurant or have cooks serving up your menu across the country, Wasserstrom has selected an assortment of carbon steel cookware to meet the demands of any sized venue.
---
Copper Cookware
Copper is king of heat conductivity. These elegant pots and pans heat up faster and more evenly than any other cookware material.
Copper also cools quickly, allowing precise temperature control for chefs to braise and crisp food without over-cooking the inside.
Although copper cookware is not compatible with induction ranges, it conducts heat so well that it almost emulates the effects of an induction range from a conventional heat source.
Adding commercial copper cookware to your kitchen often comes at a financial investment, however many cooks will claim the results are well worth it.
✔️ Pros of Copper Cookware
Superior heat conductivity
Unparalleled temperature control, great for confections
Properly maintained copper adds beautiful kitchen decor
Even heat distribution
Great for the table-side display of thin sauces
❌ Cons of Copper Cookware
Requires a lot of maintenance
Higher cost and up-front investment
Highly reactive. Not for use with Acidic foods unless it's lined with another metal.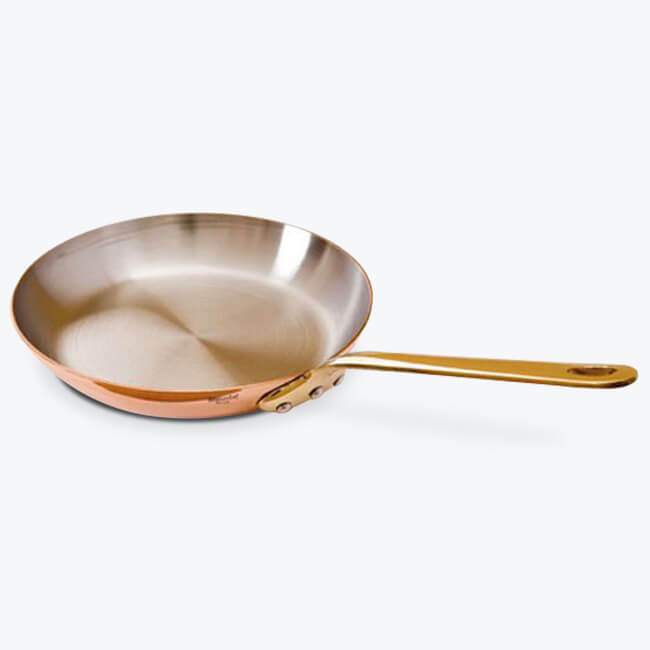 Wasserstrom's copper cookware especially lends itself to baking, as melting chocolate and making candy are far easier in a copper pan or pot. If you frequently create delicate sauces or make confections, having a copper pot on hand is a necessity.
---
Choose the Best Cookware for Your Menu
We've touched on the post popular cooking materials, however each have a plethora of variations.
For example, aluminum cookware may only have a protective oxide layer, or it may be treated to have a more durable anodized layer. Copper may be lined with tin to help make it less reactive.
When shopping commercial cookware, keep in mind what types of menu items you will be preparing and how you will be cooking them. It can help to ask yourself:
How do I properly maintain my new cookware?
Am I using it for both frying and baking? Does it need to be oven-safe?
What types of foods am I cooking?
Is the cookware's weight an issue? Will I be tossing vegetables, or searing meats?
At Wasserstrom, we know every restaurant and every cook have a unique style and every menu is a work of art. Equipping your cooking staff with a wide range of pots and pans can make all the difference as they create unique dishes from your venue's offerings.
Special thanks to our friends at Brown Foodservice for aiding in our research to bring you everything you need to know about cookware metals.