From bakeries to college dining halls, commercial mixers are used in nearly every foodservice environment. They prepare dough, buttery mashed potatoes, donut icing, and so much more. Commercial mixers are a solid investment for any professional kitchen and our buying guide will explain why.
Commercial Mixers vs. Residential Mixers
Professional kitchens are highly encouraged to purchase a commercial mixer as opposed to a residential type because:
Commercial mixers are durable and provide years of service.
The quality and power of commercial gears, drives, and motors far exceeds those of household models because they are designed for years of heavy-duty operation.
Residential mixers have a shorter lifespan. People generally used them sporadically to whip up a pie or to prepare a batch of cookies.
A commercial mixer is a workhorse while residential models are more of a hobby horse.
Likewise, residential kitchens are encouraged to purchase residential models because warranties on commercial mixers are often void when used in a home.
What to Know Before Purchasing a Commercial Mixer
When shopping for commercial mixers, a little research now will save you time and improve the efficiency of your kitchen. Let's jump into the various types, sizes, and features you'll find available in today's industrial mixers.
Types of Commercial Mixers
The two major types of commercial mixers are planetary and spiral.
Planetary Mixers
Planetary mixers are versatile machines that prepare a variety a food. The only moving piece of a planetary mixer is the mixing attachment such as a dough hook, wire whisk, or flat beater. The mixing bowl is fixed in place when in use.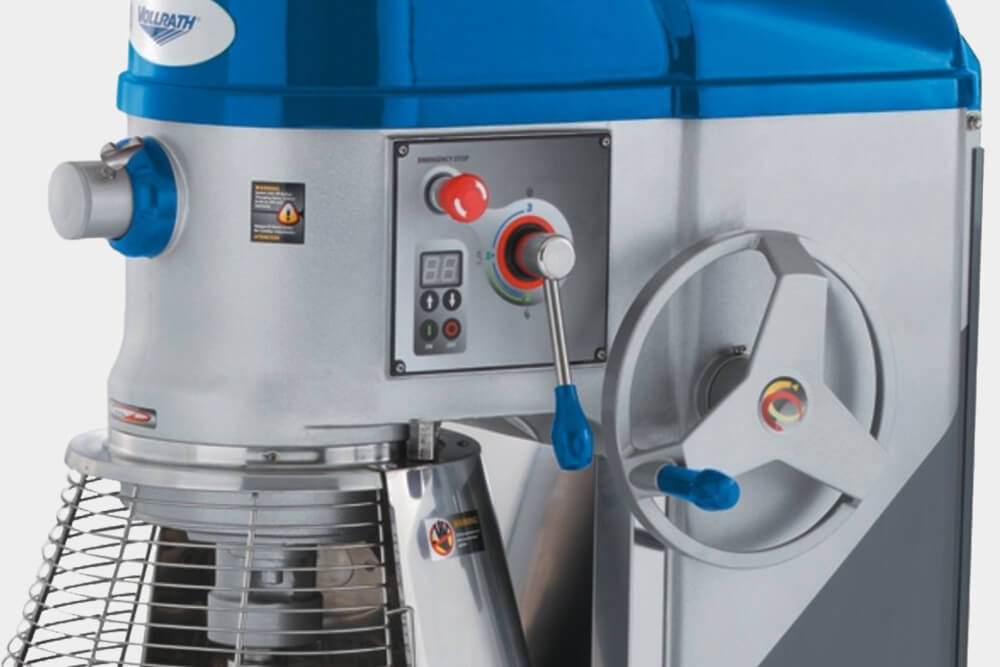 Spiral Mixers
Spiral mixers are specialized, dough-centric machines. While planetary models mix with an attachment, spiral models rotate an attachment as well as its mixing bowl. Spiral models are a necessity for any commercial kitchen that spends hours producing large amounts of thick dough, such as a pizza restaurant or bakery.
Size and Capacity
When selecting the perfect mixer for a commercial kitchen, the buyer first needs to determine the size they'll require for optimum output.
Countertop Mixers
The smallest of all models, countertop mixers generally have a 10 and under quart capacity. Countertop mixers excel at whipping up frosting, meringue, egg whites, and small batches of dough and batter. Pastry chefs, culinary schools, and caterers rely on countertop models, as do larger operations that employ them for a specific item such as cupcake frosting.
Countertop models are relatively light for easy transport and leave a small footprint in the workspace. As a powerful, yet compact machine at a relatively low price point, a countertop mixer is an excellent investment for any commercial kitchen.
Bench Mixers
These mid-sized mixers work well in commercial kitchens that require more power and output than a countertop model can provide. Their mixing bowl capacity is generally around 20 quarts. Mid-sized mixers are found in a large range of commercial kitchens including fast casual, schools, bakeries, and restaurants.
Floor Mixers
Floor models the mixing workhorse in large, commercial kitchens. These heavy-duty mixers easily tackle dense dough for hours at a time. Their capacity ranges from 30 to over well over 100 quarts. Compared to the other models, they have a relatively large footprint and are not easy to move from place to place.
Floor models are also able to incorporate grinding and slicing attachments, which add value and versatility to the machine. Heavy-duty models require higher voltage to power their motor and have more horsepower than a countertop or bench model. Floor mixers are found in high-output commercial kitchens that serve many people including bakeries, pizzerias, large universities, correctional facilities, and the healthcare sector.
Absorption Rate
When mixing dough, it is imperative to know the absorption rate of your ingredients. If you frequently work with bread or dough in large batches, choosing the wrong machine can lead to your motor burning out and reduce the lifespan of the mixer. Mixing large amounts of dough requires more horsepower than mixing egg whites or icing.
Absorption rate or "AR" is water weight divided by flour weight. For instance, if a recipe calls for 5 lbs. of water and 10 lbs. of flour, then 5 divided by 10 = 0.50 x 100 = 50% AR. Another example, as Bakerpedia explains, is 60% water absorption means 60 lbs. of water is used to hydrate 100 lbs. of flour.
Pro Tip: If a recipe calls for water in units of "gallons," do not forget to convert volume into weight – or rather gallons into pounds.
Commercial Mixer Features
Body
Commercial mixer bodies are made from various metals such as lighter weight die-cast aluminum to rigid cast iron.
Motor
The horsepower of mixers generally depends on their size and function. For instance, a countertop model may have under 1 HP while industrial floor models need over 2 or more HP to power through thick dough.
Transmission
Commercial mixers have either belt-driven transmission or gear-driven transmission. In comparison:
Belt Driven
Found in smaller capacity machines such as countertop models
Not meant for continuous, heavy-duty tasks. Overuse will wear out the belt.
Quieter
More speed options and flexibility
Less expensive repairs
Gear Driven
Found in powerful, heavy-duty machines, such as floor models
Confident, can-do attitude with an ability to tackle the densest of doughs
May require more maintenance
Repairs are more expensive
Fixed speeds that cannot change while the machine is operating
Control Panel
Depending on the manufacturer and model, mixer control panels frequently contain speed and timer functions.
Speed
In belt-driven models there are more speeds to choose from, resulting in more control over ingredients. With some belt-driven models the speed is adjustable during operation.
Gear-driven models have fewer speed choices. It is imperative that the machine ceases operation before changing to a different speed to avoid serious damage to the gears. The additional power of a gear-driven transmission results in speed consistency no matter how tough the ingredients are.
Timers
Many manufacturers offer 30-60 min timers, as well as a recall setting, which means the mixer remembers the time last set. This is handy because the operator doesn't have to reset the timer during consistent operations, thereby removing extra steps in production.
Mixing Bowl
Using the correct size mixing bowl saves the user a world of trouble. If the mixing bowl is too small, ingredients will spill out which is a waste of time and money. If the bowl is too large, ingredients may not mix properly.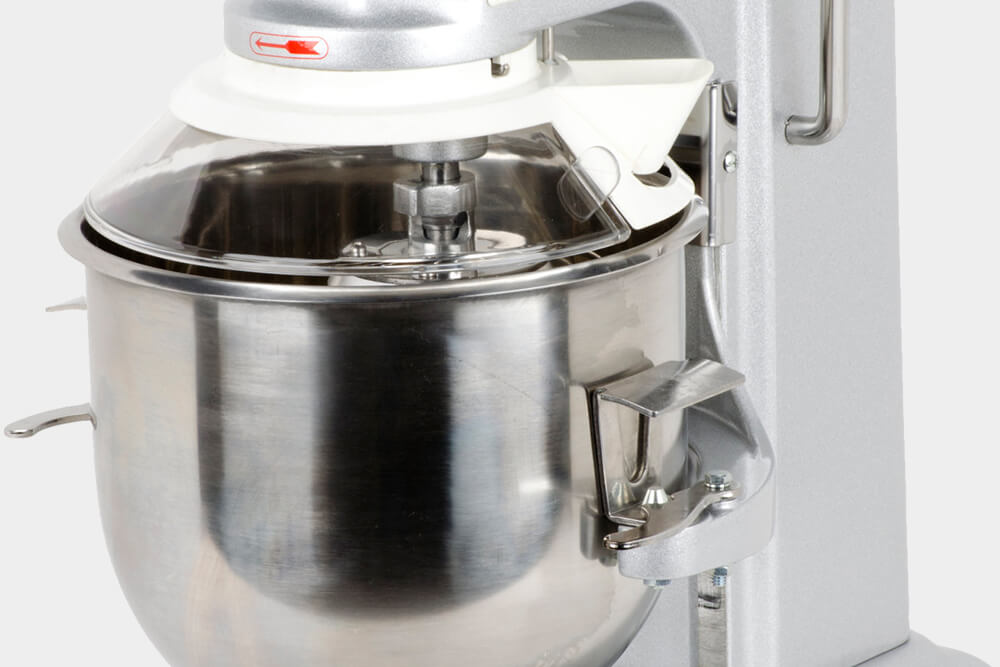 Mixing bowls for large floor models often come with useful design additions or accessories. For instance, handles are added to make lifting easier, or a dolly may be included for easy transportation across the kitchen floor.
Safety Features
Stable bottoms and sturdy legs are must haves for all appliances in a commercial kitchen. Look for machines that feature rubber bottoms and feet.
Commercial mixers should also employ emergency mechanisms that will shut down the machine if, for instance, the bowl is out of place. Safety guards to cover the bowl are also essential for keeping miscellaneous items out of your dough.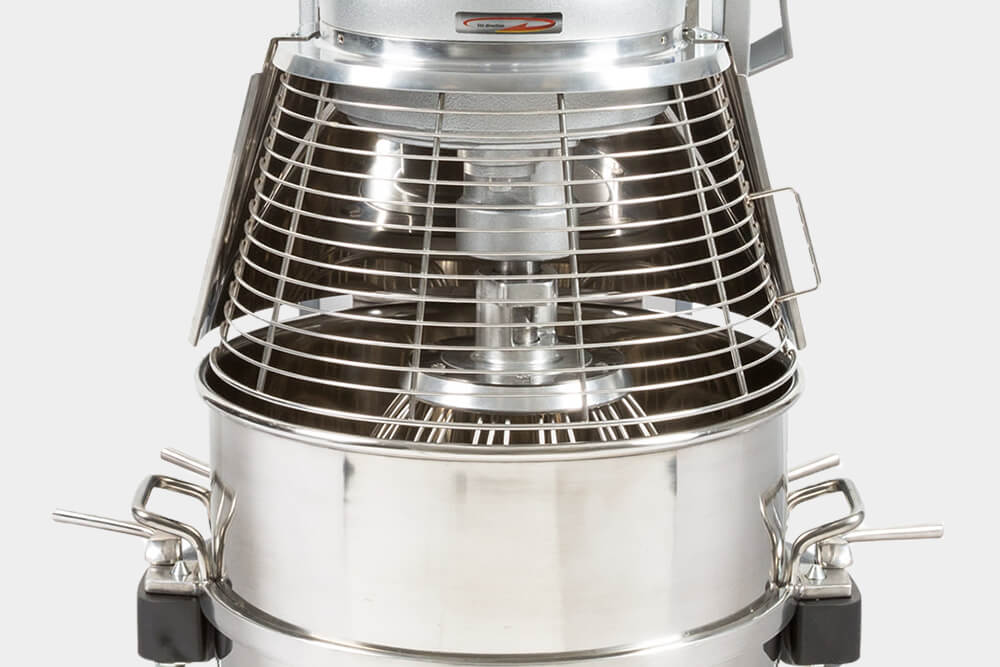 Accessories
Options and attachments add versatility to commercial mixers. The most basic accessories needed for operation include whisks, dough hooks, and beaters. Bench and floor models may be able to accommodate optional accessories like meat grinders and vegetable slicers.
Featured Vollrath Commercial Mixers
Every Vollrath commercial mixer reviewed in this article come with a safety guard, a splash guard, timer, NSF certification, and all the essential accessories needed for operation.
Vollrath mixers will not operate unless the safety guard is closed, which ensures that during operation, nothing will enter the mixing bowl that shouldn't be there. Splash guards, on the other hand, prevent ingredients from spilling out of the bowl and onto the counter and machine operator.
The timer can be set for up to 30 minutes, and automatically shuts off after the cycle has completed.
With an NSF certified mixer, chefs can be sure they are purchasing a machine that is safe, durable, and easy to clean.
The accessories included for all machines are a stainless-steel mixing bowl, dough hook, wire whisk, and flat beater.
7-Quart, 110- to 120-Volt, Countertop Mixer With Safety Guard, 40755
The 40755 is a planetary, belt-driven commercial use mixer that is a must-have for all commercial kitchens. With its light weight and compact size, it is a small but mighty machine.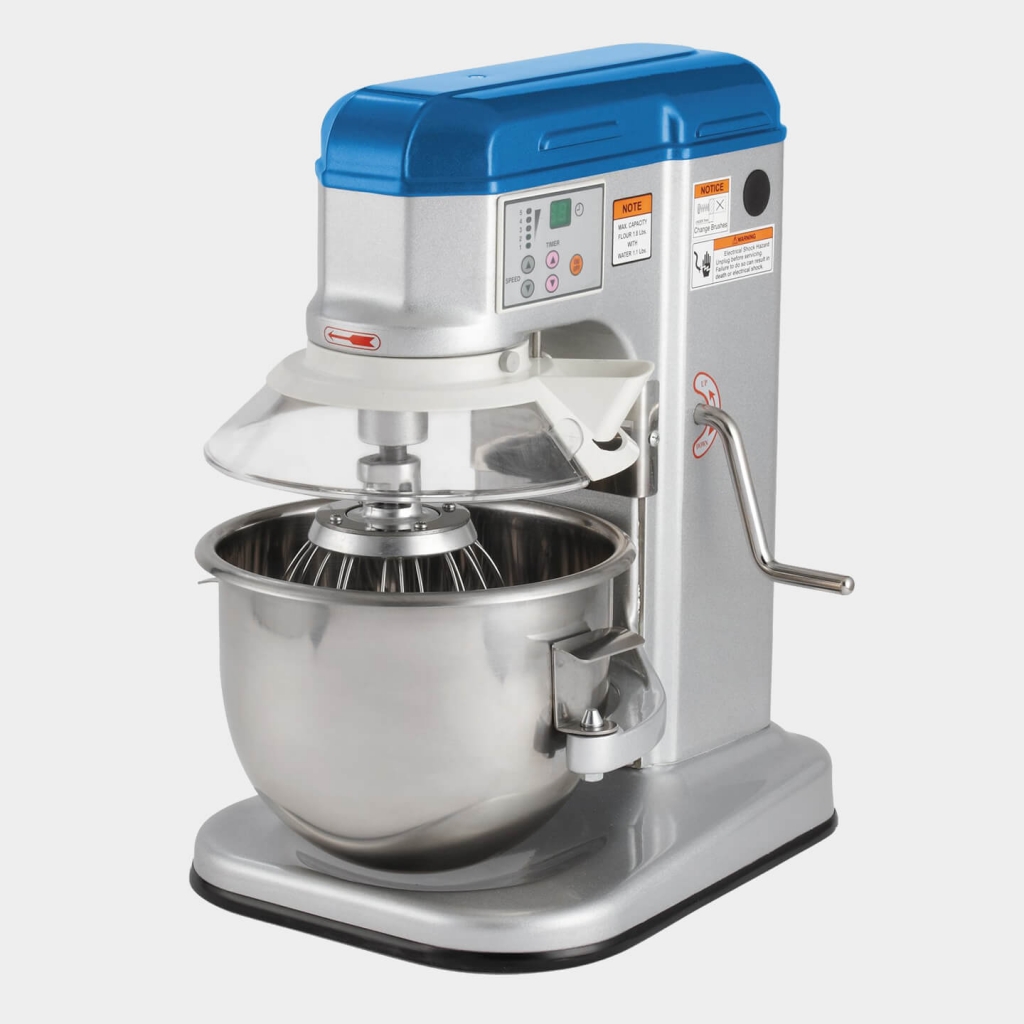 The 7 qt. model features:
1/3rd HP motor
Direct gear driven
What sets the 40755 apart is its flexibility. With five speeds to choose from, chefs have all of their bases covered. For instance, speed 1 is perfect for mixing, mashing, and kneading while speed 5 is ideal for whipping small amounts of heavy cream and egg whites.
Moreover, the selected speed can be changed during operation which is a huge advantage in the commercial kitchen because it saves time and allows the chef more control over the ingredients.
The 7 qt. mixer is also flexible because it is portable, which makes it an excellent tool for caterers because it is easy to move from place to place or in the case of a cramped kitchen, space to space. A non-skid rubber base keeps the machine steady on all surfaces.
Mid-sized output commercial kitchens use the 40755 as a secondary machine or for specific items. Large commercial kitchens also love to have the 40755 in their space to use for specific items, like to prepare frosting. And of course, any kitchen with a pastry chef benefits from the 40755's small but mighty performance.
10-Quart, 110- to 120-Volt, Countertop Mixer With Safety Guard, 40756
The 40756 is a planetary, belt-driven commercial use mixer nearly identical to the 40755 except it comes with a larger mixing bowl for increased output.
The 10 qt. model features:
1/3rd HP motor
Direct gear driven
Like the 40755, this is a relatively compact machine with a small footprint. Its portability makes it an excellent choice for caterers or small kitchens. And this small but mighty mixer is a wonderful option to have as a secondary mixer, or a mixer for specific items in large, high-output commercial kitchens.
20-Quart, 110- to 120-Volt, Bench Mixer With Safety Guard, 40757
The 40757 is a planetary, belt-driven, mid-sized mixer built to handle continuous usage reliably for years. It has higher HP than the countertop mixers and can mix large quantities of tougher ingredients for extended periods of time.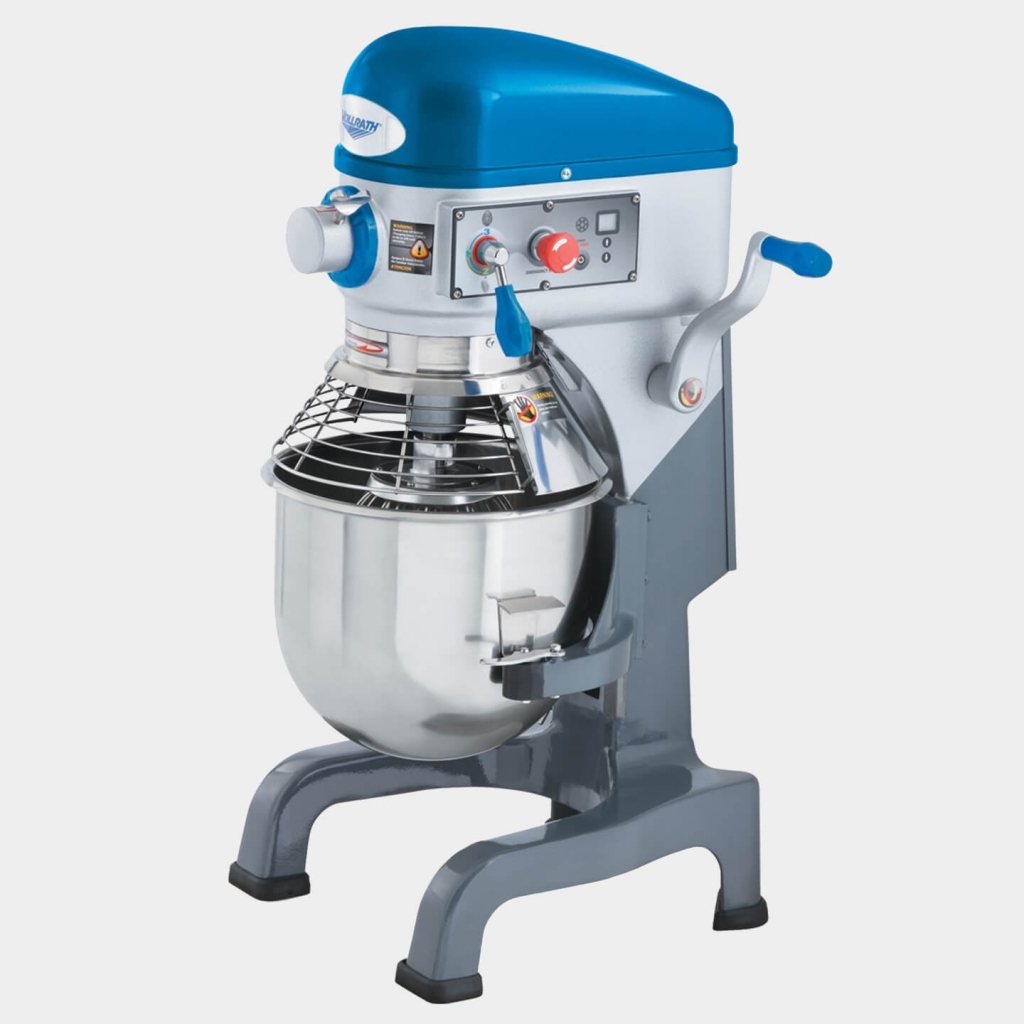 The 20 qt. model features:
1/2 HP motor
3-speed belt drive with a speed select lever
#12 hub to accommodate meat grinders and vegetable slicer attachments
A safety-cut switch activates if the gears change during operation. To select a different speed the machine must first shut down.
Vollrath outlines the 3-speed settings as, "speed 1 for mixing heavy dough with an absorption rate of 50% of less; speed 2 for mixing cakes, batters, or heavy dough with an absorption rate of more than 50%; speed 3 for mixing egg whites."
60-Quart, 208- to 240-Volt Floor Mixer With Safety Guard, 40760
The 40760 is a durable, belt-driven, workhorse that powers through long days in high-output commercial kitchens with ease.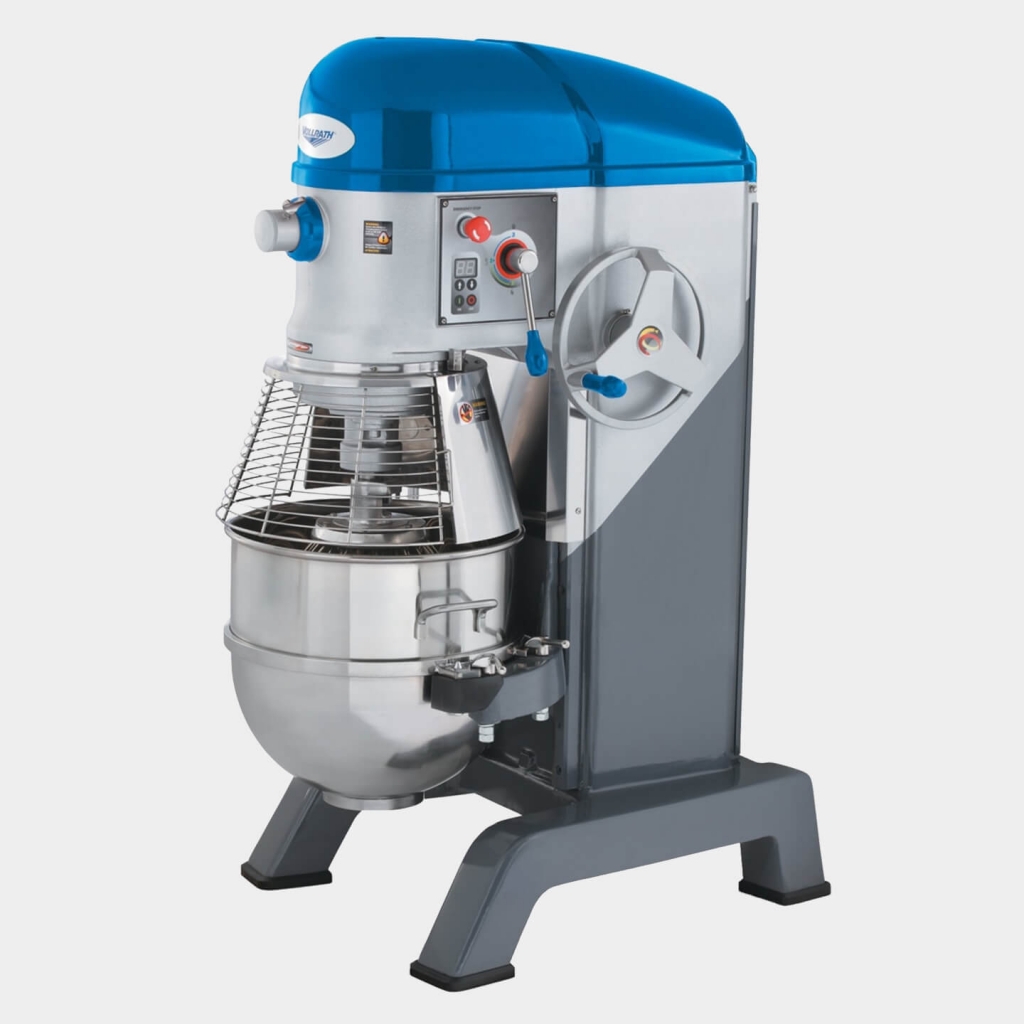 The 60 qt. floor model features:
2 HP motor
3-speed belt drive with a speed select lever, with speed 1 and 2 based on absorption rates
#12 hub to accommodate meat grinders and vegetable slicer attachments
A safety-cut switch activates if the gears change during operation. The mixer must completely shut down before a different speed is selected.
Because a 60 qt. stainless-steel mixing bowl full of dough, batter, or other ingredients is quite heavy, Vollrath has included a bowl truck with this model. This allows for speedy transport around large commercial kitchens.
The 60 qt. floor mixer has sturdy legs and rubber feet to keep it stable during use and in case of a kitchen collision. Similarly, if a dough batch is too heavy for the machine, an overload protection switch will trip. This keeps the machine safe from harm to ensure years of reliable heavy-duty use.
Restaurants and bakeries love the 40760's strong motor and ability to tackle dense ingredients consistently and reliably, year after year. If 60 quarts is too large for your operation, Vollrath also offers heavy-duty mixers in 30 and 40 quart sizes.