For our fry pan review, we will compare 4 10" non-stick aluminum pans, each with varying features and benefits. These fry pans were specifically chosen for their efficiency in a commercial kitchen setting, which includes durability to offset rigorous use, high-quality materials, and a choice of handles to match each chef's preferences.
Vollrath T4010 Wear-Ever Aluminum Steelcoat x 3 Fry Pan
If your commercial kitchen prefers fine craftsmanship with an advanced non-stick coating, the Vollrath Wear-Ever Fry Pan is an excellent choice.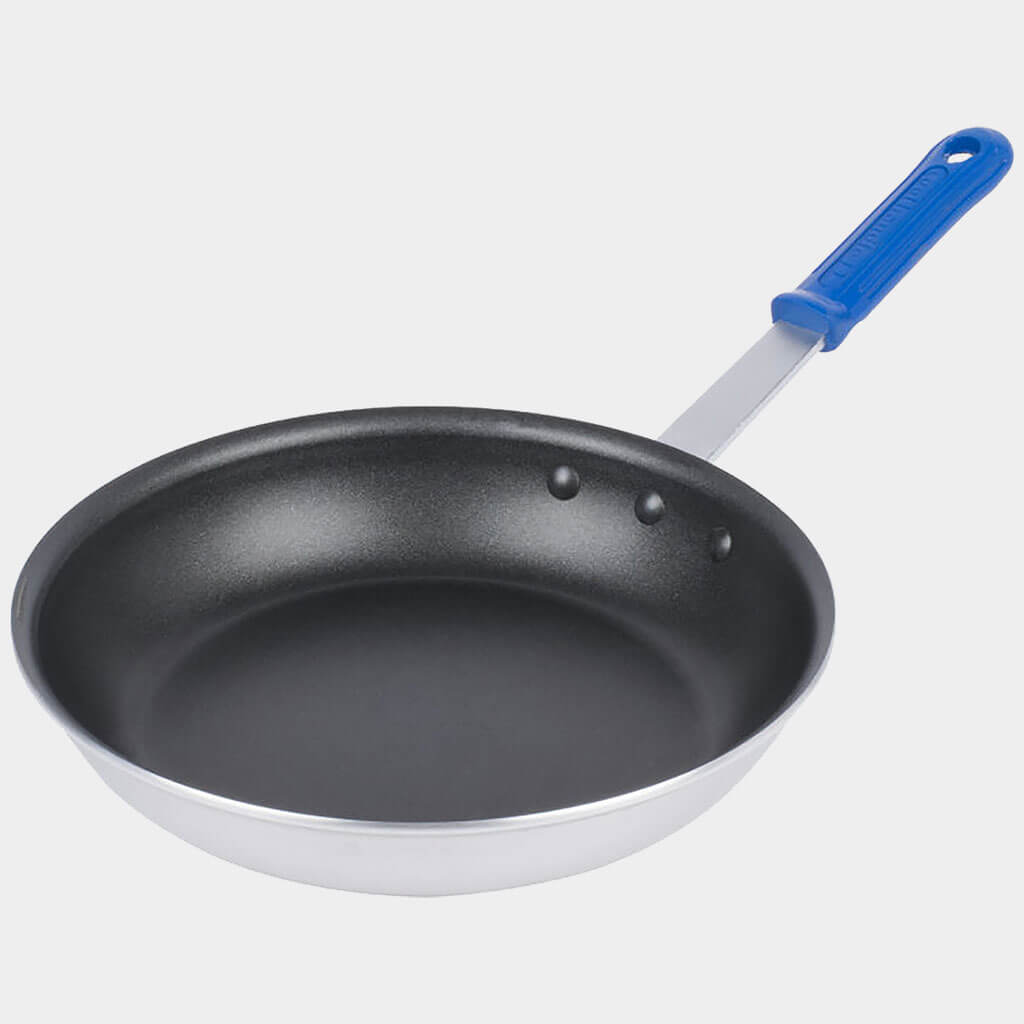 The Vollrath Wear-Ever Fry Pan is constructed from strong, durable aluminum and an Ever-Tite riveting system that comes with a limited lifetime warrantee. Importantly, the non-stick coating is just as long lasting as the construction. Steelcoat x 3 is a technologically advanced, triple layer non-stick coating that provides excellent wear and abrasion resistance throughout the long life of this pan. Additionally, with this coating you will enjoy easy food release for flawless dinner service and faster cleaning at the end of the evening.
The comfortable Cool Handle makes the pan easy to hold for extended periods of time and is safe for temperatures up to 450°F. This pan is made in the USA and NSF certified. If you choose the Vollrath Wear-Ever fry pan, expect it to be a valuable member of your commercial kitchen team for a long time to come.
Carlisle Non-Stick 10″ Fry Pan
Carlisle Foodservice Products' Teflon Select Non-Stick Fry Pan is an ideal pick for busy commercial kitchens in need of a reliable workhorse with non-stick coating and a long lifespan.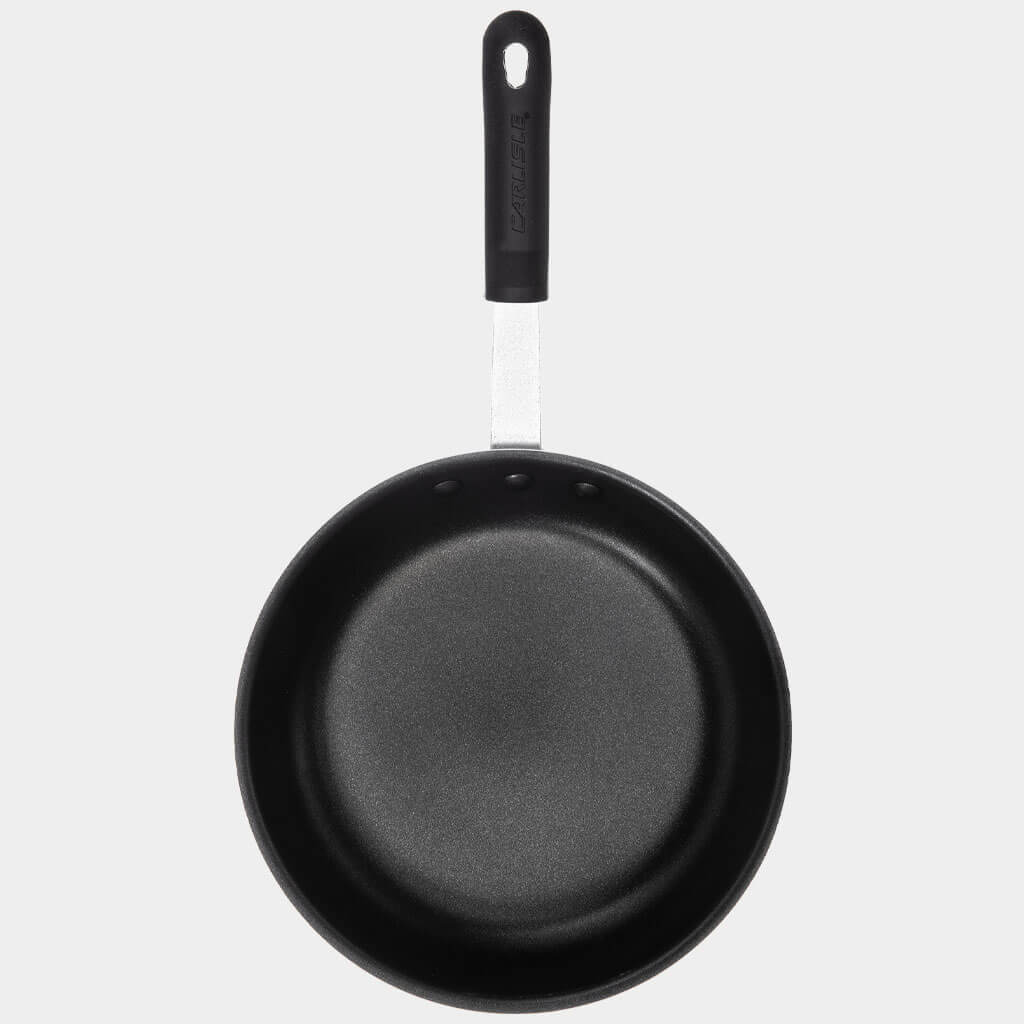 This 10" pan features a polymer coating that is 75% more long lasting and resistant to scratches and abrasion than modern Teflon coatings. This coating is strong enough for daily use and offers an extra smooth surface that doesn't require any additional fat or oil for adhesively challenging foods like eggs. The triple rivet handle offers a sturdy, exceptional grip, which in turn leads to a safer cooking experience.
Lastly, this pan is dishwasher safe and NSF certified. If you choose the Carlisle Non-Stick Fry Pan, you will enjoy a strong aluminum body of the can handle the daily usage of a bustling commercial environment with ease. Moreover, it is an absolute must-have for any foodservice establishment with an omelet station.
Browne Foodservice Thermalloy Eclipse Fry Pan
Cooking styles vary and some chefs prefer oversized handles and a wider base. If this describes your commercial kitchen, then stock up on the Brown Foodservice Thermalloy Eclipse Fry Pan.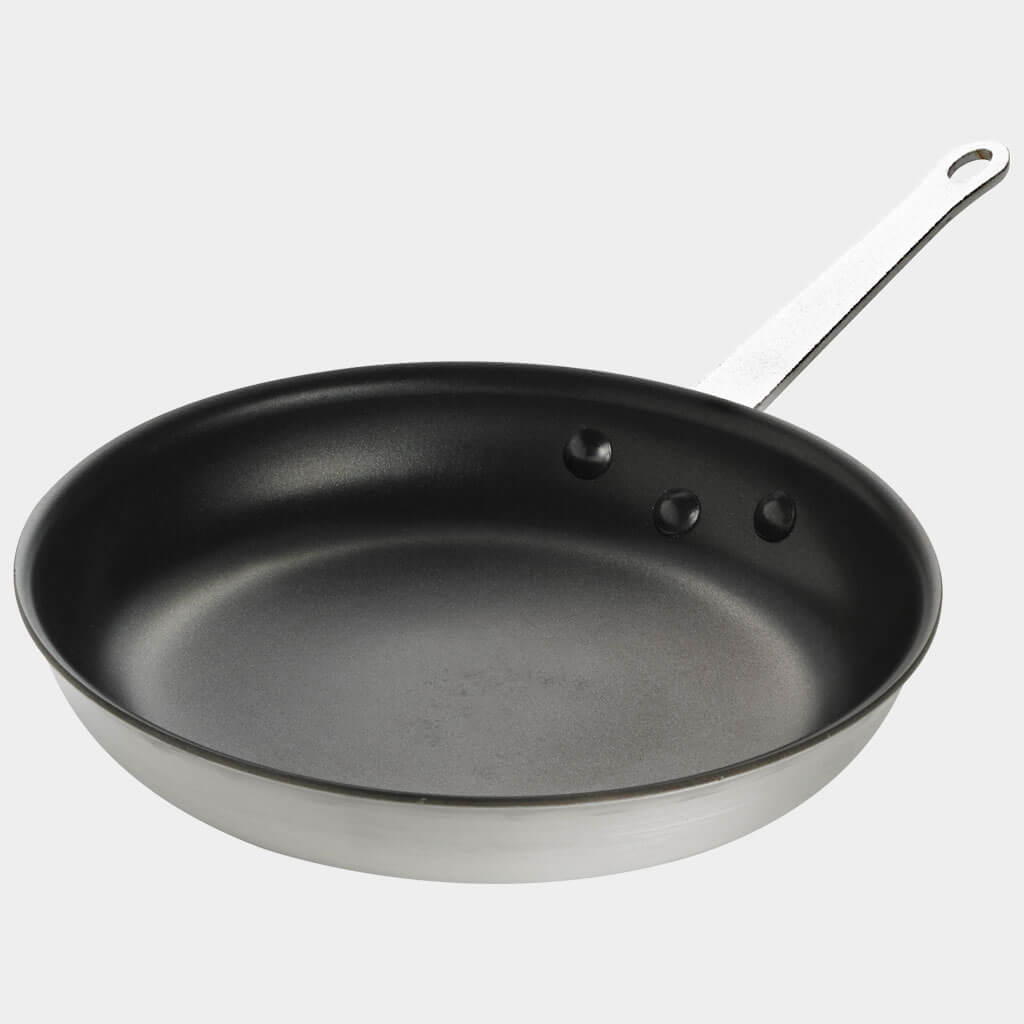 Browne's design begins with oversized handles that will not break off or become wobbly because they are securely fastened with heavy-duty rivets. Next, they extended the durable aluminum base of the pan to provide an extra wide surface that always sits flat on the stove for even heating. Then, Browne polished off their design with a lustrous satin finish that adds that final touch of elegance. Chefs enjoy wielding an elegant tool when creating culinary art for their customers.
There are plenty of other wonderful features as well: a removeable ergonomic sleeve and the Eclipse non-stick coating that keeps things smooth. Moreover, the Thermalloy Eclipse Fry Pan offers flexibility and can be used with a range of heating methods including gas, electric, ceramic, and halogen. The fine details and construction of this pan varies in ways the average person may not immediately notice, but your chefs certainly will.
Winco Majestic Quantum 2 Fry Pan
Looking for an NSF certified, affordable fry pan with exceptional value and performance? Then the Winco Majestic Quantum 2 Non-Stick Fry Pan is the perfect fry pan to add to your commercial kitchen collection.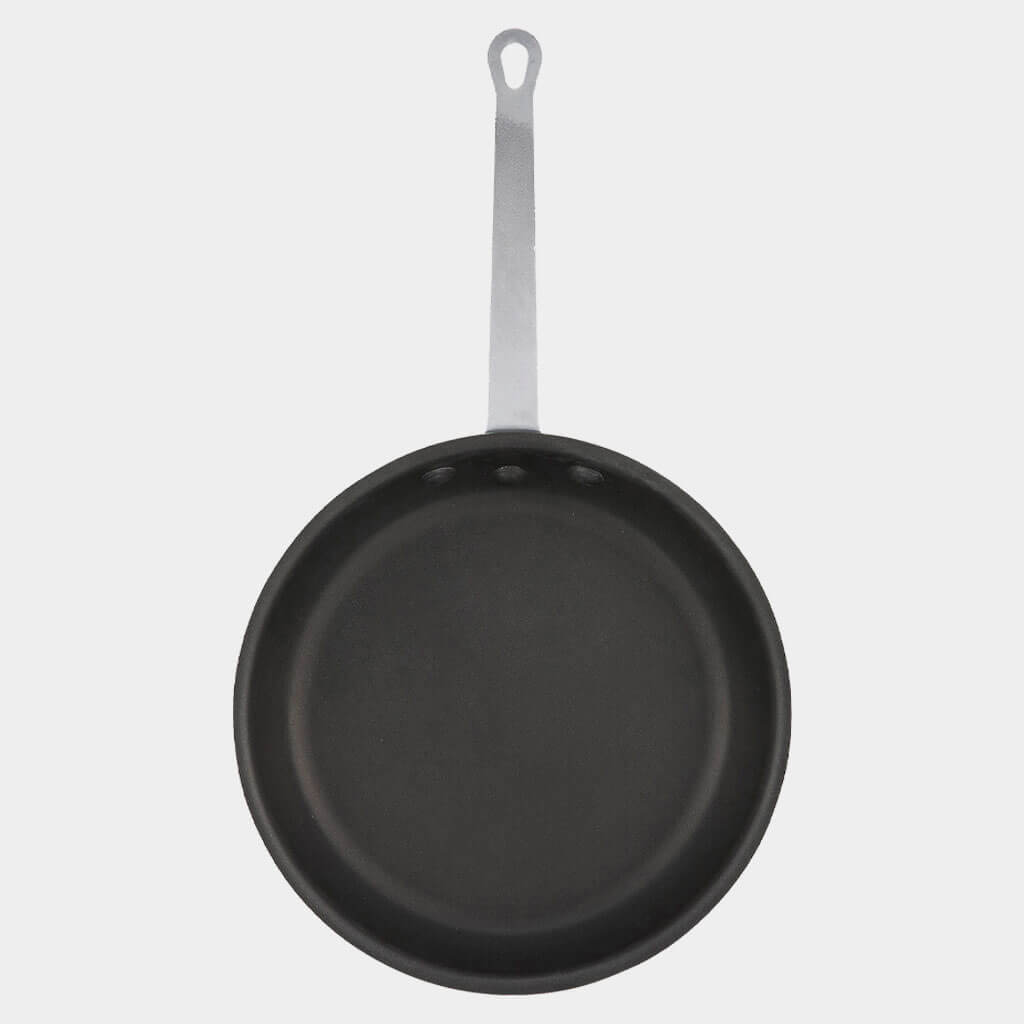 Made from aluminum alloy, this lightweight pan won't drag your chefs down during the dinner rush. Its PFOA-free, non-stick coating keeps service moving as does; Quantum 2 is a non-stick finish that bonds to the aluminum for a long-lasting, scratch-resistance surface. As an added bonus for its smooth surface, the Quantum 2 non-stick finish provides an attractive glossy surface.
To keep this pan performing at its best, dishwashers are a no-go. Winco recommends always handwashing the aluminum construction and non-stick surface. With NSF certification at an affordable price point, it's always smart to keep a stash of Winco's pans in your commercial kitchen.
A Great Pan Makes All The Difference
Fry pans are essential faire when cooking up home fries or searing steaks. Having the right tool for the job will allow your menu offerings and recipes taste and look their best. Our wide selection of fry pans provide an array of features and benefits so you can find the best fit for your chef's cooking style.