Building an efficient warewashing station doesn't just keep your restaurant up to code. It is also critical to running a successful foodservice operation. If you have a commercial dishwasher that meets your restaurant's output needs and a willing and able operator for your dish pit, then you are well on your way to opening a successful restaurant.
Ask yourself these questions when considering your next commercial dishwasher:
What kind of power outlet is available in my warewashing area?
Does my building supply consistently hot water?
Do I want to invest in a higher temperature commercial dishwasher?
Do I often serve bar drinks or delicate menu items that could be affected by chemical sanitizers?
What kind of food will I be serving? High protein? Greasy food like fried chicken or pizza?
How much space do I have for my dish pit?
These are all excellent questions, and we'll help make sure you can answer them before you start shopping for a commercial dishwasher.
---
High Temp vs Low Temp Dishwashers
High-temperature and low-temperature dishwashers both have advantages and disadvantages.
The primary difference between the two is how they sanitize.
High temp dishwashers use water that is at least 180 F in the final rinse cycle to sanitize and kill bacteria. Meanwhile, a low temp commercial dishwasher uses chemical sanitation.
High Temperature Dishwashers
Most foodservice operators agree that a high-temp commercial dishwasher is the best choice for serving and cookware sanitation.
A warewashing machine that uses hot water in its rinse cycle removes more food and won't corrode or discolor your serving and cookware materials. It also eliminates the chance for very slight chemical residues to impact the flavors of your food or drinks.
The secret to a high-temp dishwasher's advantage is the rinse cycle where your dishes are sprayed with water that exceeds 180 F. This is done to achieve a surface temperature of 160 F on the surface of the dinnerware and flatware. Water at this temperature and above will kill all bacteria if sustained for at least 10 seconds. During this time stubborn grease, proteins and lipstick are removed.
You also get the added bonus of the water evaporating at a much higher rate than low-temp dishwashers. This greatly reduces drying time.
To achieve the very high temperatures reached during the rinse cycle, high-temp commercial dishwashers use an internal or external booster heater. We go into detail explaining why these machines need a booster heater here. It's an added, upfront cost. But those costs are offset and can save you money in the long term by eliminating the need for sanitation chemicals.
The two primary "downsides" to a commercial high-temp dishwasher are initial upfront costs, and they generally need a 208 V power outlet.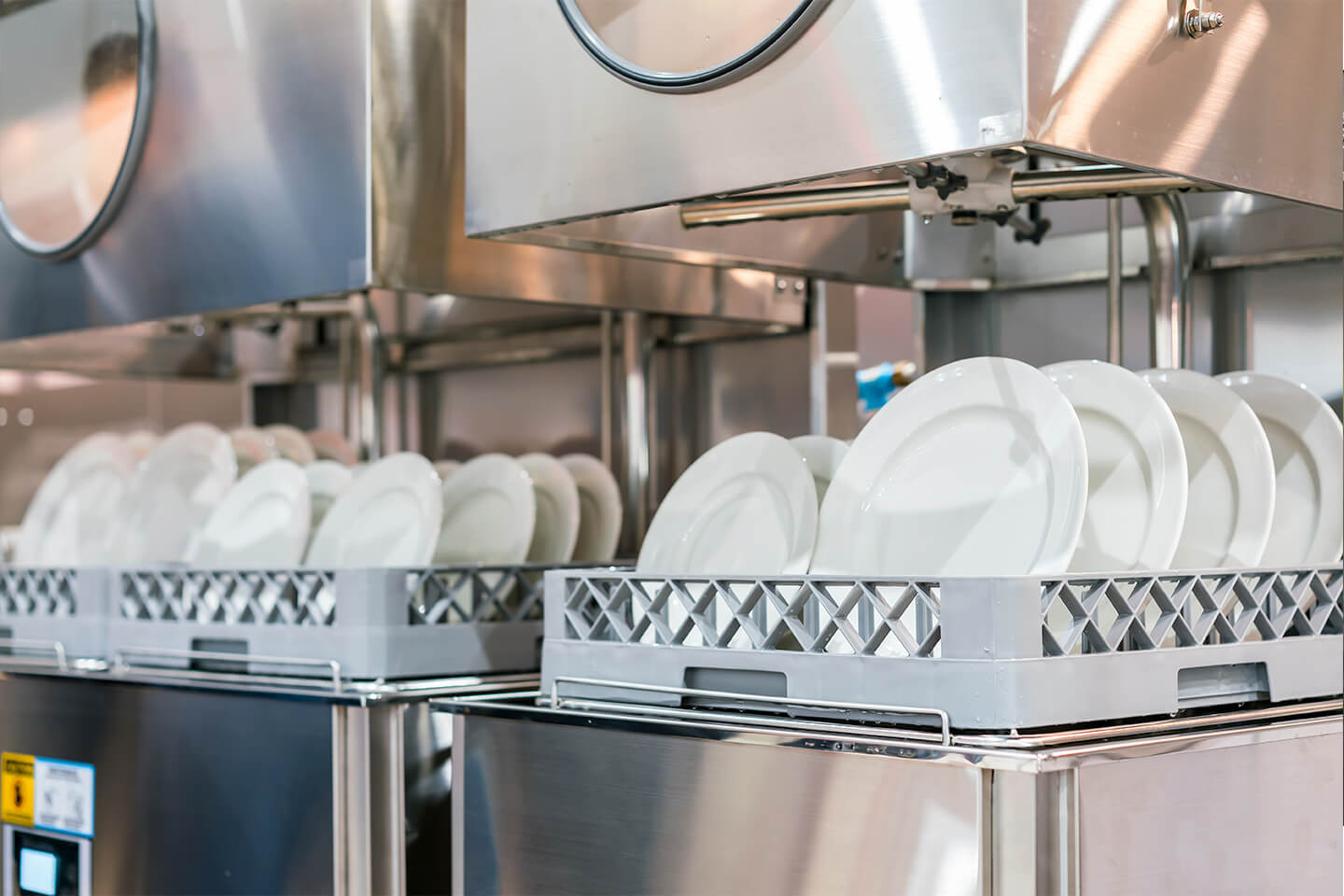 Low Temperature Dishwashers
Low temp dishwashers use ammonium (Quats), chlorine or iodine to sanitize dishes. When used properly, these chemicals are safe and approved by the FDA for use in the foodservice industry. There are only two primary reasons to purchase a low-temperature commercial dishwasher. First, the equipment generally cost less up front. Second, they can normally be installed with a standard 120V power outlet. This provides the owner some flexibility both financially and during installation.
Delicate menu items and drinks can have their flavor affected by chemical sanitation. Bartenders often prefer high temperature dishwashers to protect the flavors of mixed drinks. As every mixologist knows, a bar drink can be altered with the slightest impurities. The perfect drink is mixed with filtered water and is served in a glass cleaned with a high-temp commercial dishwasher.
Chemical sanitation can also lead to the corrosion and discoloration of cookware and serving ware. And it's possible for flatware and plastics to be damaged by the acidic chemicals use for the sanitation rinse as well.
High Temperature Features
Higher upfront cost
Uses a booster heater
More effective with lipstick, grease and hard to clean foods
Better sterilization
Dishes dry much faster after washing
Low Temperature Features
Lower upfront cost
Requires less energy (electricity)
Less effective with hard to clean foods
Risk of damage to flatware and plastics (due to cleaning chemicals)
If you need to purchase a low temp dishwasher, just remember that the chemicals have been approved by the FDA and are safe to use. At Wasserstrom, we offer both solutions, and you need to purchase the best commercial dishwashing solution for your size and venue.
---
Undercounter vs Door-Style vs Conveyor Dishwashers
The most common types of commercial dishwashers you'll find are the undercounter, door style, and conveyor dishwashers. You can find high and low temperature versions of each, so you can make your decision based on what output and size fits your needs.
As a reminder, low temperature dishwashers normally use 120V power supply, while high temperature versions use 208V power supplies. Always check the spec sheet before the purchase and during the installation of a commercial dishwasher.
Undercounter Dishwashers (20-30 Racks per Hour)
If you're operating a startup, ma & pa, or bar, then an undercounter dishwasher is worth considering.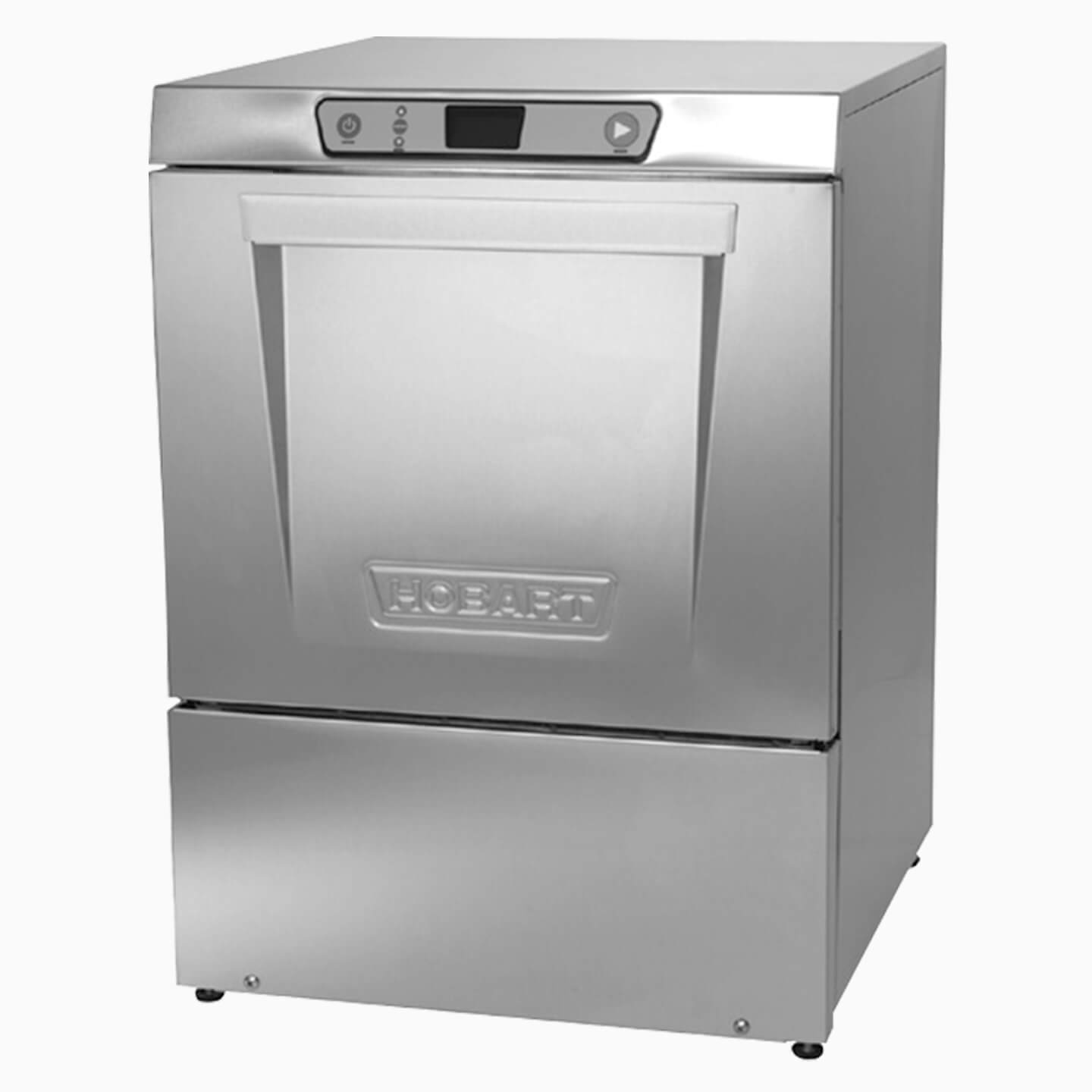 Versatility
Commercial undercounter dishwashers are designed to clean and sterilize a wide variety of dishes, making them very versatile.
Space Savings
If you're operating a smaller foodservice operation and have a small kitchen, consider an undercounter warewashing machine. You can also tuck an undercounter dishwasher away, saving valuable space.
Speed
These machines clean and sterilize quickly, ensuring your bartender has clean glasses and dinnerware during the busiest hours. If you have a bar that generates a lot of dirty glasses, then you can supplement your undercounter dishwasher with a commercial glasswasher so you can keep those beers coming in clean, clear, sterile glasses.
Need Something Bigger?
One disadvantage of an undercounter is that they often struggle with large pots and oversized cookware. For these, a larger warewashing machine may be needed.
Door-type & Single Rack Dishwashers (35-60 Racks per Hour)
If the output of an undercounter dishwasher is insufficient, then you should step up to a door-type dishwasher.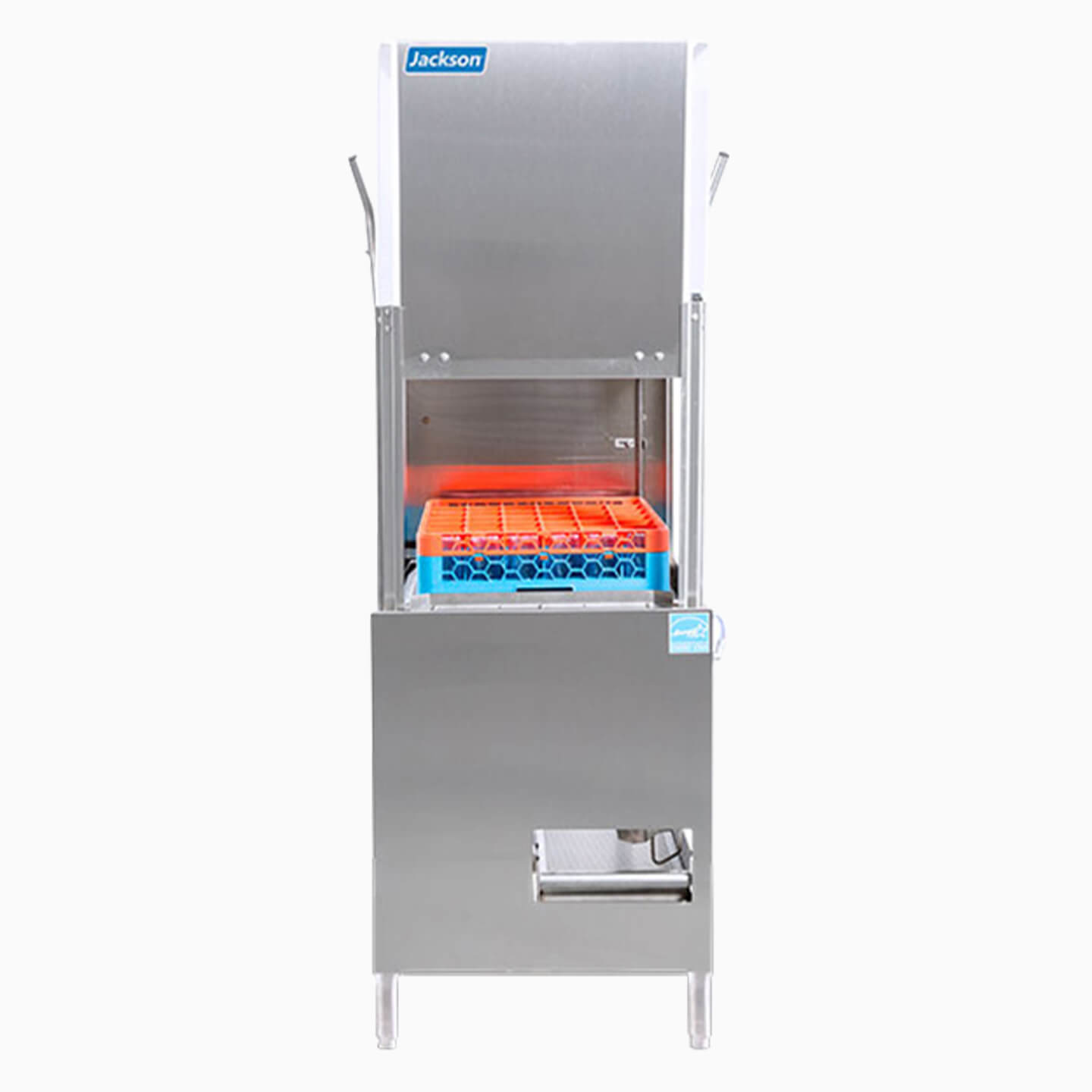 Best Bang-for-the-Buck
Door-type commercial dishwashers are the ultimate compromise between undercounter and conveyor warewashing machines. They have a smaller footprint than larger conveyor units and have more output capacity than undercounter machines.
Vertical Space
Door-type and single rack dishwashers have more vertical space, allowing you to clean and sanitize large pots, full sized oven pans and awkward utensils. Single rack dishwashers have some flexibility when it comes to setup and installation. For this reason, it is often easier to drop a door-type dishwasher into a previous warewashing station setup.
Need Something Bigger?
Single rack commercial dishwashers are workhorses. However for larger venues that need to turn around hundreds of racks worth of dishes an hour, it's necessary to use a conveyor type dishwasher.
Conveyor Dishwashers (150-200+ Racks per Hour)
These dishwashers are perfect for large foodservice venues such as banquet halls, hospitals, cafeterias, prisons and other high-volume applications.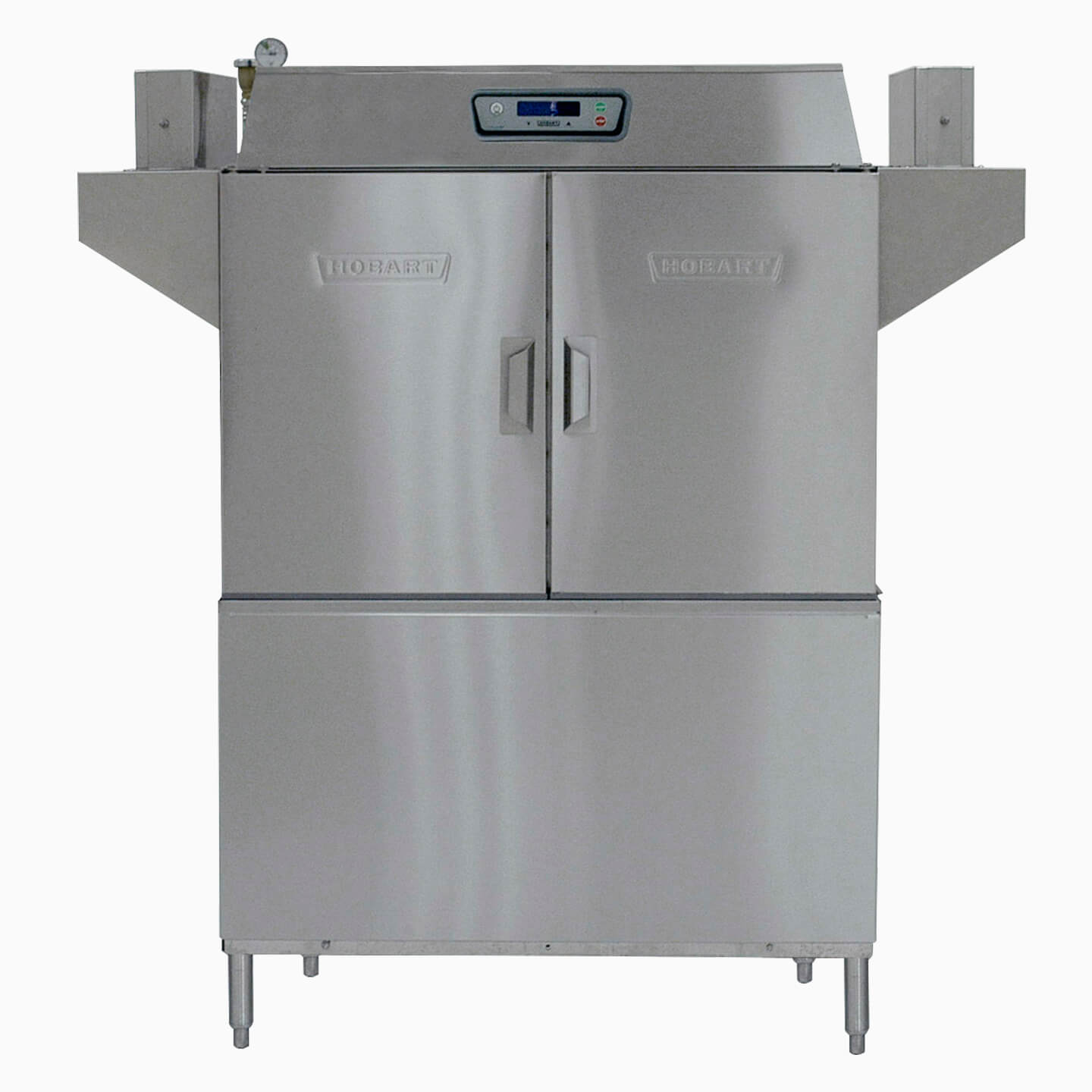 Heavy-Duty
A commercial conveyor dishwasher is a warewashing beast. They are made of stainless steel and are unmatched in their ability to wash and sterilize high volumes of dishes.
High Temperature
Most conveyor dishwashers are high temperature, although some are hybrids that allow the use of sanitizing chemicals as well.
Large Footprint
Conveyor dishwashers can often require a larger warewashing area. But with the assistance of a trained warewasher operator, you will always have clean dishes, even when your establishment is packed and there's a line out the door. Even so, be sure to check the spec sheets to ensure your booster heater can handle the desired throughput.
---
Honorable Mention: The Glasswasher
Any foodservice establishment that has an open bar needs to consider adding a glasswasher to their warewashing arsenal.
Commercial glasswashers are a solid investment for any venue that serves many drinks in short periods of time. Glasswashers can clean an unmatched number of beverageware per hour. They are also safer on glassware than larger dishwashers, breaking fewer glasses. (Especially delicate wine glasses!)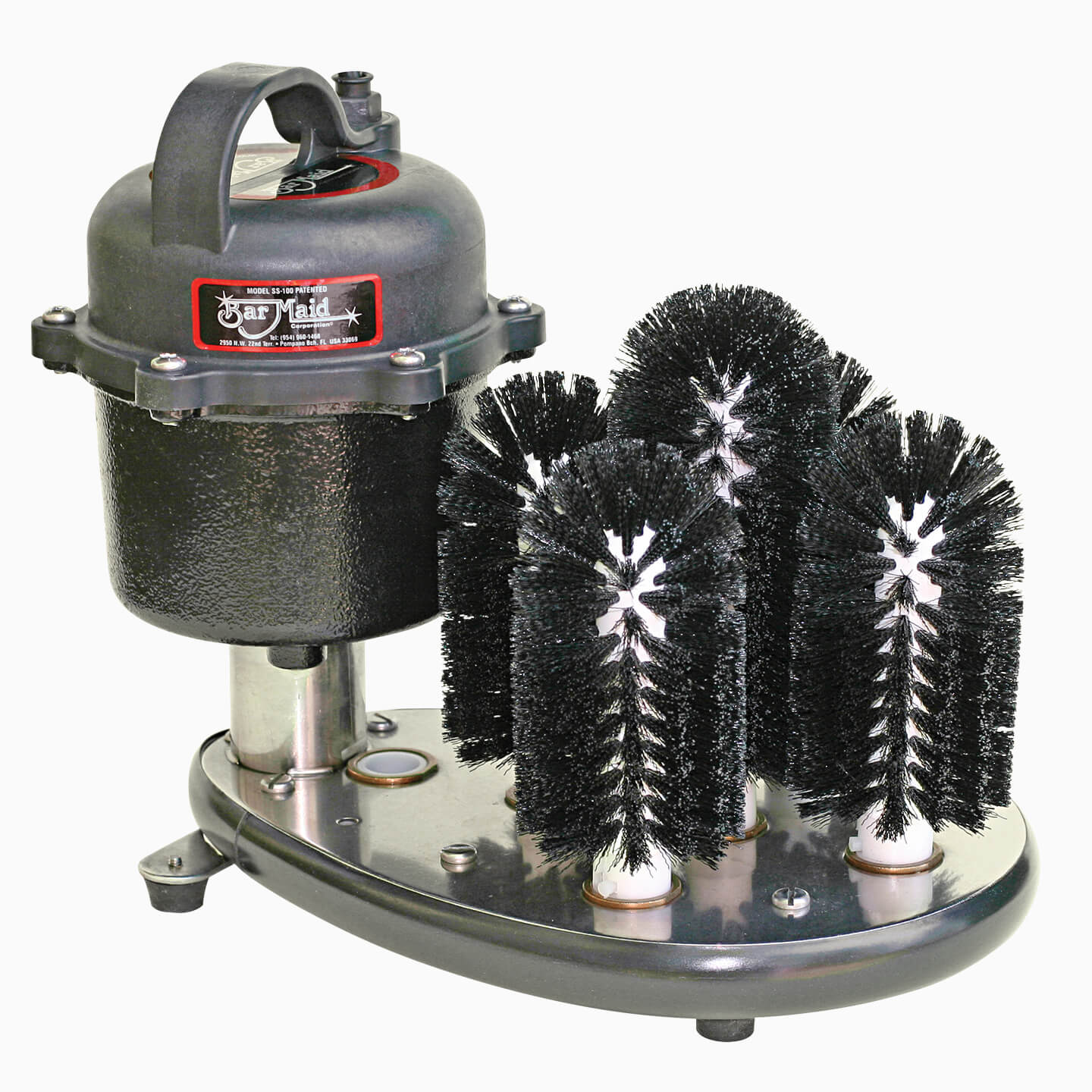 If you don't have a glasswasher, and you DO have a hard working bartender – keep your patrons and bartender happy by ensuring clean, spotless glasses are always available with minimal effort.
The time spent planning an effective warewashing station is time well spent. Without an efficient dish pit and a brave dishwasher operator, a foodservice venue will find themselves struggling during the businest (and most profitable) hours of operation.