Choosing a commercial flatware finish is an important decision for restaurants. The finish you choose contributes to the overall aesthetic, branding, durability, and customer perception of your restaurant.
We discuss the different commercial flatware finishes available, as well as the factors you should consider when making your selection. We will also provide some tips on how to choose the right finish for your restaurant's vibe.
Navigating the World of Flatware Finishes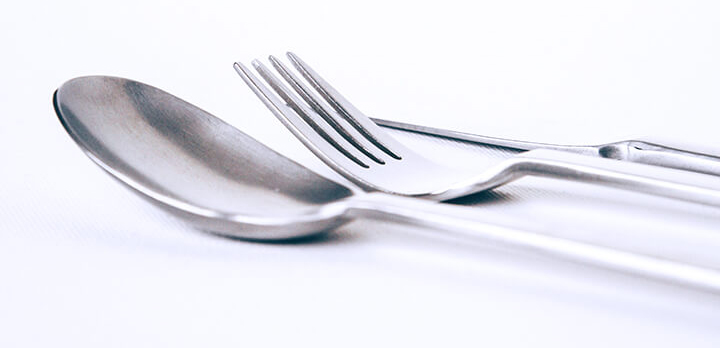 Commercial flatware finishes play an important role in the overall dining experience and image of a restaurant. Here are some general factors to consider when choosing the right one for your establishment.
Flatware Finish Durability & Aesthetic Appeal
As foodservice industry insiders, we all know that durability is a key factor when choosing commercial flatware. Different finishes provide varying degrees of durability and longevity as well as resistance to rust, scratching, and tarnishing.
However, the most vital factor in selecting a flatware finish lies in its aesthetic appeal and its ability to reflect the restaurant's brand. Whether striving for a sleek or rustic look, it is advisable to choose a finish that complements the desired ambiance of the establishment. This enables restaurants to highlight their unique style, personality, and the narrative behind their culinary offerings. The choice of flatware finish not only significantly enhances the visual appeal of your table but also contributes to the establishment's brand and identity.
Next, we go through the ins and outs of different commercial flatware finishes to help you decide which is best for your restaurant's aesthetics and operations.
Mirror Polish Finish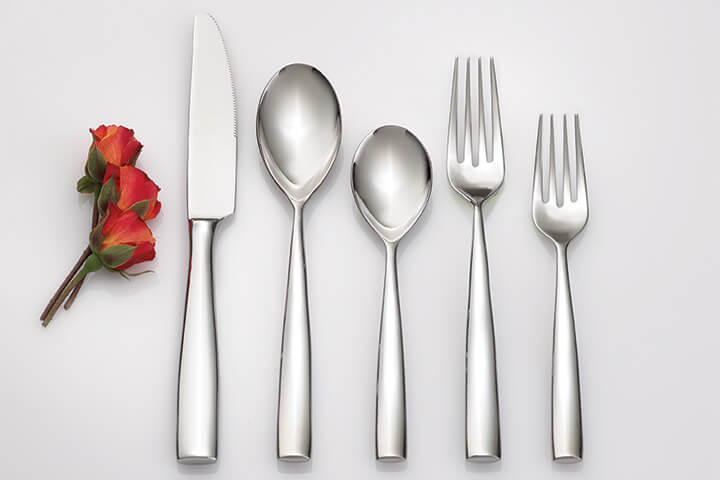 Restaurant stylists appreciate the appeal of a mirror polish flatware finish for its ability to exude a sense of elegance, while offering certain practical qualities.
Mirror Polish Flatware Aesthetics & Branding
Mirror polish flatware appears luxurious and sparkling because it reflects light. Its reflective surface creates a visually appealing ambiance that also adds dimension to a room. The high shine of the mirror polish catches the light, accentuating the beauty of the tableware and elevating the overall dining experience. Mirror polish also adds a sense of excitement and celebration.
This finish is often associated with fine dining establishments, luxury hotels, and upscale restaurants aiming to provide a memorable and elegant atmosphere to their patrons. Psychologically, our customers associate highly reflective finishes with cleanliness and sterility. Therefore, mirror polish also positively contributes to perceived hygiene standards of a restaurant.
Here are several examples where a foodservice establishment may want to incorporate mirror finish flatware:
A restaurant with a modern or contemporary décor can use mirror polish flatware to create a sleek and sophisticated look.
A restaurant with a traditional or rustic décor can use mirror polish flatware to add a touch of luxe glamour.
A restaurant with a casual or relaxed décor can create a nice contrast by using mirror polish flatware as a point of refinement.
Mirror Polish Flatware Practicality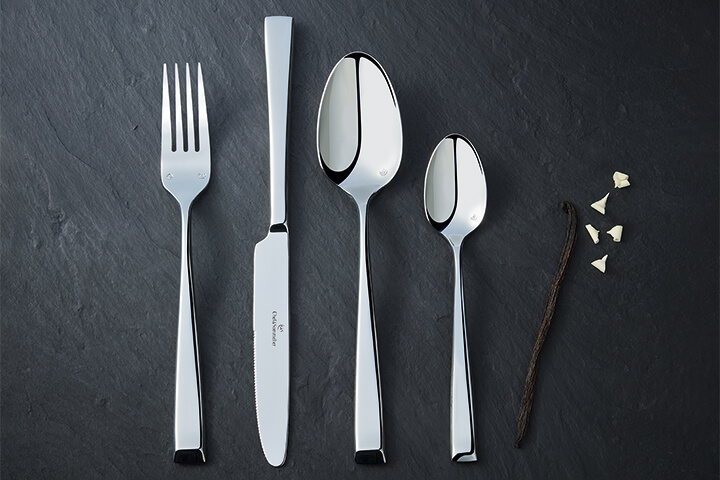 In addition to its aesthetic advantages, the smooth, polished surface of mirror polished flatware feels luxurious and comfortable to use. This can make customers feel more pampered and appreciated, which can lead to positive word-of-mouth and repeat business.
Satin Polish Finish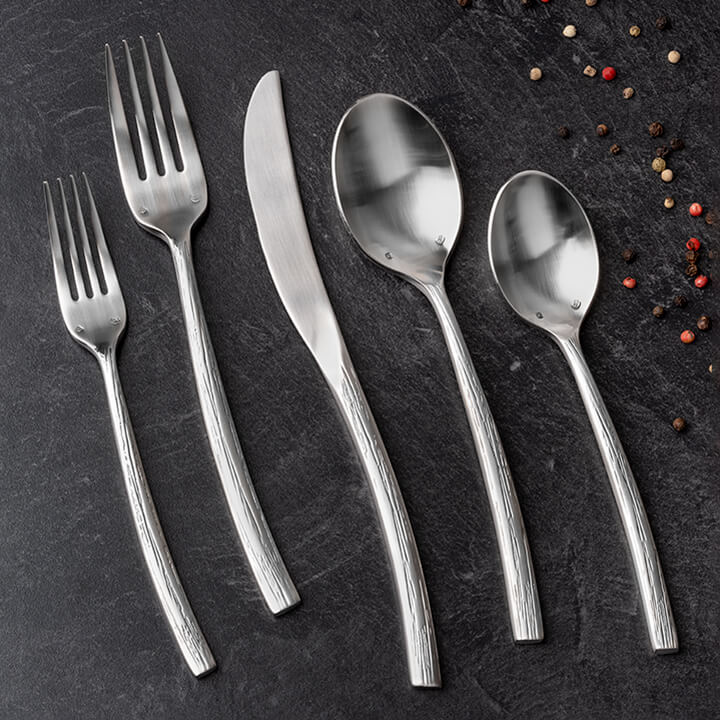 Satin polished flatware has a soft, matte sheen that provides a unique aesthetic and complements a variety of dining experiences. It has a timeless quality that can withstand changing trends.
Satin Polish Flatware Aesthetics & Branding
One of the notable qualities of satin polish flatware is its versatility. It can seamlessly adapt to a range of restaurant styles and atmospheres. Whether it's a high-end fine dining establishment or a trendy, casual eatery, this finish can complement various aesthetics. It's suitable for both upscale and casual settings, making it a popular choice among restaurateurs who seek a balance between sophistication and approachability.
Some examples of its versatility include:
Satin polish flatware is a contemporary option that can be used in restaurants with a modern, minimalist, or traditional décor.
Satin polish flatware can be used to create a rustic/farmhouse feel in a restaurant or an industrial/urban feel in a restaurant.
With its sleek appearance and subdued glow, satin polish flatware also perfectly complements minimalist décor featuring clean lines and neutral colors.
Satin Polish Flatware Practicality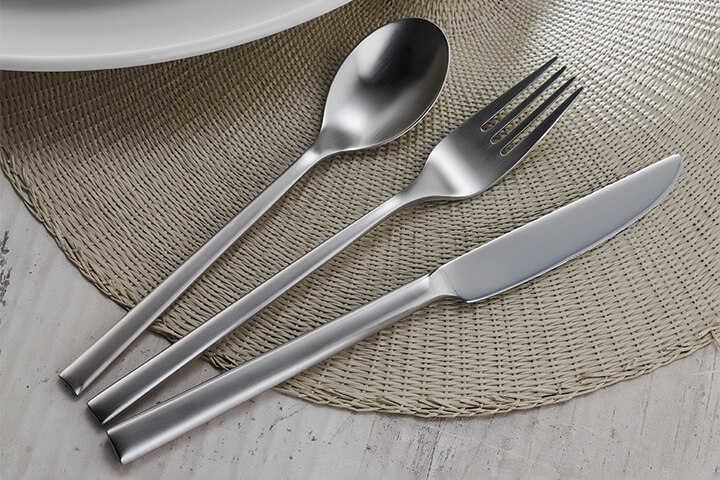 Practically speaking, the brushed texture of satin polish flatware not only adds to its visual appeal but also enhances its functional qualities.
The slight roughness of the finish provides a better grip for diners, offering a comfortable and secure hold on the utensils. The subdued sheen of a satin finish hides fingerprints and other blemishes well, which can benefit high-traffic restaurant environments. For instance, this finish minimizes the visibility of small scratches, ensuring that the flatware maintains its aesthetic appeal even after extended use.
Sand (Brush) Blast Finish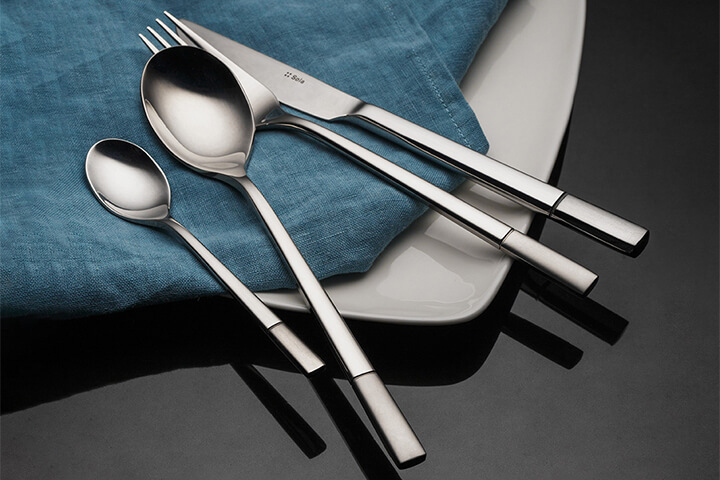 Sandblasting is a technique that blasts sand at the steel's surface with high pressure air or water. The sand particles remove a small layer of the surface, creating a matte finish or a two-tone finish with outlined design areas.
Sand Blast Flatware Aesthetics & Branding
A sandblast flatware finish offers several qualities for restaurants, in terms of aesthetics. This finish lends a contemporary and industrial look to flatware, making it an excellent choice for restaurants aiming for a modern or minimalist aesthetic.
The matte texture and subdued appearance harmonize well with:
sleek, monochromatic table settings;
venues with exposed brick walls, concrete floors, or metal accents;
different types of dinnerware, such as porcelain, stoneware, or even unconventional materials like slate or wood.
Despite its industrial edge, sandblast finish can also add an element of sophistication to table settings. The non-reflective and slightly roughened surface offers a tactile experience that exudes a sense of refinement without being overly formal. This understated elegance can work particularly well for upscale or fine-dining establishments that prioritize a laid back yet luxurious ambiance.
Sand Blast Flatware Practicality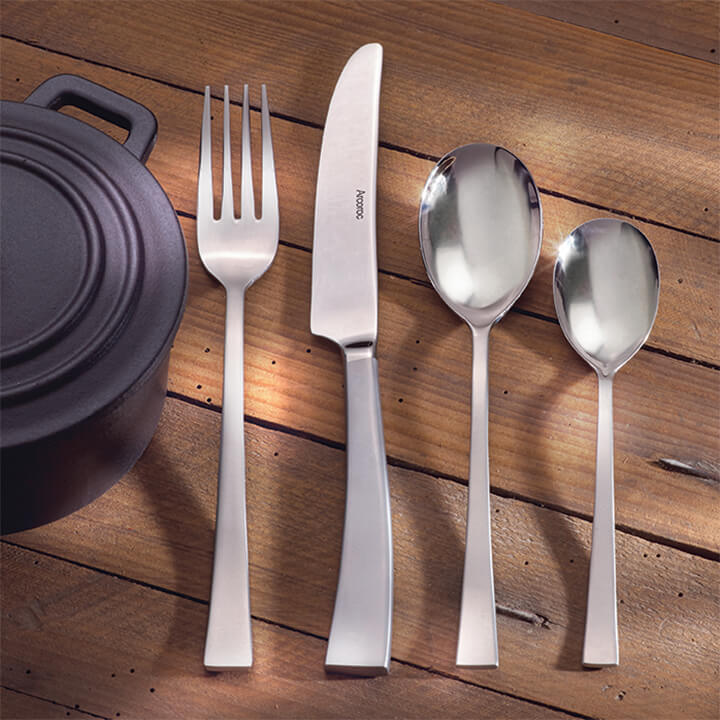 Practically speaking, sandblasting creates tiny abrasions on the flatware's surface, resulting in improved grip and anti-slip properties. It also gives flatware the ability to hide fingerprints more effectively than mirror finishes. Due to its textured appearance, minor scuffs or blemishes are less noticeable which helps flatware maintain a consistent and presentable look over time.
Patina Finish
A patina is a thin layer that forms on the surface of metal over time due to oxidation or chemical reactions. In this case, flatware is tumbled with stones, allowing the metal to naturally oxidize. This process creates a distinct, aged appearance or distressed finished look that is often described as being warm and inviting.
Patina Flatware Aesthetics & Branding
Patina flatware often exudes a rustic and vintage charm, which can be a perfect match for restaurants aiming to create a warm, cozy, or nostalgic atmosphere. It can also add an artistic and contemporary flair to restaurants. Many modern establishments seek unique design elements to stand out and create a memorable impression on their patrons.
Here are some other examples of how patina flatware can be used to create a stylish and inviting dining experience:
The aged look of patina flatware pairs well with farmhouse, shabby chic, or industrial-themed establishments.
An upscale restaurant that focuses on organic, locally sourced ingredients could enhance its commitment to natural elements by pairing with patina flatware's earthy tones and worn texture.
A trendy fusion restaurant with an avant-garde interior design could use patina flatware to create a striking contrast between the old and new. Patina flatware offers an opportunity to showcase creativity and individuality.
Patina Flatware Practicality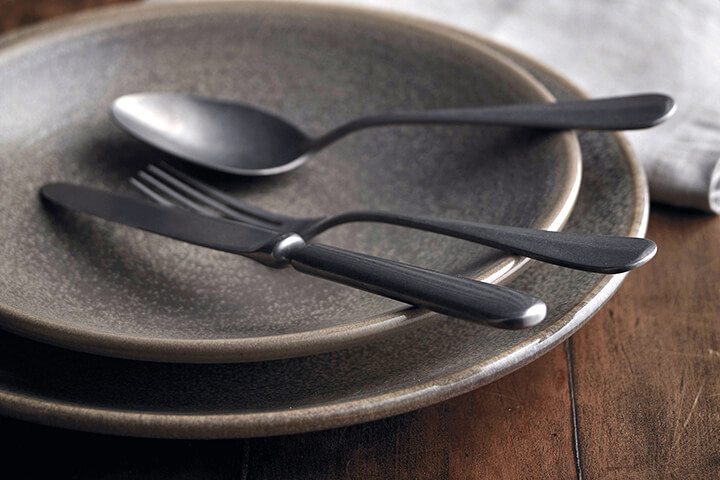 In addition to its aesthetic appeal, patina flatware also has a number of practical advantages. The finish is very durable and can withstand even the most demanding use. The vintage look of patina finishes also tend to be easy to clean and maintain.
Oxidized Finish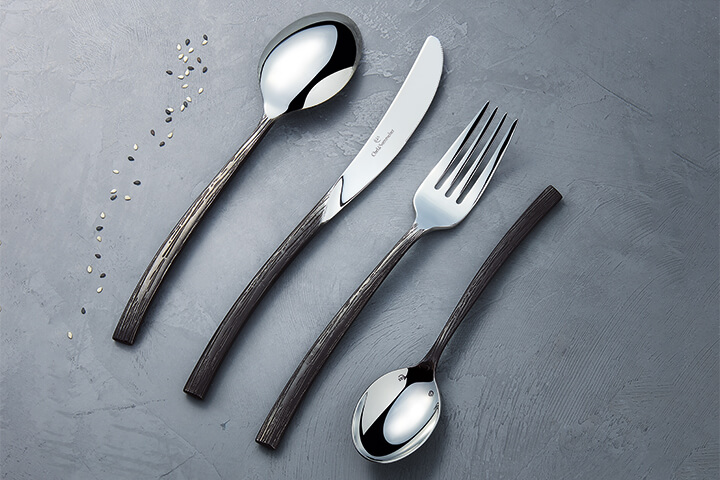 This finish has a black finish that evokes a sense of rustic elegance, vintage charm, or contemporary sophistication, depending on the overall ambiance and design of the restaurant.
Oxidized Flatware Aesthetics & Branding
Oxidized flatware sets itself apart from conventional polished silverware by embracing imperfections and showcasing individuality. This uniqueness adds character and intrigue to the dining experience, making the flatware a conversation starter and enhancing the overall ambiance.
Oxidized flatware can effortlessly adapt to a variety of table settings and styles:
In industrial surroundings, balancing the clean lines and metallic accents of the interior. The dark finish of the flatware creates a striking contrast against elements like exposed brick walls or concrete countertops.
In a rustic or farmhouse-inspired theme, oxidized flatware adds a touch of understated elegance. This aesthetic can be particularly suitable for cozy, countryside eateries, or upscale dining destinations with a rustic twist.
Oxidized flatware can also align with vintage aesthetics, creating a nostalgic atmosphere reminiscent of a bygone era. The antique-like finish adds character and a sense of history to the dining experience.
Oxidized Flatware Practicality

Oxidized flatware is very durable and can withstand heavy use. This ensures that the flatware retains its appearance and quality even after frequent use, making it suitable for the demanding environment of a restaurant. It is also resistant to corrosion, making it a good choice for restaurants that serve food with acidic ingredients. It requires little maintenance as it does not need to be polished.
Physical Vapor Disposition (PVD) Finish
PVD (Physical Vapor Disposition) is a process that uses vacuum deposition to apply a thin layer of metal to a surface.
PVD Flatware Aesthetics & Branding
This flatware finish matches a variety of aesthetics. It can be used to create a sleek, modern look or a more traditional, classic look. The color of the PVD coating can also be customized to match the décor of the restaurant, such as finishes in black, gold, copper, and rose gold.
PVD finishes provide a high-end, luxurious appearance that adds sophistication to restaurant table settings. The metallic sheen and reflective qualities of PVD-coated flatware create an elegant and upscale ambiance, perfect for fine dining establishments or upscale restaurants. In addition, PVD also works with all sorts of environments and aesthetics:
Sleek, black PVD finishes are popular with a modern, minimalist vibe.
Rose gold or copper is popular with vibrant or eclectic eateries.
Silver PVD looks classic and elegant and is popular with traditional restaurants that want a little extra sparkle.
PVD Flatware Practicality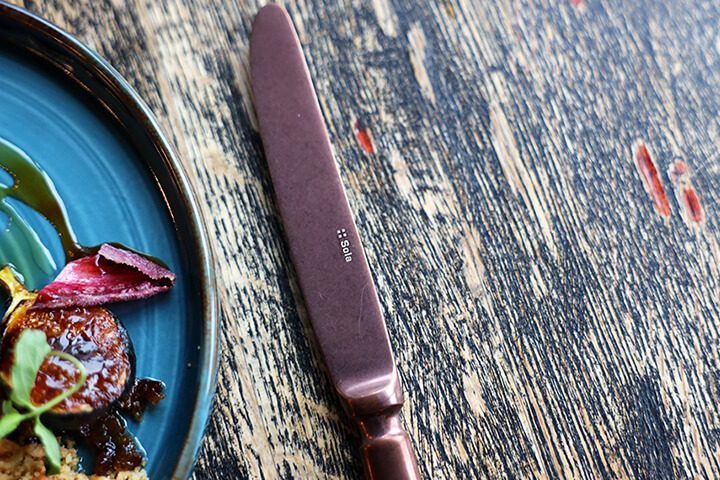 Not only does the flatware look great, but PVD coating also creates a long-lasting, durable finish on flatware. The PVD coating is resistant to scratching, corrosion, and fading, making it ideal for high-traffic areas like restaurants. Second, PVD flatware is very easy to clean. The smooth surface of the coating makes it difficult for food particles and bacteria to cling, and the coating is also dishwasher safe. It's also non-reactive and safe to use with acidic food.
Hammered Finish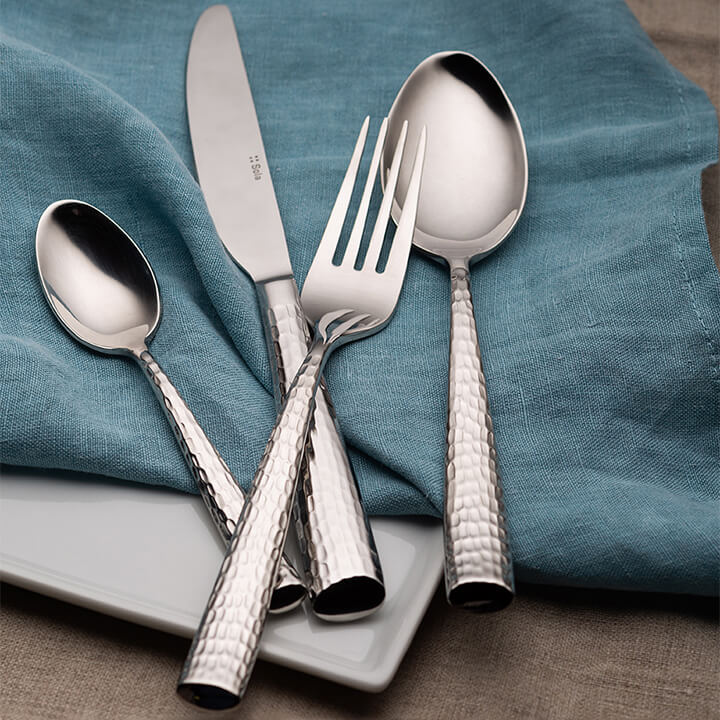 Last but not least, hammered flatware has gained popularity in the restaurant industry due to its unique aesthetic appeal and the special qualities it brings to the dining experience. The hammered look is achieved by adding dimples in the mold.
Hammered Flatware Aesthetics & Branding
The uneven, handcrafted texture created by the hammering process adds a touch of uniqueness and organic beauty to each piece. The textured surface and sleek design of hammered flatware can effortlessly blend with contemporary and urban design. However, its look isn't limited to modern elegance:
Hammered flatware adds a touch of traditional elegance to a restaurant. It can be paired with white tablecloths, crystal glasses, and china to create a classic dining experience.
The hammered look is also associated with a rustic and artisanal charm. The natural imperfections and earthy character of hammered flatware contribute to an overall sense of warmth and authenticity.
Hammered flatware allows for artistic expression and individuality. Chefs and restaurateurs appreciate this quality as it reflects their commitment to craftsmanship and attention to detail. For example, a fine-dining restaurant known for its avant-garde culinary creations could choose hammered flatware to align with its artistic approach.
Hammered Flatware Practicality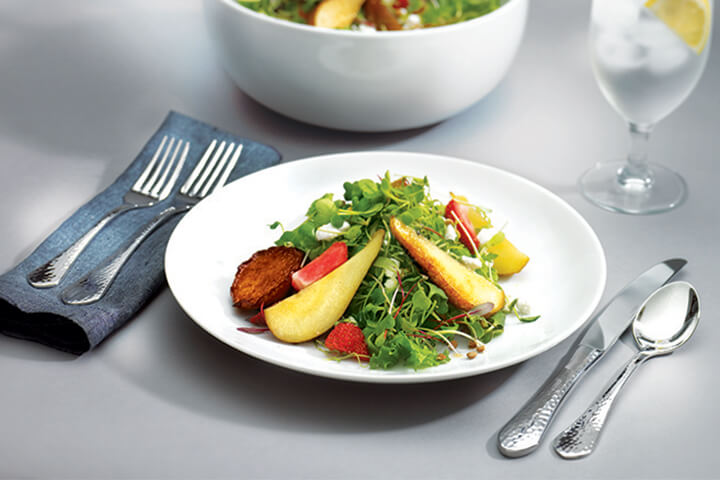 Practically speaking, the hammered finish makes the flatware more resistant to scratches. One of the special qualities of hammered flatware lies in the tactile experience it offers. The textured surface provides a pleasant and distinct sensation when held, adding an extra layer of sensory enjoyment to the dining experience. The slight irregularities and undulating patterns created by the hammering process make each piece feel unique in the hand.
Exploring the Influence of Flatware Finishes
Flatware finishes play a pivotal role in creating a memorable dining experience at restaurants. Beyond their functional purpose, these finishes elevate the overall ambiance and aesthetic appeal of a dining setting, leaving a lasting impression on guests. How did you choose your flatware finish? Let us know in the comment section!
Partnered With
Arc Cardinal, Creator of Experiences. Create. Curate. Celebrate. Elevating your guest's experience is your priority. Bringing your vision to life is ours. No matter the experience, we are here to help you create a remarkable one. Our expertly crafted collections of tableware, smallwares and buffetware supports the needs of today's chefs, mixologists, and sommeliers.