Looking for a way to increase product visibility and boost sales? In today's competitive foodservice industry, heated and refrigerated display cases have emerged as indispensable tools for achieving these goals, allowing businesses to showcase their offerings while ensuring food safety and freshness.
In this article, we will explore the significance of heated and refrigerated display cases in the foodservice industry, discuss factors to consider when selecting an ideal case for your business and location, and spotlight several heated and refrigerated display cases that draw in customers.
Heated & Refrigerated Display Cases Boost Sales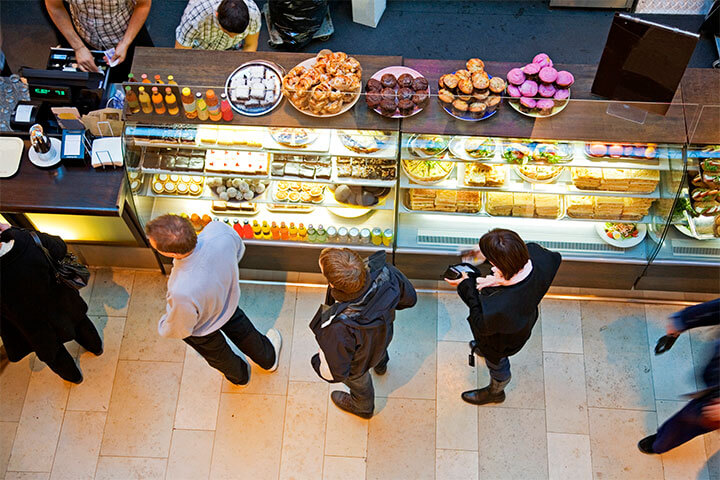 Display cases store and display food at a desired temperature. Heated display cases keep food warm, including items like pizza, sandwiches, and pastries. Refrigerated display cases keep cold food cold, such as salads, fruits, and vegetables.
Heated and refrigerated display cases are important for the foodservice industry chiefly because they keep food fresh and safe to eat. Second, our customers eat with their eyes. A display case helps to improve customer satisfaction by allowing customers to see and choose the food they want. Third, the right display case will help to increase sales by making food more appealing to customers.
How to Choose a Commercial Display Case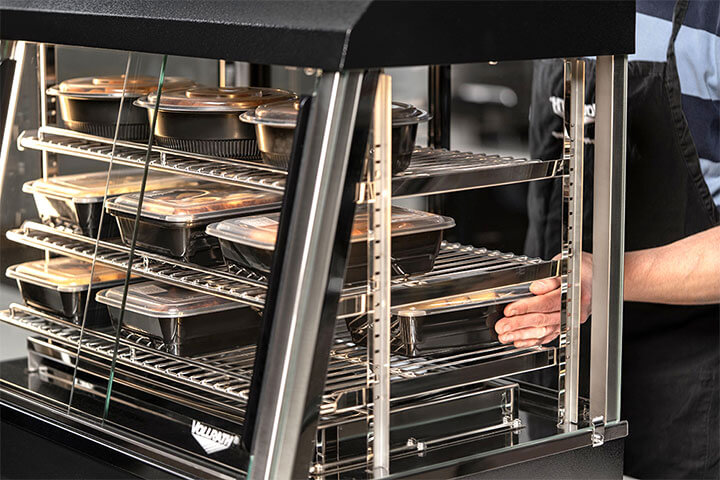 There are several factors to consider when selecting a display case including size, capacity, temperature range, energy efficiency, and more.
How Much Space Are You Able to Dedicate to a Display Case?
The type of food you sell as well as the amount of available space in your establishment dictates the merchandiser size. Additionally, it is wise to consider the number of products you want to display.
Before shopping for a display case, measure the space you have available and consider the traffic flow in the area to ensure the additional equipment won't cause a bottleneck in operations.
What Temperature Range Does Your Food Require?
Naturally, the type of food you sell will dictate the temperature range of your ideal display case. Different foods require different temperature ranges in order to stay fresh and safe to eat. For instance, refrigerated items like seafood require a lower temperature than a refrigerated pastry.
Can the Shelves Accommodate Your Products?
Shelving is an important feature because some foods require more height than others. The most important factor to remember is to make sure the shelves' dimensions can safely accommodate the tallest and widest items you'll be displaying.
Depending on the food you sell, you may opt for adjustable shelving to accommodate a variety of disparate heights and widths. It will help you to envision the layout of your display case. Think about how you want to display your food and make sure the shelves are arranged in a way that makes sense.
What Are the Best Materials to Use?
The materials used should be durable enough to withstand the wear and tear of everyday use, as well as allow customers to see the food clearly. For instance, glass is the most transparent material and is great for showcasing your most popular offerings. Acrylic and plexiglass are less reflective than glass, but they may not be as transparent.
Is Energy Efficiency Important to Your Business?
Energy-efficient features include:
LED lights are much more energy efficient than traditional fluorescent lights.
Insulated walls and doors help to maintain the temperature inside the display case, which help to conserve energy.
Display cases made with thick glass insulate and maintain temperatures more efficiently than cases that uses thin glass in its window construction.
Automatic temperature controls can help to ensure that the display case is only running when it's necessary, which can also help to improve energy efficiency.
It doesn't hurt to consider the location of the case as it also can affect its energy consumption. If the display case is in a warm area, it will need to work harder to keep the cold air in, which will increase its energy consumption.
Special Features of Popular Heated & Refrigerated Display Cases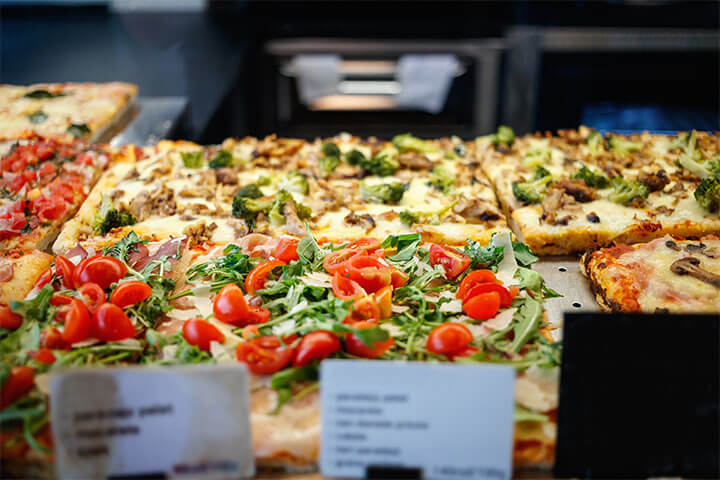 Getting down to the nitty gritty, the following are display case features that go above and beyond.
UL Certified to NSF Standards
When a product is UL certified to NSF standards, it indicates that it has successfully met the requirements set forth by both UL Solutions (UL) and the NSF International (NSF). UL is an internationally recognized organization responsible for safety certifications, while the NSF is a non-profit organization that establishes standards for food safety and sanitation.
Being UL certified to NSF standards means the product has undergone rigorous testing and evaluation, ensuring it adheres to the highest safety and sanitation standards. Consequently, these certified products are confidently used in foodservice establishments and other environments where food safety is of utmost importance.
Moreover, such certification enables these cases to securely store TCS (Time/Temperature Controlled for Safety) foods, as defined by the FDA's Food Code. TCS foods are those that require specific time and temperature control to prevent the growth of harmful microorganisms that may lead to illness. Examples of TCS foods include raw or heat-treated animal-based foods like meat, poultry, fish, eggs, and dairy products, as well as heat-treated or raw seed sprouts, leafy greens, cut melons, and garlic and oil mixtures.
Manufacturers without this certification must display a sticker on the unit indicating that TCS foods cannot be stored in the case to ensure food safety compliance.
CARB Compliance
R290 refrigerant-powered display cases meet the stringent requirements of CARB, which stands for the California Air Resources Board—a state agency responsible for regulating air pollution in California. CARB establishes emission standards for various products, encompassing vehicles, power equipment, and paints, among others.
When a display case is labeled as CARB-compliant, it signifies that the product conforms to the emission standards set by CARB. As a result, CARB-compliant display cases emit fewer harmful emissions, toxins, and particulates, contributing to improved air quality that is both cleaner and safer.
Zero Side Clearance Required
Many display cases require 4"-6" of space between walls or other units to allow for proper air flow. However, some display cases require zero clearance. Having a zero clearance display case is very useful when space is at a premium and every inch must be used strategically.
Featured Vollrath Refrigerated Display Cases
Now we'll take a closer look at commercial refrigerated display cases from Vollrath. We chose this particular vendor because their display cases incorporate all three special features we spoke of above. Each model shown comes in size 36", 48", and 60" sizes with self-serve options.
36″ Cubed-Glass Countertop Refrigerated Display Case With Rear Access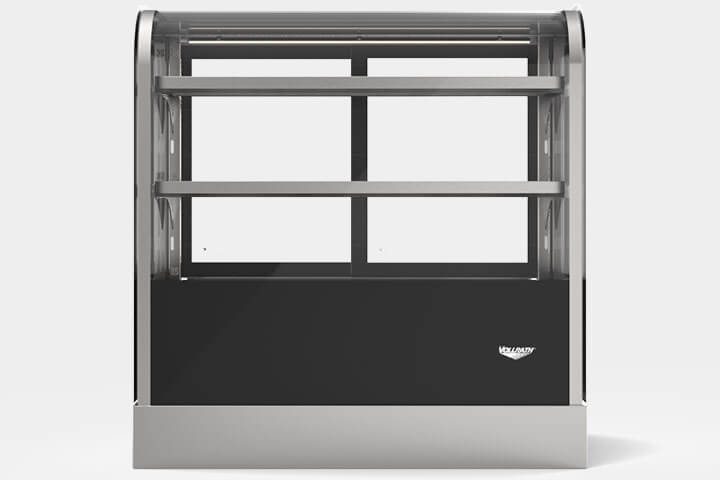 The Vollrath Cubed-Glass Refrigerated Display Deli Case is a stylish and functional countertop unit that provides maximum space for displaying cold food products. With two floating, adjustable shelves and double-glazed front glass that won't fog, customers can easily see the freshness of the items inside.
The cubed-glass case, along with all of the other refrigerated options, is UL/NSF/ANSI 7 compliant. This certification means it safe to store Time-Temperature Controlled (TCS) foods. Its temperature range of 32°F to 46°F makes it versatile for displaying a variety of cold food items.
This case is efficient and convenient. It has a self-contained system that offers improved auto and manual defrost, as well as LED lighting and a digital thermostat for precise temperature settings. The double-glazed glass in the top panel keeps the customer viewing area clear, while the rear sliding doors lift and remove for easy cleaning. This case uses the high-performing refrigerant R-290, making it an environmentally responsible purchase.
48″ Cubed-Glass Countertop Refrigerated Display Case With Self-Serve & Rear Access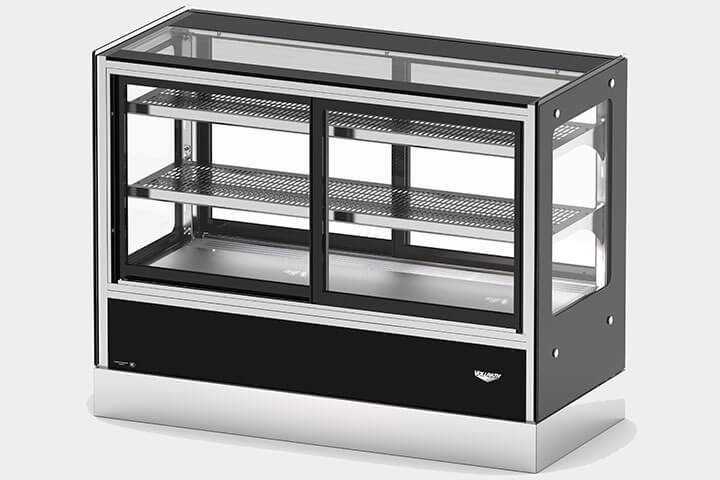 The Vollrath Self-Serve Refrigerated Display Case has a cubed layout and sliding glass doors make it easy for customers to serve themselves. Advanced features, such as precise digital temperature control and interior lighting, keeps food fresh and visible.
The unit is fully compliant with UL/NSF/ANSI 7 standards, so you can be sure that your customers are safe when consuming the foods. It also requires zero clearance on the sides or between units and walls, so it's a great option for tight spaces.
The fans ensure that food is cooled evenly throughout the case, and the self-contained nature of the unit makes defrosting easy. The Vollrath Self-Serve Refrigerated Display Case uses R-290, a high-performing and eco-friendly refrigerant, so you can feel good about using it.
60″ Curved-Glass Countertop Refrigerated Display Case With Rear Access
With a curved-front design and double-glazed front glass that resists fogging, the Curved-Glass Refrigerated Display Case allows customers to observe the freshness of the displayed products. If fog does occur, these refrigerated units also have a glass heater that can be turned on to clear the glass. The adjustable floating shelf offers three positions, ensuring optimal presentation. Equipped with precise digital temperature control, interior lighting at the top and shelf, and rear sliding doors for easy access, this case provides a compelling argument for its indispensable convenience.
Notably, these units adhere to UL/NSF/ANSI 7 compliance standards, guaranteeing the safe consumption of Time-Temperature Controlled (TCS) foods by customers. The temperature range of 32°F to 46°F adds versatility to accommodate various food items.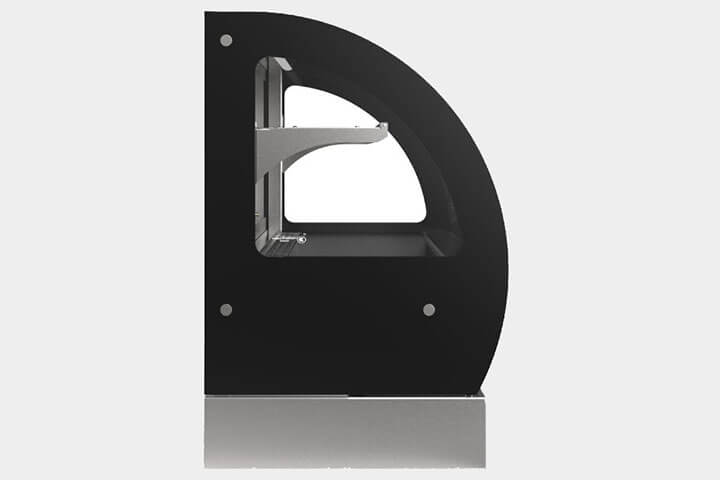 To further ensure accurate and even cooling, the display case utilizes fans to circulate air effectively. Additionally, the self-contained system offers improved auto and manual defrost capabilities, with the auto defrost set at a regular interval of every 3 hours for 10 minutes. And like all the other models, this unit is environmentally friendly.
Featured Vollrath Heated Display Cases
Vollrath's heated display cases provide an illuminating way to serve hot food. Heated cases provide excellent product visibility, maintain safe food temperatures, and ensure your culinary creations taste as delicious as they look. Each model shown comes in size 36", 48", and 60" sizes with self-serve options.
36″ Curved-Front Countertop Heated Display Case With Rear Access
The Vollrath Heated Display Case offers a versatile temperature range of 104°F to 165°F, guaranteeing utmost product flexibility, safety, and freshness. Combining functionality with aesthetics, the interior illuminates with top and shelf LED lighting, beautifully showcasing your products. The rear sliding doors make it easy to serve, refill, and clean. The case also has fans that circulate air for accurate, even heating.
It is UL/NSF/ANSI 4 compliant, making it safe for storing Time-Temperature controlled (TCS) foods. The three-position adjustable floating shelf allows for creative customization. The unit uses an NSF dial thermometer while a digital thermostat on the control panel provides precise settings. This case is a durable, reliable solution for maintaining the quality and appeal of your hot food products while enhancing the overall presentation and efficiency of your business operations.
60″ Cubed-Front Countertop Heated Display Case With Rear Access
Vollrath's Heated Display Case is a cube-shaped unit that is both functional and stylish. It has a temperature range of 104°F to 165°F, which allows you to display a variety of hot foods. The fans circulate air for uniform heating, and the NSF dial thermometer helps you to monitor the temperature. The digital thermostat allows you to set the desired temperature levels. The argon-filled and sealed double-pane low emissivity glass is strong, durable, and energy-efficient.
The interior LED lighting enhances the aesthetic appeal of the display case and makes it easier for customers to see the food. The cube-shaped design has two floating shelves that adjust to three positions, so you can customize the display to fit your needs. The sliding doors make it easy to service, refill, and clean the case. The rear sliding doors lift and remove for easy access or for cleaning.
The Heated Display Case is fully UL/NSF/ANSI 4 compliant, so you can be sure that your customers are safe when consuming the food. It does not require any clearance on the sides or between units and walls, so you can save space.
Cool & Fresh? Or Hot & Ready?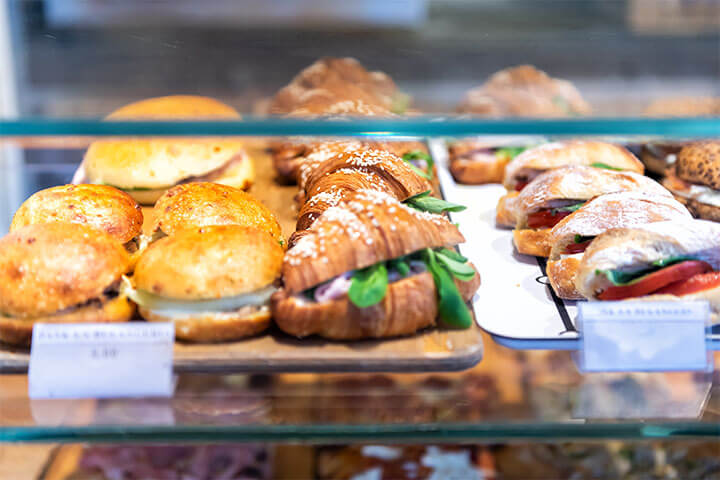 Investing in top-notch display cases like those offered by Vollrath is essential for any foodservice establishment seeking to elevate its product visibility, improve customer satisfaction, and boost sales. By choosing UL certified and CARB-compliant cases with innovative features, businesses can ensure the safety and quality of their displayed foods while reducing their environmental impact. A well-chosen display case will undoubtedly be a valuable asset for any foodservice operation, promoting success and customer loyalty in the competitive food industry.
Partnered With
Quality. Efficiency. Cost-effectiveness. These goals aren't unique to just one industry. From schools to hospitals to hotels and beyond, the goal is to provide the highest quality meal possible for staff and customers. And for more than a century, Vollrath has been there to assist foodservice teams in every industry, every step of the way.