Fall is a magical time of year and one to be enjoyed outdoors. The changing leaves, crisp air, and warm sunshine make for a truly idyllic setting. And with the right dinnerware, you can create a tablescape that compliments and enhances the spirit of the season. We partnered with Elite Global Solutions to illustrate how the dynamic characteristics of autumn lend themselves to the perfect outdoor dining experience.
Fall Outdoor Dining
Outdoor dining in the summer and autumn offers distinct and captivating experiences. Whereas the hot months creates a vibrant and energetic ambiance, autumn presents a tranquil contrast to sizzling summer.
As the weather cools down and daylight hours shorten, a cozy and inviting atmosphere emerges. Menus transitions to heartier fare, featuring soups, warm beverages, and dishes incorporating seasonal ingredients like pumpkins, squash, and apples. The décor shifts to embrace the beauty of fall foliage, warm-toned accents, and pumpkins. The dinnerware present at your tables should reflect these seasonal ideals.
4 Autumnal Dinnerware Patterns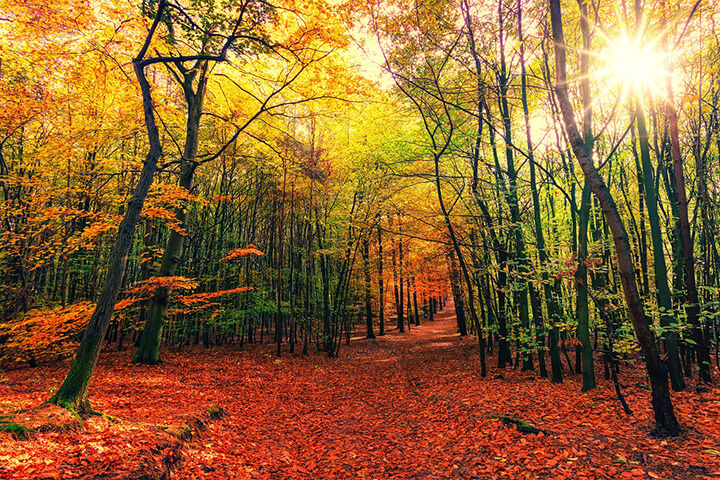 To embrace the summer to autumn transition with the celebratory spirit your guests deserve, it's essential that the dinnerware gracing your tables mirrors the distinct ambiance of the season. To assist you, here are four dinnerware lines that will help you create an autumnal spirit in your outdoor dining design.
Each of the following Elite Global Solutions dinnerware patterns are made with premium melamine and are:
Commercial dishwasher safe
Resistant to abrasions and dents
Virtually unbreakable
Lightweight and easy to carry
Made to withstand temperatures from -22 to 185 degrees Fahrenheit
Vintage Trestles Melamine Dinnerware
For warmer autumn days and nights, our outdoor dining pick captures the essence of nature with the laid back vibe of a beach day. Vintage Trestles is a collection of round plates, bowls, ramekins, and mugs that look resembles glossy clay earthenware but is actually made of strong, cost-effective melamine. This dinnerware pattern takes its inspiration from the beaches in California that is home to some of the world's best surfing.
This organic-looking dinnerware patterns is available in four colors: Vanilla, Grey, Cameo, and Hemlock. Cameo is a soft, natural blue reminiscent of the sky and surf, while Hemlock is a muted green that looks similar to the coastal sage scrub found along the California coastline.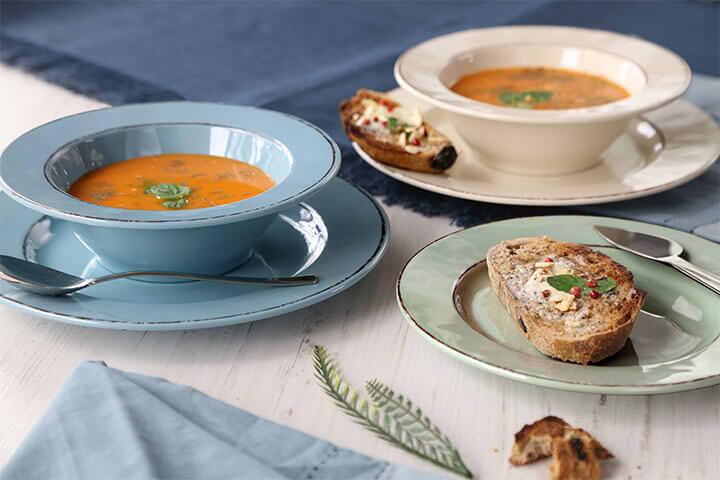 Being color-wheel opposites, both colors bring out the reds, oranges, and yellows of autumn in a contrasting way and add to the already dazzling array of outdoor dining hues. Moreover, the shades of muted green and blue are naturally relaxing and are further enhanced by the soft, diffused light that creates autumn's dreamy atmosphere.
These colors are also perfect for the misty mornings we experience when cool nights collide with warm days. As an outdoor dining landscape, this mist can be incredibly captivating, tranquil, and mysterious. Just add Vintage Trestles and you've got yourself a perfect autumn table.
Morocco Melamine Dinnerware & Serveware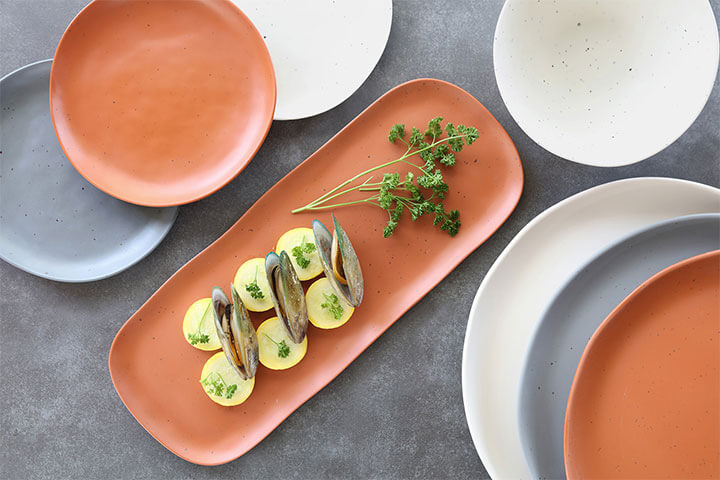 Our next fall dinnerware pattern, Morocco, provides a chic look, organic shapes, and color accents that add autumnal flair to your table. This alternative to heavy stoneware comes in four earthy shades: Grey with Speckle, Eggshell with Speckle, Sunburn Terra Cotta with Speckle, and Vanilla. Morocco offers a durable and longer-lasting alternative to the stoneware that inspired its look. It is perfect for both serving and dining with round plates, bowls, and softly rounded rectangular pieces to choose from.
We love Morocco for autumn outdoor dining because its hues naturally complement, and are complemented by, the colors of the harvest season. The rustic-natural color palette lets the harvest be the star, accenting autumn favorites like pumpkins, gourds, turnips, sweet potatoes, cranberries, and apples.
What the Morocco pattern does for fall festivities is symbiotically returned in the form of a warm glow. During autumn, the angle of the sun changes, and the blue and violet lights of summer scatter, leaving behind red, orange, and yellow wavelengths coloring the light that we see. This scattering effect enhances warm tones and casts a golden glow. The warm color palette of Morocco is right at home in the golden light of autumn, as it further enhances its earthy colors and speckles, creating a warmth at your table amid crisp air.
Van Gogh Melamine Dinnerware & Serveware
If you are looking for a playful and artistic way to paint an autumnal table, we recommend the Van Gogh line of melamine dinnerware.
Depending on where you are in the world, autumn may be a time for celestial events like the Orionids or Southern Taurids meteor showers or the appearance of the Northern Lights. These natural phenomena are magical and mesmerizing to witness. For autumn star gazers, the Van Gogh dinnerware line is a call back to his most famous work, Starry Night, complementing the cosmic phenomena of autumn in an amusing and artful way.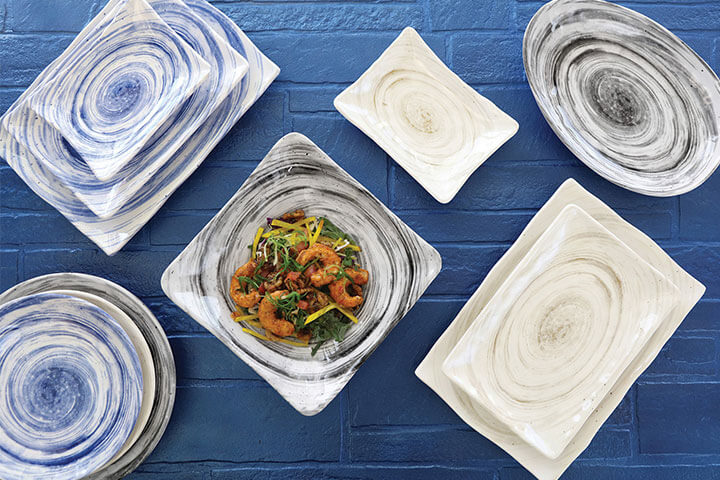 Van Gogh dinnerware comes in three color designs: Black, Navy, and Tan. The spiral design is available in oval, round, and rectangular bowls and plates with a ramekin option, so you have your pick of table design.
To fully capture the mood, try adding fall blooms with vibrant colors as accent pieces. While Van Gogh was particular to sunflowers, he also loved to paint autumnal flowers such as chrysanthemums, dahlias, and asters. Together, they create a dinnerware design that encompasses cosmic happenings enhanced by floral accents that bring us back down to the beautiful Earth. We think Van Gogh would have cut his good ear off for a seat at this table.
Maya Melamine Dinnerware
For a dinnerware line that best captures the celebratory spirit of Harvest festivals, Halloween, and the holiday season, Maya is the must-have collection.
Looking deeper into the psychology of autumn, it symbolizes the cycle of life and impermanence. The beauty in change stems from the natural processes it exemplifies, like the turning of the leaves or the scattering of blue and violet rays. Autumn serves as a reminder that change is an integral part of life, and through adaptation and reflection, we can find beauty and meaning in every stage of our journey. To put it in simple terms, this means it is time to party.
Maya is a multifunctional dinnerware line featuring four festive colors: Green, Red, Purple, and Cream. And like snowflakes, no two pieces are alike thanks to its hand-tossed color additive process. Each unique piece also features a glossy hammered surface, and subtly ruffled edges.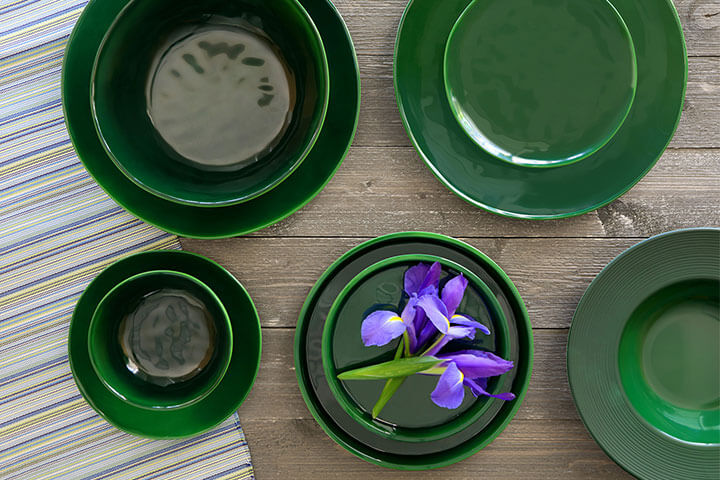 As an outdoor dining set, Maya's colors shine in a natural setting. Maya is a remarkable collection because its colors each bring a strong emotional component to the table, which changes based on its pairing. For instance, the red and purple together create a beaming wonderous vibe for Halloween time. However, when you add in green and cream, the palate is more reminiscent of a holiday feel. Whether you wish to communicate harvest happenings, an air of mystery, or dazzle with warm holiday festivities, Maya does it all.
Harvest New Memories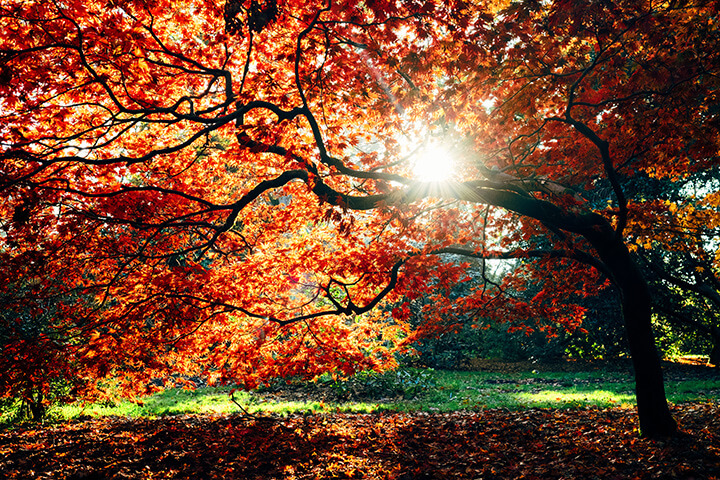 Overall, autumn's outdoor dining appeal lies in the combination of its visual splendor, the changing of seasons, cultural traditions, and the sense of wonder and mystery that it evokes. Whether savoring the last warm days with Vintage Trestles, stargazing with Van Gogh, soaking in colorful foliage with Morocco, or celebrating life with Maya, autumn outdoor dining is a feast for the senses.
Partnered With
Elite Global Solutions is a world-class international leader of premium melamine products. Our greatest desire is to cultivate the kind of creativity that can impart visual and culinary merchandising solutions for all our customers.
We are the leader, not the follower, in creative designs for the foodservice industry. Our products are the highest quality. They are 100% pure melamine and exceed all certification requirements. Additionally, our dinnerware lines are tested by NSF, SGS and Intertek for safety and hazardous material.
When you choose Elite Global Solutions products, you are choosing the classic look of porcelain, stoneware, marble, and wood without the breakage. All dishwasher safe and designed to handle both hot and cold food applications. Our products are used by many of the world's forward-thinking hotels, restaurants, foodservice operators, supermarkets and caterers.