Updated: April 9, 2021
For decades, a gas stovetop has been the centerpiece of most commercial kitchens. That's about to change. Top chefs throughout the U.S. and beyond are breaking with tradition and switching to the Induction Range – an alternative that's safer, more precise, faster, and more efficient.
How It Works
Induction cooking uses a copper coil that creates an electric current. The current alternates magnetic fields that push a current against the molecules in induction-ready cookware. The resistance from the molecules then produces heat in the pan, which means the pan itself creates the heat. There's no open flame and no heat produced unless there's a pan placed on the top.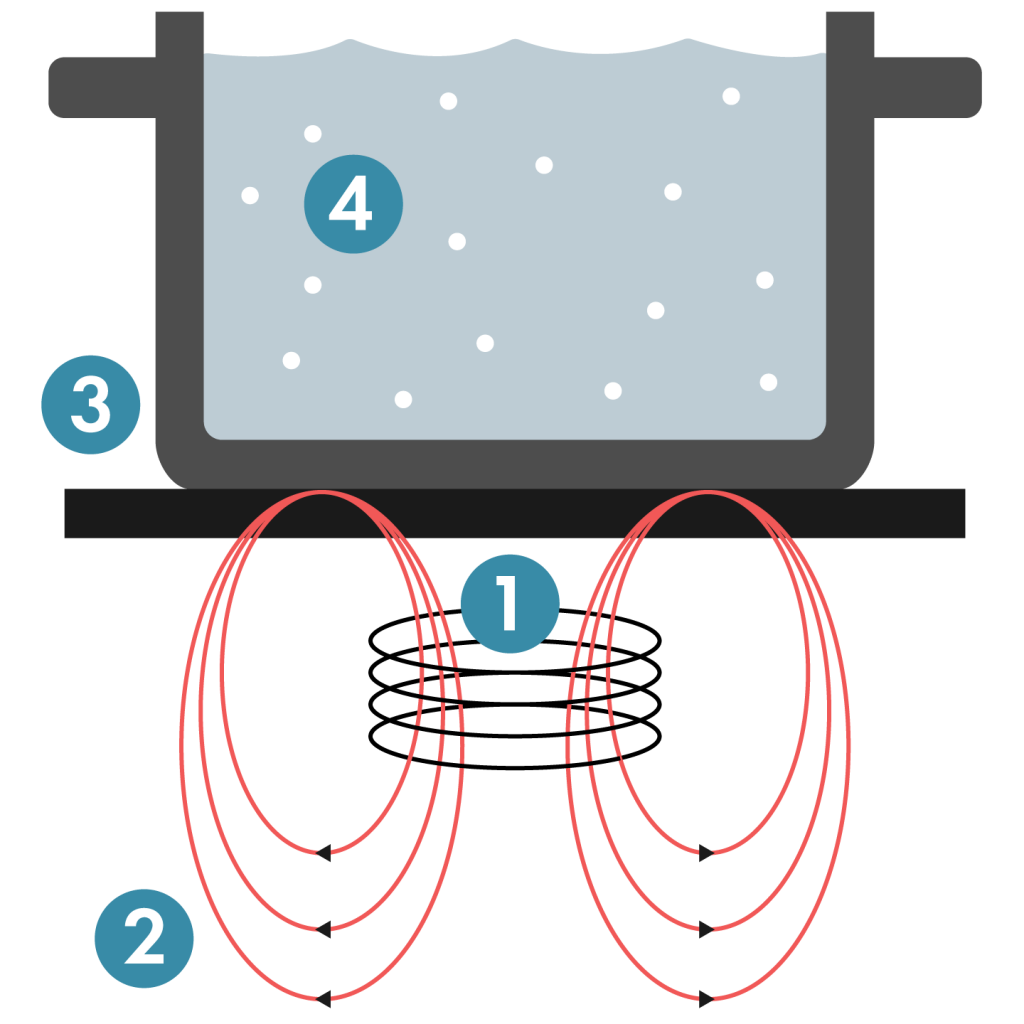 Copper coil creates electric current
Electric current alternates magnetic fields
Magnetic friction energizes the molecules
Resistance from molecules produces heat in the pan
Drop-In vs. Countertop Induction Ranges
The first step in purchasing a commercial induction range is to consider what style you'll need: drop-in or countertop? Are you going to need a unit that is portable? Or are you looking for a unit built into a counter?
Drop-In
Drop-in induction units are popular in the restaurant industry because they blend in with countertops, resulting in a more natural look and smaller footprint. Their controls are placed into the front of the unit which adds accessibility. The only drawback of drop-in induction ranges is their lack of transportability.
Countertop
Countertop units are portable which gives foodservice operations the option to perform front-of-house cooking. Additionally, they are cost-effective and easy to replace. One consideration when purchasing a countertop range is to make sure it fits organically within your commercial kitchen and that it is compatible with the size of your workspace.
Benefits of Induction Cooking
Induction Is Safer
When cooking on a gas stove, there's always the chance of a grease fire. However, when cooking on an induction range, heat is directly transferred to the cooking surface, not the range itself. As a result, if there's no pan on the range, there's no heat being produced. And because the range will only activate when pans are placed on its cooking surface, the risk of burns and fires are dramatically lowered.
Induction Is More Accurate
Induction cooktops increase control and accuracy by enabling chefs to cook by power setting or temperature. Some commercial induction ranges have power settings ranging from 1-100 which enables chefs to have extreme precision and accuracy over the heat.
Induction Is Faster
Water boils faster on induction ranges, saving time for chefs and speeding up the back-of-house routine in commercial kitchens, where every second counts. Using an average commercial induction range, a 20-quart stockpot can boil water in 10 minutes, which is 4 minutes faster than if you were to use a gas range.
Induction Is Highly Efficient
Commercial induction ranges are 90% efficient when it comes to heat transfer. To put it into perspective, a gas range is less than 50% efficient. Gas ranges don't concentrate heat and instead disperse it on the sides of the cookware. Induction technology uses magnetic fields to directly heat up cookware.
Induction vs. Other Cooking Methods
Gas vs. Induction Cooking
Gas ranges use propane and other natural gas as fuel which inherently poses the threat of a gas leak. Commercial induction ranges reduce any potential for a gas leak because they are completely electrical.
Electric vs. Induction Cooking
Like induction, electric ranges use a coil to heat up the surface. Where they differ is how they heat: Induction ranges specifically use copper coils while electric ranges use metal coils. Instead of creating alternating magnetic fields, electric ranges heat the surface with infrared energy. The drawback of electric ranges compared to induction ranges is that they are slower to heat up and cool down.
Essential Features for Induction Ranges
Power and Temperature Control
Induction ranges allow for precise temperature control which helps chefs pinpoint the exact heat they need to prepare their food perfectly and safely. Maintaining temperature control helps to prevent the spread of foodborne disease.
Temperature Adjustments
Primarily, there are only two forms of temperature controls in induction ranges: knobs and digital controls. Whether you choose a knob or digital control largely comes down to personal preference. Digital buttons are able to accurately set temperatures while knobs are easy to adjust. Regardless, both forms of control yield the same results.
Precise Heat Transfer
When induction-ready cookware is removed from induction ranges, they shut off completely. There's no residual heat there because it's directly transferred to the cookware. Induction ranges only recognize objects that are large enough to trigger a sensor built into the range. Wristwatches and other small objects will not activate the sensor in the range.
Cooking Speed
Cooking speed comes into play when choosing the right induction range. Induction ranges that have a higher wattage transfer heat faster. Induction heat is generated when a magnetic connection is made between the induction unit and the pan. A higher-wattage unit cooks food faster than a lower-wattage unit.
Size of Unit
Induction ranges come in a variety of sizes. Knowing what you're looking to do with your range is going to help you choose the right one. Are you looking for a small countertop induction cooker? Or a heavy-duty induction range for back-of-house cooking that can fit multiple cookware on it?
What Is "Induction-Ready" Cookware?
Magnetized cookware are examples of induction-ready cookware. The whole basis of induction ranges is that they work off of alternating electromagnetic currents. An example of induction-ready cookware would be a cast-iron skillet. Aluminum and glass are examples of cookware that is not induction-ready.
Continuous vs. Non-Continuous Cooking
Continuous Cooking: All-day cooking at the back of the house.
Non-Continuous Cooking: Short-term cooking at the front of house.
---
Featured Vollrath Induction Ranges
Mirage Cadet
Supreme Value Perfect for Buffets
The entry-level induction range from Vollrath is packed with a powerful set of features and built to withstand repeated use and transport. If you're shy about including induction cooking in your dining room – start here.
Ideal for: Light commercial, sauté, and non-continuous small stockpot warming.
Mirage Pro
Pro Performance for the Front of House
The Mirage Pro by Vollrath is the flagship induction range and will be the star of your front-of-house service. With a next-generation heating engine, 100 power levels, and sleek compact design – the Mirage Pro is ideal for a variety of applications. It comes with a full 2-year warranty.
Ideal for: Light commercial, sauté, and non-continuous small stockpot warming. Preferred by chefs for a variety of cooking techniques.
4-Series
Next Generation Induction Technology
The 4-Series Induction Range by Vollrath has all the most popular features chefs have come to expect from induction. Precise temperatures, powerful heating, and intuitive usability have been complemented with an all new, upgraded redesign. Its high-power, reengineered induction technology includes an expanded magnetic field, pan detection, superior temperature control, and a faster boil than a gas range.
Ideal for: Simmering and boiling sauces and stocks, and deep frying.
Cayenne HD
The Ultimate Gas-Range Replacement
Take all the benefits of induction cooking and enhance your entire kitchen. Induction eliminates the air consumption tied to gas usage, which can help you save on heating and air conditioning. With 90% efficiency over 50% gas efficiency, imagine how much you could save in fuel costs each year!
Ideal for: Heavy-duty and supplemental back-of-the-house range cooking.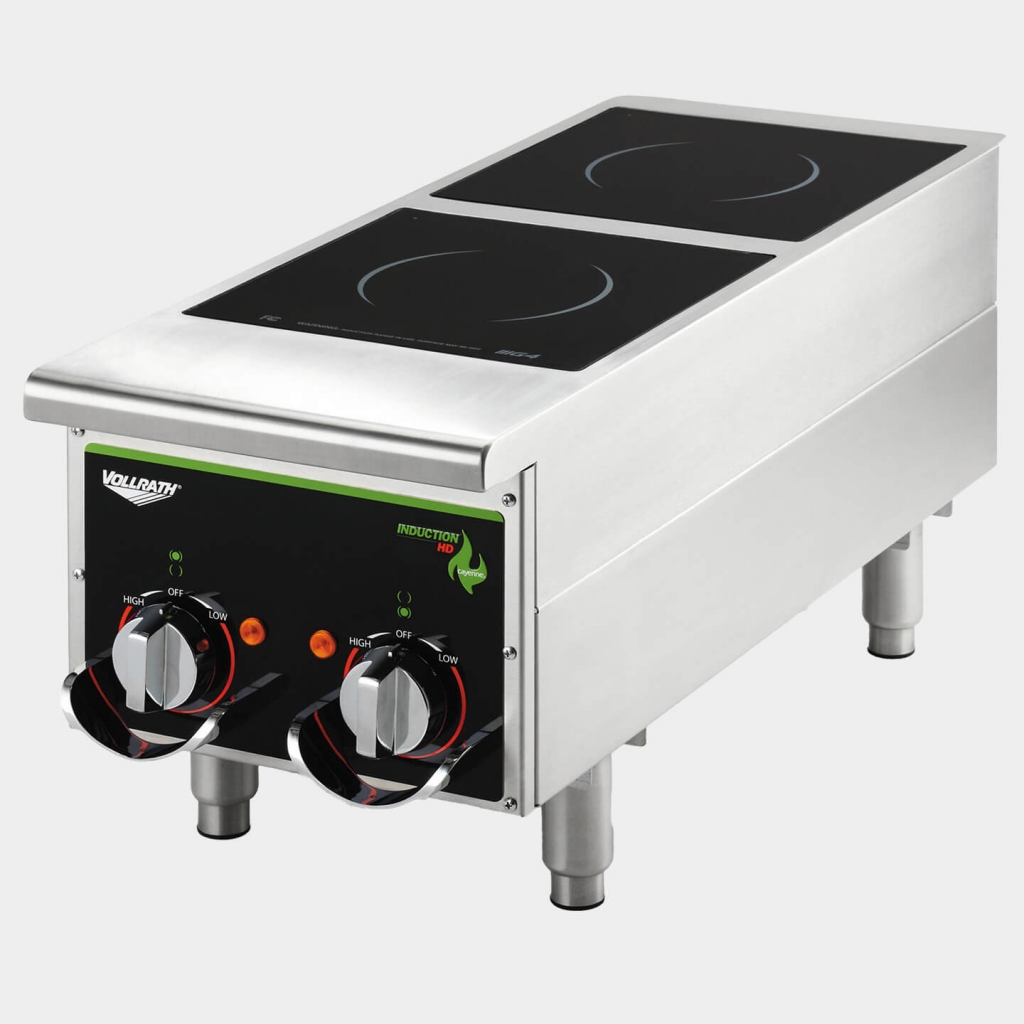 ---
Compare Commercial Induction Ranges Side-By-Side
Mirage Cadet
Mirage Pro
Cayenne HD
Output
1,400 - 1,800
Maximum Wattage
1,400 - 1,800
Maximum Wattage
11,600
Maximum Wattage
Ideal For
Light commercial, sautéing, and non-continuous small stockpot warming.
Light commercial, sautéing, and non-continuous small stockpot warming. Preferred by chefs for a variety of cooking techniques.
Heavy-duty and supplemental back-of-house range cooking.
Approx. Top Heating Temperature
460°F
524°F
550°F
Efficiency
75%
95%
95%
Power Range Settings
1 to 20
1 to 100
Rotary, 1 to 100
Warranty
1 year
2 years
2 years
Chosen By
Hotels, Caterers, Sub shops and delis
Hotels, Caterers, Casual dining restaurants, Quick-serve restaurants, Sub shops and delis, Stadium/arena luxury suites, Businesses and institutions, Pastry chefs
Restaurants - fine and casual dining, Hospitality, Colleges/universities, Culinary schools
Most commercial restaurants have gas ranges because induction technology is newer. Because of this, it ranks second behind gas with electric being less commonly used.
To recap about induction ranges.
It's safer. If there's no pan on the range, there's no heat being produced.
Induction cooktops increase control and accuracy, enabling you to cook by power setting or temperature.
Electromagnetic currents heat up faster than other range variations.
Induction is approximately 90% efficient. Compare that to gas, which is less than 50% efficient.