Ready for a safer, more well-organized commercial kitchen? Safety and sanitation have never been more important than today and maintaining a well-organized workspace is an integral part of that. Here are 15 commercial kitchen safety items by San Jamar that also streamline processes and procedures.
Saf-T-Ice Tote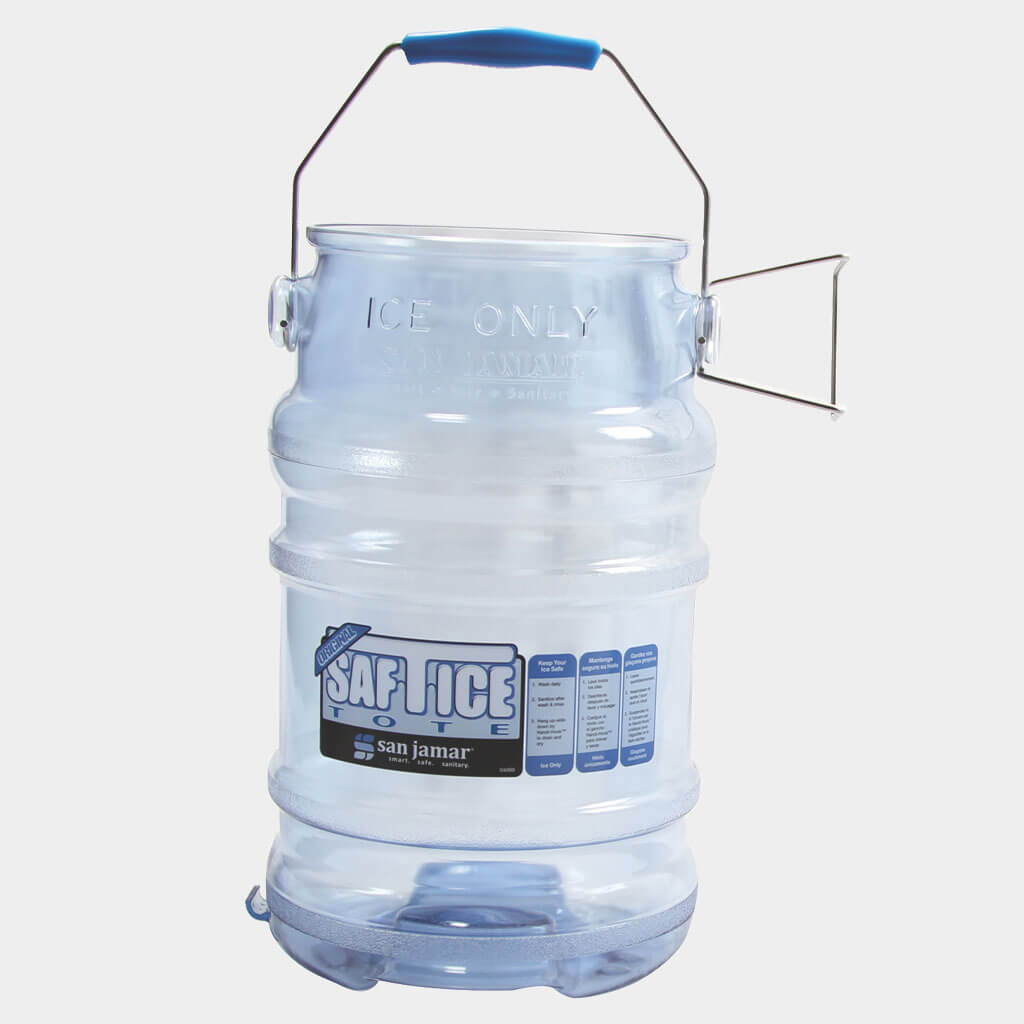 Protect your establishment's ice from contaminates during transport with a dedicated Saf-T-Ice Tote. This 6-gallon tote has a high carrying capacity of 25 pounds. Luckily, San Jamar anticipated the strain such a heavy load of ice could put on a person, and developed comfort handles with raised tri-grips. The handle design makes the 6-gallon tote easier to carry, improving safety during transport. Likewise, the raised tri-grips prevent hand contamination and makes for easy and safe pouring at any level.
Saf-T-Scoop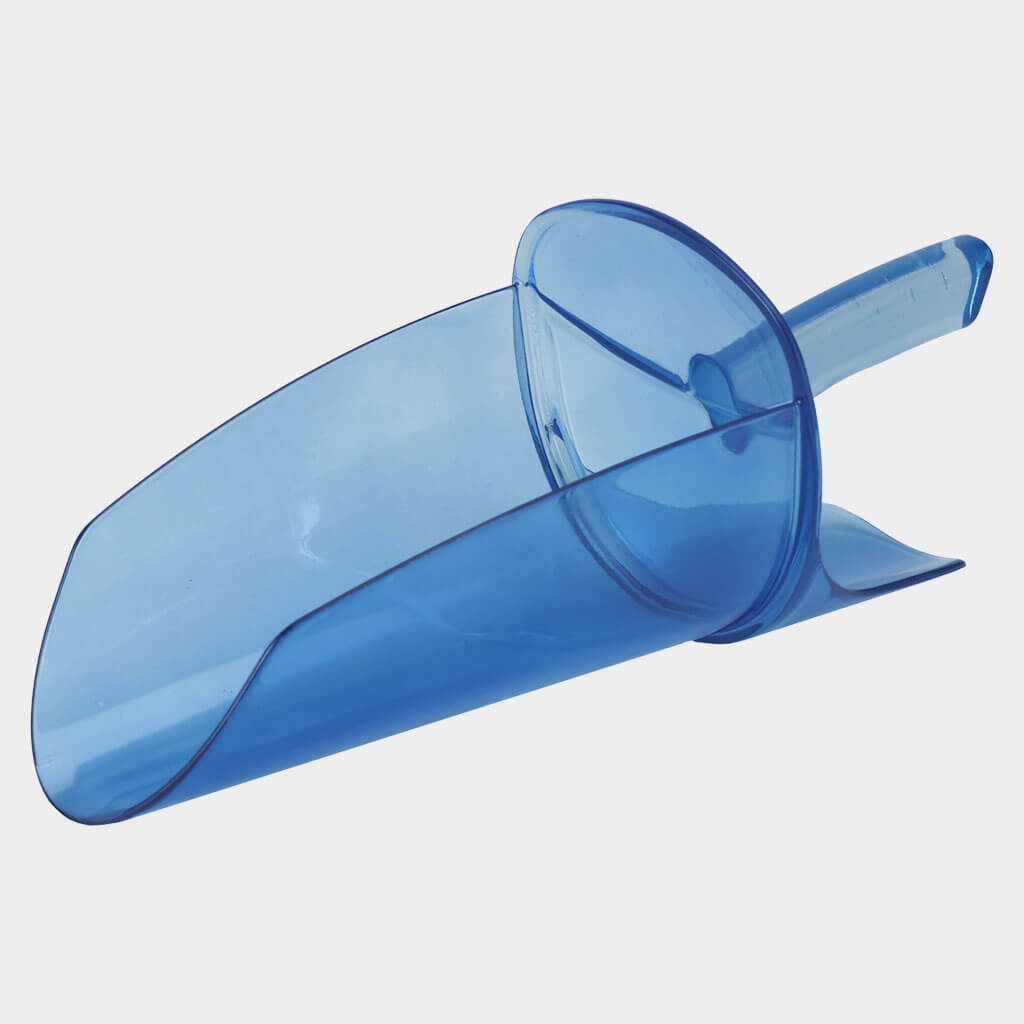 Stay one step ahead of the crowd and eliminate dangerous contact with the Saf-T-Scoop by San Jamar. Its domed scoop design encourages fast momentum and accurate filling while saving time and reducing spill hazards. This NSF-certified scoop is constructed from durable polycarbonate construction and is dishwasher safe for easy end-of-day cleanup.
Scoop Guardian System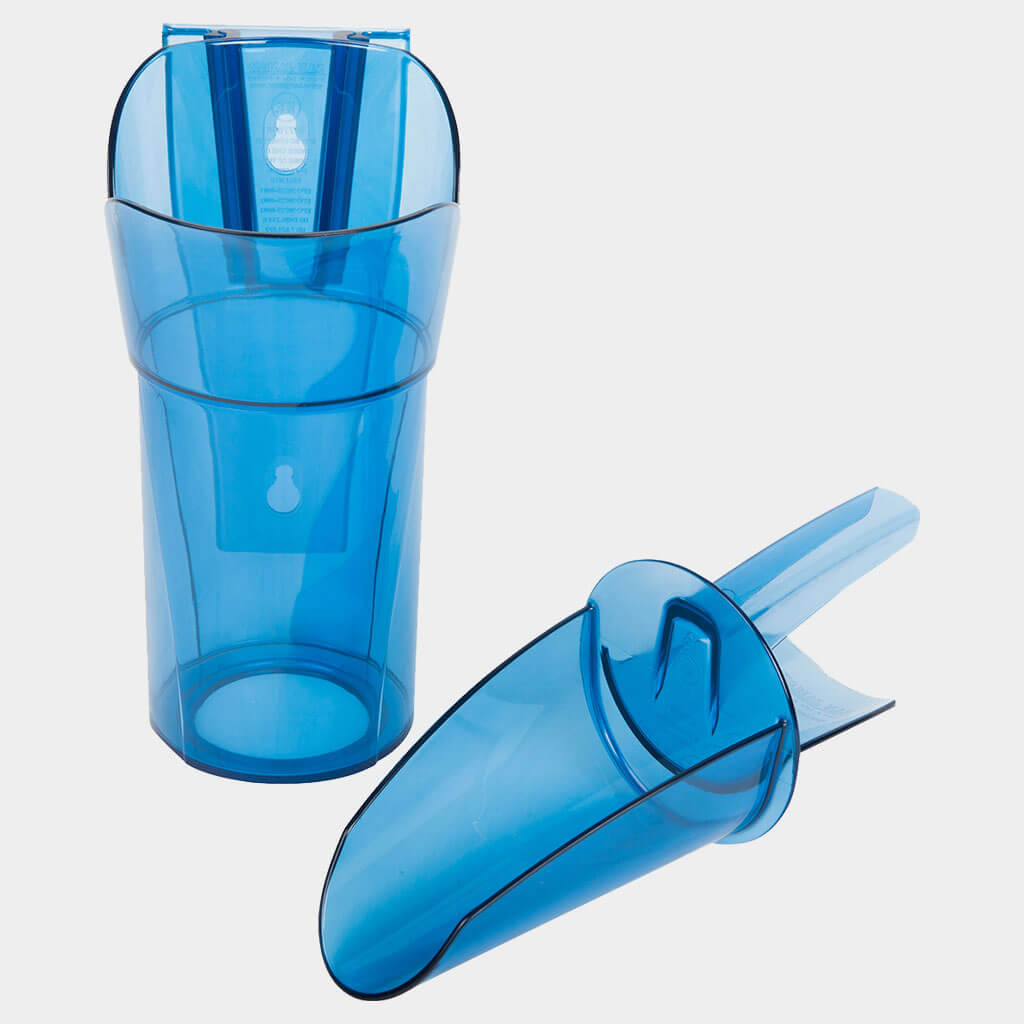 The Scoop Guardian System for beverage stations is comprised of two parts: the aforementioned Saf-T-Scoop and the Guardian holder which provides a dedicated storage solution for the scoop when it is not in use. The Guardian holder mounts inside or outside of ice bins and comes with suction cups, brackets, and hardware for convenient installation. And to keep things spick and span, the Guardian System is easily removeable for cleaning by hand or in a commercial dishwasher.
Saf-T-Ice Scoop Caddy
Having a dedicated ice scoop storage caddy handy helps prevent cross contamination and protects your scoops from harmful bacteria and dirt. Moreover, a dedicated caddy reduces the potential of a scoop being left in an ice machine overnight, when it should be getting cleaned in the dishwasher. The Saf-T-Ice Caddy works with scoops up to 86 ounces and features flexible mounting options with hardware included for your convenience.
Saf-T-Grip 6-Board System Set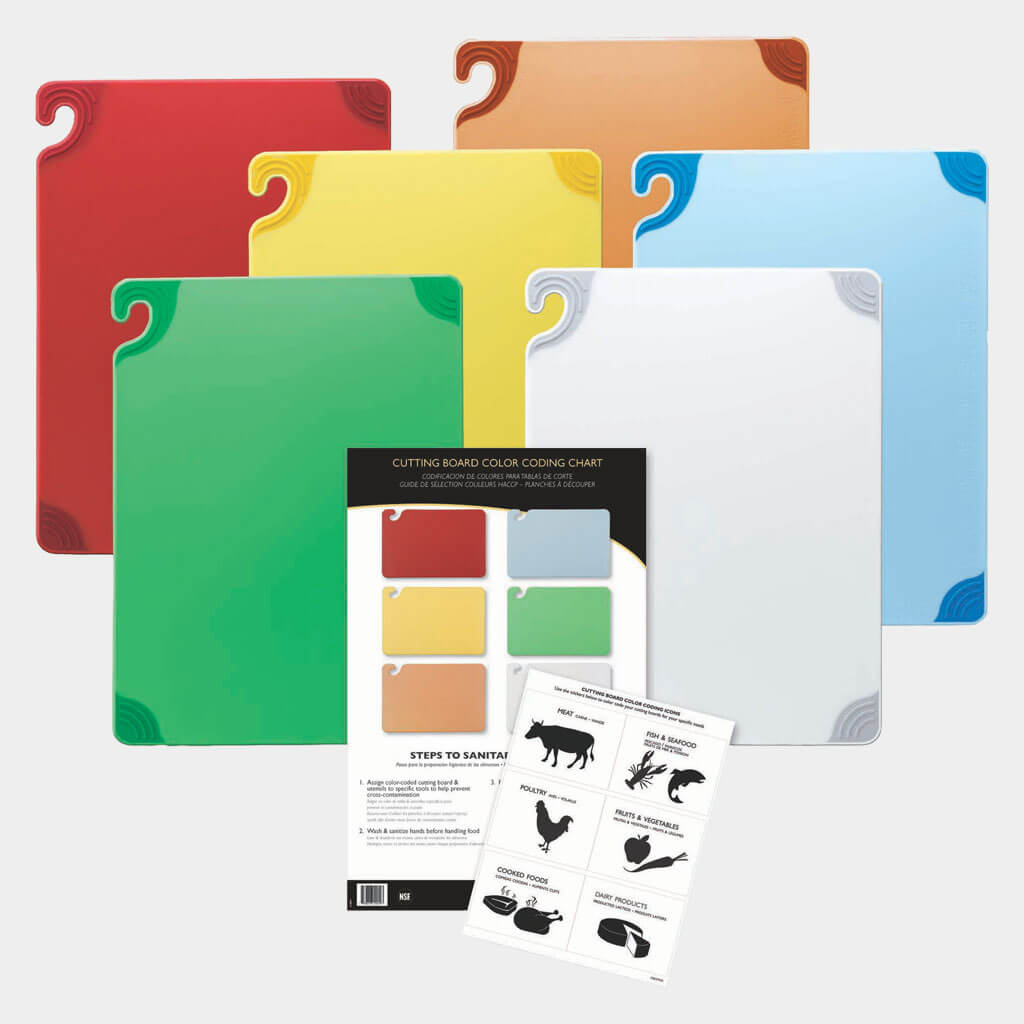 Prevent dangerous slips and cross-contamination with Saf-T-Grip cutting boards. This NSF-certified set is a necessity for commercial kitchens that cater to specific dietary needs, allergies, and philosophies. The HACCP coded boards not only bring some color into your life but were designed to meet health codes and minimize cross contamination.
The boards themselves combine quality and durability with integrated anti-slip grips to provide a safe cutting surface without using the unsanitary "wet towel" method. Likewise, its patented safety hook allows sanitary transport, storage, and peace of mind.
Saf-T-Grip Board Mate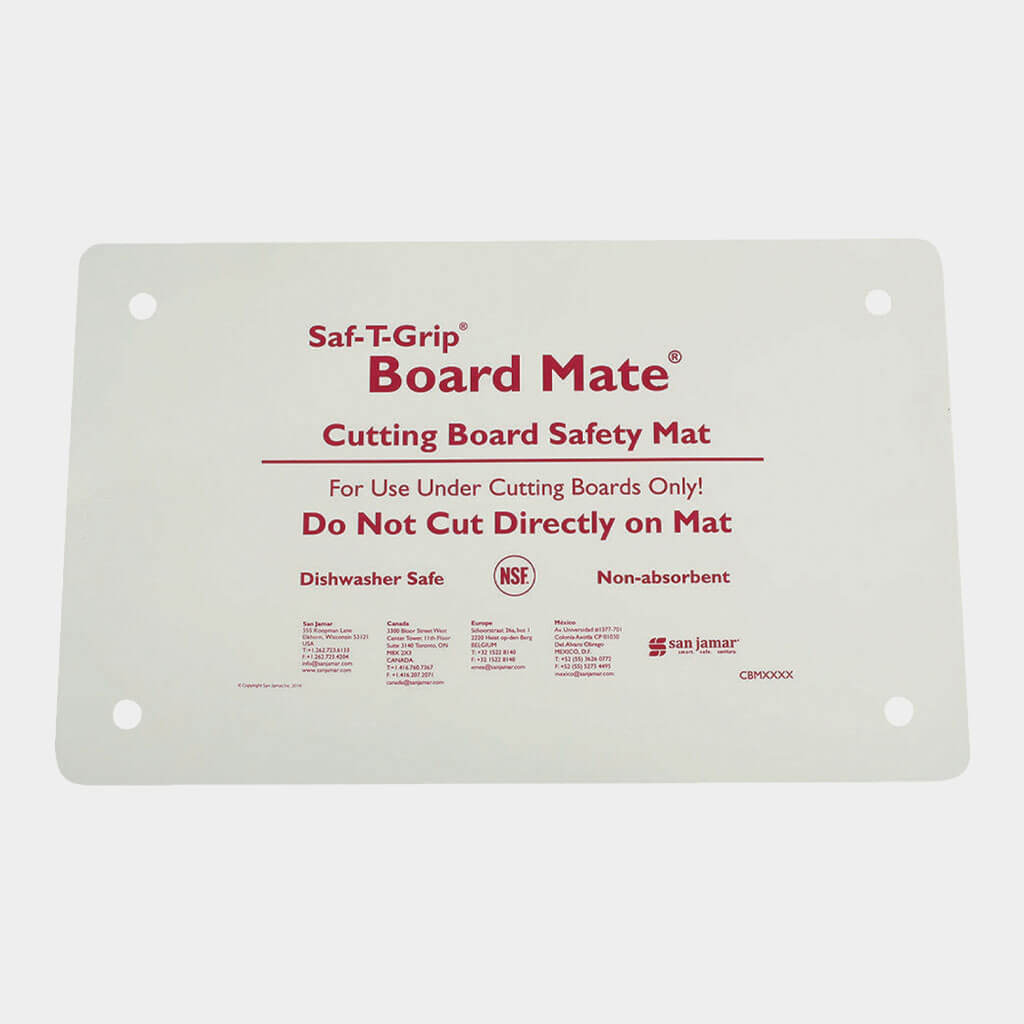 San Jamar's Board-Mate accessory is an easy tool for keeping cutting boards in place and reducing knife injuries on virtually any surface. Unlike the popular "wet towel" method, the non-porous material securely holds cutting boards in place and minimizes cross-contamination. San Jamar's Board-Mates are also NSF certified and dishwasher safe. Moreover, they have many alternate uses for creative kitchen types including doubling as mats to keep countertop appliances in place.
Rapi-Kool Plus Cold Paddle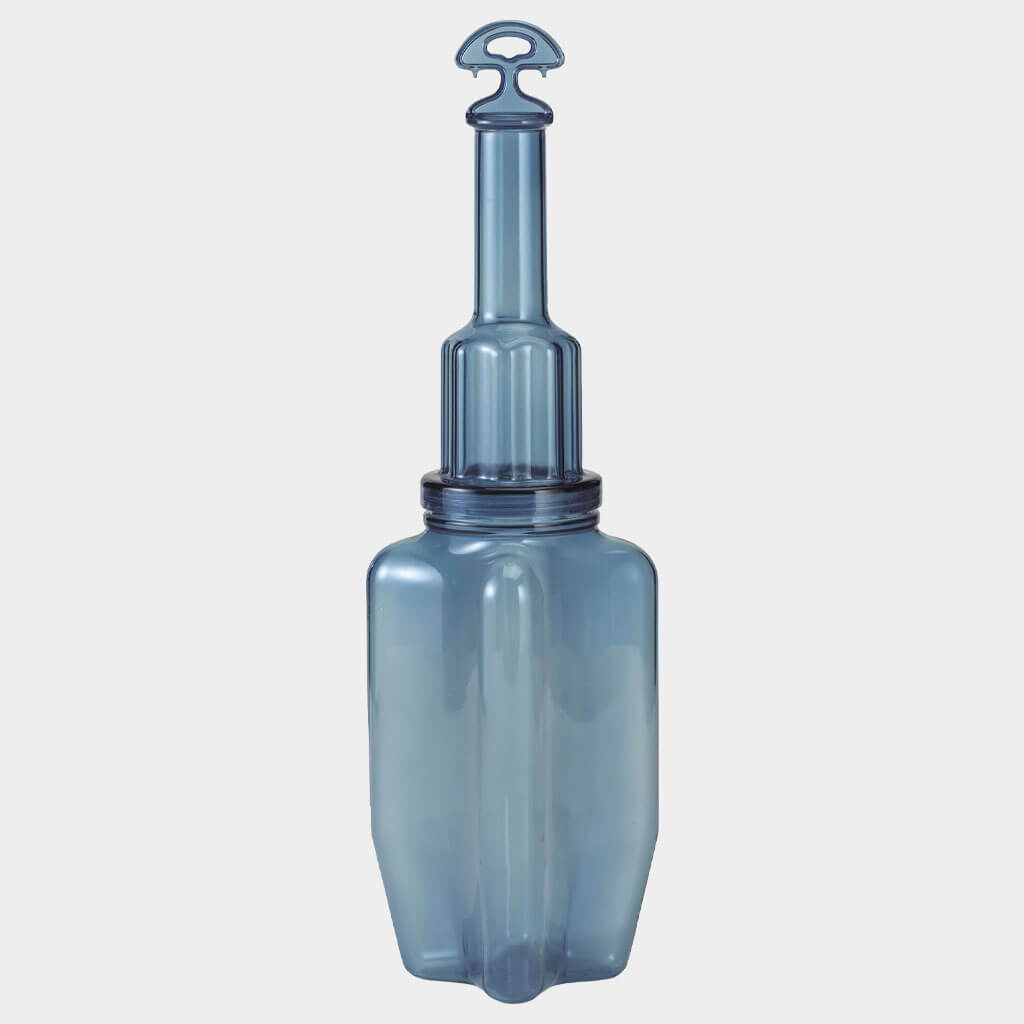 Harmful bacteria grow most rapidly in foods at temperatures between 40° and 135°F. Luckily, cooling food rapidly has never been easier! The Rapi-Kool Cold Paddle chills soup and stew quickly and safely from the inside out with special cooling "fins" that provide maximum surface area for faster chilling.
Better yet, the paddle simply fills with water to freeze ahead of time or fills with ice and water to use immediately. Water and ice easily load into the paddle, while San Jamar's patented Fill-Rite design eliminates over filling when pre-freezing.
Allergen Saf-T-Zone System
The Allergen Saf-T-Zone System These color-coded food service supplies help create or complement your existing food allergy prevention procedures. The pleasant purple color alerts your kitchen staff to follow food safety procedures that protect customers and your business from food allergies and lower allergic reactions in your establishment.
This set includes a case, board, chef's knife, tongs, turner, and thermometer storage. This set is NSF certified and commercial dishwasher safe.
Saf-T-Knife Station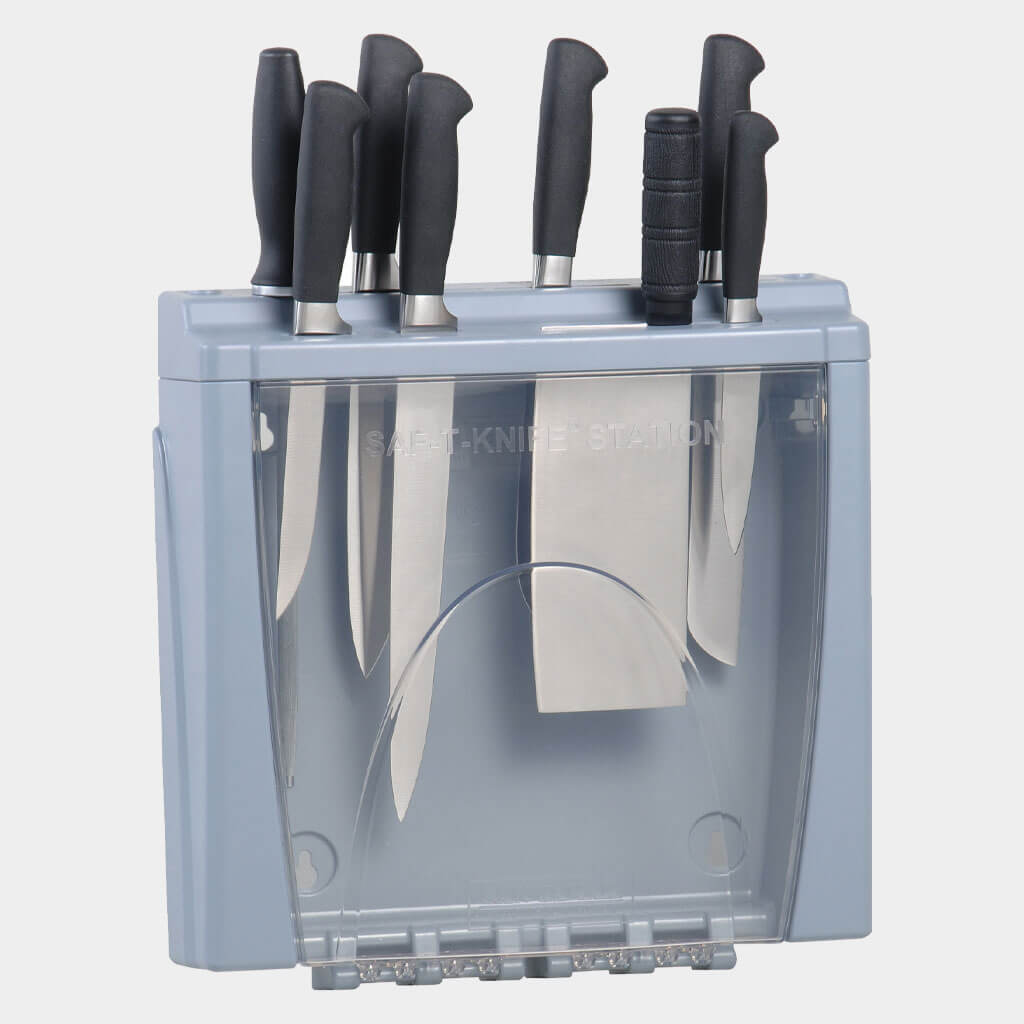 The Saf-T-Knife Station is an easy-to-clean, 3-piece construction that is commercial dishwasher safe. The clear-view door provides assurance that your knives are clean, sanitary, and ready-to-use and takes away the guess work of which knife to use. The slot configuration accommodates a variety of knife blade lengths and widths, while the top slot material won't dull knives. And what is more important in the food service sector than sharp, sanitary knives?
Kleen-Pail Caddy System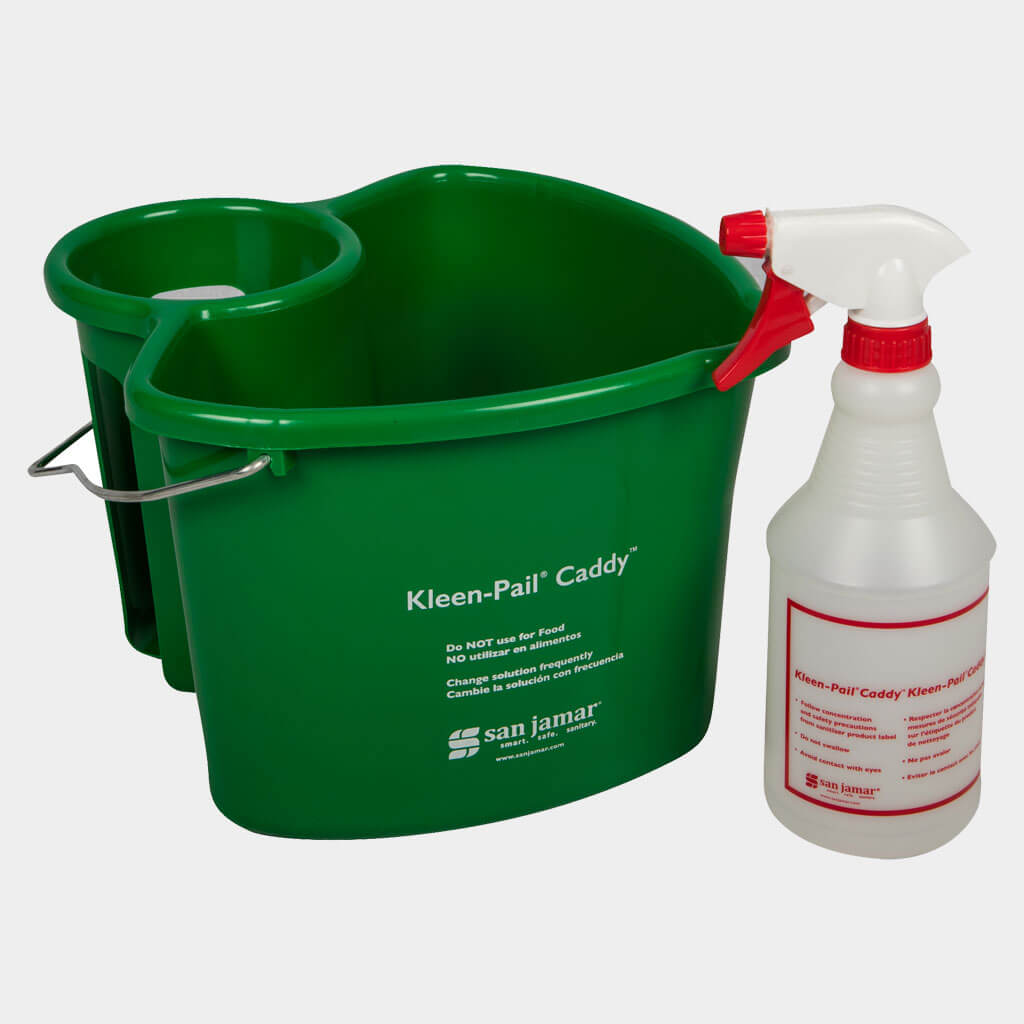 Looking for a new way to increase productivity? The Kleen-Pail Caddy combines the need for cleaning and sanitizing into one portable tool. This caddy features an integrated spray bottle for convenience, as well as graduated markings in quarts and liters so there's never any guess work about proper chemical dilution ratios. Additionally, there is trilingual labeling on the caddy and a clean pour spout.
Nitrile Gloves
are An absolute must have for every commercial kitchen are Nitrile gloves. They are 100% latex free, reducing the risk for employees with a latex allergy. Nitrile offers chemical and puncture resistance while remaining flexible for a comfortable, secure fit. Most importantly, this elbow-length pair offers heat protection up to 185°F/85°C which making them an invaluable addition for dishwashers.
D-Shield Cut-Resistant Gloves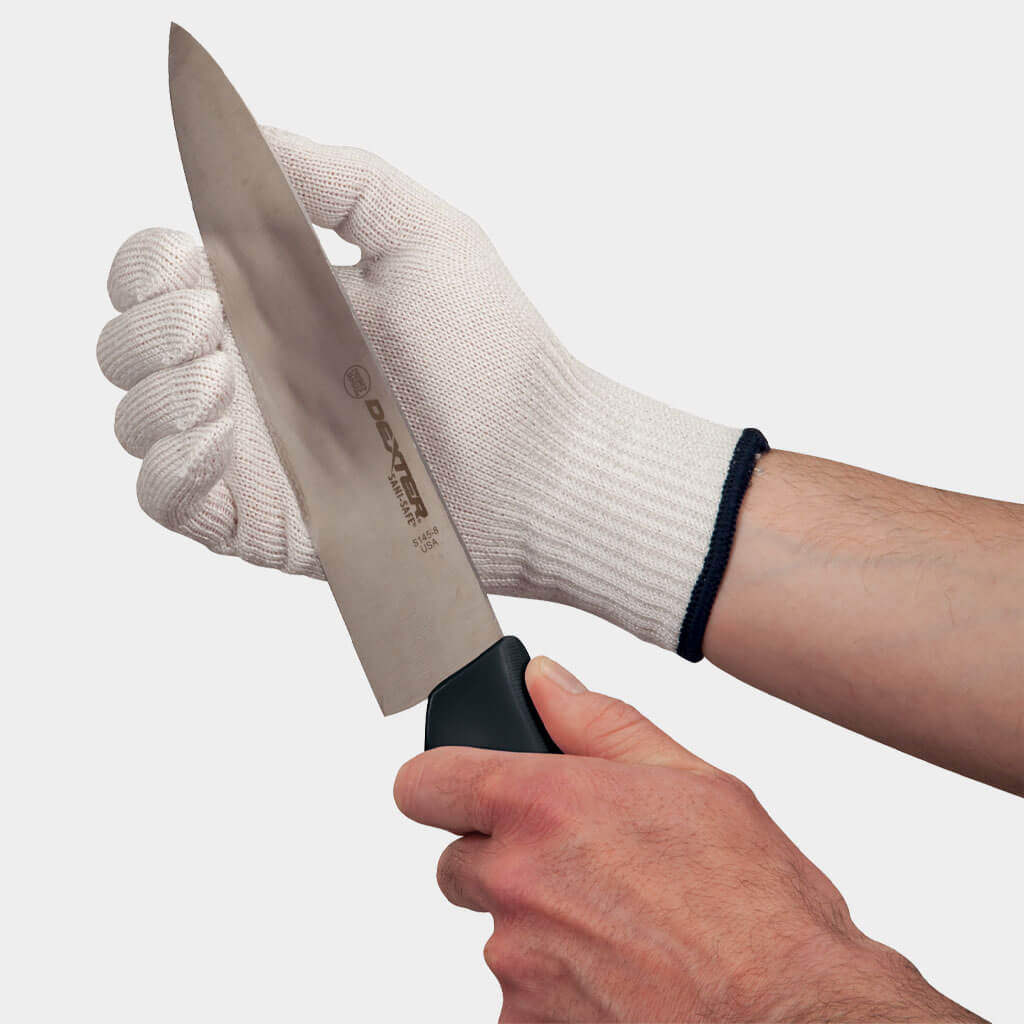 The American National Standards Institute (ANSI) rated D-Shield Gloves a level 4 in cut protection, meaning they can withstand 1500 – 2199 grams of cutting load without blade penetration. D-Shield Cut-Resistant Gloves are an affordable way to achieve superior cut protection. San Jamar's Dyneema seamless knit material offers both excellent cut protection for your employees as well as the dexterity they need to get the job done.
Safe-T-Wrap Station Dispenser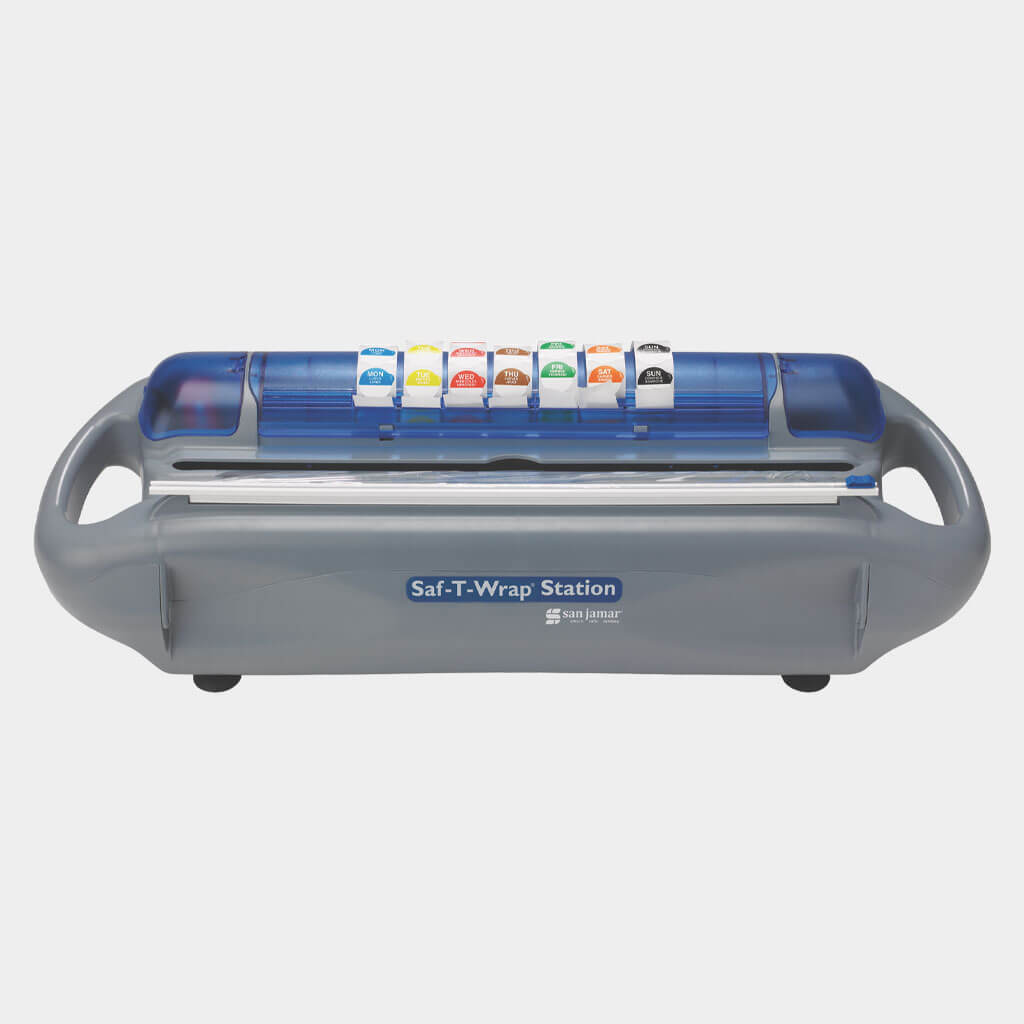 Can a commercial kitchen be too efficient? We think not. Which is why we love the Saf-T-Wrap Station as a food storage and labeling efficiency hack. Depending on your preference, the Saf-T-Wrap station dispenses film or foil while its design protects those rolls from contaminants. And instead of reaching for a separate set of tools for labeling, a dispenser is built right in, saving you valuable moments. Along with a label dispenser, there is a storage area for handy tools like pens, markers, scissors, and box cutters so you will have everything you need right in reach.
Mani-Kare Bandage Value Pack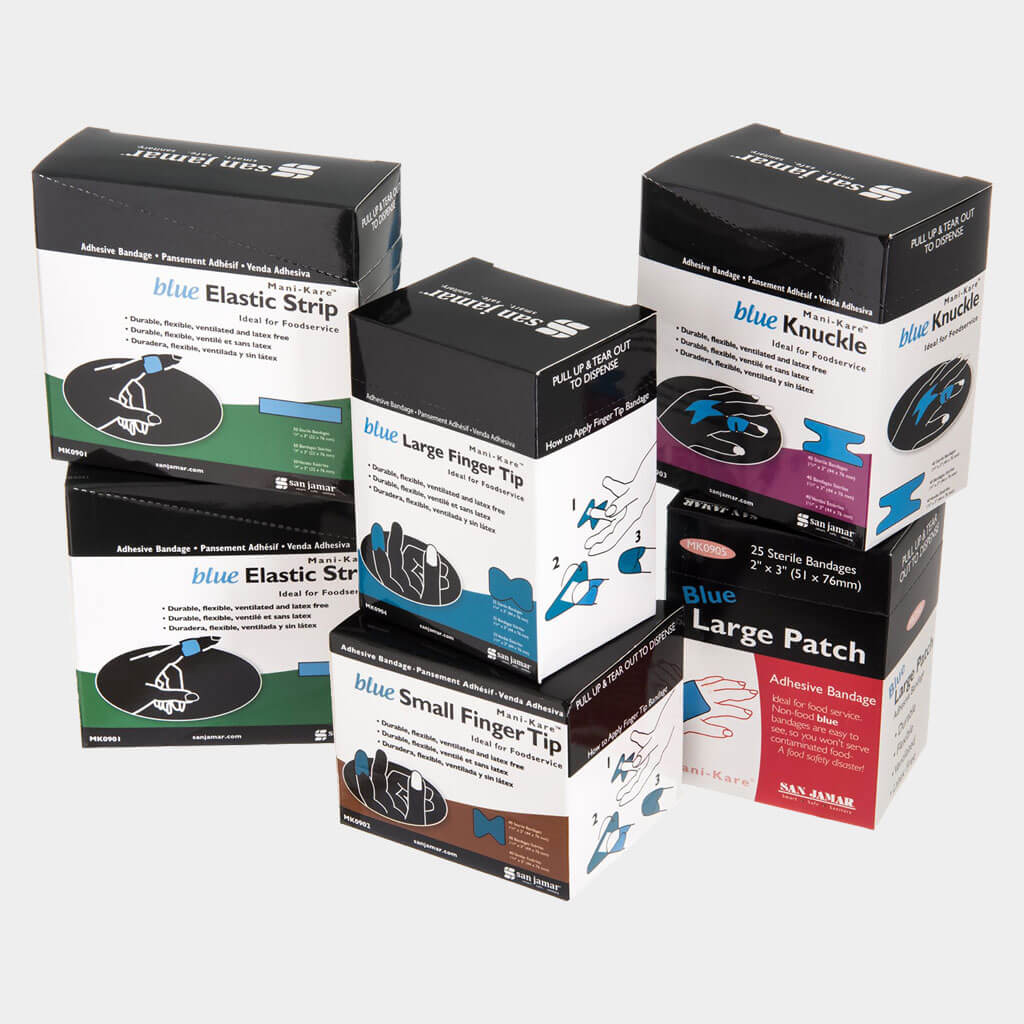 One thing we can count on in even the safest of commercial spaces is accidents will happen. And for those accidents, we have Mani-Kare bandages, aka, the perfect kitchen bandage pack for a multitude of reasons. Firstly, the five different sizes of bandages included in the value pack are latex free and made from hospital-quality, breathable, and flexible cloth.
Aside from high-quality care for your kitchen staff, if the unthinkable were to occur and a bandage fell into food, Mani-Kare bandages are bright blue for just that reason. With this in mind, they are just as easy to spot in a vat of soup as they are a pasta dish.
Mani-Kare Bandage Dispenser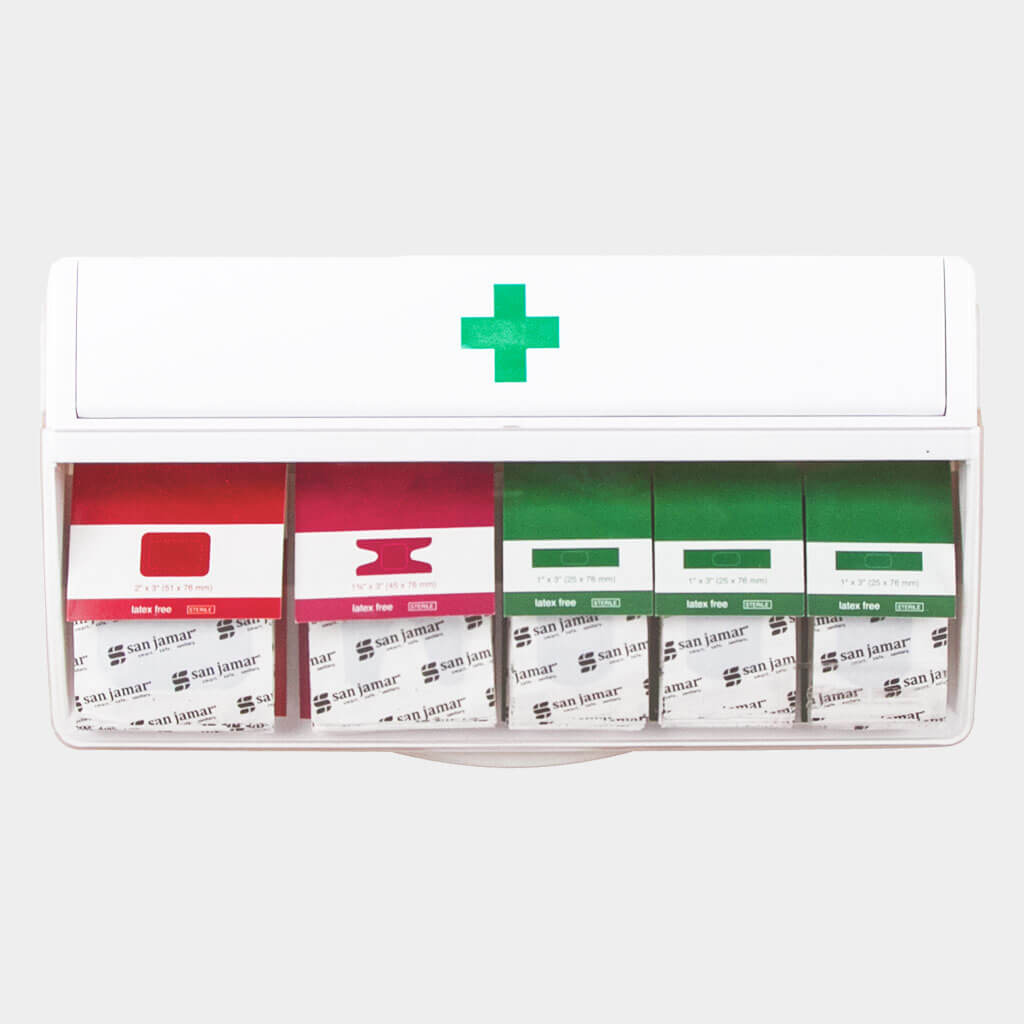 For a secure and sanitary way of dispensing your Mani-Kare bandages, this dispenser mounts to a wall to save valuable counterspace, and provides organized, reliable access to bandages in times of need. In the event that an accident occurs, this NSF-certified dispenser operates with one hand for ease of use. Likewise, it only dispenses bandages one-at-a-time to reduce waste. The upper compartment locks as well, to eliminate pilfering by kitchen staff. With this in mind, the Mani-Kare Bandage dispenser a sound investment for any kitchen concerned with safety and organization.
About San Jamar
Smart. Safe. Sanitary. The kitchen is the heart of your foodservice operation. San Jamar products ensure that you keep it as safe as possible. With this in mind, we carry the most innovative and sanitary cutting boards in the industry. Additionally, our hand safety products were designed to protect your kitchen staff from cut and burn injuries. Moreover, San Jamar products are made to support you and your business with both sanitation and safety as a top priority. Above all, we help you meet the most stringent food safety standards and health codes.