Outdoor dining is the chance for your patrons to feel free, festive, and relaxed. Enjoying a delicious meal outdoors with friends and family is one of our favorite parts of the warmer months.
Operators love it as well because the joyous mood dining al fresco creates also lends itself to more profitable order values. Our guests aren't in a rush when dining outdoors. In turn, they tend to order more appetizers, shareables, beverages, and desserts.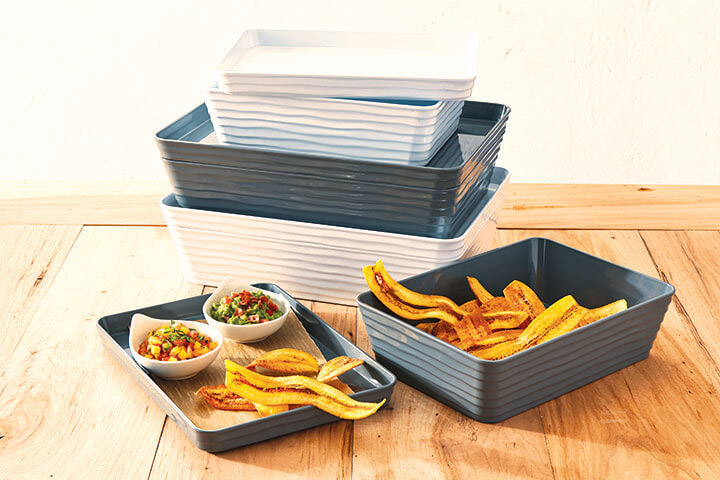 Make Your Outdoor Dining Program a Success
If your poolside, roof, garden, patio, or sidewalk venue isn't setup properly, it could lead to a loss in profit. However, selecting the best dinnerware for your customers outdoor dining experience can ensure a successful and profitable outdoor addition to your foodservice operation.
We love our ceramics, glass, stoneware, and porcelain. However, those materials are simply too fragile for outdoor service. Now, thanks to growth in technology and design practices, virtually unbreakable dinnerware can look as good or better than upscale yet breakable pieces. To exemplify this trend, we've selected several new lines of plates, bowls, and beverageware that provide modern service solutions while looking amazing.
The Blend Collection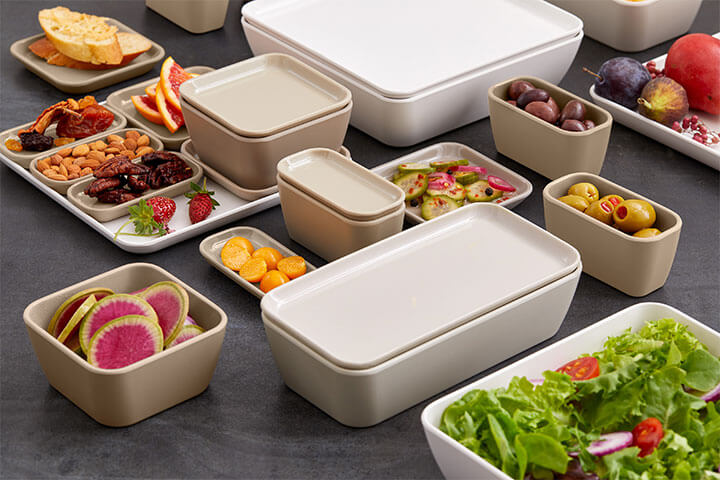 Creative chefs and Tetris fans alike will greatly appreciate this fun line for the outdoors or indoors. The Blend Collection was inspired in part by Japanese bento boxes and in part by puzzles, resulting in an endless number of plating options. Being outdoor friendly, if a plate falls on concrete it won't chip, break, or shatter due to its durable melamine construction.
The Blend Collection uses varying shapes and sizes of plates and bowls in three calming shades of Cream, Biscuit, and Coffee. Each shape works together so that they can be artfully arranged, no matter how you choose to use them. And in a mark of ingenuity, each plate doubles as a lid to keep food warm and to dissuade any insects that try to crash the party. The Blend Collection is a versatile solution ideal for the outdoors, intimate settings, and family style celebrations.
Naturals Collection Bento Boxes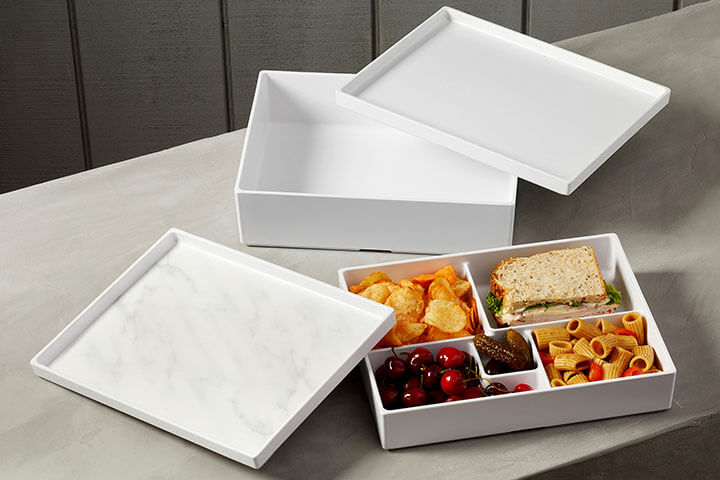 Speaking of bento boxes, we found a sleek commercial line ideal for the outdoors. These bento boxes allow food to be the star, while providing a sophisticated, minimalist canvas. Bento boxes keep food separated and allow for an organized presentation that elevates the most casual of meals. Lids are the perfect add-on for the outdoor as guests can easily shield food from sudden inclement weather and insects.
The Naturals Bento Collection comes in White boxes, trays that double as lids, and compartments. If your presentation calls for a touch of classic elegance, they've also produced a White Marble lid/tray, designed to work with the rest of the collection.
A thoughtful box without compartments is also available, to include in your Naturals Collection Bento Box presentation. Simple box options are lifesavers when plating aesthetics necessitate a larger canvas, and allow you to maintain a perfectly cohesive look.
Bento boxes are stackable to save valuable space in the back-of-house and their melamine construction means that they are unbreakable and easier for servers to carry compared to the heft of stoneware, ceramics, and porcelain. Give them a try for a fun, elegant, and unbreakable summer.
Del Mar Poolside Collection
Keeping broken plates and shattered glasses far away from swimming pool areas is a must. Luckily, we found the perfect solution in a line designed with poolside service in mind. The Del Mar Collection comes in a variety of shapes and sizes in colors that blend seamlessly with most décor styles.
Del Mar means "of the sea" and was specifically designed for entertainment near or in water. These pieces offer a classy yet casual vibe. They are virtually unbreakable, to keep your swimmers safe and replacement costs at bay. Inserts are also available for bento-style presentation and the lids of each bowl/box can function separately as a plate or tray, making this an very versatile collection.
Add to that, servers prefer these dishes because they are lightweight. A lack of heft means servers can carry more at once, work faster, and break less of a sweat out in the summer sun. The back-of-house appreciates that they are easy to wash, stackable, and can double as indoor dinnerware in a pinch. The Del Mar line is made from easy-to-care-for ABS plastic that is BPA free and dishwasher safe.
Marra Dinnerware Collection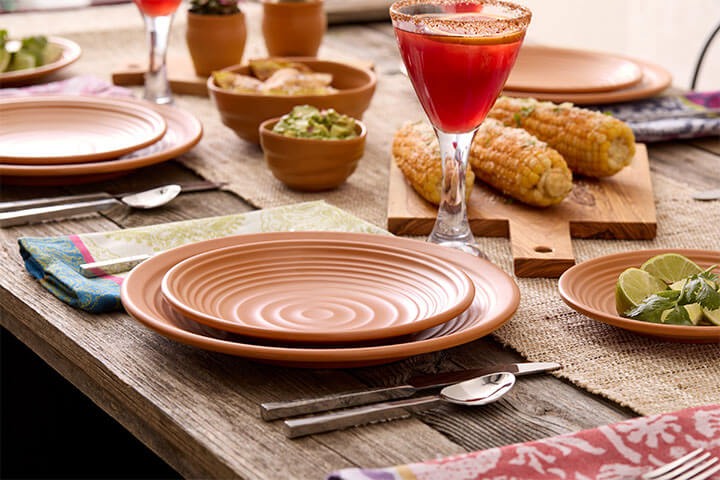 Terracotta, meaning "baked earth" is most often considered the quintessential gardening container. For an inspired warm-weather aesthetic that celebrates nature, look no further than the Marra Collection.
Made with today's menus in mind, the Marra Collection is a globally inspired line of strong dinnerware. This collection of plates, bowls, and pots appears to be made from real terracotta. However, looks can be deceiving. The Marra Collection is made from durable and easy-to-care-for melamine, for a pottery-inspired look at the fraction of the cost.
This collection is a wonderful canvas for a farm-to-fork motif because it beautifully enhances the bright color of vegetables and lends itself to an upscale rustic dinner table. The terracotta inspiration reminds dinners to relax and enjoy the simple things in life, like having a memorable meal with their nearest and dearest.
Parker Beverageware Collection
Keep breakable glass indoors with the Parker Collection. Made of Tritan, an ultra-durable copolymer, this collection captures the look of delicate crystal, perfect for outdoor dining.
Available in stemware, heavy-based drinkware, and a carafe, the Parker Collection has your outdoor beverage programmed covered. The clean design compliments any style, making it a wonderful investment for keeping your guests hydrated outdoors or indoors. The Parker collection is BPA free and commercial-dishwasher safe for fast and easy cleanup.
Lilli Beverageware Collection
The Lilli Collection is a line of beverageware that captures the vintage charm of embossed glassware. This versatile line can be the star of your tabletop when matched with minimalist dinnerware or integrated into an eclectic theme full of style and whimsy.
This line was made with durable Tritan construction. Its strong construction means you won't have to face replacement costs when patrons have had a little too much fun. Additionally, the Lilli Collection of beverageware has a stackable option, is dishwasher safe, and easy to clean.
The design ideals of the Lilli Collection provide nostalgic fashion and subtle playfulness to your tabletop in a unbreakable form. Its durable design is perfect for many places including rooftop gardens, chic outdoor seating, bohemian design motifs, and in outdoor bars with string lighting. They are simply adorable.
En Plein Air
Keep your guests ordering drinks and food all summer by providing them with modern outdoor dinnerware that encourages carefree relaxation, and will make your al fresco tabletops look amazing. As a bonus, your lack of replacement costs during the warmer seasons will save your business money and time, allowing you to focus on maintaining or expanding your outdoor dining program. Cheers to spring and summer!
Partnered With American Metalcraft
You make great food. We make products that elevate great food. Wherever crowds need to be pleased, American Metalcraft is there to elevate your culinary creations.
Restaurants or grocery stores, hotels or catered events — we see them all as arenas for show-stopping meals. Over 70 years ago, we broke into the industry by turning hubcaps into deep dish pizza pans and custom plate covers. We've since grown our product line into an expansive, eclectic collection of food presentation solutions.
Our product names and descriptions aren't rules; they're suggestions. If you want to use storage jars as cocktail glasses, bread baskets as dinnerware or pizza peels as serving trays for sophisticated entrees, we won't be upset. In fact, we'll be honored that you found inspiration in our goods. It all boils down to this: great food deserves great presentation.