A new cooking show is taking center stage but this time, plant-based cuisine is the star. Top Vegan invited eight gifted contenders to Mitchell Hall — a state-of-the-art culinary facility in Columbus, Ohio — to participate in a series of challenges that assess their culinary prowess, creativity in the kitchen, entrepreneurial savvy, and of course, introduce more people to vegan cuisine.
Top Vegan, hosted by the talented restaurateur/actor/comedian, Chad Goodwin, will premiere April 20th on Youtube. He, alongside a slew of guest judges from the Columbus food scene, will determine who wins $10,000, a business mentorship, and the coveted title of Top Vegan. We caught up with Chad at his restaurant 4th & State to find out more.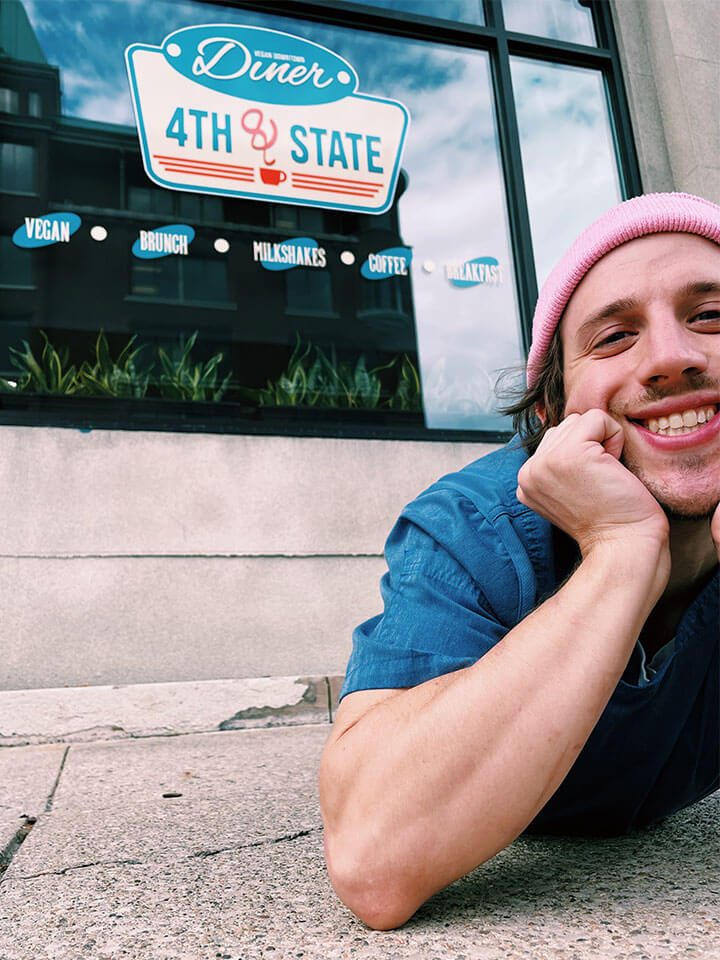 Portrait of a Vegan Entrepreneur
What sparked your interest in veganism?
I was raised in a small town in Indiana, with a classic American diet. In fact, the Jr. Bacon Cheeseburger at Wendy's was my first love.
Growing up, my friends and I had very entrepreneurial spirits. We also had a strong desire to save the world. Then, in 2016, we watched the documentary Cowspiracy and decided it made sense to eat a vegan diet — both eco-conscious global sustainability and animal welfare was on the forefront of our minds.
I noticed you paid tribute to your first love with the Jr. Fakin' at 4th & State.
I did. Maintaining a vegan diet doesn't mean you have to give up your favorite flavor combinations. Not everyone is willing to jump through hoops for plant-based food. We want to make veganism easier for people. We believe more people will invite vegan ideology into their lives if it is just as easy to find and equally or more cost effective than animal products. So at 4th & State, we offer traditional American diner fare made from plant-based ingredients.
And, of course, you can't force people to change. Our goal is to provide the place and the options to easily explore vegan cuisine and make it a fun culinary adventure. There are a lot of great vegan options in Columbus now, so if they like the food here, maybe they'll be inspired to try one of the other restaurants.
When some people explore veganism, they put immense pressure on themselves to execute the lifestyle perfectly. Is perfection necessary?
When perfection is the standard, it can be very daunting to start. For instance, imagine starting a fitness program by holding yourself to the standards of an Olympic athlete. It's not necessary. Going for a 30-minute walk every day provides great benefits to the mind and body.
Life is rarely lived on the ends of the spectrums. So much of it is in the middle. Finding the middle ground means finding ways to compromise and take small steps in the right direction. You don't have to be perfect. Every bit of effort helps our planet and its inhabitants.
What are some misconceptions people have about vegans?
The pervasive stereotype is an arrogant individual who feels they live on a higher moral plane and lives on kale and quinoa. On top of that, there is a lot of confusion about veganism itself. How do vegans get their protein? Will I have to give up my favorite foods? A lot of those major tenants are topics we address on Top Vegan.
Episode 1 is about classic American dishes to show our viewers that your favorite flavors or dishes from childhood can be remade vegan and be just as good. Another episode tackles the protein challenge. We wanted to show that plant-based ingredients create a comprehensive, nutrient-dense meal within themselves, protein and all.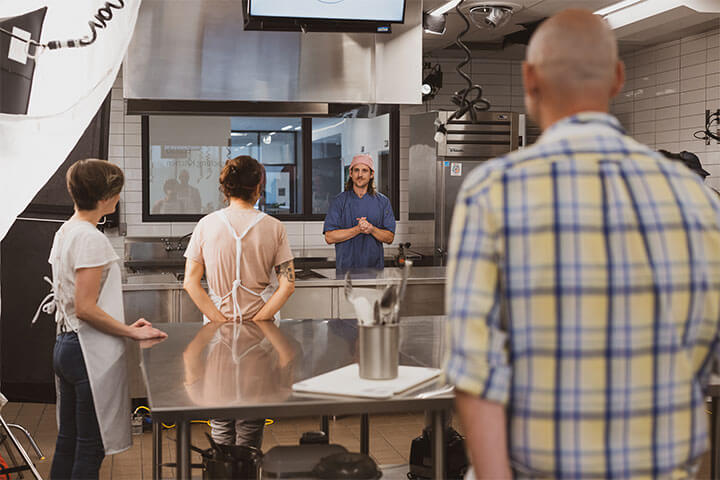 Producing & Filming Top Vegan
Getting back to the show, tell me about the contestants. How did you choose them? What are their backgrounds?
Our contestants sent photos, descriptions of their food, and answered a survey, allowing us to assess how comprehensive their dishes were and suss out their level of investment.
These are all chefs that are looking to advance their culinary careers and working towards their dreams. Some own small restaurants, some fulfill their passion as a private chef. One woman, Nowel, successfully manages her autoimmune disease with a vegan diet. 
Our contestant, Teresa, is a stay-at-home mom who prepared vegan meals for her family for 25 years. It was her life's dream to compete because she had seen every season of every cooking competition show out there. Since she had been vegan forever, she never thought there would be an opportunity like that. I almost cried just reading the application. It was great to be surrounded by not just talented people, but kind humans.
Considering this is an American reality show I have to ask, did your contestants bring the drama?
We did have one mishap referred to as Blendergate. Someone had a blender's worth of their sauce accidentally thrown out by another contestant. Check it out in Episode 3 — It's a wild one in the kitchen.
Truthfully, it was much less cut throat than most American reality shows, and the contestants became great friends. They were people just trying to give it their all.
Filming in Mitchell Hall
Speaking of the Top Vegan kitchen, as you know Cameron Mitchell Restaurants and Wasserstrom partnered together to build and design Mitchell Hall. Did it work well for filming a reality series?
The space was perfect. In the early conception of the idea, my most pressing thought was where in the world are we going to film this thing? I know Gordon Ramsey builds his own kitchens for Next Level Chef and Hell's Kitchen. We, however, didn't have the funds to start from scratch this time around.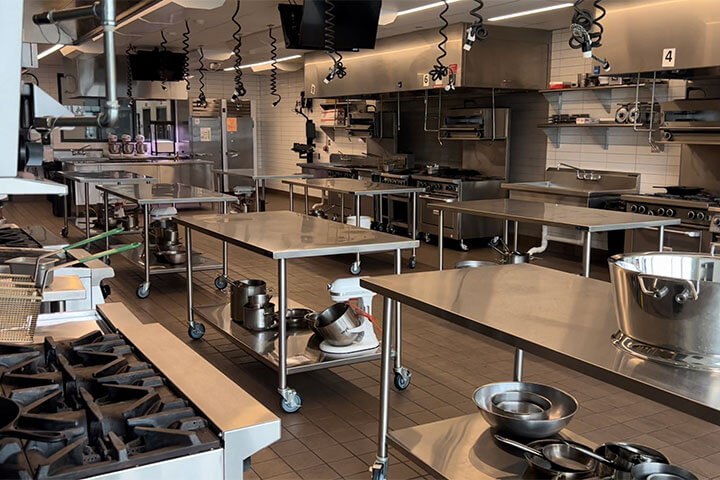 I needed a kitchen that was both economically viable and big enough to host multiple contestants all cooking and competing at once. We also did not want our contestants competing for resources. Our kitchen in Mitchell Hall had eight stations, all with flattop griddles, grills, fryers, and really anything a chef could need. With veganism, there is a lot of high-powered blending and food processor action involved and there was more than enough to go around.
We wanted our contestants to focus on their food and not experience stress over equipment or turn a lack of resources into a competitive twist. One of the contestants even found a mini waffle maker that she used for her oyster mushroom chicken and waffle sliders. They were divine.
Learning Through Experience
As a performer, you're no stranger to the entertainment industry. Did anything surprise you about working on a reality series?
Filming each day took so much longer than anticipated. I told our first guest judge I only needed them for three hours tops. Pop in, try some dishes, then pop out. Those three hours turned into eight hours. Learning on the job really gave me a deeper appreciation for other cooking shows.
Getting to know the cast and crew was very fun and very moving. Except during eliminations. It's hard to see people go. With every elimination there are tears, especially as the season moves on. As fun and exciting as it was to choose them for an opportunity to chase their dreams, it was equally as heart wrenching to send them home. So really, the biggest takeaway from the show for me is that there are just so many amazing people out there.
Did you have an entrepreneurial spirit even as a child? Were you a proprietor of lemonade stands?
No lemonade stands but I was always drawing, making up movies, and just full of ideas. I don't think my ideas reached economic viability until I was in high school. My friend and I started a business called Manly Man Mulching. In the springtime we put up a bunch of flyers in mailboxes that read "Need help mulching?" "Want us to edge your yard?" We got a few gigs.
Later in college at OSU there was a football player, Ezekiel Elliott, who always rolled his jersey up into a crop top. So, we made a bunch of crop top jerseys and sold them. That was the only thing we ever did in college that made money. Then, we used our $1500 in crop-top profits to fund a vegan test kitchen and host pop-ups at our house for friends and family, which was our initial foray into the restaurant industry.
We can't wait to watch Top Vegan and look forward to your future adventures. Thank you for speaking with us today!
You're very welcome. Be sure to check out the series premiere on April 20th.