Every appliance and utensil in a professional kitchen are valuable members of the team, each with their own function and responsibility. A high-quality, sharp chef's knife, however, may be the single most important tool found in any commercial kitchen. For our knife review, we will talk about the ins and outs of four popular eight-inch chef's knives.
Mercer Culinary Millennia 8″ Chef's Knife
Mercer Culinary's Millennia knives are an innovative line featuring high-performance tools that meet the demand of the modern chef. The key feature of this knife that culinary artists flock to is the high-carbon Japanese steel blade, known for its durability and strength.
When constructed with high amounts of carbon, it is easier to temper and harden blades during production. Thus, due to this blade's high-carbon content, the Millennia Chef's Knife is very strong, razor-sharp, and even easy to re-sharpen.
Mercer chose raised Santoprene, a high-performance thermoplastic elastomer, for their textured handle because of its ability to improve both grip and comfort. To offset the amount of potential kitchen accidents, additional textured finger points provide slip resistance and increased safety.
When working with carbon-steel blades, please remember that they are prone to rust if not properly cared for. Therefore, keep your knife dry and out of the dishwasher. Last but not least, the Millennia knife is NSF certified.
Dexter Russell SofGrip 8″ Chef's Knife
All professional chef's knives slice, chop, and dice with artful precision. However, to avoid stress to the hand and prevent injury like carpel tunnel syndrome, we recommend the Dexter Russell SofGrip Chef's Knife.
Dexter Russell's SofGrip Chef's Knife is a leader in non-slip handles. You not only reduce the chance of future injury, but it makes it much easier for chefs with cranky hands to get their work done efficiently and with precision. For cooks suffering from arthritis or carpel tunnel syndrome, the soft, textured handle allows for a tighter grip which prevents accidents and increases control of the high-carbon steel blade.
The seal between the blade and handle eliminates any chance of water or bacteria creeping in, making this knife a fantastic choice for safety and cleanliness. Last but not least, the Dexter Russell SofGrip Chef's Knife is NSF certified and made in the USA.
Victorinox Fibrox Pro 8″ Chef's Knife
If you're looking for a highly reputable, professional kitchen knife that is also dishwasher friendly, then we present the Fibrox Pro Chef's Knife by Victorinox.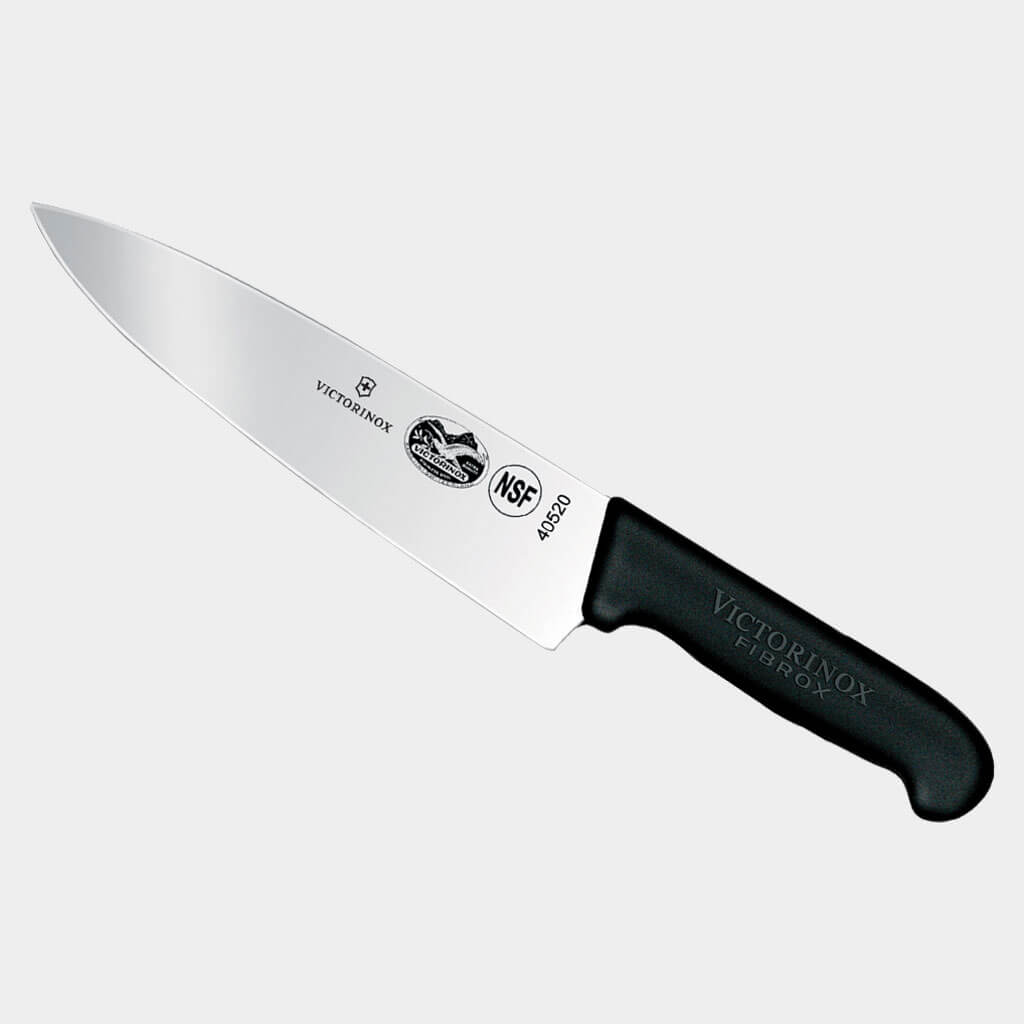 The Fibrox Pro Chef's Knife was designed by industry professionals for industry professionals which resulted in efficiency, quality, and convenience. This Swiss-made chef's knife is ideal for carving meat easily, whether it's a thin slice or a thick cut of grilled meat.
Aside from the convenience of being dishwasher friendly, this knife is also a time saver because the razor-sharp straight edge rarely requires sharpening. Because the ultra-sharp blade on the Fibrox Pro is extra wide, its handle was designed to balance the extra weight. Additionally, the handle is non-slip and ergonomically designed for comfort and safety.
Wusthof Gourmet 8″ Chef's Knife
Looking for a knife to slay all kitchen tasks while offering a lifetime warrantee? Wusthof always delivers.
Taking their cue from artisan culture, Wustof's knives are forged in Solingen, Germany with the greatest care and precision. The Gourmet Chef's Knife makes short work of all your kitchen prep whether that's chopping, slicing, or mincing vegetables, herbs, meat, and fish.
With a laser-cut edge and lightweight build, chefs will remain comfortable throughout an entire evening of rapid-fire dinner service. Seeing as how this knife has a lifetime warrantee, Wustof chose to construct the handle with Polyoxymethylene (POM). Due to its molecular structure, POM is resistant to fading and discoloration. Your knife will look shiny and new for years to come.
Choose the Best Chef's Knife and Get Chopping
A chef's knife is the ultimate tool in any kitchen. A quality knife is strong, durable, and allows the chef to feel 100% in control of their movement, pressure, and speed as though the knife is an extension of their hand. A sharp knife not only reduces a prep cook's frustrations, but also prevents slippage that can result in injury.
We hope you found the perfect addition to your commercial kitchen with these chef's knives. When purchasing or replacing knives, which qualities are most important to you: warrantee, materials, ergonomic comfort, blade width, or something else entirely? Let us know in the comment section!