This article originally appeared on Wendy's blog "The Square Deal"
The Wasserstrom Cousins Have Been Doing It The Wendy's Way Since Day One, This is Their Story
As we get ready to celebrate our 50th anniversary, we're recounting some of our favorite Wendy's tales. From Frosty lore to stories that illustrate how Dave's values have touched people throughout the organization and beyond, we're excited to continue this monthly series.
Cousins Rodney and Alan Wasserstrom have been through it all with Wendy's, and their relationship with Wendy's Founder Dave Thomas started when they became the third generation to lead Wasserstrom Company, a family-run restaurant supplier that their grandfather started in Columbus, Ohio, in 1902. Rodney was president and CEO, overseeing the company's distribution business, while Alan led the manufacturing side (also as president & CEO).
One day, they met a guy named Dave Thomas who they got to know over the years. This is the story of how they started to work with Wendy's and formed a long-term partnership with the company that exists to this day.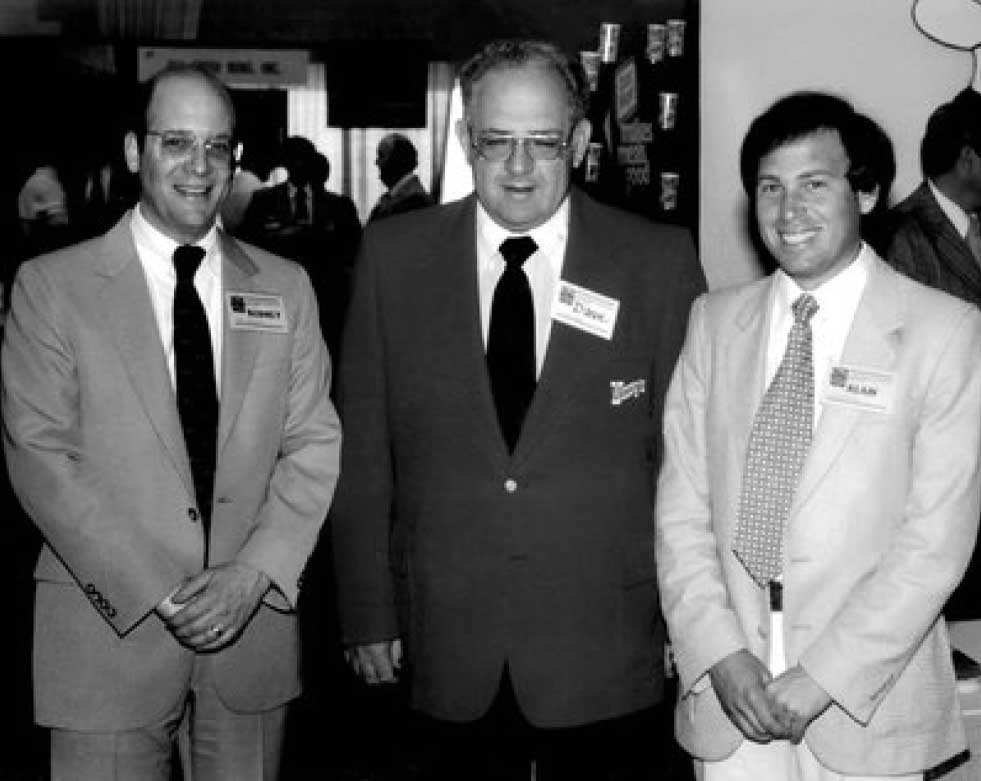 Where It All Began: 257 East Broad St.
We sourced basically everything for Dave's first restaurant in Columbus.
Dave was on a budget and we all knew the budget in those early years. If you look at pictures of the first Wendy's restaurant, you see blue and white stripes on the outside walls of the building – those were actually downspouts that we cut and flattened.
Although he was watching what he was spending in the early days, Dave was concerned with quality. He wanted quality in everything – from the food to the furniture and fixtures.
Dave wanted us to come to the restaurant the day before the grand opening, so we could all have one final look. As we were walking through, Dave pointed to the replica Tiffany-style shades and said, "What do you think?" And when Dave asked something like that, you knew he was getting at something. He said, "These are Tiffany shades that you got in a kit for $19.95." He wanted handmade, leaded chandeliers.
Then he pointed to the chairs. They were bentwood chairs, like he asked, but they were imported. They didn't have the same finish as handmade chairs.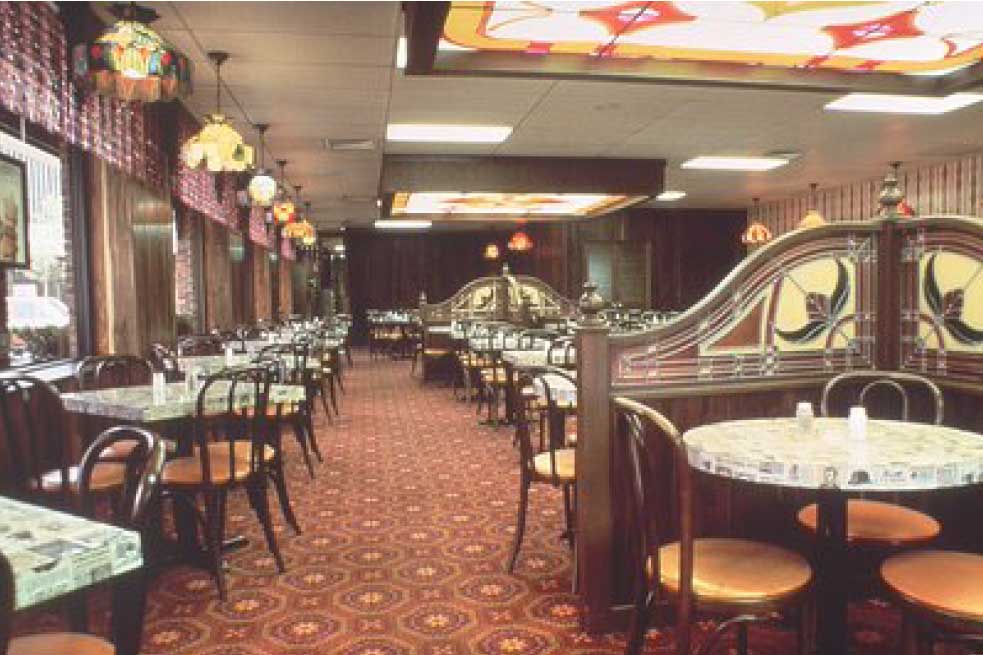 We had to do some dancing with Dave for a few months before we could get what he wanted, but we went down to Statesville, N.C., and watched the process for the bentwood chair. They were the highest quality. We sourced a company in Columbus to make the Tiffany-style shades one-by-one, all leaded. That company grew and expanded its line all because of Wendy's. Over the years, we probably bought 25,000 shades – all handmade.
The way Wendy's made their hamburgers, they needed a spatula that was strong enough to smash the hamburger. So, we provided something to them that was frequently out of stock and hard to get. It wasn't holding up, so Dave said, "We have to find something else." We ended up going to a local hardware store and buying a cement trowel. We cut the trowel down at our factory, so it would be square, and it worked fabulously. For the first 4-5 years of Wendy's, we bought cement trowels and cut each of them. It was fun to create something very special. Again, he wanted that quality spatula.
The newsprint for the tabletops came from Coshocton, Ohio. We went over to the factory where they were made, and Dave was there reading the newspaper on the tabletops to make sure there wasn't anything there that he didn't like.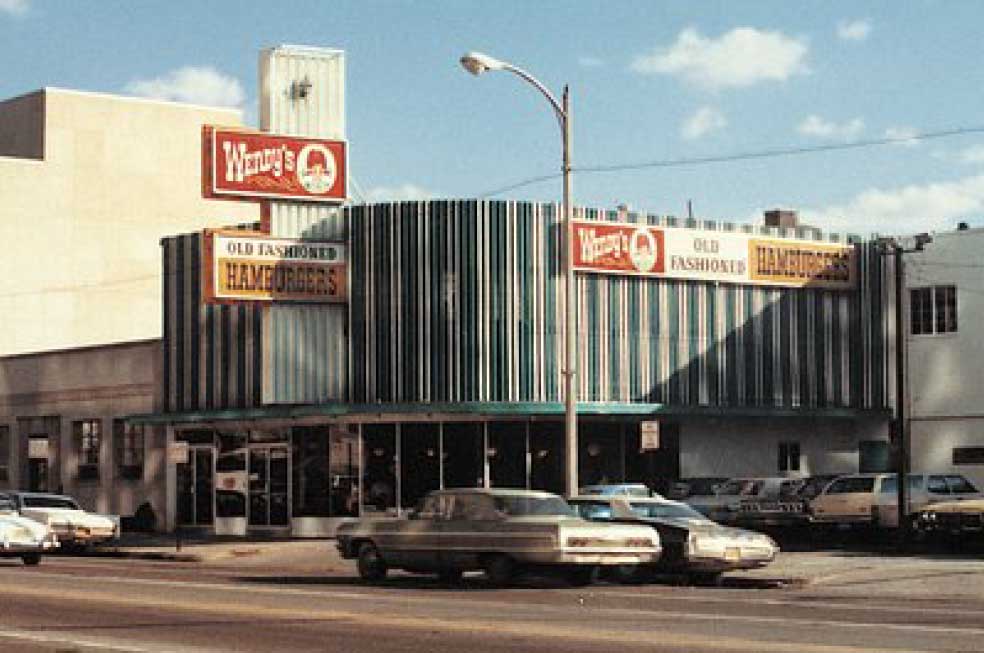 Working Together to Open 500 Restaurants
Around 1981, Dave said to us, "You better get ready, because we're going to build a lot of restaurants this year."
In a 12-month period, we outfitted more than 500 restaurants. For us, that was everything from carpeting to chairs to lighting to all the stainless steel in the back and smallwares. That's nearly 10 restaurants every week and more than one per day, on average. And we installed everything, too.
Our business was building gradually, but what really got us through that year was the dedication that our people had to make sure this got done. And that was because Dave was so loyal to us. The more loyal Dave was, the more loyal we were and the harder we wanted to work for him. People worked all day and on weekends. The installers were on the road for an entire year; they maybe came home three times for holidays – that was it.
We can remember on one side of our warehouse, there was a rail spur where the handmade bentwood chairs would be coming out and we'd be loading them on the trucks on the other side of the warehouse. In one side, out the other.
Growing Together
We take pride in how we helped Dave along the way, and it was a two-way street. We worked very well together. We talk about it as a family a lot, how we are so proud to be a major part in helping Wendy's come to life.
The biggest change from the first 10-15 years is that we aren't the sole supplier, but it is a major part of our business. We still supply the chairs, tables, the front counter, essentially all of the equipment customers see in the front of the restaurant, and all the equipment in the back.
Dave made us better. Once we reached a certain critical mass, folks would say, "Well, if you're doing it for Wendy's, could you do it for us?" People would call us and ask to be our customer. We're very fortunate that we have a family business of 1,200 people, and we're very fortunate that we've come through this business when we did.
When we went down to the grand opening of the first restaurant on Broad St. in 1969, the Columbus mayor was there and we were all having a Frosty. We knew it was a unique restaurant, but we worked on a lot of restaurants in Columbus. To think that one meal would eventually put us on the trajectory it has is something we couldn't have thought of in our wildest dreams.
I don't think we would be there if we hadn't met Dave.