With peak catering season approaching, it's time to assess if you have the right equipment for weddings, graduations, corporate functions, and other events. Whether you're a seasoned caterer or new to the industry, these are tools and equipment that caterers should consider to gain a competitive edge.
Portable Electric Wine Bottle Opener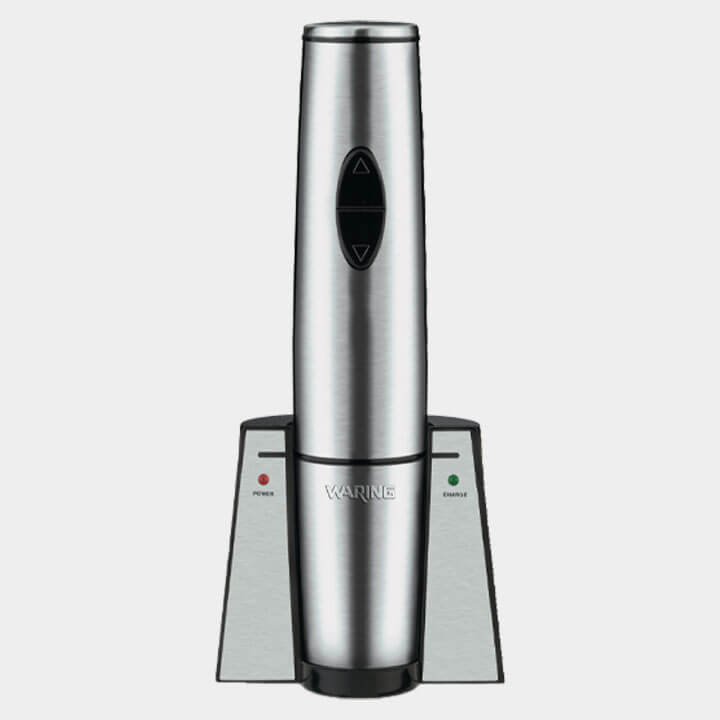 From the anticipatory POP sound to experiencing the first whiff of grape, manually uncorking a wine bottle is a satisfying ritual. However, if you are a caterer, an electric wine bottle opener saves your staff both time and energy. Best of all, using this catering hack adds a touch of professionalism to your business as high-tech tools create the perception of a higher level of service.
Fully portable and rechargeable, the Electric Wine Bottle Opener has a high-performance motor that can remove 120 natural or synthetic corks with one charge. It's perfect for catering jobs because its commercial-grade motor is very quiet and won't disturb your client's guests. Additionally, caterers can check one major concern off their list — this tool eliminates any chance of cork and other debris falling into the wine bottle.
Cordless Lithium Electric Knife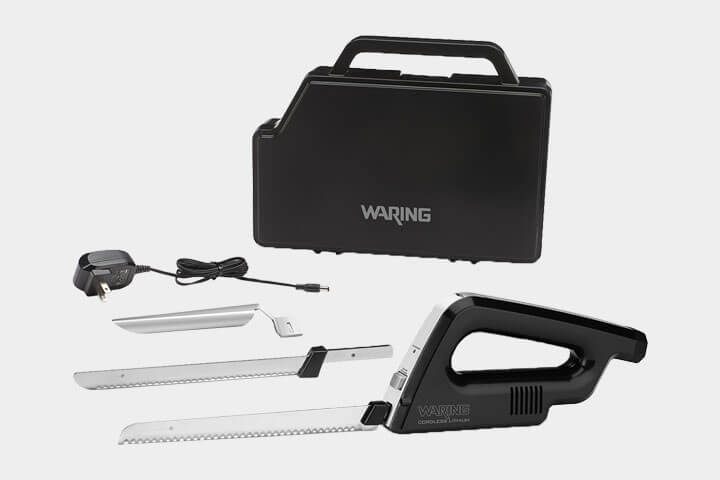 In the same vein as an electric wine opener, an electric catering knife saves you time and reduces muscle fatigue. Electric knives also offer precision and uniform cuts of meat for a professional culinary presentation.
This Cordless Lithium Electric Knife does all that and more. Separate bread and carving blades with an adjustable slicing guide allows for more versatility, while an integrated LED light provides visibility in low lit areas. Your staff will appreciate its ergonomic handle so that they can concentrate on the food, and not their aching muscles. And after a long day, its detachable blades make clean up easy.
Gelato Panini Press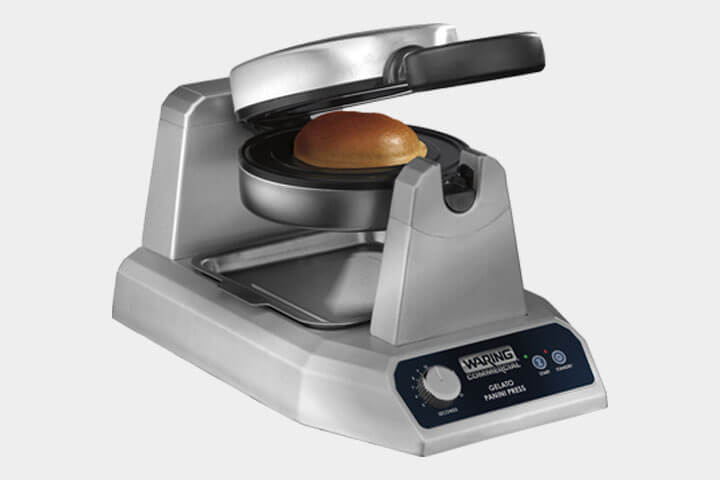 If you've had the pleasure of traveling to Italy in summer, you may be familiar with brioche con gelato. This beloved combination of warm brioche bun filled with a scoop of cold gelato is a popular treat from Sicily, where it is also eaten for breakfast.
Now, caterers can offer this refreshing yet indulgent dessert, and dozens of sweet or savory variations, to their clients by using the Gelato Panini Maker. More than an elevated take on the ice cream sandwich, the Gelato Panini Press can use gelato, soft serve, hard ice cream, or frozen yogurt and seal it in a golden-toasted bun. The sweet, creamy center stays cold, while the bun remains warm.
Because this machine is so versatile, you can create desserts and appetizers perfectly tailored to your client's favorite flavors, menu theme, or seasonal variations. This lightweight and easily transportable machine bakes a perfect treat in 5-15 seconds. Additionally, triple-coated nonstick plates make for a fast cleanup, saving you time at the end of an event.
Electric Crepe Maker
Crepes are an excellent option to consider for action stations and made-to-order offerings at catered events. Their incredible versatility allows them to be customized to suit any taste, whether sweet or savory, indulgent or health conscious. The range of filling options is vast, ensuring that you can satisfy the unique preferences of your clients.
We also love crepes for catered events because of their versatility in presentation. For instance, they can be served in a variety of ways, such as rolled up or folded into triangles, making them a stunning addition to a wedding or event buffet.
Now, thanks to the 16" Electric Crepe Maker, preparing delicately textured crepes for your clients has never been easier. This machine features a 1" cast-iron plate that heats up quickly and maintains your desired temperature throughout the day.
As a bonus, this machine doubles as a portable griddle, able to make eggs, pancakes, burgers, and more, which is especially convenient for caterers on the go. With an adjustable thermostat (ranging from 280°F to 570°F), this crepe maker offers the flexibility to create a host of signature dishes that leave a wonderful impression.
10 lb. Deep Fryer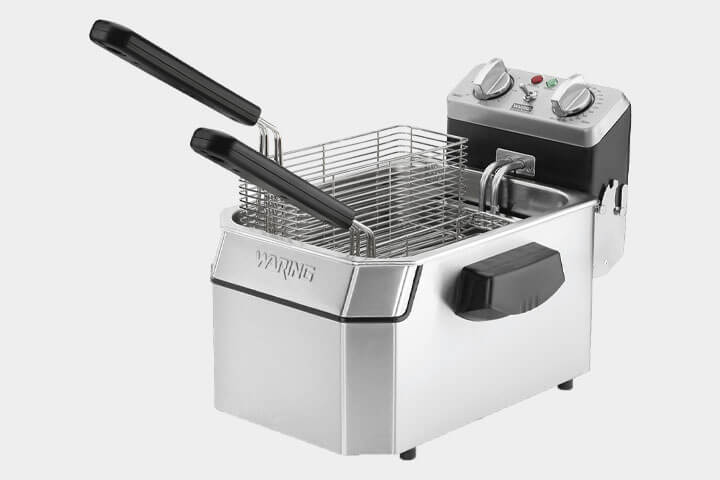 "Everything tastes better fried" is a timeless adage spanning centuries of culinary history. From ancient Greece to modern times, many food lovers agree that there's something irresistible about the crispy, golden texture and rich flavor of fried food.
When it comes to catering, a deep fryer is a game-changer because it is easy to add a wide range of comfort foods to your menu. With a deep fryer at your disposal, you can offer classic favorites like fried chicken, French fries, calamari, tempura, fried plantains, churros, funnel cakes and much more.
The Heavy-Duty 10 lb. Deep Fryer is a catering powerhouse that, for example, can produce up to 10 lb. of fries per hour. It heats up and cools down quickly and includes a hinged heating element and removable stainless steel tank, making it easy to clean. Additionally, the 30-minute timer and variable temperature controls (up to 390°F) allow for precise cooking. With its heavy-duty construction and intuitive design, you can easily add a touch of indulgence to the menu.
Quik Stik Plus Immersion Blender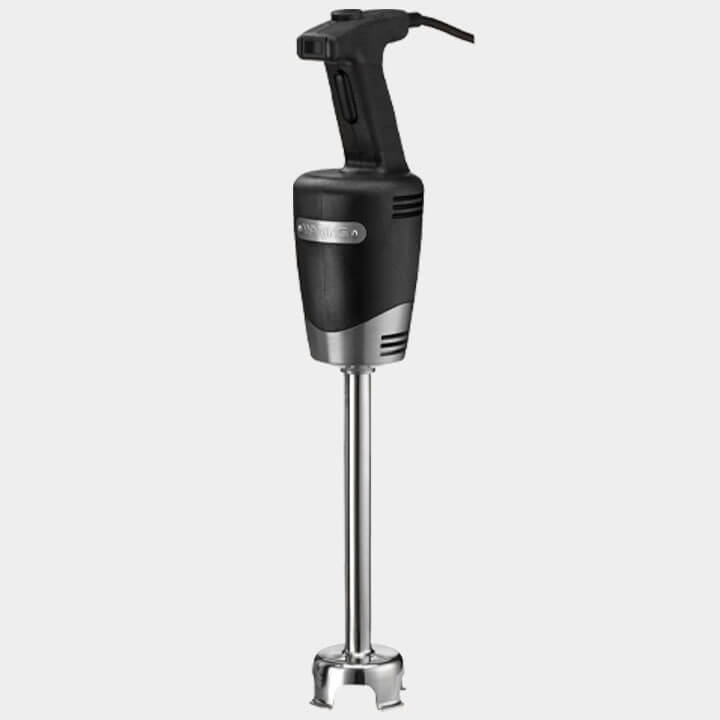 Back in 1950s Switzerland, a man by the name of Roger Perrinjaquet combined the technology of egg beaters and hand drills, thus creating the first stick blender. Caterers especially benefit from his inspired idea, as immersion blenders are multitasking tools that are easily transportable.
Design and technology have undergone significant improvements since the 1950s, which is showcased in the Quik Stik Plus Immersion Blender. This handy tool features a heavy-duty motor, an ergonomic comfort grip, and a stainless-steel blade and shaft, both lightweight and easy to clean.
This singular tool allows caterers to consistently prepare soup, sauce, smoothies, batter, crushed ice for cocktails and much more. Aside from being incredibly versatile, immersion blenders are portable, easy to clean, and a time saver. When blending large batches of food, the Quik Stik Plus can be used directly in the cooking vessel, which means less dishes for you to wash.
Chamber Vacuum Sealing System
With time and money at a premium, vacuum sealing saves you both as you can prepare larger volumes of meats, vegetables, soups, and sauces, while reducing the time it takes to serve items from kitchen to table.
This is why we recommend the Chamber Vacuum Sealing System when catering for large crowds. The Chamber Vac Vacuum Sealer has exactly what caterers need to pack liquid-rich foods for storage or sous vide cooking. It also includes a marinating function that will infuse meats and produce with the flavors of your choice, in under two minutes.
The sealing process is simple and convenient:
Place a filled pouch into the chamber
Press the user-friendly, easy-to-clean touchpad control to double-seal the pouch
This easy process results in air-tight sealing that guarantees complete, long-lasting closure. Each double-sealed pouch locks in moisture, preserves color and flavor, and reduces chemical reactions that can spoil food even in the freezer. This system is also a great way to manage inventory and extend the shelf life for many of the foods you serve. For additional versatility, Waring engineered their pouches to be boil, freezer, and microwave safe.
Happy Clients and Repeat Business
Adding versatile and efficient equipment to your catering business will elevate your service in this competitive market. The products we have explored are all tried-and-true additions to any catering kitchen. Investing in these tools can save you time, energy, and increase the quality of your offerings, ultimately leading to happy clients and repeat business.
Partnered With
Waring, universally known for introducing the first blender in America, is one of today's leading manufacturers of professional appliances for the foodservice and laboratory industries. Waring Commercial offers high-performance, large-volume food processors and blenders, heavy-duty heating appliances such as grills, griddles, toasters and deep fryers, and a variety of specialty products. As a Solutions Specialist in the BLEND, PREP, COOK, and BREW categories, Waring strives to provide innovative, customized equipment to fulfill all of the industry's unmet needs. With 80+ years of manufacturing expertise locally and globally, Waring is proud to offer continuously expanding collections of superior professional products.