An immersion blender is a multi-purpose tool that blends, emulsifies, whips, and purees. In this article, we explore the advantages of using an immersion blender in your professional kitchen. Then, we compare two commercial immersion blender models that will help you select the perfect size and features to meet the needs of your restaurant, bar, cafeteria, or catering business.
What Is an Immersion Blender?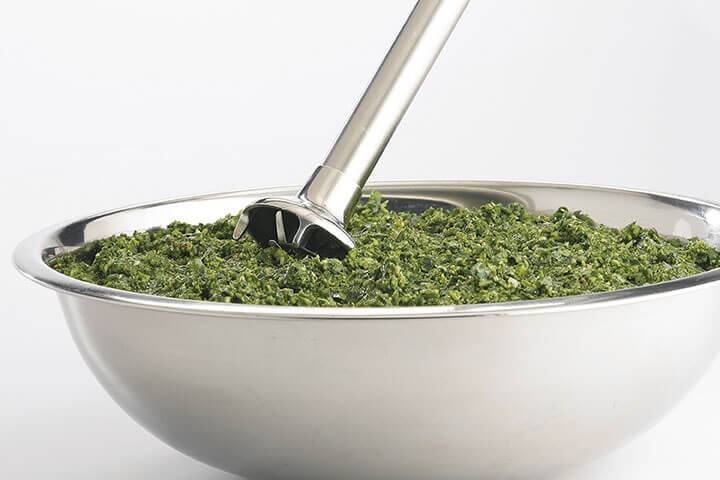 An immersion blender, sometimes called a stick or hand blender, is a sleek and simple tool that is a must-have for many chefs. Motors and controls are housed within handles, followed by shafts of varying sizes, blade guards, and blades. These handheld wonders directly submerge their blades inside a cooking vessel, bowl, or even a tumbler.
What Are the Advantages of Using an Immersion Blender?
Immersion blenders have a simple design and are easy to use. They are extremely advantageous in commercial kitchens for many reasons, starting their ability to prepare high volumes of food.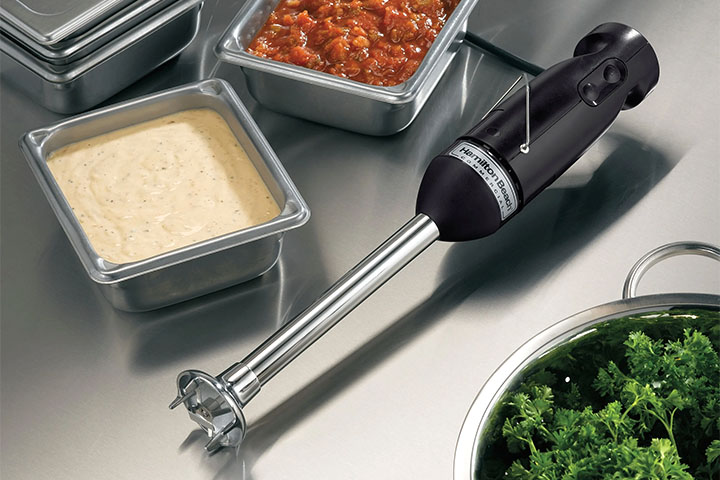 1. Prepare Higher Volumes of Food With an Immersion Blender
When your kitchen is equipped with a food processor, high-performance blender, and bar blender, it can be easy to overlook the benefits an immersion blender has to offer. However, you can't drop your food processor into a stock pot or a bar blender into a soup kettle. Thankfully, with a stick blender on hand, blending in precarious containers is quick and convenient.
Blending for high-volume kitchens is easier with an immersion blender because traditional blenders generally only hold 64 ounces of food at any one time. Given these limitations, a 2-gallon pot of soup would need to be transferred into the traditional blender container multiple times.
Container size isn't an issue with immersion blenders because they do their work straight in the pot, pan, or bowl. With a variety of shaft sizes to choose from, an immersion blender can power through large batches of mashed potatoes or gallons of fresh salsa every day.
Blending straight in the vessel also reduces one of the most tedious tasks for any kitchen: dirty dishes.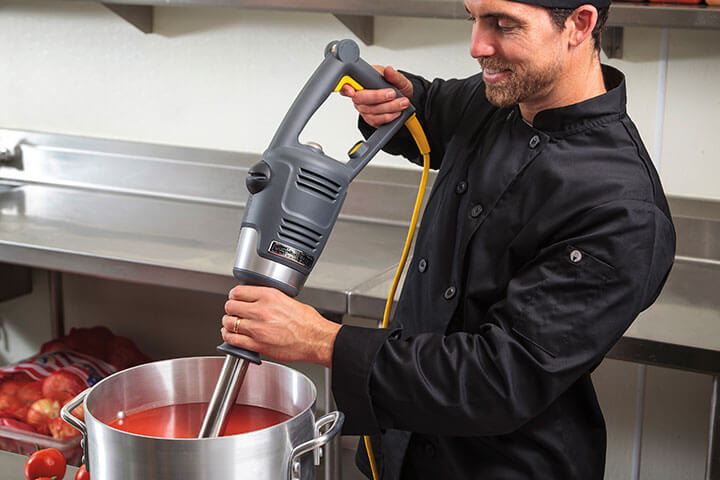 2. Optimize Your Time With Fewer Dirty Dishes
Eliminating the chore of transferring food into new bowls, pots, blenders, or food processors, substantially reduces the number of dirty dishes and appliances for your kitchen staff to manage. With an immersion blender, all of this is possible.
Dishes take time to clean. They often require pre-rinsing, proper loading into washer trays, and then unloaded to be redistributed into the kitchen. Over time, bearing the brunt of fewer dishes contributes to fewer dishwashing cycles, reducing wear and tear while also saving time.
Also contributing to the operational efficiency that fewer dirty dishes bring about is immersion blenders are much easier to clean than a traditional blender or food processor. Many models are designed with detachable shafts that pop right into the dishwasher, and you're done.
3. Immersion Blenders Are Versatile & Efficient
Immersion blenders are remarkably functional players in the foodservice industry. Keeping a high-performance immersion blender in your commercial kitchen is like having an extra sous chef on hand. Soups, sauce, dressing, batter, … from aioli to aquafaba, the versatility of immersion blenders make quick work of food prep operations.
Because of the fast pace experienced in professional kitchens, both in front of house and back, an immersion blender is also an amazing time-saving tool. For instance, when making large volumes of salsa, chopping each fresh ingredient can take a lot of time to prep. On the other hand, an immersion blender creates salsa quickly and with your chosen texture.
Likewise, preparing large volumes of refried beans takes a fraction of the time when the blending happens directly in a container. Transferring gallons of refried beans in and out of blenders or food processors takes more time and energy, not to mention the resulting dirty dishes and utensils to clean. With an immersion blender, a few pulses within one large stock pot makes for perfect refried beans.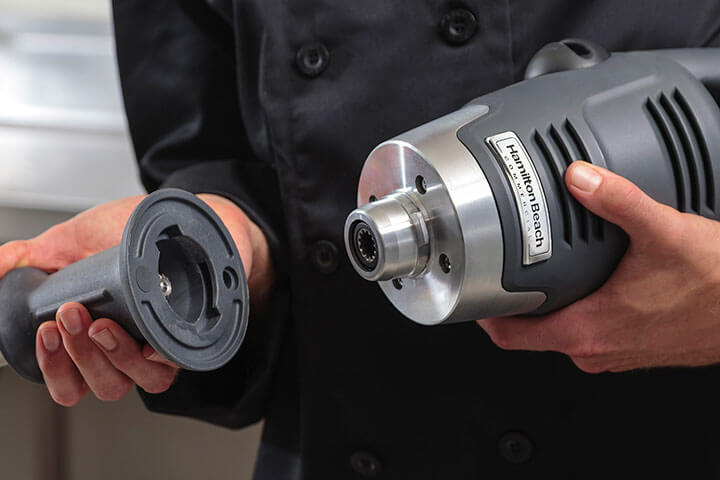 4. Save on Labor Cost
Immersion blenders simplify routines and eliminate tasks, which translates into reduced labor costs. Or in the case of modern-day restaurants, making up for a lack of employees.
At this time, many operators in the foodservice industry are struggling to hire employees. Strategies such as using immersion blenders to reduce the amount of work is just good business sense. This is especially true while operating in a fragile economy — the boost to productivity and efficiency that immersion blenders provide can help spark positive change for your establishment's future.
Hamilton Beach Commercial Immersion Blenders
Now, we will review the features of two Hamilton Beach immersion blenders for a quick comparison. Blend all your ingredients easily, anywhere, with the HMI200 series immersion blender or an immersion blender from the BigRig series.
Immersion Blender HMI200 Series
The HMI200 Series Immersion Blender is an affordable way to help streamline your kitchen.
This commercial immersion blender features:
A detachable 9" stainless steel shaft that easily disconnects and is commercial dishwasher and autoclave safe.
A durable ABS handle has a built-in storage hook for easy storage, so there is virtually no storage footprint.
Four blades with five cutting edges for effortless blending and a blade guard to reduce splashing.
A 175-watt motor with two speeds for blending, pureeing, and emulsifying.
Simple to transport for catering and events.
This immersion blender quickly whips your kitchen into shape and delivers professional results every time. And with its affordable price point, it provides an outstanding ROI.
BigRig Immersion Blenders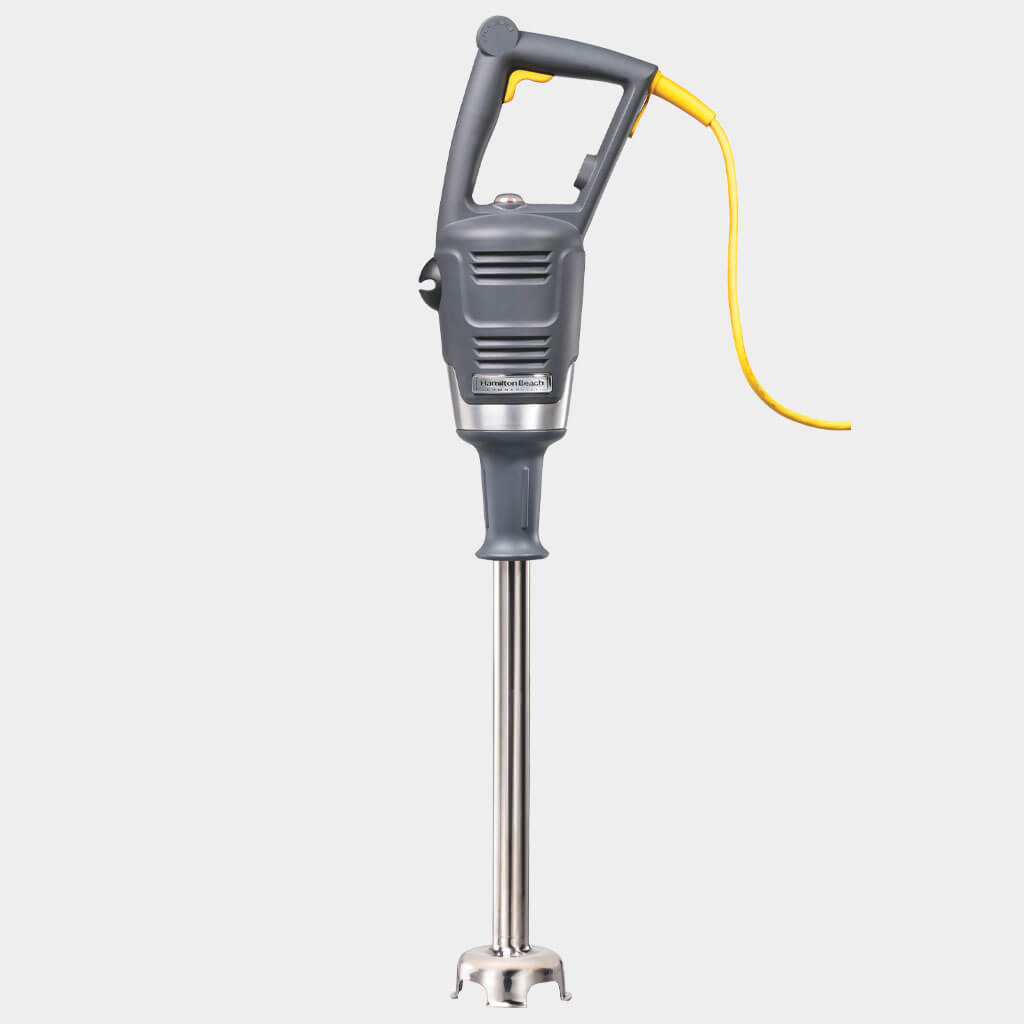 Comfortable handles and a powerful motor make the BigRig a high-volume superstar.
The BigRig series of professional immersion blenders feature:
An 800-watt motor, making Big Rig the most powerful immersion blender in its class.
A two-position comfort handle with an ergonomic grip for ease of use.
A variable speed ThumbDrive Dial with color-coded lights that indicate blender status.
Continuous Run mode so operators can manage other tasks while the blender does its work.
Detachable and optional interchangeable shafts for easy cleaning. Shaft sizes range from 12" to 21".
Stainless steel blades with a guard to protect pots and bowls and eliminate splashing.
A wall mount and cord holder for tidy storage.
Portable for catering and events, with a high visibility yellow power cord for safety.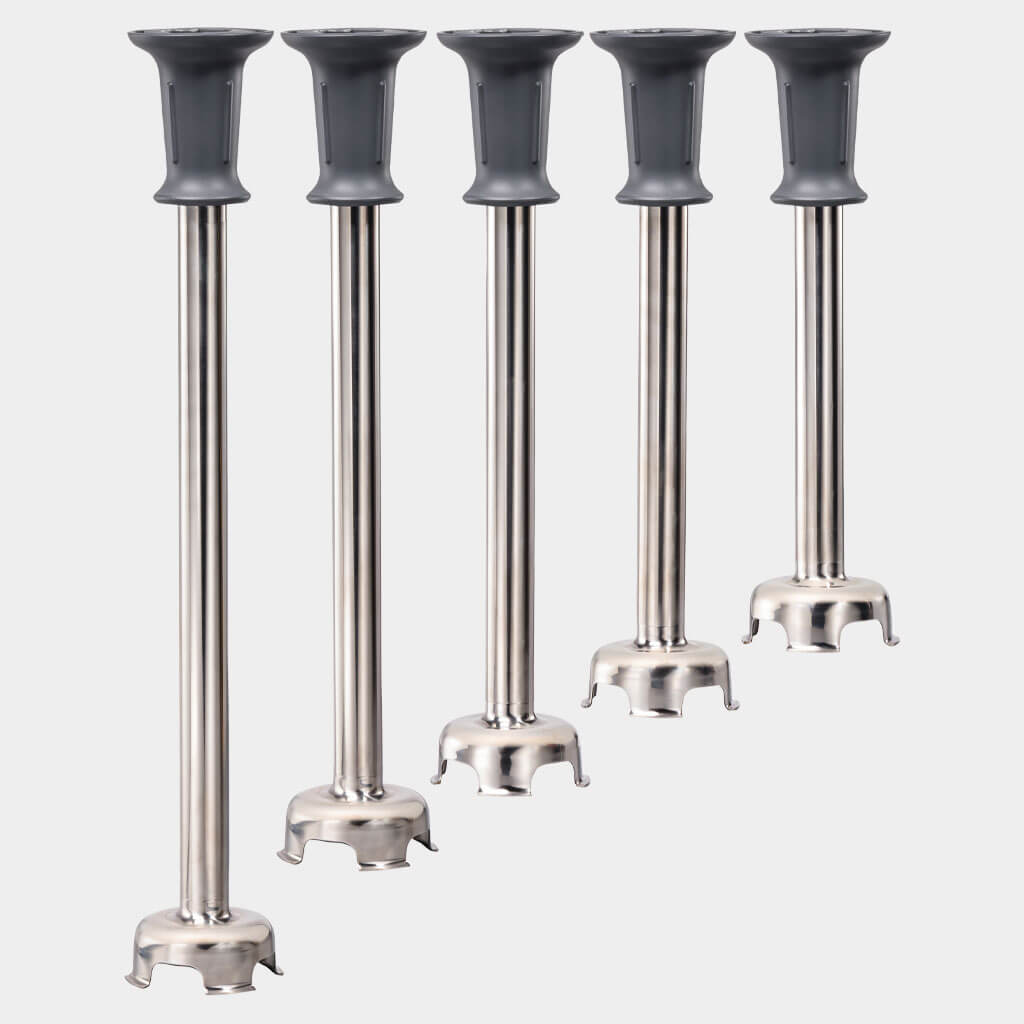 The BigRig series of immersion blenders is ideal for establishments that desire fast, consistent results. Their ergonomic handles and continuous run modes make large batch food preparation easier, speedier, and cleaner.
Versatile Productivity Boosters
Save time and effort in your commercial kitchen with an immersion blender. Immersion blenders store easily, versatile, and they provide an efficiency boost your establishment craves. Have you discovered any unconventional techniques to use with your immersion blender? Let us know in the comment section!
About Hamilton Beach Commercial
Since 1911, businesses have relied on Hamilton Beach Commercial for top-performing, durable equipment. From innovative, high-performance blenders to vacuum packaging machines, we have everything you need to keep your business running smoothly, whether you operate a single restaurant, bar, or manage a chain.
Hamilton Beach Commercial has a proud history of designing products with the end user in mind, focusing on quality, durability, and innovation. We offer commercial blenders, drink mixers, and professional kitchen equipment for businesses.