An eclectic-chic table setting is purposeful design without hard rules, allowing for individuality and self-expression. A successful eclectic-chic tabletop can be a challenge to build as this design style combines disparate colors, patterns, and textures in a thematic or cohesive way.
The goal of the eclectic-chic aesthetic is to interweave different design concepts in an organically balanced way, rather than choosing pieces that oppose each other with clashing colors and patterns. This article demonstrates how to put together a balanced eclectic-chic tabletop that looks expertly curated.
How to Build an Eclectic-Chic Tabletop
When curating a tabletop, a good place to start is with your largest pieces — plates, bowls, and platters. To achieve your eclectic look, begin building your tabletop with minimalist organic plates like those found in the Candour collection.
Candour Tableware
We begin assembling our eclectic chic tabletop with pieces that are simply smart and provide a clean canvas for your menu's offerings. Compared to ordinary porcelain, Candour is extra strong and highly resistant to damage, making it the best option for a busy commercial setting.
Candour has a rimless design with clean lines. Additionally, the pieces in this pattern are stackable so you can save on storage space. The elegance and endurance of Candour makes it our top choice for a bright eclectic foundation.
Candour Azure Tableware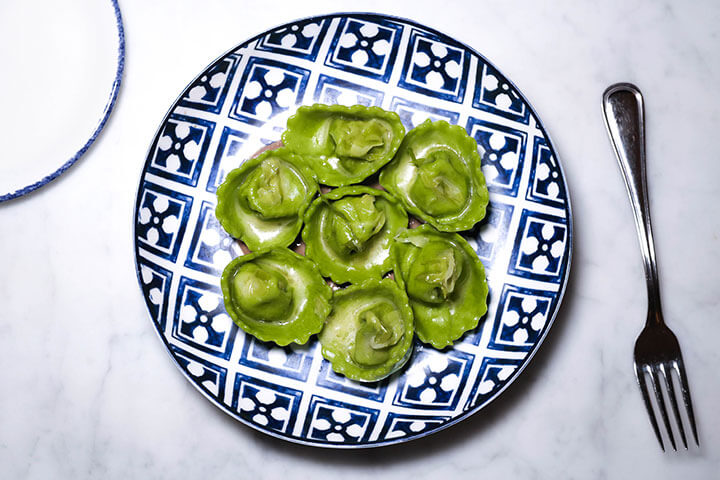 Our next dinnerware selection has a complimentary color palette and pattern, Candor Azure. Markedly, adding this blue and white pattern into the mix livens up the mood. Whether used as an accent piece or a full table setting, Candor Azure sets a playful scene.
Along with its charming new pattern, Candor Azure has all of the same impressive qualities of the original; its extra-strong porcelain is ready for service, while its elegant rimless design and flat profiles make storage easy.
Harvest Ink Dinnerware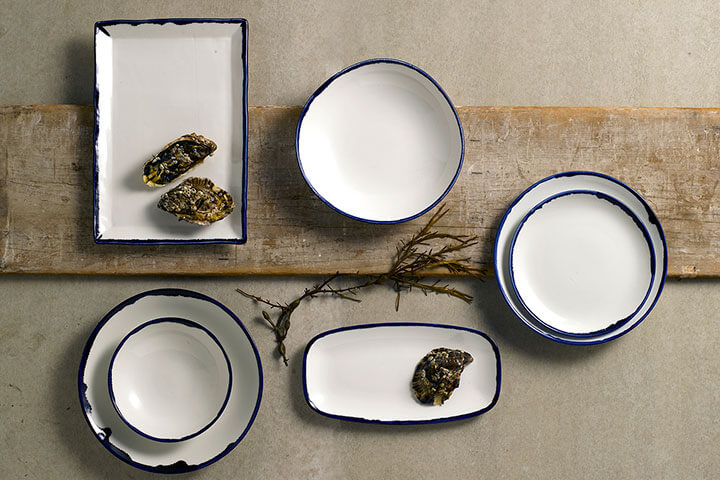 Keeping with our white and dark blue color palette, Harvest Ink provides a touch of organic artistry into our eclectic mix. Harvest Ink embodies cleanliness with a touch of drama because each blue glazed edge is applied by hand. This line is available in coupe shapes and rectangles, further reflecting both the shapes and colors of Candor Azure's pattern.
Beauty and durability combined, Harvest Ink has a vitrified ceramic body that is chip resistant and made for commercial use despite it closely resembling delicate pottery.
Malea Brio Glassware
Distinctive glassware is an opportunity to bring a bit of personality to the table whether they are soft shapes, architectural lines, or vintage glamour done right.
Malea Brio adds life to the party because it is enhanced with Effervescence Plus technology which encourages a continuous stream of bubbles from a lightly carbonated cocktail or celebratory sparkling wine. Adding to the ambiance is a multi-layered shape reminiscent of a raindrop.
V. Juliette Glassware
Drinkware is the best place to turn for an eye-catching element with a small footprint. For an architectural nod, V. Juliette glassware offers a distinctive shape that plays with angles. Its thin rim and high-transparency glass that stay shiny after years of commercial dishwasher use showcases cocktails with clarity.
Broadway Glassware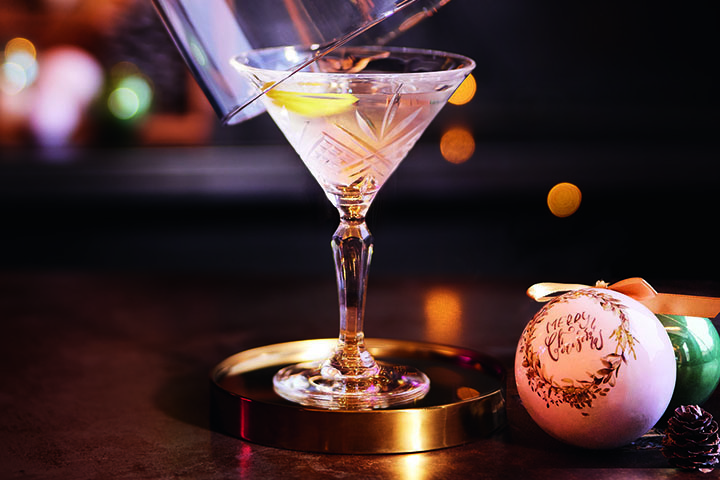 If mixing and matching textures is your bliss, we recommend using the Broadway glassware line on your eclectic-chic tabletop. Picture perfect, Broadway uses cut glass designs that are effortlessly draw in the eye. As a result, its crystal look reflects the vintage glamour of old Hollywood paired. Additionally, Broadway uses modern technology that produces ultra-transparent glasswork to further beautify your beverage service.
Kya Flatware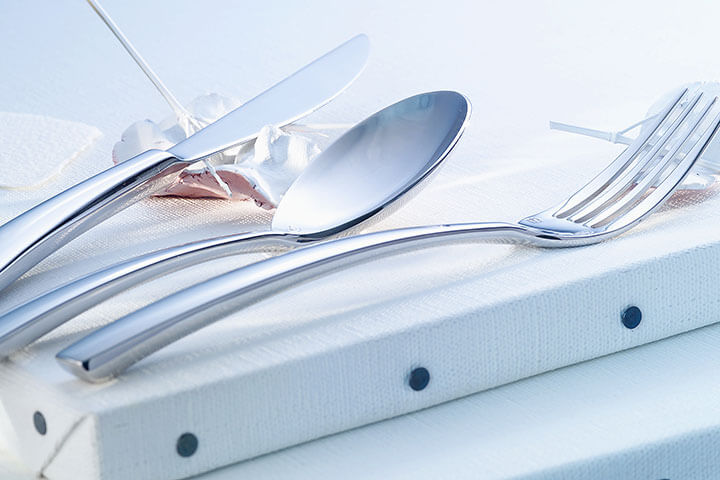 Flatware is an often-overlooked design element that has a world of potential. As with any accessory piece, small utensils can tie a look together. However, not every piece has to be loud. For our flatware selection, we sought soft simplicity. Kya is a line of flatware with subtle curves and a gentle touch of whimsy. Made in France from 18/10 stainless steel.
Building a Highly Expressive Eclectic-Chic Commercial Tabletop
An eclectic-chic tabletop is a playful and artful way to express your establishment's personality. Integrating disparate colors, patterns, and texture into one cohesive idea creates visual interest and amusement for your guests. Have you tried an eclectic-chic tabletop for your patrons? Let us know in the comment section!
About Arc Cardinal
Arc Cardinal proudly offers tableware, smallwares, and buffet solutions. As a result, we are continuously inspired by our partners and customers as they transform their establishments. We know not every concept has the same budget, customers or operational demands. We set out to provide flexible solutions for a remarkable experience.