Buffets are back with a fury. However, gone are the days of foldable plywood tables, fussy linens, and spandex covers. Instead, business owners are now seeking out a modern and unique buffet look to differentiate themselves from competitors and enhance the overall experience both for their customers and staff.
Eastern Tabletop has reimagined the perfect modern buffet for a post-Covid world. Using their system, we break down the top five most important elements necessary to create a modern buffet that will attract customers, increase profits, and deliver the best ROI.
Introducing the Hub Buffet System and the Zozz Stretch Buffet & Kiosk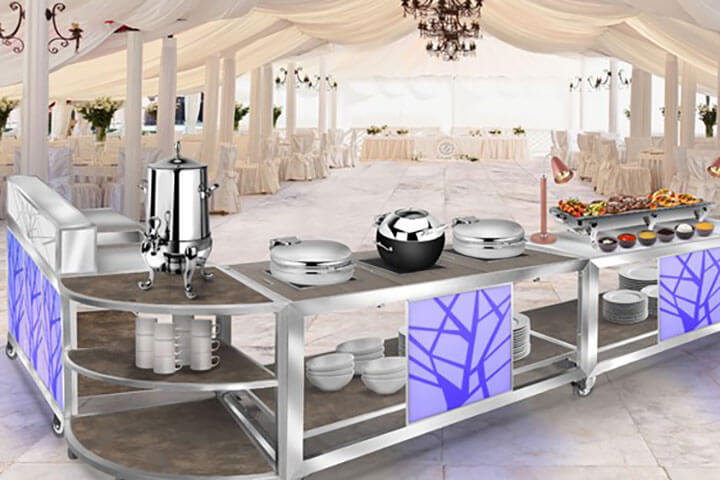 The Hub and Zozz are chameleons in the catering world and champions of elegant buffet setups. Whether set up for action or display, these modular systems quickly change from buffet service to bar service to action station.
With the Hub and Zozz systems, you can choose from various vinyl tile colors, tile functions, metal and colored finishes, storage options, and connecting pieces to create a perfectly curated mobile display unit.
The Hub and Zozz buffet systems work in tandem with one another. Additionally, they have mastered the top five most important functions of any modern buffet, starting with a cleaner tabletop.
1. The Linen-less Evolution
Our list of the top five essential elements for creating a modern buffet starts with eliminating linens. Traditionally, linen hides unsightly plywood tables, chafers, power cords, and equipment. However, the addition of linens also creates some headaches:
Linens Stain Easily
When food or beverages spill on the table or if an accident occurs, linens can't be adequately cleaned or replaced during an event. So, a buffet that is eye-catching and easily maintained is a must.
Linens Have a Weak ROI
Rental, cleaning, and maintenance costs do not make good cents. They also create extra work for your staff, which adds to their billable hours. Taking linens out of the equation also removes the possibility of scheduling conflicts with your supplier and other last-minute cleaning and maintenance emergencies.
Linens Create Last-Minute Chaos
By comparison, the Hub and Zozz do not require any linens and instead use interchangeable tiles available in a variety of colors and finishes. As a result, Hub and Zozz systems are fantastic solutions for operators looking for a buffet setup that attracts patrons during a service or event.
2. Modular Design Capabilities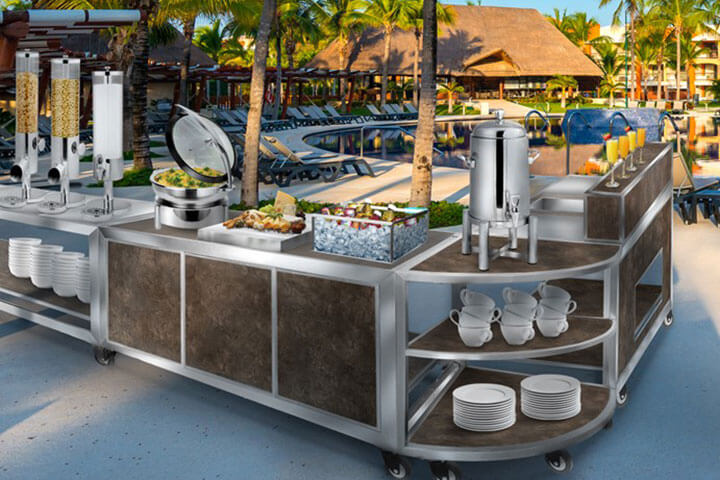 The next must-have modern buffet feature is modular capabilities. Operators today want versatility and a multipurpose product that provides easy and fast solutions.
Eastern Tabletop listened to industry leaders and designed modular systems with the flexibility that seamlessly allows for a change of size and function depending on the number of tables and tiles you choose for your event.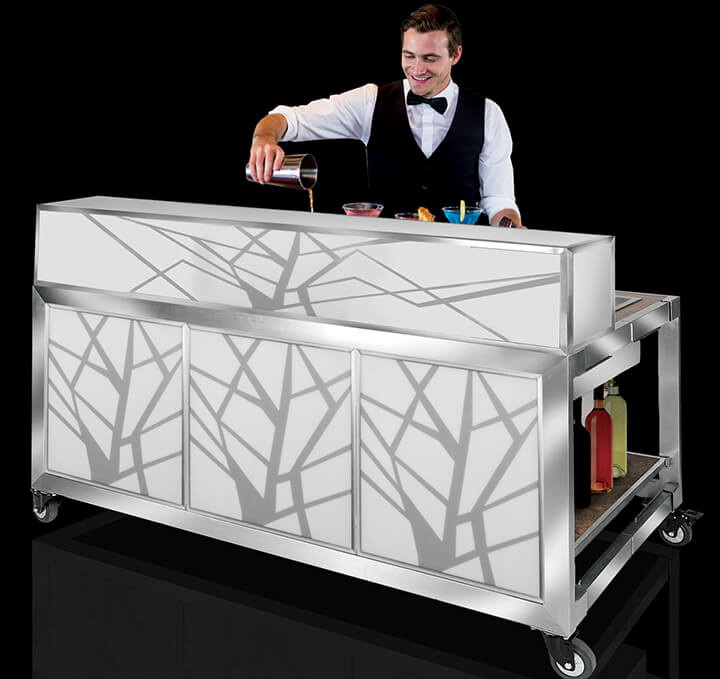 The Hub Buffet System and the Zozz Stretch Buffet and Kiosk are singular products that perform over 100 tasks, can change mid-event, and you will stay on trend while moving forward. Using a Hub, Zozz, or a combination of both systems for your buffet bolsters your buffet collection for years to come.
The tiles are interchangeable and perform for both the Hub and Zozz system including:
Hot Plate
Induction Units
Griddles
Omelet Station
Butcher Block
Drop-in Ice Bin
Plate Warmers
Dim Sum
3. Compact and Easy to Store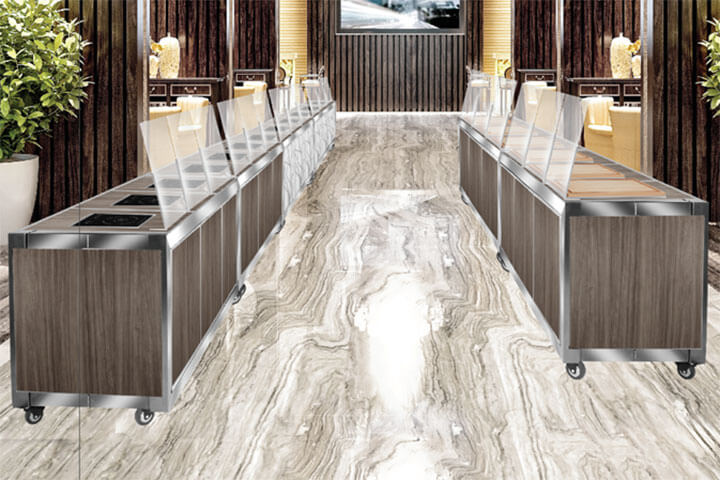 Storage space is always at a premium, and today's operators seek out multi-use products that are easy to tuck away. Eastern Tabletop took this need very seriously, so they designed the Hub and Zozz buffets to be fully collapsible to create a much smaller footprint than traditional buffet tables.
The ease of setup and breakdown is just as crucial as a buffet's ability to store compactly. Operating both the Hub and Zozz is easy: no hardware, no tools, and no complicated instruction manuals or professional skills required. Two people can set up these buffet systems in moments and then go about their day. Likewise, storing the items is easy with the storage carts and racks for the Hub and Zozz tiles.
4. Simple and Safe Induction Technology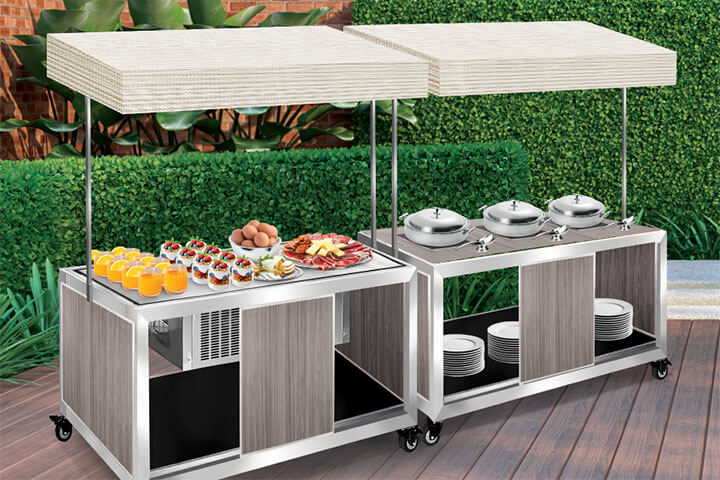 Operators are looking to simplify their lives, not complicate them. Having a portable induction cooktop option does just that.
Induction tiles eliminate the need for water pans and flamed heating units. As a result, an induction cooktop has far fewer burns, accidents, and injuries. In addition, with the lack of condensation from water pans, food stays crispy and hot throughout long events. As a result, induction is more accessible, safer, requires less effort, and delivers higher-quality food.
Using an Induction Tile eliminates the need for water pans and flamed heating units. With an induction cooktop, there are far fewer burns, accidents, and injuries. And without condensation from water pans, food stays crispy and hot throughout long events. Induction is easier, safer, requires less effort, and delivers higher-quality food.
5. Full Mobility
Get rolling with your next presentation. Fully mobile buffet or bar presentations can take you places that stationary tables simply can't. In addition, clients often request that unique displays be rolled into a particular space to make a spectacular entrance, such as champagne walls, grab-and-go snacks, and much more. Often, clients ask for rolling banquet tables in hard-to-reach locations, such as through a small elevator.
Eastern Tabletop designed the Zozz Stretch Buffet to make it easier to give your patrons precisely what they envision. Zozz converts into smaller components, allowing patrons to indulge in small, one-tiled action stations to three-tiled displays. In addition, Zozz's modular versatility will enable you to bring your elegant buffet presentation into hard-to-reach spaces.
A Seamless Modern Design
Investing in a modern modular buffet is a game changer for food service establishments looking to reintroduce indoor dining. Customers will enjoy additional eating options while finding it easier to maneuver your buffet. Improved efficiency and buffet layout result in shorter lines for your customers, allowing your establishment to maximize foot traffic. Stay ahead of the game with a modern buffet performance your competition can't touch.
About Eastern Tabletop
Starting in 1950, Eastern is dedicated to designing and manufacturing silver items for the food service industry. Over the years, the expansion of the buffet line led to the launching of Eastern Tabletop's Foodservice Division. With a sole focus on tableware, holloware, and buffet items combined with years of experience in silver art, the Eastern name has succeeded in being recognized as a company of quality, design, and trust. We are proud to stay behind our products that make their mark in the tableware industry with innovation, satisfactory quality, personal service, and exceptional value.
Some things never change. Then again, some things get better. That's Live Action, The New Era of Eastern. More than a trend change, it's a renewed commitment to delivering holloware that adapts to your changing needs, simplifies your tabletop service, and provides guaranteed quality items "Designed to Last." All our products are crafted to withstand years of use and service abuse; the quality and quality of our products are here to stay and will never change.
A step ahead with innovative products, updated features, and trendy items keeps Eastern the forerunner in the latest holloware and buffet ware and demand by highly professional and celebrity chefs worldwide.