People eat with their eyes first and that includes the table setting. Delight your guests with a wonderful view of the unexpected – creative plating. In this article, we introduce nine collections that will inspire you to think outside the burger box.
Better Burger Collection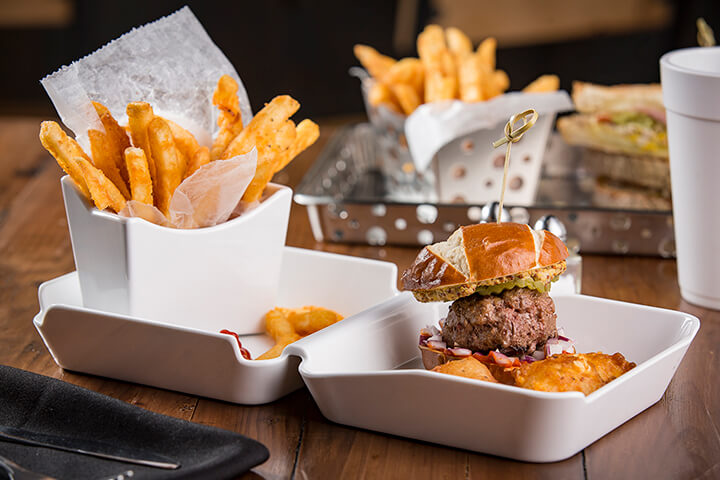 Is there anything more iconic in foodservice than a fry box? We think not. Which is why we love the Better Burger Collection's twist on serving burgers, fries, and more.
The Better Burger Collection resembles traditional fast-food packaging. However, unlike single use products, the Better Burger Collection is durable and reusable because it is made of either lightweight melamine or stainless steel.
Fun, unique, and nostalgic, the Better Burger Collection offers burger boxes, fry boxes, cups, trays, flights, and more. This collection is cute, stylish, and Instagram ready for your pub, grill, or fast casual establishment.
Lattice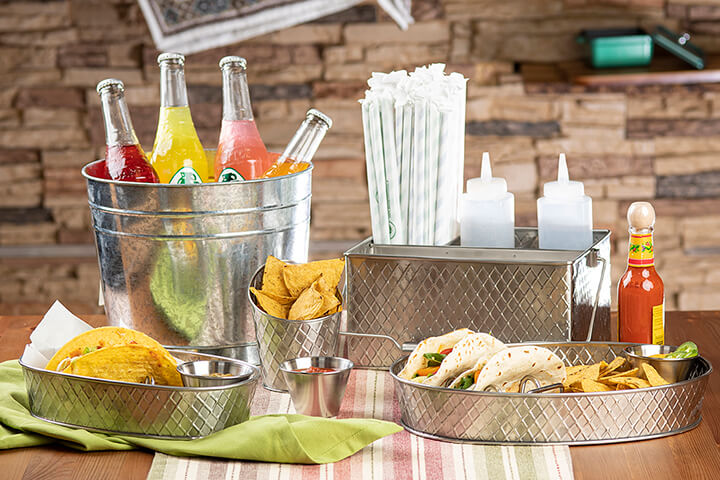 Lattice get creative with platters, fry cups, caddies, trays, pails, snack sets, and other distinct pieces for indoors and outdoors. This charming collection looks like galvanized steel but is actually stainless construction with an embossed basketweave pattern.
Casual, relaxed, elegant, the galvanized silver look welcomes your guests to sit back and enjoy. The Lattice collection is dishwasher safe and durable for sharable sides, entrees, and other creative plating solutions.
Brickhouse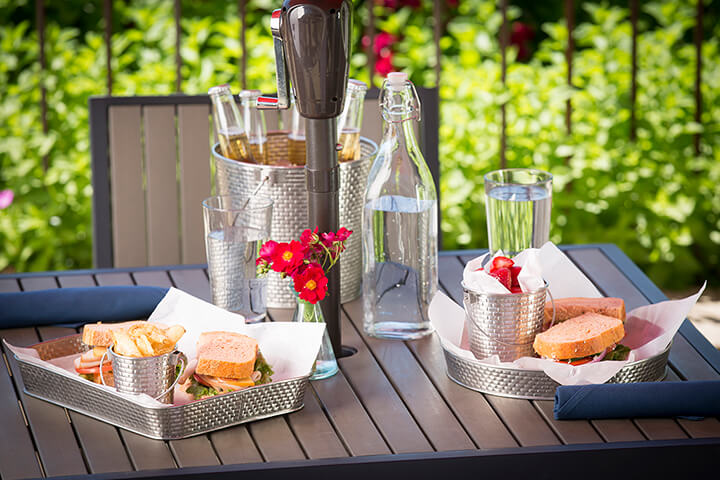 Indoors or outdoors, the Brickhouse collection is a modern take on platters, pails, caddies, fry cups, and beverage tubs. The embossed brick pattern puts a casual spin on creative plating for sides, entrees, and beverages.
The Brickhouse collection is made from durable stainless steel. Each piece was made to be dishwasher safe, except for one item with a pail with a wooden handle. Brickhouse is a wonderful investment that invites outdoor fun and indoor rustic chic aesthetics. As a bonus, this line is stackable to save you space in the back-of-house where you need it most.
Petal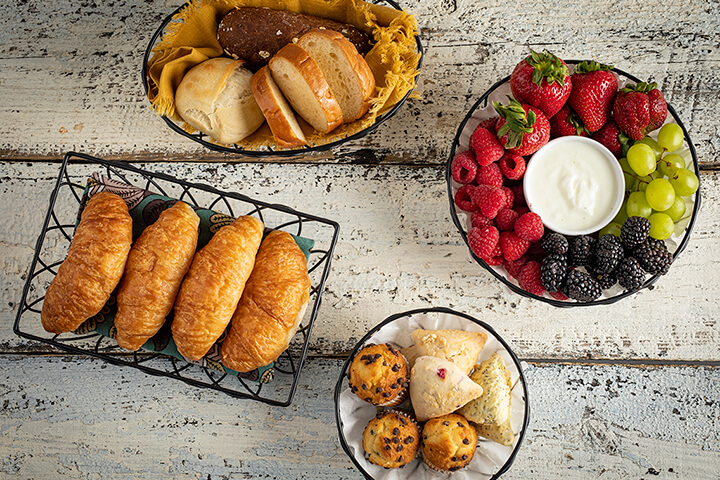 Swooping flower petals make up these wire serving baskets for an organic and modern presentation. Made with black powder-coated metal, the Petal collection comes in round, oval, and rectangular shapes at varying sizes.
The Petal collection is fantastic for service or display. Celebrate spring with a petal motif or use them as a visual winter pick-me-up for your patrons. Whether a bread basket or elegant lunch housing, the flower petal shapes that make up this collection are instant mood boosters that guests love.
Delta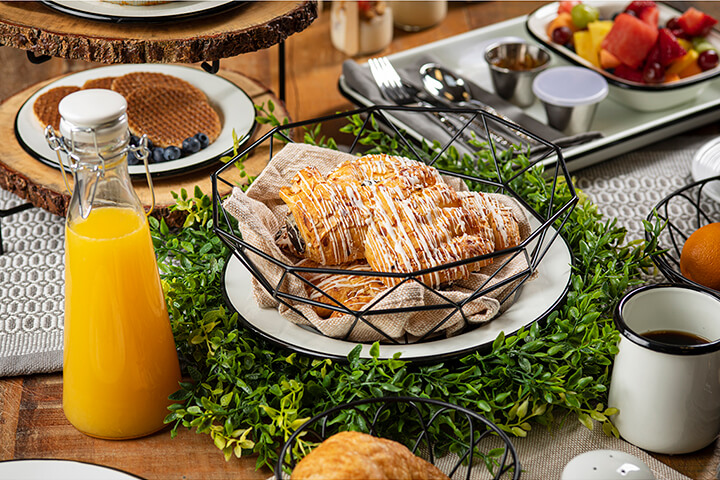 The Delta basket collection offers a clean look for any tabletop. Geometric patterns modernize your serving presentation and come in three convenient sizes of round baskets.
These eye-catching accessories are made from black powder coated steel and used to serve food or display fruits and vegetables. We personally appreciate the Delta collection because its presence instantly refines a dining room with its elegant presence.
Tower Servers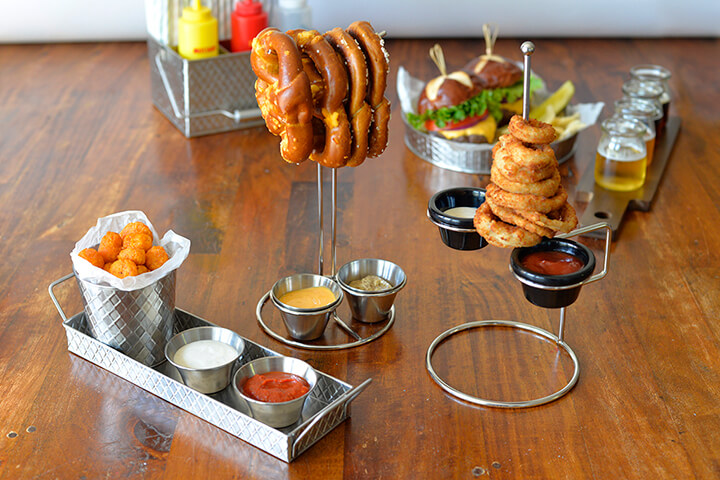 When you need some extra space on the table, reach for the Tower Server collection. These vertical serving solutions create a fun presentation with added height and personality, while saving valuable tablespace.
Whether serving sliders, onion rings, or pretzels, Tower Server designs are easy to clean by hand as well as dishwasher safe. This innovative solution is perfect for gastro pubs, diners, fast casual, BBQ restaurants, and anywhere that serves up sides.
Wire Serving Baskets
Stainless steel serving baskets are one of the most versatile ways to plate your dishes. Serve entrees and sides easily with a range of shapes and sizes to choose from: rectangle, square, and oval baskets, as well as large rectangular wire platters.
Wire serving baskets are used with paper or fabric liners, giving you endless presentation and design possibilities. And for those with limited space in your commercial kitchen, these heavy-gauge stainless designs are stackable for easy storage and transport.
Wire Mini Fry Baskets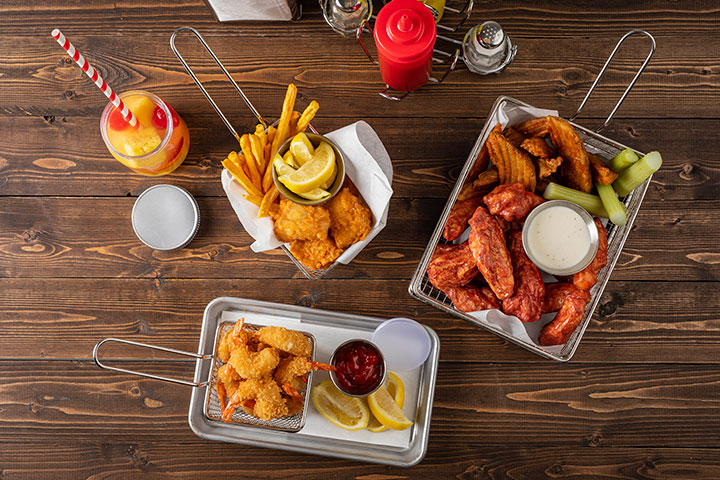 Constructed with 18/8 stainless mesh wire, these servers capture the whimsical look of mini fry baskets. The larger rectangular option can comfortably house an entrée, while the smaller varieties are ideal for perfectly portioned sides.
Just like the wire serving baskets, wire mini fry baskets use fabric or paper liners that allow your establishment to create a custom look. These baskets are also a staff favorite, in both the front and back of the house because they are easy to clean, dishwasher safe, and have built in handles for easy transport.
Sheet Pan & Pie Pan Servers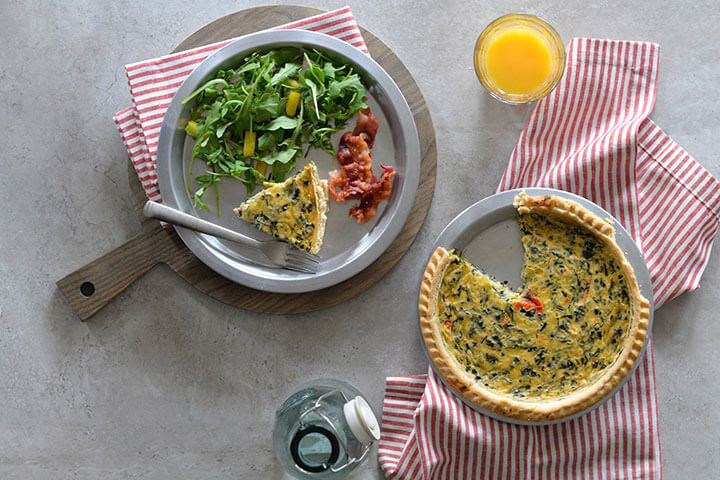 Pan servers are no longer just for baking. The sheet pan options offer an easy alternative to serve large portions of food, family style, while the pie pan servers allow you to bake and serve or simply just serve, all in one.
Available in dishwasher safe stainless steel and hand-wash recommended aluminum, pan servers are also an excellent solution for high-volume catered events.
Serve Up Some Inspiration
Creative serving solutions are a great way to add flair to your customer's meal, while encouraging them to repeat the experience with friends and family. Whether a melamine fry box or onion ring tower, your guests will love the novelty of plate-free dishes. What is the most creative serving solution you have encountered? Let us know in the comment section!
About Tablecraft
Every ware, every day, Tablecraft manufactures and distributes innovative foodservice and retail products worldwide. For 76 years, we have successfully continued our legacy of bringing high-quality, dependable products to the market while maintaining superior customer service. From front of the house, to back of the house — our product collections provide innovative and versatile foodservice solutions to help improve efficiencies and reduce waste, while elevating buffet and tabletop presentations.