Nostalgia is a powerful emotion that prioritizes the illusion of simpler, better times. Newstalgia, in contrast, takes alluring vintage product design, references its historical significance, and makes it new again. Updating your commercial table setting can be an immensely creative and satisfying process when employing a bit of newstalgia.
This article explains the principles of newstalgia and highlights different ways to elevate your tabletop, while keeping a wide range of budgets in mind. We will also introduce you to eight lines of dinnerware, flatware, and glassware to fast-track your way into a better looking, more engaging tablesetting for 2022 and beyond.
Newstalgia by Design
Retro-made-modern is a founding principle of newstalgia. In the case of dinnerware, it's about utilizing beloved vintage product design and then modernizing with new technology and/or materials. Elements of a newstalgic tablesetting include:
Dinnerware reminiscent of your family's china that is passed down for generations. For instance, referencing the china patterns grandma used for meals at her house or during the holidays.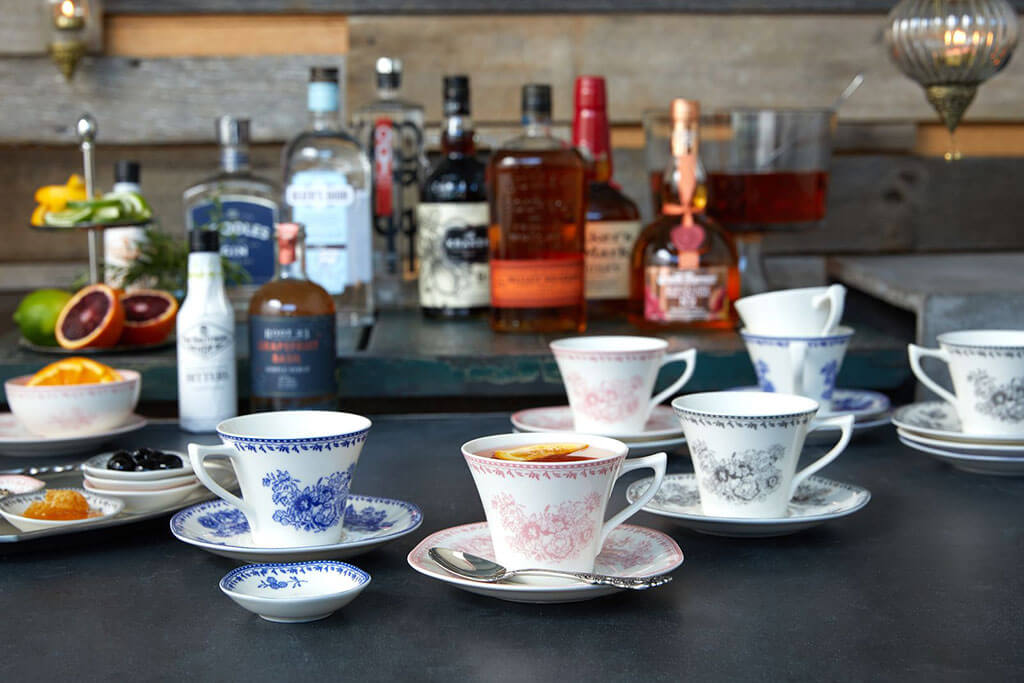 Flatware designs from ages of opulence, such as the late-baroque aesthetic, and periods of inspired creativity, such as Art Deco.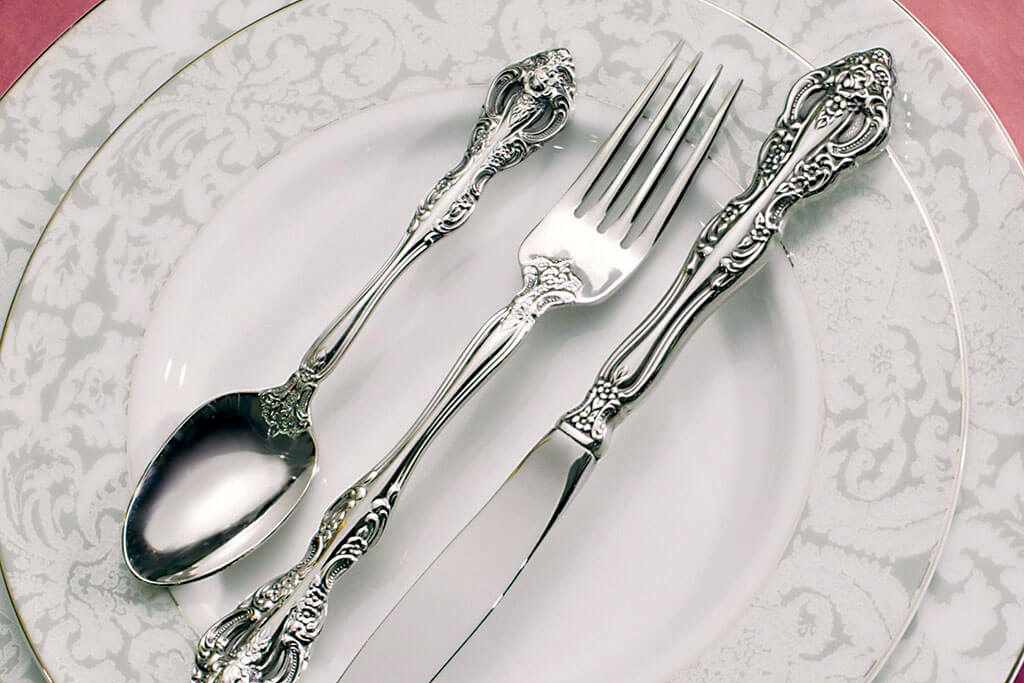 Glassware embellished with cut crystal and vintage shapes from eras where refined glamour and elegance abound.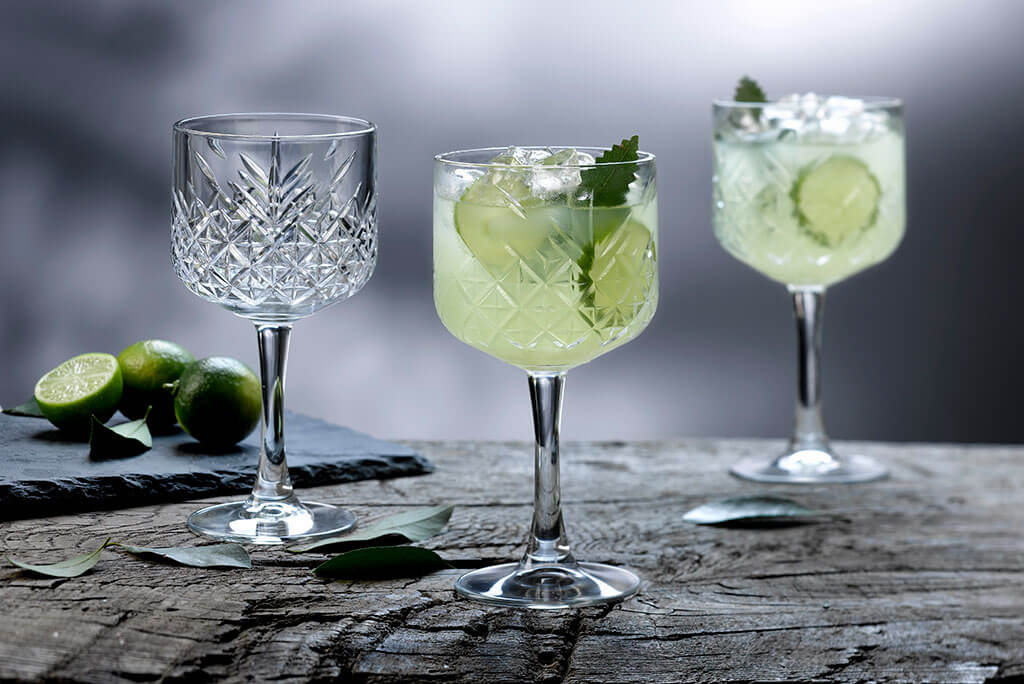 The following dinnerware, flatware, and glassware patterns are our picks for an updated newstalgia look for commercial tableware settings. Whether you are completely overhauling your current look or incorporating statement pieces into your existing tableware, we have curated a solution beginning with a toile de Jouy.
Lancaster Garden Dinnerware
Back in the age of opulence, toile was born. Although it was invented in Ireland, it was France that truly embraced the print. The word "toile" translates to "linen cloth" in French. Taste makers of the time including Louis XV and Marie Antoinette embraced the style, on both textiles and fine china.
Now, your guests can enjoy this monarch-backed design and feel like a French aristocrat. The Lancaster Garden collection is available in blue, pink, and gray. Depending on your needs, Lancaster Garden can be used in a variety of ways to update your table setting:
Redecorate your tabletops using the full line: Evoke the feeling of teatime in an English rose garden with traditional blue toile print. If you are looking to build your own colorful garden, try integrating all three colors into one enchanted place setting.
Statement pieces: If your establishment isn't ready to do a full overhaul, a great money-saving technique is to pick and choose statement pieces. A well-placed statement piece always makes a big impact.
Reinvent food presentation: Surprise your guests by subverting their expectations. Creative establishments enjoy mixing and matching their food and fine china to deliver an entirely unexpected, delightful pairing, such as serving casual fried chicken on a classic blue toile porcelain dinnerplate. As the design period toile was invented in was also one of playful whimsy, we think Marie Antoinette would approve.
Tin Tin Dinnerware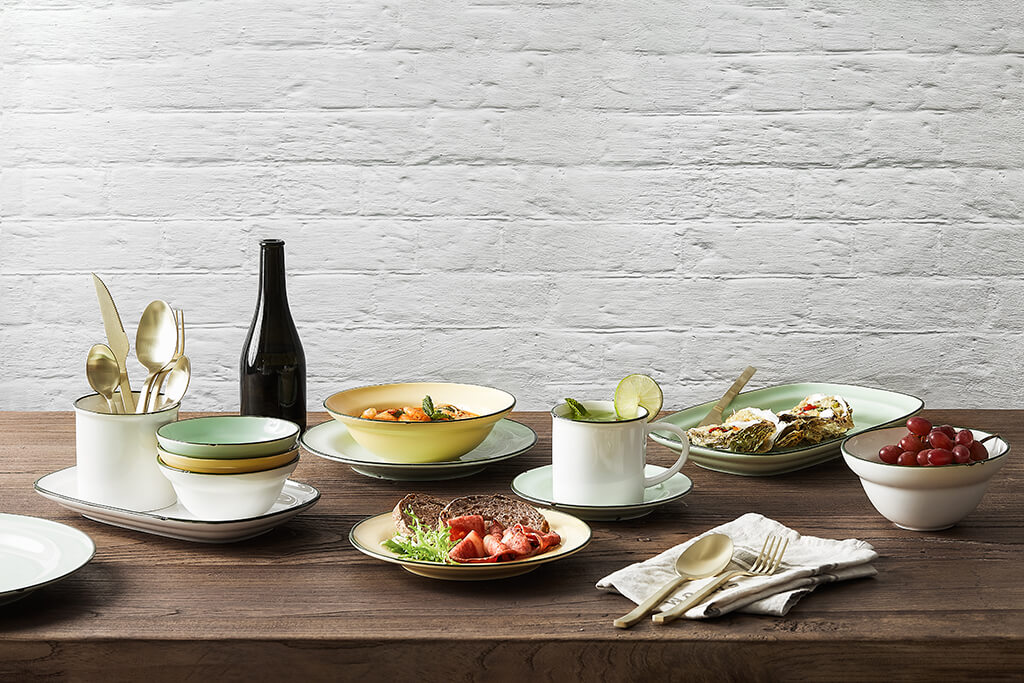 Vintage enamelware connoisseurs everywhere love the authentic look of Tin Tin. This "enamelware" however, is actually ceramic. Oneida created a line with the look of vintage enamelware — complete with chipped imperfections on the rim — but with the lighter weight and durability of glossy-coated ceramics.
Tin Tin comes in 5 colors: white/blue, and in green, blue, yellow, and pink pastel hues. As with the Lancaster Garden line, they are playfully modern pieces that work with a wide variety of design concepts as statement pieces or as a full setting.
In this case, examples of design concepts are retro kitsch, quirky glamour, art school, or pastel wonderland are go-to themes. However, Tin Tin is also a line for out-of-the-box thinkers. We love to see all the creative ways industry professionals dream up to utilize this look in their design concepts.
Next, we will look at 3 flatware lines that can be paired with plain white dinnerware or mixed with intricate patterns. Flatware is the setting piece that guests interact with the most — the look, feel, and weight. Elevating your place settings is extremely easy and budget friendly when you let the fork be the star.
Croydon Flatware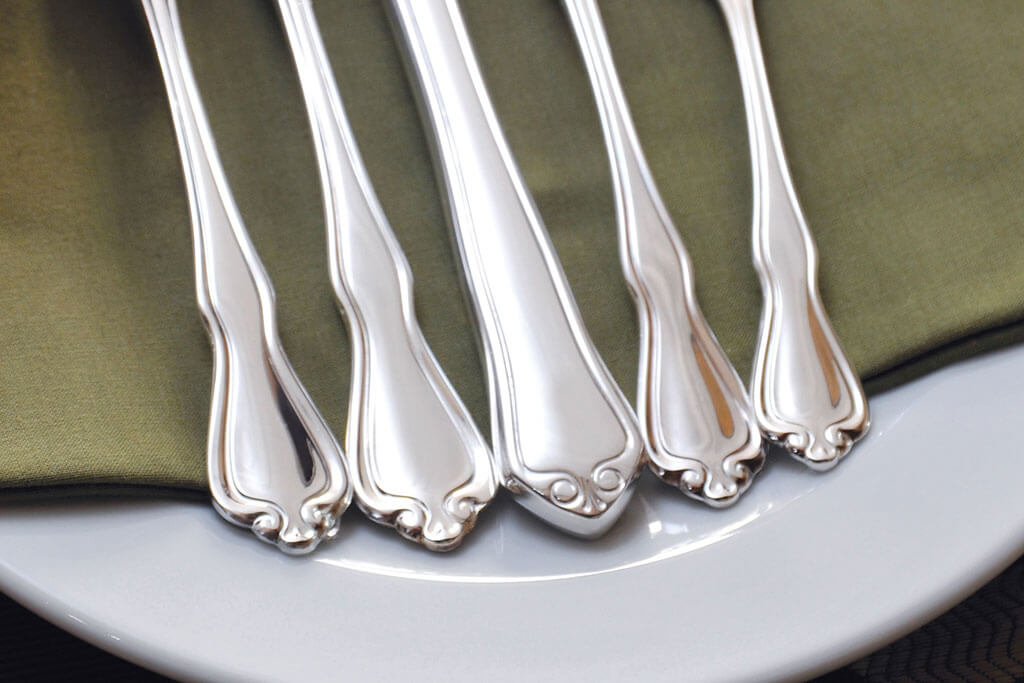 Simple and elegant, silverplated Croydon is a traditional flatware design featuring graceful wavy lines and delicate scrollwork reminiscent of centuries past. Luckily, delicate features do not translate to delicate products; Croydon is a wonderful investment in part for its long-lasting durability. Try this line with a plain white table setting to create an upscale minimalist motif or pair with decorative dinnerware for a celebratory vibe.
Michelangelo Flatware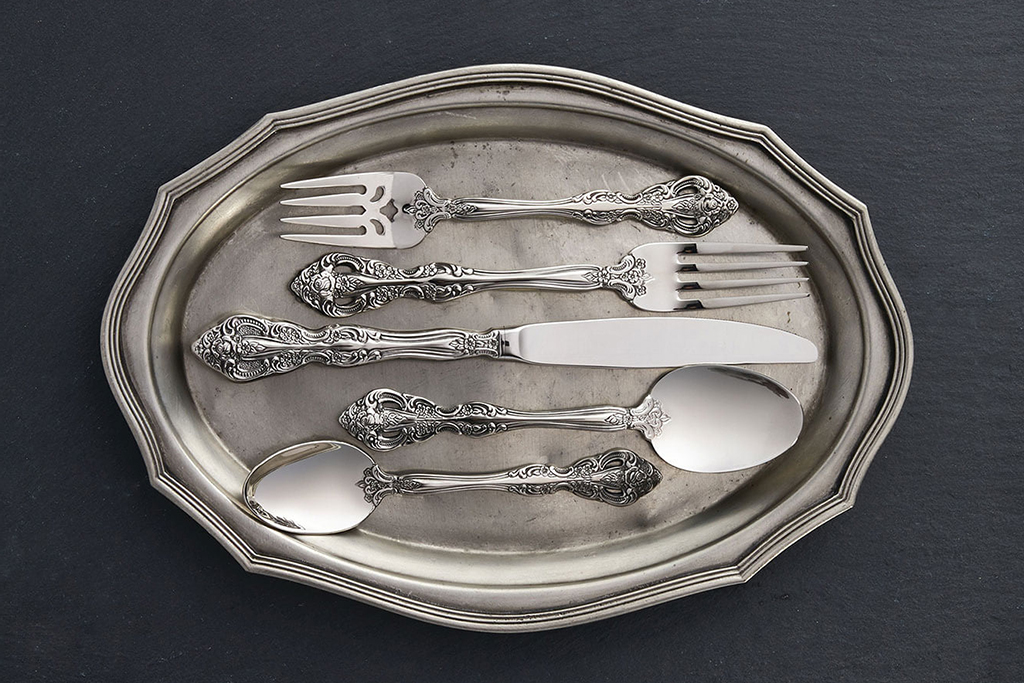 Gift your patrons with true baroque opulence by adding Michelangelo flatware to your place setting. Like the original artist's work, Michelangelo elevates an entire setting with its ornamental presence alone. The handle's engraved flower and scroll motif mirrors baroque architectural wood and metal carvings of the 17th and 18th century, while the cutouts give a nod to the fine craftsmanship of 18th-century interiors.
Imbued with a reflective shine, Michelangelo is made from premium 18/10 stainless steel that is heavy weight and highly resistant to rust. Oneida always stands behind their products and, in this case, offers a limited lifetime warranty. The most surprising characteristic of this line is that Michelangelo is dishwasher safe, a convenient and rare feature for such exquisite glamour.
Arbor Rose Flatware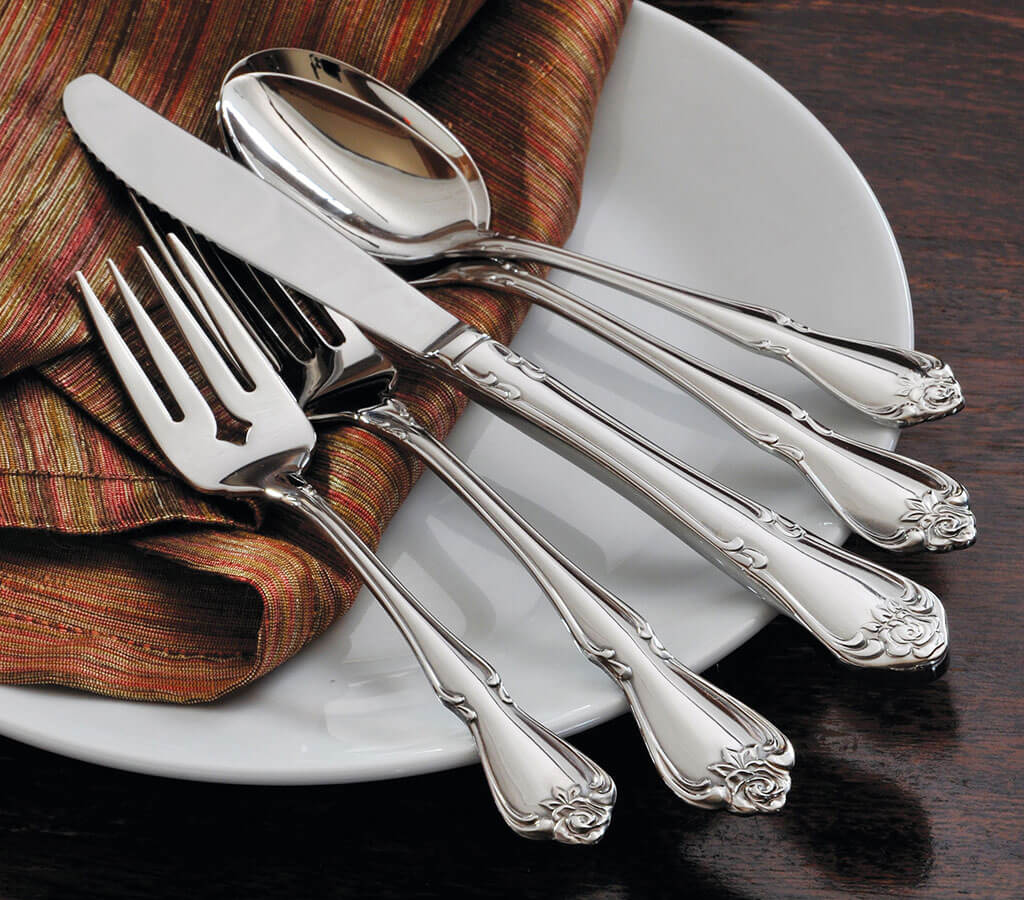 Vintage floral glamour. Arbor Rose by Oneida features a smooth scroll design finishing with an engraved rose bud on the tip of each handle. Its delicate floral and scroll design looks charming paired with plain white dinnerware. Likewise, it's easy to apply Arbor Rose creatively by pairing it with other floral designed dinnerware for a thematic approach.
Next up, we would like to introduce you to three glassware patterns that will elevate your patrons experience as they imbibe craft cocktails or premium spirits.
Timeless Glassware
"Timeless" may be an overused word in our age of nostalgia, but in the case of this glassware line, it is true. Taking its cue from Art Deco, Timeless features geometric cut glass designs. Like a match made in heaven, craft cocktails and speakeasy throwbacks look positively charming paired with the subtle geometric lines of a Timeless glass. Bonus — Timeless rocks, hi-ball, and cooler glasses are stackable space savers.
Elysia Glassware
Your guests will feel like confident 40s-Hollywood royalty while they sit pretty with Elysia glassware. Winner of the 2019 German Design Award, the jury noted that its classic crystal design and substantial weighted base was "a pleasure to hold – and thus convey a feeling of self-assurance and durability."
Glamourous retro styles rediscovered is newstalgia at its core. Elysia's multifaceted, weighted base and sleek vertical lines decorates tabletops while gracefully commanding respect. Your guests will feel on top of their game, while sipping out of Elysia glasses.
Nick and Nora Glassware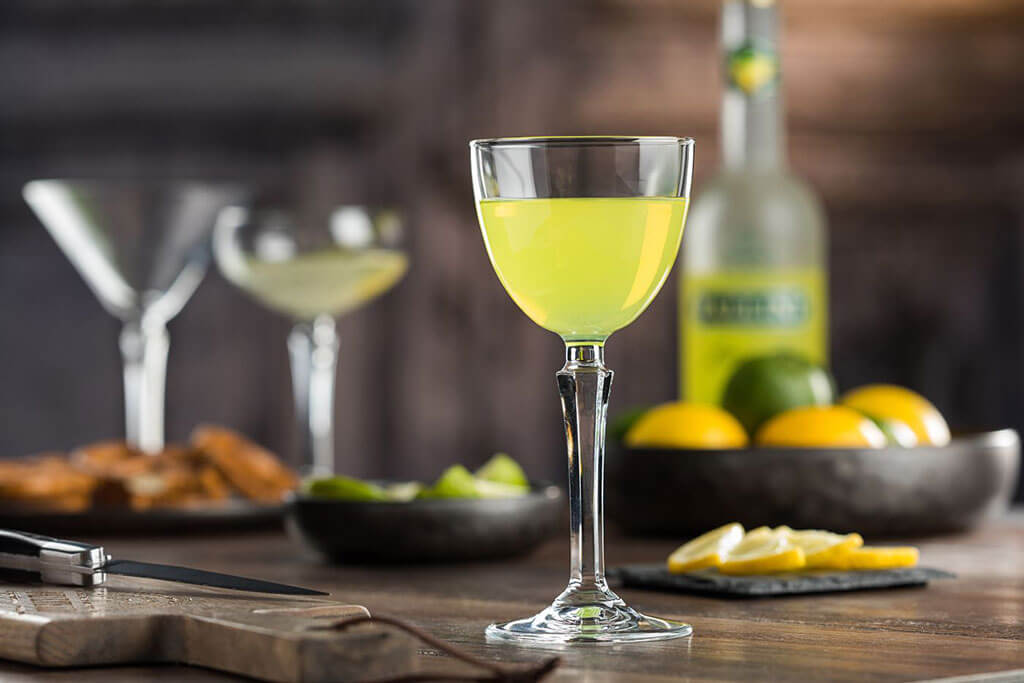 Nick and Nora glasses give your patrons the perfect Art Deco shape, capacity, and dimension to experience every flavor note of a premium spirit. Additionally, they are also fantastic conversational icebreakers.
Classic film and literary buffs will be delighted to know that the name "Nick and Nora" was derived from the Nick and Nora Charles, fast-talking detectives from the 1934 smash hit, The Thin Man. Former actor and bartending Dale DeGroff, revitalized this silhouette in popular culture when he sought out the perfect glass for a curated list of pre-prohibition cocktails. The solution was the style of glasses Nick and Nora Charles used in the film, and for good reason.
As of late, the trend for large, sweet cocktail mixers is fading away, leaving room for more sophisticated spirits and mixology creations that require a more refined palette. The Nick and Nora style glass are ideal for spirit-forward cocktails or neat drinks. They are delicate, small format cocktail glasses — typically around a 5oz capacity — that keep drinks cooler for longer because there is less surface area. Like a tasting glass, Nick and Nora silhouettes allows scents and flavors to be easily captured and appreciated.
Reinvigorate Your Tabletop
Elevating your tablesetting with newstalgic elements is an easy and fun way to freshen up your restaurant and rekindle the imagination. Whether employed as a full design overhaul, or used as statement pieces, each of the 8 lines we presented today work with a variety of looks and budgets. Have you seen newstalgic design principles represented in the foodservice industry this year? Let us know in the comment section!
---

About OHG
SETTING THE TABLE SINCE 1880
Rooted in a heritage of enduring quality and innovative design, Oneida has been gracing tables for over 100 years. Oneida Hospitality Group is here to help foodservice operators design the dining experience with a complete tabletop selection that encompasses dinnerware, flatware, and glassware.
Our manufacturing blends form and function to bring tabletop solutions that perfectly match any palate. We offer a wide variety of designs – from traditional to contemporary, timeless to trendy, and everything in between! Wherever people are gathering, you will find OHG woven into the best experiences.