Incorporating rococo-inspired elements into your restaurant's design concept is an easy way to create a welcoming interior beaming with personality. First, this article dives into rococo design basics. Then, we explore how three different restaurant concepts successfully incorporated 18th-century French aesthetics into their design concept. Rococo is the ultimate provocative yet sentimental mix n' match, so let's begin.
What Is Rococo?
Rococo is a style of art, fashion, architecture, and interior design that originated in France during the 18th century. Soon after, this style caught on in other European countries, specifically in Germany and Austria.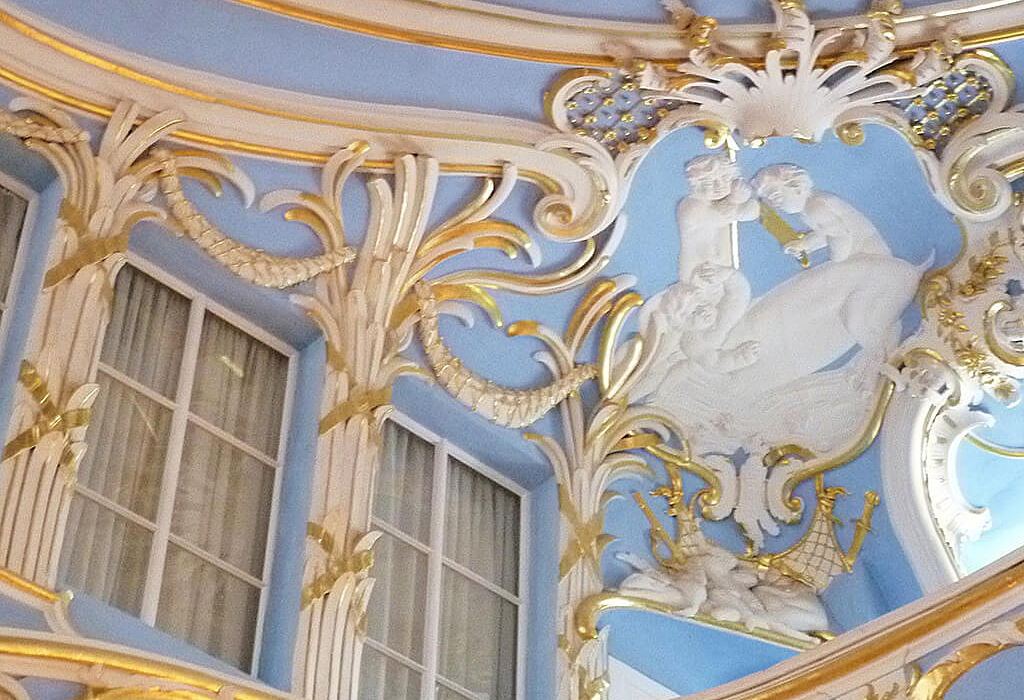 Initially, French aristocrats adopted this style after the reign of Louis XIV ended and Louis XV took the throne. Louis XIV preferred a heavier, less joyful style. Louis XV and his French court however, after happily returning to their Parisian mansions, sought something more fun, romantic, playful, and airy. Because of this, one could surmise that rococo is a rebellious design style, full of feminine extravagance and sensuality, while also lacking strict rules. At the time, people married to the classic or conservative styles, viewed it as degenerative and illogical.
The term Rococo is a combination of two words. First, the French word "rocaille", an 18th-century artistic or architectural style of decoration characterized by elaborate ornamentation with pebbles and shells. The second is the Italian word Baroco, indicating the end of Baroque style.
How to Identify Rococo Style
Rococo design is lush and extravagant, full of decorative elements, upscale fabrics, and comfortable upholstered seating. Above all, rococo design relies on the true craftsmanship of artisans; every piece of carved furniture, for instance, or embroidered silk wall is a work of art. Common visual/thematic elements include the following attributes: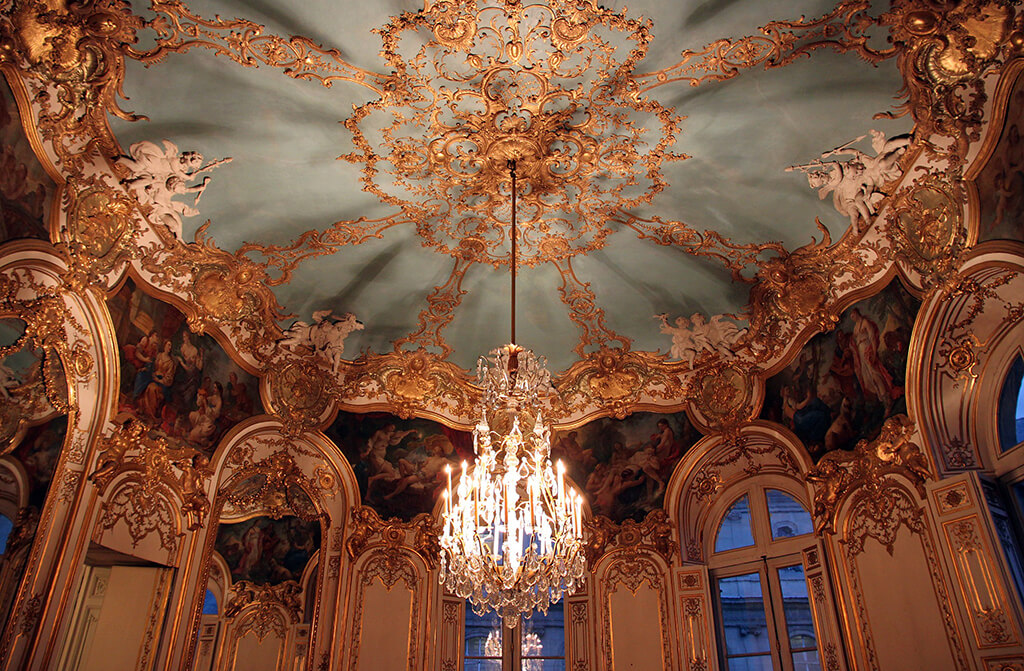 Colors: Light colors, light wood, and pastels in combined with metallics, especially gold
Textiles: Luxury fabrics such as brocade, velvet, and silk
Ceilings and walls: Extravagance, rounded edges, frescos, murals, panels, ornate molding, carvings, a smooth transition from ceiling to wall
Decorative accessories: Candelabras, chandeliers, clocks, candles, sculptures, large paintings with gilded frames, vases, boxes, figurines, and mirrors
Furniture: Soft, rounded, intricate, comfortable, ornate carvings, painted, embroidered, S-curved Cabriole leg shape
Patterns and ornamental themes: pastural, chinois, seashells, toile de Jouy, gods, goddesses, nymphs, cupids, cherubs and other mythological subjects
So, without further ado, here are restaurants that successfully incorporated rococo-inspired elements into their interior design landscape. Each establishment is thematically diverse, yet they all draw inspiration from the same source: 18th-century France. As case studies, their thematic differences highlight the versatility of rococo as a modern interior decorating style.
Coquette
Boston, MA
https://www.frenchcoquette.com/
Interior Design: Chic, casually sophisticated, flirty, whimsical, fun, upscale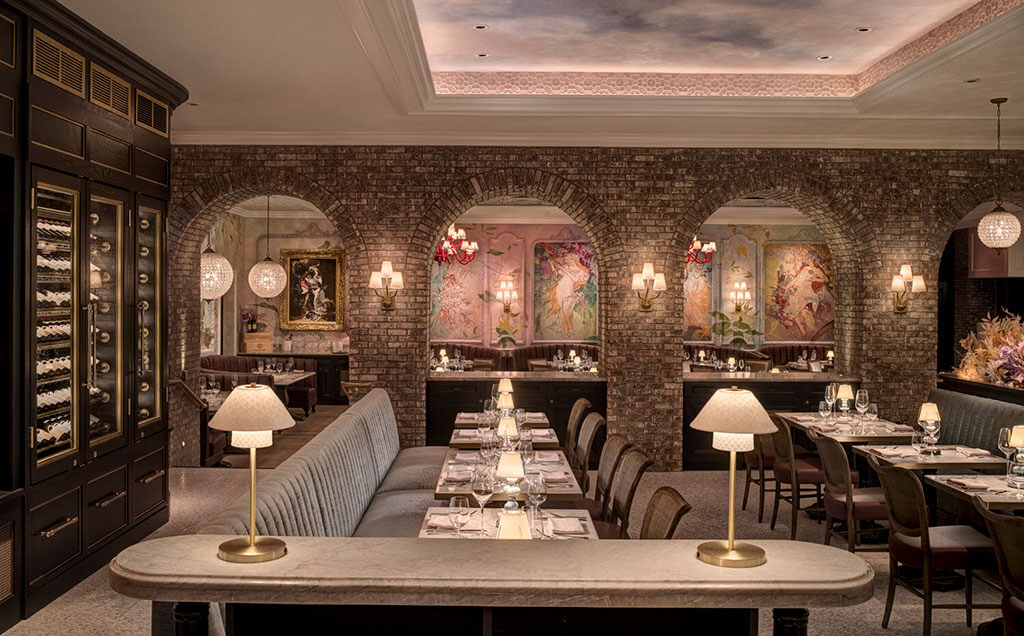 A "coquette" is a woman who flirts without sincere affection to gain attention and admiration. And like a coquette, this restaurant masters the art of presentation; its flirty interior grabs the attention of any passerby.
Coquette, located in the Omni Boston Hotel at the Seaport celebrates cuisine from Basque country, specifically the bounty of seafood and fresh seasonal cuisine from the coastal region of France and Spain. The design and décor seamlessly blends rococo with art nouveau, amid touches of pop-art.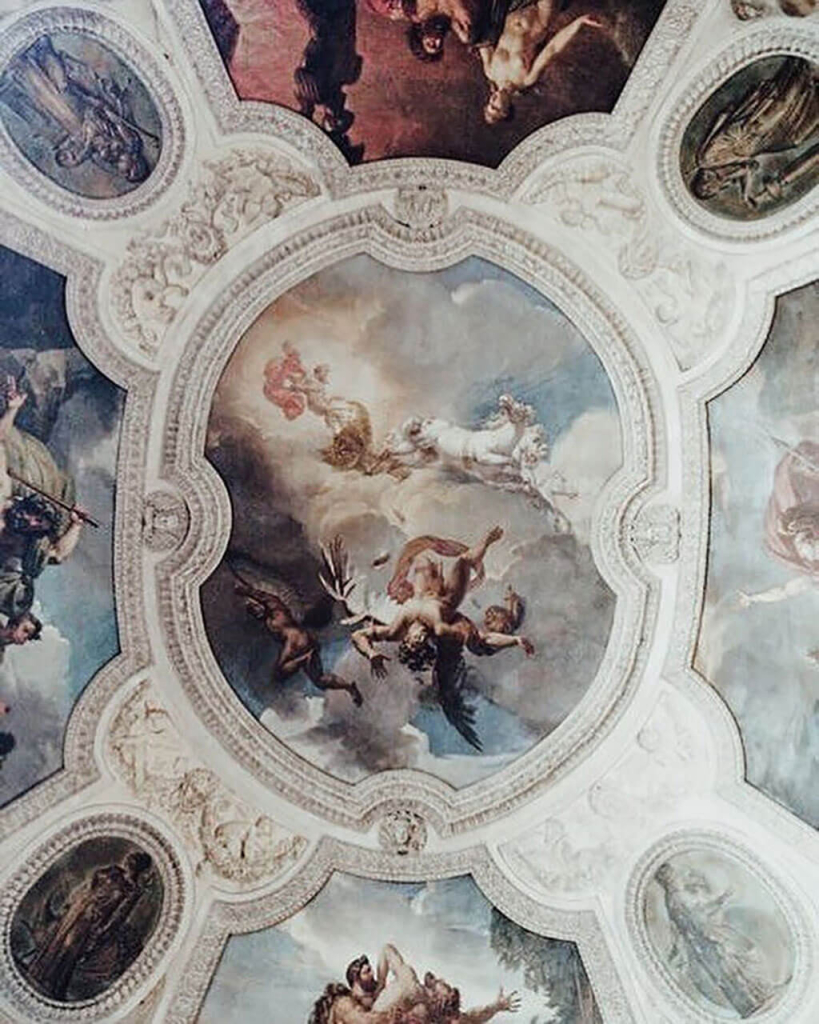 The design team drew inspiration from the French rococo period, and nowhere is that as stated as the bar area. Reminiscent of the soft-edged look at the time, the semicircular bar sits underneath a stunning ceiling fresco. The design team created a reproduction of François Lemoyne's Apotheosis of Hercules on the ceiling. The original is found on the immense ceiling in Versailles, completed in the 1730s for Louis the XV.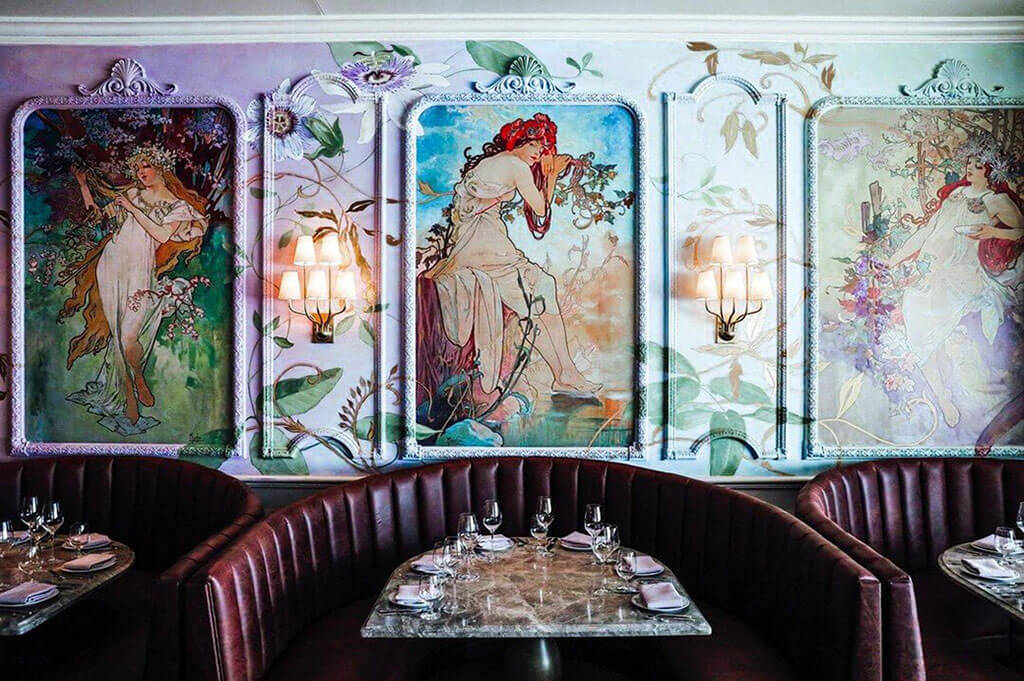 The color palette found throughout Coquette is rococo inspired as well. Starting with an iridescently sheened pastel backdrop in the main dining room, guests are also treated to pastel flower arrangements, murals, and an overall presence of pinks, lavender, and blues throughout the establishment. Paired with soft velvet chairs, custom red glass Murano chandeliers from Italy, and Lladro porcelain lamps from Spain, rococo reigns supreme throughout the dining experience.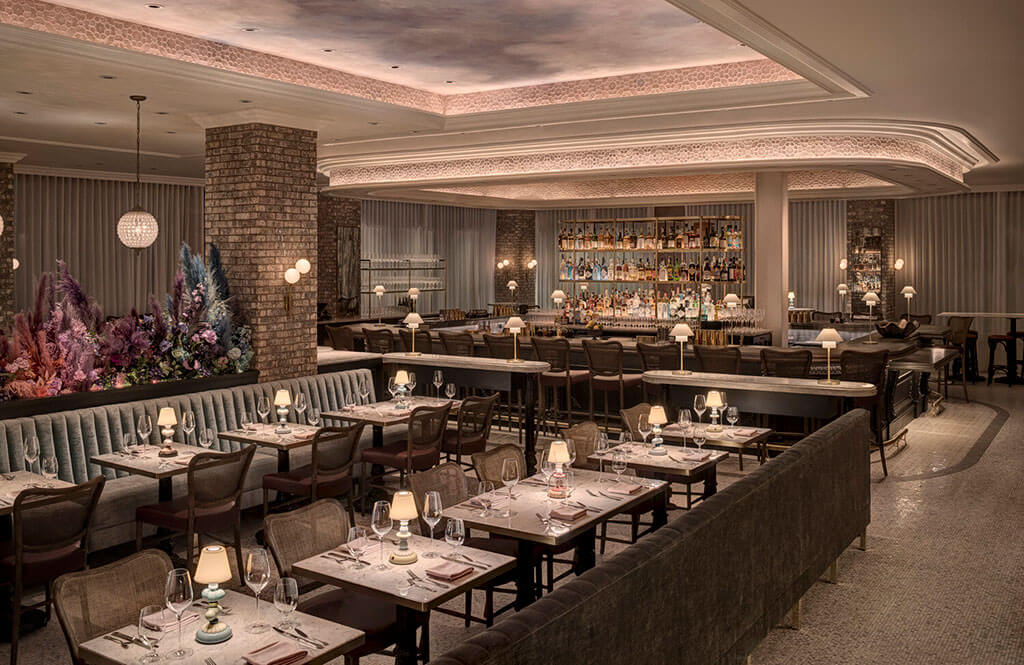 On the walls are 17th-century style portraits — with subtle bits of pop art embellishment incorporated by Dave Pollot — and the bold metallic frames reminiscent of that era. Artists Erica Hagler of Blind Fox Studio and Julia Purinton of Medusa Studio were commissioned to paint the ornate pastel Art Nouveau backdrop found in the dining room including a reproduction of Alphonse Mucha's The Four Seasons in panels to line the walls.
Everything in Coquette was custom made for the restaurant, echoing the value placed on craftsmanship in 18th-century France. Every detail of this restaurant looks as though it has been crafted through the filter of an intelligent flirtatious eye, marking a successful design for Coquette.
Kindred
San Diego, CA
https://barkindred.com/
Interior Design: Punk rock meets 18th-century France, bewildering, dazzling, welcoming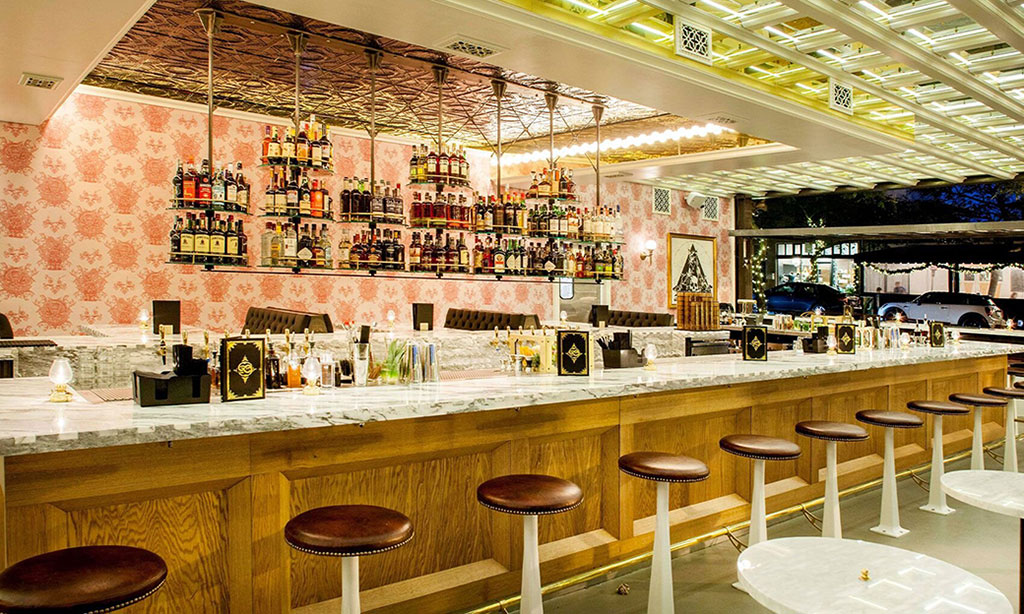 Rococo interior design inspiration often finds itself in the most unexpected of places because it is so versatile. In this case, it's a psych metal bar that just happens to be vegan.
Kindred's interior design is all about an interplay of ideas. The name Kindred itself is no exception; on one hand it is a lovely word that evokes images of family and those closest to you in mind and spirit. In contrast, as owner Kory Stetina pointed out in Revolver Magazine, the word kindred also has feral connotations, like the untamed energy of pack animals and their quest to survive and thrive.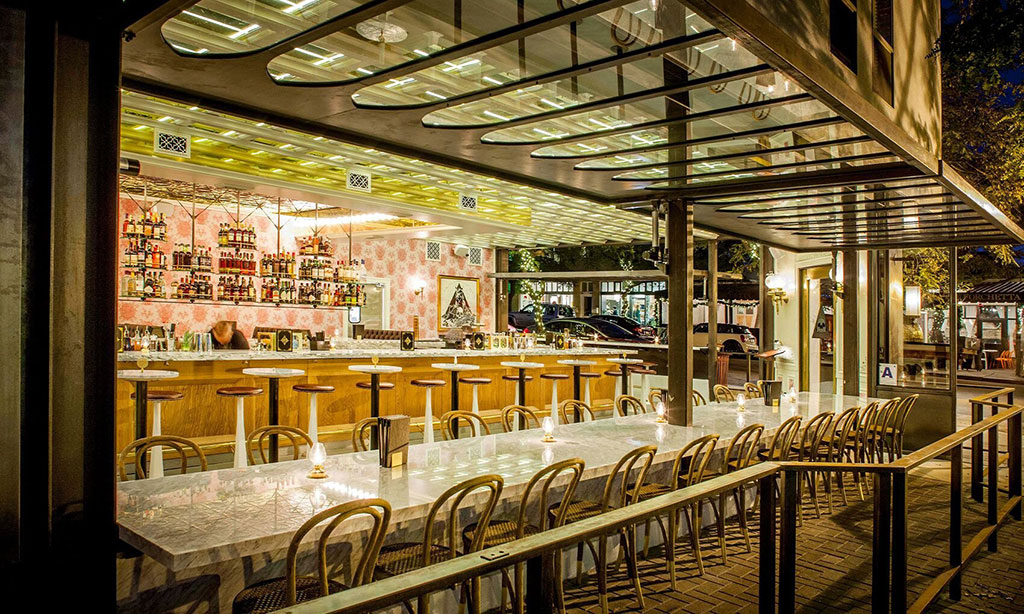 The décor choices mirror this contradiction in ideas: Light and dark, both in color and tone, masculine and feminine, vintage and modern. Kindred is also rebelliously ornate: It's impossible to ignore the 900 pounds of a 4-eyed wolf head complete with snake horns and a skull hanging on a heavily texturized wall. This looming triumph was commissioned by California-based artist Brandon Kihl. Almost every design feature was created specifically for Kindred by Basile Studio, while plaster specialist Sasha Seyb created the wall's texture. This one wall alone is an example of the fine artisan craftsmanship cherished by rococo enthusiasts.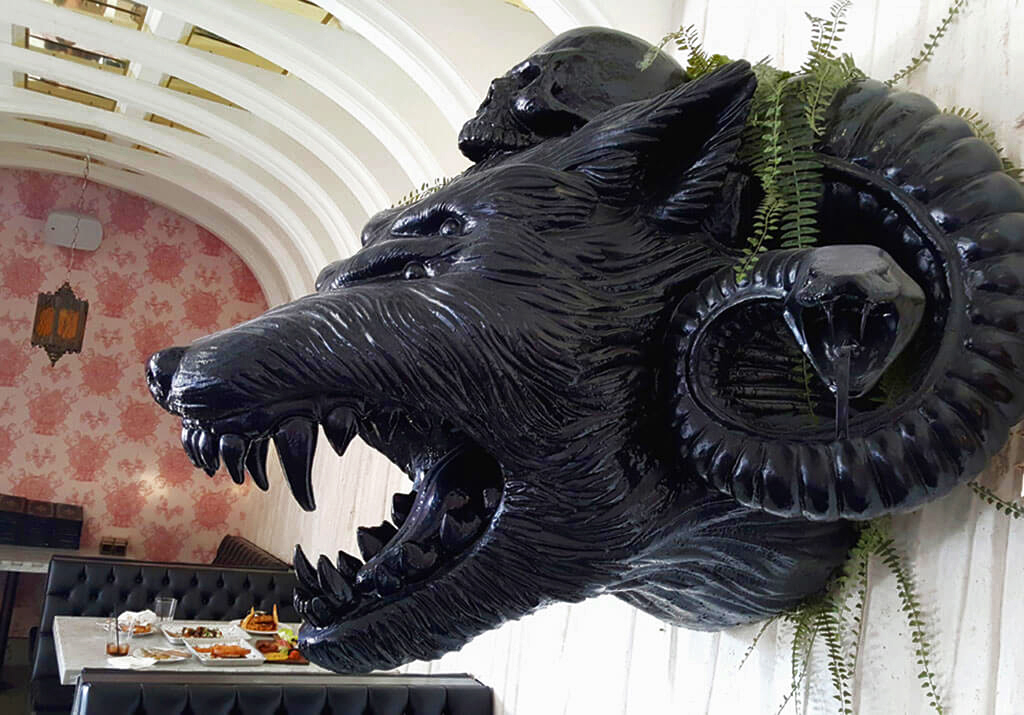 Sculptural triumphs aside, rococo influences abound starting with the delicate pink damask wallpaper created by artist Dane Danner. Damask textiles were extremely popular in 18th-century France. Playing on the fun and whimsy of rococo interiors while adding a touch of Kindred darkness, its revealed upon closer inspection that the damask pattern depicts scenes of carnivorous plants, superheroines, and fighting eyeballs.
The next feature that stands out as rococo-influenced is the bar area. The marble bar sits atop a light-colored oak seating installation. The marble/oak combination is also used in the floor seating area that was largely inspired by the tête-à-tête conversational seating popular in the 18th century. Fans of this bar may also notice their website's homepage mirrors the marble found on their bar and tables.
The ceiling is a dazzling display of rococo elegance. Above the bar lies an LED-lit coffered ceiling that leads to partially covered ceiling mirrors and gold metal accents. The interior decoration of Kindred is even more stunning when the sun beams through the 9-feet tall French-inspired flip windows. And of course, no rococo-inspired design would be complete without a chandelier. In this case, the designers went with an oversized chandelier made from glass and metal. Every disparate element found in Kindred ties back together to form one perfectly realized bar concept.
Friends of Dorothy
Victoria, BC
https://www.fodlounge.com/victoria/
Interior Design: Opulent, bourgeois, fun, vibrant, cheeky, modern royalty, inviting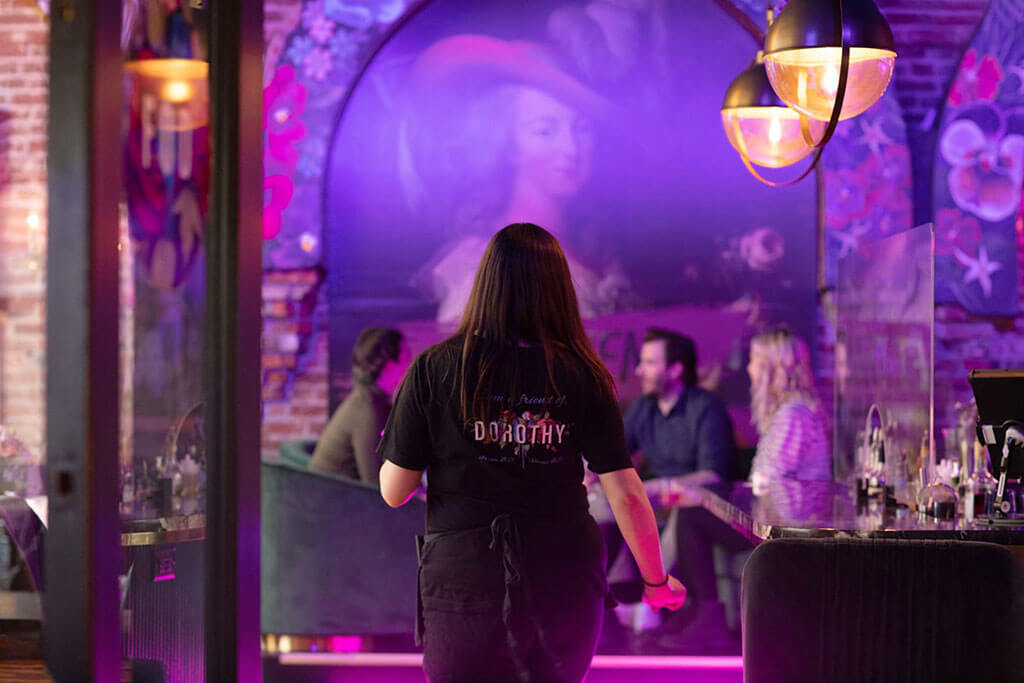 The Wizard of Oz and Marie Antoinette's infamous quote, "Let Them Eat Cake," take on double meanings at Friends of Dorothy. Back in the dark ages, not so long ago, asking a man, "Are you a friend of Dorothy?" was a safe way to identify other gay men without necessarily outing themselves. Now, it is more of a catchall term for anyone who identifies as part of the LGBTQIA2S+ community.
And by "Dorothy", of course, we mean gay icon Dorothy Gale from the Wizard of Oz. The code "friend of Dorothy" dates back 80 years. One particularly inspired passage that may have catalyzed the phrase is found in the Oz book series in which Dorothy comments on her friends being called "queer", "The queerness doesn't matter, so long as they're friends!"
At Friends of Dorothy, owner and designers Rudy Tomazic and East + Mack Interiors integrated the historical architecture of the building, including many sweeping grand arches. Then, they mixed rococo décor elements with rich and royal jewel tones, such as the striking cobalt ceiling. The rococo shapes combined with cobalt echoes throughout the restaurant. The soft blue lines of the bar and velvet bar chairs, along with the arch that frames the bar area and blue flowers painted on the wall exemplify this perfect marriage of color and form.
Other standout examples of integrating rococo design into a jewel-toned palette is the glittery chandelier near the entrance, greeting guests like modern royalty. Likewise, local artists added touches of real gold foil onto the existing arches. And an opulent lighting design works to bring out even more glam and intrigue out of the existing perfect motif. It's a decidedly velvety warm and welcoming space, even with all the nods to aristocracy and the French court.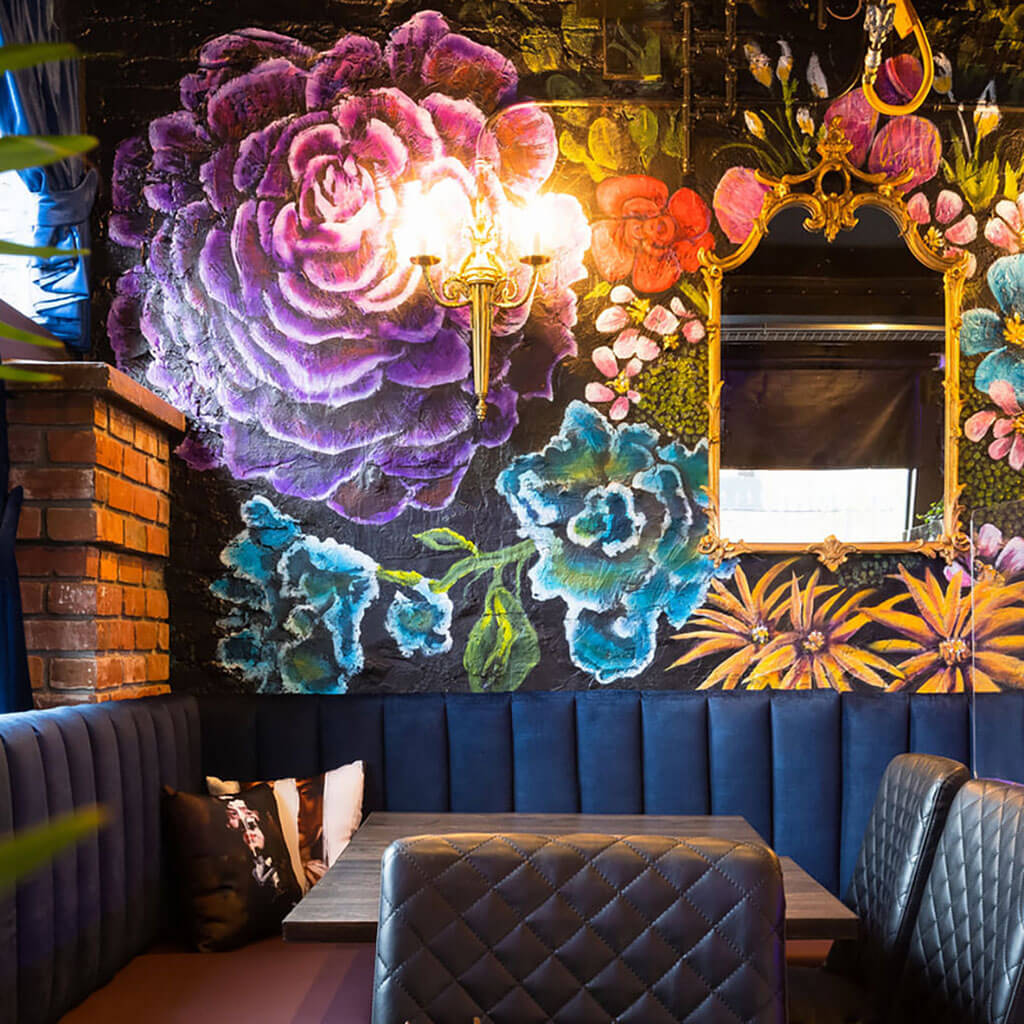 The walls at Friends of Dorothy are a combination of plain brick, a note to the brick road in the Wizard of Oz, and flowers. The floral murals are a variety of colors, sizes, and species, painted on the walls and sweeping arches found throughout the establishment. Both the brick and floral motifs are perfect backdrops for some cheeky art invoking the queen of rococo style herself, Marie Antoinette.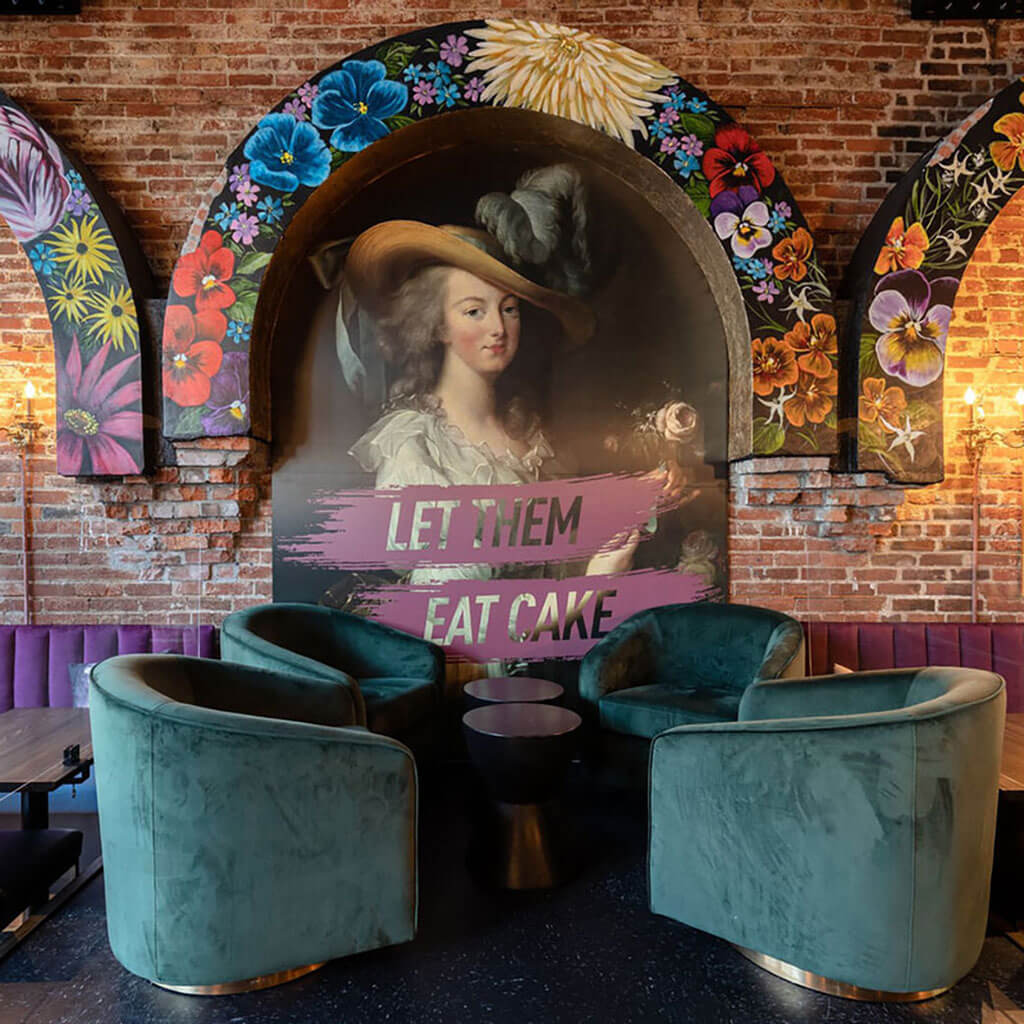 Marie Antoinette's most famous moment, rumored to never have happened, was her aristocratic solution for breadless, hungry peasants: "Let them eat cake." One large painting featured at this restaurant is a portrait of Marie Antoinette with that quote. In this context however, "Let them eat cake" is a message aimed at haters. Specifically, the LGBTQIA2S+ community is free to be themselves without judgement or threats at Friends of Dorothy.
A Perfect Marriage (of Style)
Much of rococo's imagery was centered around love, courtship, entertainment, and chance encounters. Which are also four reasons people enjoy going to well-designed restaurants and bars. Perhaps this makes rococo style an obvious choice for detailing an unapologetically spirited yet flirtatious and elegant restaurant interior. What time periods did you draw inspiration from when designing the interior of your restaurant or bar? Let us know in the comment section!