Building a beautiful buffet has never been easier, with Buffet Building Blocks by Front of the House. This innovative system takes the guess work out of buffet set ups while allowing the user to be in full creative control. This is possible because the Buffet Building Block system offers scalability, colors, textures, materials, and shapes to choose from that all work together in perfect harmony.
Creating a buffet that is uniquely yours begins with identifying your overall concept, style, and color scheme. The buffet collections by FOH we are discussing today all work in happy congruence with one and another, so your options are limitless.
Dots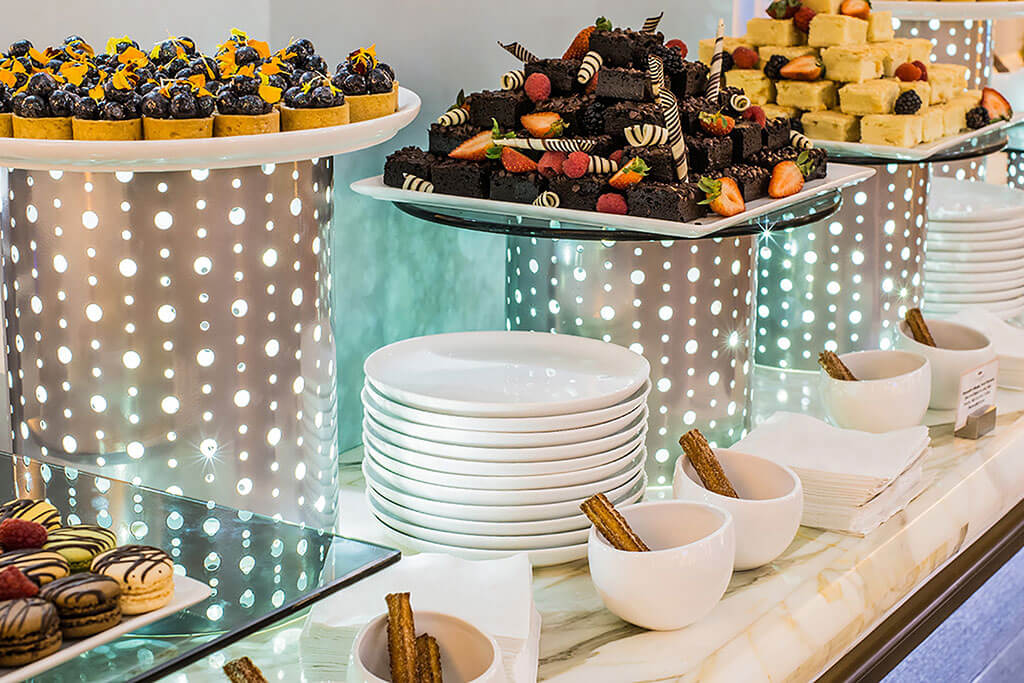 Dots by FOH is a fun and energetic addition to any display. The simple iron silhouettes pick it up a notch with perforated circles enveloping the pieces, creating a feeling of spontaneity and movement.
Adding playful, modern dots to your display engages the senses while the circle shapes add a softness amongst all the sharp and angular edges, creating a natural balance. Incorporating Dots into your buffet displays adds a touch of whimsy your customers will vibe off of.
Zig Zag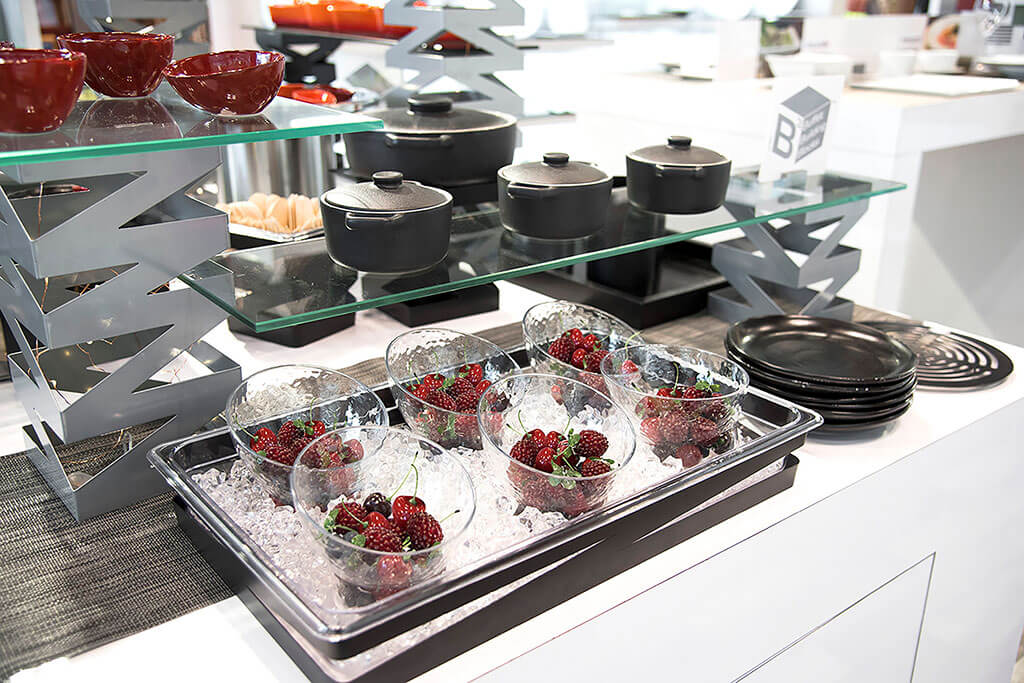 The flat cut outs of the Zig Zag buffet line allow you to place boards at varying heights to make the most out of your space. Zig Zag's solid lines combined with a durable powder-coated finish adds architectural intrigue and a modern edge into any display setting.
Zig Zag's dynamic structures and intricate geometric patterns truly interlock form and function, making it a win-win choice to incorporate into your buffet setting.
Twist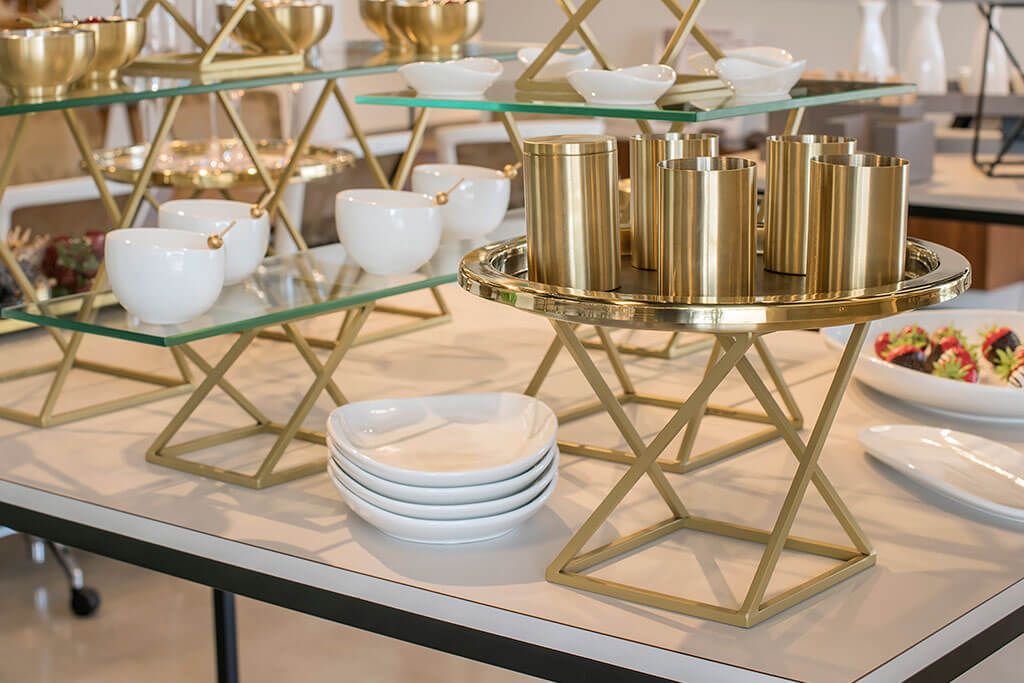 For a touch of industrial minimalism, mix and match with the Twist collection. This sleek design adds a wow-factor to your buffet, drawing even more eyes to your food. The urban-chic metal look embraces the less-is-more attitude commonly found in industrial interior design.
Simple geometric shapes also give your display an updated look and an upscale raw, modern edge. If your foodservice concept includes greenery, this collection compliments modern plant design as well. You can't go wrong with the simple foundational statement of Twist.
Coppered Wireware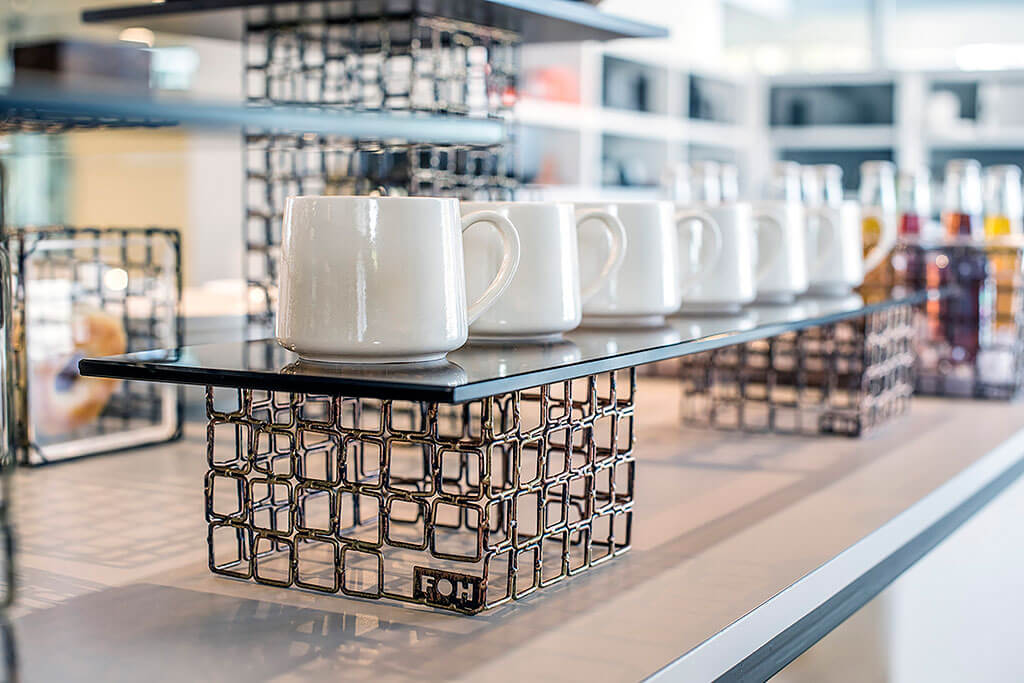 The delicate wired construction of this collection looks deceptively fragile. However, Coppered Wireware is constructed from fused iron that ensures commercial durability. Next, it is hand painted for an artisanal touch.
Copper is derived from nature and looks especially complimentary with other natural materials such as wood. As a metal, copper also radiates luxury and looks especially contemporary when combined with tempered glass. So, whether your goal is natural or glam, Coppered Wireware is a win-win for both.
Patina Wireware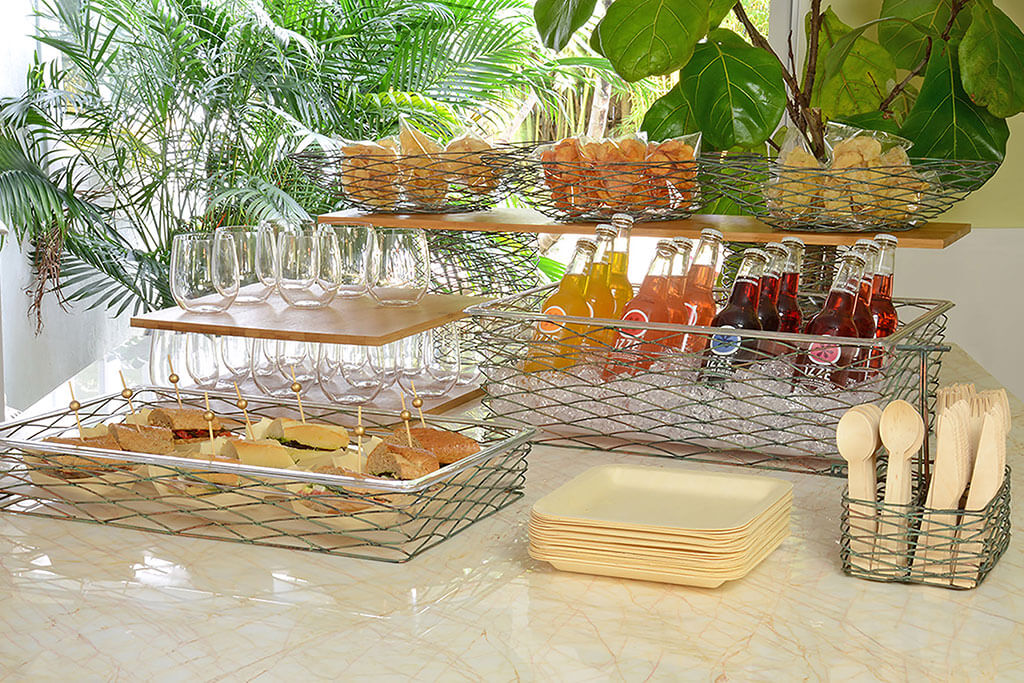 The multi-functional shapes of Patina Wireware are made from durable, hand-painted iron. The open weave pattern allows your food to be seen and enjoyed. The wires look delicate and intricately crafted yet retain commercial-grade strength to ensure a long life in your restaurant.
Patina Wireware's hand-painted green/bronze color makes it a perfect collection to add to any buffet display because it fits in effortlessly with the natural hues of food. For looks including nature, industrial metals, and an artistic appreciation, incorporating Patina Wireware is a must.
Natural Materials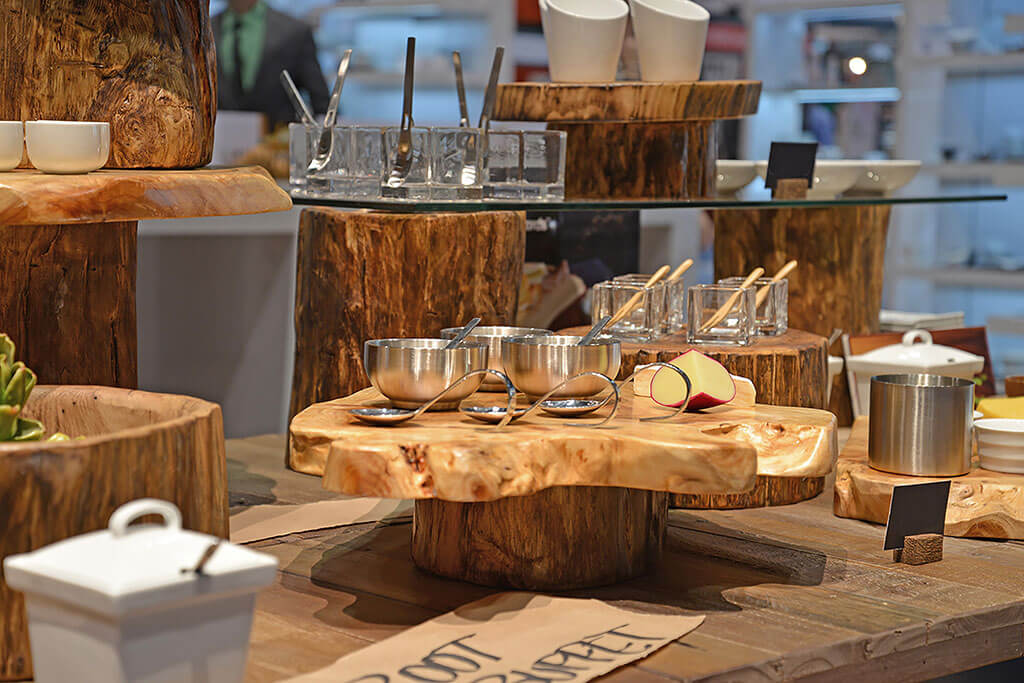 FOH designed a line of eco-friendly tabletop and serving solutions using nature as their inspiration with patterns that include Rustic Wood, ROOT, Palm Wood, Bamboo, and Rattan.
Their ROOT line, for example, is made from fallen trees. The organically shaped designs mean that no two pieces are identical. As nature is bound to return to the earth, FOH made the line durable by carbonizing the wood using an ancient Japanese technique called Shou Sugi Ban. Best yet, their natural pieces are lightweight and easy to set up.
Create Powerful Presentations for Your Restaurant
The Buffet Building Block collections are curated for a personalized touch, yet easy to piece together by mixing and matching patterns, textures, colors, and materials. Whether rustic or sleek, natural or industrial, the end result is always a beautiful buffet your guests will flock to and enjoy time and time again.
About Front of the House
Comprised of thousands of items, we are proud to design and manufacture everything we offer, from distinctive dinnerware and tableware collections and serving pieces to solution-based, beautiful buffet essentials as well as many other sought-after categories in tabletop.
Front of the House offers something to complement every restaurant's or hotel's design aesthetic, and every chef's culinary vision. Exploring the intersection of color, unique textures, and bold shapes with an array of sizes, the FOH design team continuously invents new concepts and powerful presentations for creative mixing and matching, all designed to stimulate the senses.
Each season FOH introduces hundreds of new products, surpassing market and industry trends, to provide our family of customers access to chic, multi-functional and well-priced collections, that are expressive of who they are.