We spoke with Columbus, Ohio native, Adrian Jones, about what it's like to be the owner of a cake business, how Instagram fuels the custom-cake industry, how to make a bride happy on her wedding day, how to switch careers after spending 20 years in the same industry, and more! For more examples of her artistry or to order a cake, please check out the Kennedy's Kakes website, Instagram, or Facebook page.
---
When did you first show an interest in baking?
I started baking with my mom and grandmother. I've always loved cooking and baking and I spent a lot of time in the kitchen with my mom as a child. Eventually when my grandmother came to live with us, well, that was even more baking time for me. I couldn't get enough!
For example, when I was seven years old, I won an art contest with the prize being a choice of books from the Scholastic Book Fair. And what did I pick? Cookbooks and baking books. I guess I didn't look back.
I honor my mom and grandmother through my recipes. A lot of times, I feel like I'm channeling my mom while I'm baking. Some recipes are tried and true, so I don't touch them. If I even tried to alter them, I would hear my mom saying, "You know that's not going to be right."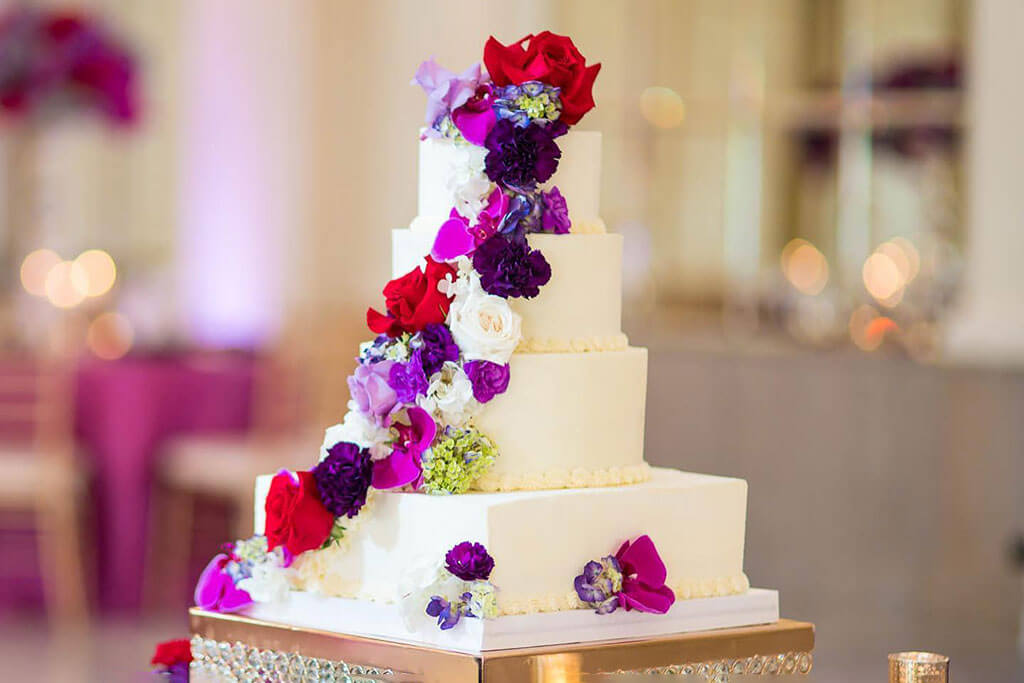 You grew up baking, but your career began as an esthetician. After 30 successful years as an esthetician, what prompted you to start a cake business?
Making the switch from makeup artistry to baker — I always say I went from painting bride faces to painting bride cakes. So many brides! I love the art and I love the color. As an esthetician, makeup artistry was my favorite part. And it's the same with the cakes! I get to be creative, work on designs, and think about color. My cake is my canvas.
Was there a transition period where you were both a professional makeup artist and cake maker?
Back in 2009, I started the cake business while I was still a full-time esthetician by fulfilling orders just for family and friends. I did want a real business of my own, but I wasn't quite there yet. Luckily, I have wonderful friends.
I had one near and dear to me who would order cakes every week, just to get me in the production mindset. Then I had another friend convince me to get on Facebook. I was very reluctant to put myself out there, but I did it. And they were right because that's how everything took off.
My cake business stayed part-time while I was juggling my full-time work and being a single mom. Eventually, my side hustle grew to the point where I couldn't keep up with the volume of orders. It was time to make a choice, so I took that leap of faith.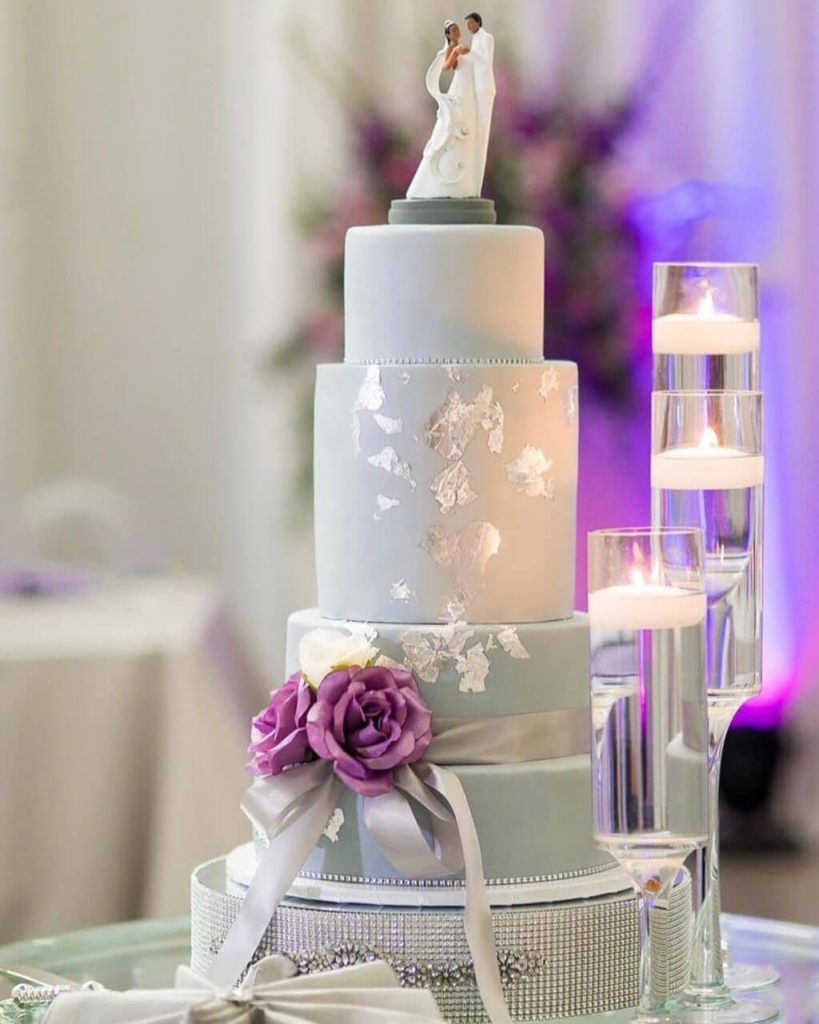 When I made the move from my 30-year-long job as an esthetician to owning my own cake business, I was scared. Actually, the scariest part was being a single mom. I wasn't just trying to take care of myself and she was getting ready to be a teenager. However, I still had my license, so I had that to fall back on.
Tell us about your creative process when working with clients on specialty cakes.
My creative process usually starts with a conversation like, "What was your favorite candy bar growing up?" That is what hones people in: a nostalgic treat that they can't get anymore, or something sweet that is simply their favorite.
Then, I take my new idea and start to build a cake. If someone, for instance, loves Snickers, I would think about what they would love to experience on a cake. So, we're going to put some Snickers nougat in there, peanuts, and peanut-butter flavored buttercream.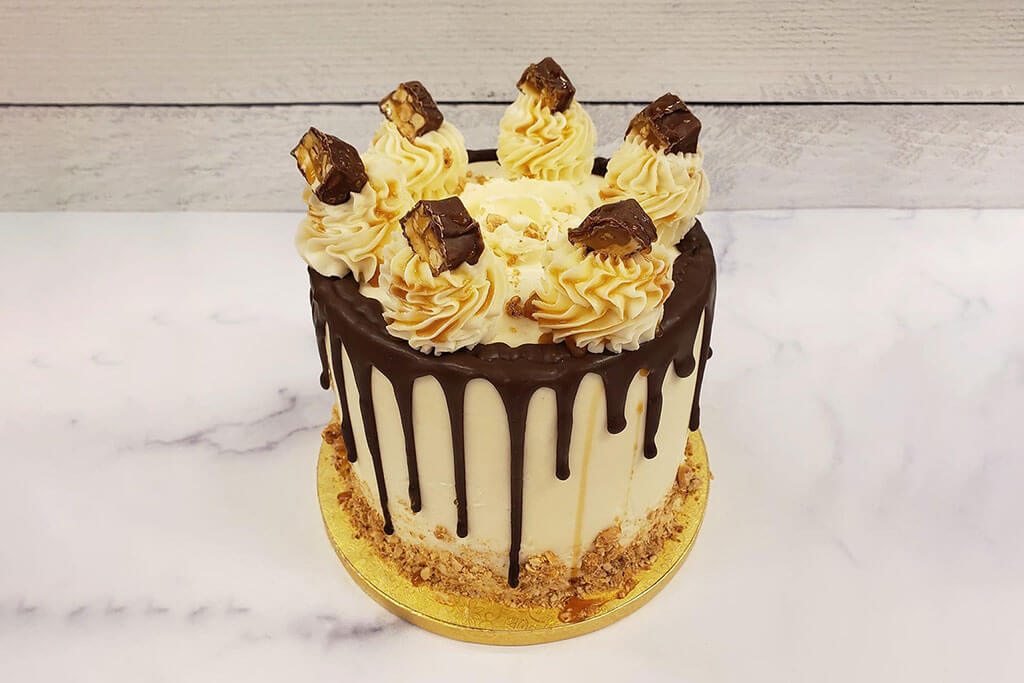 I also get new ideas from the holidays. The Cake-a-Rita margarita cake that I came up with for Cinco de Mayo was received extremely well. Also, I'm also always listening to music which is how the Beyoncé-inspired Lemonade Bey cake was created. It's one of our most popular cakes.
How does the process work with building a dream wedding cake?
For wedding cakes, we first have a meeting or a quick call to see if we're a good fit. I let them know my pricing and I gather wedding information from them like venue, wedding coordinator, and serving amount. I also gather personal information such as their favorite flavors and colors.
That initial meeting prepares me for the actual consultation. I prepare a tasting box for them to pick up and have a Zoom meeting later to walk them through it. I also ask them to share their Pinterest board or any inspirational photos they have. By this time, I know the direction they are heading in. Next, I pull photos on my own and create a sketch for them. Then I start building their dream cake!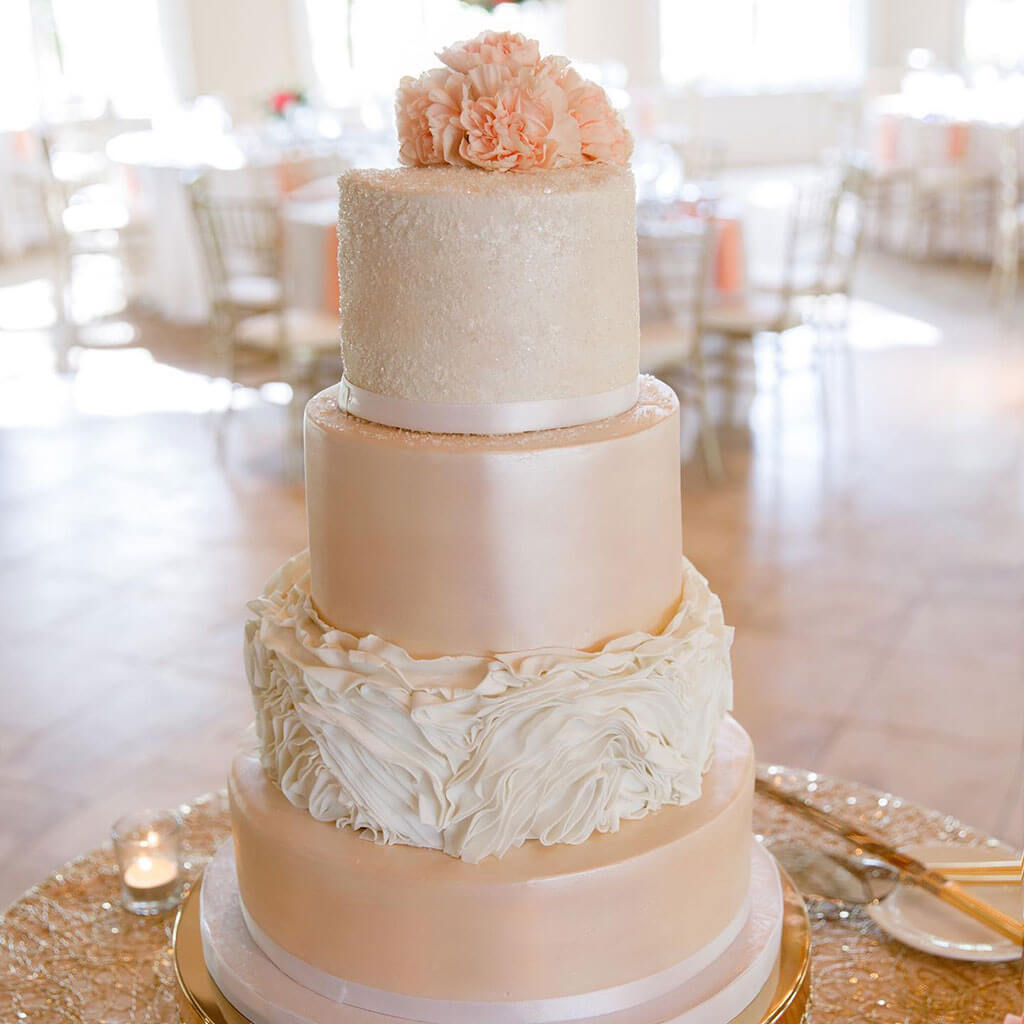 Building a wedding cake is a multi-day process. Some I can spend 10 hours just on one tier of ruffles. I will allow myself to do two wedding cakes on the same day. Even if the wedding cake is easy, it's still a wedding and the cake is just as important as the dress.
What are some current wedding-cake trends?
For the past two years, the semi-naked and naked cakes have been rampantly popular. A great example of that trend is my Turn Around I'm Naked cake styled with minimal amounts of buttercream and fresh berries.
Something else that is very popular is lots of fresh flowers and greenery. The greenery trend is huge and most of the greenery used isn't edible. Another big trend right now is the boho theme with colors like tans, off-whites, creams, lots of rolled gold, and actual wheat for décor.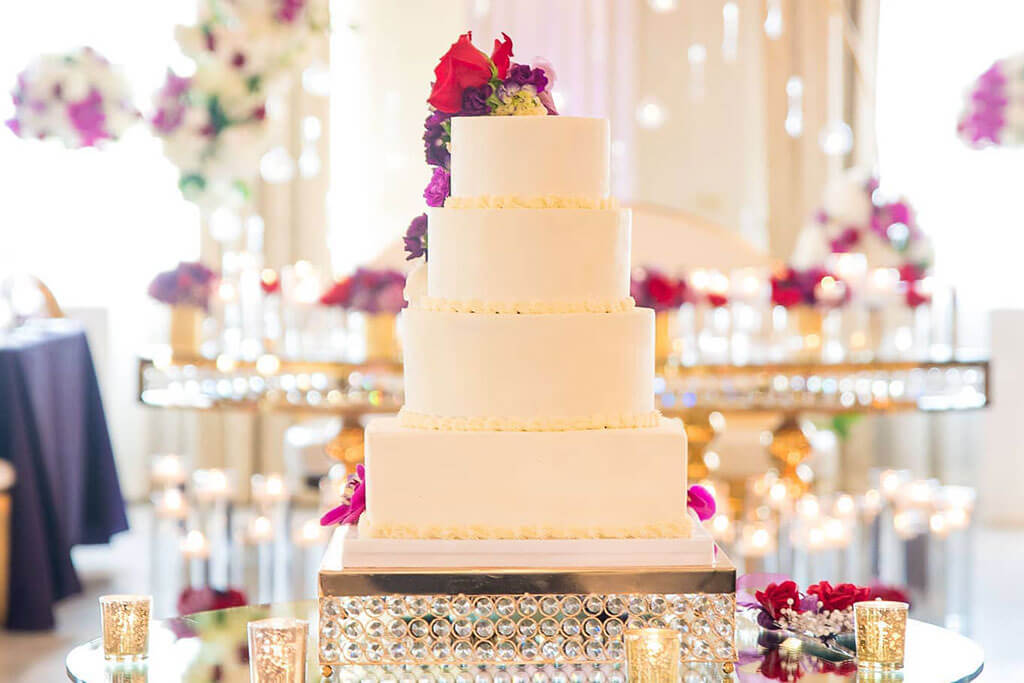 Should wedding cakes taste better than any other cake?
Your wedding cake, your birthday cake, and your Friday night cake, for me, the cake is going to be the same. I don't think your after-dinner cake or birthday cake should be any less moist and delicious than your wedding cake. So, it's the outside décor for the wedding cake as well as its size. Wedding cakes are special and definitely a showpiece. I always tell my brides, "Don't let the room swallow it up. It needs its own presence."
As for what makes a good cake in general, first, there is the flavor. When you bite into it, you want it to be moist. Then you want it to be gorgeous. My cakes incorporate all three: flavorful, moist, and gorgeous.
What is your favorite cake to create?
Every month I think I've found my favorite and then the very next month a new favorite comes along. And so on. I would say one of my all-time favorites was tall and white with all of these gorgeous ruffles at the bottom. Something about all white is gorgeous. The flowers, ribbon, fondant … everything was white.
I also love when I get to create large, show-stopping cakes. A smaller percentage of brides ask for those, so I'm always thrilled when it happens.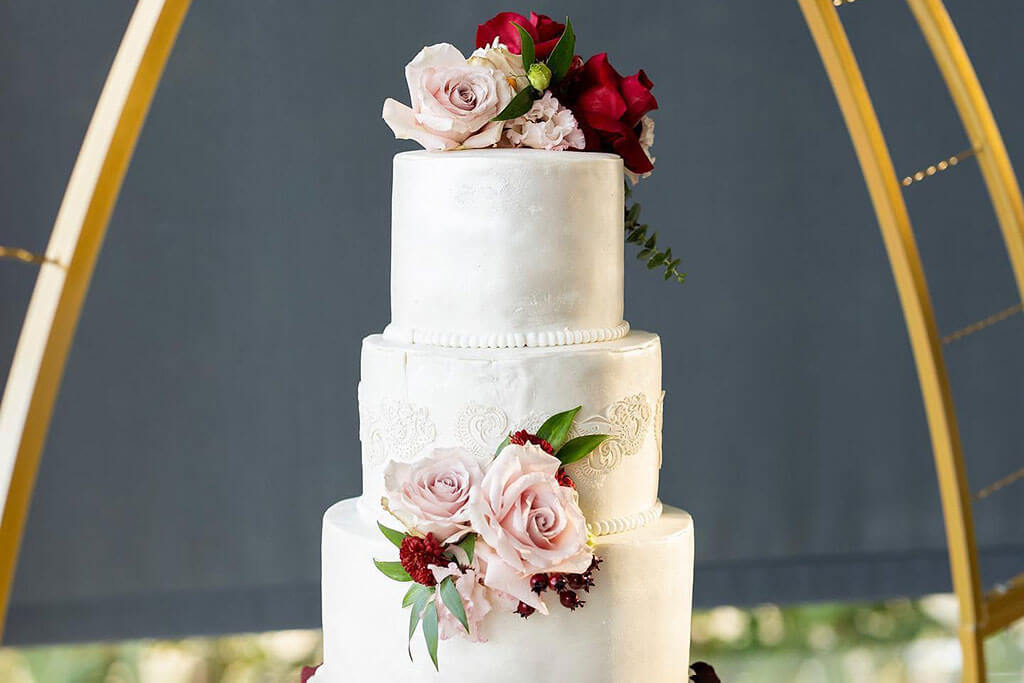 Do you think cakes are becoming more diverse due to social media influence?
Instagram will not let us breathe. But I love that fashion drives cake trends. But for the most part, no matter what's going on in pop culture, brides like to keep it kind of simple. The trends are out there but for the most part, no matter what's going on in pop culture, brides like to keep it simple. Now, that's wedding cakes. Custom cakes are a different story.
With custom cakes, social media definitely drives trends as does Food Network competition shows. People see it online or on TV and they want it. But yes, Instagram and other media definitely drives the custom-cake industry.
Because I create custom cakes, wedding cakes, and signature cakes, I'm able to get really creative and apply my techniques to the more complicated trends driven by social media. For instance, one customer wanted a cake for her boyfriend who is a little money obsessed. So, we made him a money bag cake. Custom cakes like that are really popular.
How do you grow your customer base? Where do you see your business in 2-3 years?
As for growing my customer base, I'm about 50% word of mouth, 40% social media and 10% is corporate. I haven't done any type of advertising outside of bridal shows or similar events. I'm sure that will change in the future as I grow my business.
Right now, custom creations are the driver for Kennedy's Kakes. But as my business grows, I'd like to be more focused on wedding cakes. Right now, I'm about 50/50. Wedding cakes are a more lucrative business because custom cakes are more time and labor-intensive.
My big dream that I'm working on is to own my own cake boutique. All of my clients can come in for consultations and I could have popup shops for our tasting boxes which are very popular. I want my brides to feel special and well cared for the moment they step through the door. I'm currently looking for spaces and intend to have that up and running in two years.
Do you have any advice for people looking to start their own cake business?
The first thing is to just do it. Don't put it off and just take that plunge. You've got to start somewhere, so just start. Make that first cake and try to sell it. You'll gain experience and understanding, and then you go from there.
I wish I had implemented processes and procedures prior to my business ramping up. I would say, start with processes and procedures right from the start. It'll make life a lot easier for you. And be prepared to work.