Give your guests the best in beverage service with Rosseto's top-of-the-line designs. Rosseto dispensers are sturdy enough to thrive in the busiest venues, while maintaining a clean, modern look that brightens up a room.
All the Rosseto dispensers featured today are:
Made from high-quality materials including acrylic and USA-made steel and;
Features a hands-free crystallized tap that aligns with new health and safety guidelines.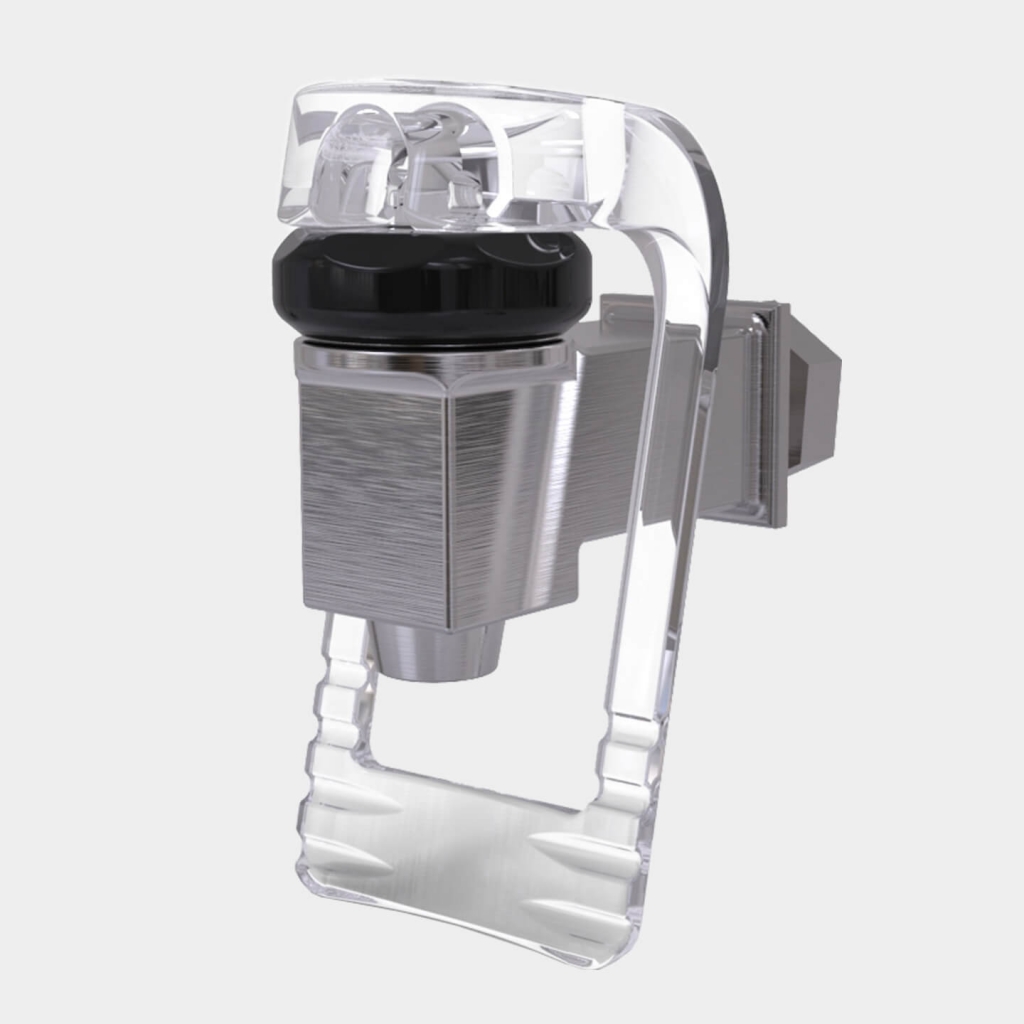 An optional assortment of mix-and-match accessories are available for separate purchase including drip trays, risers, and surfaces for a personalized setup that speaks to the feel and size of any space.
Rosseto LD174 Lucid 3-Gallon Beverage Dispenser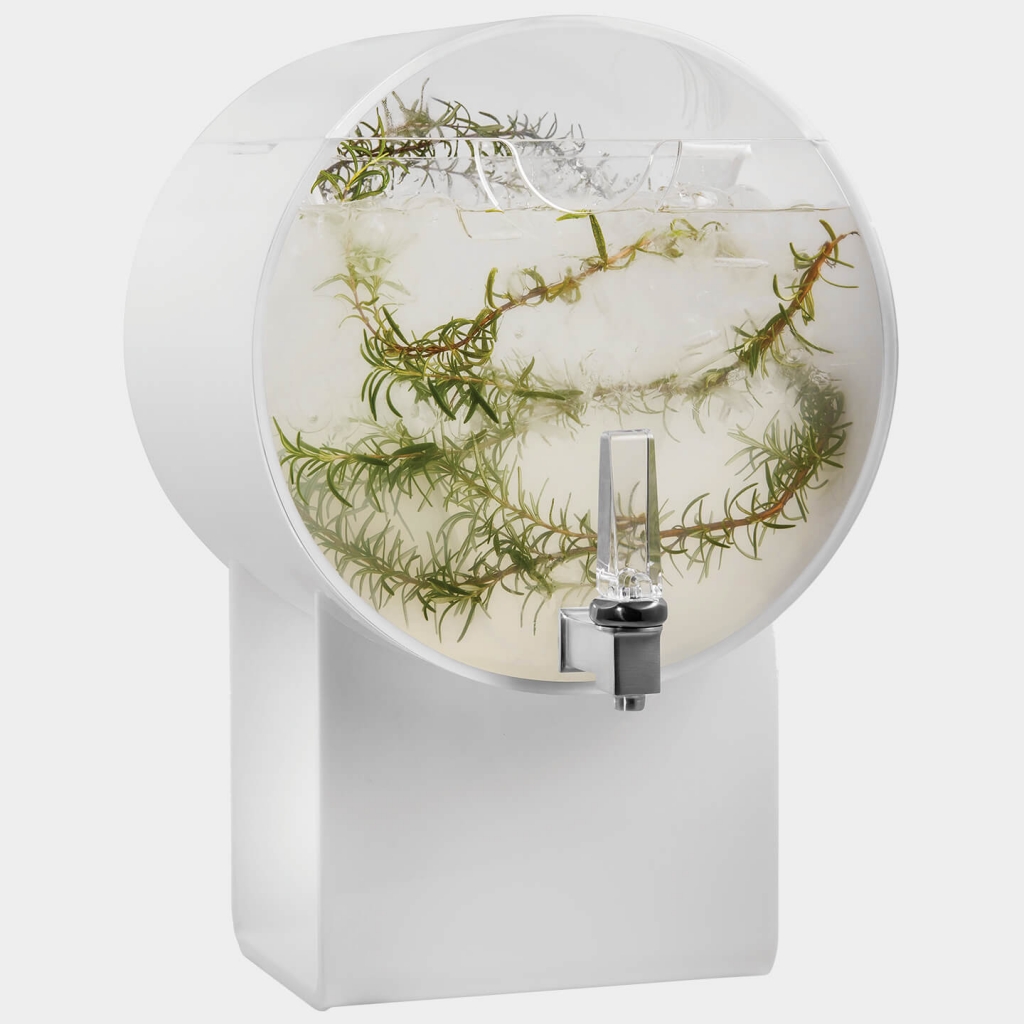 The futuristic shape of the Lucid 3-gallon beverage dispenser is as enjoyable to look at as it is functional. Add your own fruits, vegetables, and herbs into the removeable infusion chamber to create beverages as unique and intriguing as the Lucid dispenser itself.
Rosseto LD163 Iris™ S/S / Acrylic 4-Gallon Beverage Dispenser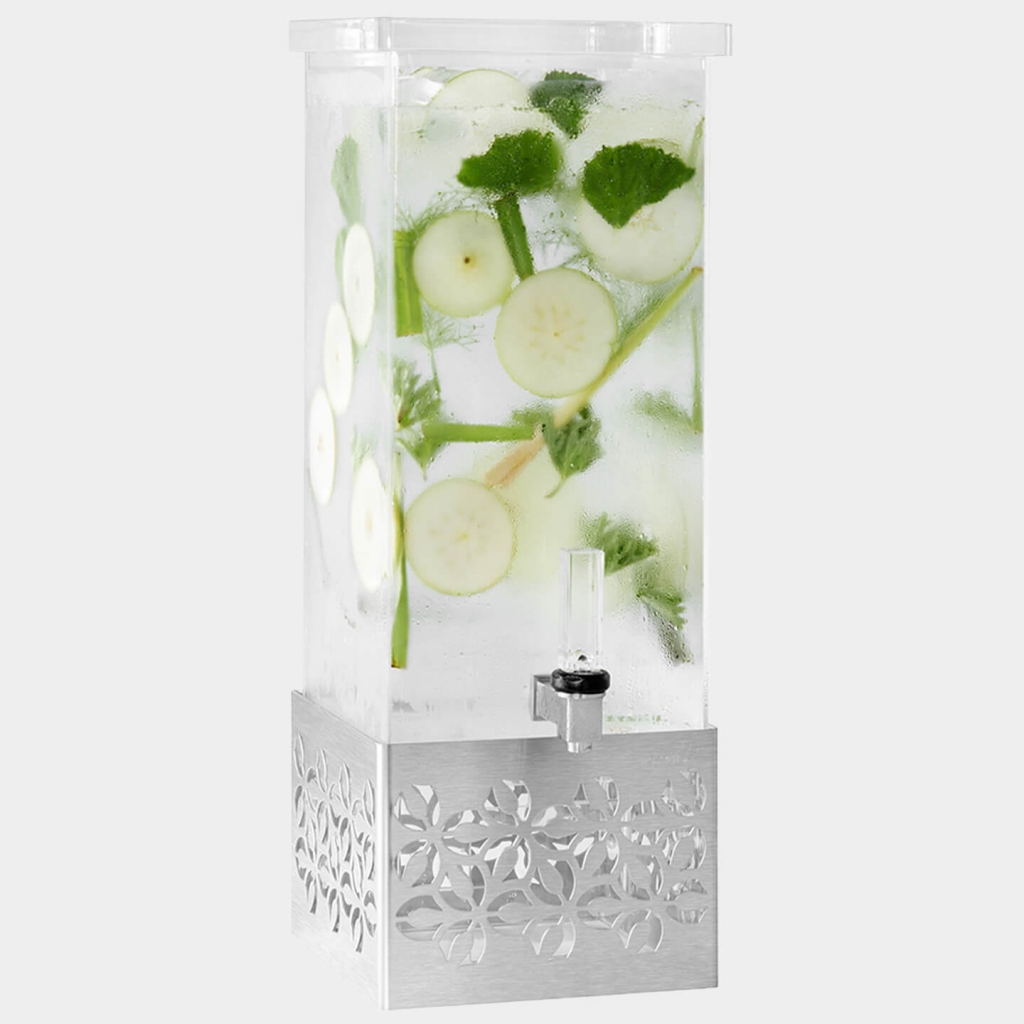 The Iris beverage dispenser brings a simple sophistication to formal events and casual brunch buffets alike. A brushed stainless-steel floral base and sleek container makes the airy Iris dispenser a minimalist functional design piece ready for any occasion.
Rosseto LD112 Square 2-Gallon Beverage Dispenser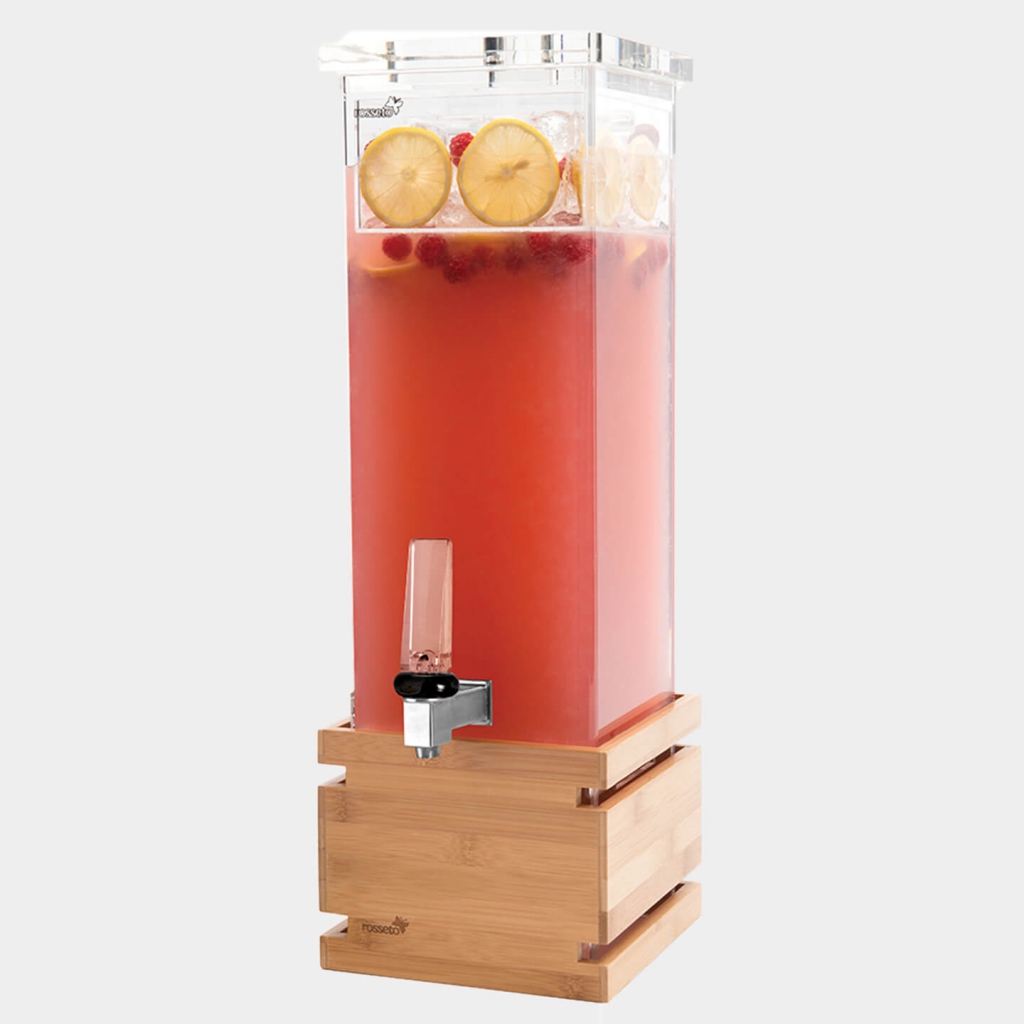 Get back to basics with the Square dispenser, featuring a removeable top loading ice chamber that keeps beverages chilled longer for lasting enjoyment. The bamboo base looks especially amazing when paired with other natural pieces — a style that creates a warm welcome for all your guests.
Rosseto LD106 Short 1-Gallon Beverage Dispenser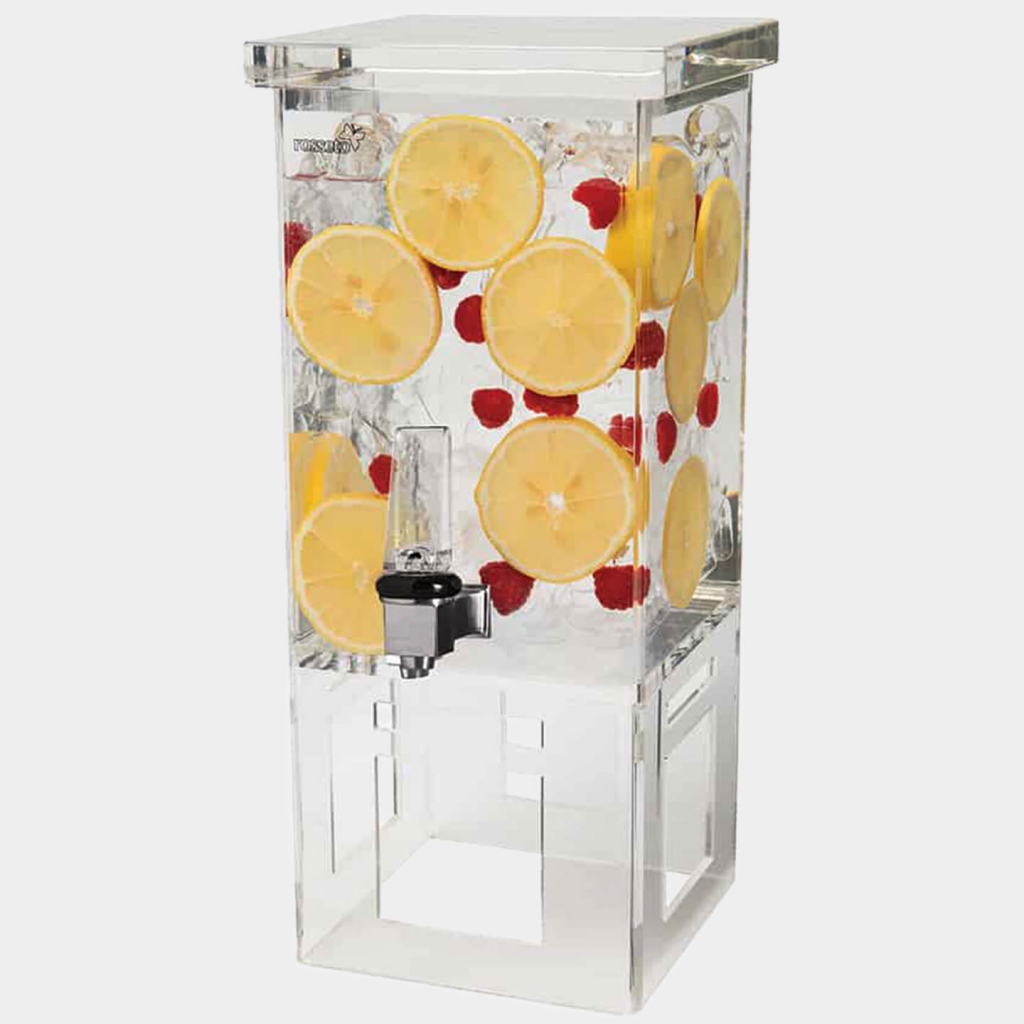 When space is a little tight, look to the Short dispenser! Its unique ice chamber releases a downward cooling effect, ensuring every beverage dispensed is perfectly chilled and ready to drink.
Rosseto LD177 2-Gallon Elliptic Dispenser with S/S Base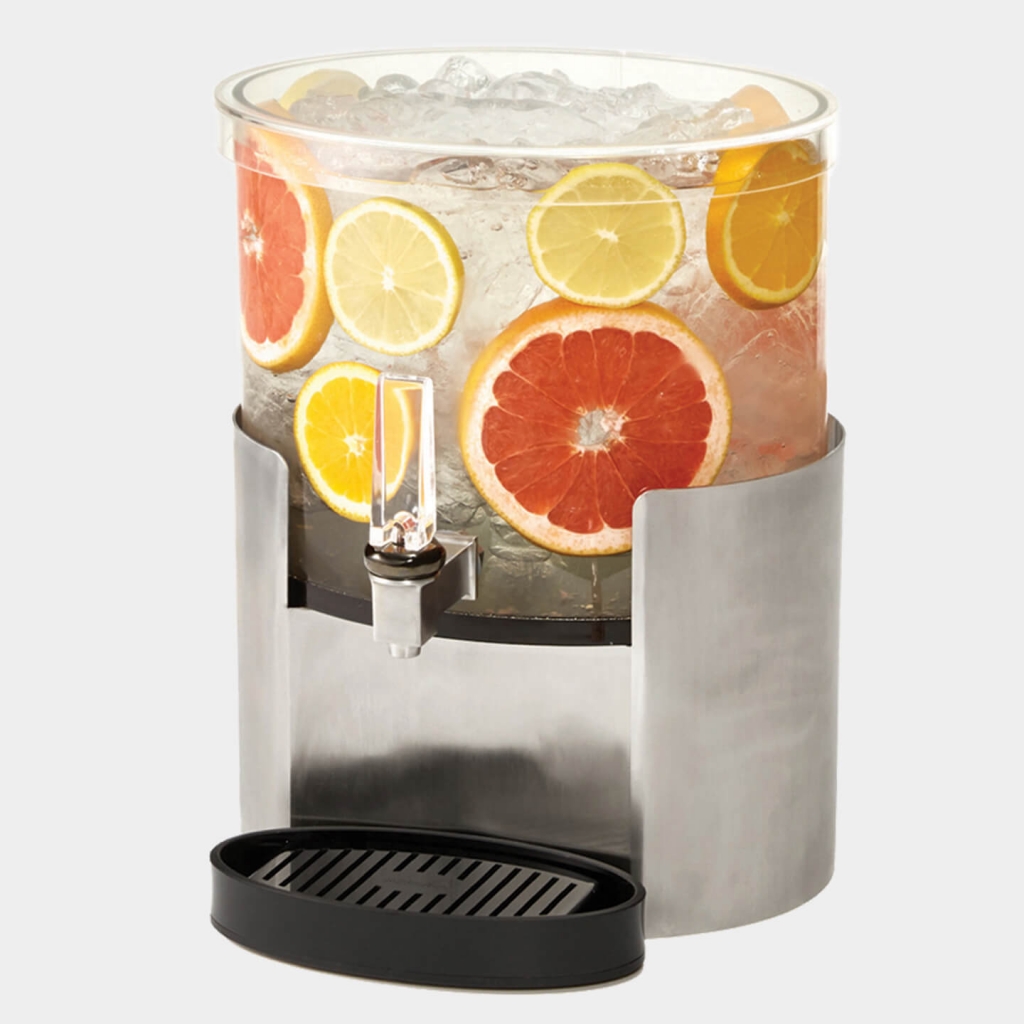 Rosseto's Elliptic dispenser has a stainless-steel base that wraps around the oval shaped container in a feat of modern lines and sophistication. This unique dispenser is lightweight and easy to clean, making it a win-win for everyone.
Rosseto LD173 2-Gallon Square Beverage Dispenser with Bronze Base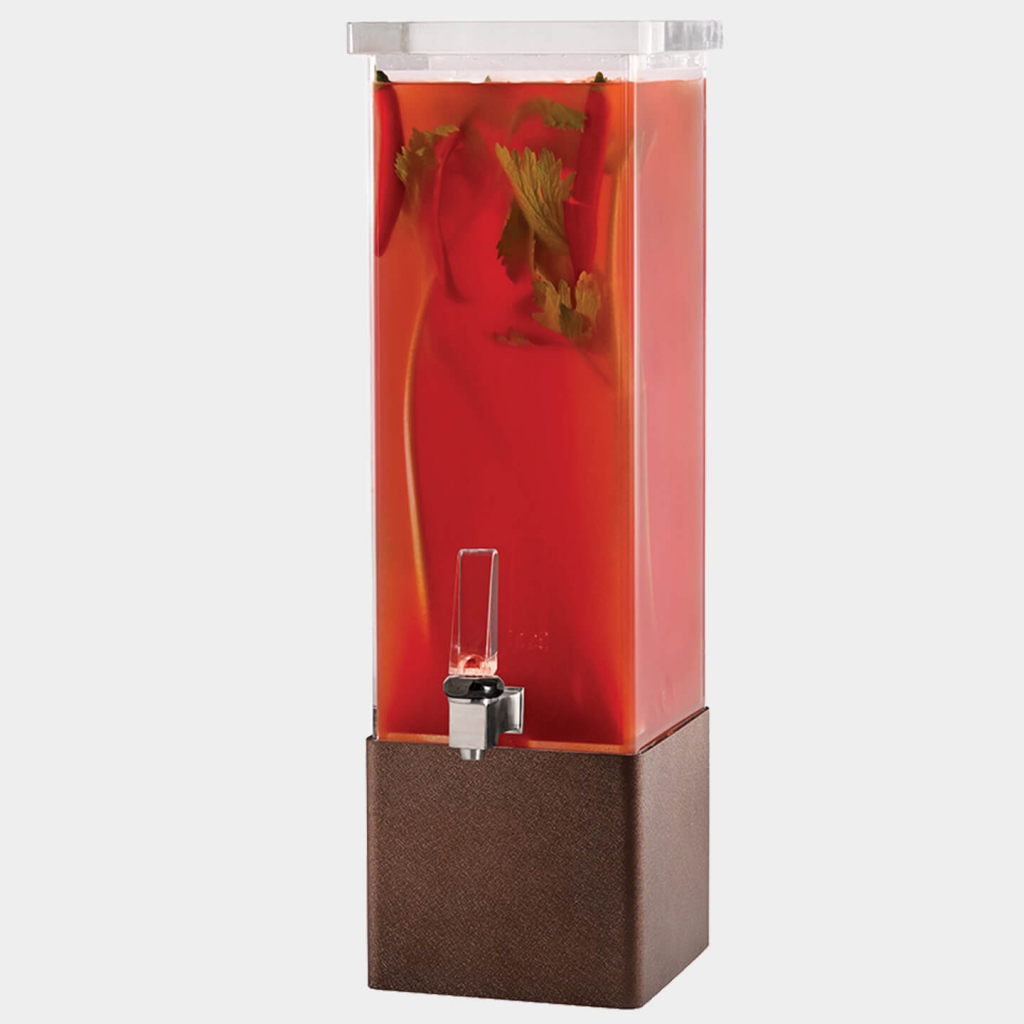 This Square dispenser has a powder-coated bronze finished base that resists fingerprints and was made in the USA. The rich bronze shade of the base and tall, sleek container draws consumer attention in any lobby, buffet, or business.
Rosseto LD149 3-Gallon Beverage Dispenser with Black Matte Base and Lock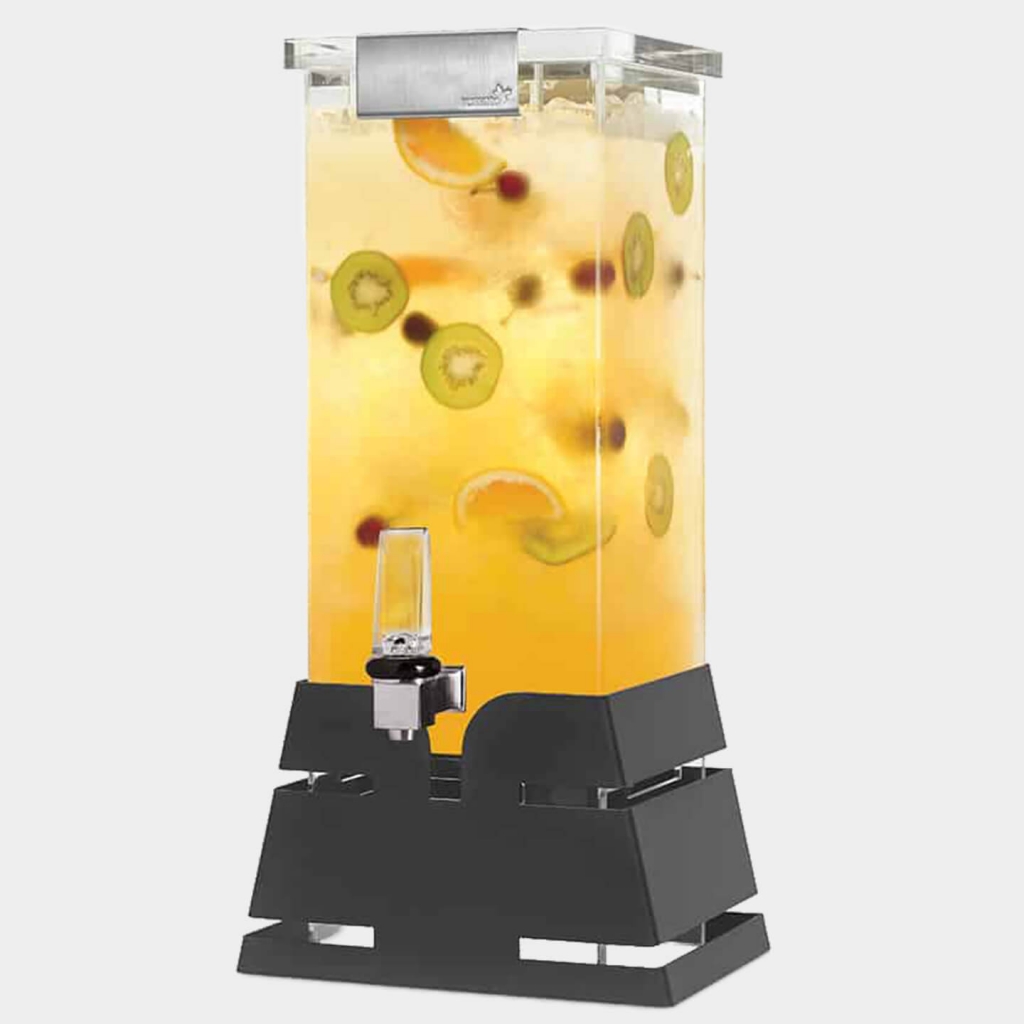 The LD149 3-gallon beverage dispenser features a USA-made, black matte steel base in the shape of a pyramid, an ice chamber, and crystallized facet. For extra safety and security, this model also features a locking lid.
Rosseto LD150 White 3-Gallon Infusion Beverage Dispenser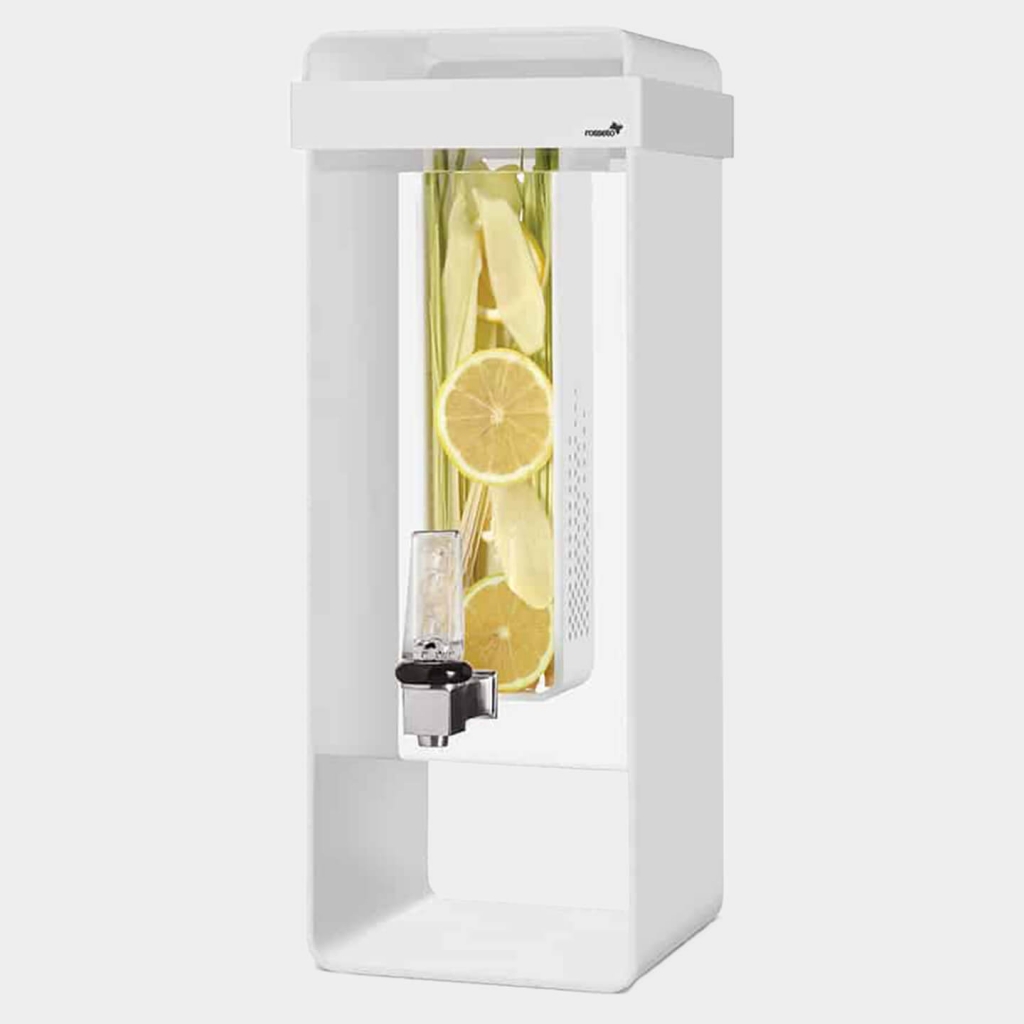 Add some style and functional fun to your business with the Infusion dispenser. Its clean, patented design modernizes any space, while its removeable infuser chamber creates customized beverages for the ultimate guest experience.
Rosseto LD155 White 5-Gallon Infusion Beverage Dispenser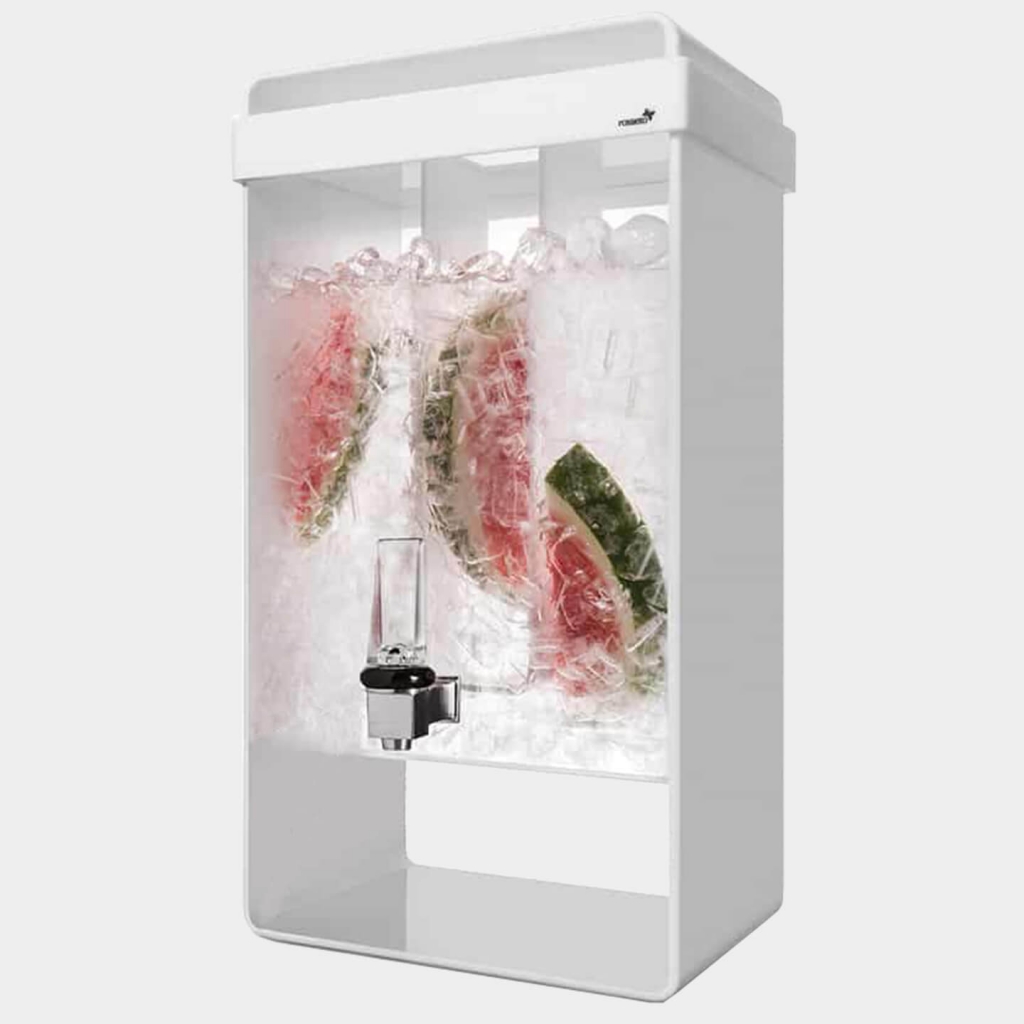 This Infusion dispenser combines all of the style and function of its 3-gallon counterpart, but with an extra 2 gallons to better serve a larger crowd. As with the smaller version, fill the infuser chamber with your choice of fruit, vegetables, and herbs to create delicious beverages exclusive to your establishment.
Rosseto LD178 14-Gallon Beverage Dispenser with Bamboo Base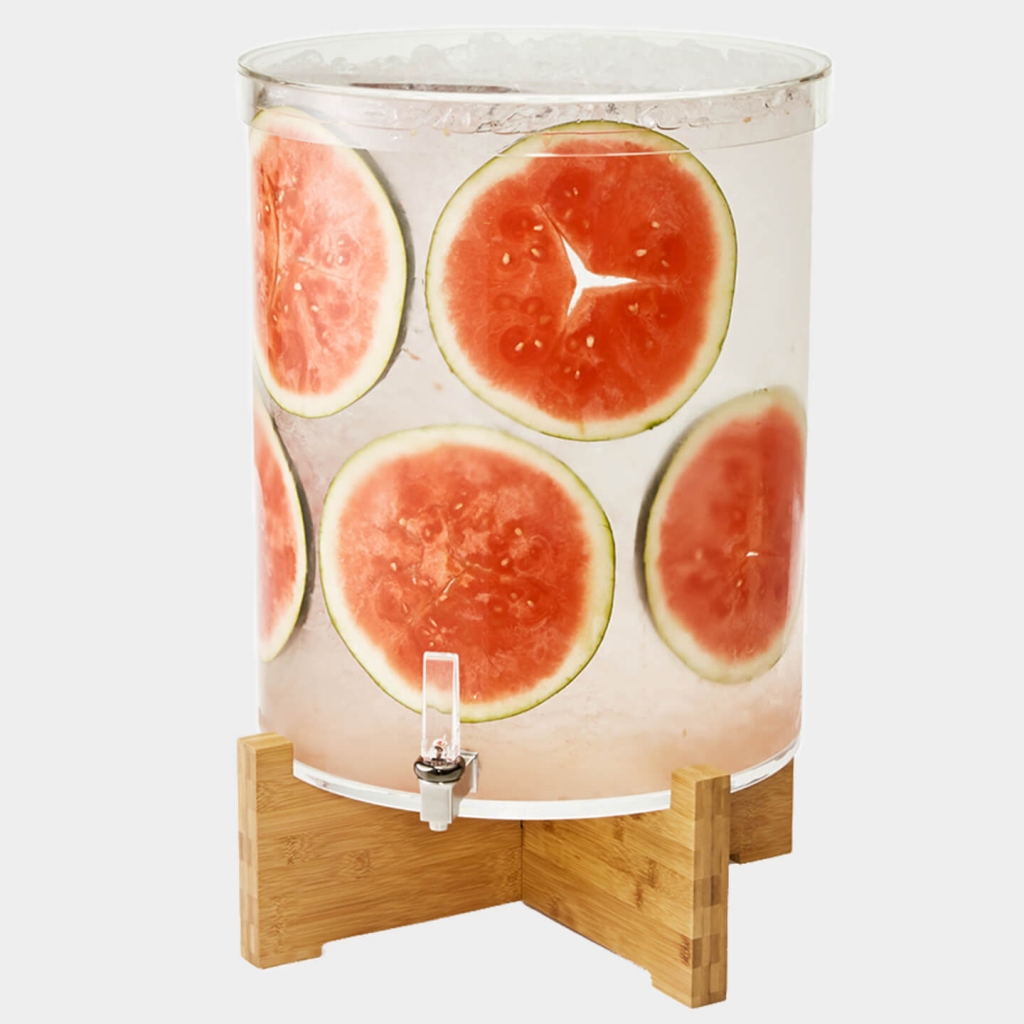 Serving a crowd is a breeze with a dispenser designed with a resort pool in mind! The show stopping round container is even large enough to accommodate an entire watermelon. This strong, reliable piece is perfect for any high traffic area or event — it serves over 200 guests per fill.
About Rosseto
Rosseto designs products with our customers in mind and is one of the only manufacturers in the industry that continues to use US Steel in all of their products. From the time of purchase to maintenance and storage, we want to be with you every step of the way.
When we set out to design our line of beverage dispensers the requirements were obvious: They had to be sturdy enough to stand up to your toughest guests (and staff), yet stunning enough to impress your most discerning. The result became a range of modern beverage dispensers that can be mixed and matched with our complete collection of risers and surfaces. Create endless combinations of custom looks, as unique as your events. Choose from stainless steel, bamboo, acrylic or black matte in a variety of shapes and sizes. We suggest using two beverage dispensers to anchor your buffet and fill with seasonal fruit or whole spices to add pops of color and flavor.