Fresh Farmhouse is a perennial dinnerware concept that takes the best characteristics of the classic American farmhouse and pairs it with modern touches.
The goal of Fresh Farmhouse is to celebrate simple functionality by getting back to the basics. It also encourages inviting living spaces wrought with charm and practicality, with some old-fashioned appeal.
Finca Dinnerware Collection
Our choice for Fresh Farmhouse dinnerware, Finca, is part of Dudson's The Makers Collection which draws inspiration from creative ceramic crafts. Finca mimics the rustic texture of a traditional, white-washed farmhouse, while adding deeper neutral shades of Sandstone, while their Limestone pattern integrates a refreshing blue accent color.
Although Finca dinnerware greets your guests with an authentic, crafted appearance, it was designed with professional use in mind. Its artistically worn pattern is finished by hand. Each piece is finished in a semi-matte glaze for commercial durability. Made in England.
Cabernet Glassware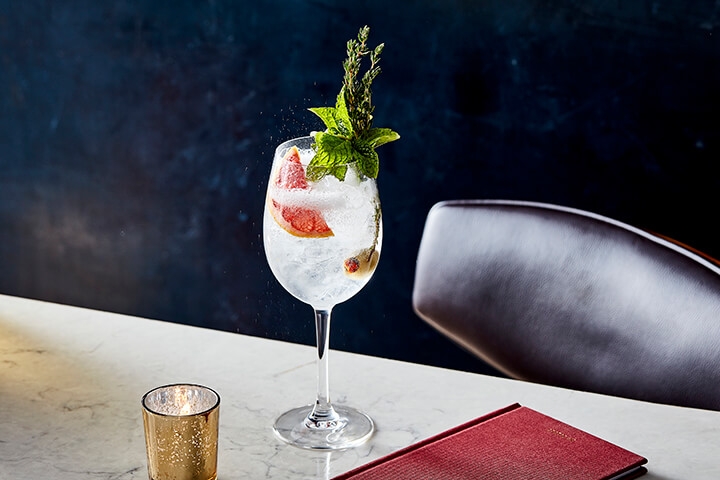 Traditional and versatile, Cabernet glassware mixes and matches classic aesthetics with practicality. Transparent, softly rounded shapes add dimension to your tabletop, while setting a harmonious and inviting Fresh Farmhouse tone.
Cabernet glassware is made in France and delivers both strength and style. Its Krysta crystal-glass construction can withstand 2,000 commercial dishwashing cycles while maintaining ultra-clarity and transparency.
Cabernet Sheer Glassware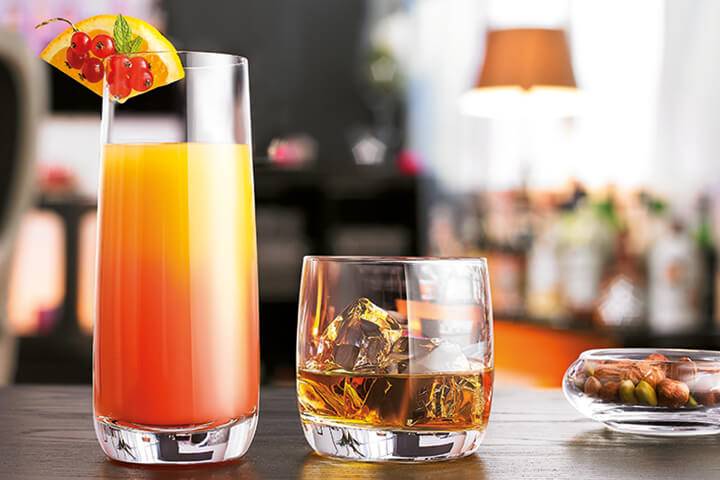 Like the original Cabernet, Cabernet Sheer is made from strong Krysta glass, allowing thousands of washes without losing its fresh, new appearance. This brilliant line will enhance your guests' tasting experience, encouraging another pour. Its sheer rim was made for exceptional flavor clarity, enhancing the already perfect acoustics and transparency of fine crystal glass. Made in France.
Baguette Gold Flatware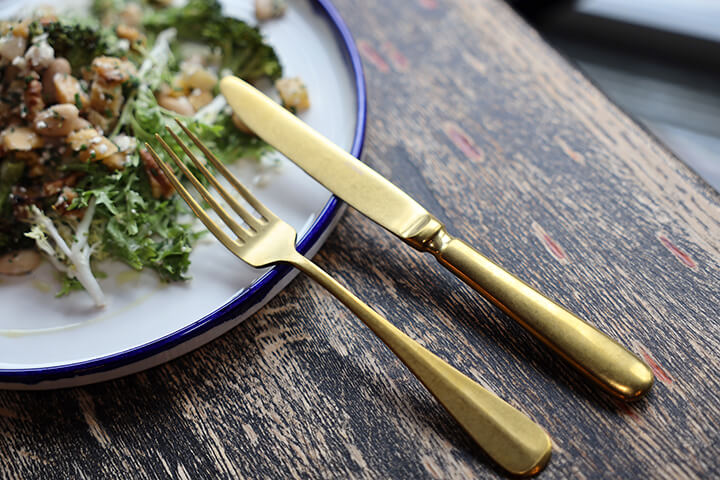 Sola's Baguette flatware originated in the mid-19th century, serving brasseries and bistros in Paris. Sola celebrated its 150th anniversary by releasing Baguette Vintage flatware lines, with PVD-coated, 18/10 stainless steel.
We love their vintage flatware lines for a Fresh Farmhouse concept because they serve as elevated neutral tones while supplying casual elegance. And for some, Sola's Baguette Gold is simply a fun way to enjoy food.
While the Baguette series is well known for its comfortable handling, this warm gold flatware takes it an extra mile by helping to create a cozy place setting for our guests using color psychology. Designed in Switzerland.
Baguette Copper Flatware
When timeless classic Baguette line turned 150 years old, Baguette Copper flatware was produced to celebrate its legacy. As an all-natural metal, copper blends into the farmhouse aesthetic with ease. Copper adds character to our tabletop, bringing our minds back to days of copper sinks and metallic kitchen accessories.
Baguette Copper is made from 18/10 stainless steel and finished with a PVD coating, for commercial durability. Designed in Switzerland.
Regal Steak Knives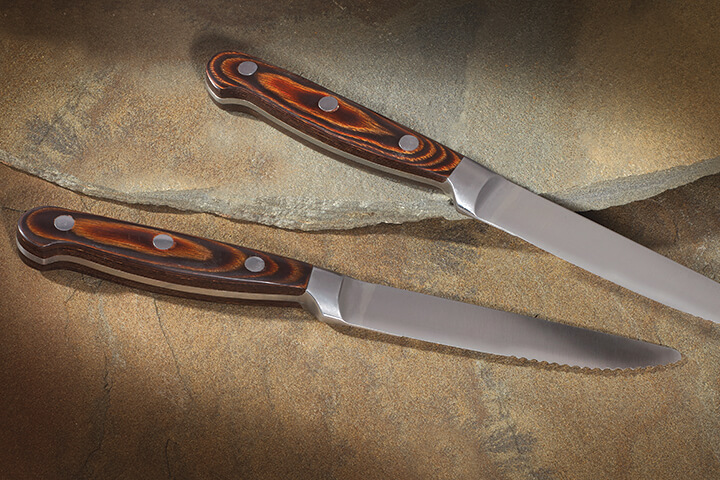 Wood, being available at the time of the original farmhouse, remains a key player in today's fresh take. For our wooden element, we recommend Regal Steak Knifes by Chef & Sommelier.
Available in a pointed or rounded tip, Regal Steak Knives are triple riveted with a full tang for commercial durability. Additionally, this fine construction creates a perfectly weighted and balanced utensil that your patrons will appreciate.
These charming knives are constructed from pakkawood, known for its density and strength. However, we recommend hand washing to ensure a lengthy lifespan. Made in France.
Casual Grace With a Hint of History
Fresh Farmhouse is an inviting design style reminiscent of the classic American farmhouse. With whites, neutrals, and color accents, worn textures and natural materials, charming guests at your restaurant, café, or tavern is a breeze all year long.
Partnered With Arc Cardinal
Arc Cardinal proudly offers tableware, smallwares, and buffet solutions. As a result, our customers and partners continually inspire us. Not every concept has the same budget, customer, or operational demands. We set out to provide flexible solutions for a remarkable experience.