New dinnerware brightens and refreshes your establishment. Here are 8 trending dinnerware looks that elevate presentation. This curated collection walks a fine line between classical and future-forward aesthetics. Additionally, for your added convenience, each collection has a natural synergy with most any flatware pattern.
We should note that all of the American Metalcraft melamine collections we review today are BPA-free, dishwasher safe, and virtually unbreakable.
The Crave Collection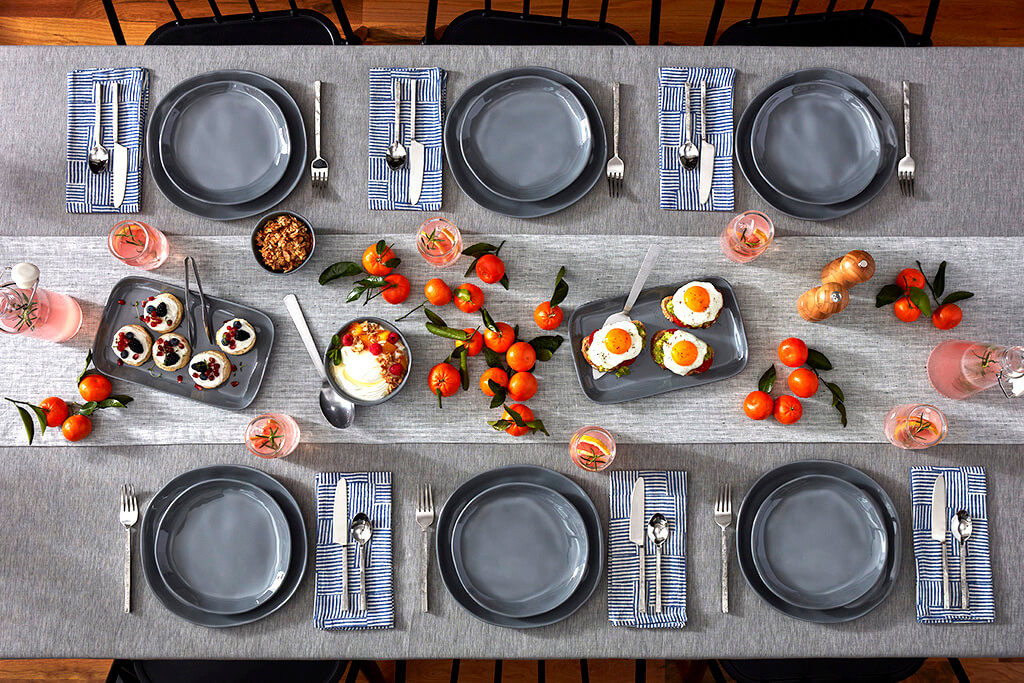 We all know melamine is shatterproof and dent/scratch resistant which makes this material perfect for entertaining in your establishment, indoors and outdoors. But did you know how technological advances are allowing manufacturers to produce commercial melamine dinnerware with an artisanal look?
The NSF-certified Crave Collection exemplifies upscale melamine beautifully. Featuring organic round edges, this line resembles ceramics, but costs a fraction of the price. A high-gloss finish tops off the collection for extra shine.
The Crave Collection features a variety of different sized plates and bowls for creative mix and matching. The colors — cloud, shadow, and storm — lend themselves well to the popular mixed-materials look when combined with metal, stone, and wood. Because of this versatility, creative chefs and restauranteurs get a thrill of not being boxed in with their presentation and feel enabled to experiment with different looks and moods.
The Crave Color Collection
One Crave Collection wasn't enough, so American Metalcraft added a new line. The Crave Color Collection has the same features as the original — durable melamine construction, a high-gloss finish atop organic shapes, NSF certified — with the added versatility of two new colors, sage and dusk.
Sage is an earthy, spirited color, reminiscent of nature in numerous ways, from the herb itself to the peacefully energetic green hue. Dusk on the other hand, adds a mysterious, dreamy quality as it welcomes a night into our world. The Crave Color line also features some extra fun — the new colors have a vibrant, speckled appearance for that extra touch of magic that resonates with diners.
The Jane Collection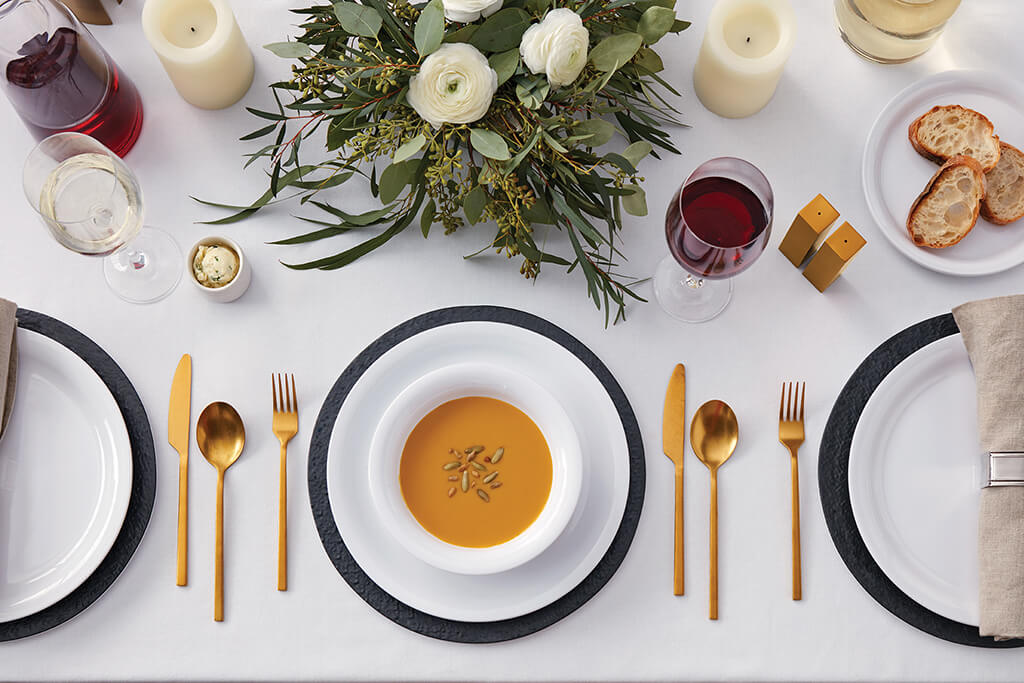 Jane no longer accepts the description, "plain." In fact, Jane also denies being "basic." The Jane Collection by American Metalcraft is anything but ordinary. As a minimalist backdrop, Jane elevates all it presents. Whether a low-key client lunch or a gastronomically inspired five-course meal, the Jane Collection adds that extra touch that pulls it all together into one perfect presentation.
NSF certified and available in wide and narrow rim options, the Jane Collection manages to put a casual black-tie spin on dinner while allowing the food to do the talking. Jane sets the ambiance and fine gastronomy does the rest.
The Jane Casual Collection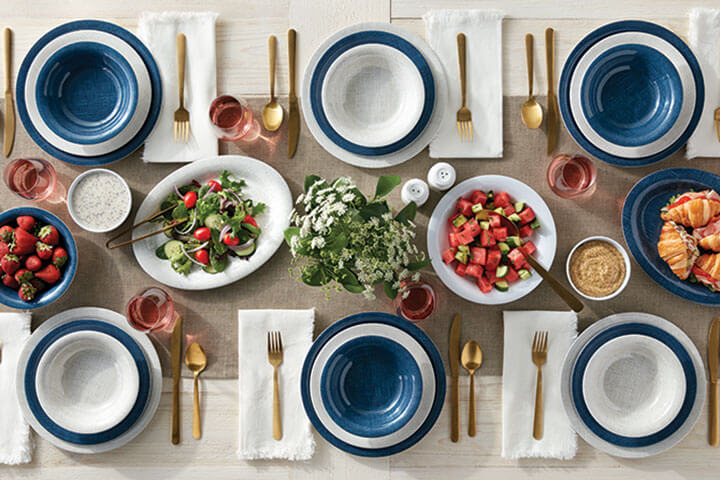 If the Jane Collection were an elegant, candlelit winter meal, then Jane Casual is an idyllic early-summer picnic near a lightly scented flower field. An object's color affects human perception greatly, which is why American Metalcraft created their second Jane line to bring to light an entirely new flavor of picturesque.
The addition of familiar colors and textures — linen and denim — adds a serene yet playful mood to the table that feels like a breath of clean air. Likewise, the fun and friendly new colors transforms any meal into comfort food for your guests, allowing them to relax and usher in a swath of amazing flavors in peace. Jane Casual is durable and easy to clean, making it perfect for indoor and al fresco dining.
The Isabella Collection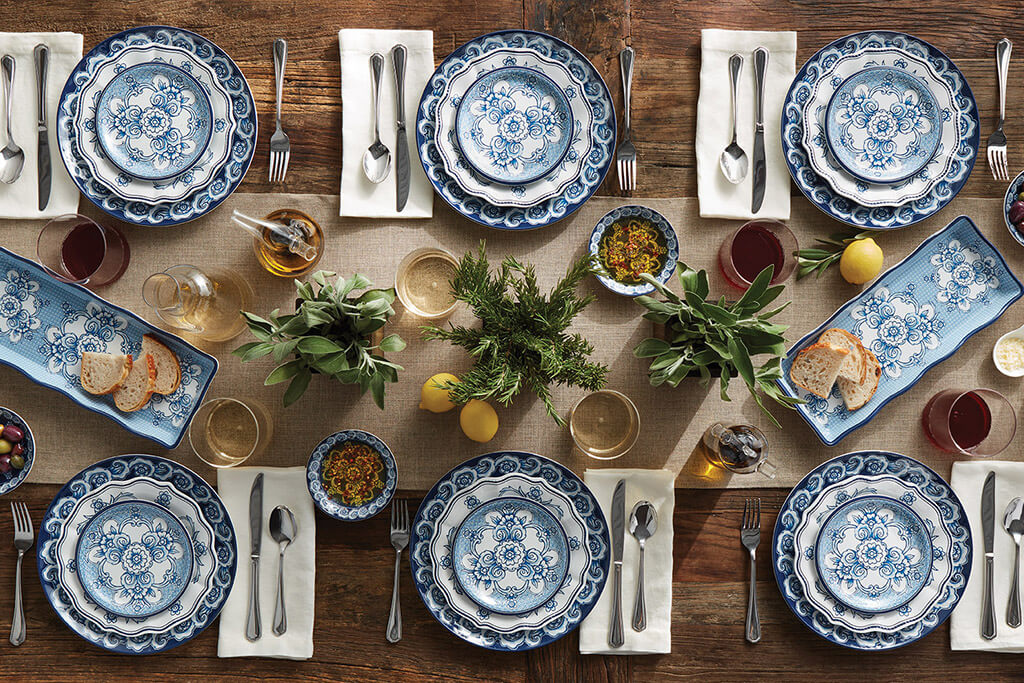 Exceptionally stunning, the Isabella Collection comes in five elegant designs to the delight of your guests. The Isabella Collection reflects the beautiful nostalgia of classic china. This antique-inspired collection draws the viewer in and works especially well for intimate settings.
Despite the intricately detailed floral patterns, the Isabella Collection does not sacrifice practicality. Made from durable melamine, this dinnerware works anytime, anywhere and even calls upon a touch of Italy. The Isabella Collection looks most picturesque in both intimate indoor settings and in outdoor garden/patio environments.
Since the NSF-certified Isabella has five patterns to mix and match or feature, this graceful line can be used in countless ways. Likewise, because the individual pieces can hold their own, platters and plates easily substitute as hors d'oeuvre or dessert trays with other complimentary lines.
The Mix & Matte Collection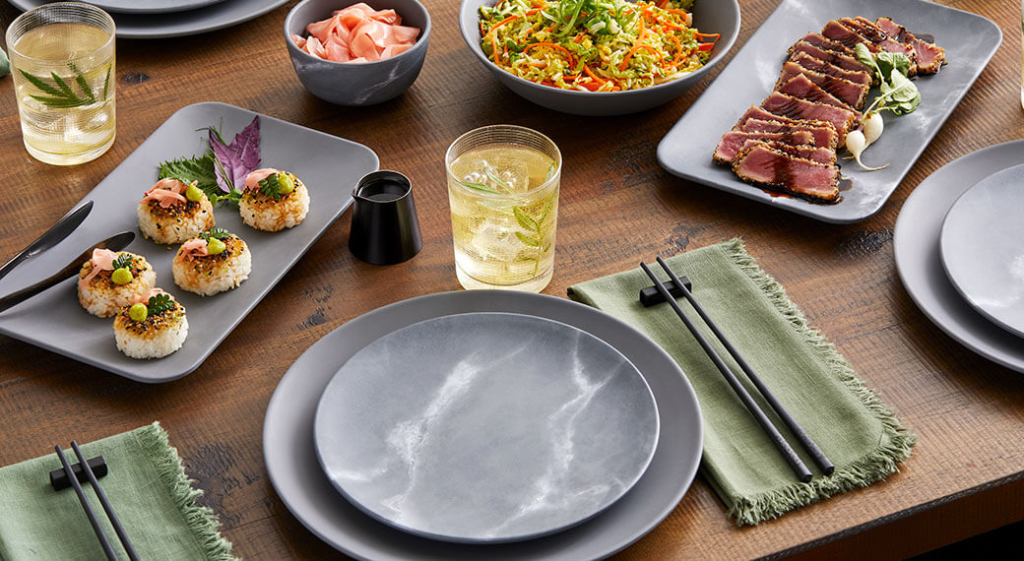 Sometimes, a laidback approach just doesn't cut it. On those days, or every day, the Mix & Matte Collection lends an air of luxury to each dish. The matte texture allows your food to shine, while presenting it with subtle nobility. Make a good first impression in white, white marble, gray, and gray marble; it is impossible to go wrong with these color combinations and patterns.
Sometimes, the simplest tableware patterns can elevate a meal to its desired brilliance. Oftentimes, it is a minimalist white or gray motif that captures cleanliness and prestige. Despite the luxe look of marble, the Mix & Matte collection is made from melamine, at a sliver of the cost. Its long lifespan, NSF certification, and ability to persevere through endless dinner services and dish washings without a bump or scratch, makes this line a wise investment to have on hand.
The Unity Collection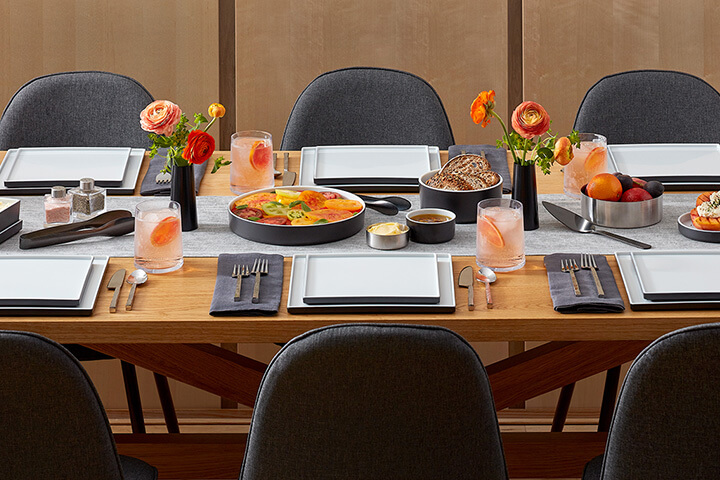 Named for its convergence of form and function, the Unity Collection unmasks the ultimate canvas for forward-thinking cuisine. Straight sided and entirely stackable, this collection projects a clean, modern mood with a nod to urban landscapes. In other words, this dinnerware is delectably inspiring.
Available in two dual-toned color options — mocha and graphite — these shades work well with both warm and cold colors, so it is easy to integrate into an existing design motif. Likewise, the Unity Collection is available in numerous shapes, sizes, and capacities, so you can create a look personally tailored to your vision.
The Unity & Coupe SS Collection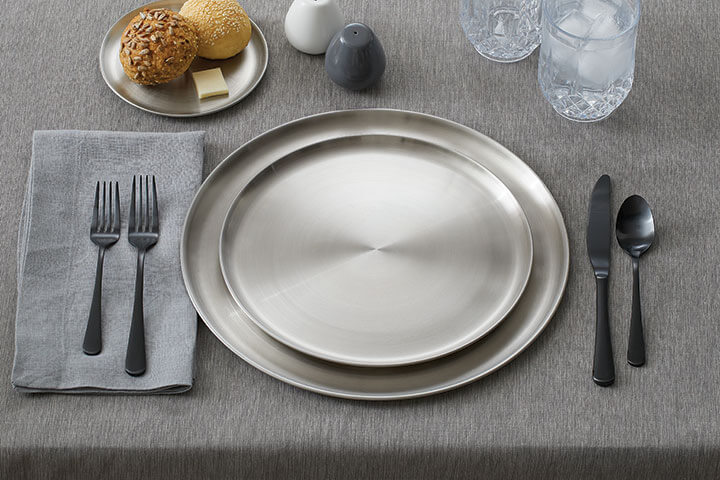 Get ahead of the trend, because stainless isn't just for silverware anymore. Add some sparkle to your table with the Unity & Coupe SS Collection's plates and bowls. Like the original Unity Collection, this secondary line displays an intersection of form and function. However, this collection features dishwasher-safe, satin-finished stainless steel for a standout presentation.
Each bowl or plate was designed with modern sophistication in mind, and it shows. By uniting different materials, your tabletop becomes multidimensional in a sense. Different materials mean more colors, shades, reflections, and interplays of light and dark. Additionally, stainless silver looks good with everything. Each piece can be used with other tableware collections and double as trays, coasters, and chargers. This versatility brings simple yet elegant dining solutions to your fingertips.
Get Ahead of the Trend
Tableware solidifies first impressions and sets the mood for an entire meal. This curated collection of trending commercial dinnerware brings forth visual elements of a meal, allowing culinary elements to shine. What dinnerware do you choose and why? Let us know in the comment section!
About American Metalcraft
You make great food. We make products that elevate great food. Wherever crowds need to be pleased, American Metalcraft is there to elevate your culinary creations.
Restaurants or grocery stores, hotels or catered events — we see them all as arenas for show-stopping meals. Over seventy years ago, we broke into the industry by turning hubcaps into deep dish pizza pans and custom plate covers. We've since grown our product line into an expansive, eclectic collection of food presentation solutions.
Our product names and descriptions aren't rules; they're suggestions. If you want to use storage jars as cocktail glasses, bread baskets as dinnerware or pizza peels as serving trays for sophisticated entrees, we won't be upset. In fact, we'll be honored that you found inspiration in our goods. It all boils down to this: Great food deserves great presentation.