Millions of investment dollars have been funneled into AI, automation, and robotics as a result of the Covid-19 pandemic. This surge of technological advancement continues to take place in the foodservice industry, both out of necessity and from a desire to create. Here are five robots that have lent a hand in the restaurant scene with their charming capabilities and circuit boards.
Maira
Chitti In Town
Hyderabad, India
Created by Vistan NextGen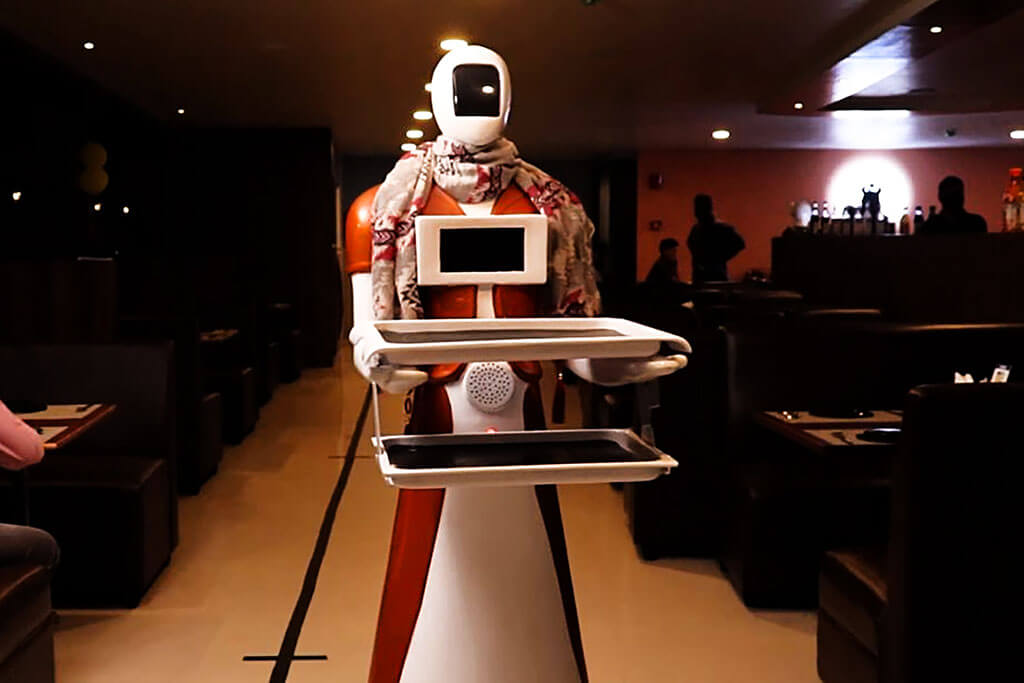 Which Voice Would You Like to Hear?
At Chitti In Town, patrons get to meet and interact with Maira (Multi-Sensing Intelligent Robotic Assistant). According to her creators at India's own Vistan NextGen, it is a "specialized technotainment interactive robot."
Maira not only warmly greets customers, acts as hostess, and waits tables, but it keeps people entertained and engaged. Depending on who the robot is speaking to, it alters their voice to match tone, age, and gender with its six-voice modulation abilities. For instance, if a child is intimated by Maira's five-foot stature, it will ease the interaction by assigning a child-like voice to the conversation.
The staff love Maira for many reasons, top among them, creating space between in-house humans and their customers during the pandemic. And naturally, Maira brings in big traffic. Patrons find an interactive robot that will chat with you about endless amounts of subjects to be a huge draw and novel experience. Maira's ability to see, feel, and hear its surroundings is perhaps a glimpse into the future of robotics and a step-up in social exchange with artificial intelligence.
BellaBot
La Buena Déjeuner
Gatineau, Quebec
Created by Pudu Robotics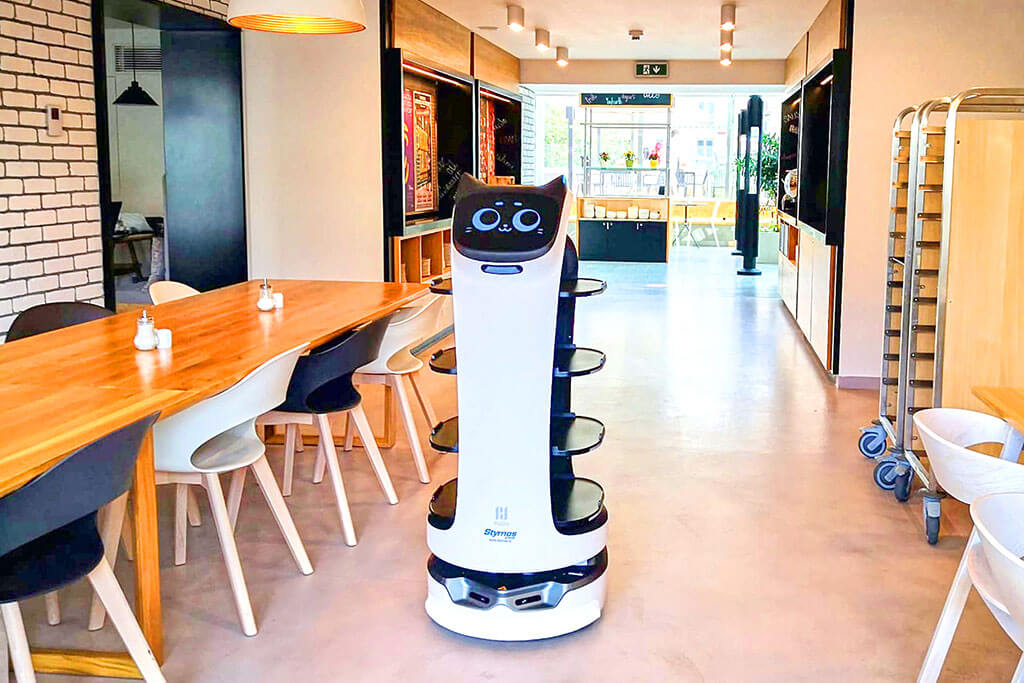 Here, Kitty, Kitty?
After the pandemic hit, owner Elie Maalouf lost half of his staff. His solution? Meet BellaBot, a cat-themed robot who is helping out La Buena in the most adorable of ways.
BellaBot, (recently renamed "Pixel" at La Buena Déjeuner) is a premium delivery robot that guides patrons to their tables and brings them their orders. If the wide eyes, sweet smile, and feline ears weren't enough to convince any restaurant owner to buy one Right Away, Pudu took it a step farther by incorporating an innovative bionic design.
To further its lively and cute appearance, BellaBot was programmed to react with joy when customers gently pat it on the head, much like a real cat. BellaBot is equipped with dozens of original text emoji-like expressions which everyone can relate to.
Of course, this robotic feline is more than unbearably cute. It is able to carry up to 12 hot, heavy platters from the kitchen in one go. While Maalouf notes that BellaBot will never replace a human, it most definitely is helping his restaurant through a tough time.
OriHime
DAWN Avatar Robot Café
Tokyo, Japan
Created by Ory Laboratory
How Can Bedridden Citizens Work in a Café?
Since its inception, Ory Laboratory has had a singular goal in mind: to eliminate "loneliness" from the human race. That is why they developed OriHime.
At the Avatar Robot Café, people with medical and physical conditions that are ordinarily unable to leave their home can work in the café. By employing a team of OriHime robots, disabled staff, called Pilots, remotely control their robot waiter.
This state-of-the-art system allows remote staff members to see through the eyes of the OriHime, whose face was inspired by a traditional Noh mask. In fact, workers can control OriHime from a smartphone or tablet to see, hear, talk, and express themselves for a true face-to-face exchange. Thanks to OriHime, there is a little less loneliness in the world and more opportunity for marginalized groups.
Rosie
The Smoke Shop BBQ
Cambridge, MA
Created by Bear Robotics
What Happens When Restauranteurs and Tech Entrepreneurs Have a Meeting of the Minds?
When Bear Robotics released their first mass produced robot, Servi, in 2020, they sought to simplify hospitality solutions with science. Now, a popular BBQ restaurant, appropriately situated near MIT, has tested their solution with a Servi bot named Rosie.
At this time, virtually every restaurant has experienced a staff shortage and The Smoke Shop is no exception. That is where Rosie comes in. At a mere $999 a month/$30 day/$2.75 per hour, Rosie has been picking up the slack as a food runner. Her responsibilities include running food from the kitchen to bar, bringing delivery drivers orders from the kitchen, carrying to-go orders to customers, collecting trays, and delivering delicious BBQ to tables with a kind, "Please, take your food."
Rosie's coworkers love how consistent she is and how well her sensors guide her around humans. They've even reported larger tips, perhaps due to the efficiency and entertainment a robot employee brings to the table.
Toni
The View
Milan, Italy
Created by Makr Shakr/KUKA
Can Robots Empower Patrons? Makr Shakr Thinks So.
After a long day of being fabulous in Milan, the thirsty head to the rooftop bar, The View. There, Toni and its two robot arms greet them with an expertly curated cocktail to enjoy while taking in the view of Duomo Cathedral.
Makr Shakr created the world's first robotic bar system and they've thought of everything to make patrons feel as though Toni is an extension of themselves. Guests order from a sizeable drink list via the Makr Shakr app or create their own. Toni makes up to 800 drinks per night and easily manages the 150 bottles of liquor that hangs from the bar's ceiling, saving time and space.
Whether it is measuring, pouring, stirring, muddling or even garnishing cocktails, Toni performs with brilliant speed and coordination. In fact, its movements were modelled after renowned dancer and choreographer, Marco Pelle, of the New York City Ballet for a true collaboration of science and art.
The Future of Restaurants and Robotics
The pandemic accelerated the proliferation of robots into our lives faster than predicted, and they are here to stay.