People want to be "in the know" without any FOMO regrets, which is why the hidden bar and speakeasy trend continues to prevail. In this article, we'll explore the décor, drinks, customer experience, and (spoiler alert) how to find the entrances of 7 spectacular bars. Blink too fast and you'll miss them.
Floppy Disk Repair Co. & Redheaded Stepchild
Austin, TX
Vibe: Horror and Fun
This low-profile bar hides behind the guise of a floppy disk repair shop. We like it already.
To gain access into the Redheaded Stepchild, adventurers first need to track down a frequently changing code. This is often accomplished by drinking at nearby bars, where the bartenders divulge the information. It's a symbiotic relationship: Other local bars bring in some cash from people searching for a code, and the Redheaded Stepchild retains their air of mystery. Once the code has been discovered, potential patrons head to the plain-looking door with a code box and hope for the best.
Once inside, patrons are led to a 45-seater dark, red-lit room. The décor is horror movie themed but also includes swings to sit on and vintage toys. The horror trope is expressed in fun, creative ways such as a The Shining-inspired axe through the restroom door and neon writing on the wall that says "Mmm … Your hair smells pretty."
Patrons love the laid back, fun atmosphere and staff. Additionally, visitors rave about the hilariously named drinks that look fantastic and taste great thanks to an incredibly creative bartending staff. This is Austin after all, a city that takes great pride in their cocktails.
Mijo Mezcal Bar
Houston, TX
Vibe: Dia de los Muertos
The best storage container this side of the Mississippi.
Tucked behind the patio of local taqueria, Cantina Barba, lies an unassuming wooden door surrounded by plants. What started as a taco truck, the now well-established brick and mortar Cantina Barba has a lot going for it: Delicious food, outdoor seating, signature slushies, and a backyard storage container that houses a charming little speakeasy.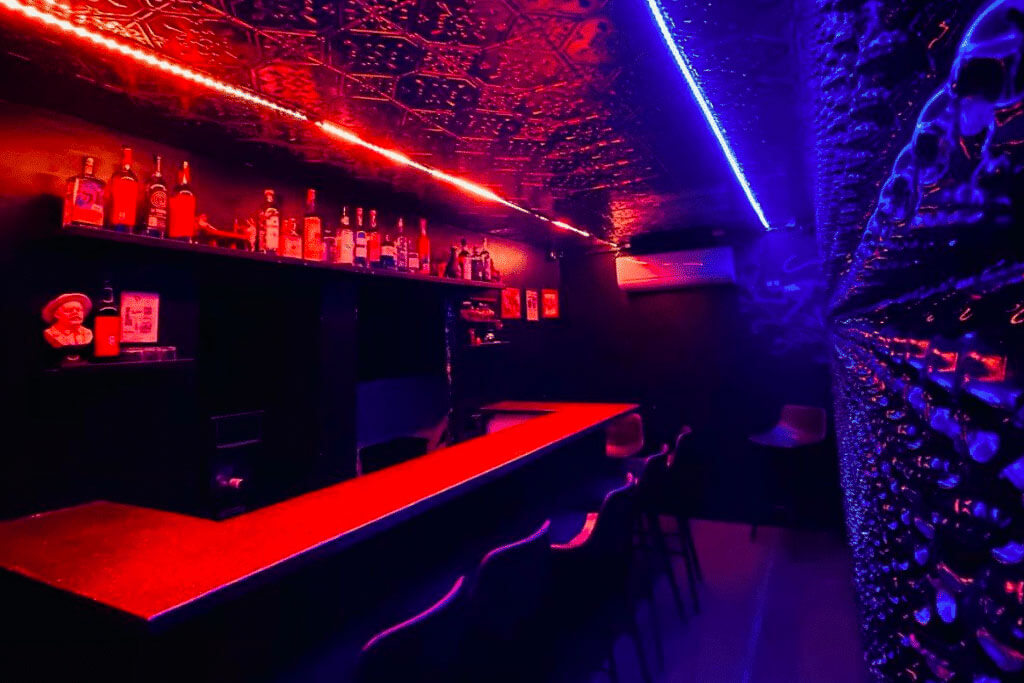 This tiny bar is an extension of Cantina Barba's signature drink menu, including a full list of tequila-based drinks and even more of their signature slushies. Mijo Mezcal Bar is adorned with neon lights and cool Dia de los Muertos décor. According to the business, it can best be described as "The container bar that includes no BS." No code required.
Rabbit's Got the Gun
Houston, TX
Vibe: Dope neighborhood bar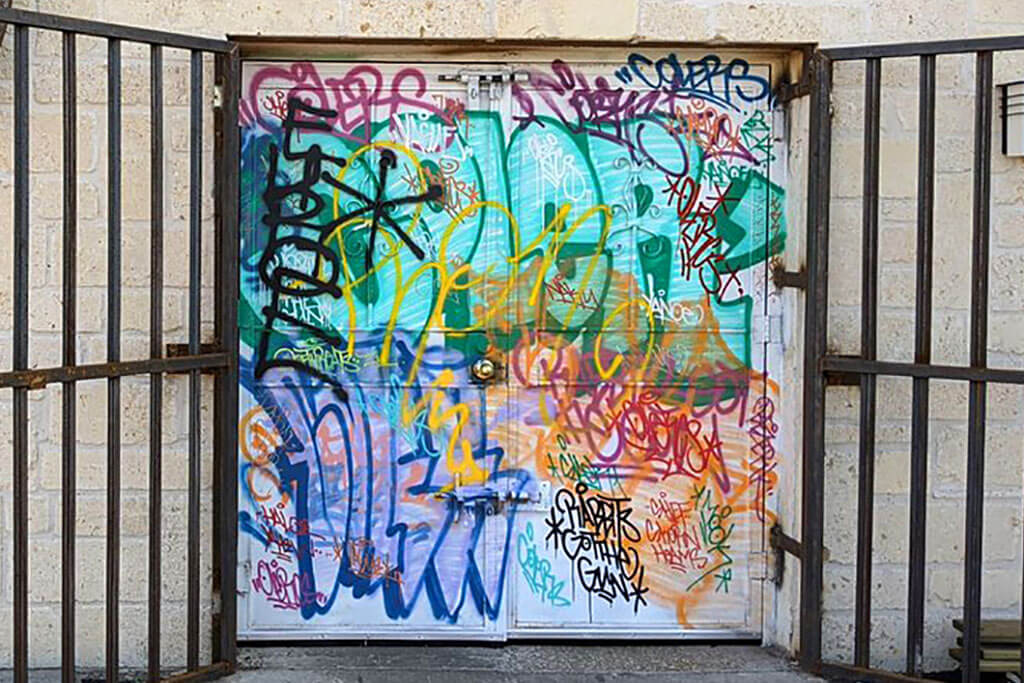 Championing the underdog since 2019.
Inspired by the Southern phrase, "It ain't no fun when the rabbit got the gun," this establishment celebrates the hunted gaining the upper hand. Supporting the underdog was thematic in, brothers/co-owners, Ian and Nathan's decision to give back to the 'hood they grew up in by establishing this amazing cocktail bar.
There isn't too much going on in the neighborhood and the building tends to blend into the background. To find Rabbit's Got the Gun, however, prospective patrons should keep an eye out for a door covered in graffiti. Depending on the time of day, there may be a Lobos Taco food truck on premises, which the brothers also own.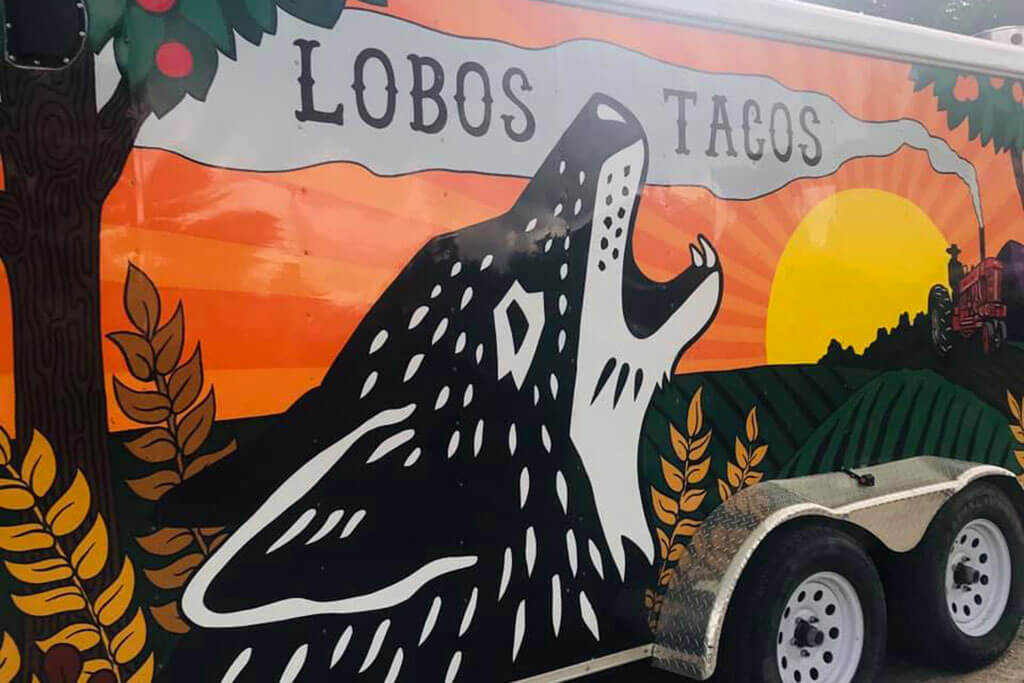 The bars interior is amazing, largely in thanks to talented local graffiti artist/muralista, w3r3on3. He also contributed a large rabbit mural on the side of the building that is worth a visit on its own. The rabbit mural inside and the striking blue chairs have complimentary color palates, while chandeliers in the shape of hops, in reverence to the beer they produce, hang above the bar.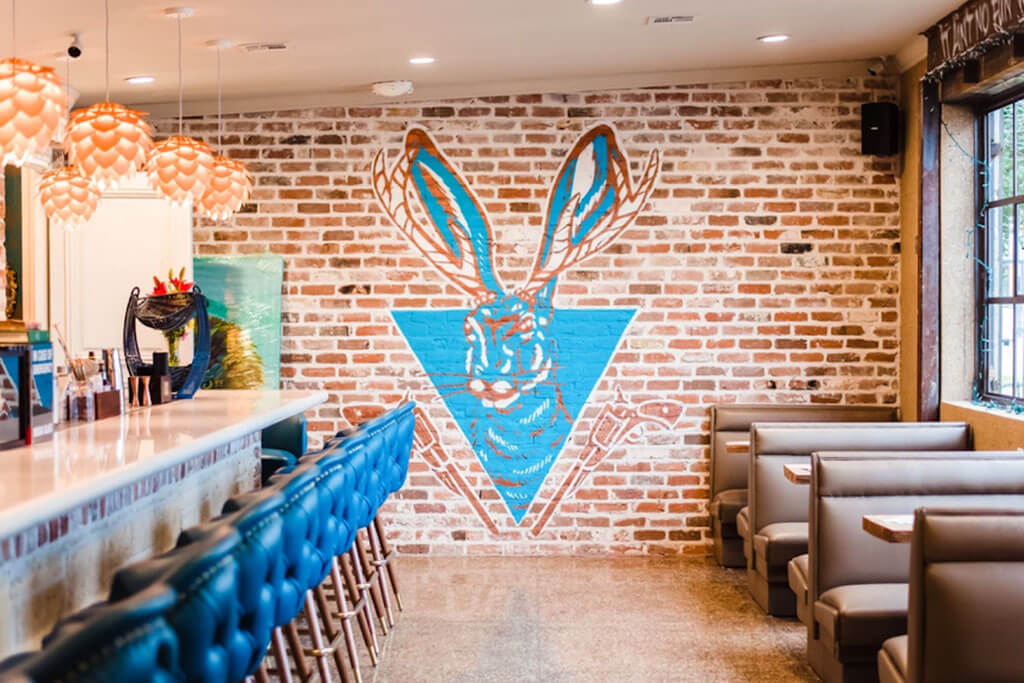 Customers rave about the artwork and everyone Loves the music (think old school hip hop and rap). They feel respected and welcomed by the staff, often noting that guests are treated like family. The comfortable, unpretentious atmosphere and a huge bar menu ranging from espresso drinks to watermelon martinis makes Rabbit's Got the Gun a perfect hideaway.
Volstead's Emporium
Minneapolis, MN
Vibe: Prohibition
"Once, during Prohibition, I was forced to live for days on nothing but food and water." – W.C. Fields
Volstead's Emporium, named after the Volstead Act of 1919, is a hidden gem for people who wish to experience an authentically designed speakeasy. To enter to this location, patrons must muster the courage to walk through a dark alley, into an even darker corner. The door is marked with only a single red light and eye slot. Once the doorman grants entry, make your way underground into a candle-lit bar.
The charm of Volstead's Emporium is that it replicates the many surprises found within speakeasies of the 1920s and early 1930s. The cozy booths have privacy curtains and mirrors that open outward. During prohibition, the mirrors were a way for people to quickly discard their drinks during a raid. Here, your server might just pop their head out of the mirror and take your order.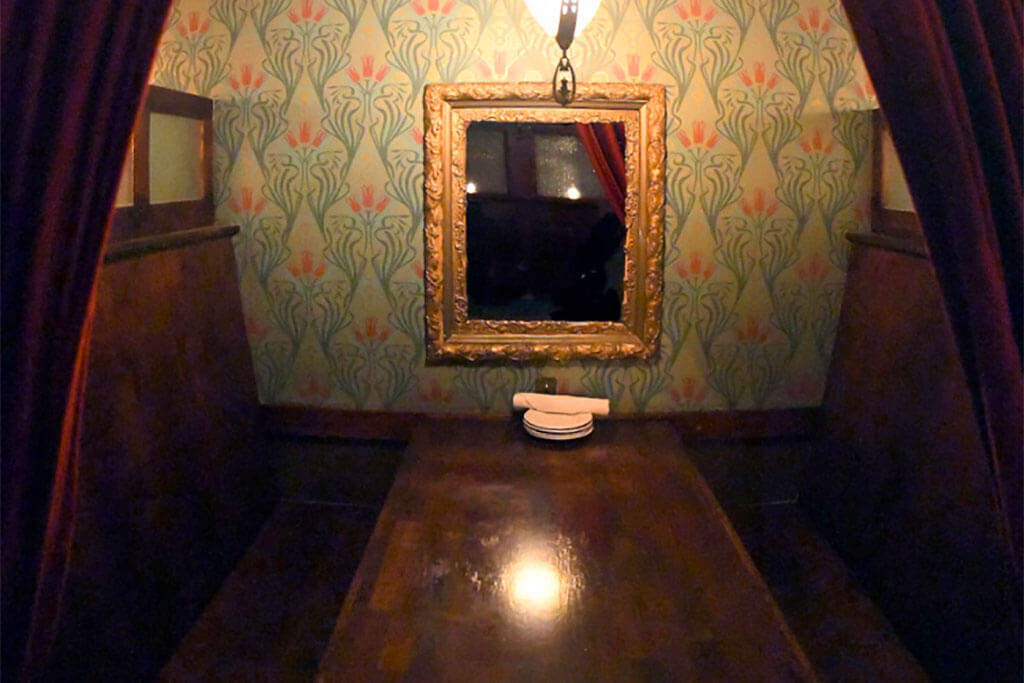 Of course, Volstead's has secret rooms and hidden doorways. You may need to move around objects on a bookcase or enter a phone book and pick up the receiver to find them. Within the hidden rooms are hidden panels because you can never be too careful. Today, they give servers fun ways to navigate the establishment, making more room for patrons and their friends.
Customers love the spooky hunt to find the door in the back alley of a building. Likewise, they appreciate the authentic nature and surprises of this establishment. Many have noted the décor makes them feel "fancy" as though they were transported to another era entirely. For fans of The Great Gatsby and other period pieces, a visit to Volstead's is an absolute must.
Noble Experiment
San Diego, CA
Vibe: Eclectic modern, Rococo, gothic
What's a menu?
On January 16,1920, the "noble experiment" that was prohibition began and lasted for 13 polarizing years. Herbert Hoover's intentions were noble enough, as the goal was to reduce alcohol abuse and strengthen family ties. The experiment, of course, was a complete failure, but many still honor the act that brought about a new kind of debauchery and fun: secret bars.
Noble Experiment in San Diego is one of those places. It is a small cocktail lounge that is never overcrowded due to a strict reservations policy. To find it, enter the restaurant Neighborhood [https://neighborhoodsd.com/] and head towards the restrooms. The door is disguised as a wall of aluminum of kegs. Push through and you're there.
The interior of Noble Experiment is artfully designed, with eclectic elements ranging from modern to gothic to Rococo. For instance, there is one wall dedicated to golden skulls, while paintings mirroring the Rococo era hang on the ceiling. Even the bathroom design is a triumph.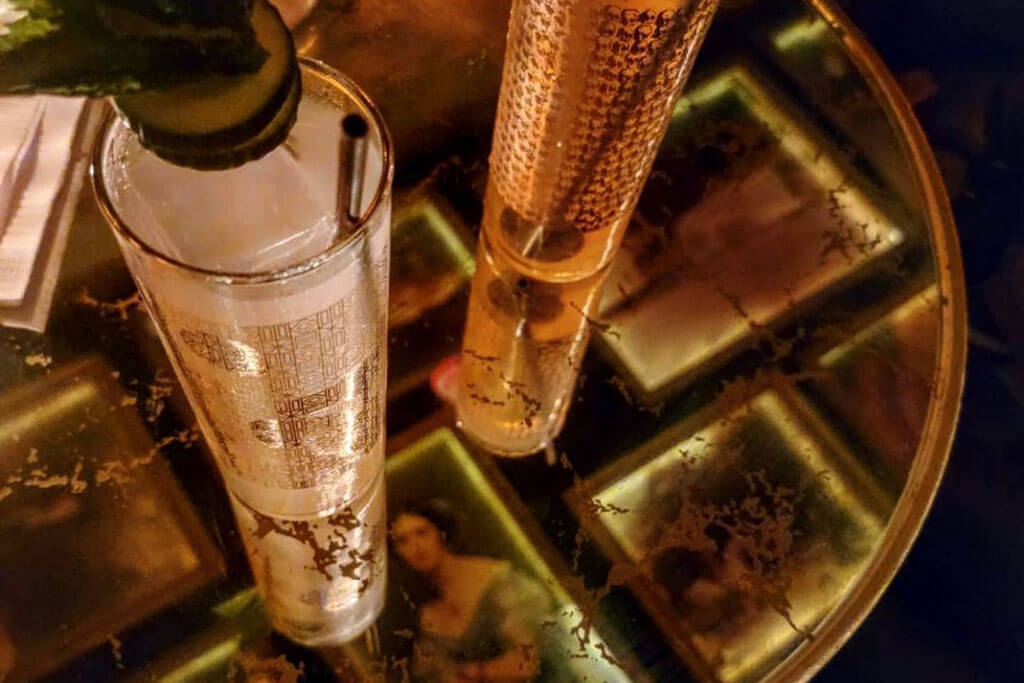 Aside from the table settings and décor which are pure eye candy, patrons love the darkly lit, intimate environment. Their favorite aspect, however, is that this bar does not use a menu. To receive a drink, the bartender will ask about your preferences and drink vibes. For instance, they'll ask if you prefer something spirit-forward (aka, boozier) or a more refreshing cocktail. They'll also make note of preferred flavors and spices.
Next, they'll come back and present you with a cocktail perfectly tailored to your tastes. Guests are also privy to the drink making process as bartenders enjoy explaining why and how they chose certain ingredients. The bartenders know their stuff; Some guests even call them 'drink whisperers'.
Booze Box
Chicago, IL
Vibe: Japan
Izakaya-style secrecy.
The Booze Box is nestled in the basement of SushiDOKKU. However, access the Booze Box, customers need to walk down an alley south of SushiDOKKU and hunt for a non-descript door. There, you may enter.
Patrons are met with a secretive and exotic space full of red light and dark shadows. The bar is low lit with red lanterns, which creates a mysterious atmosphere. The menu mirrors SushiDOKKU's, but with more Izakaya-style Japanese small plates and snacks, as well as a full dinner selection and late-night menu. The drinks are made with Japanese spirits, including sake flights.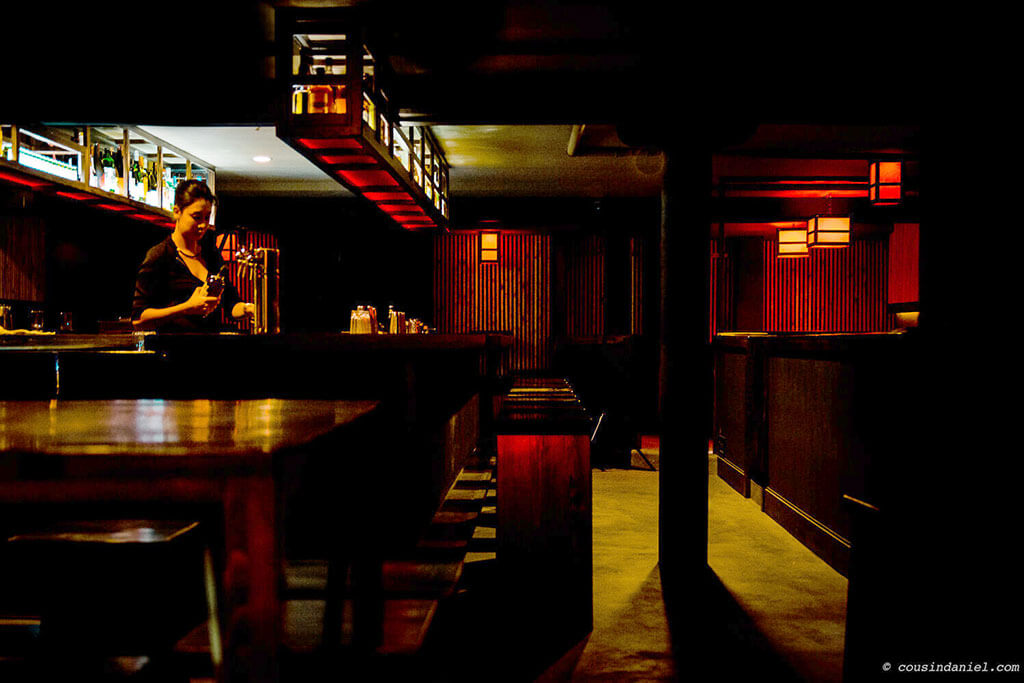 Customers love this spot as a way to impress their out-of-town friends or dates. The music is often ambient, allowing for conversation, although DJs sometimes kick it up. Of course, guests rave about the food and drinks as anyone who has visited SushiDOKKU would understand. The most notable plus for patrons, however, is how well designed the space is. Booze Box has an authentically secretive feel to it: a tried and true way to escape the aboveground world of the bustling city.
Laundromat
Morristown, NJ
Vibe: Live music venue
You can't wash your clothes here.
This 23 and over hidden bar uses the façade of a laundromat as their cover. And sure, at least once a week people stumble in with the intention of actually doing their laundry here.
When you walk into Laundromat, customers head down a hallway of what looks to be washing and drying machines. Which they are, sort of. The owners of Laundromat used the front part of the appliance and attached them to the wall. At the end of the hall is a door disguised as dryers. Open it up, and head down a mysterious staircase to an entirely surprising environment.
Hidden in the basement, patrons find dancing, live music, and well-crafted cocktails. Laundromat focuses on homemade cocktails with creative flavor infusions, seasonal fruit, homemade simple syrups and eye-pleasing garnishes. The large underground interior is full of warm colors such as dark leather couches, reclaimed wood, and brick walls. In addition, there are candles lighting the room and fireplaces. It is indeed a cozy yet lively space.
Patrons appreciate the hard-to-come-by ample seating and energetic staff. While some multitaskers wish for real laundry machines upstairs, patrons love the surprising transformation from the deadening silence of an empty fluorescent laundromat to a party. The journey has even been described as walking into another world.