Yum! Brands, parent company to Pizza Hut, Taco Bell, and KFC, held their annual STAR Awards on May 4, 2021. Wasserstrom was honored to receive not one but two awards, presented remotely this year due to COVID restrictions.
STAR is an acronym for "Supplier Tracking, Assessment & Recognition" and awards are presented in a number of categories by the various brands under the Yum! Brands umbrella. Wasserstrom was recognized as the "Supplier of the Year" across all brands.
In addition, Wasserstrom was recognized for its partnership with Yum! Brands during the global pandemic with its "COVID Crisis Collaboration Award."
"We are so honored to receive these awards from an organization that we respect so much," said Cathy King, EVP of Sales for the Wasserstrom Company. "To be recognized for a job well done is made even more special when we consider the challenging year that we all experienced."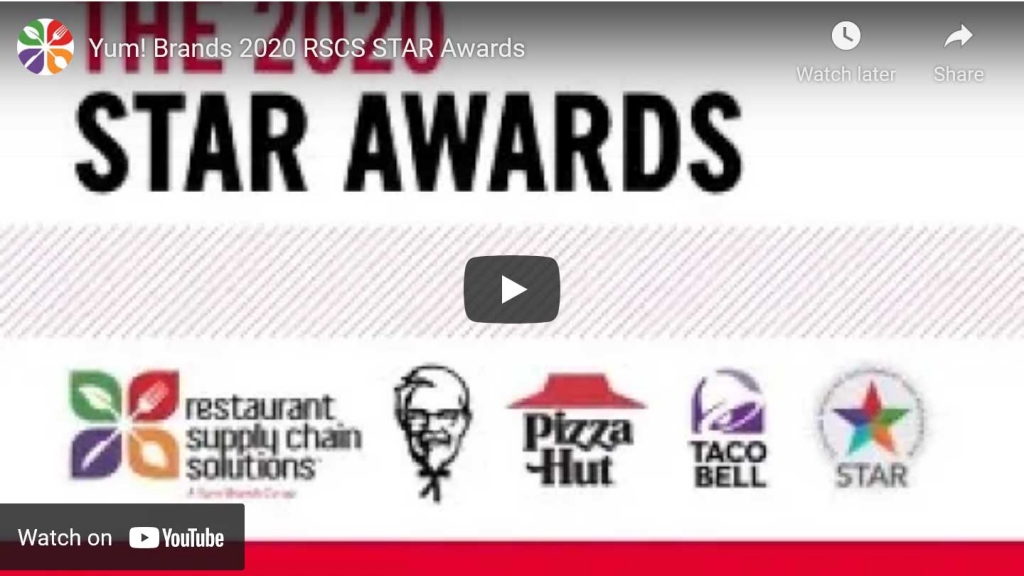 "It is our great pleasure to recognize you, Wasserstrom team, with the 2020 Yum! Supplier of the Year Award," said Steve McCormick, President & CEO, Restaurant Supply Chain Solutions (RSCS).
"Our relationship [with Wasserstrom] runs deep," said McCormick "And the respect is very mutual. There is a high level of trust established with Wasserstrom and for that we are grateful. Grateful for their leadership, for Kathy [Cianflona] and for Kevin [Simmons] and the entire Wasserstrom leadership team for the support of our business this past year."
In addition to the Supplier of the Year Award, Yum! Brands also gave Wasserstrom its COVID Crisis Collaboration Award for the work we accomplished during this difficult year.
"The Wasserstrom Company has done phenomenal work," Todd Silberg, Chief Procurement Officer for RSCS. "We have asked a lot of them over the course of the last year. They were able to help us in a lot of different ways with personal protective equipment [and] sanitizers, and they did it all without a blink. And they always asked 'What more can we do?'"
Wasserstrom is honored to be recognized with these two prestigious awards. We strive to be a trusted advisor to our customers and help them achieve their goals. In light of the difficult year we have all experienced, these awards let us know that our efforts were truly appreciated by our customers as we strive to always exceed expectations.
Thank you to Yum! Brands, RSCS and all the individual brand operators that we support with our supply chain, procurement, and distribution solutions.