The New Normal: Part of a new series of articles focused on restaurant recovery; issues, best practices, and process changes that will become part of everyday business going forward.
As they begin to reopen, restaurants are now facing a new challenge: social distancing for restaurants. Although the specific guidelines vary from state to state, many states have put the responsibility of creating social distancing mechanisms and enforcing social distancing rules on the restaurant themselves.
We have seen examples of social distancing for restaurants that range from genius to absurd. Let's review the specific tools and tips that might actually be useful to implement for your restaurant.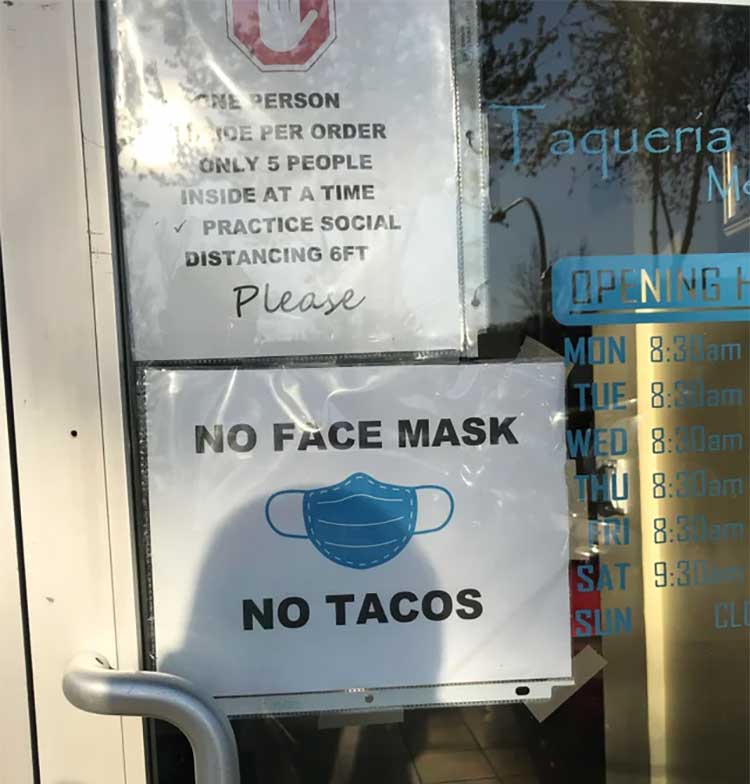 Social Distancing for Restaurants Begins at the Door
Managing customer expectations is going to be key in providing a good customer experience. And that begins before your customers even come inside. First, you are going to want to create some signage for your main entry that tells customers what to expect.
This can take any number of forms. You can use a sidewalk sign to educate customers on any new rules or procedures. Or you can put a sign on the door itself. The key is to make it obvious. This is one situation where it is OK to be redundant. Multiple signs are a good thing.
Set your expectation on things such as the appropriate social distance expected between parties, mask use, and movement policies within the space (some regulations require customers with food and drinks to be seated rather than walking around).
You should consider reiterating this information just inside the door as well. A table-talker sign stand at the hostess stand or at the cash wrap is probably a good idea.
Crowd Control
Because most state policies are limiting the number of people that can congregate in any given space, you need to begin to think about how you will maintain appropriate social distancing for customers waiting to be seated. However, directing customers and maintaining social distancing may require a number of different tools.
One tool that you may already have is a retractable belt barrier. These rope-like barriers can help to both direct people and restrict them from places you do not want them to go. The most basic use of a belt barrier is to direct a queue of customers.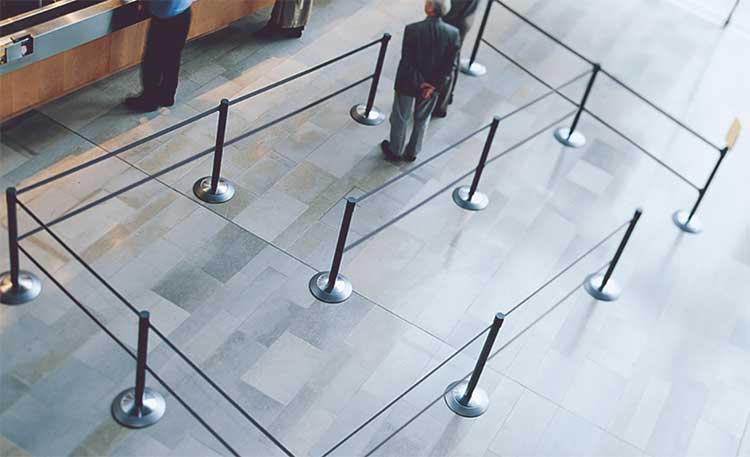 Barriers can also be used to block off tables or other areas that you need to restrict to enforce appropriate social distancing. Some restaurants have made makeshift barriers with masking tape to block off tables. While this may be effective, it isn't the most attractive or professional-looking solution.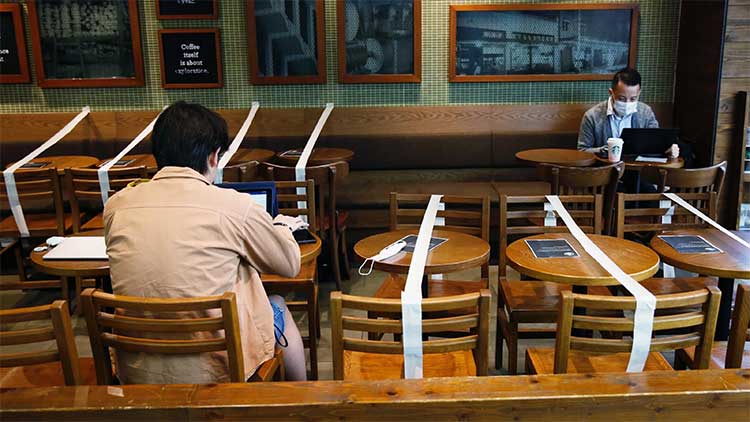 If you are unable to remove tables or other spaces such as booths or bar seating, you should definitely try to block them off to prevent customers from trying to use them.
Mark Spaces
People are remarkably bad at judging distances. Therefore, we need to provide them as much guidance as we can. Use floor sticker signage to mark appropriate distances in places where customers are likely to gather. For example, these might include your front entry, the hostess stand, and the cash wrap (if applicable).

As the operator, you will need to measure out the placement of these signs and floor stickers to ensure that they are placed at least 6 feet apart.
Pager & Cellphone-based Paging Systems
Many states are not allowing restaurant patrons to wait in large groups inside restaurants. Instead they are providing guidance to restaurants to have customers wait outside or in their cars.
Although many restaurants already have a paging system in place, this will be new functionality for many more. There are several choices to be made. But the most fundamental choice is between physical pager units that you hand out and using a cellphone paging system.
Both have pros and cons. For example, handing out physical paging units may reduce the number of people who bail on a restaurant after getting in the queue. People are more reluctant to take off when they have the physical pager in their possession. And even if they do decide to leave and return the pager unit, the operator then definitively knows to remove that guest from the waiting list.
The same can't be said for cellphone paging systems. Customers may not feel the need to notify the operator at all that they are leaving. 
But that is not to say that cellphone paging systems are bad. On the contrary, these systems have a number of advantages. Not the least of these is that there are no physical devices to maintain or sanitize between uses. And since nearly everyone has a cellphone, it's pretty easy to implement.
However, not everyone feels comfortable giving out their personal cell number for a reservation system. So, do what you can to reassure your customers that you are protecting their privacy and will only use their cell number for the purpose of informing them when a table is available.
Safety Shields & Protective Barriers
Probably the biggest physical change for restaurants is the use of safety shields and protective barriers. And it is probably the area that comes with the most choices and decisions that need to be made.
And if that wasn't hard enough, there is very little external guidance on exactly how to do what is needed and what will be deemed acceptable by individual inspection entities (i.e. your local health inspector).
Safety Shields
We consider a safety shield to be a non-permeable barrier that is placed between a stationary employee and the public customers. So, locations like the cash wrap or the hostess station may need a plexiglass (or other material, more on that in a sec) barrier in place to reduce the possibility of airborne droplets being exchanged in either direction.
Safety shields can come in a variety of configurations and shapes. They are typically made of plexiglass. But beyond that, there are a number of choices for how the shield is installed. Some can be hung from the ceiling. Others can be physically mounted. And still others are self-standing and can be positioned right on the counter-top.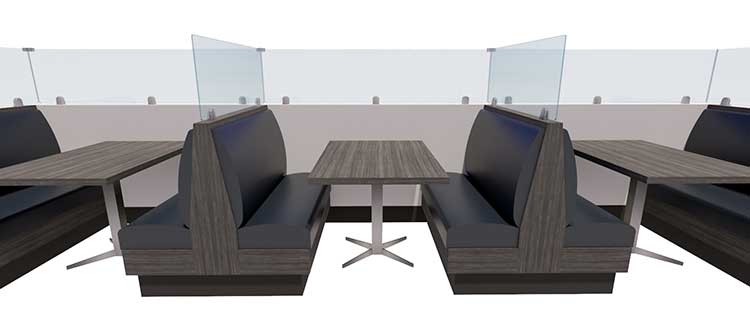 Protective Barriers
A protective barrier is also a non-permeable, physical barrier. The difference here is that these are placed between seating groups or other physical spaces to enforce social distancing. 
As with the shields, protective barriers are typically made of plexiglass. However, some barriers are made with PVC material, much like a very heavy duty shower curtain. In these cases, the PVC barriers need to be hung either from the ceiling or from a specially designed frame.
Both safety shields and protective barriers are intended to reduce the chance of airborne droplets being transferred between people in your establishment. These are critically important for seating areas that cannot be moved further apart, like with booths. Having these barriers in place may allow you to utilize more of your existing space even given existing social distancing guidelines.
Portable or movable barriers can also help you adjust to changing conditions more flexibly.
Social Distancing for Restaurants: Moving Goalposts
Obviously, there is a lot to digest here. And much of this involves choices by the individual operators in the absence of clear direction from the government entities involved in reopening restaurants across the country.
As we were preparing this article, we came across a great example of how challenging this process can be for operators. Take a look at the header image for this article. This is a local Zoup! location here in Columbus. As you can see in the image, they used flexible PVC barriers to divide their seating area and the serving line.
Tom Dailey, managing partner of Tasty Main LLC, an operator of Zoup! franchises in Central Ohio, helped to oversee the design and implementation of these social distancing tools. And you would think he would be "in the know" when it comes to the guidelines. That's because Dailey was asked to be part of the Governor of Ohio's taskforce on the reopening of restaurants. He actually helped to shape the guidelines that all Ohio restaurants are being asked to follow.
The Inspector Calls a Foul
But when undergoing the final Health Department inspection of this location, the inspector rejected the flexible PVC barriers as an effective tool. Instead, the inspector recommended rigid plexiglass as an alternative. As we noted in our article about reopening a restaurant, you really need to check with your inspectors as early as possible to give yourself time to deal with unexpected challenges such as this.
"It's an especially challenging situation. We tried to write the guidelines to include options," said Dailey. "Every restaurant may have a different layout for their seating area, so it is hard to apply a single standard."
Dailey went on to say that it is then left to the judgment of the individual Health Department and their inspectors to decide upon what is and isn't acceptable.
"We don't want to make a huge issue about it. The inspector is doing what they feel is best and we are trying to comply with that. So we have removed the current barriers. It had the effect of reducing the seating area, but we really want the headline to be 'We're Open for Business," said Dailey.
Social Distancing for Restaurants: The Bottom Line
Restaurants around the country are beginning to reopen and welcome dine-in guests back into their establishments. Unfortunately, it isn't as simple as a return to the previous ways of doing business. Operators are challenged to not only implement new processes for social distancing but they are also often responsible for enforcing social distancing guidelines.
But with the right tools and proper planning, restaurants will make it through these challenging times. And we are here to help!
So now that you've read the about the serious tools and tips you need to implement appropriate social distancing for restaurants, why not take a look at some of the more over-the-top ideas that some restaurateurs have devised for coping with social distancing in their establishments:
Read This Next: