The New Normal: Part of a new series of articles focused on restaurant recovery; issues, best practices, and process changes that will become part of everyday business going forward.
Necessity is the mother of invention. Or so they say. But it also seems to bring out some truly wacky ideas. As we monitor developments and innovations in restaurant social distancing, we have come across a few ideas that are probably out of reach of the average restaurateur. And that may be for the best, actually. Here are some of our favorite kooky, wild, and outlandish concepts.
The Absurd & the Sublime
Let's get these out of the way first. If you want to get some publicity for your establishment, then these ideas might be right for you. But for the majority of operators, these ideas are just a source of bemusement. So to be clear, we are not actually recommending any of these ideas. We are just presenting them for your review.
Mannequin Seat Fillers
For example, you could use mannequins to fill up the empty seats in your restaurant as an attempt to make the social distancing space feel less empty. Unfortunately, the empty feeling will probably be replaced with a creepy feeling, which isn't necessarily better.
The Cone of Silence?
Remember the Cone of Silence from the classic TV show, Get Smart? Well this invention looks like it could be the long lost sibling of that wacky invention. From the mind of designer Christophe Gernigon comes the Plex'Eat. For now, this is just a concept design. To the best of our knowledge, there are no establishments actually using this design.
Individual Greenhouses
A vegan restaurant in Amsterdam, Mediamatic ETEN, has come up with a unique solution for social distancing: Individual Greenhouses. These outdoor pods allow guests to be completely isolated. Servers use wooden planks to serve food to the tables. If you have the outdoor space and a bunch of small greenhouses lying around, this might be a good solution for you.
And while you might think this is just a gag, think again. The restaurant has already sold out of all the reservations it has put online. Apparently, people are clamoring to eat inside a greenhouse.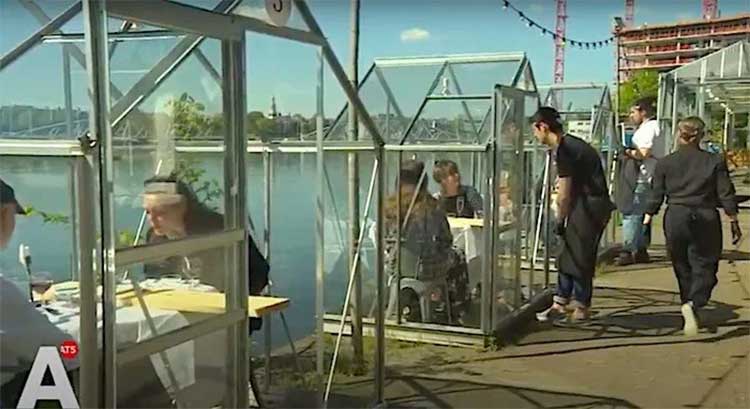 Bumper Tables
We are not even sure where to begin here. The concept is fairly simple. Provide a barrier between customers that will keep them socially distant but also allow them to move around. Oh, and it would be great if there was a place for them to put their food and drinks.
The solution? Bumper tables. Yep. These round tables are on wheels with a foam bumper all around the edge. Designed by Revolution Event Design & Production, the bumper table is no joke. It's a real product and is already in use. The first restaurant to employ these tables is Fish Tales in Ocean City, Maryland.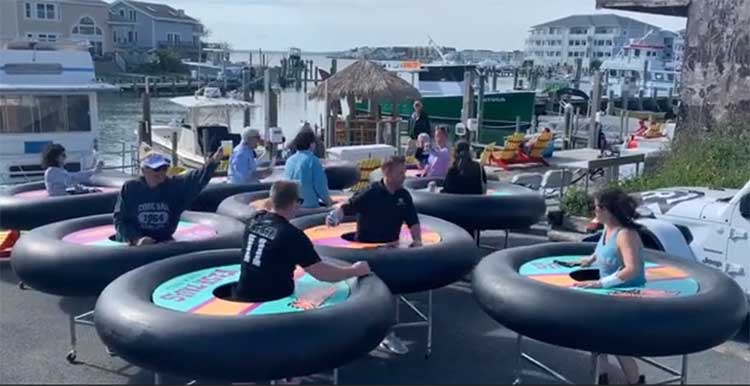 Going the Distance. The Social Distance
Have you seen any other examples of weird, crazy, or absurd restaurant social distancing? Let us know in the comments.
But if you want some actually helpful information, please be sure to check out our article, "Social Distancing for Restaurants: Tools & Tips." It's chock full of tools and tips to help you adapt to the new normal and all the new rules and processes that come along with it.
Read This Next: