The banqueting industry is back in full swing, and with it comes the need for stylish and durable dinnerware and flatware. In this article, we review some of the best commercial banqueting dinnerware and flatware lines on the market, from cost-effective collections to high-end luxury.
To distinguish price point, we divided our dinnerware picks into three categories: Value, Mid-Range, and High-End. We will also discuss the importance of strength and aesthetics when it comes to banqueting. So, whether you're a caterer, event planner, hotel manager, or restaurant owner, we have you covered.
Value Collections
The Value collection category includes our picks for cost-effective options that deliver the largest return on your investment. Despite being cost-effective options, these dinnerware and flatware lines excel in both presentation and in commercial durability.
Caprice Dinnerware by Buffalo China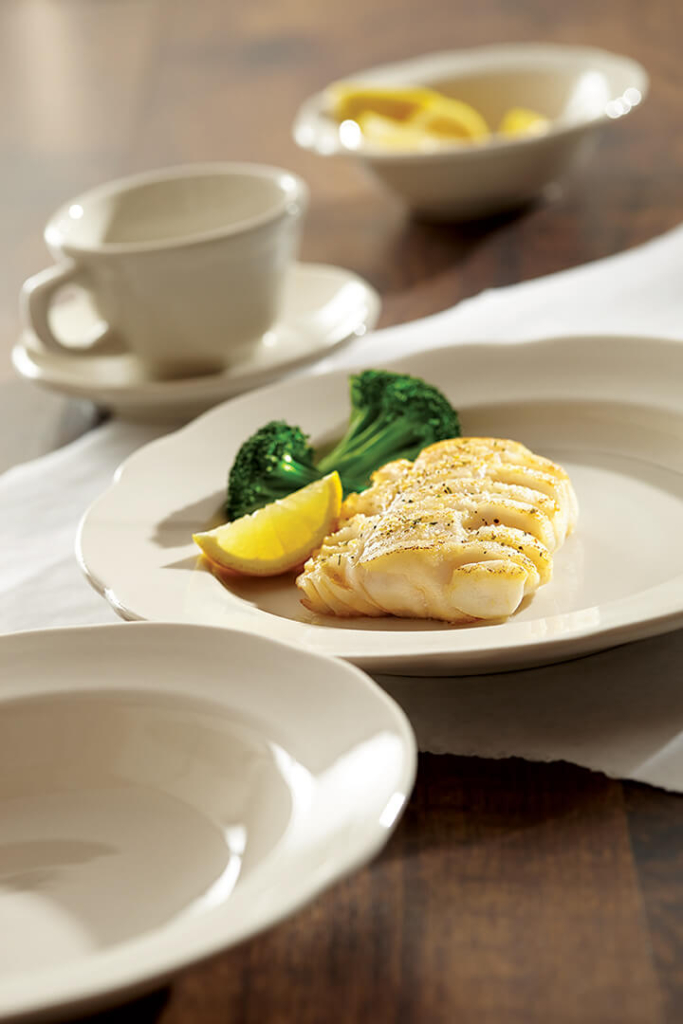 For dinnerware with a little something extra, Caprice dinnerware offers scalloped edges and a cream hue that lends a quaint, whimsical charm to banquet dining. The cream color is a subdued alternative to traditional bright whites and complements a range of dining aesthetics. For extra durability, Caprice is made with twice-fired construction, reinforced edges. This collection is a stunning way to present your culinary creations to banquet diners while watching that bottom line.
Bright White Ware by Buffalo China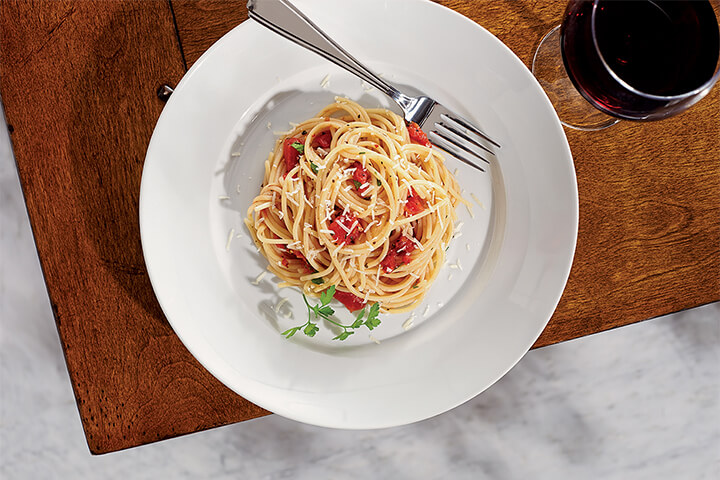 You can't go wrong with the classics. White dinnerware is a widely favored and timeless choice for banqueting. Aesthetically, it is as versatile as they come. The neutral color palette of bright white complements virtually any color scheme, theme, or décor, allowing event planners to focus on other design elements such as table linens, centerpieces, and lighting.
Bright White Ware is suitable for all types of cuisines and has a high-performance glaze that is resistant to scratching and metal markings, which keeps these pieces looking brand new, for longer. Additionally, each piece is safe for the microwaves and commercial dishwashers.
Lumos Flatware by Oneida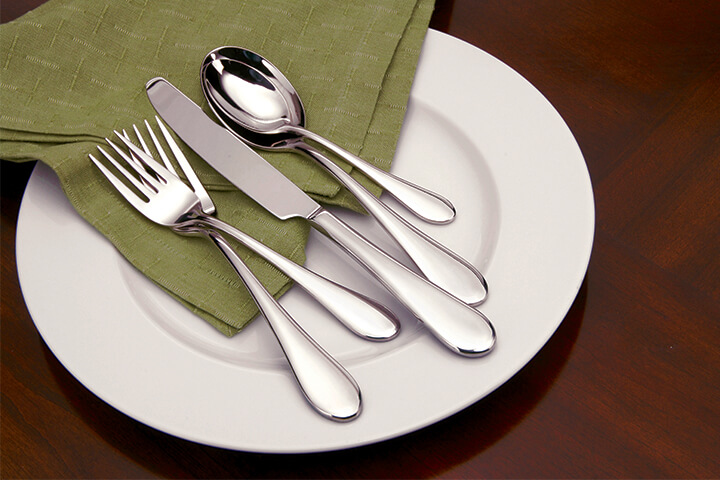 The first of our Value flatware lines is the Lumos collection. This durable line is made from 18/0 stainless steel. Each piece features a superb finish and pattern detail, which allows each fork, knife, and spoon to be a visually appealing part of your banquet table. The gently rounded handles are comfortable to hold and the heavy weight of the flatware makes it feel substantial and luxurious. These pleasant visual and tactile qualities creates a sense of occasion at any banquet.
New Rim II Flatware by Oneida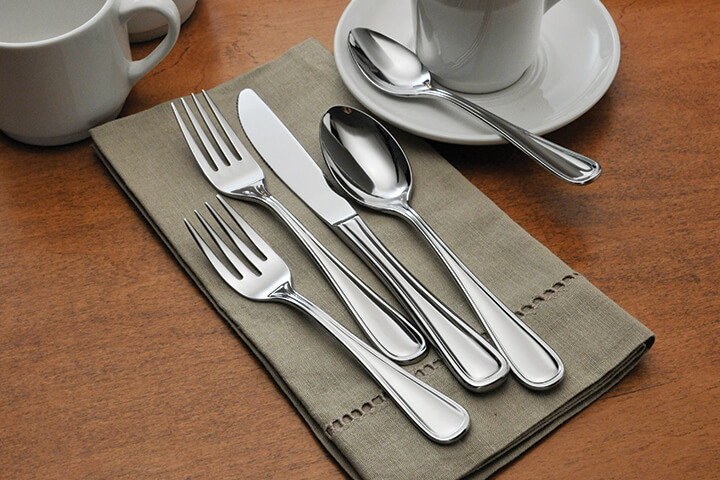 The New Rim II flatware line is a great choice for banqueting because it is durable, elegant, and easy to care for. The gently curving border adds a touch of sophistication, while the 18/0 stainless steel finish gives it a timeless look.
Another key factor is that New Rim II flatware uses continental sizing, which is the most common type of flatware used in banquet settings. This ensures that the flatware will be the right size for guests of all ages. This economical line is sure to make a positive impression during your banquet and will help to create a memorable dining experience.
Mid-Range Collections
Our Mid-Range collection lines excel in high-volume establishments and offer some of the best qualities of our value and high-end selections.
Royale Dinnerware by Sant' Andrea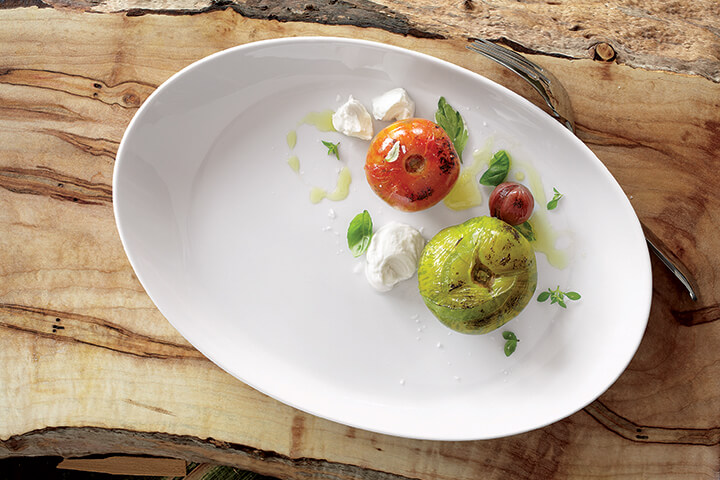 For a timeless look and understated beauty, look no further than the Royale dinnerware collection. This line features a mid-sized flat rim, perfect for banquets because it makes serving food and drink easy, and it helps to prevent spills. Its bright body made from fine porcelain is at home in virtually every setting.
The classic appeal of Royale makes it a versatile collection for many occasions, from formal and traditional events to modern and contemporary gatherings. This timelessness also means that investing in quality white dinnerware can be a long-term investment for future banquets.
Tundra Dinnerware by Oneida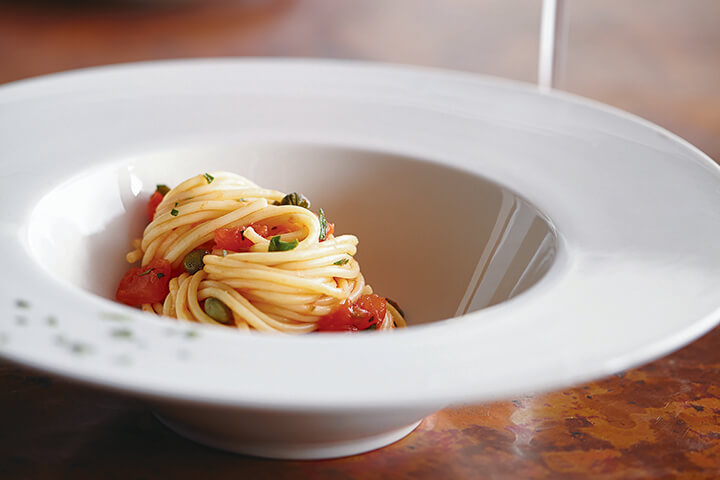 If you are looking for a more dramatic, less understated presentation for your banquet that also uses classic white colors, we recommend the Tundra dinnerware collection. The wide rim of the Tundra dinnerware provides a dramatic frame for food to look its best. The wide rim also helps to prevent food from spilling over the sides of the plates.
Vitrified high alumina (VHA) is a ceramic known for its strength and durability. Its bone white construction is finished with high performance glaze that is resistant to scratching and metal marking. Tundra is an excellent investment for your banquets because it can withstand the bumps, knocks, and spills that are inevitable at large events.
Mascagni II Flatware by Oneida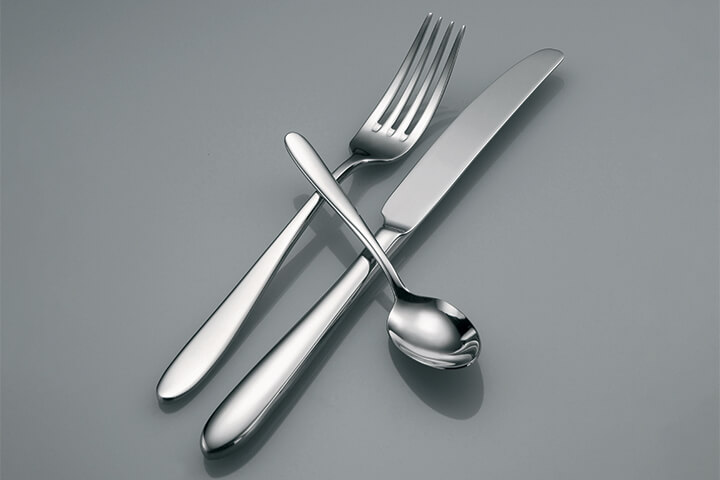 If you are looking for a high-quality, versatile, and durable set of flatware for your next banquet, the Mascagni II flatware collection fits the bill. The heavier gauge makes the flatware more durable and less likely to bend or break. The forged and water-ground blades are sharp and easy to use. And the superior finished edges, seams, and tips make the flatware look and feel luxurious. It is sure to make your guests feel like they are dining in a high-end restaurant and will help to keep your banquet hall looking its best.
Barcelona Flatware by Oneida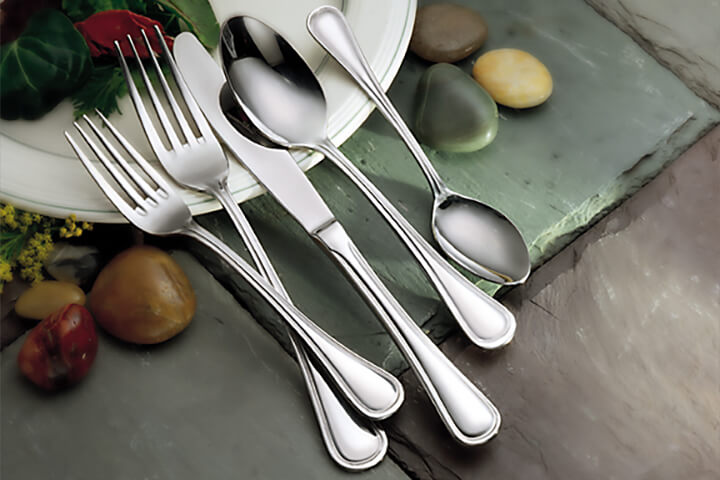 Banquets require flatware that can withstand frequent use. The Barcelona flatware collection rises to the occasion with remarkable resilience and superior durability. Crafted from 18% chrome stainless steel, this flatware guarantees quality. The flatware's smooth, rounded curves and tear-drop handle create a warm and comfortable feel for your guests, offering a pleasant tactile experience that adds a personal touch to their dining.
Barcelona flatware harmoniously combines elegant design, quality craftsmanship, and lasting durability, making it an excellent choice for banquets. It's more than just utensils; it's a part of the overall experience banquet guests will appreciate and remember.
High-End Collections
For upscale events, fine dining, and hotel banqueting, we've selected High-End collections that will dazzle your most luxe guests while maintaining practical characteristics the commercial foodservice industry demands.
Botticelli Dinnerware by Sant' Andrea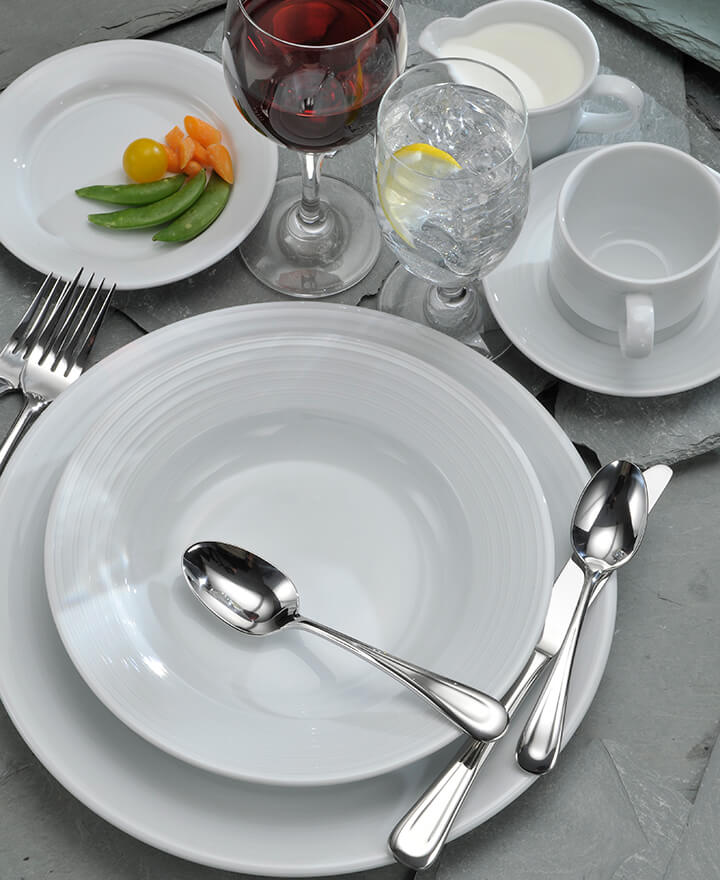 Add prestige and European craftsmanship to your table with Botticelli dinnerware. Botticelli dinnerware was created by award-winning team, Queensbury Hunt, who are celebrated specialists in ceramics and tableware design. 
The unique design of the dinnerware, with its textured rim, provides a beautiful frame for food presentations. The dinnerware's dramatic steep rim embossed with a hand-carved texture creates an eye-catching and elegant appearance.
Gemini Dinnerware by Oneida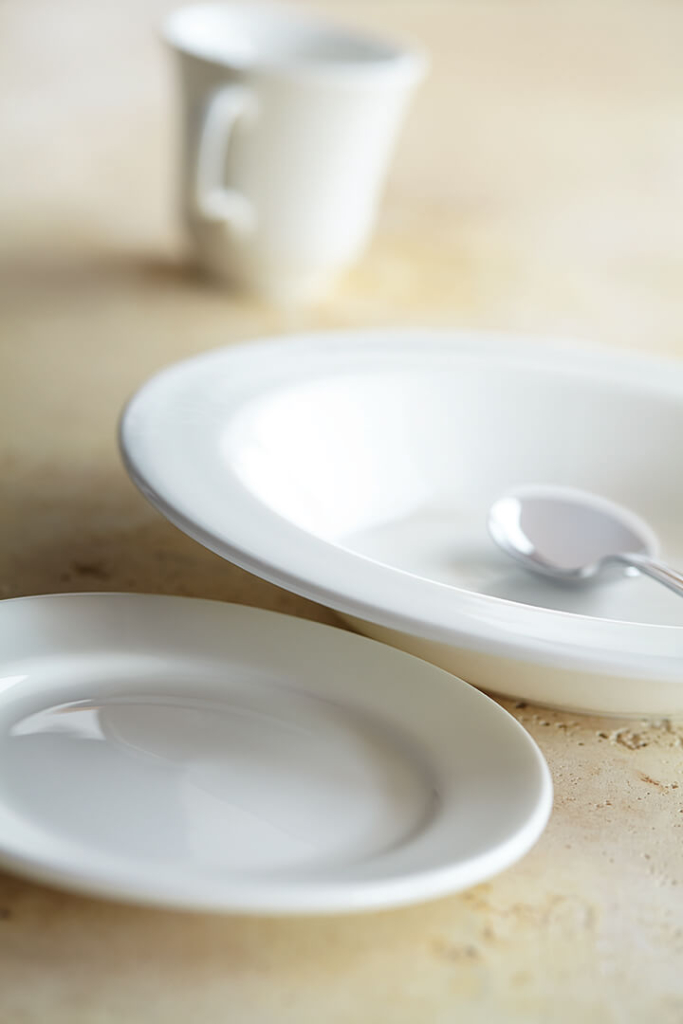 For a picturesque banquet, Gemini dinnerware features reinforced edges on warm white bone china. Bone china is a strong and durable material that can withstand the rigors of a banquet setting. It is less likely to chip or break than other types of dinnerware, making it a good choice for large events where there is a lot of hustle and bustle.
Although a simple shape, its wide rim creates an outstanding frame for culinary presentations. This makes it a good choice for formal banquets where you seek to create an ambiance of sophistication.
Elevation Flatware by Sant' Andrea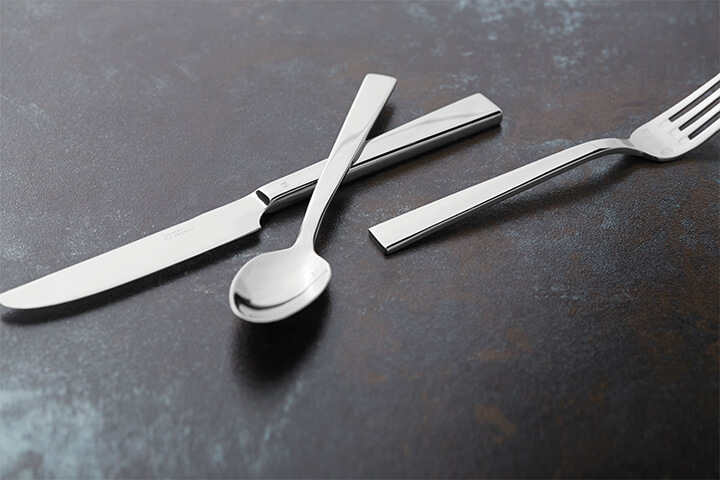 The Elevation flatware collection is a modern and elegant design that is perfect for banqueting. The simple, streamlined lines of the collection create a minimalist aesthetic that is both stylish and sophisticated.
The luxurious details, such as the cantle knife blades, coined fork tines, and flat-faced bowls, add a touch of refinement that is sure to impress guests. The Elevation flatware collection is made of high-quality 18/10 stainless steel with a high polish mirror finish, making it durable and easy to care for. It is also dishwasher safe, making it a convenient choice for busy banquet halls.
New Rim Flatware by Oneida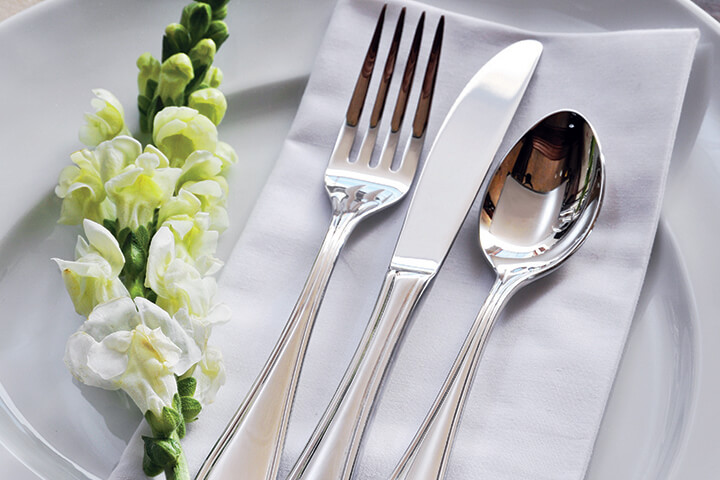 The New Rim flatware collection is a beautiful and elegant choice for banqueting events. The gently curving border of the handles reflects the simple sophistication of the pattern, while the continental sizing and European styling make it a versatile option for any type of event. The collection is also made from high-quality 18/10 stainless steel, which is durable and easy to care for. This makes it a practical choice for banqueting events, where large quantities of flatware need to be used and washed.
New Rim flatware comes in a variety of pieces to create a complete place setting. This includes dinner forks, knives, spoons, salad forks, and serving pieces. The collection also includes a variety of specialty pieces, such as fish forks, oyster forks, and sugar spoons. This makes it a versatile option for banqueting events, where a variety of dishes may be served.
Create the Perfect Banquet Table Setting
The banqueting industry demands stylish and durable dinnerware and flatware. The collections we presented today span from luxurious table settings to minimalist modern looks at varying price points. We hope that showcasing these expansive collections has led you to find ideal dinnerware and flatware collections for your banqueting events.
Partnered with
YOUR HOSPITALITY ALLIES
As your hospitality allies, we are proud to offer a collection of historic and innovative brands that have been gracing tables for over 100 years. 1880 Hospitality is here to help foodservice operators design the dining experience with a complete tabletop selection that encompasses dinnerware, flatware, glassware, and accessories. With styles ranging from timeless to trendy, we are ready to elevate any tabletop.
Wherever people are gathering, you will find 1880 Hospitality woven into the best experiences.