We are thrilled to announce that Wasserstrom has been awarded the 2022 Taco Bell STAR Award for Equipment & Smallwares. This prestigious award is presented by Yum! Brands to suppliers who demonstrate outstanding performance in a variety of areas, including customer service, product quality, and innovation.
During the awards ceremony our partners at Taco Bell expressed, "Throughout the years, Wasserstrom has continued to be a critical partner in support of all Taco Bell marketing smallwares initiatives. We want to recognize Wasserstrom's team specifically in support of the Taco Bells marketing calendar. The number of programs and volume of materials provided to franchisees in 2022 was three times the amount of smallwares when compared to 2021."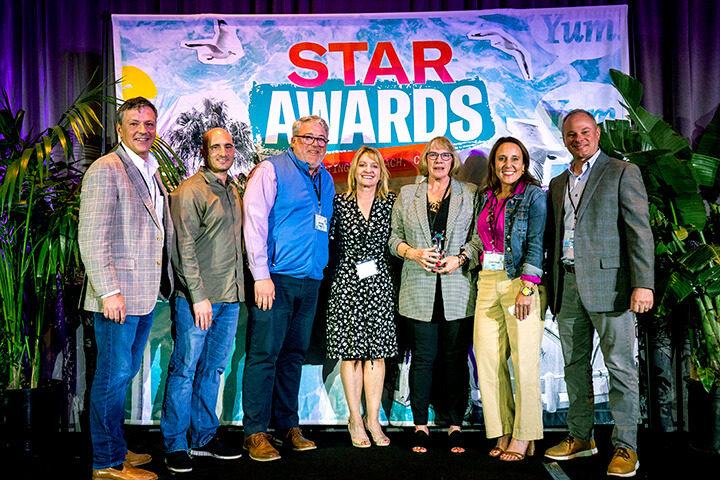 Throughout the year, we worked closely with the Taco Bell team to deliver a record number of marketing smallwares programs and materials to franchisees. We are also proud to have been recognized for our ability to find fast, innovative, and efficient solutions to challenges. In a year of unprecedented supply chain disruptions, Wasserstrom's smallwares and equipment team did not miss a single shipment and was able to support all replacement orders without any delay.
"We are immensely proud to accept this award. This recognition is a testament to the unwavering commitment of every single member of our team" said Cathy King, EVP of Sales for the Wasserstrom Company. "Thank you to Taco Bell for this incredible recognition and their valued partnership. As our journey together continues, we remain dedicated to continuous improvement and strive to set new benchmarks in foodservice distribution and supplies."
Thank you to Yum! Brands, RSCS, Taco Bell and all the individual brand operators that we support with our supply chain, procurement, and distribution solutions.