When new customers visit your venue, first impressions are everything. It's not uncommon to hear, "How fresh is the coffee?" And you can believe they will take notice whether the coffee is piping hot or lukewarm. So, it's easy to see just how important it is to use reliable, commercial beverage servers.
With countless beverage servers and carafes available to foodservice owners, it can be difficult to find the best one for your venue. Fortunately, we have curated a list of outstanding coffee (and more!) servers from Service Ideas.
Whether a tried and true classic or an innovative new design, Service Ideas knows how to make beverage service easier for your commercial foodservice or hospitality establishment, while ensuring drinks are served at ideal temperatures.
Nicollet Series 1-Liter, S/S Insulated Carafe
The Nicollet carafe series is as dependable as it is elegant. A tapered base, slim profile, and sleek handle design makes this carafe an ideal multitasker. This carafe serves more than just coffee; Its construction and push-button lid works incredibly well for soups, sauces, cream, and hot water. The Nicollet carafe is also available in several Natural Element finishes: Dark Wood, Light Wood, White Marble, Gray Marble, and Travertine Marble.
Smart Choice 1-Liter S/S Server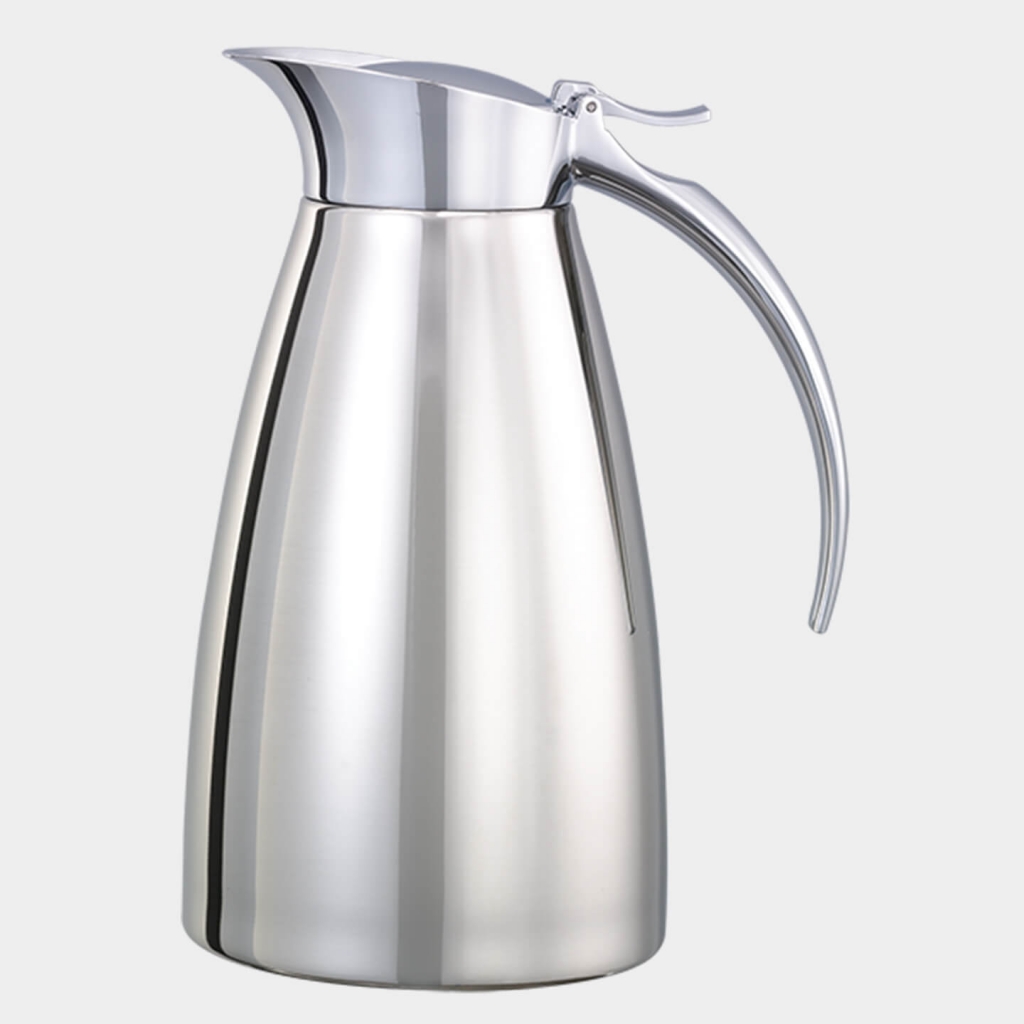 This server earned its "Smart Choice" name with its easy-to-use efficient design: Only one-hand is needed to serve beverages from this carafe which makes table service in a restaurant or hotel much easier and faster.
ErgoServ 1-Liter Carafe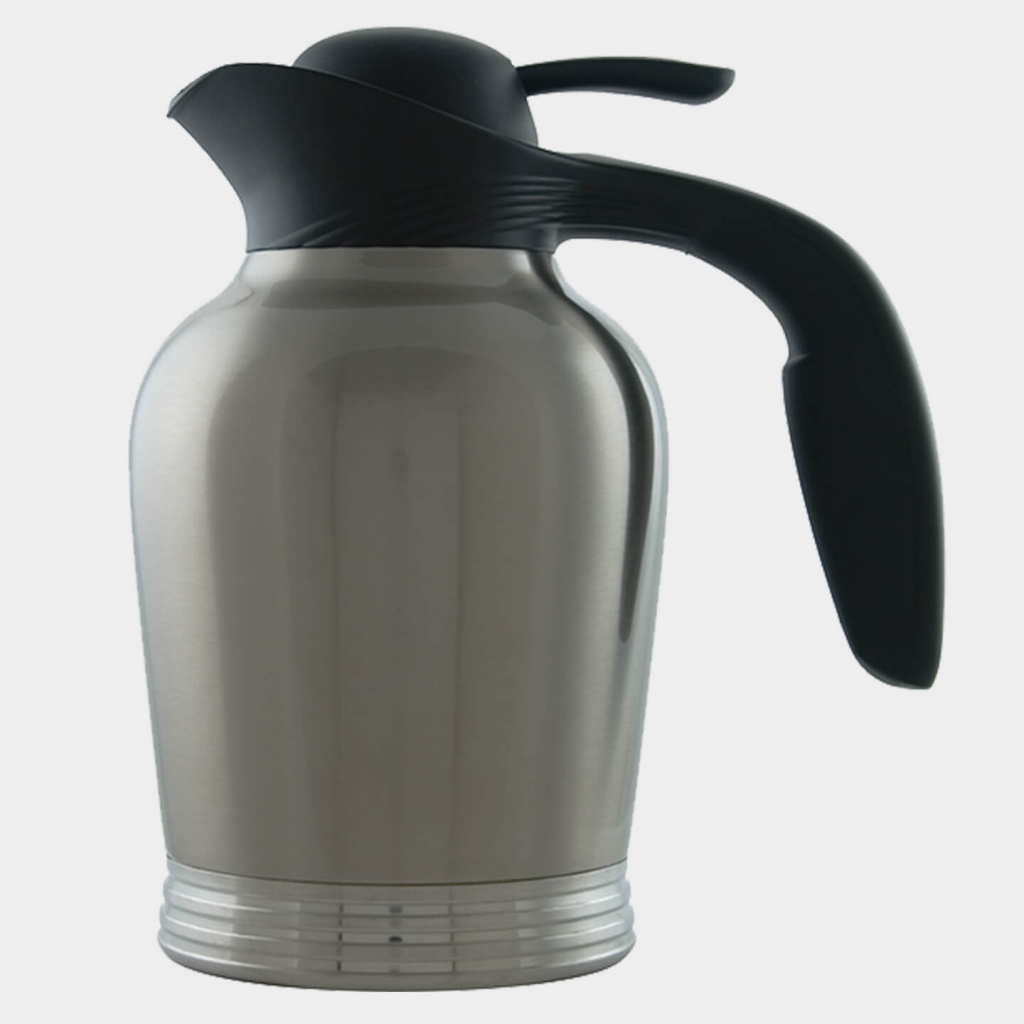 The ErgoServ carafe by Stanley Commercial, one of Service Idea's exclusive partners, delivers what its name promises — ergonomics. Its thoughtfully designed handle reduces muscle strain and fatigue, allowing your waitstaff to perform their jobs in comfort throughout their entire shift.
Elite Stainless Touch 0.6-Liter S/S Server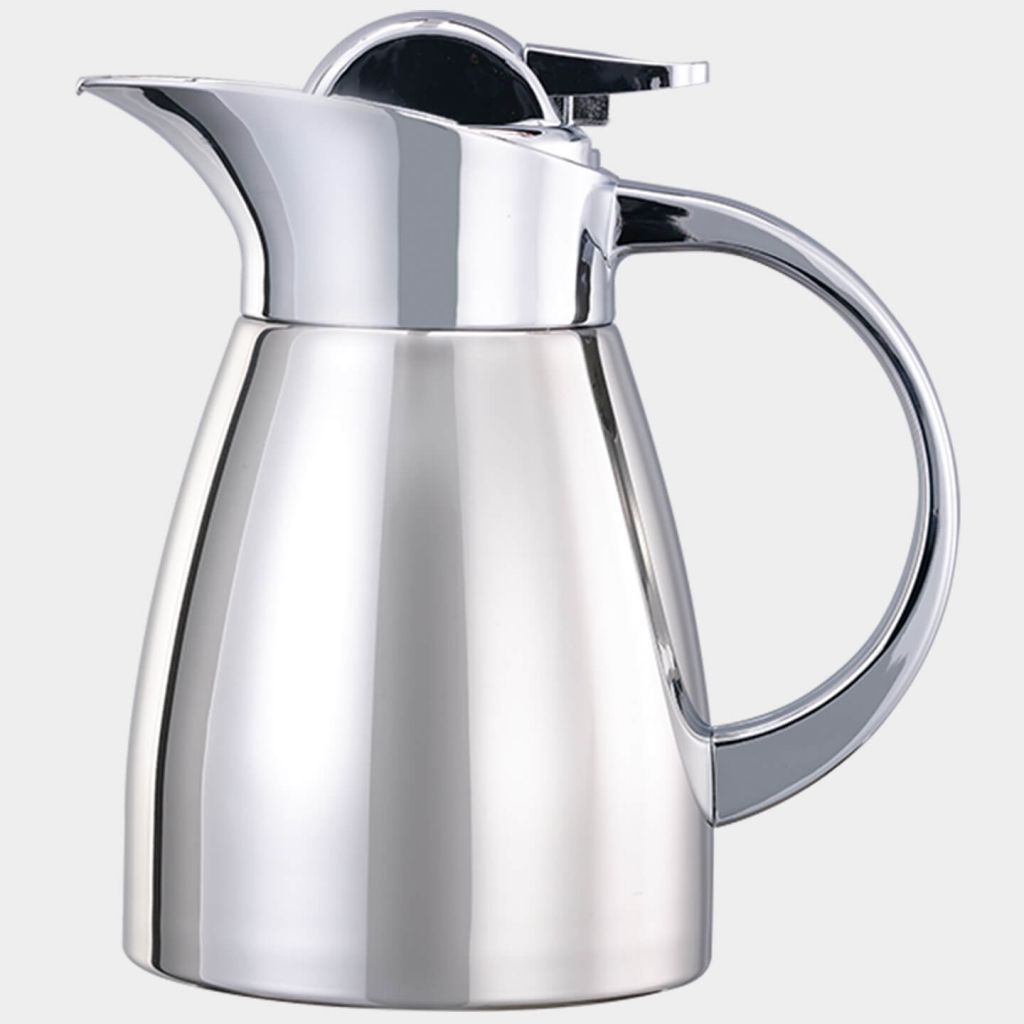 The high polished body and chrome-painted plastic lid and handle makes the Elite Stainless Touch server a perfect match for fine dining. It's redesigned lid also allows liquid to pour under it rather than through it — an upscale design choice that has resulted in a more sanitary server.
Coffee at a Touch 1.9-Liter Carafe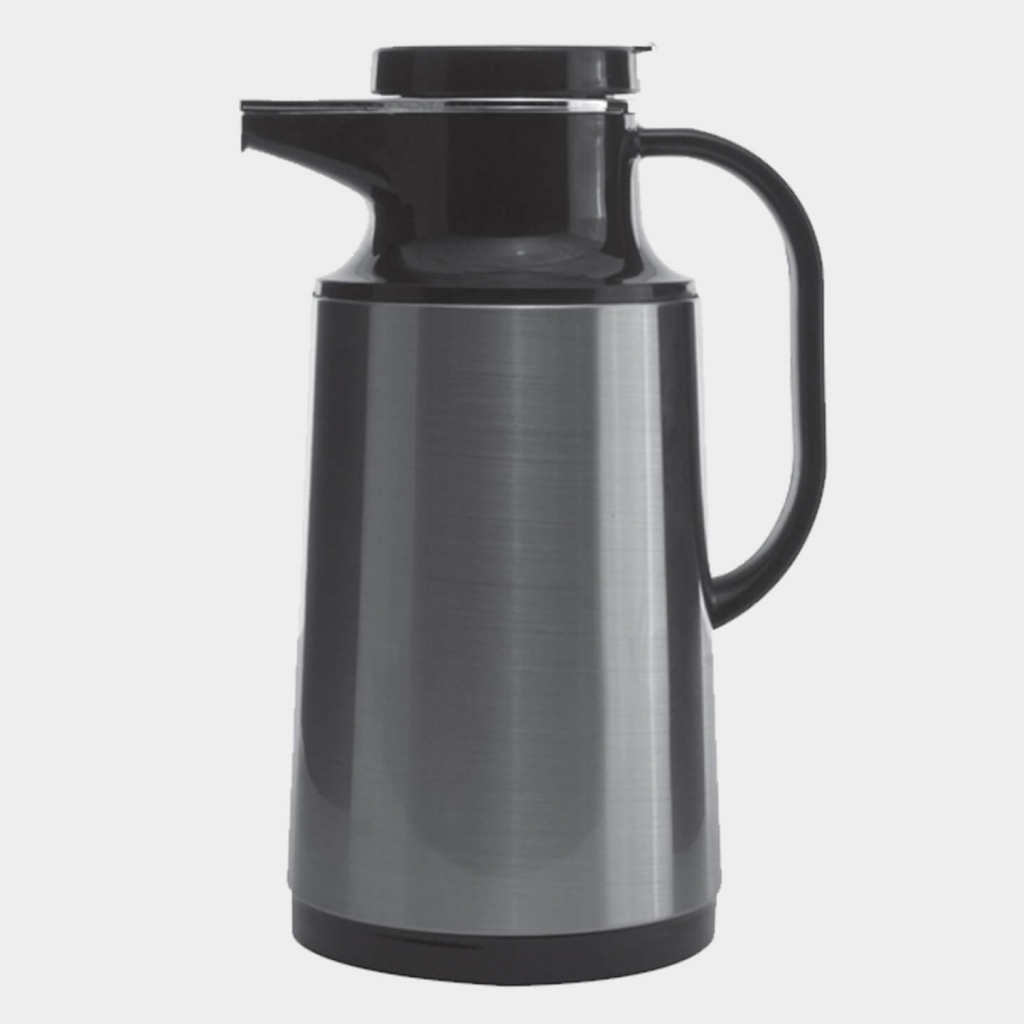 The name "Coffee at a Touch" refers to this carafe's ergonomic push-button lid that dispenses beverages easily as well as the spout's metal flap that keeps each pour controlled and tidy. And forget about fingerprints and water spots; its clear coat finish has the desirable effect of minimizing or eliminating unsightly marks.
SteelVac 2-Liter Insulated Server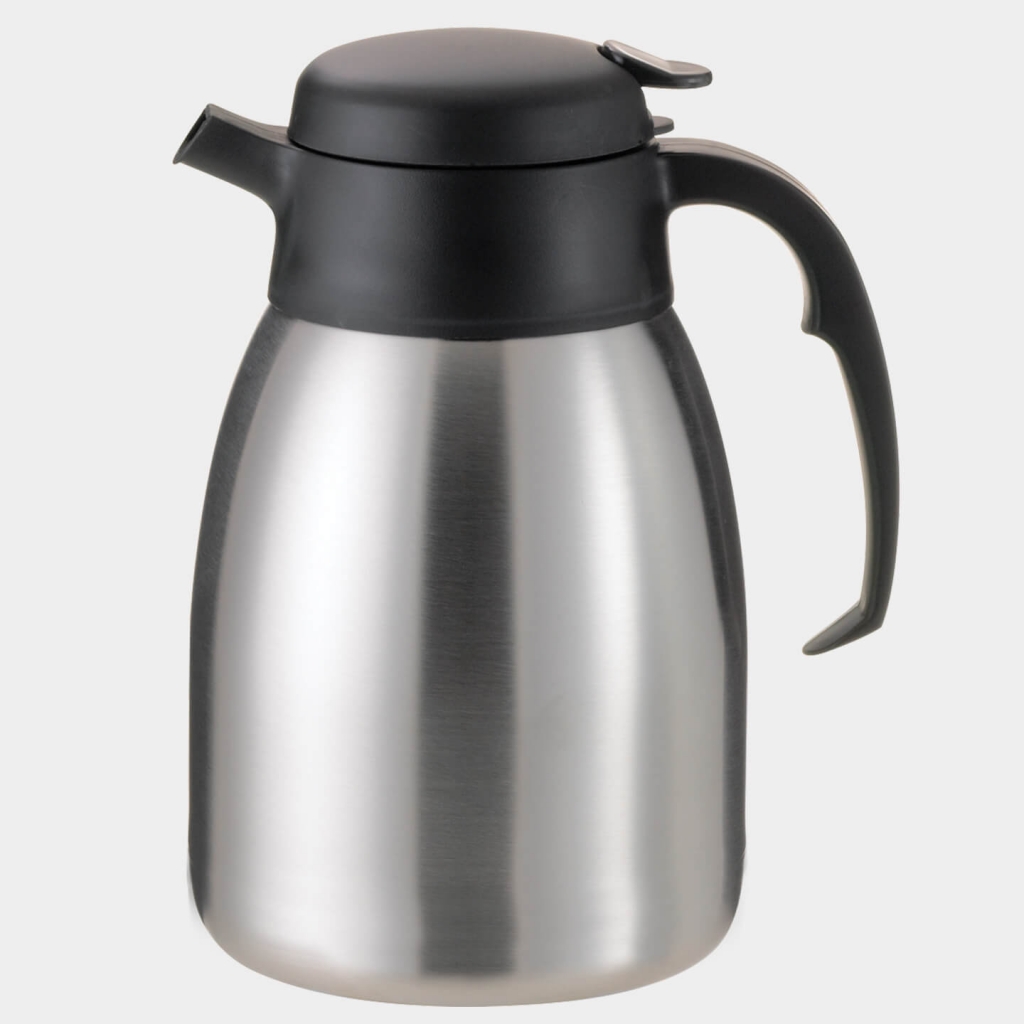 The SteelVac server is an essential part of beverage service. This vacuum-insulated, dishwasher-safe server maintains the temperature of your beverages for 4 to 6 hours. The server's interior and exterior is made from stainless steel and comes with an unbreakable liner and easy-to-operate, push-button lid.
Classy Carafe 1-Liter Chrome Server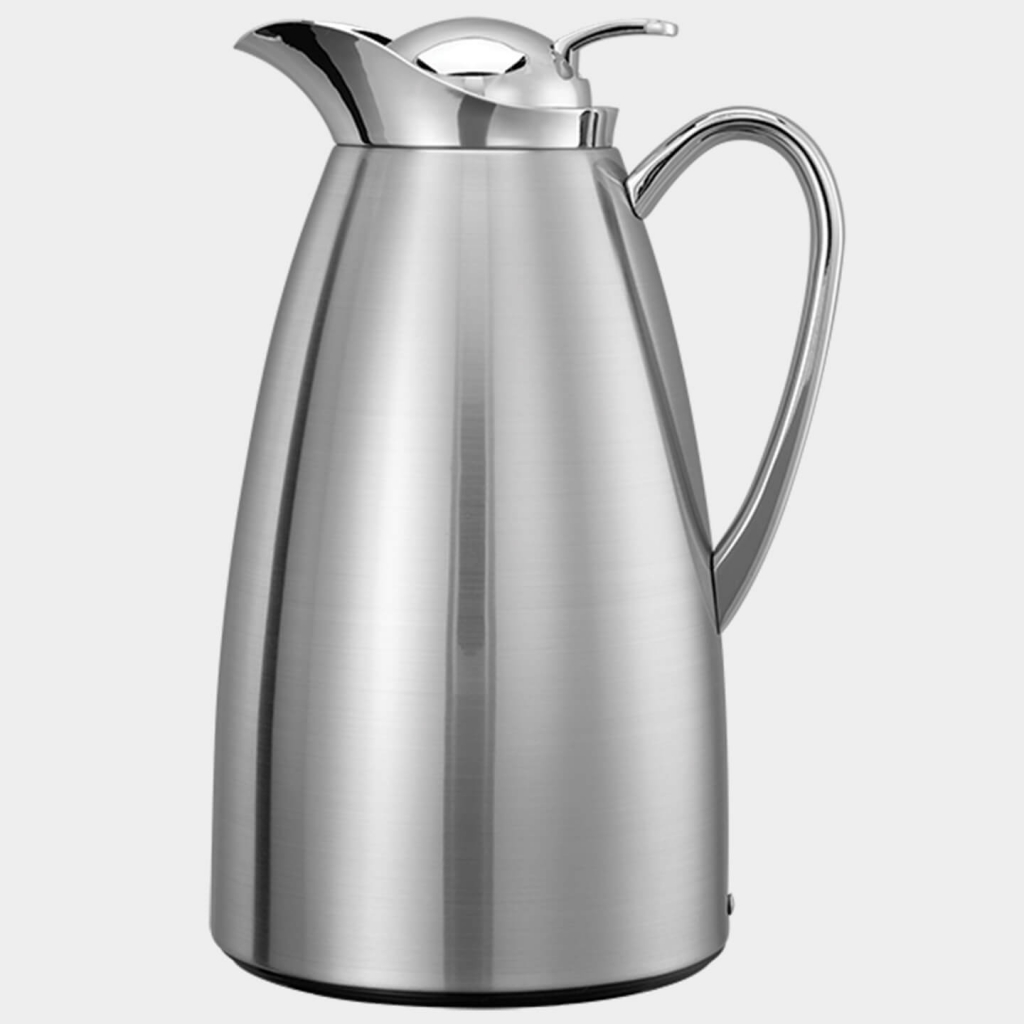 The Classy Carafe holds beverages at their desired temperatures for an impressive 6 to 8 hours. Aside from its stainless-steel exterior and interior glass vacuum insulation, the Classy Carafe features a zinc-plated handle, collar, and lid for a durable design that always looks upscale.
Classic Carafe 1-Liter Brushed S/S Server
Bringing it back to the beginning, the Classic Carafe has been serving customers since Service Idea's inception. The tried-and-true design, and nostalgic look makes it the perfect choice for those who appreciate products that are timeless and dependable. Ideal for table service, this carafe's interior glass vacuum insulation keeps beverages at their correct temperate for 6 to 8 hours.
Thermo-Serv 1-Liter Server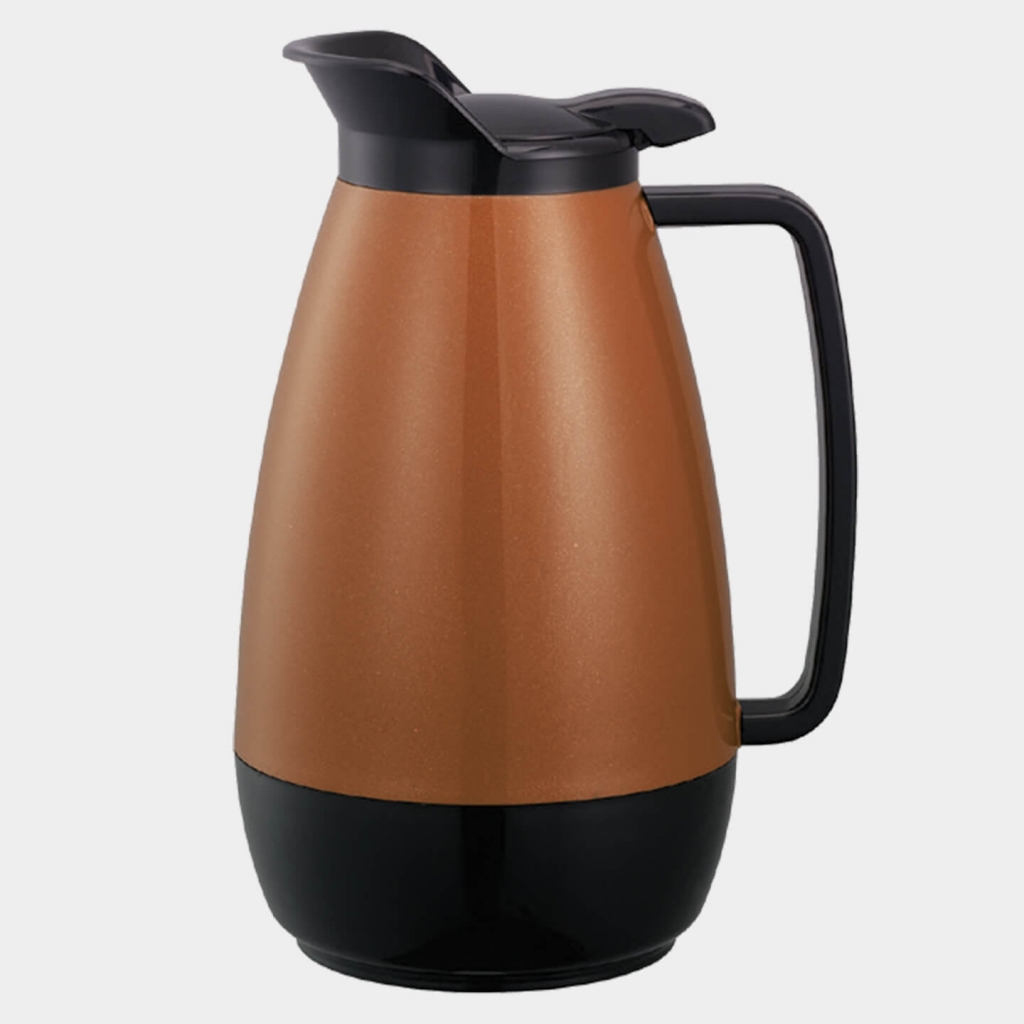 An industry staple since 1956, the Thermo-Serv Flip-Top server now comes in a warm copper color with a subtle sparkle. The Thermo-Serv has a plastic exterior with a double-wall foam insulated interior that promises 2 to 3 hours of temperature retention. Additionally, this especially attractive serve is both dishwasher safe and made right here in the USA.
New Generation 1-Liter Server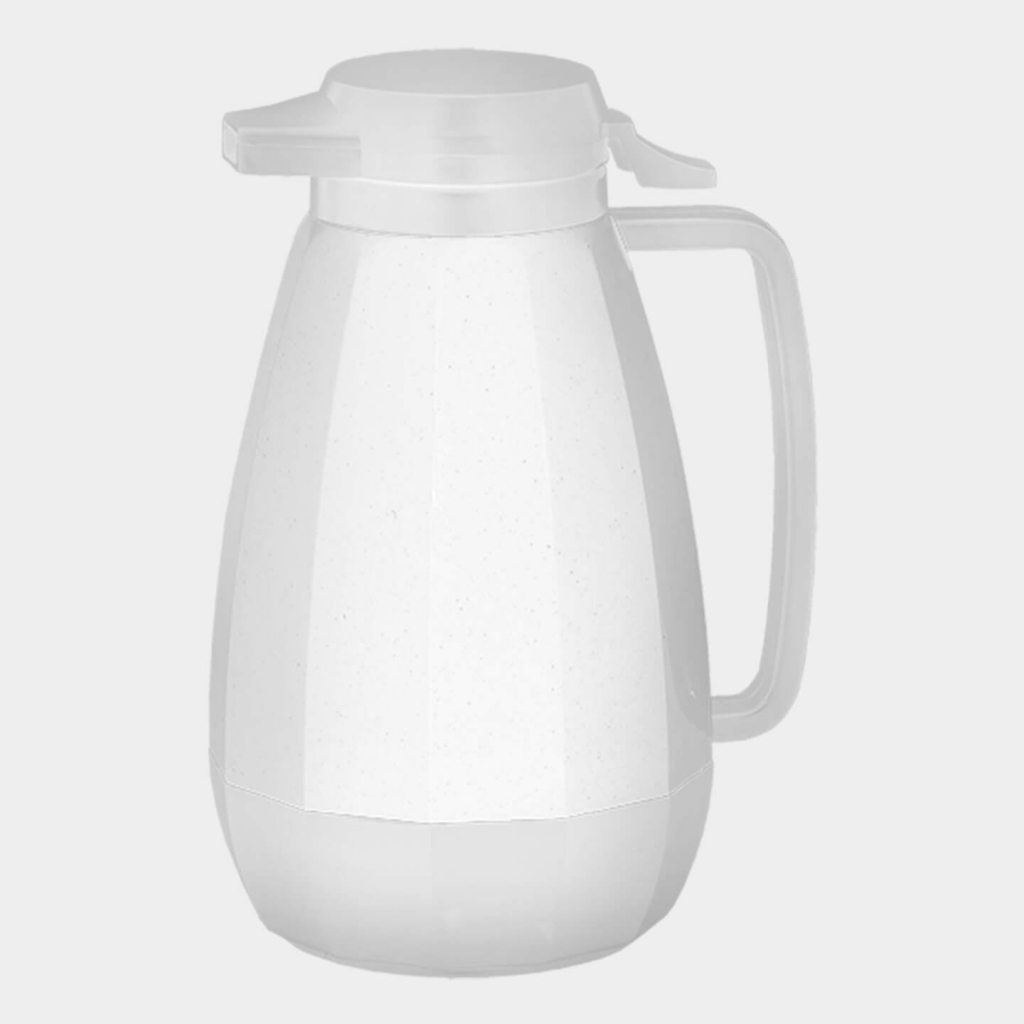 The white New Generation server offers a clean look to match any décor. But its real superpower is the unparalleled strength-to-weight ratio that has made it a popular choice amongst chain restaurants and healthcare facilities in need of a durable server that is especially pleasing to the eye.
About Service Ideas
Service Ideas supplies an extensive line of commercial beverageware. Whether you're setting an intimate table for two or a reception hall for two hundred, Service Ideas has the beverage server for you. Our variety of insulated servers will keep coffee hot and dairy cold for hours.