Stone, wood, cast iron, marble, and slate are all gorgeous elements that, until now, have only existed in nature. In this article, we'll show you how to incorporate natural elements into your commercial establishment by using melamine as a low-cost substitute more suitable for a fast-paced day of foodservice. Read on to learn how to keep your customers guessing what their plates are made from.
Benefits of Using Melamine in Lieu of Natural Earth Elements
All of Elite Global Solutions' (EGS) melamine products are food-safe, high-quality, BPA-free, NSF certified pieces. According to the FDA, chemicals will not leach from melamine dishes into food as long as the food is not heated above 180 degrees Fahrenheit. Using melamine in place of natural earth elements in the food service industry comes with many benefits such as the following.
Lighter – Melamine is worlds lighter than natural elements such as rocks and cast iron. Your servers will thank you.
Less Expensive – Compared to marble, cast iron, and much more, melamine has very low overhead costs. Additionally, EGS melamine is scratch, chip, and shatterproof resistant which greatly lowers the need for replacements.
Easier to Clean – EGS melamine is commercial dishwasher safe and much faster and simpler to clean than porous natural elements such as wood.
Durable – During production EGS melamine is cured with strengthening compounds, becoming a shatterproof substance perfect for indoor and outdoor dining.
Della Terra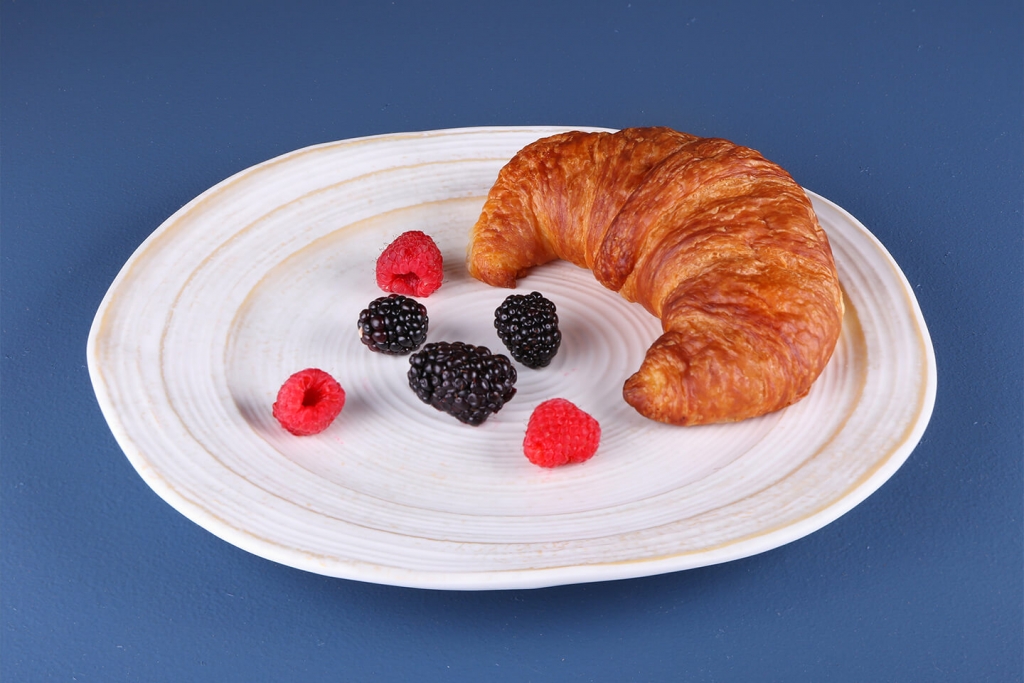 Looks like: Granite, Stone
In Italian, Della Terra means "of the earth", which best reflects this line's stoneware look, feel, and texture. Its graceful, rustic appearance works perfectly for a farm-to-table theme or in any setting enhanced by the addition of a natural element. Although it resembles delicate ceramics, Della Terra is a heavy weight melamine that is extremely durable.
Fo-Bwa-Driftwood
Looks like: Driftwood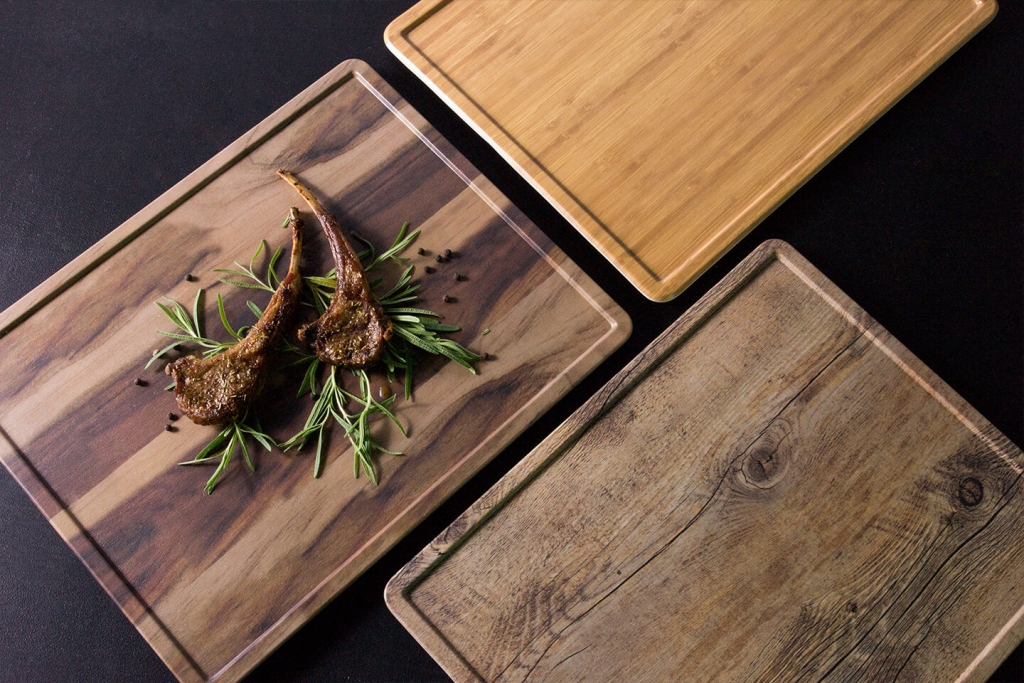 In Norse mythology, the first two humans to exist were created from pieces of driftwood. While the Fo-Bwa-Driftwood pattern can't compete allegorically, it does capture the look and smooth finish of traditional driftwood chopping blocks down to each unique textural variation. Moreover, it is durable, lightweight melamine for the easiest serving and display setup. These presentation risers are also dishwasher safe and chip and stain resistant, making them much easier to care for than real driftwood serveware.
Illogical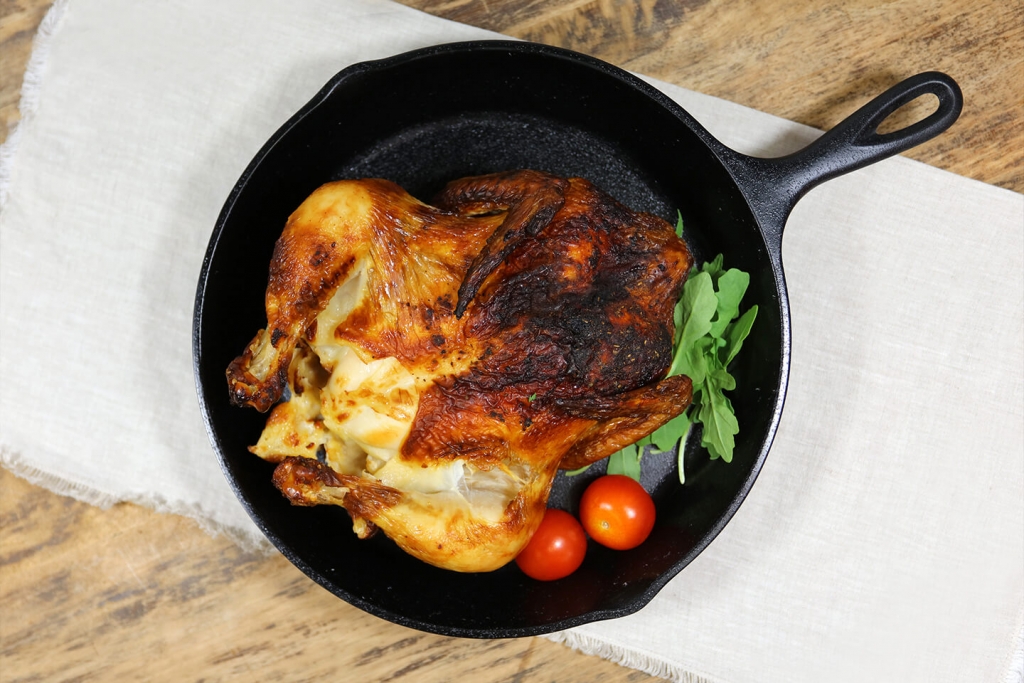 Looks like: Cast Iron
Cast iron's charming aesthetic qualities work equally well indoors and out. Using a melamine alternative is an easy way to curate the look but with low-maintenance, easy-to-clean pieces complete with a light weight and price. Illogical also replicates cast iron's tactile appeal for an authentic touch. Despite their striking resemblance to cast iron, please remember that these pieces aren't for cooking; they function as serving and display dishes only.
Fo-Bwa-Granite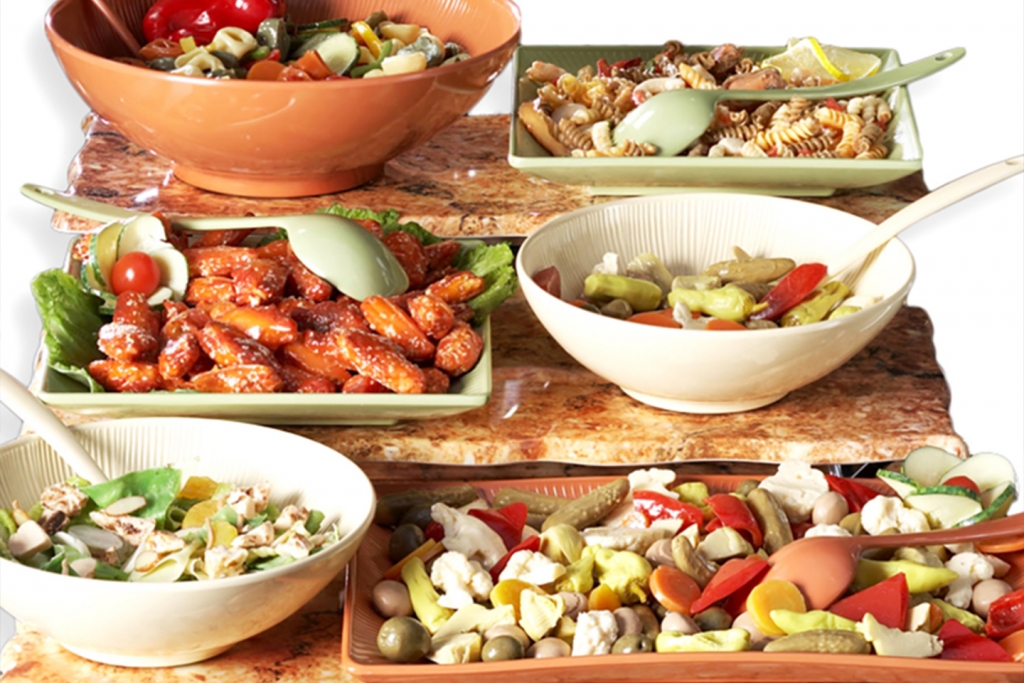 Looks like: Granite
Fo-Granite serveware display stones capture a perfect balance of organic textures and heavyweight design of the rock in its true form. The wonderful and unpredictable shape of Fo-Granite serveware evokes a rustic feel with a modern melamine twist.
Fo-Slate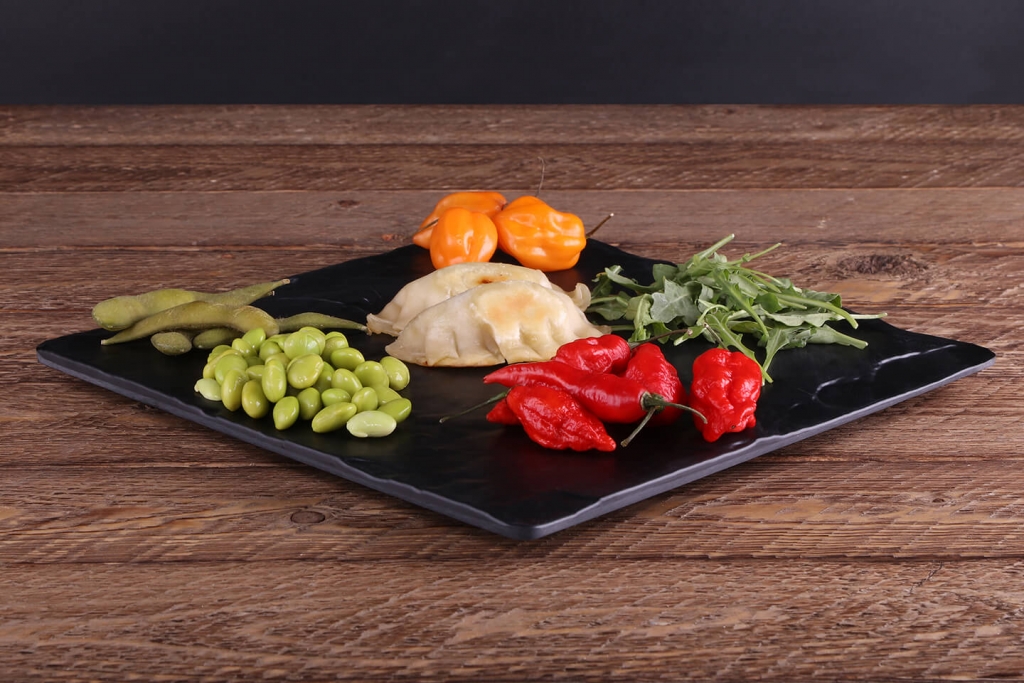 Looks like: Slate
Utilizing the Fo-Slate line is a fast and fun way to bring sophistication with a touch of mystery to your establishment. This serveware has the sleek look of slate without the weight or the cost. The high-quality faux-slate finish is a refined palette for all food and beverages to rest upon, while instantaneously elevating your display to the next level.
Horizon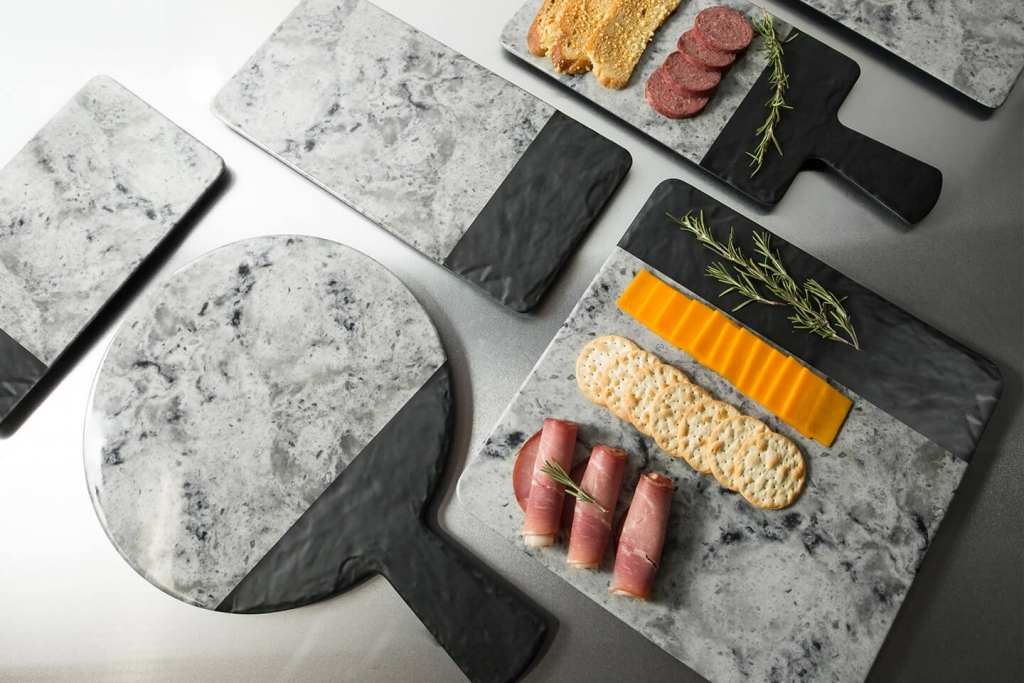 Looks like: Marble (with Slate accent)
The tuxedo of faux-nominal serveware, Horizon combines lustrous marble and sleek slate, that adds a touch of class to everything it displays. Horizon's eye-catching black and white color scheme compliments all other colors placed on its surface and can be dressed up or down.
Tenaya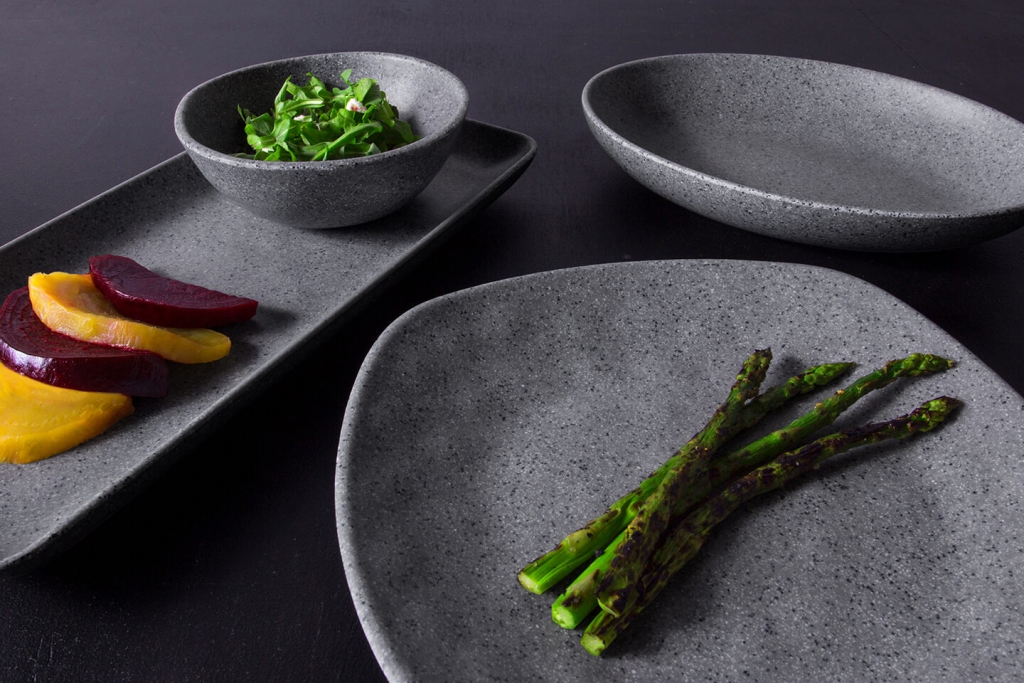 Looks like: Granite
If you've ever ventured to Tenaya Lake in the Sierra Nevada Mountains, then you've seen the light granite domed rocks that inspired this dishware pattern. With its organic texture and matte finish, Tenaya emanates a mood reminiscent of a fresh summer breeze whispering on your back.
Santiago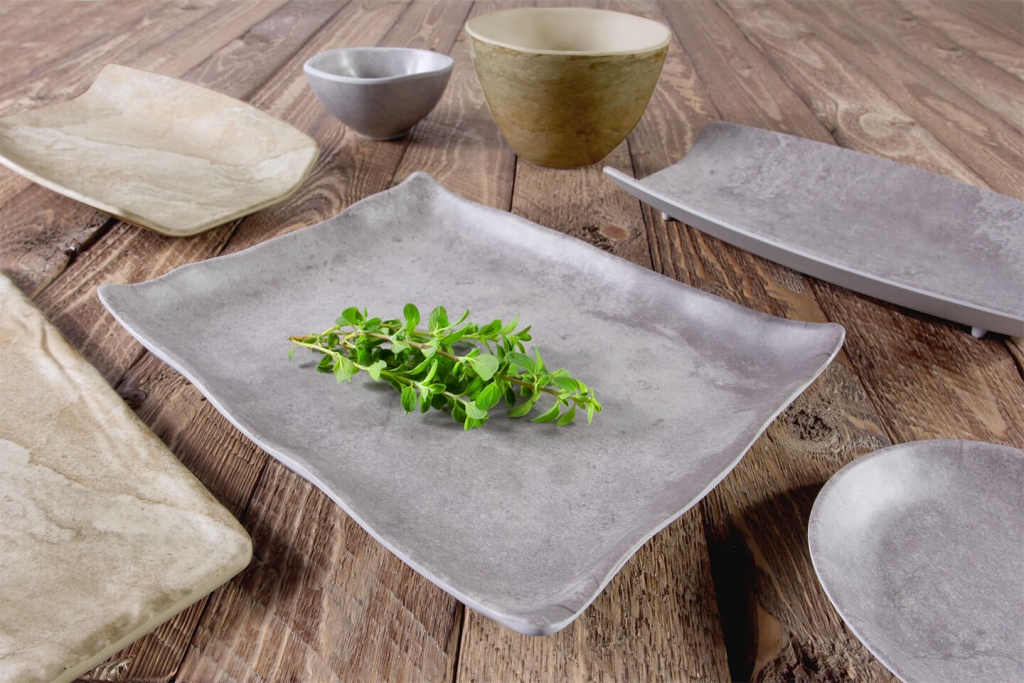 Looks like: Sandstone, Silverstone
The natural stone-inspired designs and textured handmade feel of Santiago will send your commercial foodservice presentation's charm meter off the charts. This line combines familiar classic shapes with an organic softness found only in nature.
Sequoia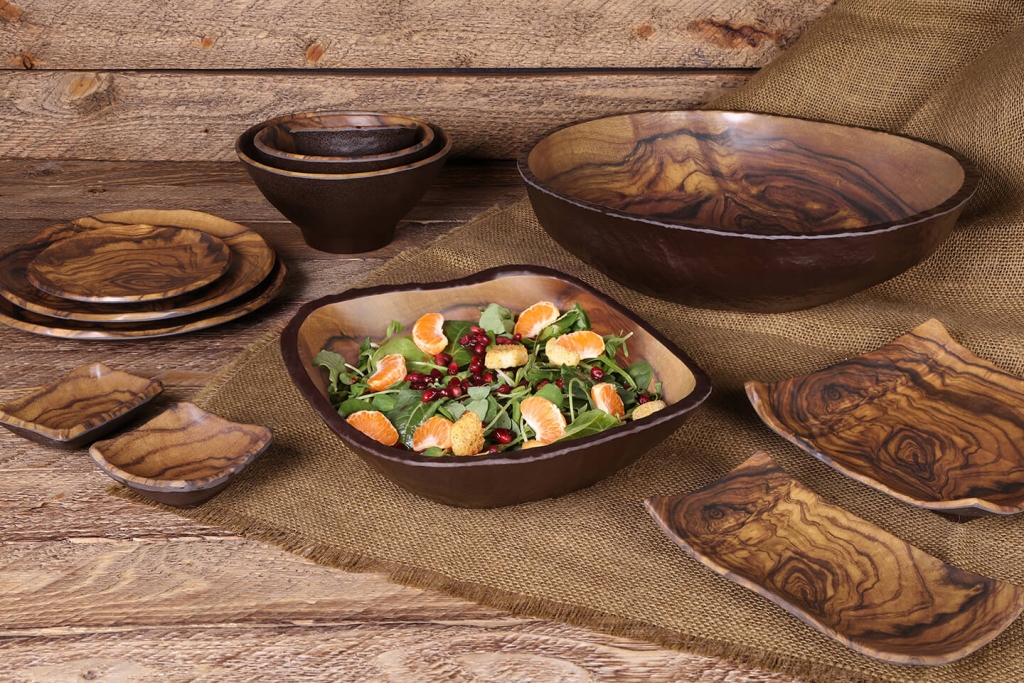 Looks like: Sequoia Wood
Inspired by the Giant Sequoias of California, this serveware line embodies the beauty of a breathtaking forest. Sequoia trees can live to 3,000 years, so, in accordance, the Sequoia line is strong and durable as well. This pattern is the perfect choice to bring a wooden element to your tabletop without intruding upon the natural world.
Basalt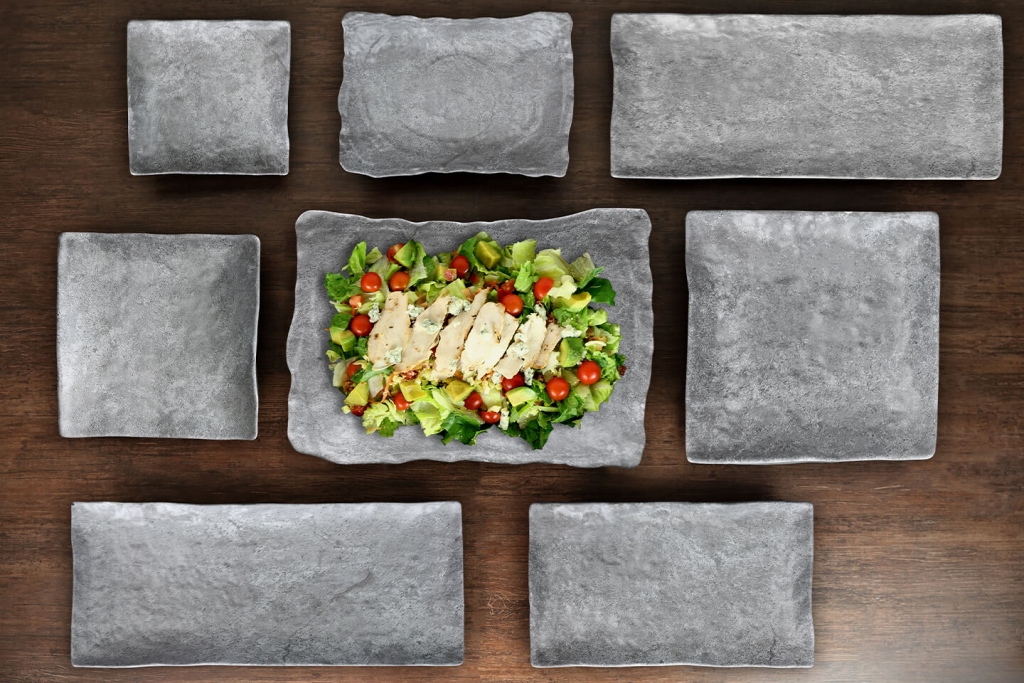 Looks like: Coal, Stone
The dark colors of Basalt offer functionality with uncompromising beauty while the finishing touch of its unconventional edges mimics those of volcanic stone. Fans of beautiful texture will especially appreciate Basalt serveware as it recreates the aphanitic properties of the igneous rock as experienced in nature.
---
About Elite Global Solutions
We are the leader, not the follower, in creative designs for the foodservice industry. Our products are the highest quality of 100% pure melamine and exceed all certification requirements and are tested by NSF, SGS, and Intertek for safety and hazardous material. When you choose Elite Global Solutions products, you are choosing the classic look of porcelain, stoneware, marble and wood without the breakage — All dishwasher safe and designed to handle both hot and cold food applications.