The New Normal: Part of a new series of articles focused on restaurant recovery; issues, best practices, and process changes that will become part of everyday business going forward.
It's something that just about every restaurant owner is dreading right now: A restaurant worker tests positive for COVID-19. You may have spent a lot of time and money on your reopening plan. You designed social distancing measures. Gloves and masks became mandatory. Your staff was trained. Is it all for naught just because a single restaurant worker tests positive for COVID-19?
Maybe not. But a little planning will go a long way in determining your next steps. Let's explore and explain.
Do I Need to Close If a Restaurant Worker Tests Positive?
This is probably the question that people most want to have answered. So, let's get this out of the way right upfront. The answer may surprise some of you. Because you very well may NOT have to close your location just because a restaurant worker tests positive for COVID-19. The guidelines for your locality may vary. However, if you have prepared appropriately and have kept good records, you may be able to keep operating with minimal disruption. But the details matter. So let's explore exactly what you need to do before, during, and after a restaurant worker tests positive for the coronavirus.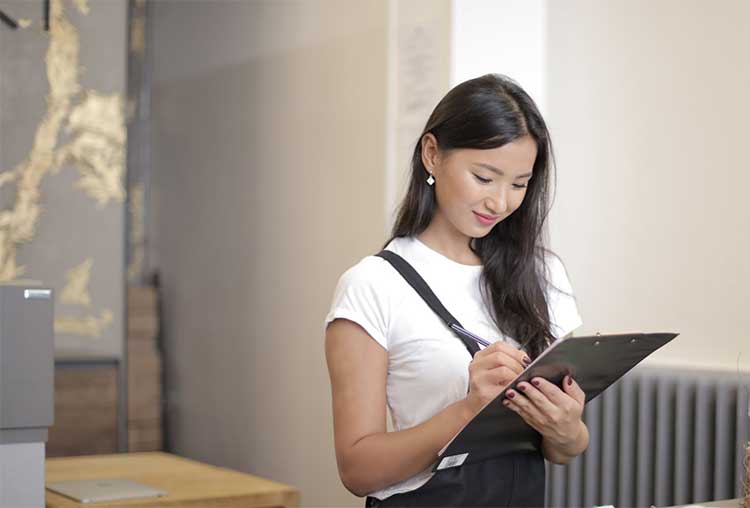 Learn About Your State & Local Guidelines
This is one of those "your mileage may vary" type of situations. There are no national standards for responses to positive COVID-19 tests. So, find out what your state says about your responsibilities should this situation arise in your restaurant.
Getting familiar with these guidelines before you need them is key. Scrambling to find specific information on a government website when you are in the middle of crisis management is difficult at best. We will repeat this piece of basic advice: Prepare in advance.
Be proactive rather than reactive. And knowing what your state and local authorities are mandating is the best place to start.
Contact Your Local Health Department
If you have a restaurant worker test positive for COVID-19, chances are that the Health Department is going to come calling for you anyway at some point. It's better to get out in front of that right away.
In most places, anyone who is confirmed to have COVID-19 will be contacted by the Health Department as part of a contact tracing protocol. This means interviewing the patient and trying to learn all the potential contacts that they may have had that put other people in the path of this contagion. It is hoped that by documenting these contacts, we can get ahead of any potential secondary and tertiary infections and spread.
And if you followed our advice for reopening your restaurant, then you will have already established a good line of communication with your local health inspector and Health Department.
Inform Your Employees
On the surface, this sounds pretty straight forward. If a restaurant worker test positive for COVID-19, it makes sense that you would want to inform any coworkers who might have had contact with the infected individual. But there are some caveats you should be aware of as an employer.
If an employee is confirmed to have COVID-19, employers should inform fellow employees of their possible exposure but must adhere to HIPAA guidelines. HIPAA stands for the Health Insurance Portability and Accountability Act of 1996 (HIPAA). It is a federal law that required the creation of national standards to protect sensitive patient health information from being disclosed without the patient's consent or knowledge.
This is important, because a diagnosis like COVID-19 is potentially covered under the HIPAA guidelines. That means you need to be cautious about what you share with your other employees.
The federal government has provided some flexibility on the HIPAA guidelines with regard to COVID-19. In short, the guidance allows Protected Health Information (PHI) to be disclosed under certain circumstances based on state guidelines. Again, it is best to familiarize yourself with your own state's guidance on this issue before you need it.
When informing your employees, keep the details limited and factual. Employees will undoubtedly figure out who the infected individual is by simple deduction. You do not need to disclose this information when informing them of their exposure. Don't use the infected individual's name or job title. Less is more in this case. And it can help to limit any legal liability you might incur.
So, let them know that they were exposed. Also, tell them the time period you believe the infected individual was tested and diagnosed. Then explain what your plan is moving forward. More on that in a moment.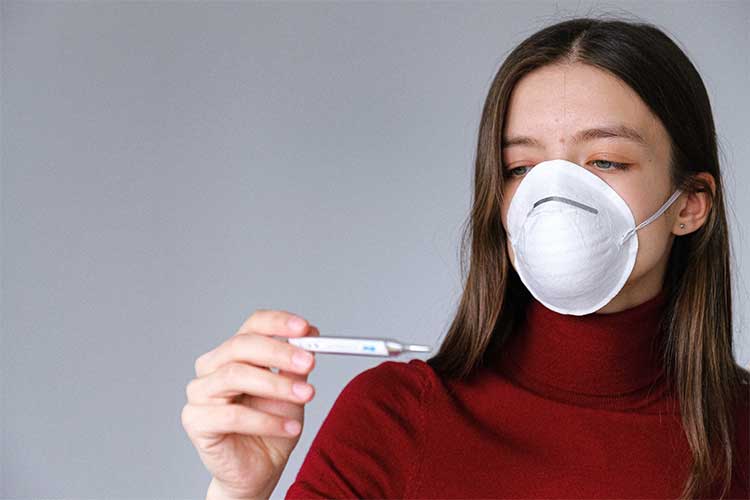 Protect Your Other Employees
Check-in with your other employees. If any of them are showing symptoms, send them home immediately. Symptoms can include a fever, cough, shortness of breath, sore throat, and more.
If you have staff that has not had close contact with the individual who tested positive for COVID-19 but who are sick or showing symptoms, you should also send them home immediately. Even if this individual has tested negative, they should stay home from work until they are fever-free for 24 hours without the use of fever-reducing medications.
If your employees have had close contact with the infected individual 2 days prior to the infected person showing symptoms or testing positive, those employees should not be at work for 14 days. They should stay home and monitor their health and watch for symptoms.
Close contact is defined as being within 6 feet of the infected individual for 15 minutes or more.
Even if your other employees get tested and receive a negative result, they should still sit out for the full 14 days if they meet the criteria for close contact. If they are asymptomatic at the end of that period, they may return to work.
If you have a Human Resources Department, work with them on return-to-work protocols and clearances for affected employees.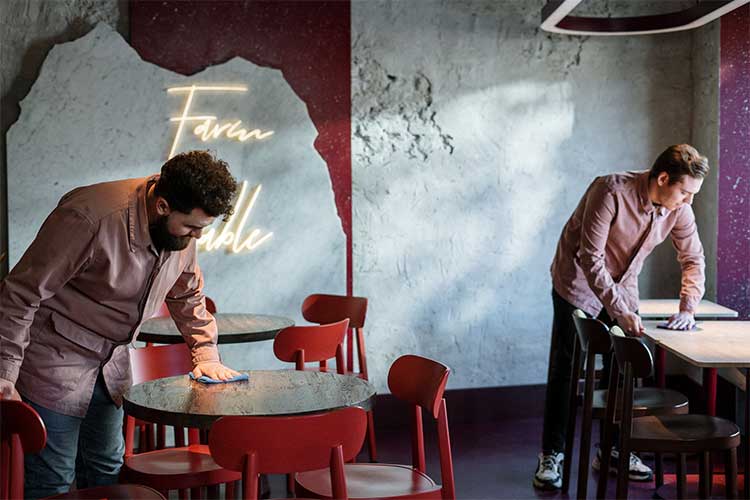 Should All My Employees Get Tested?
Even after a restaurant worker tests positive in one of your locations, there is no mandate to have your other employees tested. That decision should be left up to the individual employee and their physician.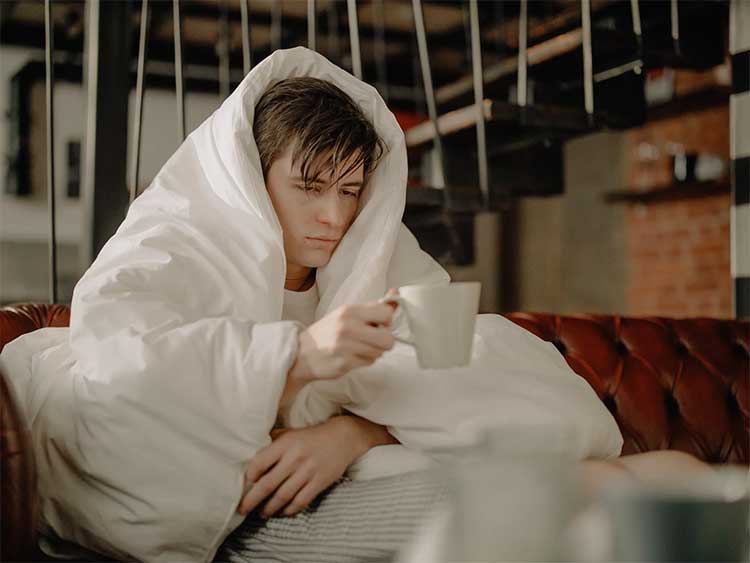 COVID-19 Exposure Outside the Restaurant Setting
If one of your employees has had close contact with someone outside of work who has tested positive or is symptomatic, they should follow the same protocol for exposure. They should self-quarantine for 14 days and monitor for symptoms.
If the employee has had indirect contact (e.g., their roommate's brother tested positive), then no quarantine or work restrictions are necessary.
Document Everything
Having good records can really save your bacon if a restaurant worker tests positive. Make sure your scheduling records are up-to-date, correct, and easily accessible. Make sure you make a detailed record of the dates/times of when you were notified that an employee tested positive.
Team scheduling can help to minimize risk and exposure. By keeping teams separate and distinct, you may be able to minimize the disruption to your business. It's challenging, but potentially worth it because it provides a clearer path to keeping your business open.
Document all your notification processes for other employees. The Health Department may request this information as well.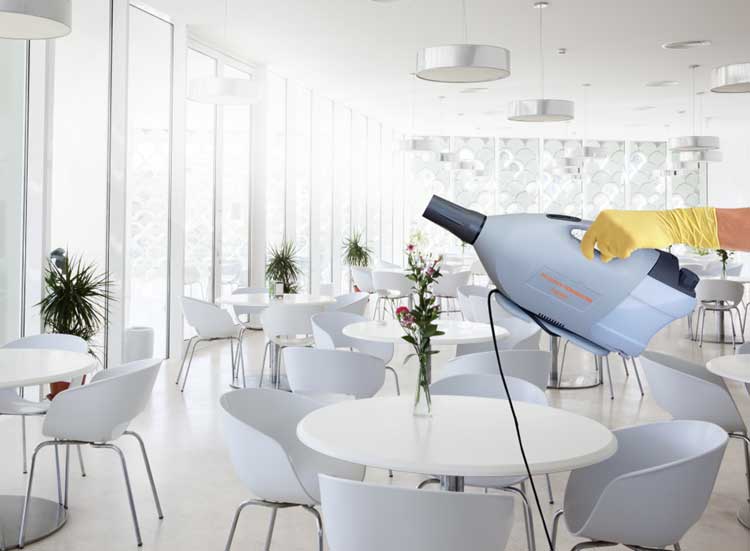 Do a Deep Clean
Although there are no specific guidelines about cleaning procedures after a restaurant worker test positive for COVID-19, there are some best practices. These can be best summed up by saying: Clean Everything.
This means that you may need to go above and beyond your normal cleaning and maintenance routines. It begins by using an EPA-approved cleaning product or solution.
Start with any equipment or stations where the infected employee had direct contact. This includes surfaces such as counters and flooring.
Wash what you can in your commercial dishwasher with the appropriate, manufacturer-approved chemicals and soap.
If you are using paper menus, you should dispose of existing menus and reprint. Consider using laminated or plastic-covered menus that can be disinfected more easily. Or make the move to touchless menus altogether. 
Some restaurants have begun adopting newer deep cleaning methods as well such as cold foggers or steamers. These products allow the operator to disinfect surfaces and areas that may be harder to reach or cover manually. Just make sure that any chemicals used are food-safe and used in conjunction with the manufacturer's recommended guidelines.
In addition to helping to reduce the risk of further infection, good cleaning protocols can go a long way in reassuring the public that your establishment is safe and taking appropriate precautions.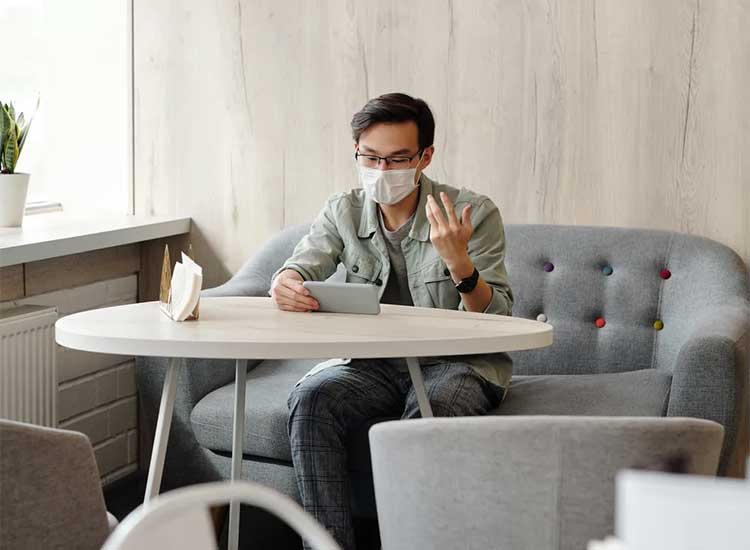 Returning to Normal After a Restaurant Worker Tests Positive
Having a restaurant worker who tests positive for COVID-19 does not necessarily mean you have to stop your operations. But how you plan for this contingency will make all the difference in the world.
Having your plan outlined in advance will give your employees peace of mind as well. Keeping your employees safe is paramount.
Consider nightly deep cleaning if you can. Plan out how you can maintain social distancing for your employees. Schedule creatively to reduce potential issues in the case that a restaurant worker tests positive for the coronavirus.
This is a true case of "an ounce of prevention is worth a pound of cure." Trying to scramble to put together a plan after the fact is exponentially harder. And may not be possible at all. Which could lead to a disruption in your business. The goal here is to keep you up and running as safely as possible.
The Ohio Restaurant Association has released some guidance on these situations. While these guidelines only directly pertain to Ohio, the guidance they provide is probably a decent starting point for just about any location. But as we mentioned at the top, check with your own state and local officials for information specific to your location. Your mileage may vary.