The New Normal: Part of a new series of articles focused on restaurant recovery; issues, best practices, and process changes that will become part of everyday business going forward.
Getting the economy back on its feet after COVID-19 is a minefield for nearly all businesses. But the restaurant industry seems like it might face some of the greatest challenges of all. As we continue to explore the new realities of operating a foodservice business in these times, let's take a look at some of the biggest mistakes made when reopening restaurants after being closed.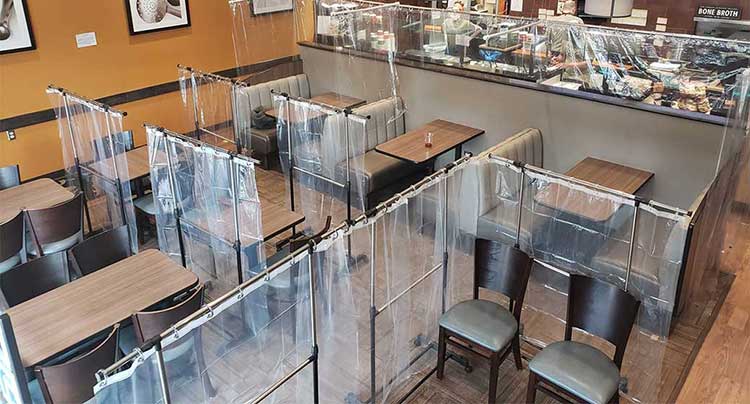 1) Not Working with Your Inspectors Early & Often
We are putting this first because this is probably one of the first things you should be doing as you attempt to reopen a dining area or a complete kitchen operation. Check with your local health department about doing regular inspections as well as any additional rules and regulations that may have been added to account for COVID-19.
For example, you may have to implement a number of social distancing processes and procedures. But just because you made the effort doesn't mean that your inspector will approve.
Case in point, take a look at the image above that shows one restaurant's initial plan to implement social distancing. This is a local Zoup! location here in Columbus. As you can see in the image, they used flexible PVC barriers to divide their seating area and the serving line.
However, upon inspection, the flexible PVC barriers were not allowed. Instead, the inspector recommended rigid plexiglass barriers instead. This is a great example of why you should be involving your inspectors early on in the process. Doing so could potentially save you time and money.
And we aren't just talking about health inspectors. You may need to contact the fire marshall and liquor control boards as well. Having a good working relationship with all the entities inspecting your business is a smart move under any circumstances. And in times like these, it seems even more essential.
2) Not Employing or Enforcing Social Distancing Protocols
In most states, social distancing protocols are NOT optional when reopening restaurants. These requirements typically include ensuring that tables are a minimum distance apart (usually 6 feet or more), limited party sizes, and using physical barriers where appropriate.
In some states, including our home state of Ohio, patrons are required to be seated when consuming food or drinks in both bars and restaurants. This means that customers cannot be walking around socializing with a drink in their hand. But this is one of the biggest mistakes made when reopening restaurants.
There are definitely some operators that feel like these rules do not apply to them. We've read numerous stories of businesses ignoring the restrictions. One of the most prominent stories involved a Nashville bar owned by musician Kid Rock.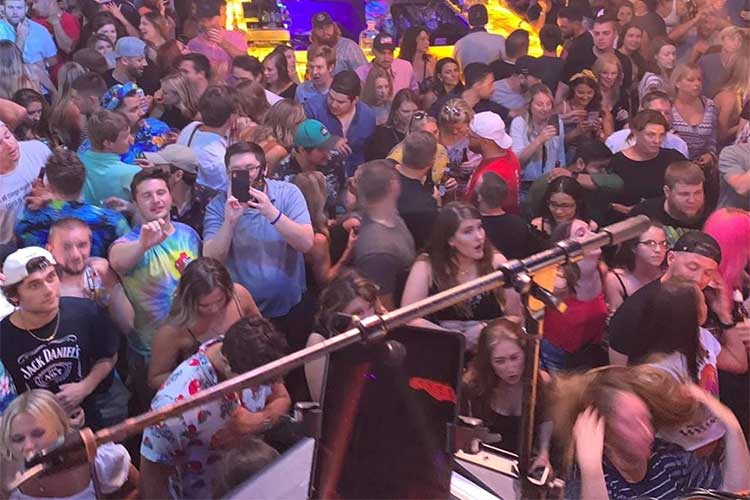 Celebrity Status is Not an Exemption
In mid-June, Kid Rock's bar in Nashville was cited for 2 violations of the state's COVID-19 restrictions. The biggest issue is that Tennessee has not yet given the green light for bars to open fully. But also, as we mentioned above, Tennessee requires patrons to be seated in a booth or table to be served alcohol.
But numerous photos from the venue show a large crowd without masks or any attempt at social distancing. And as a result, the venue has had its license to sell beer suspended for 5 days.
In response, Kid Rock's company has agreed to close the establishment for the time being and comply with the city's orders.
It doesn't take a whole lot of searching to find other articles about businesses being fined for these types of violations. These businesses could be risking losing their liquor licenses or even the ability to operate at all for not following the recommended guidelines.
This means that they are not only responsible for establishing the proper processes but they are also responsible for enforcing these requirements with their customers. Failure to do so could lead to fines or worse. And in these times, this is the last thing that a struggling business needs.
3) Not Properly Training Your Employees for Reopening
As we have mentioned, the burden of the new restrictions falls squarely on the individual establishment to create and enforce. But in reality, what that means is that a business' employees are really responsible. And we can't simply assume that employees know exactly what they need to do.
This is a very wide-ranging topic. There are very straight forward things that we need to train our employees about. For example, mask and glove use are probably mandatory. But don't assume that your employees know the best practices for wearing a mask or using disposable gloves.
In our observation of employees in restaurants, grocery stores, and other service businesses, the biggest mistake we have seen is wearing a mask below the nose. Doing this basically negates the benefit of wearing a mask altogether. The message here is that you may need to provide continuous feedback and training to your employees over time. Simply telling them once may not be enough.
De-escalating Angry Customers
But then there are other types of training that are potentially more difficult. If your business has a mask policy or a limit on party sizes, what do you do if a customer tries to violate those policies? Training your staff to de-escalate situations where tensions run high can mean the difference between a smooth transaction and a full social media blow out.
Have frequent meetings with your staff about the new rules and procedures. Listen to their concerns. What has been working well? What challenges are they facing? And how can management help?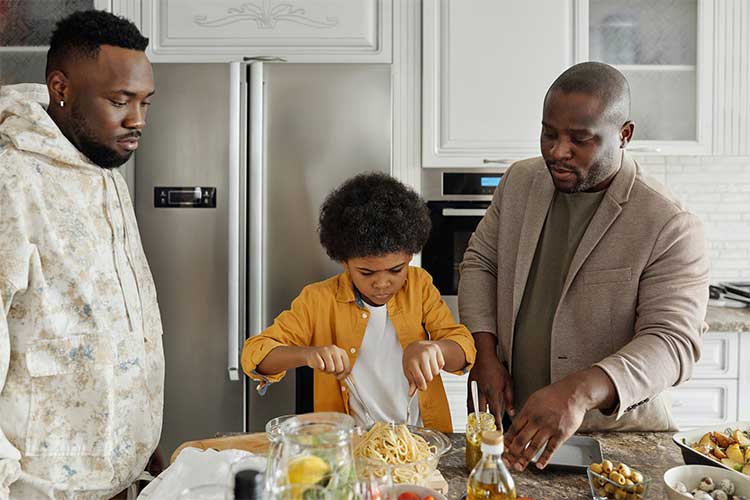 4) Not Optimizing for Delivery & Carryout
Even though most states have allowed dining rooms to reopen in some capacity, there are still many customers who do not feel comfortable dining in. And most states have limited the capacity of dining rooms so that they are not nearly as full as they were in pre-COVID-19 times.
This makes it even harder for restaurants to maintain profitability. So ignoring carryout and delivery options after reopening your dining room is one of the biggest mistakes made when reopening restaurants.
For many restaurants, delivery and carryout may be new territory. Food delivery can be a tricky business and does come with some risks. But given the importance of delivery and takeout in the new world of the restaurant industry, ignoring them altogether could be disastrous for your business.
Meal Kits as a Takeout Option
Some restaurants were not set up to do takeout before this crisis. This is especially true for higher-end establishments. The feeling was that their food didn't travel well and thus was not great for either takeout or delivery. But some clever restaurants have found a way to make this work.
Meal kits like Blue Apron or Hello Fresh deliver the ingredients needed to prepare a meal yourself at home. Restaurants can provide a very similar service to their customers.
By prepping and pre-measuring all the ingredients, restaurants can provide a cook-at-home meal kit for customers. The take-and-bake pizza market has been doing this for years. Pizzas are prepped by the restaurant and then taken home by the customer to be baked and completed.
If you do choose to go this route, be sure to provide simple, clear instructions for preparing the meal. If it is too complicated, customers won't want to do it. But if it is easy, this is a great way to deliver a fresh meal.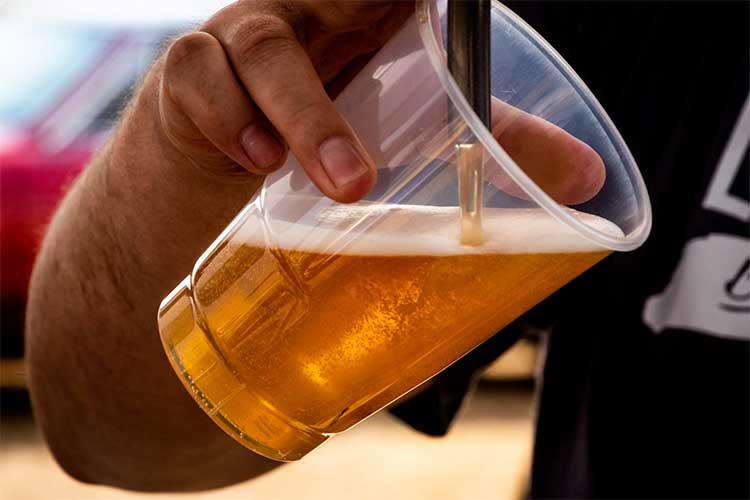 5) Not Developing Your Alcohol Takeout Program
Beverage services are some of the most profitable parts of the restaurant business. In some cases, alcohol sales that accompany dine-in meals can account for a third of the overall sale or more.
Many states have recognized this as they establish new rules to help the restaurant industry survive these difficult times. In response, they have modified or relaxed previously established rules and laws regarding alcohol takeout programs. So, not accounting for this is a very big mistake made when reopening restaurants.
That being said, an alcohol takeout program still requires a little thought and preparation.
First, you are going to need carryout beverage containers. And you will probably need drink carriers too. If your restaurant isn't used to doing carryout and delivery, you may not have these items as part of your standard inventory.
And much like food delivery, you need to be mindful of the risks. Using tamper-evident stickers or other safety devices is a very good idea.
Keeping your beverage program alive during this time can be a lifesaver. So take advantage of the changes by planning for a successful alcohol takeout program.
Overcoming the Biggest Mistakes Made When Reopening Restaurants
Restaurants have it tougher than almost any other industry when it comes to reopening. But a little care and planning can help to avoid the biggest mistakes made when reopening restaurants.
Educate your staff. Talk to your inspectors. And lean into those parts of your business that are more likely to be profitable even under these challenging conditions.
By avoiding these mistakes, you increase your restaurant's likelihood of surviving. And that's a good thing!