The New Normal: Part of a new series of articles focused on restaurant recovery; issues, best practices, and process changes that will become part of everyday business going forward.
Facemasks and other facial coverings (such as face shields) appear as though they are going to be a fixture of the restaurant industry for the foreseeable future. But much like we discussed with the proper use of gloves, there are also best practices for using disposable masks.
Still undecided on what type of mask to use for your restaurant? Check out our Disposable Masks Buying Guide.
Let's dive in.
1) Prepare Before You Begin
Just like we discussed in our Best Practices for Glove Use in Restaurants article, the absolute first step is to wash your hands thoroughly. Do this before you even touch or pick up your mask.
Handwashing is critical in almost all aspects of infection control and in preventing cross-contamination.
Handwashing isn't hard. But you cannot just rinse your hands in water and rub some soap around all willy nilly. It may sound silly, but you should really train your employees on the proper way to wash their hands.
Here is a good visual guide from the World Health Organization:
2) Pick Up Your Mask Properly
A disposable mask has just a few parts you should be familiar with. These include the main part of the mask that is usually padded, an optional, adjustable metal nose-bridge piece, and earloops or tie straps on each side.
If at all possible, you should strive to only handle the mask by the ear loops when removing it from the package and preparing to put it on.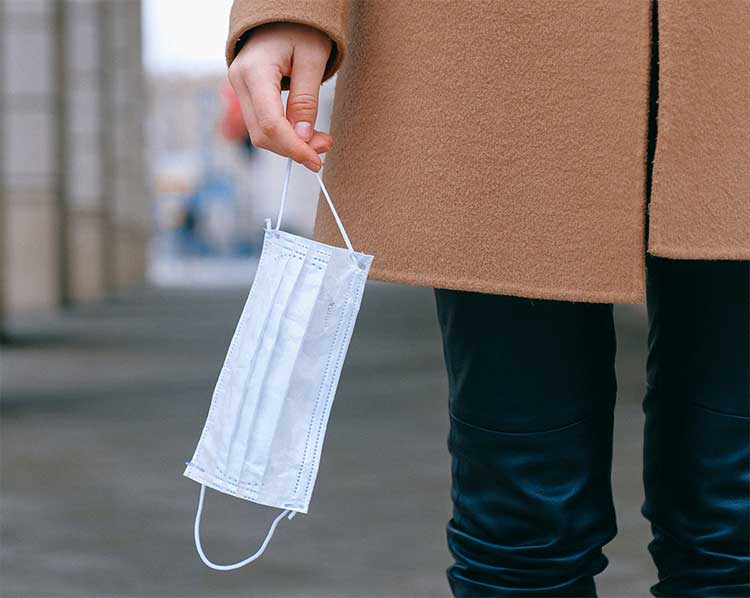 Even though you just washed your hands, handling your disposable mask by the ear loops only helps to avoid any contamination of the main part of the mask. This may be one of the most important best practices for using disposable masks.
3) Right Side Up & Right Side Out
Some disposable masks appear as though they can be worn in multiple ways. But that isn't typically true. First, you want to make sure that the recommended adjustable metal nose bridge is actually at the top near your nose. It will do you no good to have the nose piece at your chin.
Next, you need to determine which side of the mask should be next to your face. If there are manufacturer markings, those typically indicate the outside of the disposable mask. But if there is no clear indication, then the side with the most padding should be positioned toward your face. Getting the proper mask position is another of the most important best practices for using disposable masks.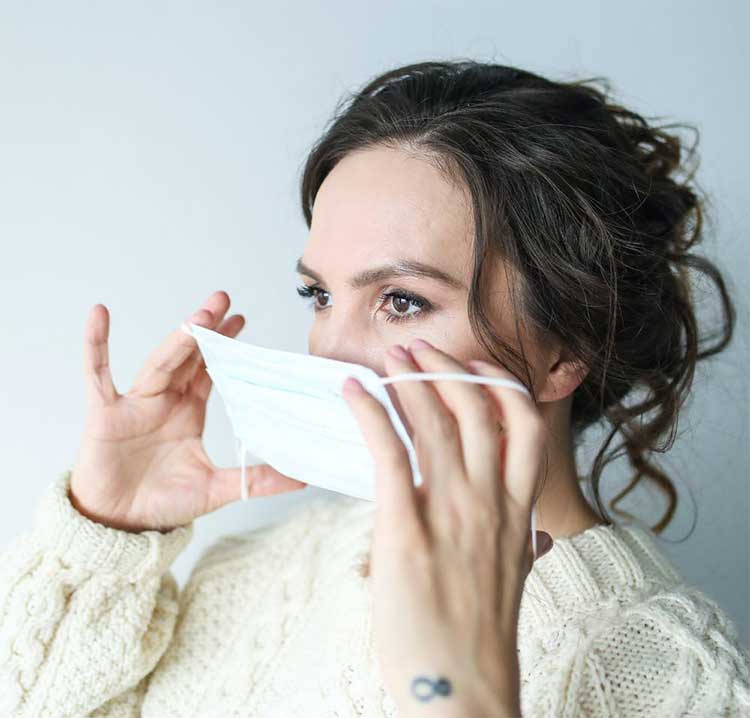 4) Apply & Tie If Needed
Again, with your disposable mask appropriately oriented, using just the ear loops or ties, position the mask over your mouth and nose. If your mask has elastic ear loops, you can position these over each ear. Elastic ear loops are the most common method of applying disposable masks.
Some users find wearing disposable masks with ear loops to be uncomfortable when worn for long time periods. This can be avoided by using a mask clip that either clips the two loops together at the back of the head or clips to something like the wearer's glasses or hair.
This allows the tension of the mask straps to be on the back of the head rather than around the ears. There are numerous examples of things that can be used as mask clips, many of which you probably already have around the house or office.
However, you may find masks with upper and lower ties that go all the way around the head. To use the ties, make sure that you tie together the upper ties together and the lower ties together. Do not try to cross them as it will make the mask more likely to slip.
The upper ties should be tied higher up on the head. These can be angled downward.
The lower ties should be tied at about neck level.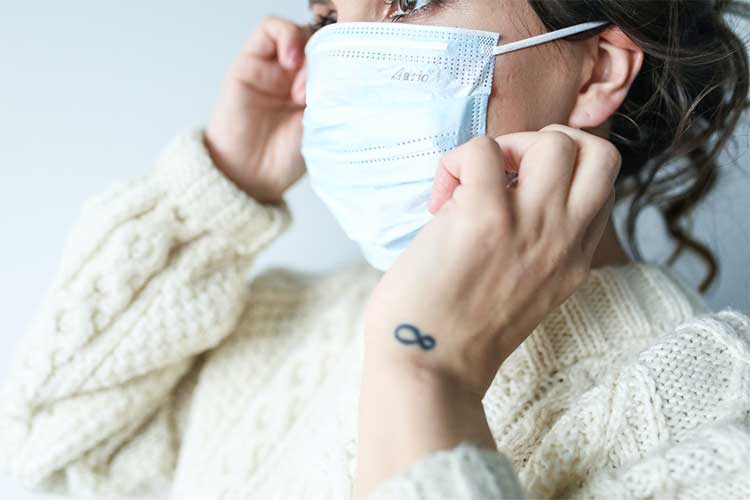 5) Position & Adjust as Needed
Most disposable masks have folds in the main part of the mask. These folds can be gently pulled apart to ensure the mask fits snugly over the nose, mouth, and chin.
If your mask contains an adjustable, metal nose bridge piece, you should use your thumb and forefinger to shape the metal piece firmly to your nose. A gentle squeeze should be enough. The goal is to help the mask lay flat along the contours of your face.
If your mask doesn't have the nose bridge piece, you may find that air escapes upward as you exhale. This is uncomfortable for some users as it can dry out your eyes. Or if you wear glasses, this can cause your lenses to fog up (see below for help with this).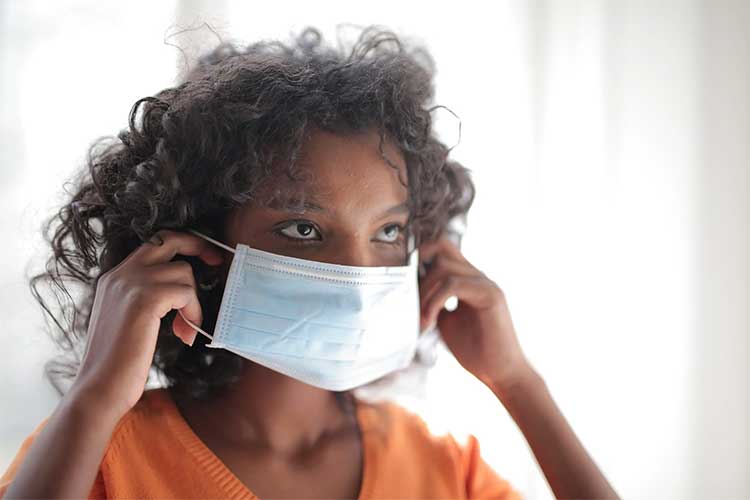 6) Removing the Mask
Much like the way you put the disposable mask on your face, you should take the mask off by only grasping the ear loops or ties. Do not touch the main part of the mask, either inside or outside.
The mask should slide right off your nose even if you kept the bridge piece fastened securely to your nose. If it doesn't, a gentle tug on the ear loop straps should easily dislodge it.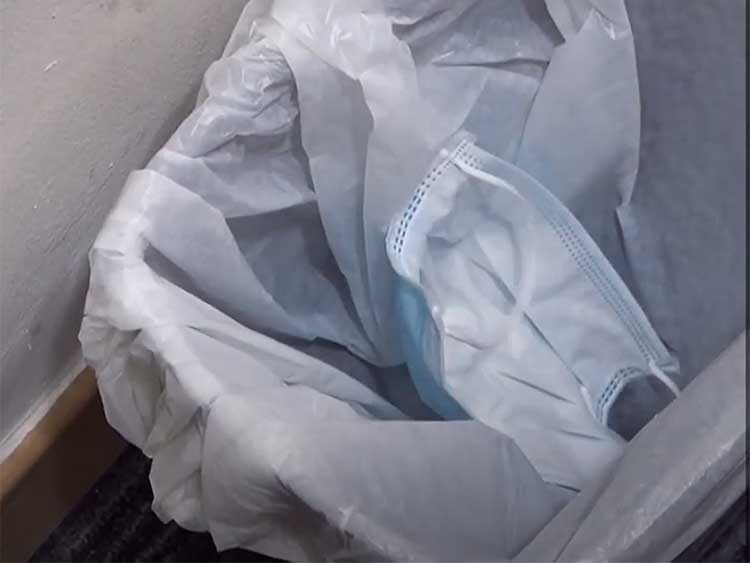 7) Dispose of Your Mask Appropriately
Once you have removed your mask, you should dispose of it in an appropriate trash receptacle. This should go without saying. Unfortunately, disposable mask trash that is not properly disposed of then becomes a health risk for others.
Don't be a litterbug. Throw away your mask trash.
8) Lather, Rinse, Repeat
And now you are back to the beginning which means that you need to wash your hands again. You should wash your hands even if you aren't going to put on another mask.
As we have said many times before, good handwashing practices are the cornerstone of establishing good sanitary processes. Please don't skip this step.
A Short List of "Don'ts"
Don't Let Your Mask Slip Below Your Nose
This is the mistake we see most frequently. You have to be sure you keep your mask worn high enough to cover your nose. This is especially common in masks that do not have the metal, adjustable piece at the bridge of the nose.
Don't Wear Your Mask Inside Out
Whether it is by mistake or in a misguided attempt to reuse a mask, you should not wear your mask with the padded side facing out. The mask is designed to prevent airborne droplets from escaping from your mouth into the surrounding air. If you are not using the more absorbent side of the mask to capture these airborne droplets, then the effectiveness of the mask is greatly reduced.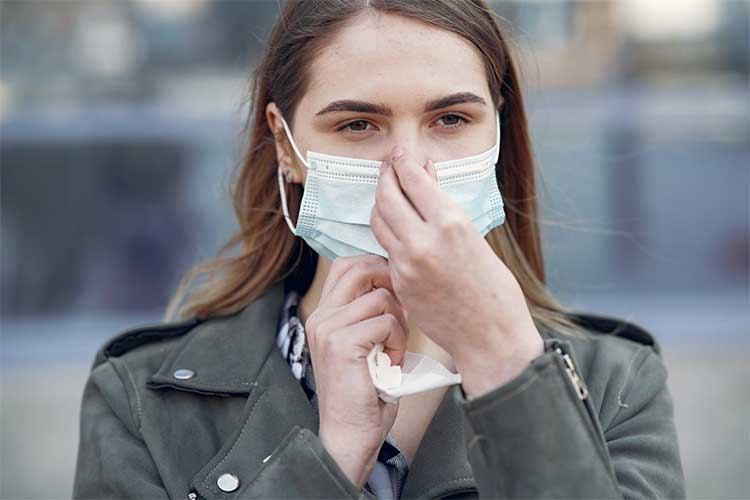 Don't Touch Your Mask
This can be difficult for some users. But you really need to make a concerted effort not to touch the outside of your mask while you are wearing it.
Touching your mask (or touching your face around your mask while wearing it) can lead to cross-contamination. If your mask becomes soiled or wet, change it immediately. Use the proper procedure to remove and dispose of the mask. Then wash your hands and reapply using the processes above.
Don't Forget About Social Distancing
Masks are not a substitute for social distancing. Wearing masks is intended to protect others. Not the mask-wearer.  It is recommended that people keep 6 feet apart whenever possible.  You need not worry about brief encounters like passing people as you go about your job. But when standing and speaking you should attempt to maintain 6 feet apart even if you are wearing a mask.
Bonus: How to Keep Glasses from Fogging While Wearing a Mask
If you wear eyeglasses, you might find that your glasses tend to fog up easily when you are wearing a mask. This is typically because you have a gap at the top of your mask that is allowing your exhaled breath to come up behind your glasses. This causes them to fog.
A couple of tips to help you avoid fogging glasses while wearing a mask:
Use the adjustable metal nose piece to firmly secure the mask to the shape of your nose and face. This stops air from escaping at the top when you exhale.
Wear your glasses on top of your mask. By essentially clamping the mask down with your glasses, you can prevent air from coming up when you exhale.
If neither of these methods works, consider taping down the mask at the top to prevent air from escaping. A small piece of tape will suffice.
Wash your lenses with soapy water. Shake the excess off and let them air dry or dry them gently with a soft cloth. The soap leaves behind a residue that inhibits fogging. Check with your optician before trying this as some lenses have special coatings that could be damaged.
Special anti-fogging sprays exist to help with this problem. But again, be sure to check with your optician first before you ruin an expensive pair of glasses.
The Wrap Up on Best Practices for Using Disposable Masks
When used appropriately, disposable masks can be a helpful tool in stopping the spread of infectious diseases. Some of these best practices for using disposable masks probably seem super obvious. But a good training program for your employees will help to ensure that they use masks correctly. It is worth the little bit of extra time to be sure that all your employees are aware of these best practices.
Here is a quick video of all the steps from Raffles Medical Group:
Read This Next: