Modular buffet systems are a great way for foodservice operators to save money and time, while increasing capabilities, revenue sources, and customer satisfaction. We list some of the innovative reasons why modular buffet systems are foodservice industry lifehacks, using the new Nexus System by Bon Chef as our prime example.
The Benefits of Using a Modular Buffet System
Nexus is a modular system that allows foodservice operators to create custom buffet lines that are versatile, and aesthetically pleasing. If you are a foodservice operator who offers catering, or hosts parties, weddings, and corporate events, a buffet system is an absolute necessity to make your lives easier and your customers happier. As a lifehack, this buffet system solves multiple problems with ease, including the following:
Maximizing Space
The Nexus System is available in a variety of sizes and configurations to fit any space, allowing it to thrive in any size of environment. For example, a small restaurant may only need a small buffet system, while a large banquet hall may need a more comprehensive system. Nexus is customizable to fit any space, so foodservice operators can be sure it will meet their needs.
Efficient Operations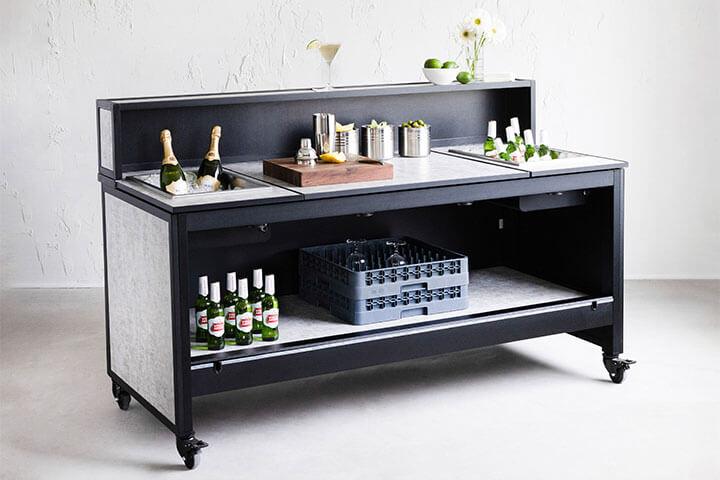 The Nexus System helps to improve efficiency in the foodservice process. Its modular design makes it easy to set up and break down, which is half the buffet battle. Additionally, the system's built-in features, such as radiant and induction warming modules, help to keep food fresh and hot, which can also save time and labor.
An Investment That Pays Off
As a cost-effective solution for foodservice establishments, this system is made from high-quality materials designed to last for many years. Modular buffet systems are a long-term investment that save foodservice establishments money and bring in sizeable ROIs. For example, a restaurant that purchases a modular buffet system may save money on labor costs, as it helps to improve efficiency. Being customizable at any point in your foodservice journey, Nexus was designed to evolve with your business.
A Safe Solution for Guests & Staff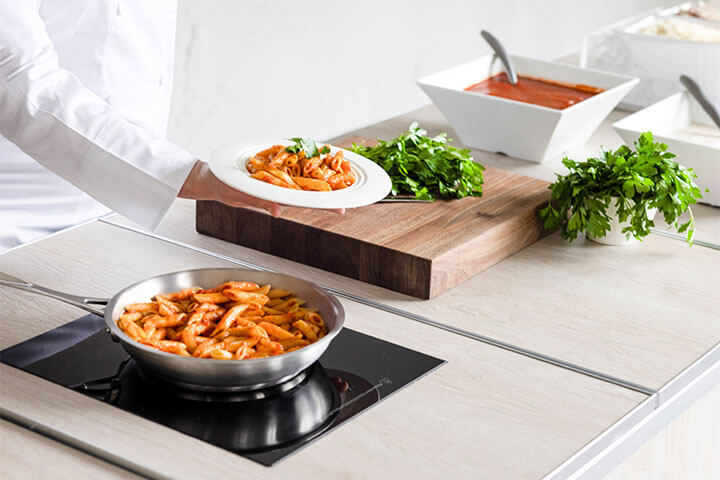 The Nexus System is designed to be safe for both foodservice employees and customers. For example, the system's tempered glass shelves are shatter-resistant, and radiant and induction warming modules are easy to clean, making it a safe and reliable solution for foodservice establishments. Additionally, induction cooking doesn't include flames, or direct heat, making it an inherently safer way to prepare food for events.
When considering muscle fatigue and overexertion, the lighter weight of aluminum frames makes them easier to handle, move, and transport. This can reduce the risk of strain or injuries when setting up or rearranging tables, especially in environments where frequent mobility is required, such as banquet halls or outdoor events.
Aesthetics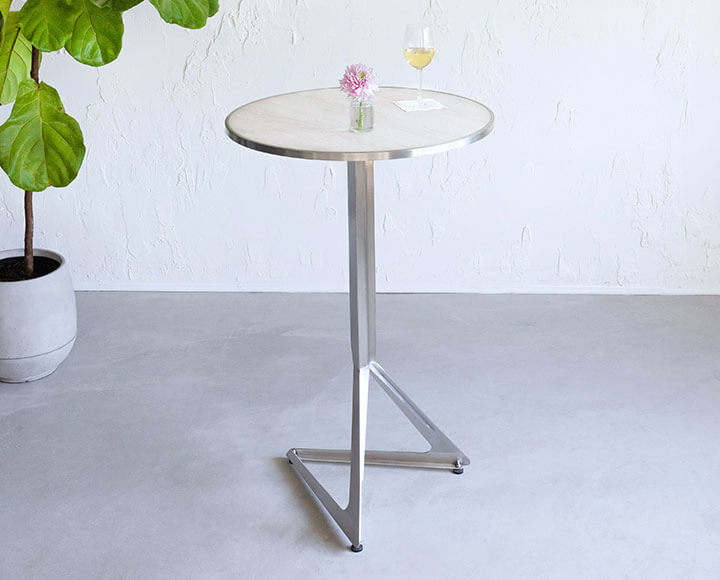 It is imperative for foodservice establishments to create stylish and inviting atmospheres which is why this buffet system is available in a variety of finishes to match any décor. This system is a stylish and versatile solution for foodservice establishments because the color options blend beautifully in every setting. For example, a restaurant may choose a Nexus buffet system with a black finish to match the restaurant's décor. Additionally, a banquet hall may choose a Nexus buffet system with a silver finish to create a clean and elegant look.
A New Way to Serve Food & Beverages
Foodservice operators looking to increase their capabilities and revenue sources while saving time, money, and energy, should consider a modular buffet system. They are a revolutionary new way to serve food and beverages that can help you to improve your bottom line and provide a better experience for your customers.
Partnered with
Bon Chef is a family owned business that has been manufacturing and supplying products to the foodservice industry since 1972. We have set a standard of excellence by providing innovative products paired with extraordinary customer service.
Our focus on maintaining relationships sets us apart. We are dedicated to supplying an extensive range of solutions for your culinary presentation. We offer the most durable products available, in an array of timeless designs – it is our mission to provide you with the tools you need to showcase your culinary masterpieces.
Our on-site millwork studio is run by local artisans who find meaning in making. What we create is built with integrity, inspired by traditional woodworking methods and assembled with precision craftsmanship. We pride ourselves on responsibly sourcing only North American lumber, and we are striving to reduce our carbon footprint as much as possible.
From sleek buffet line equipment to nature-inspired tabletop pieces to custom millwork setups, Bon Chef's commitment to affordable price points and high-quality product is unwavering. We truly understand the Art of Presentation.