Looks like Taco Bell would like to grab some of the marketing attention that its brand sibling, KFC, has been hogging lately. This summer, super fans can look forward to the opening of an ultra-swanky Taco Bell hotel.
But this is not for the kiddos. This is a luxury resort designed for 18-and-over super fans of the fast food chain. Opening in opulent Palm Springs on August 9th, The Bell: A Taco Bell Hotel and Resort will create the ultimate taco fan experience. But only for a limited time. So if you would like to plan a run for the border, you better register now to be sure you can snag what will sure to be this summer's spiciest reservations.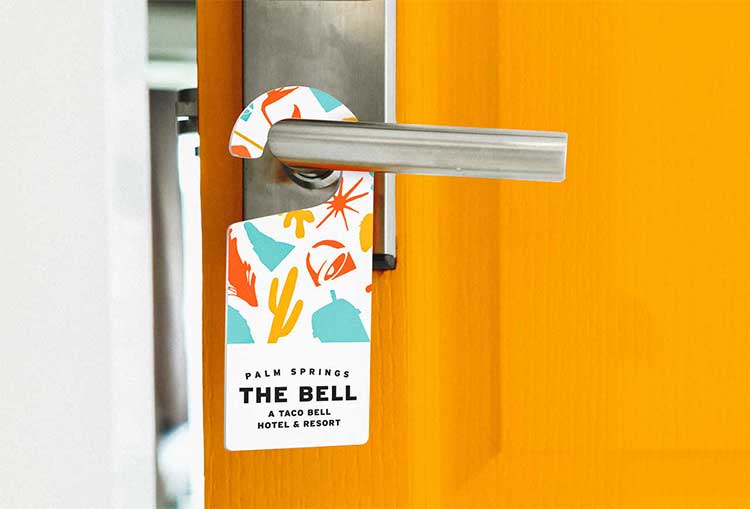 From check-in to check-out, The Bell reimagines what a hotel stay can be, unveiling a destination inspired by tacos and fueled by fans. Everything from guest rooms to breakfast and poolside cocktails will be infused with a Taco Bell twist, making this the flavor-filled getaway of 2019.
A not-to-miss gift shop will offer exclusive apparel to spice up fans' summer style. Guests can also stop by the on-site salon for Taco Bell-inspired nail art, fades and a braid bar. And whether it's daily happier hour or saucy snacks, The Bell: A Taco Bell Hotel and Resort will deliver beloved iconic flavors and introduce new menu surprises only available at the hotel.
"The Bell stands to be the biggest expression of the Taco Bell lifestyle to date. It will be fun, colorful, flavorful and filled with more than what our fans might expect," said Taco Bell's Chief Global Brand Officer Marisa Thalberg. "Also, just like some of our most sought-after food innovation, this hotel brings something entirely new for lucky fans to experience and enjoy."