Previously, we told you the story of our first Dealer of the Year award. For today's Throwback Thursday, we remember our second time being honored with this prestigious award.
In 2002, Wasserstrom celebrated its 100th anniversary. A bonus to that celebration year, was Wasserstrom's selection as the Foodservice Equipment & Supplies magazine "Dealer of the Year." Having previously won the award in 1983, Wasserstrom became the magazine's first ever two-time recipient of this award.
In naming Wasserstrom its 2002 Dealer of the Year, the editors stated:
"For the past 100 years, four generations of the Wasserstrom family have reinvented and relentlessly diversified a firm whose current national and international market presence is maintained by a culture based on 'no exceptions' customer service and continuous improvement. By any applicable measurement, Wasserstrom has become one of the true titans of foodservice equipment and supplies sales, distribution and manufacturing."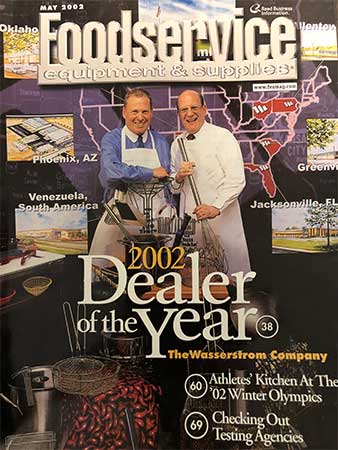 Teamwork is Essential
Rodney & Alan Wasserstrom appeared on the cover and the 12-page feature story included interviews with them and their senior leadership. Although each were interviewed separately, one common theme emerged throughout the story: The Wasserstrom success is based on people, technology and an uncommon dedication to customer service.
The Dealer of the Year Award was presented to Rodney and Alan during the FE&S sponsored awards show at the National Restaurant Association conference. Rodney had the honor of being selected to be the keynote speaker. In his 30-minute address he discussed the current state of the foodservice industry and the many changes he had seen in his (then) nearly 40 years in the industry, and his vision of coming changes.
However, recognizing that some basic principles for the successful operation of a business never change. Rodney's address included the following statement:
"My grandfather, father, uncles and aunts shared a common belief that in order to be successful in business you had to have great people and you must be willing to go outside the family to build a strong management team. I believe the hallmark of our success has been the hiring and nurturing of creative people with new ideas, and being capable of implementing change, whether in internal systems or the marketplace. Empowering people is something we have practiced for many years."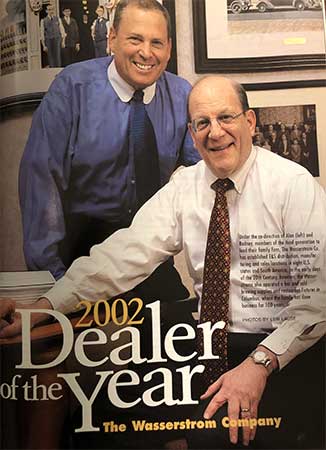 Technology is Key
He also stated, "Another key to our success has been the relentless pursuit of technology in the fields of manufacturing, accounting, distribution, purchasing, inventory control, customer service and sales tools. We discovered early on that the pressure on margins had to be offset by cost reductions through technology driven efficiency gains in every aspect of operations."
2019 postscript: Wasserstrom would also go on to with the Dealer of the Year award in 2014, being the first ever three-time recipient of the award. Many of the same qualities mentioned in the 2014 article were the same as mentioned here in the 2002 edition.