Instagram isn't just for personal profiles anymore. Restaurants, bars, coffee shops, food trucks – foodservice establishments of all types and sizes are using it as a brand touchpoint.
No need to switch from Facebook to Instagram since they both serve different purposes in the social media landscape. Facebook is still king of business updates – whereas Instagram is a newer, trending platform built for telling visual stories and discovering new experiences.
We've put together seven reasons you should create an Instagram Business profile for your restaurant and helpful best practices to get you started. They're so easy, you can get started with 1-7 on this list TODAY!
---
1. Instagram is a growing, far-reaching platform
Quick facts about Instagram you may not know:
11% of the Earth is now using Instagram
1 billion people are on Instagram, and 500 million use it every single day
71% of businesses use Instagram, including 90% of the top 100 businesses
There's a low barrier of entry.
It takes all of 30 seconds to create an Instagram profile on your phone. Literally no other equipment is required except for the phone camera and whatever is in front of it.
Instagram is also totally free. That means everyone from all walks of life are using it.
Speaking of free: An Instagram Business Profile is free.
When you first create an Instagram account, you're just a normal profile like everyone else. Since you want to run as a business, you can then switch yourself to an Instagram Business Profile so you can see analytics and other insights. This is how to make the switch-over once you open an Instagram account.
There are over 25 million business profiles on Instagram. [Source]
TIP: Post at least once a week once you create your profile.
Keep your business relevant and the account updated.
Add a link to your website to your Instagram biography.
Pay attention to your metrics to see how your Instagram marketing efforts are working.
---
2. Instagram is Millennial and Gen-Z focused
How often do Millennials eat out?
53% of millennials go out to eat once a week, compared with 43% for the general population
Millennials spend 44% of their food dollars, $2,921 annually, on eating out
Baby boomers in 2014 spent 40% of their food dollars on eating out, or $2,629 annually
(according to the Food Institute's analysis of the United States Department of Agriculture's food expenditure data from 2014)
Millennials are more willing to share experiences online.
Let's define something: FOMO – the "fear of missing out." Because Millennials and Gen-Zs are always keeping each other up-to-date on the latest happenings, there is always the fear of missing out on something cool. Eating interesting food is absolutely in these days, so the FOMO of a brand new restaurant or a popular dish is an enticing tactic to draw attention on users' feeds.
Instagram is an easy way to engage with your customers.
It's a lot less commitment to Like or comment on Instagram than it is on Facebook. Let's be real: Facebook's interface has a lot going on and can be very distracting. IG is much cleaner to scroll through and comments are automatically hidden.
By design, IG has made it easy for small businesses to reach out to customers in a reply or direct message. Millennials and Gen-Z are more willing to engage in this medium, rather than calling or emailing if they have quick questions. Responding ASAP to questions within IG earns a lot more respect and loyalty among Instagram users.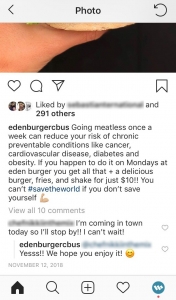 TIP: Be conversational.
You're not writing perfectly punctuated emails or the one-off "Ok" or "Yes" – Instagram is about conversations much like you'd have talking face-to-face. On top of that:
Use emojis in your posts 👌
Ask questions to tap into what your audience is into
Promote engagement for better brand recognition
Join the conversation when people comment or tag your business
Encourage sharing, tagging, and DM'ing (direct messaging)
---
3. Instagram is easy to explore and makes you discoverable
People can you find you – you can find other businesses.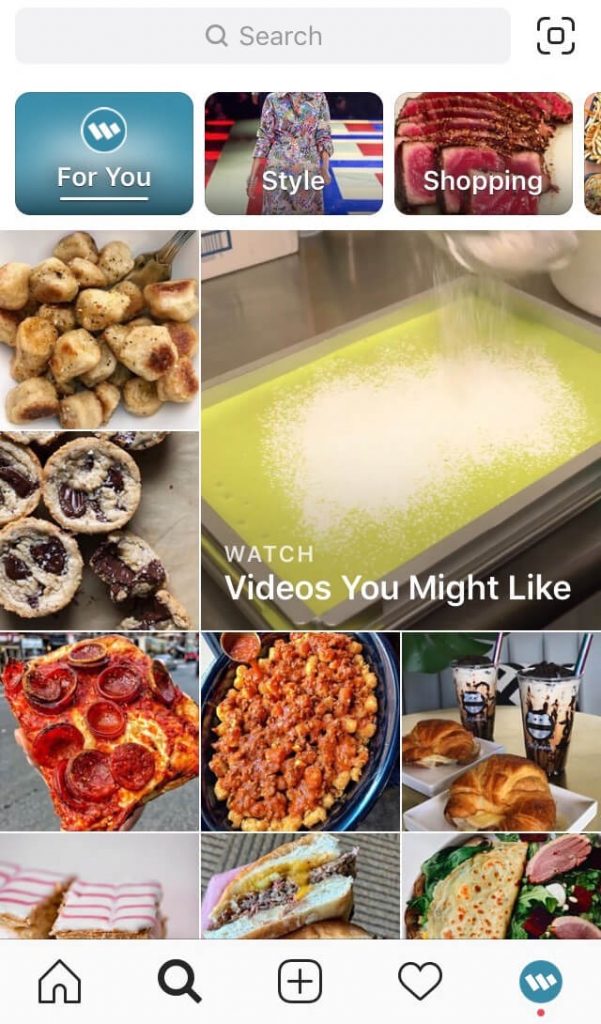 People can follow hashtags like #dinner or #yum or #EdenBurger.
When your followers Like your IG post, it can now show up on the Explore page of their followers. People can also share posts, pages, companies through DMs to their friends or followers.
Baked-in Instagram SEO.
When someone Googles (or Bings!) a restaurant name – there are a few usual suspects that appear on the top of the page: Facebook, Yelp, the main website – and Instagram. Since IG has such a high domain authority, it will naturally appear at the top of search engines. Make sure to utilize that free search engine real estate since it's a trending platform for customers.
TIPS: How to be even more discoverable on Instagram.
Establish your business location through Facebook, which can then be tagged on Instagram. Posts with a location receive 79% more engagement.
Get inspiration and collaborate with other businesses. Team up and promote each other. Be neighborly.
Hashtags are essential. 1-2 hashtags should be the most used in the caption, but 11 is the optimal number of hashtags to use in a post. Hide the rest of them from your main caption (to keep it from looking spammy) by commenting on your own picture with your list of hashtags with a period in the first 5 lines.
---
4. Instagram lets you showcase your brand
Just be you.
If the brand personality is genuine and cultivated – it builds lasting relationships. People want to feel connected not just to the brand and their food, but to the atmosphere of the experience. If you advertise as a hip, casual environment as your persona, your Instagram profile should reflect that.
The generations who are on IG want to see the real you. Don't just show beauty shots of food or the daily specials – people want to see experiences as well.
Be accessible.
Exclusivity isn't cool anymore. Hiding behind your brand or simply ignoring your customer base isn't what's trending these days.
Encourage people to tag your business and share their meals (And comment back on those tags).
No stock photos. Ever.
Ever-ever.
Take photos of your own food, dining area, kitchen, customers, etc. to share on social media
---
5. Instagram is visually appealing and endlessly engaging
IG is the best platform for restaurants because it is visual.
People are more inclined to scroll through pictures than articles, menus, and words. People don't want to see just a thing – they want to see the thing in use. Everyone knows what pizza looks like, but you want to show how much someone enjoys eating your pizza.
TIPS: Learn some basic photography techniques.
Include faces in photos. People connect more with faces and eyes than objects.
Use the rule of thirds. Basically, position
Have depth. Think in terms of foreground, mid-ground, and background.
Use interesting perspectives. Think beyond basic point-and-shoot. What other interesting angles can you use to tell the story?
---
6. Instagram lets you tell a story
What is an "Instagram Story"?
Stories are temporary Instagram posts that show at the top of your newsfeed for your followers to immediately see. These stories last only last 24-hours but you can pin stories as Story Highlights to your profile if you want people to see it long-term.
Stories show day-to-day happenings. Some examples:
Food truck at a day location but you don't want it on your wall forever.
Give a behind-the-scenes view of your restaurant. Closer, not what you'd typically see.
Happy hour patio an hour before people arrive
Daily drink specials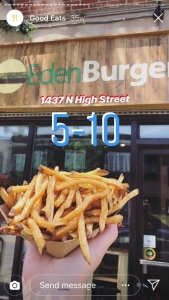 Don't forget IG Location stickers!
These can be used to tag your business as long as you have your business location established through Facebook.
Increases your story's discoverability
Gets more views and engagement on your stories
Draws attention to your business' physical location
---
7. Instagram offers sponsored & promoted posts
Pay money to boost the post's reach and audience.
Sponsored and promoted posts allow you to be seen beyond your followers – these type of posts are visible to aren't following you at all. It's a great way to proactively reach out to new customers. Be sure to put out a fantastic message!
You can target a specific area.
Even niftier: You are able to choose some targeting criteria. Why advertise in a far-away location when you can advertise locally?
BTW: Don't start out with sponsored posts.
Before jumping into paid posts, you should develop a solid follower base first.
Why? If you don't have any followers, your post/account will just look like spam. How do you react when someone on Facebook with zero friends tries to "Friend" you? Or when someone on Twitter follows you but they have zero other followers. Yeah, it just looks like spam. So don't do that.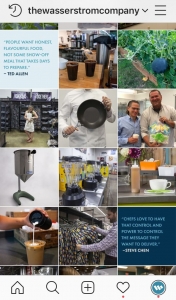 ---
Stay tuned for more best practices on using social media and marketing technology to drive business to your business.
Don't forget to follow Wasserstrom on Instagram too.